Visit The Incredible Cenotes de Candelaria
The road to the Cenotes de Candelaria made me feel like I was in Jurassic Park.
We didn't encounter any dinosaurs on our foray into the municipality of Nentón, Huehuetenango. Instead we found something far more peaceful.
Our family suburban chewed over dirt roads that rose and fell between grassy hills punctuated by thorn trees. There wasn't a house in sight, and cicadas hummed in the humid air.
At the end of the road we found two beautiful sinkholes full of pure clean water. Camping here for two days, swimming in the chill water, and gazing at the reflections was profoundly refreshing. I loved every minute.
What is a "Cenote"?
Much of the area surrounding Nentón, Huehuetenango consists of limestone rock, which is water-soluble. Over time, underground rivers and water reservoirs eat away at the limestone until huge caverns develop. Eventually, the bedrock above collapses, forming a water-filled sinkhole, or cenote.
Cenote is pronounced "sei-no-tei".
My family and I decided to visit these sinkholes because they lay along our route to Laguna Brava—a lake that's near the Mexican border.
We saw the Cenotes de Candelaria as a convenient side trip, but trust, me, these deep limestone wells are absolutely worth the visit!
Scenic Drive to a Gorgeous Destination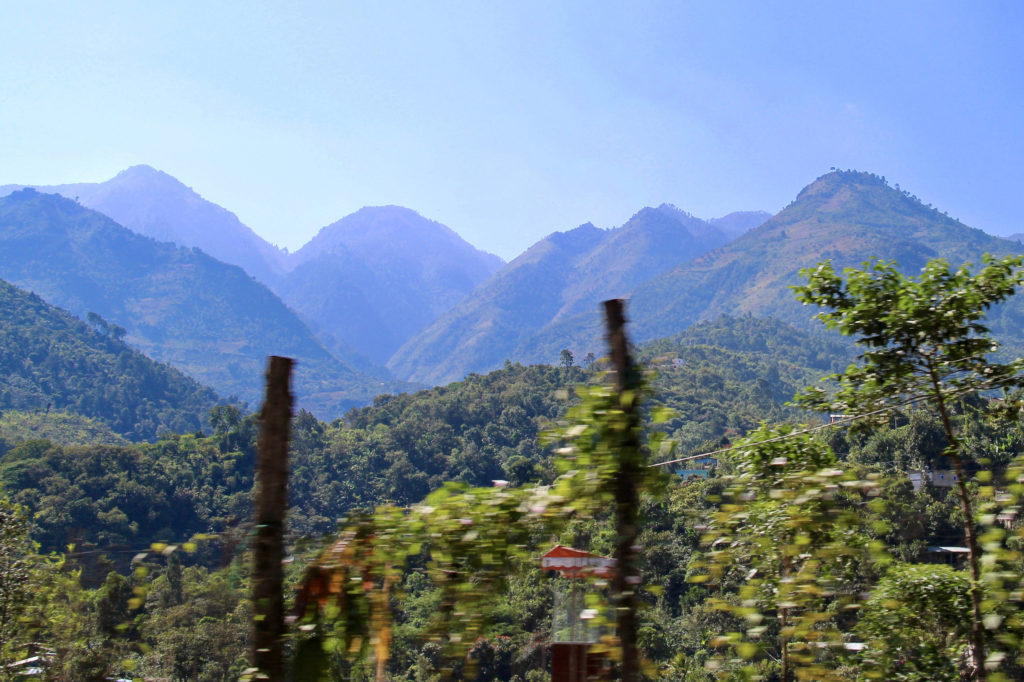 Getting to the cenotes is fun in itself, the drive taking you alongside the Río Sebastian, and through "El Tapón." Here, the sheer sides of the Cuchumatán Mountain Range lunge skyward on either side of a narrow gorge.
As we passed through Nentón and into rugged prairies, the weather turned dry and our vehicle churned up plumes of dust on the dirt road.
Milky blue rivers crisscrossed our route, spanned by narrow wooden bridges.
And then, finally, we came to the Cenotes.
I hopped out of the car and clambered onto a rocky crag to stare down at a massive well of aqua water. Puffy clouds reflected in the mirror-like surface. Insects hummed and buzzed in the quiet.
Pictures can't capture it.
The Cenotes de Candelaria have it all: beauty, wilderness, and plenty of opportunity for outdoor activities like swimming, hiking, and camping.
About the Cenotes de Candelaria
Candelaria 1
There are two different cenotes, the first is about 1 mile (1.5 km) past the main gate. Keep an eye out for the sign: "Candelaria 1" and pull off to the side for your first glimpse of these beautiful sinkholes.
Cenote de Candelaria 1 is the smaller and shallower of the two sinkholes, with a depth of 42 feet (13 meters) at its deepest point.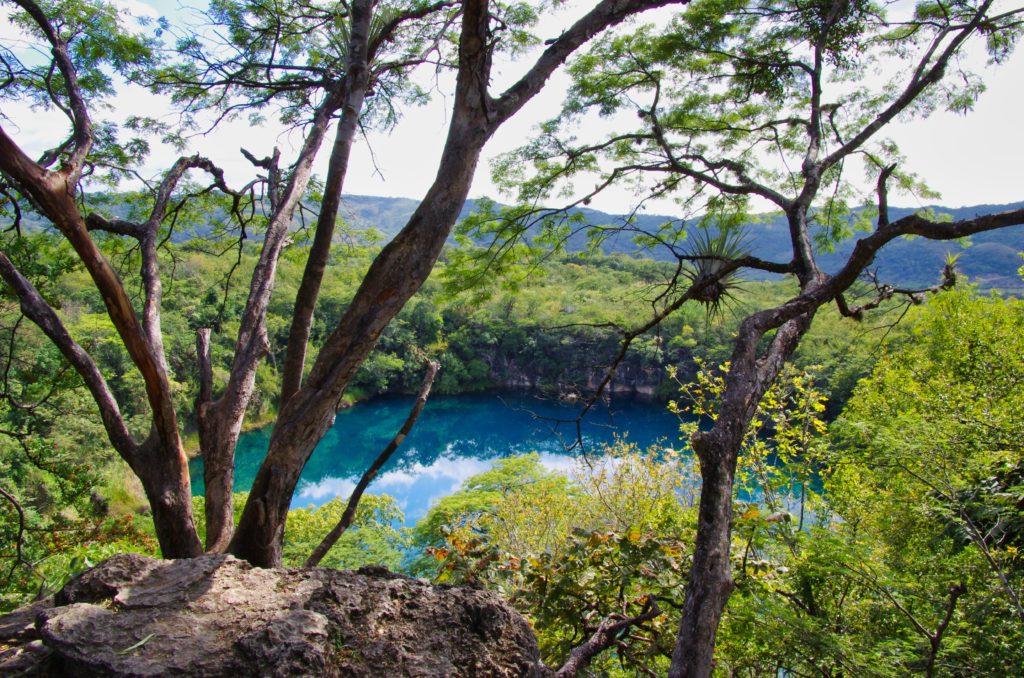 Several steep trails lead down to the sinkhole. The enormous boulders along the edge are a great spot for a picnic lunch. Jump in for a refreshing dip, or snorkel along the edges for an underwater look at cichlid fish, gnarled roots, and an otherworldly landscape.
Birth of the Río Jordán
Cenote de Candelaria 2 is a little over 2 miles (3.5 km) past the main gate. On the way, you'll drive up several concrete grades, but most of the road is dirt.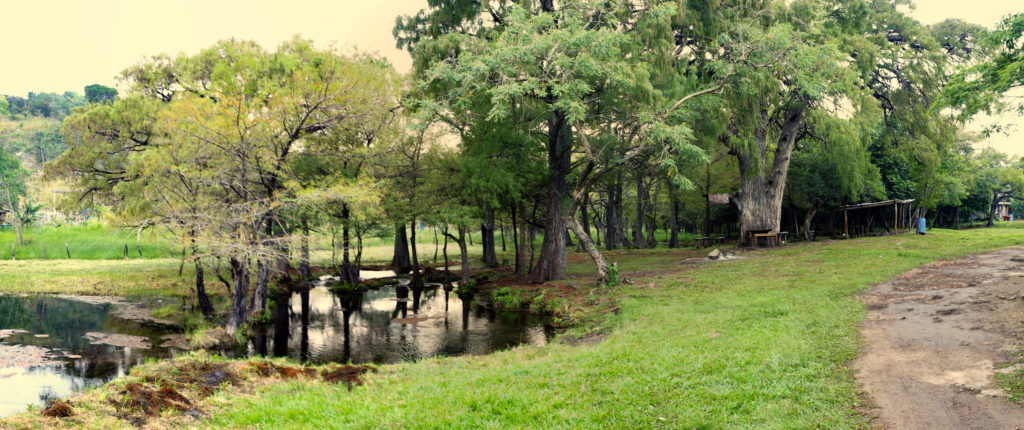 Keep driving through a second gate. Here you can access the main outhouse, the store, and check out a crystalline spring. You can camp on the grass under the willow trees if you prefer it to the rockier ground further in.
The main camping area and the second cenote lie just ahead, through a forest of spiny trees.
Candelaria 2
Cenote de Candelaria 2 is at least 165 feet deep (50 meters), but is closer to 131 feet (40 meters) deep at the center, where most of the debris from the collapse fell. It is approximately 416 feet (127 meters) across and 1,312 feet (400 meters) around.
Its color and the clarity of the water can change from day to day and season to season.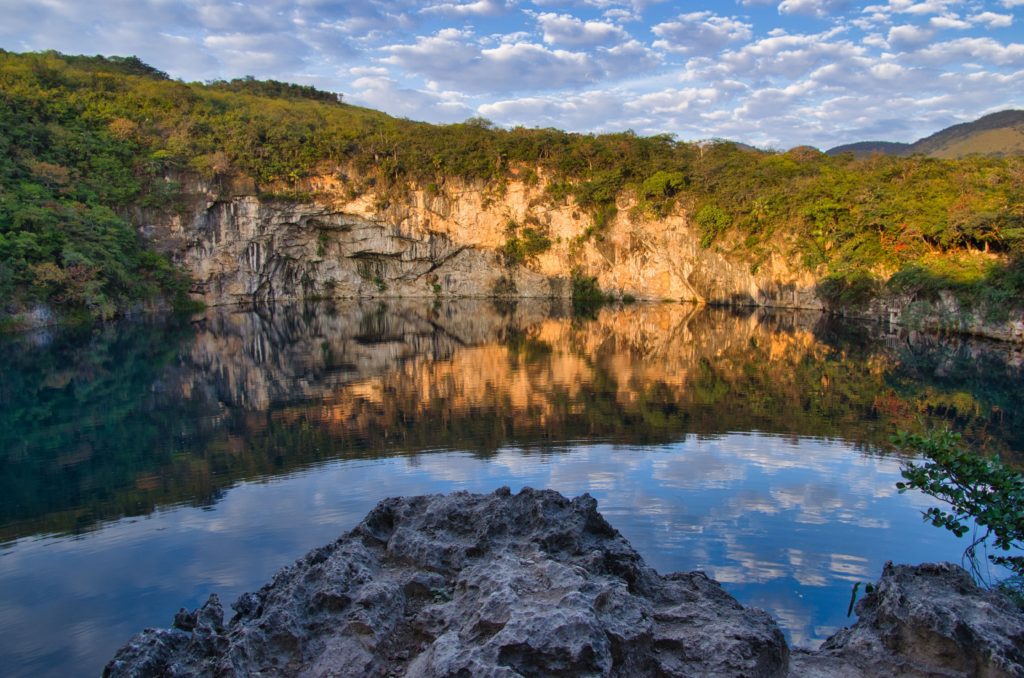 There are two different wooden stairways down to the water's edge. One of them has a floating dock. Both staircases come down onto an underwater rock ledge. It is rough on the feet, but depending on the water level, can give you a place to get partially wet if you don't feel like swimming. Sit here long enough and tiny cichlid fish may come to nibble the dead skin off your toes!
Activities you can do at the Cenotes de Candelaria
Water Sports
Enjoy these fun and refreshing water activities at the Cenotes de Candelaria:
Swimming * Snorkeling * Cliff Jumping * Diving off the rocks * Free Diving * Relaxing on an inner tube
Walking/Hiking
Take the trail around the Cenote de Candelaria 2 for a fun hike and a different view of the sinkhole and the surrounding countryside. The hike is about 1/3rd of a mile (540m) and may involve a bit of bushwhacking depending on how many people have been on it recently. It's definitely worth doing at least a portion of the trail so you can watch the sunset across the cenote.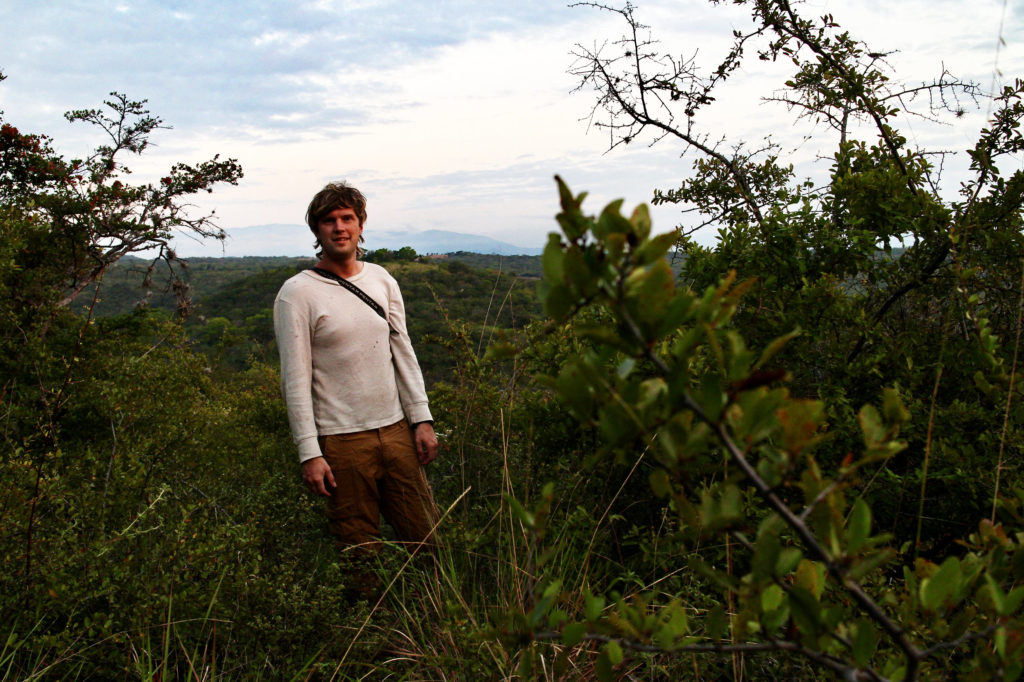 I highly recommend wearing pants, long sleeves, and closed-toed shoes. The terrain is rough and there are spines and thorns on most of the foliage.
You can also walk 2 miles on the road to get back to the first sinkhole. When we did this, we took inflatable rafts with us, enjoyed some swimming and snorkeling, and then headed back to the campsite. It was a great way to enjoy the scenery and get a close look at many different thorn-covered trees.
Picnic or BBQ
Take a picnic lunch or go all out and barbecue up a feast. (Take your own grill or make a fire and scavenge for skewer sticks).
Relax
There are plenty of great places to hang a hammock or sit along the edge of the sinkhole with a book.
Build a campfire, toast marshmallows, stargaze
Forage for firewood and toast marshmallows in the evening. Then, when it's nice and dark, stargaze from the floating dock. Make sure you look down into the sinkhole to see stars reflected in the water.
Camping at Cenotes de Candelaria
I highly recommend camping at the Cenotes. Although going for a day trip is still a good option, camping means you can spend more time drinking in the beauty around you. Without a deadline, you can fully enjoy swimming and snorkeling in both sinkholes, hiking, watching the sunset and sunrise, listening to the hum of insects, and watching strider bugs make thousands of tiny ripples on the water's surface in the morning.
It is a quiet, peaceful, and gorgeous place. I camped there for two nights and would have been happy to spend more!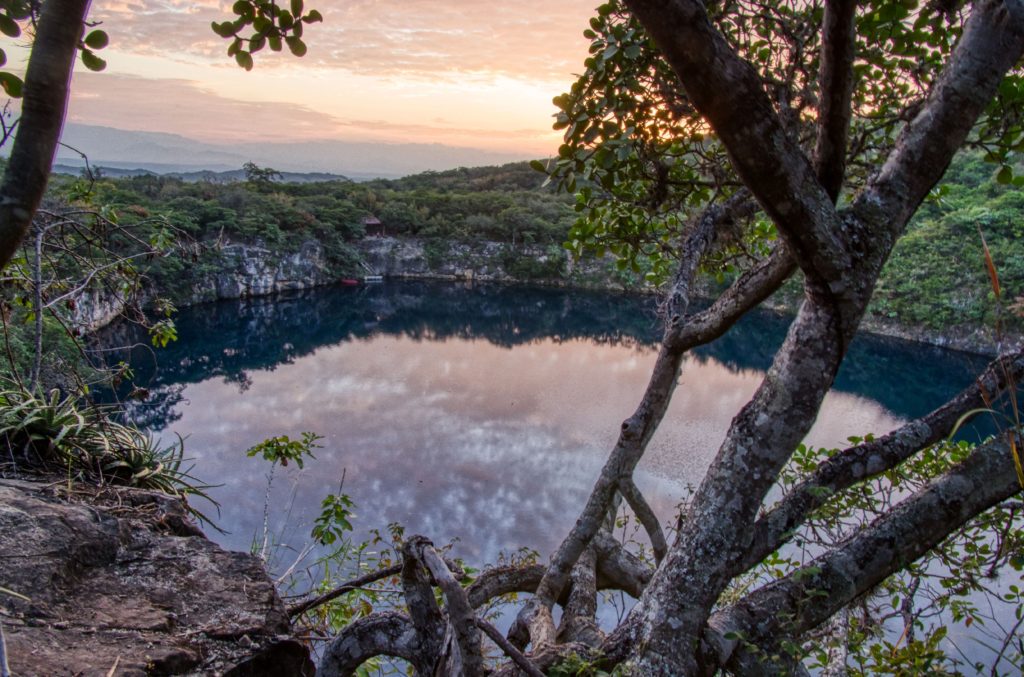 Interested in car camping? Here's our family's Car Camping Pack List which includes what to take when camping with a dog.
If you don't want to camp, I talk about hotel options later in the post.
Costs at the Cenotes de Candelaria:
Entrance Fee:
Q100 Pickup/Car
Q20 Motorcycle
Q50 Mototaxi (Tuc Tuc)
Q10 If entering on foot (per person)
Camping Fee:
Q25 Per tent per night
Rentals:
Q25 Life jacket
Q35 Rowboat Tour (includes a life jacket which you can continue to use after the tour is over)
Best Time to Go to the Cenotes de Candelaria
The Cenotes are open year-round at all times of the day and night. But if you arrive after dark, you will need to honk your horn at the main gate until someone comes out to charge you the entrance fee and let you in. You can also try calling the number posted on the sign if honking doesn't rouse anyone.
Climate at the Cenotes de Candelaria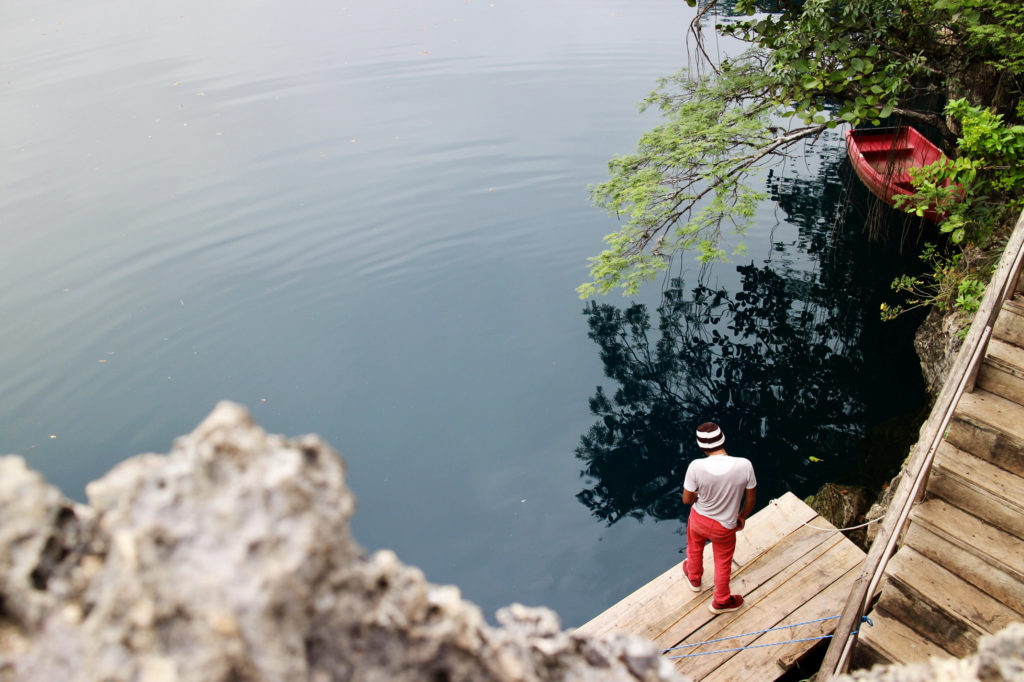 This region is approximately 1970 feet (600 meters) above sea level with an average temperature of 75º-86ºF (24-30ºC). The average rainfall is 31-40 inches per year.
Expect some wind and rainfall, especially during the rainy season (May to October) and possibly into November.
How long to stay at the Cenotes de Candelaria
Depending on your start point, plan for 1 full travel day at either end of your trip. It can take 9-10 hours to get to the Cenotes de Candelaria from Guatemala City, and 4-5 from Huehuetenango.
I recommend spending at least one full day at the Cenotes.
If you are camping, I recommend spending two or more nights on site. It will be well worth it!
What to take to the Cenotes de Candelaria
Basics:
Food, water, clothes for warm weather, a sweater and pants for cool evenings, good shoes for rocky terrain, a swimming suit, and a towel. If you plan to hike around the cenote, wear long sleeves, pants, and closed-toed shoes. Most of the plants are covered in thorns and the ground is sharp and rocky!
Camping:
Tent, mat, sleeping bag, extra food, and water, plus all the day trip supplies. Or, if you want to go all out, check out our Car Camping Pack List.
If building a fire sounds like fun, you can take firewood with you, or scavenge for wood in the area. Fallen branches are plentiful, but keep in mind they may be damp. I had no trouble collecting lots of small branches and twigs to get our fire started, but pitch pine (ocote) made my job much easier!
Remember to take matches or a lighter as well.
Want your fire to burn for hours without going out? Learn how to make an upside-down fire. Upside down fires are especially great if you want lots of coals for roasting plantains, marshmallows, and sausages.
Need to stock up on supplies en route?
Fruit and Veggies: We passed fruit stands between Huehuetenango and Camojá, which has a large market. The selection will vary by season and area, but in December there were bananas, oranges, mandarins, pineapples, peanuts, and melons in abundance.
Water/Packaged Foods: Stop at any tienda (store) along the way, but keep in mind the stores will be smaller and the selection limited after Camojá. There is a store at the Cenotes where you can buy sodas, chips, and a few other basics.
Firewood: There were also many places selling firewood right off the highway.
Gasoline: We passed tons of gas stations until we turned off the asphalt onto the dirt road towards the Cenotes.
Facilities at the Cenotes de Candelaria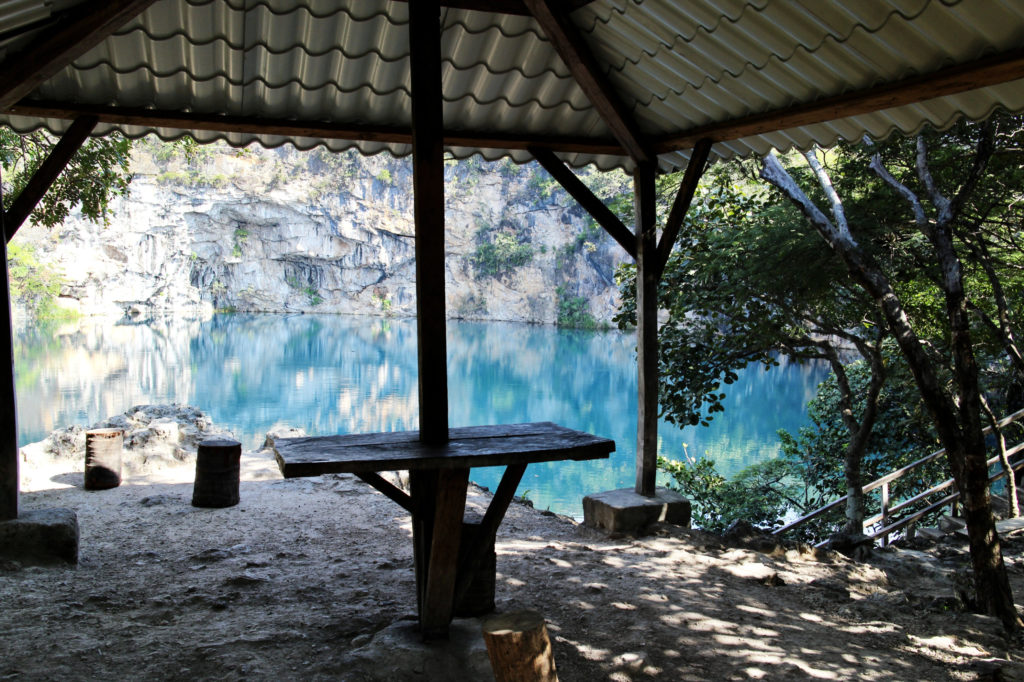 Bathrooms: There is one at the main gate (where you pay) and two at the second gate (quite a long walk from the main camping area at the cenote). They are rustic but have toilets that flush. *Three to four new bathrooms are under construction right near Cenote de Candelaria 2 in the main campground.
Changing rooms: There are two changing rooms close to the main cenote in the campground.
Palapa: There is one small palapa with a few log benches and a small table located right beside the cenote in the campground.
Store: There is a small tienda at Candelaria 2 where you can buy sodas, Gatorade, chips, beans, toilet paper, and other basic supplies.
Important Information about the Cenotes de Candelaria
no sunscreen is allowed while swimming to keep the water pristine. Wear a long-sleeve rash guard and a hat if you are prone to getting sunburnt.
The earth is very rocky. I couldn't get our tent pegs in. Instead, I hooked the stakes through the stake loops, laid them flat on the ground, and put a rock on top. We put a few rocks around the edges of the inside of the tent to keep it stretched out.
Take good walking shoes for hikes and sandals or flip-flops for walking from your car/tent to the staircases into the cenotes.
Life jackets are available for rent.
Dog Friendly: Feel free to take your dog with you! Keep in mind that there are other dogs from the area, so make sure you have a plan to prevent your dog from getting fleas.
Contact Number for the Cenotes de Candelaria
+502 3114-3037
Call this number for information, if the main gate is closed, or to ask for life jackets and rowboat tours.
How to Get to Cenotes de Candelaria
Driving Directions: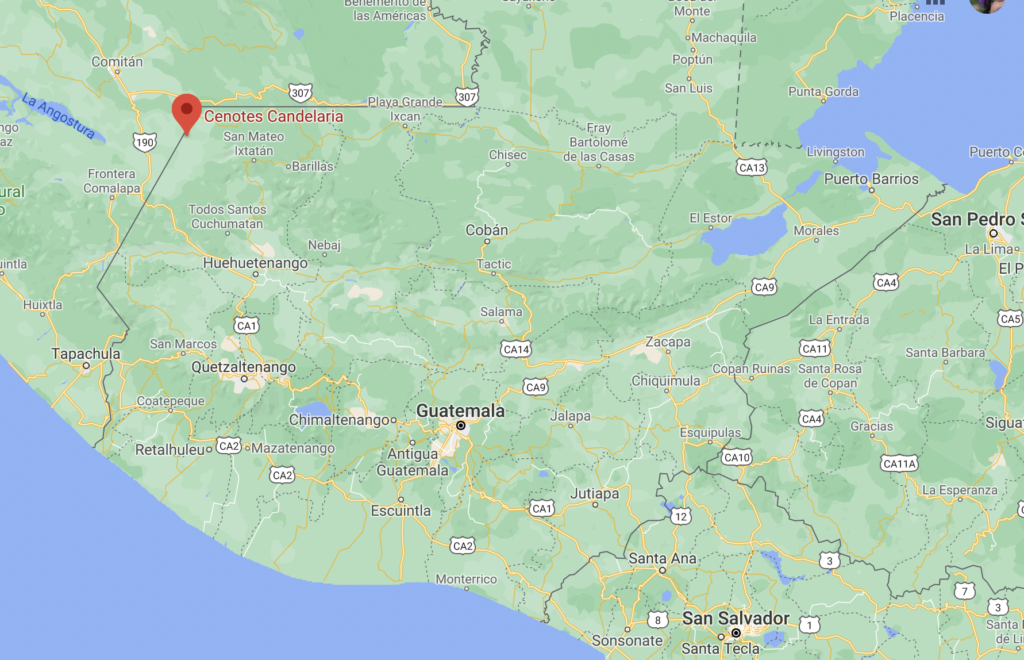 Head west on the Pan-American highway towards Huehuetenango, continuing on to Camojá and then turning north towards Nentón. About ten minutes after Nentón, you will see a dirt road leading off to your left and a sign for "Cenotes de Candelaria".
Keep your eyes peeled for the sign, or use this What Three Words location to mark the spot on your map app of choice: ///slumbered.credits.schoolbag.
It will take another 45 minutes on this dirt road to reach the gate where you will pay your entrance fee. Although a 4×4 is recommended from this point on, we saw small cars in the campground that made it in. The road is rocky and rough, though, so take it slow.
You can also park your car at the gate and hike the rest of the way in.
Public Transportation to Nentón
If you prefer to take public transportation as far as Nentón, you'll need to transfer buses in the following locations:
Take a bus from Guatemala City to Huehuetenango (Halcones is a good option)
Take a bus to the bus terminal in Huehuetenango. Note: If you take a chicken bus, you may end up here. If you take an Halcones bus, you can either walk to the terminal (5-10 minutes) or pay a few Quetzales for a city bus to take you there.
Take a bus to Camojá (or heading to La Mesilla on the border, but get off at Camojá)
Take a bus or microbus from Camojá to Nentón
If you hire a local guide, they can meet you in Nentón.
Ask around and you may find pickups that are already heading to the Cenotes de Candelaria. Tuc tucs (moto-taxi) may also be an option but will cost more.
Tour Companies & Local Guide Options at Cenotes de Candelaria
Tour Companies
If you don't have your own transportation or would like the ease and efficiency of going with a tour agency, here are a few companies that offer expeditions to the Cenotes de Candelaria:
Hire a Local Guide
Hiring a local guide is a great way to get to know the area.
Although you can opt to go with a tour company, such as those mentioned above, these companies often hire these same local guides to lead your tour. Sometimes, if the tour agencies don't have enough people for a tour, they will cancel the trip. One way to avoid this is by hiring a guide yourself. As an added perk, it will likely be more economical.
The guides listed below are all registered and certified with INGUAT, Guatemala's Institute of Tourism.
These guides lead tours to Cenotes de Candelaria, Hoyo el Cimarrón, Laguna Brava, Laguna Internacional, Lagunas de Montebello (Mexico), and a new tourist destination called Pico del Diablo.
Local guides know the current climate and road conditions and can orient you to the best places to stay depending on your preferences.
They can also arrange for 4×4 transportation if you need it.
Local Guides based in El Aguacate, Huehuetenango:
Gaspar Paiz Paiz +502 3273-3276
Velasco Dominguez +502 4899-7431
Raul Velasco +502 4791 8653
Marcos Paiz +502 5304 7136
Places to Stay Near the Cenotes de Candelaria
If camping isn't your thing, here a few accommodation options to check out. Note: I haven't stayed at any of these, so I can't vouch for them. Do your own research!
This hotel is located right in Nentón, Huehuetenango, 45 minutes to 1 hour from the Cenotes. This could be a good option if you arrive in the area late in the day. You can spend the night here, then leave early the next morning for a full day at the Cenotes de Candelaria.
At the time of this post, they were charging Q100 a night for one person, Q150 for two people, or Q200 for three people. Contact: +502 5900 3550.
This posada is approximately 1 hour 20 minutes from the Cenotes de Candelaria. It's a good jumping-off point for many of the other regional attractions. The road is in good shape up until this Finca and then deteriorates immediately afterward.
A room for two people costs Q425, a room for three people costs Q525, a cabin for seven people costs Q735. There is no electricity (candles only), but there is hot water for showers and the price includes breakfast. Contact: +502 5780 4855.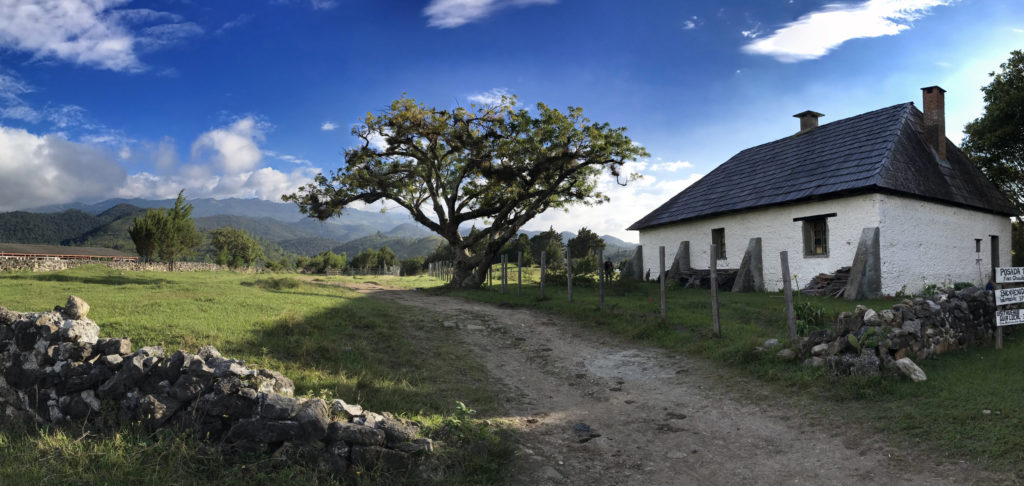 Camping at the Posada Rural Finca Chaculá costs Q30 per person and doesn't include many amenities. There is a bathroom (and a cold-water shower), but they are quite a long way from the camping area at the laguna and rather hard to access. You must either walk all the way around the main lodge or take a shortcut by crawling through a wooden gate to get to them.
This posada is about 1 hour 30 minutes from the Cenotes de Candelaria. It is located in El Aguacate and could be a good option if you plan to visit Laguna Brava. Keep in mind the road may not be in good condition.
Posada Laguna Brava costs Q50 per person and includes a double bed, a common bathroom, and hot-water showers. There is a cafeteria/small restaurant on site. Contact: +502 3061 0780.
Hotel El Dorado
This hotel is located right on the Mexican border in Gracias a Dios, about 1 hour 15 minutes from the Cenotes de Candelaria. It's a good option if you want to visit the Hoyo de Cimarrón, Lagunas de Montebello, Laguna Internacional, and Laguna Brava.
At the time this article was published, they were charging Q100 per person and had rooms with private bathrooms and either two single beds or one double bed. This hotel doesn't have a website but you can get information and make reservations by calling this number: +502 5782-1837.
Cenotes and the Mayan Underworld
Source of Water for the Ancient Maya
Many cenotes, such as those in the nearby Yucatán peninsula, are connected by underground rivers. Cenotes were often the only source of fresh water for the ancient Maya of the Yucatán, an area where there are marshy lakes and only a few rivers.
Gateway to the Underworld

Guillermo de Anda, an underwater architect with the Great Mayan Aquifer Project says that "For Mayans, cenotes were the entrance to the underworld."
He explains: "The Maya conceived of the cosmos as having three basic layers: heavens, earth, and underworld… The underworld was very important — it was considered the origin of life, and if the Mayans didn't keep a good balance between this layer of the universe and their own it could mean drought, famine, or sickness. So they knew they had to keep the peace with their deities of the underworld and this is why sometimes they made offerings." *
Sacrificial Remains
Scuba divers have explored portions of these underwater rivers and caves and discovered the skulls and bones of human sacrifices, as well as gold objects that were probably thrown into the cenotes as offerings.
Famous sinkholes in other countries:
Great Blue Hole, Belize * Ik Kil, Yucatan, Mexico * Los Tres Ojos, Dominican Republic
Other places to visit in the area:
Once you've enjoyed the Cenotes de Candelaria to the max, check out these other cool destinations in the region: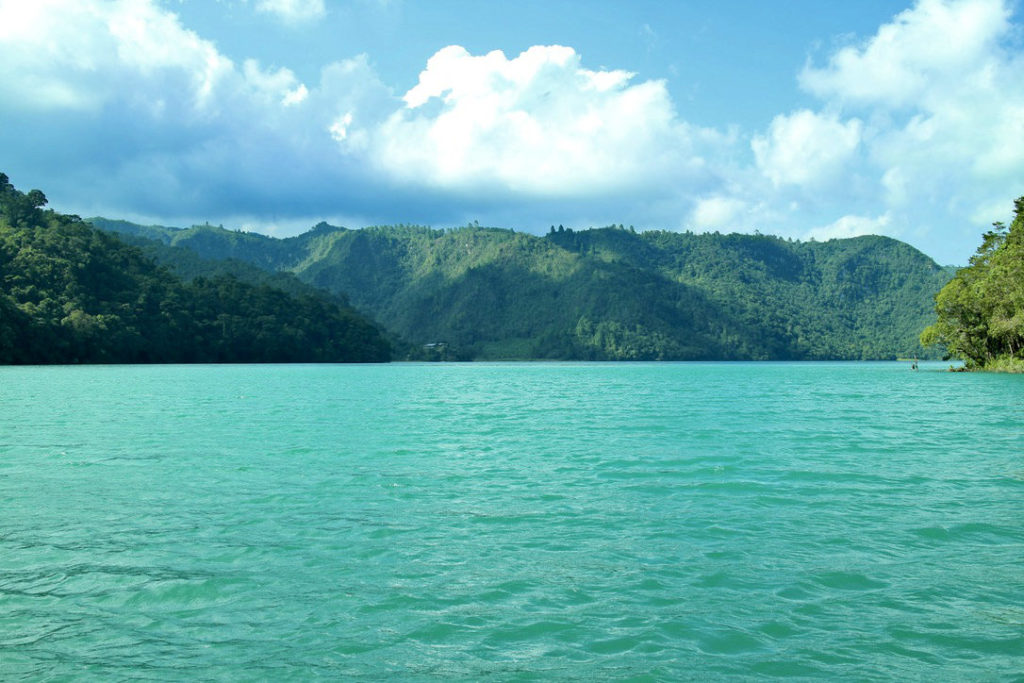 This karstic (limestone) lake has gorgeous turquoise water and is a great place for campers and day-trippers. Go swimming, take a boat ride and hike to the top of the waterfall, or take the rowboat tour to the Cenotes de Ownajab. Go to my post on Laguna Brava.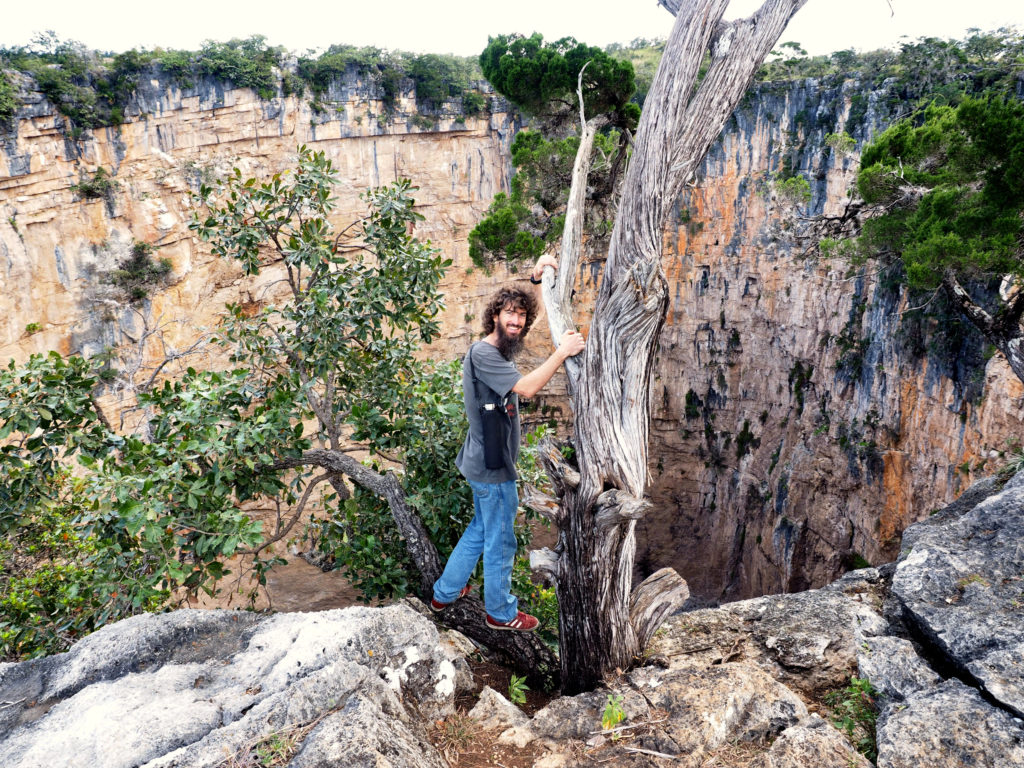 The Hoyo del Cimarron is a 656 foot deep dry sinkhole. The bottom is so far down that the trees at the base look like heads of broccoli. This is definitely is not the place to go if you are afraid of heights or have small children in tow. It is slightly terrifying regardless, but I highly recommend it!
Laguna Internacional and Tzicao, Mexico
Cross into Mexico as an "illegal"! This un-official border between Mexico and Guatemala is best known for the Laguna Internacional. This small lake is half in Mexico and half in Guatemala. You can take pictures of yourself with one foot in Guatemala and one in Mexico.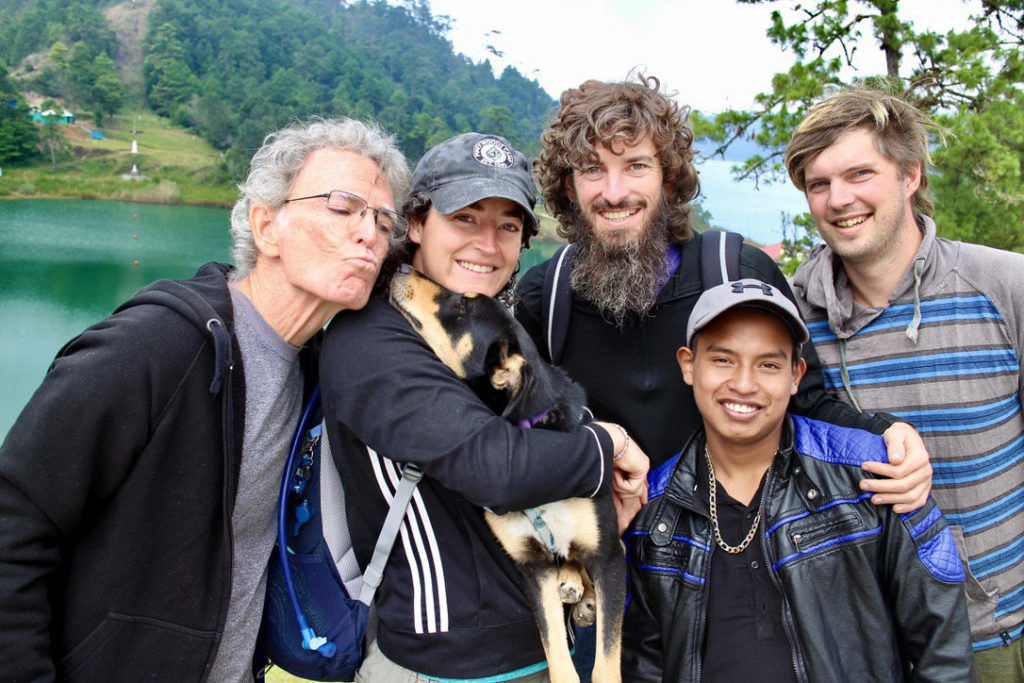 Eat some quesadillas or a whole fried fish, drink some sangria soda, or rent kayaks and paddle around Laguna Tzicao.
We opted to buy mojarras and take them back to our campsite for an end-of-trip fish fry. We made a huge bonfire, roasted plantains on the coals, and watched Jupiter and Saturn set over the hills.
How to get there:
Turn north off the main road in Finca La Trinidad, pay the fee at the security barrier (talanquera), then drive forty-five minutes over dirt roads towards Finca El Quetzal. Once there, you'll need to park your car in a parking lot (some include access to a bathroom) and then continue on foot into Mexico.
Most vendors accept both Quetzales and Pesos.
Conclusion
As you can see, visiting the Cenotes de Candelaria is an awesome choice! If you're looking for more off-the-beaten track adventures, considering heading to Laguna Lachuá – a gorgeous jungle lagoon.
You can also check out my destinations page to search by Guatemalan department.
***GUATEMALA TRAVEL PLANNING GUIDE***

Should I buy Guatemala travel insurance?
YES — Personally, I always travel with travel insurance because it gives me extra peace of mind. SafetyWing is an excellent travel insurance company that's quite affordable. Plus, if you travel longterm, it's a snap to renew on a month to month basis. You can keep renewing for up to a year and still pay the same deductible.

Where's the best place for finding cheap flights to Guatemala?
When I purchase a ticket, I always search several different sites. Kayak and Expedia are great places to start running a search. Spirit is usually the cheapest carrier, but American Airlines and United also sometimes offer excellent deals.

What's the best way to book my Guatemala accommodations?
I recommend booking.com for finding and booking hotels in Guatemala. For vacation rentals, I recommend VRBO.com — it offers beautiful and unique spots to stay.

What's the best way to book Guatemala tours?
Viator is a great tour booking site with several excellent options available in Guatemala's main tourist areas including Tikal, Atitlán, Antigua, and Acatenango. There's a nice range of prices and options available.

Can you drink the water in Guatemala?
No – Don't drink the tap water! Instead, buy purified water from any corner store or grocery store in Guatemala.

Be sure to brush your teeth with that water as well to avoid getting sick. And hydrated, especially when traveling to high elevations.

Do I need a visa for Guatemala?
Probably not — Visitors to Guatemala from "Category A" countries like the United States, Canada, the UK, New Zealand, Australia, and most European countries are automatically given a 90-day tourist visa (in the form of a passport stamp) when entering Guatemala.

This visa is valid for Guatemala, Nicaragua, Honduras, and El Salvador. At the end of 90 days, it can be renewed once at Guatemala's Migración without leaving the country.

After 180 days, you will have to travel outside of Central America before returning. Check to see if you need a visa.

Will my phone work in Guatemala?
It's possible, but check with your provider in advance to see if Guatemala is covered. If not, you can easily pick up a local SIM card.

There are essentially only two carriers in the country: TIGO and CLARO. Both have good coverage.