Hoyo del Cimarron – Crazy Deep!
The Hoyo del Cimarrón is the deepest sinkhole in Guatemala. It's one of those natural phenomenons that photographs can't capture. It's simply too massive. The experience of lying on your belly on the edge of an abyss is too profound. Wind roars along the lip of the precipice, and the bottom is so far down that the trees at the base look like heads of broccoli. It is terrifying and spectacular, a dry well made for a giant. Awe draws you near, self-preservation holds you back.
Don't miss visiting Laguna Brava and Los Cenotes de Candelaria while you're in the area.
What is the Hoyo del Cimarrón?
The Hoyo del Cimarrón dry sinkhole or collapse doline. According to Show Caves, the Hoyo del Cimarrón is most properly referred to as a tiankeng. "Tiankeng" is a Chinese word that refers to a pit in the earth that's at least 100 meters in diameter and 100 meters deep. "Tiankeng" can be translated as "heaven pit" or "sky hole". 1 It's appropriate that the term is Chinese because China boasts the biggest dolines in the world.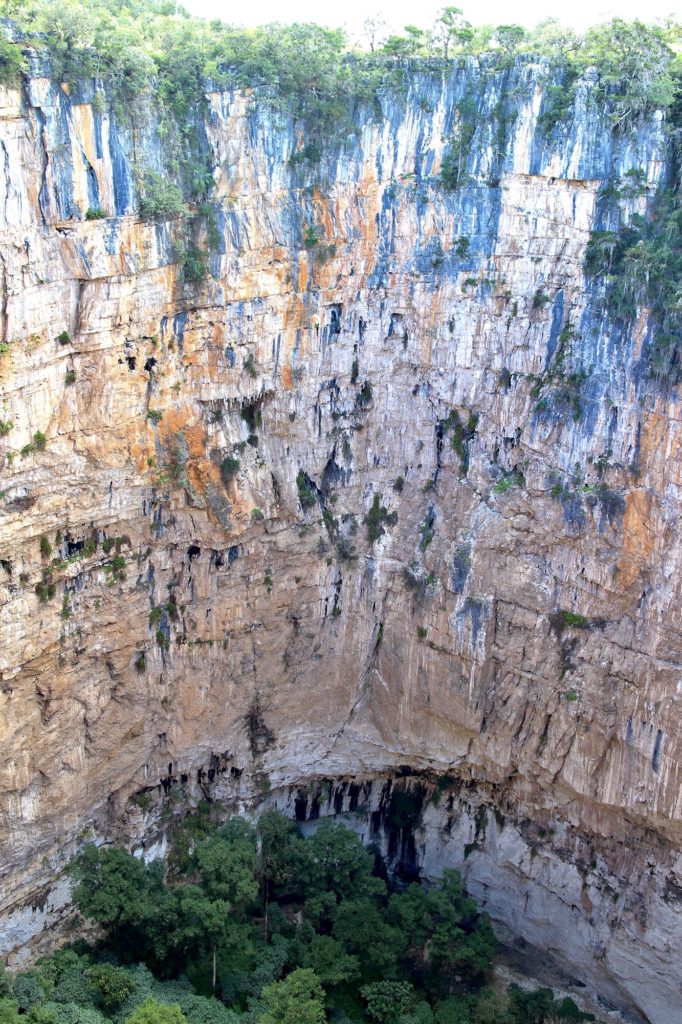 What are its dimensions?
The Hoyo del Cimarrón is almost perfectly circular and is 557 feet (170 meters) in diameter at its widest point and 656 feet (200 meters) deep. Picture a 60-story skyscraper sitting inside it and you'll have an idea how deep it is.
Where is the Hoyo del Cimarrón?
The Hoyo del Cimarrón is 6 kilometers from the Mexican border at Gracias at Dios in the municipality of Nentón, Huehuetenango. Its over 355 kilometers from Guatemala City. That's about an eight to nine hour drive depending on traffic.
Assuming you live several hours away, it may not be worth going all that distance JUST to see the Hoyo del Cimarrón. Instead, combine your visit to the Hoyo with stops at other nearby destinations like Laguna Brava, the Cenotes de Candelaria, or Laguna Internacional.
Hiking in to El Cimarrón
You must walk 2.5-3 kilometers from the parking lot to reach El Cimarrón. When I went with my friends and family, we went at a moderate-to-slow pace and it took us 45 minutes. We might have gone faster, but it was the last day of our trip, several of us had been rained out of our tents the night before, and my dog got a splinter in her paw so we had to carry her part of the way.
The hike is on very rocky ground and has some moderate inclines, but is well marked the entire way. Take good walking/hiking shoes and plenty of water.
What to take with you:
Good hiking/walking shoes
Water
Sunscreen
Hat/Sunglasses
Camera
Optional: snacks, walking stick
Can I rappel into the Hoyo del Cimarrón?
The short answer is yes. It is possible to rappel into the Hoyo del Cimarrón. It's been done before. I'm no expert on these things, but you'll need a 200-meter-long static rope, the strength to climb all the way back up, and plenty of guts. Please only do this is you really know what you're doing!
A local legend states that anyone who descends into the pit of the Cimarrón and survives will go crazy. But you've an abseil fanatic, don't lose heart. So far none of the extreme adventurers who've take on the Hoyo have gone mad. As Show Caves puts it, "if you are into this kind of fun, you are already crazy."
Important Information
The weather when we were there was very windy, so use extreme caution when approaching the sinkhole!
If you are afraid of heights, or have small children in tow, visiting the Hoyo del Cimarrón is a recipe for a heart attack. I wouldn't recommend it.
How to get to the Hoyo del Cimarrón
The parking lot for the Hoyo del Cimarrón is right off of the Franja Transversal del Norte. It is simple to find whether you're going in your own vehicle or on public transportation.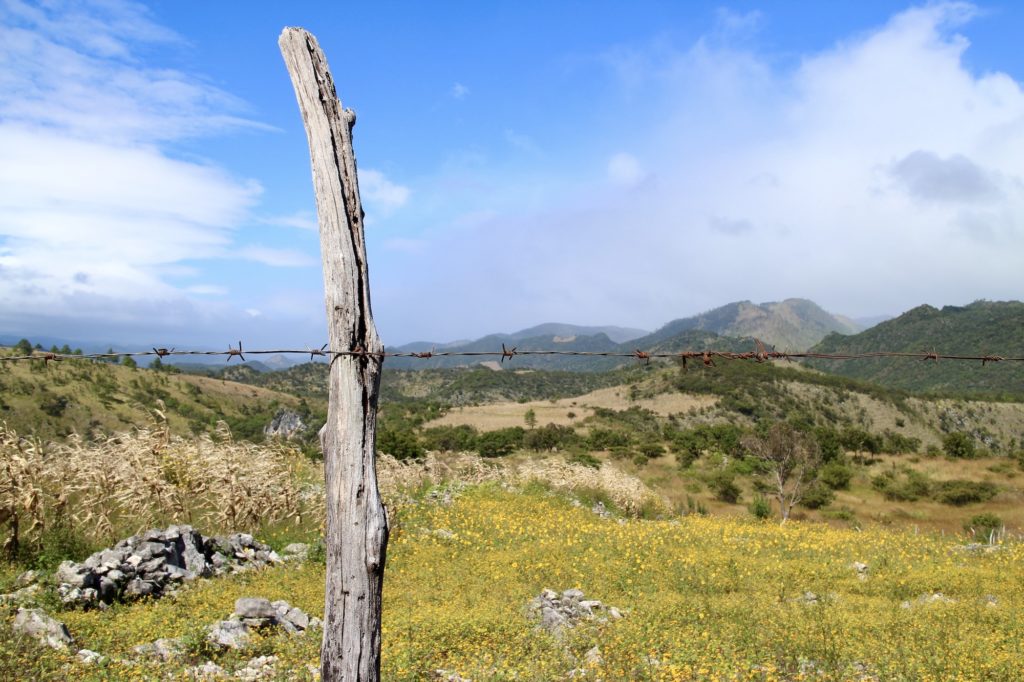 Getting there in your own vehicle
Head west from Finca La Trinidad on the Franja Transversal del Norte towards the Mexican border at Gracias a Dios. Drive until you reach the parking lot for the Hoyo del Cimarrón located at kilometer 399. Pay the parking and entrance fee to the men who take care of the site. If there is no one around, call the number on the parking lot sign.
Getting there on public transportation
To get to El Cimarrón on public transportation from Guatemala City, I recommend taking a Transportes Cristobal Colón bus to La Mesilla. Get off the bus BEFORE it reaches the border, at the town of Camojá.
In Camojá find a local bus heading to Nentón. In Nentón, find a bus going to Aldea la Trinidad. In Aldea la Trinidad find another bus heading in the direction of Gracias a Dios on the Mexican border. Get off at the Hoyo del Cimarrón parking lot at kilometer 399.
Approximate public transportation costs
Guatemala City to Camojá: Q370 ($35)
Camojá to Nentón: Q15-20
Nentón to La Trinidad: Q15-20
La Trinidad to El Cimarrón: Q10
Costs at the Hoyo del Cimarrón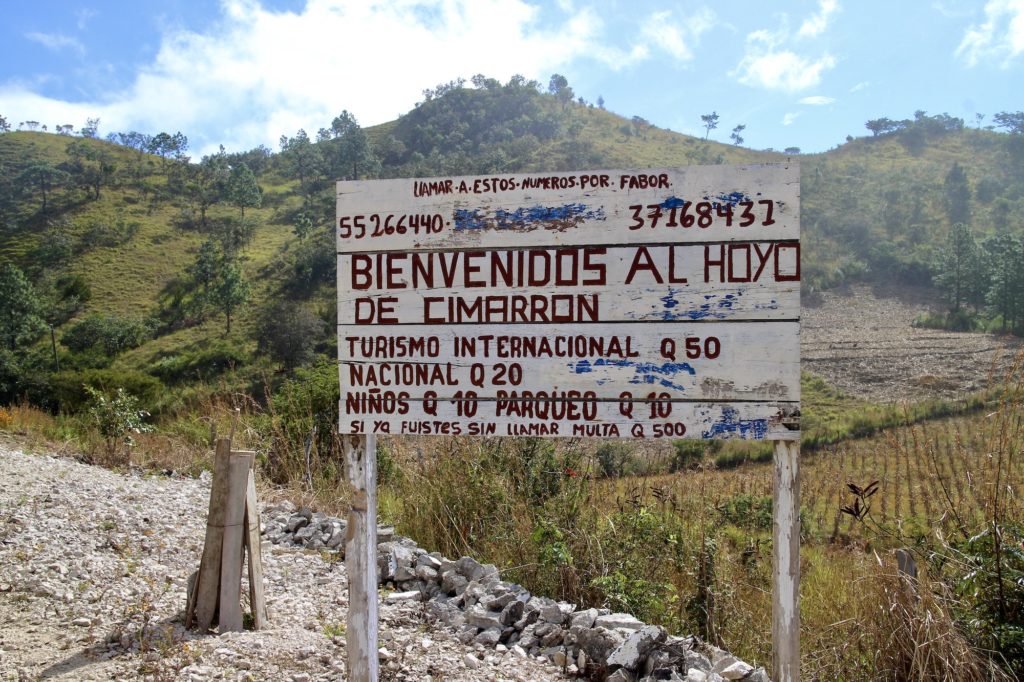 The prices are as follows:
Q10 for parking (per vehicle)
Q50 for foreigners
Q20 for Guatemalans and permanent residents
Q10 for children
Accommodations Near Hoyo del Cimarron
If you are looking for places to stay near el Hoyo de el Cimarrón, this short list can get you started in your search. I've only included places in Guatemala, but Mexico is so close by there are probably lots of wonderful options just over the border, especially in the touristy area of Lagunas de Montebello.
Hotel El Dorado
Hotel El Dorado is only 10 minutes from Hoyo del Cimarrón in the town of Gracias a Dios. They are a standard hotel, nothing fancy, but gets a roof over your head. Contact: +502 5782-1837.
Posada El Aguacate
This rustic Posada is just 25-30 minutes away from El Cimarrón. It is in the town of El Aguacate and last I checked, it costs Q50 per person per night. For the money, you'll get access to a common bathroom, hot-water showers, and a double bed all to yourself. Contact: +502 3061 0780.
Posada Rural Finca Chaculá
Located only 20-25 minutes away from El Cimarrón, Posada Rural Finca Chaculá has a variety of rooms available, hot water showers, and a complimentary breakfast. You can also camp here if you don't mind hiking up from the lake to go to the bathroom. It's a bit rustic, in a country-manor sort of way. There isn't any electricity at night, but they do provide candles. Contact: +502 5780 4855.
Legends Surrounding El Cimarrón
As with most strange natural phenomenons, local legends abound. Story has it that a rich man happened to be wandering the area with a load of treasure when he was set upon by thieves. He raced away and they gave chase.
The thieves were close on his heels, about to catch him and take all his worldly wealth away. (Running with a load of treasure isn't easy, after all.) In desperation the rich man leapt into the hole, fell hundreds of feet, and met his untimely demise. Oops.
I can't think what sort of treasure would be worth dying over, but let's assume it was really quality stuff. The kind of stuff treasure hunters might drool over.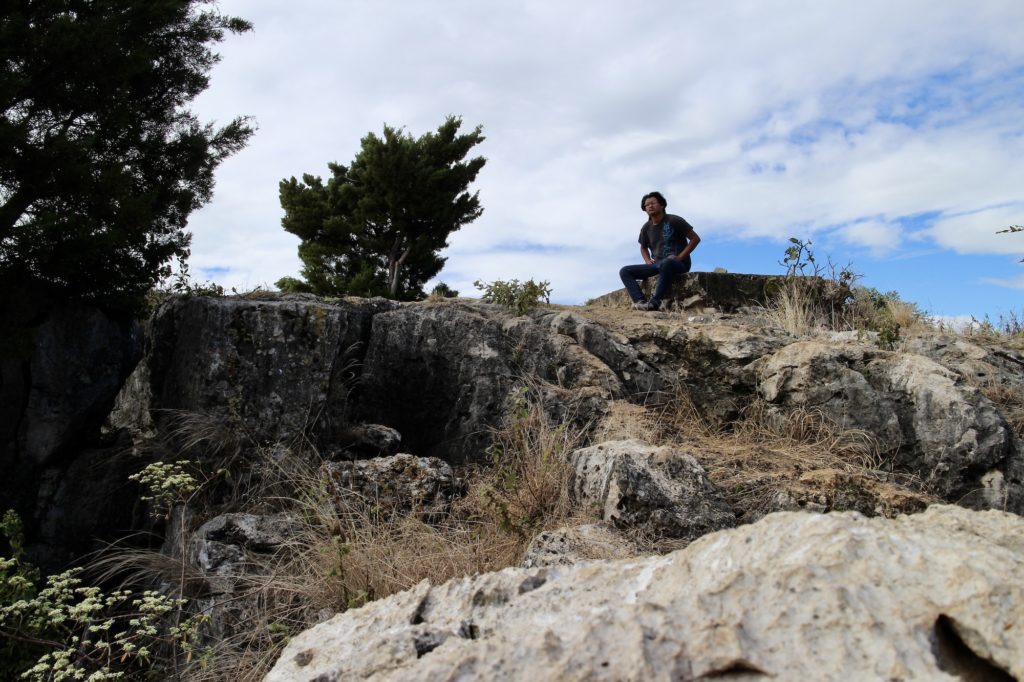 According to the legend, treasure hunters have indeed ventured into the depths of El Cimarrón to recover the rich man's goods. Most never return. They meet the rich man's fate in the hole, which is imbued with some kind of magic (probably).
Those who DO return, don't escape the wrath of El Cimarrón for long. They become raving lunatics shortly thereafter.
Perhaps the treasure is cursed. Or maybe the locals really really don't want anyone exploring the unique biosphere at the base of Guatemala's tiankeng.
Other legends claim El Cimarrón was formed by aliens, or a meteorite. Hmm.
Conclusion
When I was planning our family trip to Huehuetanango, I wasn't sure if the Hoyo del Cimarrón should make the list. But it was an easy side trip to tack on to our final day before we made the long drive home. (Which unfortunately ended with a bearing throwing sparks and a tow truck). Anyway, the point is, I was really glad we went. It's a very cool place. Don't miss it!
Be sure to check out Laguna Brava and Los Cenotes de Candelaria while you're in this region of Huehuetenango!
***GUATEMALA TRAVEL PLANNING GUIDE***

Should I buy Guatemala travel insurance?
YES — Personally, I always travel with travel insurance because it gives me extra peace of mind. SafetyWing is an excellent travel insurance company that's quite affordable. Plus, if you travel longterm, it's a snap to renew on a month to month basis. You can keep renewing for up to a year and still pay the same deductible.

Where's the best place for finding cheap flights to Guatemala?
When I purchase a ticket, I always search several different sites. Kayak and Expedia are great places to start running a search. Spirit is usually the cheapest carrier, but American Airlines and United also sometimes offer excellent deals.

What's the best way to book my Guatemala accommodations?
I recommend booking.com for finding and booking hotels in Guatemala. For vacation rentals, I recommend VRBO.com — it offers beautiful and unique spots to stay.

What's the best way to book Guatemala tours?
Viator is a great tour booking site with several excellent options available in Guatemala's main tourist areas including Tikal, Atitlán, Antigua, and Acatenango. There's a nice range of prices and options available.

Can you drink the water in Guatemala?
No – Don't drink the tap water! Instead, buy purified water from any corner store or grocery store in Guatemala.

Be sure to brush your teeth with that water as well to avoid getting sick. And hydrated, especially when traveling to high elevations.

Do I need a visa for Guatemala?
Probably not — Visitors to Guatemala from "Category A" countries like the United States, Canada, the UK, New Zealand, Australia, and most European countries are automatically given a 90-day tourist visa (in the form of a passport stamp) when entering Guatemala.

This visa is valid for Guatemala, Nicaragua, Honduras, and El Salvador. At the end of 90 days, it can be renewed once at Guatemala's Migración without leaving the country.

After 180 days, you will have to travel outside of Central America before returning. Check to see if you need a visa.

Will my phone work in Guatemala?
It's possible, but check with your provider in advance to see if Guatemala is covered. If not, you can easily pick up a local SIM card.

There are essentially only two carriers in the country: TIGO and CLARO. Both have good coverage.