Cascadas Finca el Paraíso – Nature's Spa
Visit one of Mother Earth's most beautiful natural jacuzzis. This one comes with an upgrade, it's a waterfall. But the cool factor doesn't stop there. The Cascadas at Finca El Paraíso are arguably a spa, complete with hot-cold therapy, mud masks, and a lap-pool-style river.
As an added perk, the Cascadas are close to so many other attractions that if you had enough time and money, you could easily fill several weeks traveling around Lake Izabal, kayaking up rivers to see manatees, hiking nature trails, and checking out the white sand beaches and Garífuna culture of Guatemala's Caribbean coast.
My points? One: It's worth making a trip to Izabal. Two: Cascadas el Paraíso should 100% be on your list of places to stop.
Table of Contents
Where is the Cascada atFinca El Paraíso?
When to visit
Activities atFinca El Paraíso
Costs of Entrance
What to take toCascada Finca El Paraíso
Opening Hours
Contact Information
How to get to Finca el Paraíso
My experience at Cascadas el Paraíso
Interesting facts about Cascadas el Paraíso
Accommodations NearFinca El Paraíso
Nearby Attractions
Sample Itinerary
The Wrap-up
Where is the Cascada atFinca El Paraíso?
This natural wonder is located in the municipality of El Estor, Izabal, about 16 miles (27 km) from the Río Dulce Bridge and 187 miles (301 km) from Guatemala City.
When to visit
Finca El Paraíso is open all year round, so you can go at any time, however, you may want to keep weather patterns in mind. Izabal has an equatorial climate, which means it gets rainfall throughout the year. The rainiest months are October, November, and December. (We learned that the hard way). The hottest months are March and April. The driest months are January through April.
If you're hoping for fairly dry weather and less heat, I recommend planning your trip in January or February.
Activities atFinca El Paraíso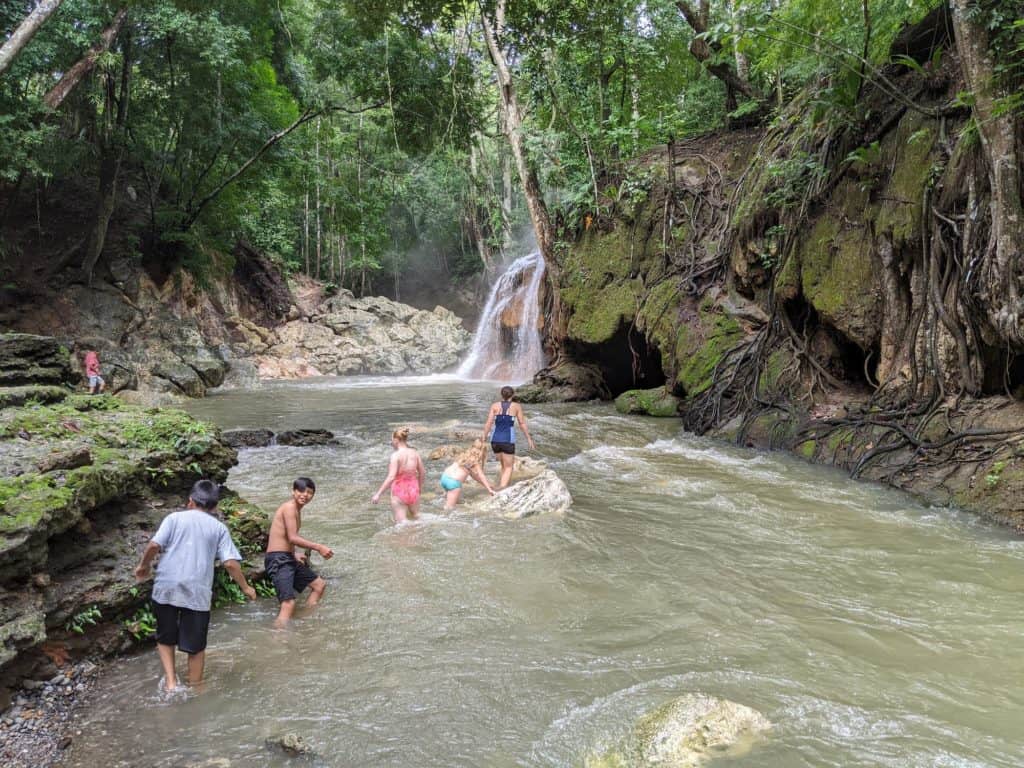 There are several activities you can enjoy at Finca El Paraíso, whether you're looking for a place to stop for a couple of hours on your way to some of Izabal's other attractions, or whether you plan to spend a day or more.
Visit the Cascadas El Paraíso
If you do nothing else at Finca El Paraíso, don't miss the Cascada! This beautiful waterfall exhales steam into the air before dropping into the cold waters of the San Antonio River. It's a great place to spend a few hours or even most of a day, relaxing in the hot pools above the waterfall, clambering around on roots and vines, and leaping off boulders into the current.
Swim in Lake Izabal

Since Finca El Paraíso has a lakefront tourist center, you can head down to Lake Izabal for a swim and a picnic lunch. The center even has a waterslide into the lake, which looks like a lot of fun.
Events
If you have a special event you're planning, this could be a great place to do it. The tourist center has several covered areas where you can enjoy a big birthday party, work event, or concert.
Restaurant
If you'd rather not take a picnic lunch, you can eat at the restaurant at Finca El Paraíso instead. They offer a variety of tasting-looking dishes.
Camping
If you enjoy putting up a tent and sleeping under the stars, you can camp along the shore of Lake Izabal, or closer to the Cascada el Paraíso. If it's raining while you're there, chances are good that the center will let you pitch your tents under one of their covered areas.
Costs
Q15 per person entrance fee to the Cascadas
Q40 per person per night to camp (includes entrance to the Cascadas)
Check ahead for bungalow costs
What to take toCascada Finca El Paraíso
Bathing Suit
Towel
Walking shoes or water shoes
Insect Repellant
Water
Snacks
Camera
Opening Hours
Finca El Paraíso and Cascadas El Paraíso are open all week long from 7:00 a.m. to 5:00 p.m.
Contact Information
+502 5630-4515
+502 4106 4473
Go to Turicentro El Paraíso Facebook Page
How to get to Finca el Paraíso
The trip from Río Dulce can take 40 minutes, and from Guatemala City 5 and a half hours or more. Your travel time will depend on traffic. Things can get REALLY slow along highway CA-9. This is one of Guatemala's main arteries. All the buses and container trucks bringing goods to and from Puerto Barrios must travel along this road.Worse, it's only two lanes! Accidents and construction complicate travel times even more.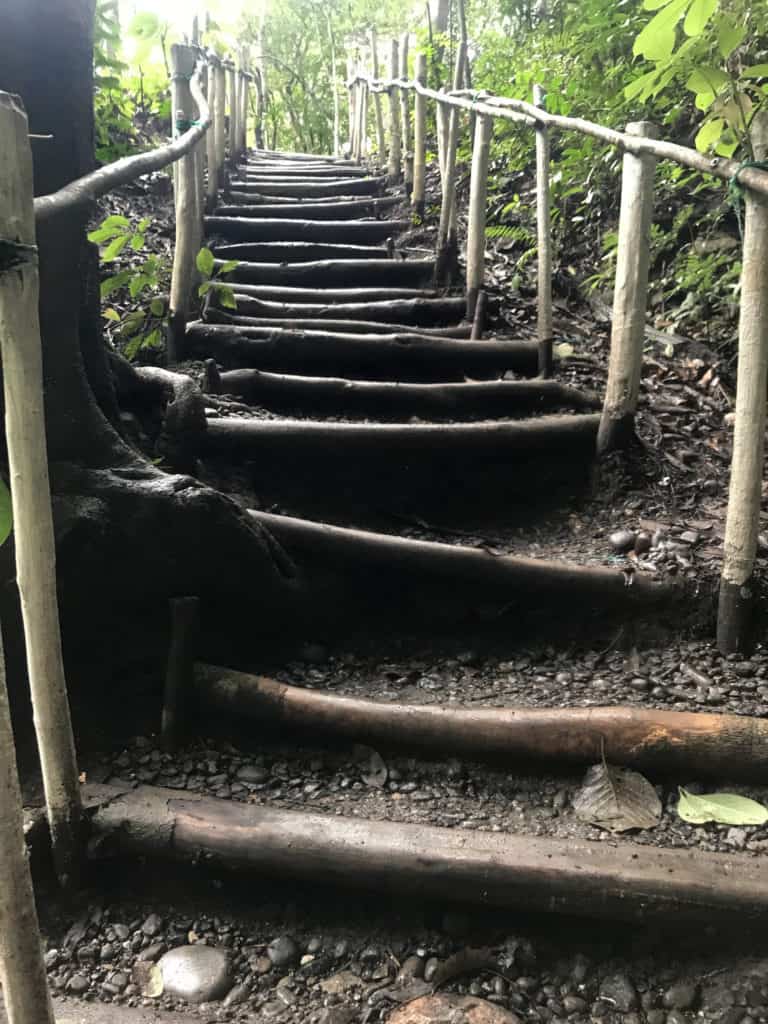 It took my family six hours to travel from Ciudad San Cristobal to Buenos Aires Izabal on a Sunday. We returned from the same location on a Friday and had to stop and wait to get through construction for 30 minutes or more at a time. The entire trip took nine hours.
How to get to Finca El Paraíso by car
There are two different routes to Finca el Paraíso, one that goes on the main highway towards Puerto Barrios, and the other that goes north to Tactic and then cuts east toward El Estor. Both routes are likely to be slow. You'll encounter some dirt sections on the Ruta Nacional 7E, but sedans should handle the road no problem, just drive slowly to avoid potholes.
En route you'll pass cattle grazing in their pastures as well as plantations of banana and African palm (which is harvested to make into palm oil).
Your best bet for avoiding traffic is to travel on a Sunday. If not, make sure you are well stocked with good tunes, in-car games, water, and snacks. On my return trip with my family, we played Catch Phrase and put on epic soundtrack music. I made a salad from our camping leftovers by shredding carrots and squeezing lemons in the back seat. We still despaired several times before we finally got home.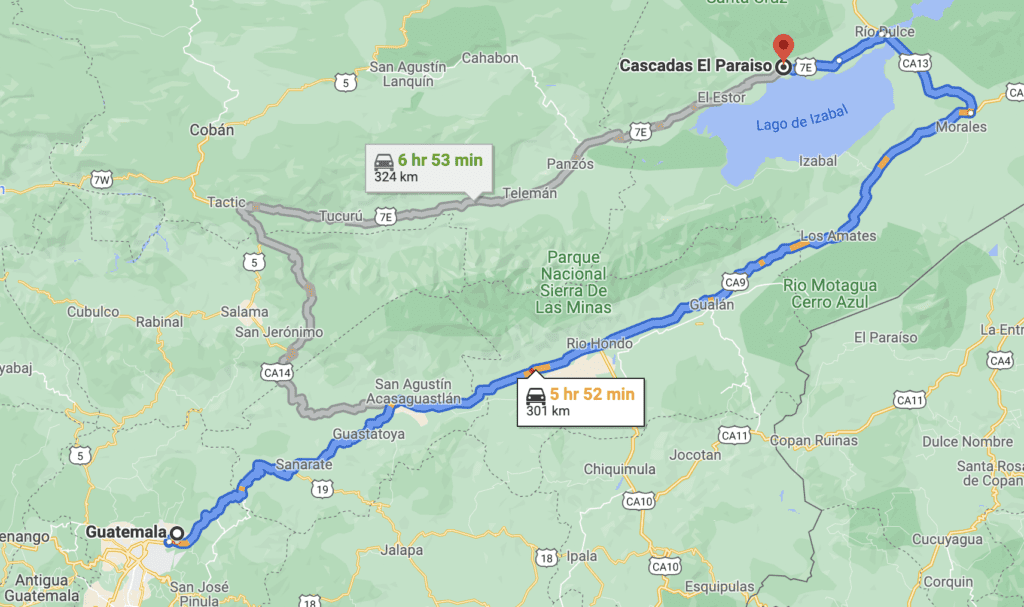 How to get to Finca El Paraíso on Public Transportation
If you're traveling from Guatemala City, you can probably find a tourist shuttle heading to Río Dulce. Alternatively, take a Pullman-style bus. Once in Río Dulce, find a microbus heading towards El Estor. You can ask around for one, or walk up the road from the Río Dulce bridge to the intersection of CA13 and Ruta Nacional 7E. There should be microbuses there.
Make sure to ask the bus driver to let you off at Finca El Paraíso. He'll leave you at the turnoff, and you can either walk north for approximately 10 minutes to reach the Cascadas or walk south for fifteen minutes to reach the tourist center. Since it costs Q20 to go all the way to El Estor, my guess is you shouldn't have to pay more than Q10 to get to the turnoff.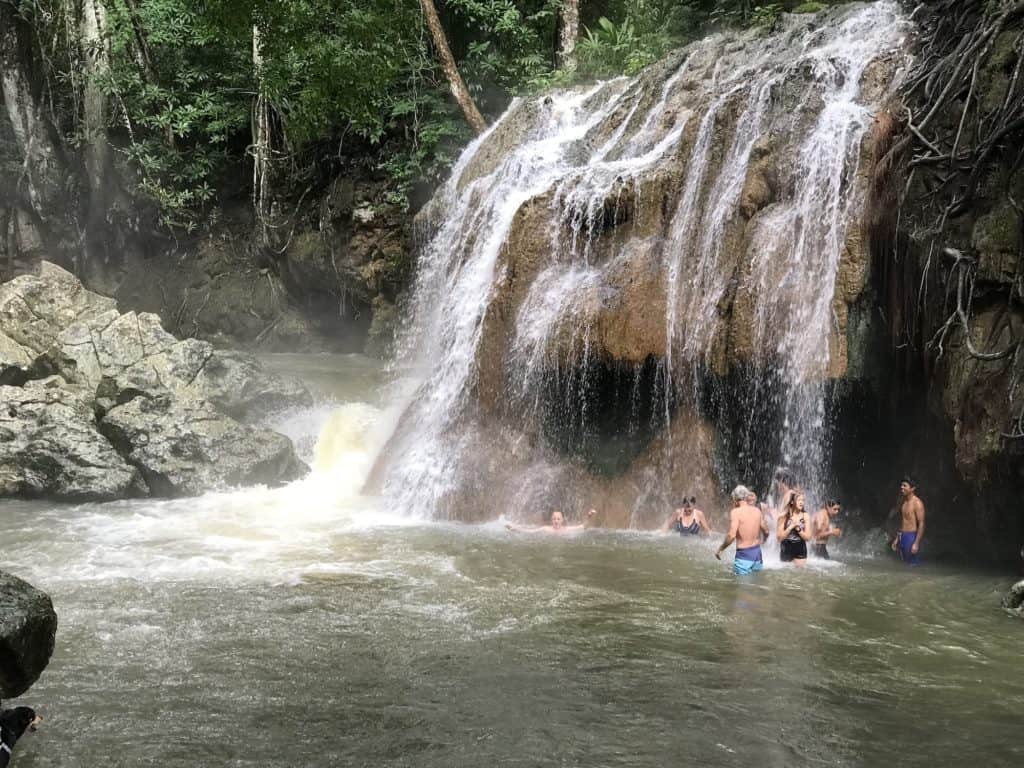 My experience at Cascadas el Paraíso
Rain drizzled from the sky as my dad drove our family suburban over a mixture of mud, gravel, and asphalt. A bank of clouds hid the north side of Lake Izabal on our right, lifting now and then to give us a glimpse of a long stretch of water. We passed a clamor of children begging for coins and women selling coconuts and slices of deep-fried breadfruit, then pulled into a clearing.
A shaky start
The children followed us, shoving out their hands and asking for coins with pouting faces and whiny demanding voices. It was off-putting and didn't give us confidence that our gear would be safe. My friend Helaine opted to stay with the cars and keep an eye on things.
Finca El Paraíso is privately owned, and I couldn't help but notice the difference between how the locals treated tourists here, compared to those benefiting from the community tourism project at Reserva Natural Cañon Seacacar. It made me wonder if the Finca owners have put any thought into how to build up their community. The people are obviously poor, but I didn't want to give them money and encourage them to harass other tourists and treat visitors like sub-humans or walking wallets.
The walk to the falls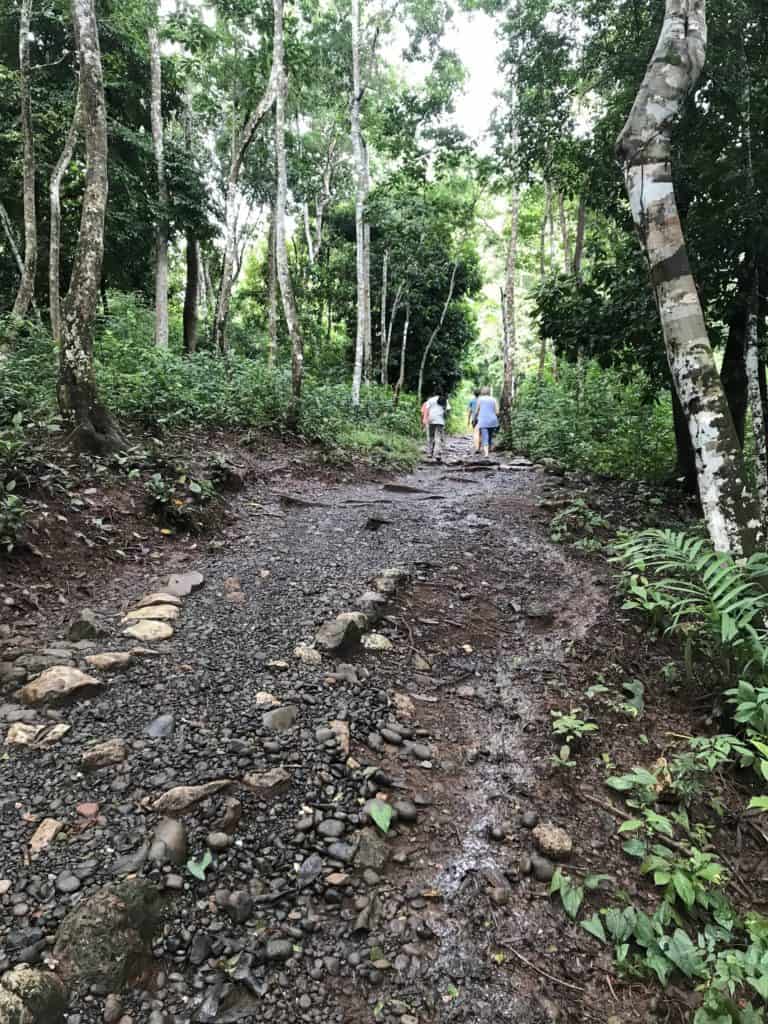 A man wearing rubber boots and a loose-fitting t-shirt appeared, smiling exuberantly at us. He introduced himself as Francisco and explained that he was there to guide us to the waterfall. We all donned our water shoes or hiking sandals, grabbed towels, and followed. Fortunately, the kids didn't continue to follow us, instead, they stayed behind in the parking lot.
Francisco pointed out the best places to walk to avoid the mud, and then we were off. We walked alongside the fast-moving San Antonío River. The well-kept path sloped upstream, wet from many days of constant rain, but easy walking aside from the occasional root or stone to step over.
Beautiful river and waterfall
After about five minutes, I caught a whiff of sulfur, and then the Cascadas Paraíso appeared below. Hundreds of separate rivulets of water cascaded over a giant brown rock, joining the cold water of the San Antonio River below. Steam wafted into the air and trees arced overhead.
Francisco kept an eye on our belongings while we swam, so we didn't have to worry about anything walking off. Now it was time to swim!
Swimming and Rock-jumping fun
I waded upstream, followed by a long string of my friends and family. The water was bracing, but when I reached the waterfall, it turned to bliss. We'd been camping, hiking, and tubing in rainy weather, and showering in cold water all week. The hot water pounding rhythmically into my shoulders felt like paradise.
After getting warmed up in the waterfall, we crossed the stream, made our way to some boulders, and took turns jumping into the river. The current jetted us down, then popped us back up again. We swam around the base of the falls and found a cave with bats perched on the ceiling, clambered up roots to the top of the waterfall to hang out in the thermal pools above, and got lightheaded from the steam.
All in all, I had an amazing time.
Interesting facts about Cascadas el Paraíso
While I was digging around for extra info on the Cascadas, I discovered this nifty map. It turns out that the water at Cascadas Paraíso is heated by the Chichoy-Polochic Fault.

This fault line is where the Caribbean Plate and the North American Plate meet. The Polochic Fault arcs all the way across Guatemala until it reaches southern Chiapas, Mexico on the west. On the east, it turns into the Cayman Trench–the deepest point in the Caribbean Sea.
Accommodations NearFinca El Paraíso
Here are some options of places you can stay near Finca El Paraíso. The only one I've stayed at myself is Cañon Seacacar, so make sure you do your own due diligence.
You can stay in the bungalows at the tourist center at Finca el Paraíso, or camp on their property. That way you can enjoy all of their facilities without any pesky deadlines. You'll also save on the entrance fee to the Cascadas. Since the Turicentro has a restaurant, swimming area, and a waterslide, you should be all set. They offer air-conditioned and fan-cooled rooms.
If the Tourist Center bungalows are full, or if you're looking for a slightly different option, this hotel is right next door. It has similar facilities (minus the waterslide), but the price doesn't include entrance to the waterfall.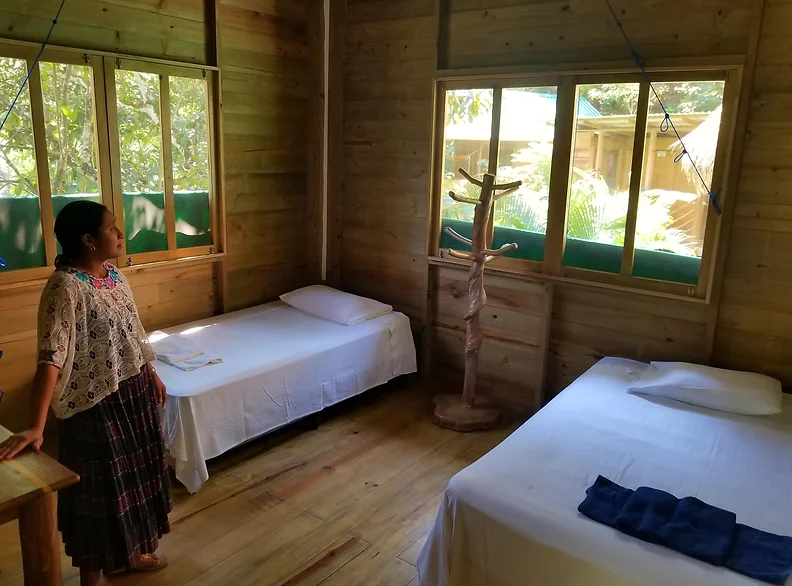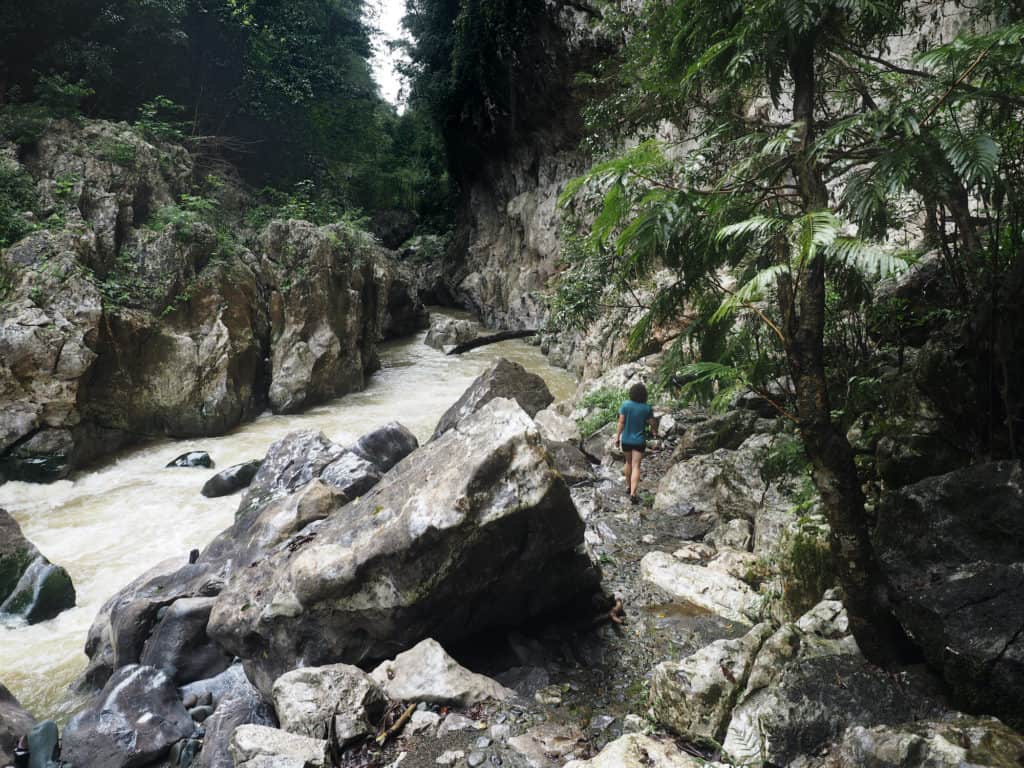 This is a lovely place to stay in the wild nature-scape of the Río Sauce watershed, about 30 minutes west of Finca el Paraíso. The Reserve has a variety of accommodation options, so you can choose the option that best fits your budget. While you're there, you can swim in the River Sauce, tube down the El Boquerón Canyon, and hike on some amazing nature trails. Check out my blog post for everything you need to know about Reserva Natural Cañon Seacacar.
Rooms
Q75 per person to stay in the eight-person bunkhouse (a dormitory-style room with bunk beds)
Q250 for a double room with a shared bathroom
Q200 for a single room with a shared bathroom
Q300 for a double room with a private bathroom
Q250 for a single room with a private bathroom
Camping
Q35 per tent per night if you bring your own tent
Q100 to rent a tent and camp in it
This beautiful hotel and nature sanctuary is located in the town of El Estor. Camp here for Q75 a night, or stay in a fan-cooled or air-conditioned bungalow instead. This hotel is pet-friendly.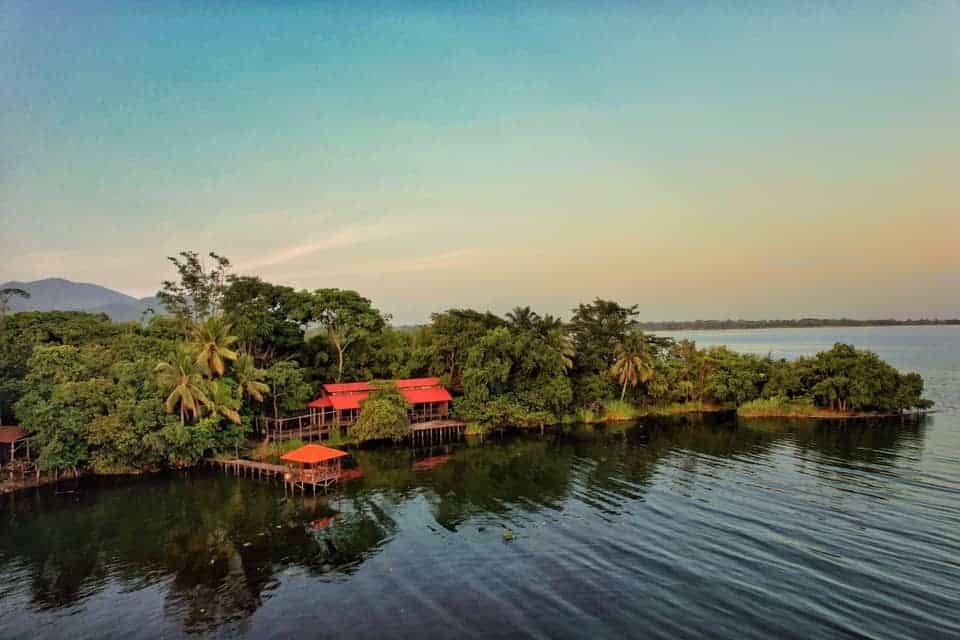 For four people:
fan-cooled room Q450
air-conditioned room Q550
For five people:
fan-cooled room Q550
air-conditioned room Q650
Phone/Whatsapp number: +502 3221-2883
Hotel Yair El Estor
Hotel Yair is located along the lakeshore in El Estor, about 30 minutes from Cascadas el Paraíso.
If you want to treat yourself, you may want to opt for this chalet with swimming pools, a private marina, wi-fi, and jet skis. This chalet is also about 30 minutes from the thermal waterfalls at El Paraíso
Nearby Attractions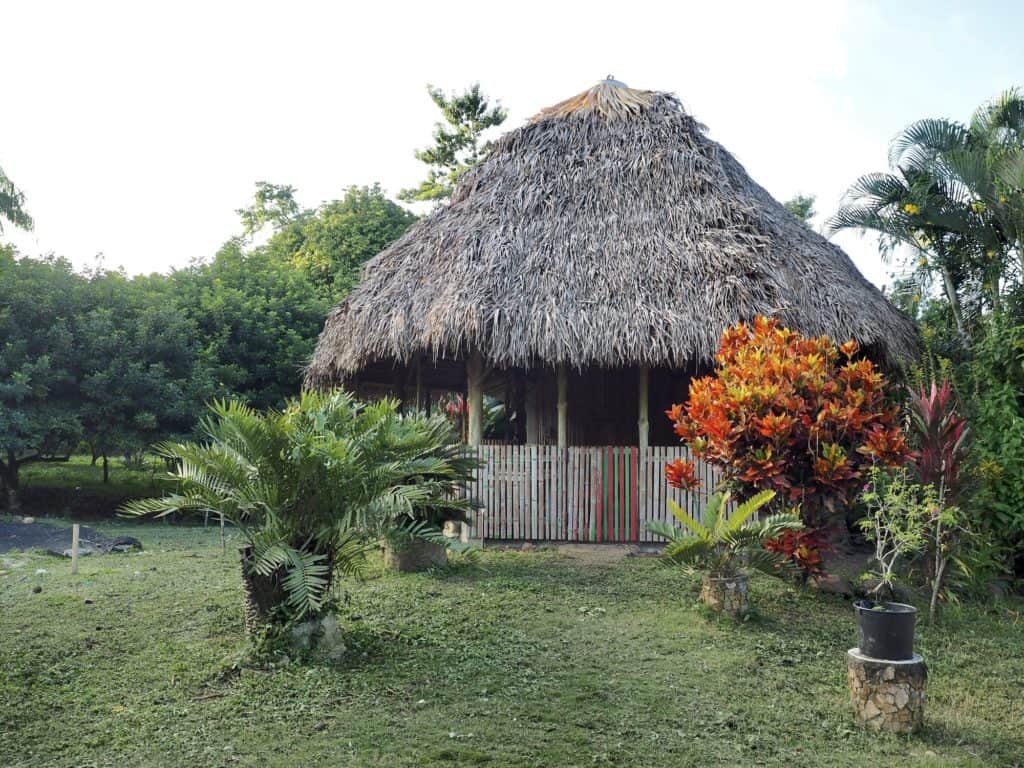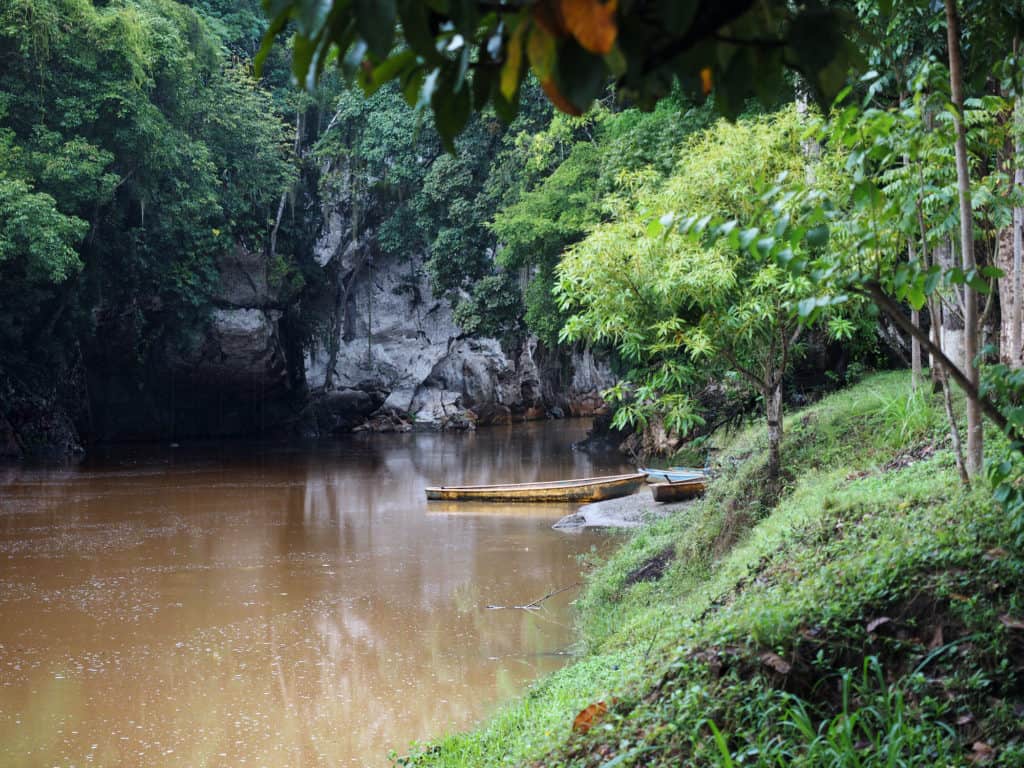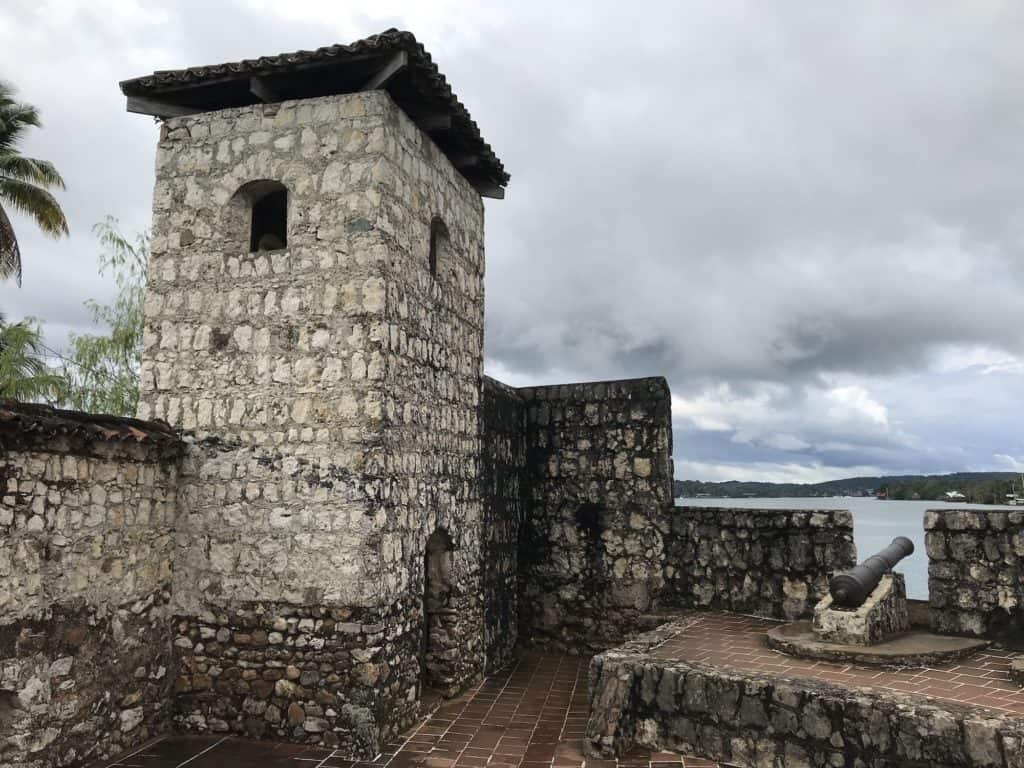 There are too many nearby attractions to list them all, but be sure to check out El Boquerón and Reserva Natural Cañon Seacacar, the centuries-old castle in San Felipe, and Vivero Frutas del Mundo in the town of Buenos Aires Izabal.
Sample Itinerary for a trip to Izabal
Day 1 – Travel from Guatemala City to Vivero Frutas del Mundo in Buenos Aires Izabal. Reserve their exotic farm-to-table dinner a day ahead. Camp on the property or stay in their rustic guest house.
Day 2 – Enjoy a tour of Vivero Frutas del Mundo, then drive around the lake to Reserva Natural Cañon Seacacar. Spend the night in the rooms, or camp. Explore the area around the hotel, and swim in the river, and/or hike the nature trails to the ceremonial cave and overlooks.
Day 3 – Go on the tubing tour down El Boquerón and return upriver either by kayak or by hiking the steep nature trails up to the overlooks. If visibility is good, you'll catch some lovely views of Lake Izabal through the steep V of the canyon.
Day 4 – Spend the morning swimming and enjoying the hot waterfalls at Cascadas Finca El Paraíso, then visit the Castillo de San Felipe de Lara in the afternoon to learn about Guatemala's historic fight with pirates. Spend the night in a nearby hotel.
Day 5 – Hike the Las Escobas Nature Trail
Day 6 – Drive home
Want an even longer trip? You can easily add extra stops by doing a manatee tour, visiting the town of Livingston, taking a boat to Siete Altares (a series of stepped pools), and visiting some of Guatemala's Caribbean beaches, several of which are only accessible by boat. If you have the urge to go even further afield, you can hire a boat to take you to the Punta de Manabique. Alternatively, visit the ruins of Quiriguá during your return trip.
The Wrap-up
Cascadas Finca El Paraíso is definitely worth the visit! This gorgeous waterfall has all the elements of a natural spa, hot and cold water treatments, beautiful trees, mineral-rich water, and rocks to jump off of.
Where are you heading next? Don't miss my posts on the best black sand beaches of Escuintla Guatemala, or Laguna Lachuá, Guatemala's hidden gem.
***GUATEMALA TRAVEL PLANNING GUIDE***

Should I buy Guatemala travel insurance?
YES — Personally, I always travel with travel insurance because it gives me extra peace of mind. SafetyWing is an excellent travel insurance company that's quite affordable. Plus, if you travel longterm, it's a snap to renew on a month to month basis. You can keep renewing for up to a year and still pay the same deductible.

Where's the best place for finding cheap flights to Guatemala?
When I purchase a ticket, I always search several different sites. Kayak and Expedia are great places to start running a search. Spirit is usually the cheapest carrier, but American Airlines and United also sometimes offer excellent deals.

What's the best way to book my Guatemala accommodations?
I recommend booking.com for finding and booking hotels in Guatemala. For vacation rentals, I recommend VRBO.com — it offers beautiful and unique spots to stay.

What's the best way to book Guatemala tours?
Viator is a great tour booking site with several excellent options available in Guatemala's main tourist areas including Tikal, Atitlán, Antigua, and Acatenango. There's a nice range of prices and options available.

Can you drink the water in Guatemala?
No – Don't drink the tap water! Instead, buy purified water from any corner store or grocery store in Guatemala.

Be sure to brush your teeth with that water as well to avoid getting sick. And hydrated, especially when traveling to high elevations.

Do I need a visa for Guatemala?
Probably not — Visitors to Guatemala from "Category A" countries like the United States, Canada, the UK, New Zealand, Australia, and most European countries are automatically given a 90-day tourist visa (in the form of a passport stamp) when entering Guatemala.

This visa is valid for Guatemala, Nicaragua, Honduras, and El Salvador. At the end of 90 days, it can be renewed once at Guatemala's Migración without leaving the country.

After 180 days, you will have to travel outside of Central America before returning. Check to see if you need a visa.

Will my phone work in Guatemala?
It's possible, but check with your provider in advance to see if Guatemala is covered. If not, you can easily pick up a local SIM card.

There are essentially only two carriers in the country: TIGO and CLARO. Both have good coverage.