Visit Castillo de San Felipe de Lara
Pirates, cannons, an ancient prison, and battlements dating back to the 1600s–sound like fun? If those things snag your interest, put Castillo de San Felipe de Lara on your Guatemala bucket list.
During your visit, you can dip your toes into a history rife with pillaging pirates and fights to the death, enjoy the scenic grounds, rent a jetski, poke around an old cemetery, get a close-up look at bronze cannons, and crawl through narrow trapdoors into defensive towers.
Activities at Castillo de San Felipe
There's plenty to do at the Castillo de San Felipe. You could spend an entire day touring, swimming, and picnicking on the grounds, then exploring the town of San Felipe. However, if you're pressed for time, just pop in to visit the main fortress and then be on your way.
Tour the castle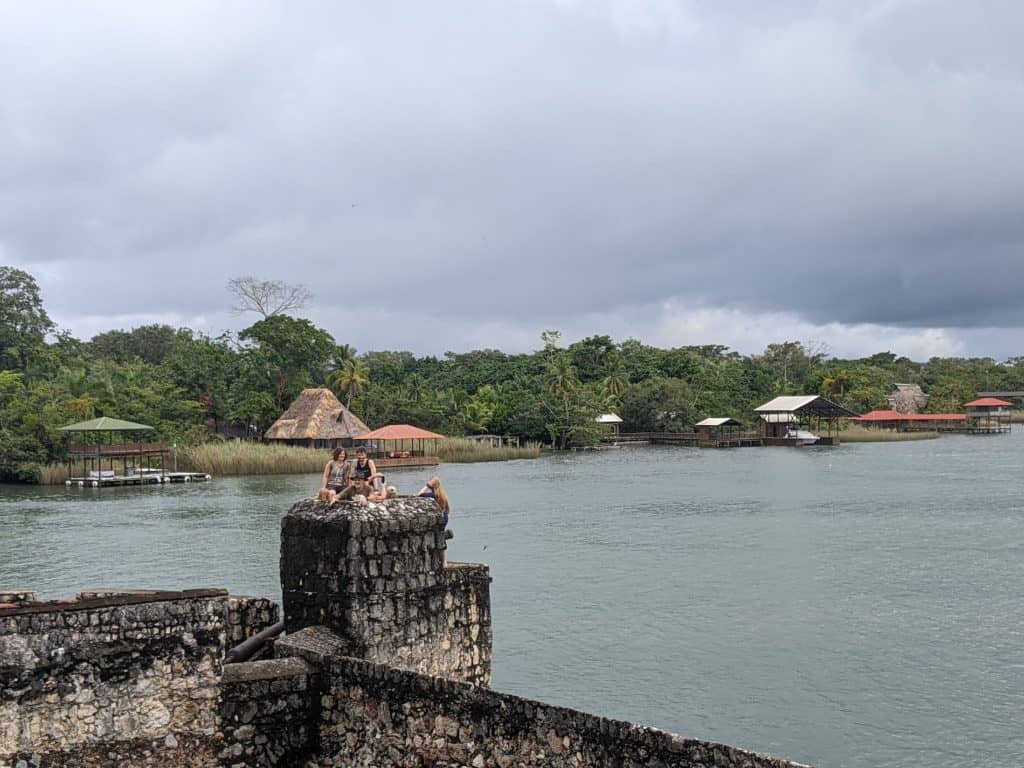 This is the main attraction, so be sure to explore the fortress, towers, dungeons, and old powder rooms in the Castillo de San Felipe.
Although an employee from INGUAT, Guatemala's National Tourism Institute will give you a brief history and explanation about the Castillo as you enter, it will probably be much more interesting if you hire a guide. (We didn't hire one, but we wished we had).
There are plenty of guides outside of the Castillo. You'll come across them as you walk across the grounds. I don't know how much they charge, so feel free to ask a few different ones for their rates.
Have a picnic or churrasco
If you want to enjoy a truly Guatemalan day out, why not have a churrasco with your friends or family? All you need is some charcoal, steak, tortillas, chirmol (roasted tomato salsa), green onions, and guacamole, plus enough time to cook and eat.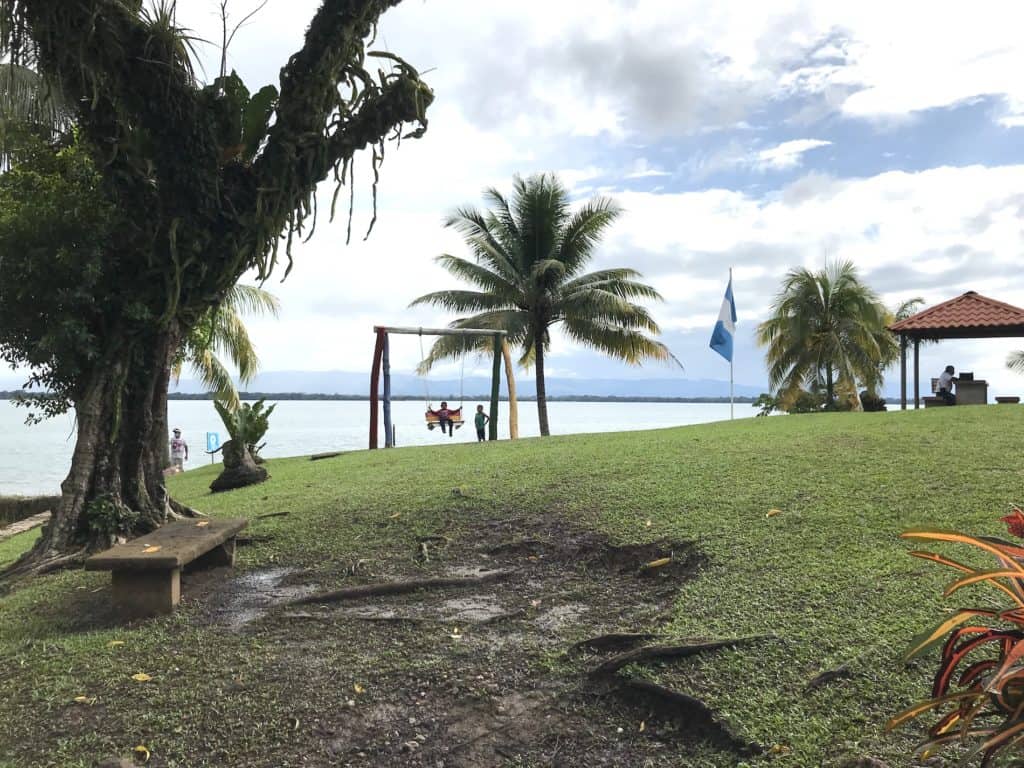 Rent jet skis
Jet skis are available for rent if you want to have fun roaring around Lake Izabal and Río Dulce. Check out the approach to the Castillo as the pirates would have seen it.
When I visited in December 2021, jet ski rentals were Q300 for half an hour.
Walk the grounds and nature trails
The Castillo de San Felipe is situated on a narrow peninsula that's been beautifully landscaped. Check out the nature trails to the left and right of the entrance, wander the grounds, and swing on the swings beneath the palm trees for a great photo op.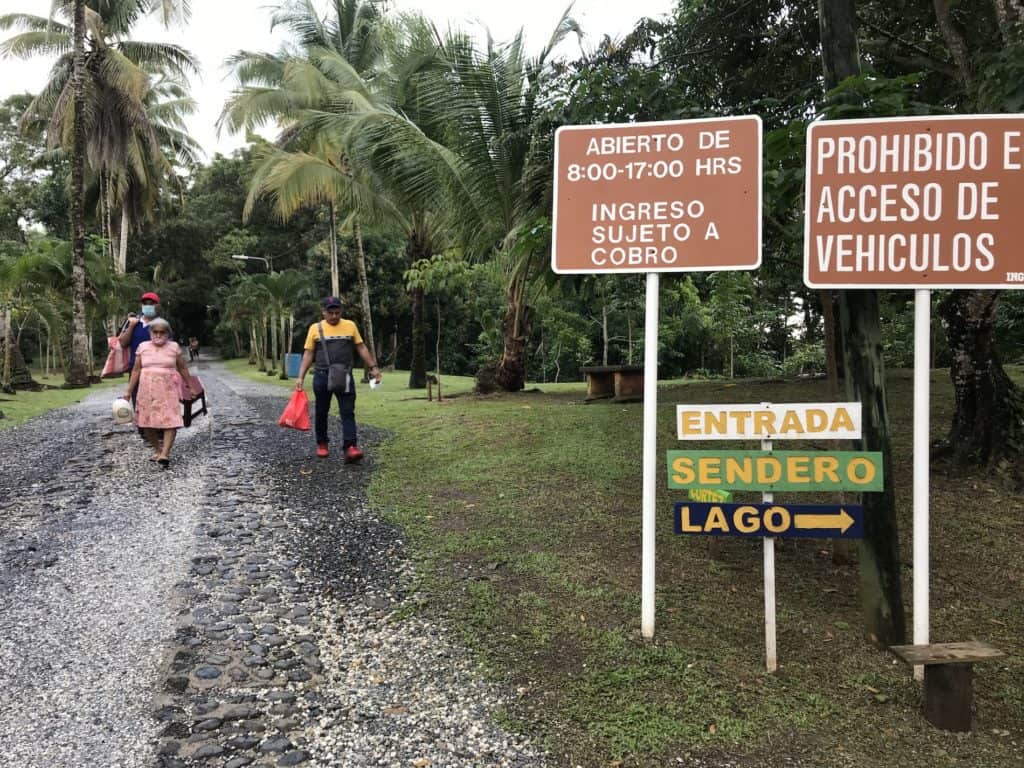 Go swimming
Since the weather gets hot in Izabal, why not go for a dip during your visit to the Castillo? I didn't have a suit with me, so I settled for wading by the bank.
Check out the old cemetery
On your way to the Castillo, you'll pass through an old cemetery. Check out the mausoleums and see if you can find the oldest dates.
History of Castillo de San Felipe de Lara
In the early 1500s, the Spanish Empire conquered vast swaths of the Americas. The Spanish exported shiploads of goods from ports in Central America to Spain. Lake Izabal, which connects to Amatique Bay via the Río Dulce river, was one of New Spain's primary ports… and a prime target for pirates.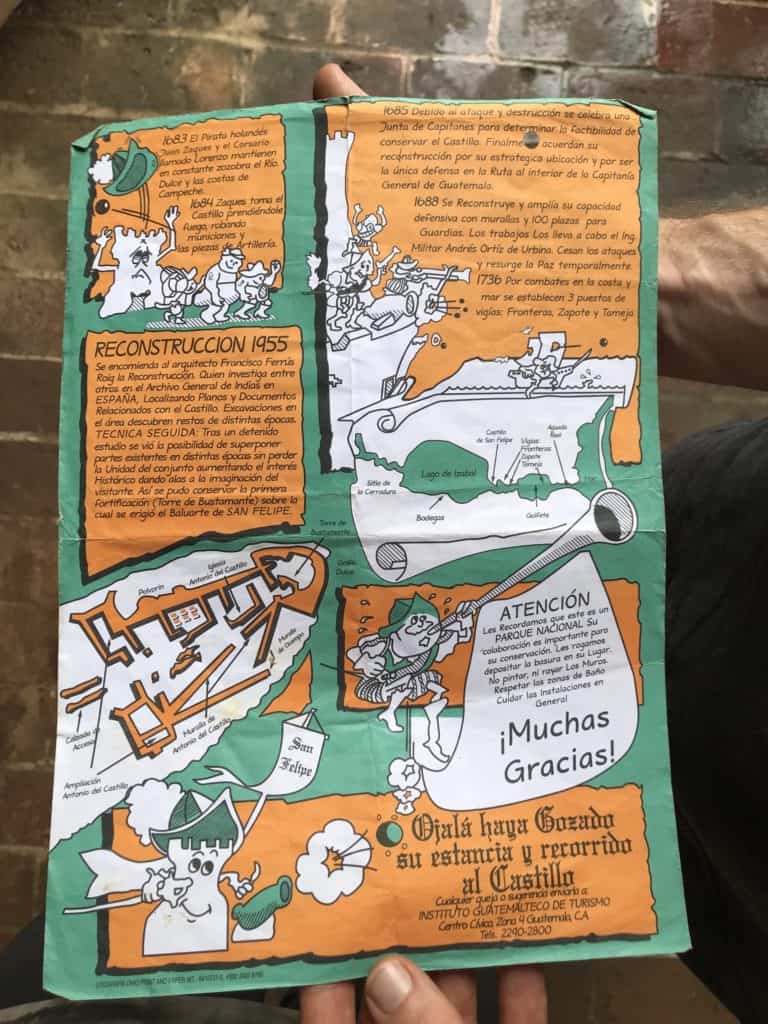 Buccaneers would sail up the Río Dulce River into Lake Izabal and raid the warehouses in present-day Morales. To defend against them, King Felipe II ordered the governor of the Kingdom of Guatemala to build a defensive fort on a strategically narrow portion of the Río Dulce River.
This first tower was built around 1595 and named "Torre de Sande." It held twelve soldiers and twelve pieces of artillery, but even with all that firepower it wasn't a match for the pirates.
The tower went down in flames time after time, suffering attacks from Cuban pirate Diego el Mulato, English pirate and aristocrat Anthony Schirley, English privateer William Jackson, and William Parker of Tortuga, the sacker of Porto Bello Panama.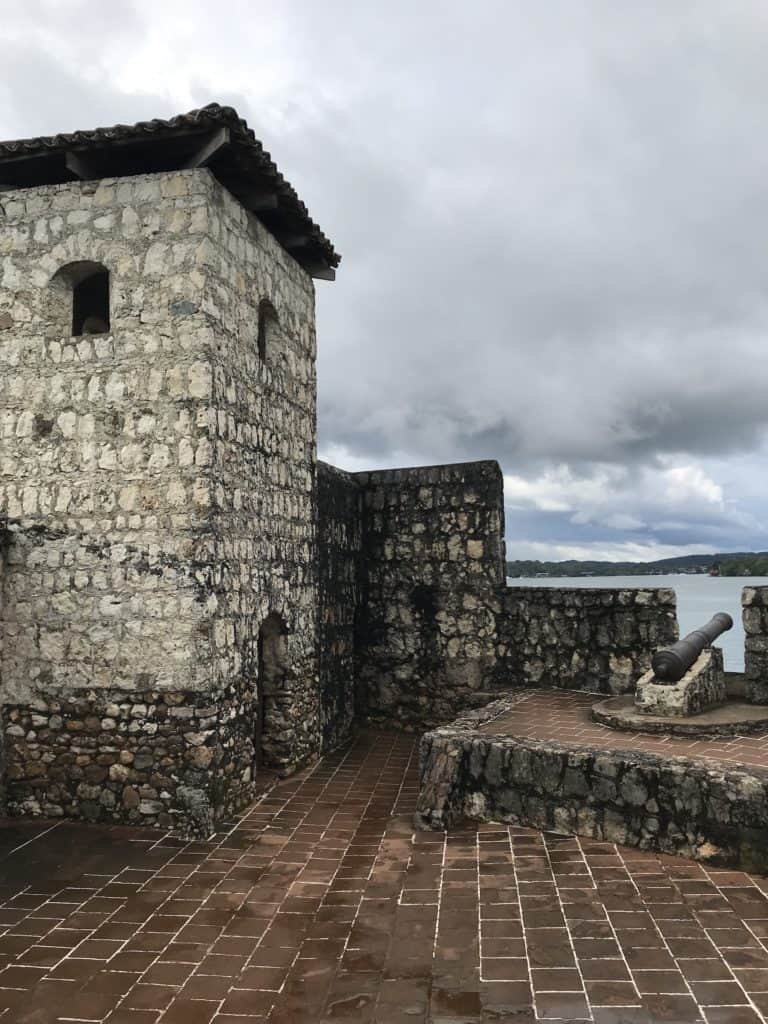 In 1604, the "Torre de Bustamente" was built from the rubble of "Torre de Sande" and named in honor of Captain Pedro de Bustamante.
The tower was rebuilt again in 1651 on the orders of High Judge Antonio de Lara y Mongrovejo. He renamed the tower "Castillo de San Felipe de Lara" in honor of himself and King Felipe II of Spain.
By 1688, Castillo de San Felipe had expanded to include stone battlements and towers with one hundred guards to defend it.
Interesting Facts about Castillo de San Felipe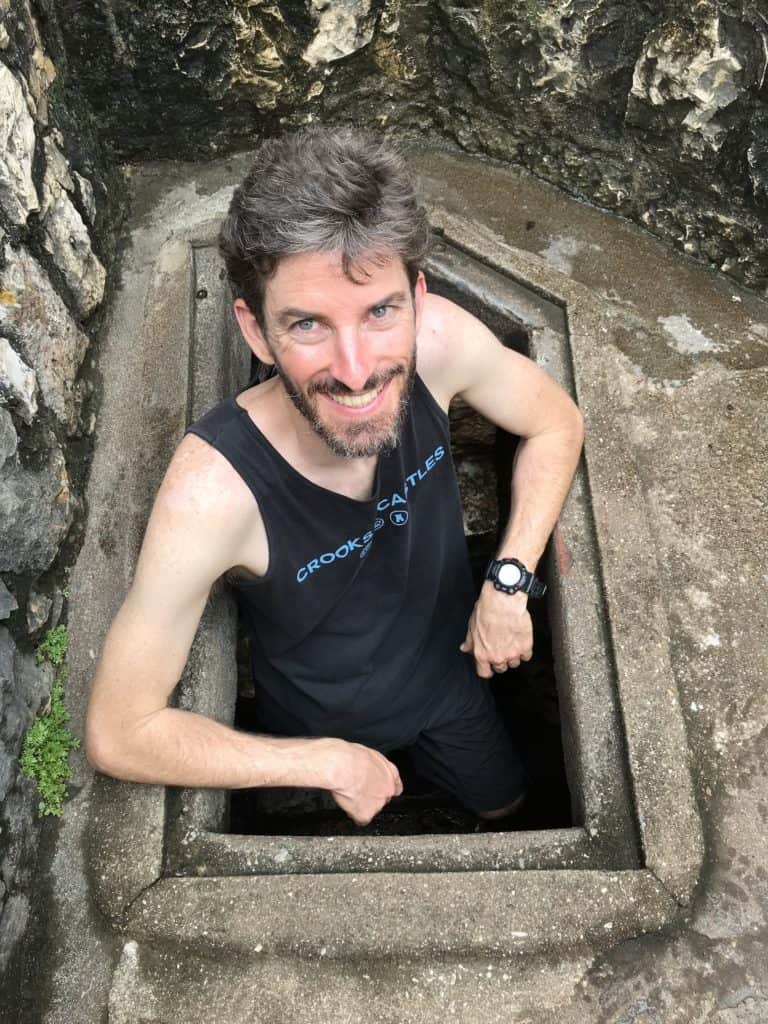 Pirate attacks decreased for a while around 1655, so the fortress was converted into a prison. During my visit to Castillo de San Felipe, I learned that the prisoners were chained neck-deep in water, a truly horrible and often fatal fate.
At night, a gigantic chain was strung across the river between the Castillo and the opposite bank to keep ships from entering Lake Izabal.
In 1694, Dutch pirate Juan Zaques took over the Castillo, stole all the artillery, and set it on fire.
Architect Franscisco Ferrús Roig oversaw reconstruction of the Castillo in 1955. He made sure to preserve parts of the Castillo from different eras, including the original Torre de Bustamante.
How to get to Castillo de San Felipe
It's not difficult to get to Castillo de San Felipe whether you plan to go by car or on public transportation. Depending on traffic, the journey from Guatemala City could take anywhere from five to nine hours, but seven is a good average.
How to get there in your own vehicle
To get to Castillo de San Felipe from Guatemala City in your own vehicle, take CA-9 towards Puerto Barrios. Once you reach Morales, turn north on CA-13 towards Río Dulce. After crossing the Puente Río Dulce, turn left onto Road 7E. After a few kilometers, turn left towards the town of San Felipe de Lara. Once in town, find a parking lot where you can leave your vehicle, then continue on foot to the entrance to Castillo de San Felipe.
How to get there on public transportation
To get to Castillo de San Felipe on public transportation, take a Pullman-style bus from Guatemala City. Once in Río Dulce, find a microbus heading towards the town of San Felipe de Lara. Ask around for one, or try walking up the road from the Río Dulce bridge to the intersection of CA13 and Ruta Nacional 7E. There should be microbuses there.
Hours at Castillo de San Felipe
8 am to 5 pm every day
Costs
Q10 for children
Q25 for adults
Q75 for foreigners/non-residents
If you hire a guide to take you through the Castillo, that will cost extra.

Contact Information
For information on the Castillo, you can call Inguat at +502 2290-2800
What to take
Good walking shoes (you have to park in a parking lot in the town of Castillo and then walk at least one kilometer to reach the castle proper)
Sunscreen/Hat/Sunglasses
Rainjacket
Water
Camera
Bathing suit if you plan to swim or rent jet skis
Best time to visit

The Castillo de San Felipe is open year-round. I visited in December, which is the rainy season in Izabal. Since Izabal has an equatorial climate, it rains there all year. However, there is the least amount of rainfall between January and March. The rain didn't bother us much, and it took the edge off the heat.
Other attractions near Castillo de San Felipe
If you'll be in Izabal, there are so many potential destinations you won't have time for them all. Here are a few of my favorites: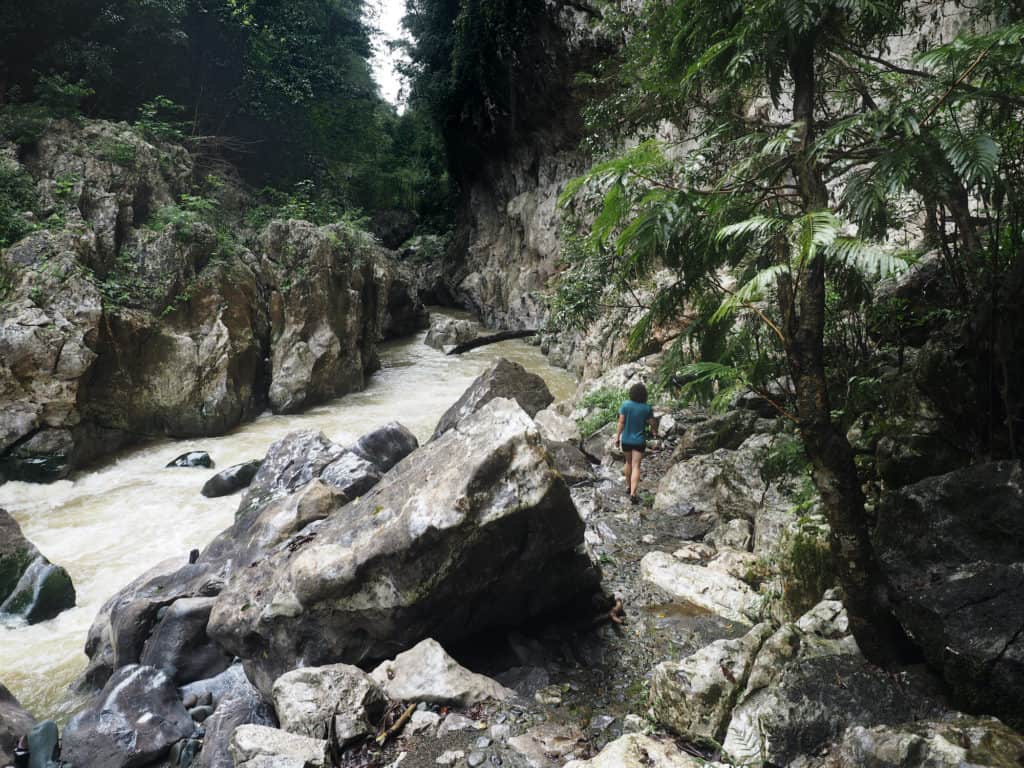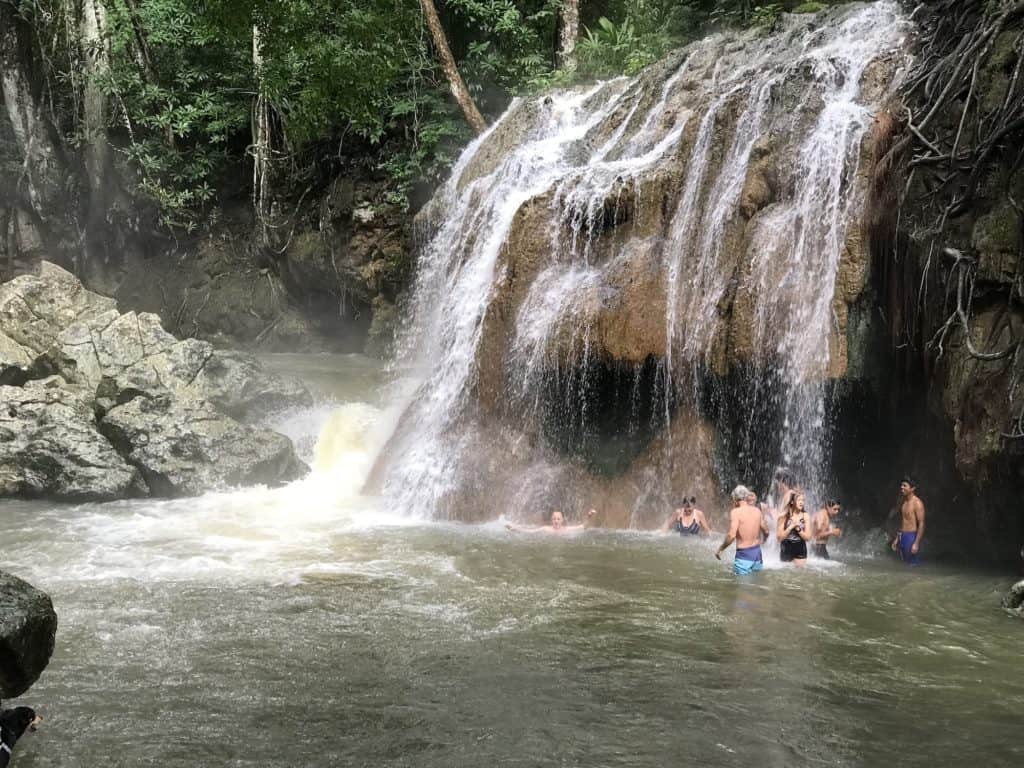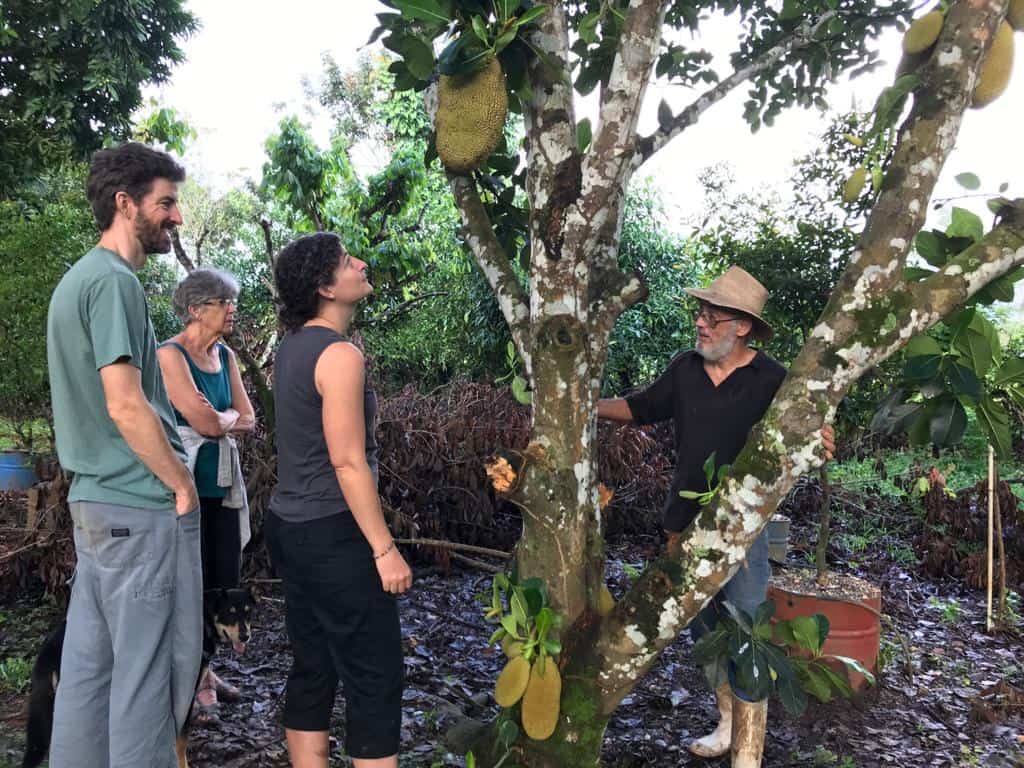 El Boquerón – This narrow canyon is a wild and beautiful place to go tubing and hiking. Even better, it's a community tourism project, so all proceeds help build up the community, fund their local school, and support their scholarship students.
Cascada el Paraíso – This waterfall is fed by a hot spring and exhales steam into the jungly air. It's an amazing place to get natural hot-cold treatments and enjoy swimming, jumping off boulders, and applying a sulphuric mud mask (if you're into that kind of thing.
Vivero Frutas del Mundo – Frutas del Mundo is an exotic farm and nursery where you can try wild and strange fruits, learn about grafting, eat chocolate made from different species of theobroma, and have an amazing farm-to-table meal.
Conculsion Castillo de San Felipe de Lara
As you can see, Castillo is a great place to visit, especially if you like to learn about Guatemalan history.
***GUATEMALA TRAVEL PLANNING GUIDE***

Should I buy Guatemala travel insurance?
YES — Personally, I always travel with travel insurance because it gives me extra peace of mind. SafetyWing is an excellent travel insurance company that's quite affordable. Plus, if you travel longterm, it's a snap to renew on a month to month basis. You can keep renewing for up to a year and still pay the same deductible.

Where's the best place for finding cheap flights to Guatemala?
When I purchase a ticket, I always search several different sites. Kayak and Expedia are great places to start running a search. Spirit is usually the cheapest carrier, but American Airlines and United also sometimes offer excellent deals.

What's the best way to book my Guatemala accommodations?
I recommend booking.com for finding and booking hotels in Guatemala. For vacation rentals, I recommend VRBO.com — it offers beautiful and unique spots to stay.

What's the best way to book Guatemala tours?
Viator is a great tour booking site with several excellent options available in Guatemala's main tourist areas including Tikal, Atitlán, Antigua, and Acatenango. There's a nice range of prices and options available.

Can you drink the water in Guatemala?
No – Don't drink the tap water! Instead, buy purified water from any corner store or grocery store in Guatemala.

Be sure to brush your teeth with that water as well to avoid getting sick. And hydrated, especially when traveling to high elevations.

Do I need a visa for Guatemala?
Probably not — Visitors to Guatemala from "Category A" countries like the United States, Canada, the UK, New Zealand, Australia, and most European countries are automatically given a 90-day tourist visa (in the form of a passport stamp) when entering Guatemala.

This visa is valid for Guatemala, Nicaragua, Honduras, and El Salvador. At the end of 90 days, it can be renewed once at Guatemala's Migración without leaving the country.

After 180 days, you will have to travel outside of Central America before returning. Check to see if you need a visa.

Will my phone work in Guatemala?
It's possible, but check with your provider in advance to see if Guatemala is covered. If not, you can easily pick up a local SIM card.

There are essentially only two carriers in the country: TIGO and CLARO. Both have good coverage.