Ultimate Food Tour Antigua – 11 Stellar Options
Looking for the best food tour Antigua Guatemala has to offer?
You've come to the right place! I live in Guatemala and LOVE the food here, whether traditional recipes, fusion dishes, or good old crackly saucy street food.
For your reading (and eating) pleasure, I've compiled the top Antigua food tours for you to choose from–with some cooking classes thrown in for good measure.
***This page contains affiliate links, so if you book a tour through those links, I'll earn a small commission at no extra cost to you. Learn more in my disclaimer.***
Don't have time to read the whole post? Skip straight to the cream of the crop and book the Antigua Foodie Tour which has a 5-star rating and over 93 rave reviews. You can't go wrong!
From sweet and dense "rellenitos de plátano" to complex sauces with explosive flavors, you're going to love the selection of typical food in Antigua Guatemala.
You might even want to book a street food tour and a cooking class. That way you can recreate Guatemala in your home kitchen.
Warning: reading this post may make your belly rumble and your mouth water.
Quick Guide: Best Antigua Food Tours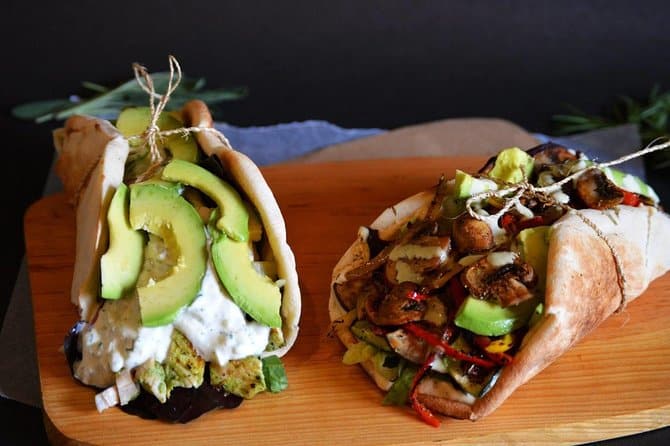 Explore Antigua's top food spots from hidden gems to rooftop bars, sampling 10 scrumptious dishes as you gain insight into the culture, cuisine, and fun history of the chefs.
Book it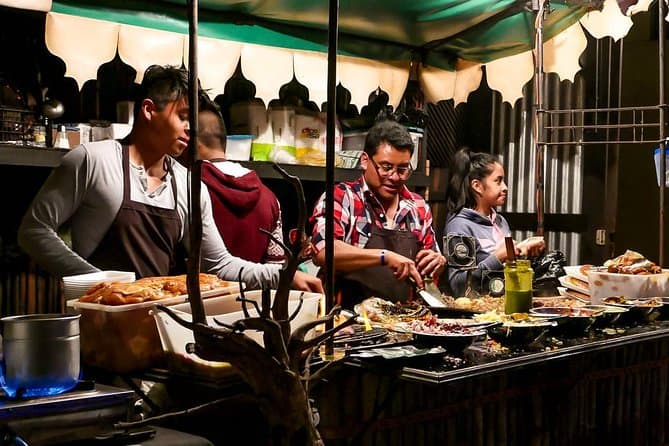 Taste your way through three villages surrounding Antigua while eating the best street food Guatemala has to offer, from crunchy tostadas to savory shucos.
Book it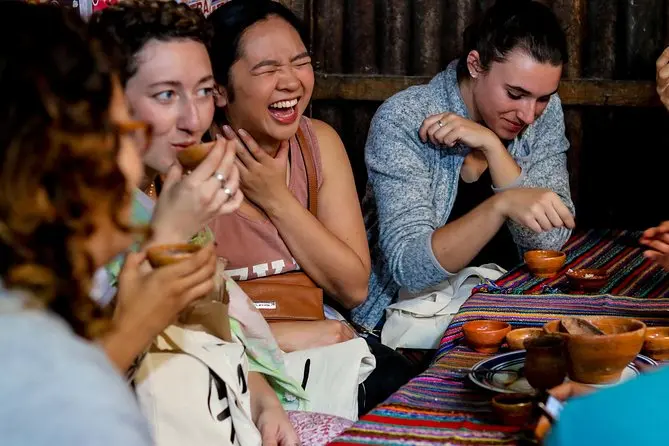 Enter the colorful world of the Antigua Market, learn, taste, and try your hand at making tortillas. Finish off with a delicious restaurant stop.
Book it
Best Food Tour Antigua – 11 Stellar Options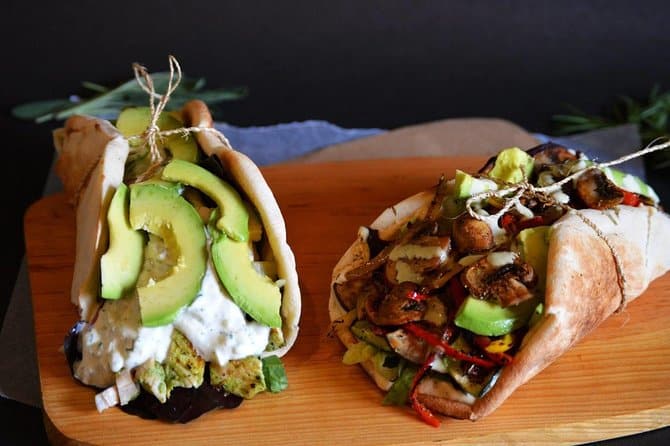 ⭐️Rating: 5 out of 5 Stars | ⏰Tour time: 3 hours | 👀Check rates and availability
Take yourself and your tastebuds out on the town on a yummy adventure. The Antigua Foodie Tour is a perfect way to enjoy mouthwatering food in a small group setting.
Dine your way through the baroque streets of Antigua making 5 different stops and eating a fantastic variety of delightful cuisine (over 9 different items). As you go, you'll learn funny and interesting stories about the chefs and restaurant owners behind the scenes.
Since Antigua Guatemala has over 300 eateries and restaurants, having someone take you straight to the top spots is going to be way more enjoyable than a hit-or-miss approach. Plus, Antigua has hundreds of hidden gems that would be really hard to find on your own.
Tip: book early in your trip so you can return to your favorite stops on the tour or try out some more recommendations from your guide.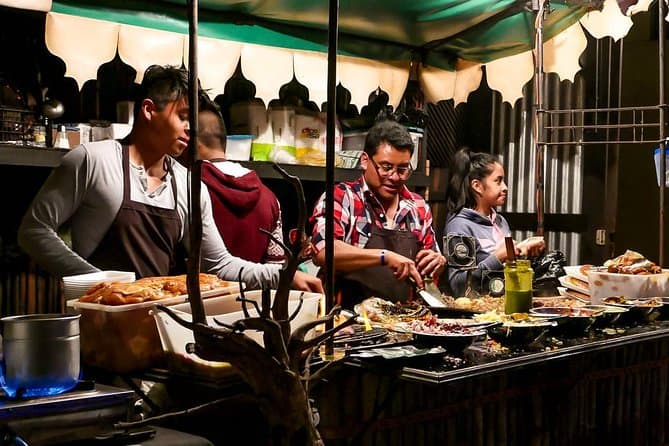 ⭐️Rating: 5 out of 5 Stars | ⏰Tour time: 3 hours | 👀Check rates and availability
Sample excellent street food and explore the villages around Antigua all at the same time on this Street Food Evening Tour in Antigua.
Learn from your guide and sample the top street food in Guatemala. Eating like a local means trying shucos, chalupas, búfalos, chocolate, and more.
You'll eat at tiny "comedores" and food stands in three different villages, learning and chatting as you go. What could be better?
Each spot on the tour is chosen carefully to ensure the highest quality taste and hygiene standards. The tour guide from Cuscun will share great information about the culture and cuisine in Guatemala.
If you're looking for the best authentic street food tour Antigua has to offer, this is it!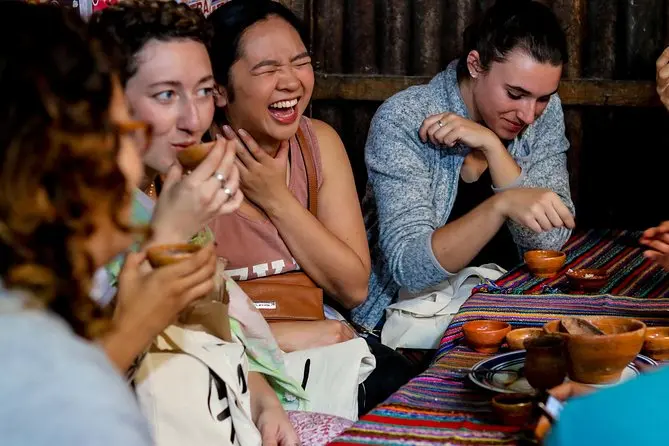 ⭐️Rating: 5 out of 5 Stars | ⏰Tour time: 2-3 hours | 👀Check rates and availability
Immerse yourself in the colors and cuisine of Guatemala on this top-rated Market Food Tour and Tortilla Workshop.
No trip to Guatemala would be complete without visiting the bustling "mercados" with their piles of vibrant vegetables and fruits, sizzling food stands, and locals in traditional clothing.
Although wandering on your own can be fun, this tour will teach you about the roots of Guatemalan food from a chef and entrepreneur. Not only will you get to sample 10+ "antojitos"–the foods Guatemalans crave–you'll also learn the history of each food and beverage you try.
Next, head to El Comalote, a restaurant that's all about protecting the native corn of Guatemala. While you're there, you'll get to make tortillas. They are absolutely delicious hot off the "comal." Finish off with a tasty lunch.
After this experience, you might want to go back to the market and try your hand at bargaining for fruit and veggies, then cooking up a meal at your Airbnb.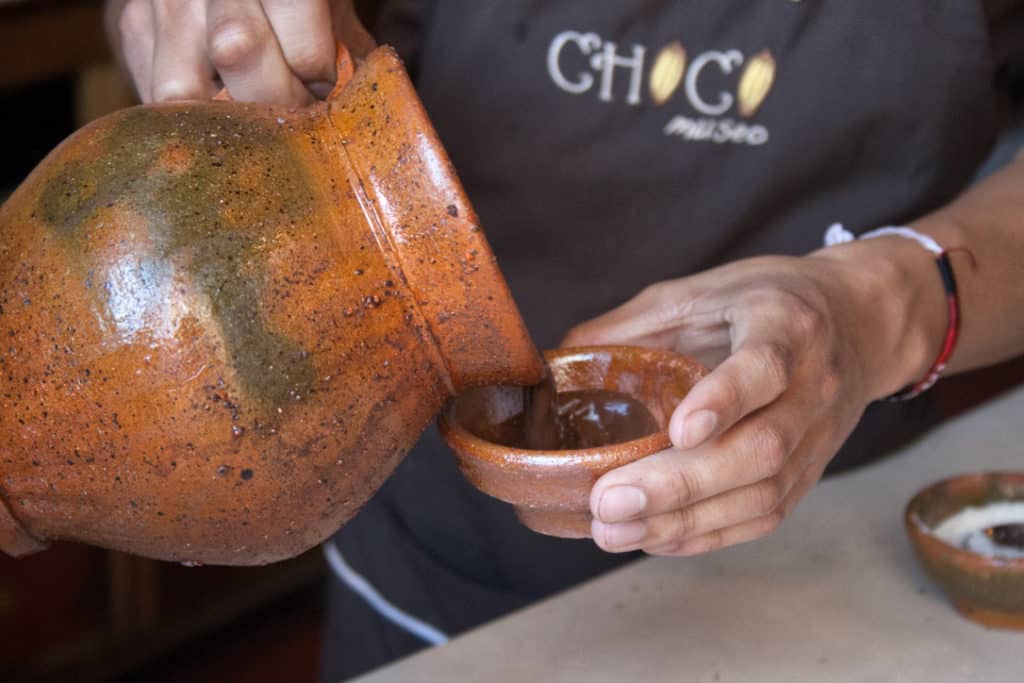 ⭐️Rating: 5 out of 5 Stars | ⏰Tour time: 2 hours | 👀Check rates and availability
Hungry for the "food of the gods"? If so, this Bean-to-Bar Chocolate Workshop in Antigua fits the bill perfectly.
Head over to the Choco Museo for a two-hour workshop that involves sampling multiple chocolate drinks. You'll learn how the ancient Maya prepared chocolate, the significance of cacao in their society, and how the peasants drank it versus the princes.
Next, you'll get to try chocolate drinks prepared in Spanish colonial style. End by making your own chocolate bars and adding the flavorings of your choice.
Stop back in after your chocolate has set in the molds and take 120 grams of chocolate home with you (or at least partway down the block). No judgment if you decide to eat it right away.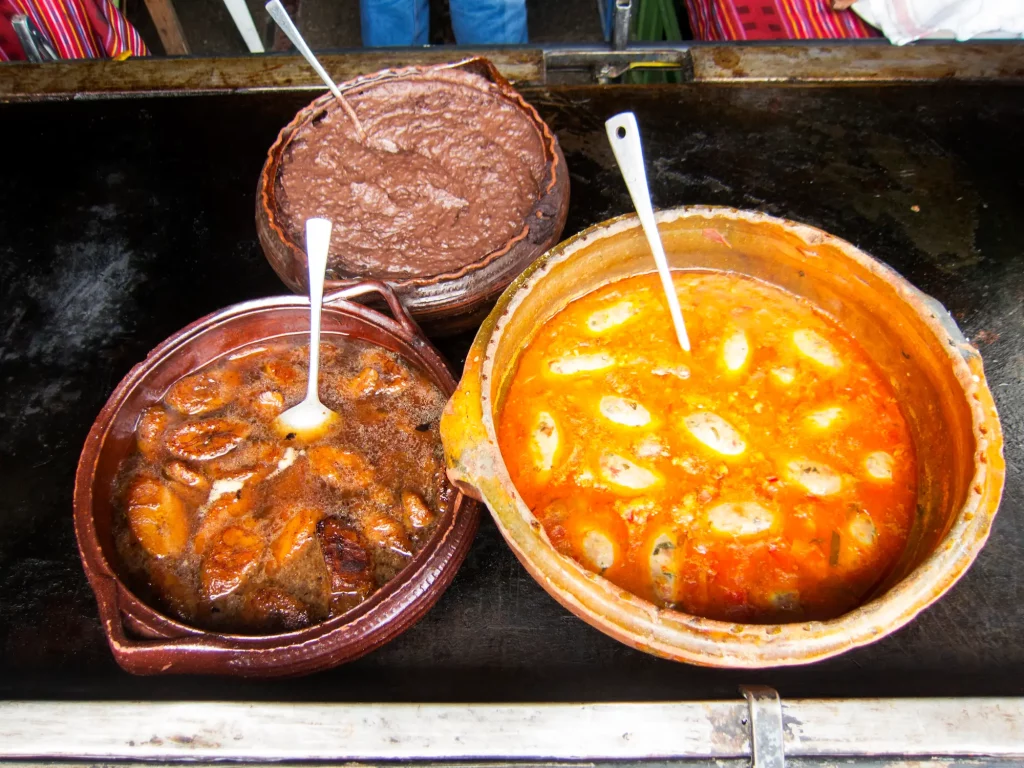 ⭐️Rating: 5 out of 5 Stars | ⏰Tour time: 5 hours | 👀Check rates and availability
History, architecture, and food make this Gastronomic, Cultural, and Traditional Tour one of a kind.
Kick off the tour with a fun immersive experience in the Antigua Market. You'll learn the history of Mesoamerican staples such as cacao, chili, squash, beans, and corn. Learn to make tortillas from a local, and sample some hot off the "comal".
Next, you'll visit the central park in Antigua and check out the architecture there, including the Cathedral, the City Palace, the Archbishop's Palace, and the famous Mermaid Fountain.
Learn interesting stories about each place and eat food created by the fusion of pre-Colombian, Hispanic, and Arabic gastronomy.
Taste local desserts, see what an ancient kitchen looked like, tour a convent, and visit a candy shop to round out the experience.
This tour includes transfers to and from hotels in Antigua and Guatemala City.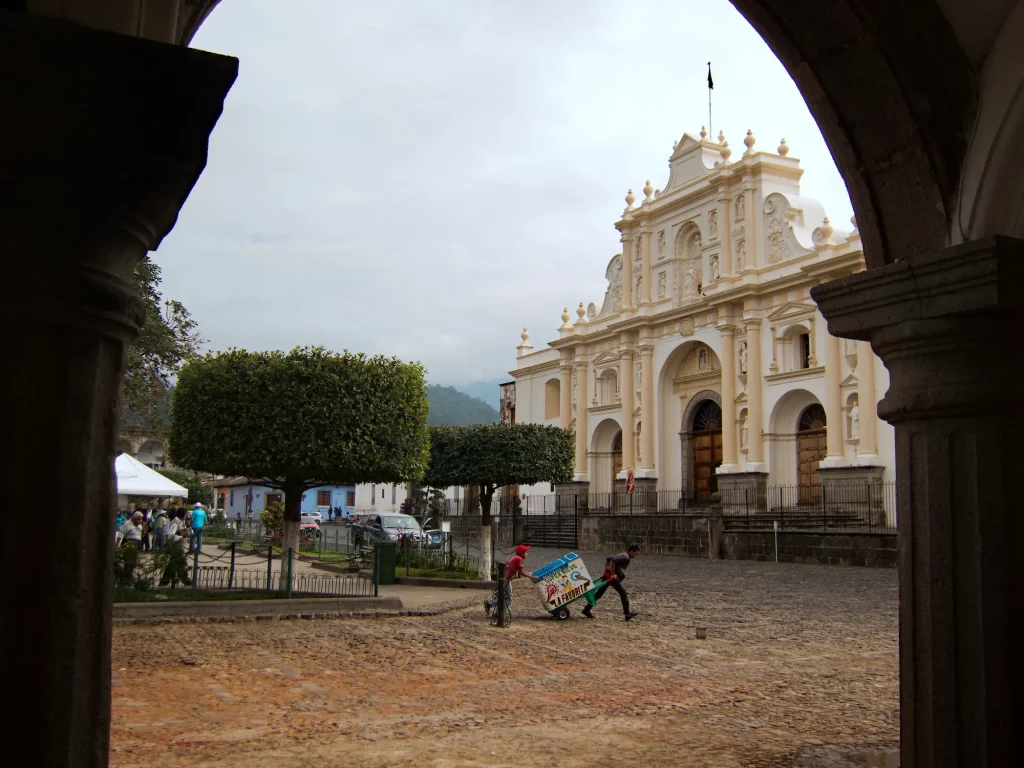 ⭐️Rating: 5 out of 5 Stars | ⏰Tour time: 3 hours | 👀Check rates and availability
Looking for the best half-day food tour Antigua Guatemala has to offer? If so, you'll love this option. The Gastronomic and Cultural Half-Day Tour is the express version of #5 on this list, offering all the best stops and tasty samples.
Join your expert guide in Antigua's central park, then walk to the market, admiring the colonial architecture as you go.
In the market, you'll learn the history of the traditional ingredients used in Guatemalan cooking. The vibrant colors and delicious aromas make this a full-on sensory experience.
You'll even get to try making tortillas with a local. Hint: It's not as easy as it looks.
Taste multiple dishes, visit a famous restaurant, see an ancient kitchen, and indulge your sweet tooth at a candy store to finish off the epic day.
This tour includes a visit to iconic Antigua buildings such as La Merced Church and the Santa Catalina Arch. By the end of the tour, your camera and your belly will be full.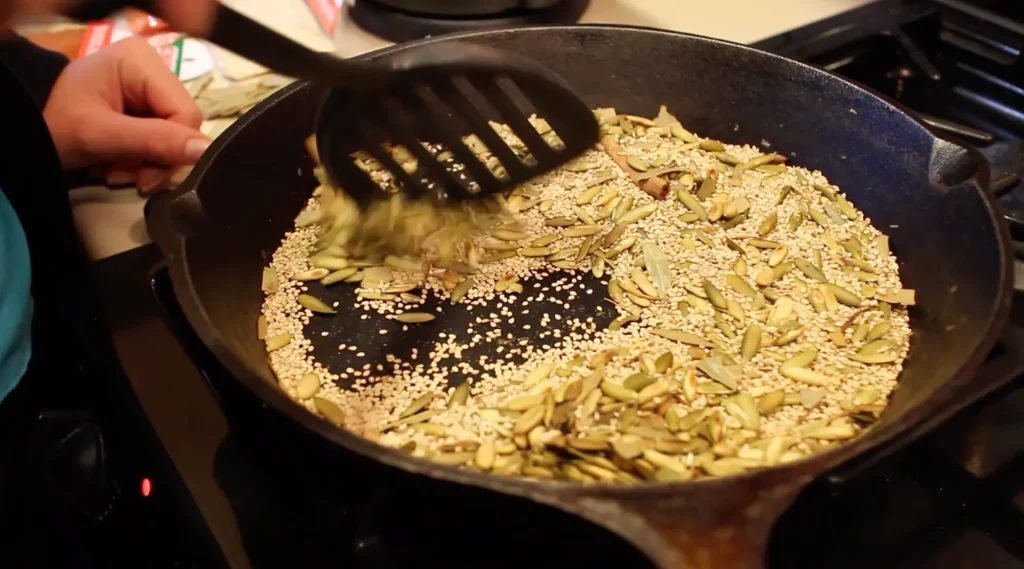 ⭐️Rating: 5 out of 5 Stars | ⏰Tour time: 1 hour 40 min | 👀Check rates and availability
Learn how to make one of Guatemala's signature dishes during this premier Make Your Own Mayan Pepian Cooking Class.
Pepián is a delicious combination of seeds, spices, chiles, and tomatoes combined into a savory flavor explosion. Chicken, veggies, and rice complement the sauce, adding yummy notes of their own.
Not only will you have a blast eating the food, but making it as well. As you go through each step of the process, you'll gain insight into the cultural history of the dish and the ingredients.
Another thing that makes this class unique is that the recipe comes from San Antonio Aguas Calientes, giving it a unique twist you aren't likely to find in an Antigua restaurant.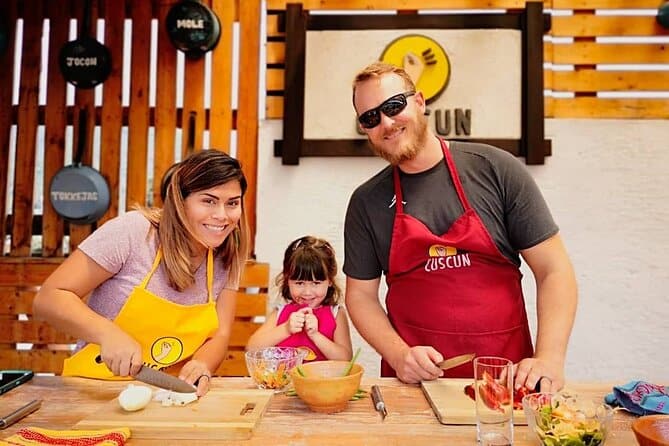 ⭐️Rating: 5 out of 5 Stars | ⏰Tour time: 3-4 hours | 👀Check rates and availability
Take your exploration of Guatemalan food to the next level with a top-notch Authentic Guatemalan Cooking Class.
Join a Cuscun chef and sous chef in the village of Jocotenango to make your choice of Guatemalan dishes. You can choose from a list of favorites including Kak'ik, Subanik, Jocón, Pepián, Chiles Rellenos, Tamales, and traditional desserts.
Are you vegetarian? No problem! All these dishes can be made vegetarian. They'll still taste delicious.
No matter what classics you make, you're sure to have a ton of fun creating each dish, in addition to learning Guatemalan cooking techniques, and the history and culture behind the food.
Eat your meal on a terrace with volcano views or in an indoor colonial-style room while food, drinks, and conversation flow.
⭐️Rating: 5 out of 5 Stars | ⏰Tour time: 3.5 hours | 👀Check rates and availability
Reading about all this toothsome food may just be making you thirsty, so why not mix things up with a Craft Beer Tasting Experience?
Antigua Guatemala is one of the prime spots in Guatemala for the craft beer scene. Learn about this cool trend, and enjoy amazing flavors. Along the way, you'll visit local breweries in and around Antigua and gain insight into the history of each spot.
Sample an IPA, Pale Ale, Belgium Blonde, and plenty more delightful surprises you'll discover as you go.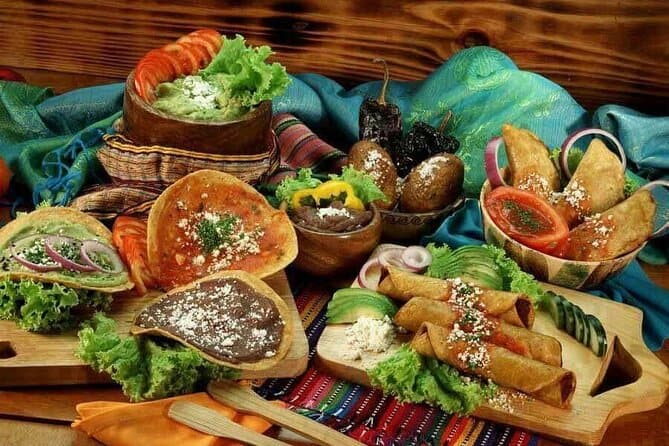 ⭐️Not Yet Rated | ⏰Tour time: 2-3 hours | 👀Check rates and availability
Skip the inconvenience and possible discomfort of a group tour and get a guide all to yourself. This Private Street Food Tour starts off at one of Antigua's street food meccas: the Sanctuary of San Felipe de Jesus. You'll get to eat food only prepared here.
Next, you'll visit Jocotenango for a tasty drink and a mouthwatering "shuco"–Guatemala's answer to a NY hot dog.
La Merced church is another emblematic spot to eat street food. You wouldn't want to miss a visit here during a trip to Antigua.
Sample various sweets, then finish off with delicious and unique hand-made bread.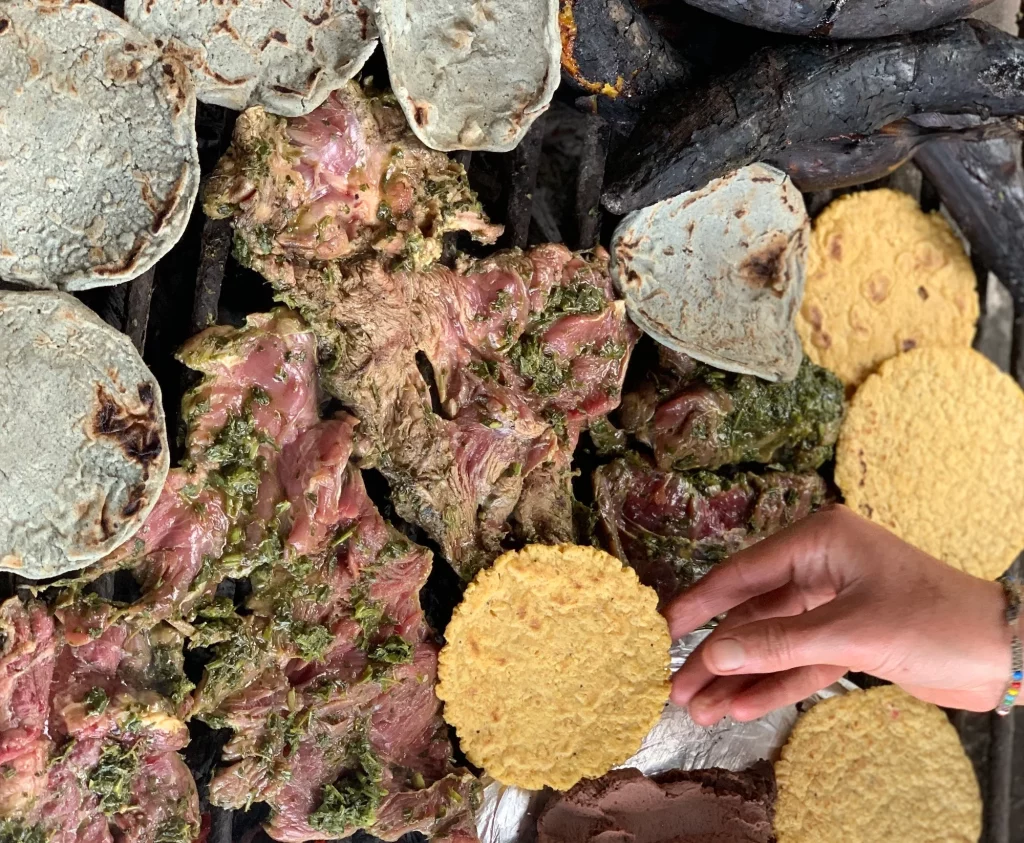 ⭐️Not Yet Rated | ⏰Tour time: 3 hours | 👀Check rates and availability
Combine sightseeing and scrumptious Guatemalan food on this Taste of Guatemala Walking Food Tour.
Meander the streets of Antigua. As you walk, you'll learn about the history of Guatemalan cuisine from your expert guide. Check out the unique architecture of this UNESCO World Heritage Site.
Explore the markets for an introduction to Mesoamerican staples including cacao, chili, squash, corn, and beans.
Get hands-on and learn how to make tortillas from a local.
Head to a fabulous local restaurant, eat tasty food, then explore a variety of architectural sites. As you go, you'll eat traditional candy, learn about 16th Century Guatemalan food, and visit an ancient kitchen.
This tour includes hotel transfers so you don't have to worry about finding your own way to the start point.
Best Food Tour Antigua Conclusion
I hope this guide has helped you find the best food tour Antigua Guatemala has to offer. But if you're still undecided, consider booking the Antigua Foodie Tour which has a 5-star rating and over 90 rave reviews. It's pretty much guaranteed to be scrumptious.
Wondering what else to do in Antigua? The options are endless!
If you love caffeine, consider one of these awesome Antigua coffee tours. Or if you fancy a hike up a volcano with the chance to roast marshmallows over molten lava, these Pacaya Volcano tours are the way to go.
No trip to Guatemala would be complete without visiting Lake Atitlán, so if you're heading that way consider making trips to Santa Cruz and/or San Juan, two scenic towns on the lakeshore.
***GUATEMALA TRAVEL PLANNING GUIDE***

Should I buy Guatemala travel insurance?
YES — Personally, I always travel with travel insurance because it gives me extra peace of mind. SafetyWing is an excellent travel insurance company that's quite affordable. Plus, if you travel longterm, it's a snap to renew on a month to month basis. You can keep renewing for up to a year and still pay the same deductible.

Where's the best place for finding cheap flights to Guatemala?
When I purchase a ticket, I always search several different sites. Kayak and Expedia are great places to start running a search. Spirit is usually the cheapest carrier, but American Airlines and United also sometimes offer excellent deals.

What's the best way to book my Guatemala accommodations?
I recommend booking.com for finding and booking hotels in Guatemala. For vacation rentals, I recommend VRBO.com — it offers beautiful and unique spots to stay.

What's the best way to book Guatemala tours?
Viator is a great tour booking site with several excellent options available in Guatemala's main tourist areas including Tikal, Atitlán, Antigua, and Acatenango. There's a nice range of prices and options available.

Can you drink the water in Guatemala?
No – Don't drink the tap water! Instead, buy purified water from any corner store or grocery store in Guatemala.

Be sure to brush your teeth with that water as well to avoid getting sick. And hydrated, especially when traveling to high elevations.

Do I need a visa for Guatemala?
Probably not — Visitors to Guatemala from "Category A" countries like the United States, Canada, the UK, New Zealand, Australia, and most European countries are automatically given a 90-day tourist visa (in the form of a passport stamp) when entering Guatemala.

This visa is valid for Guatemala, Nicaragua, Honduras, and El Salvador. At the end of 90 days, it can be renewed once at Guatemala's Migración without leaving the country.

After 180 days, you will have to travel outside of Central America before returning. Check to see if you need a visa.

Will my phone work in Guatemala?
It's possible, but check with your provider in advance to see if Guatemala is covered. If not, you can easily pick up a local SIM card.

There are essentially only two carriers in the country: TIGO and CLARO. Both have good coverage.