37 Spectacular Things to do in Santa Cruz la Laguna
Are you looking for things to do in Santa Cruz la Laguna Guatemala? This beautiful hillside town on the shores of Lake Atitlán offers visitors a varied menu of wonderful activities — from massages and Mayan saunas to rock climbing, hiking, scuba diving, and more. Let's dive in!
Don't miss my posts on Where to Stay in Santa Cruz la Laguna and Where to Eat in Santa Cruz la Laguna.
***This page contains several affiliate links, so if you book a tour or hotel through those links, I'll earn a small commission at no extra cost to you. Learn more in my disclaimer.***
Table of Contents
Why Visit Santa Cruz la Laguna?
Things to do in Santa Cruz la Laguna
-Hikes & Walks
-Adventure Things to Do
-Water Activities to Do
-Relaxing Things to Do
-Cultural Things to Do
-Fun Things to Do
Volunteer in Santa Cruz la Laguna
How to get to Santa Cruz la Laguna
When to Visit Santa Cruz la Laguna
Santa Cruz la Laguna FAQs
Nearby Attractions
Why visit Santa Cruz la Laguna?
Santa Cruz is perfect for backpackers, couples seeking a romantic getaway, or visitors with an interest in Kaqchikel culture. It offers stunning views of Lake Atitlán, hotels for every budget, and delicious food. (Even if you, like me, have a list of food restrictions as long as you are tall).
There are tons of things to do in Santa Cruz la Laguna. And if that surprises you, I must confess, it surprised me too.
Santa Cruz is pretty small, after all. But as it turns out, there are a slew of activities available, whether you're outdoorsy and adventurous or simply want a gorgeous place to escape, get a massage, and chill.
This unique Lake Atitlán village dates back to 1540. It is rich in history, culture, and natural splendor.
37 Things to do in Santa Cruz la Laguna Guatemala
While in Santa Cruz, you can go hiking, enjoy water and adventure sports, indulge yourself at the spa, get a massage, immerse yourself in the culture, play board games, or just relax in a patio chair while lightning spangles the dark clouds behind the volcanoes.
Hikes & Walks in Santa Cruz la Laguna
Santa Cruz is an amazing place to go hiking! Check out these different hikes (and walks) you can do in the area.
1. Hike to Jaibalito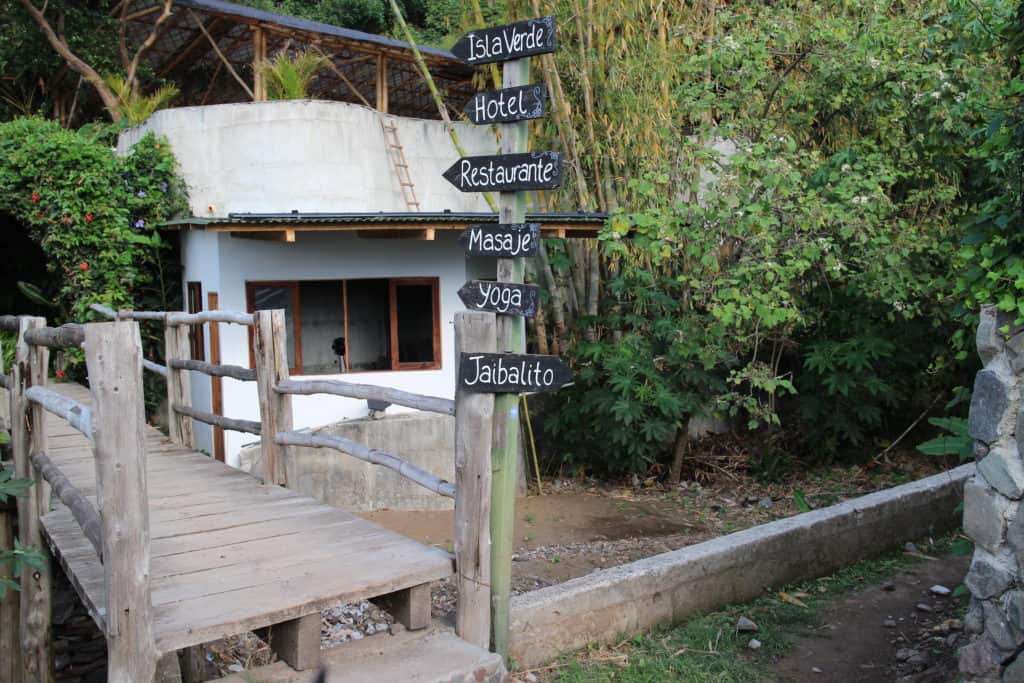 This 30-minute hike will take you along a well-marked trail and paved path from Santa Cruz la Laguna to Jaibalito. Jaibailito is a small lakeside town in the next bay over, boasting a quiet atmosphere, a lovely valley, and a handful of great restaurants.
The walk is scenic, offering beautiful views of San Pedro, Atitlán, and Toliman volcanoes across the lake, while the valley slopes are clad in yellow wildflowers. Swifts dart through the air catching insects, and boats buzz through the water below.
Head out in the morning for the best weather and clearest views. During the rainy season, wear shoes that can handle slippery mud.
Options: Walk there and back, or catch a return boat to Santa Cruz.
Time: 30 minutes one way
Safety: Reasonably safe, but best to do it in a group if you have the option. Leave your valuables at your hotel.
How to get there: When you arrive at the main boat dock in Santa Cruz, turn left in front of Hotel Arca de Noé. The lake should be on your left. Walk along the path towards Los Elementos Adventure Center. You'll see a sign pointing you to Jaibalito. The trail leads off to the right, away from the lakeshore and along a river ravine. Cross at the bridge, and continue on the path as it leads up and around the cliffs.
2. Hike to San Marcos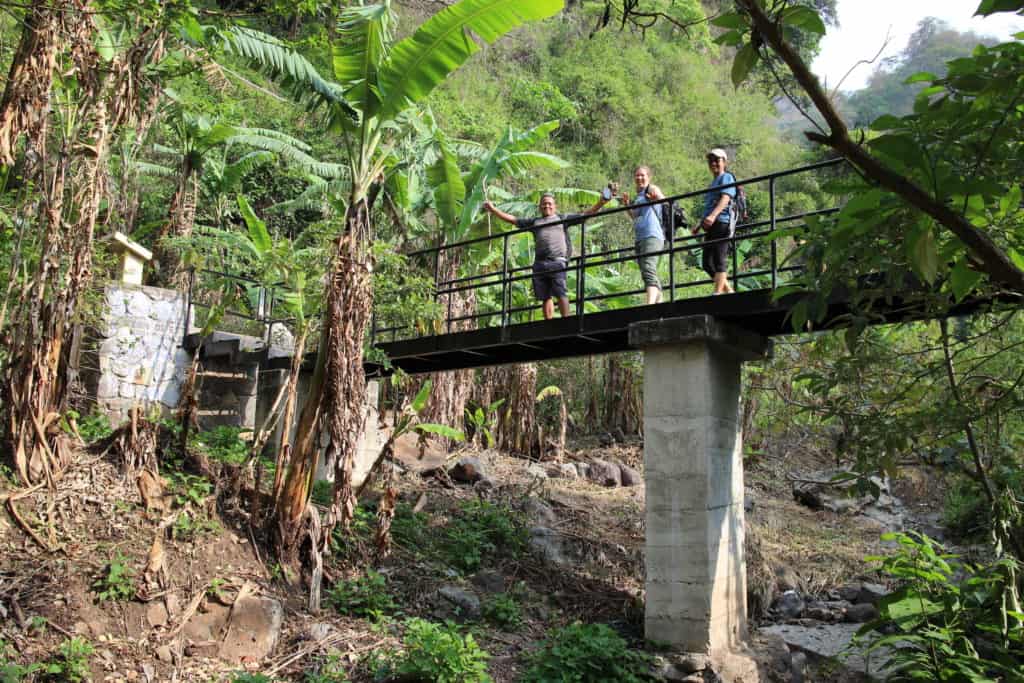 The hike to San Marcos is one of the most iconic trails around the lake and takes about three hours one way. Walk both ways, or take a boat back to Santa Cruz.
I've done this trail twice so far, and thoroughly enjoyed the experience. The trail winds along lakeside cliffs and down into the valleys of Jaibalito, Tzununá, and San Marcos.
During the hike, you'll traverse steps, cross small bridges and ravines, and wind through maize fields, weedy meadows, beneath wild fruit trees, and through fragrant pine forests.
Take good walking shoes, plenty of water, and a camera.
Options: One fun alternative is to ask about doing a half-day kayak and hike tour at Los Elementos Adventure Center, based in Santa Cruz. You'll kayak along the scenic shoreline all the way to San Marcos, then hike back through San Marcos, Tzununá and Jaibalito.
Time: 3 hours or more one way.
Safety: It's best to do this hike in a group, as there are occasional robberies on the trail. Leave your valuables at your hotel. It may also be a good idea to hire a local guide.
How to get there: Follow the directions for the hike to Jaibalito in the section above. Next, continue straight through Jaibalito. At the far side, you'll reach a path that goes over another bridge and heads left around the cliff. This is the longest stretch between villages that goes along a trail.
The trail leads down into Tzununá. Continue through Tzununá, staying on the main road that winds towards the lake. This dirt road will take you to San Marcos. In San Marcos, you can cliff jump at the nature reserve (see #27 in my Atitlán post), or catch a boat back to Santa Cruz.
3. Hike to Los Dos Miradores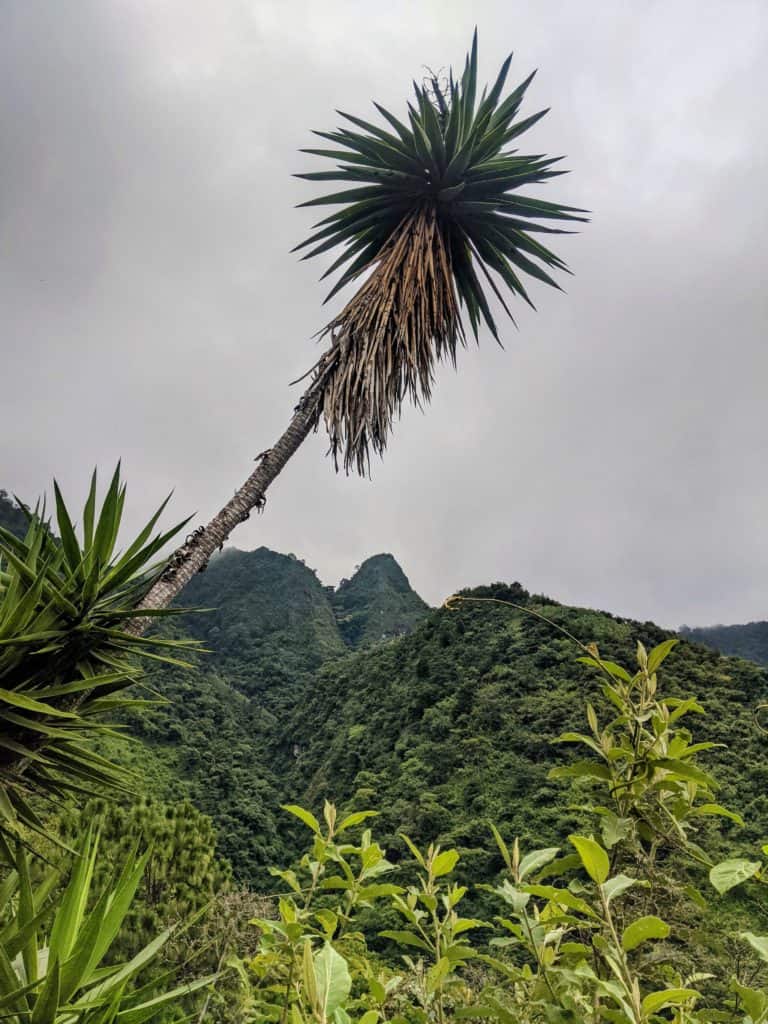 Another Santa Cruz la Laguna hike that I hope to do soon is the hike to Los Dos Miradores. These two peaks in the valley offer great views of the lake.
Options: During the rainy season, there is a waterfall further up the ravine after the Dos Miradores peaks. Follow the directions in the section below to find it.
Time: 2.5 hours round trip
Safety: Relatively safe, should be okay to do solo or in a small group. Just don't get lost! If you aren't sure of the trail, you can hire a local woman to guide you.
To get there, walk up the steep road to the town of Santa Cruz. In the main square with the church, take the left-hand road that goes uphill. Keep walking for five minutes. The road will narrow and turn off to the left, don't follow it, instead, continue going straight on a path between two houses.
Follow this path through coffee fields and down and across a stream with a water pipe. At the next fork, turn right. The trail doubles back away from the creek and zigzags uphill. You'll reach a narrow ridge covered in big boulders. Continue down into a gully and then up into a clearing on a saddle ridge. You're now in between the two peaks. You can take the right-hand path to reach the first peak, or the left path to reach the second.
Note: This hike may be the same as the hike to Mirador Chuwï Kortel above Santa Cruz la Laguna. I hope to verify this soon, but if you find out first, drop me a line through the contact page.
4. Hike to the Seasonal Waterfall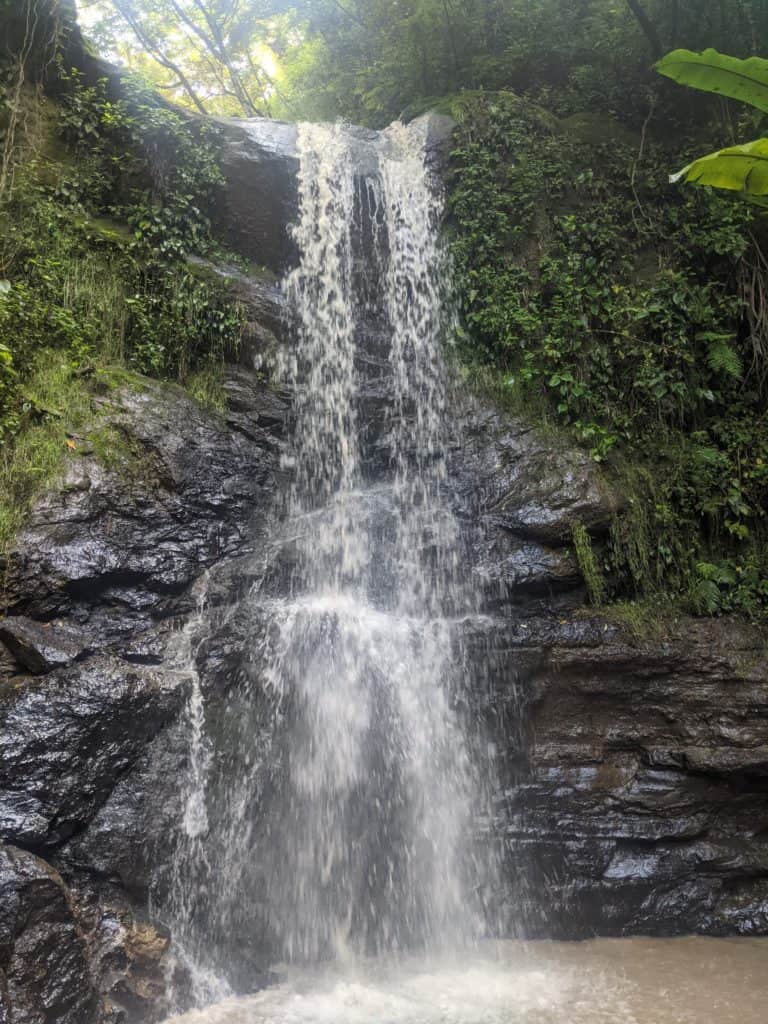 If you hike to Los Dos Miradores in the rainy season, it is worth going a bit further to see a seasonal waterfall.
How to get there: Follow the directions in the section above. When you reach the clearing on the saddle ridge, continue straight on the main path for about fifteen minutes. You'll end up in a lovely ravine with a waterfall.
Note: If you don't feel comfortable getting there yourself, consider going with a local guide.
5. Hike up the Río Pashputin
Another cool Santa Cruz la Laguna hike that I have on my bucket list is rock-hopping up the Río Pashputin. This hike leads up the river valley between dramatic cliffs dotted with small waterfalls.
Options: If you'd prefer to go with a guide, this hidden waterfall hike looks like a great option.
Time: 2 hours total
Safety: Reasonably safe, though it's always good to have a hiking buddy. If you go alone, let someone know where you're going and when to expect you back.
How to get there: Head west along the lakeshore (with Lake Atitlán on your left). About five minutes after La Iguana Perdida, you'll come to a path made of concrete and stone that leads away from the water. Follow it up to the football field, then cross the football field, heading towards the far goalpost.
Continue along this path until it ends at a T. Turn right, then immediately left at the fork. Continue taking the left-hand path beneath soaring trees until you get to the river. Turn right, and follow the river up into the gorge, going as far as you like.
6. Hike to Mirador Corazón del Cielo, San José Chacayá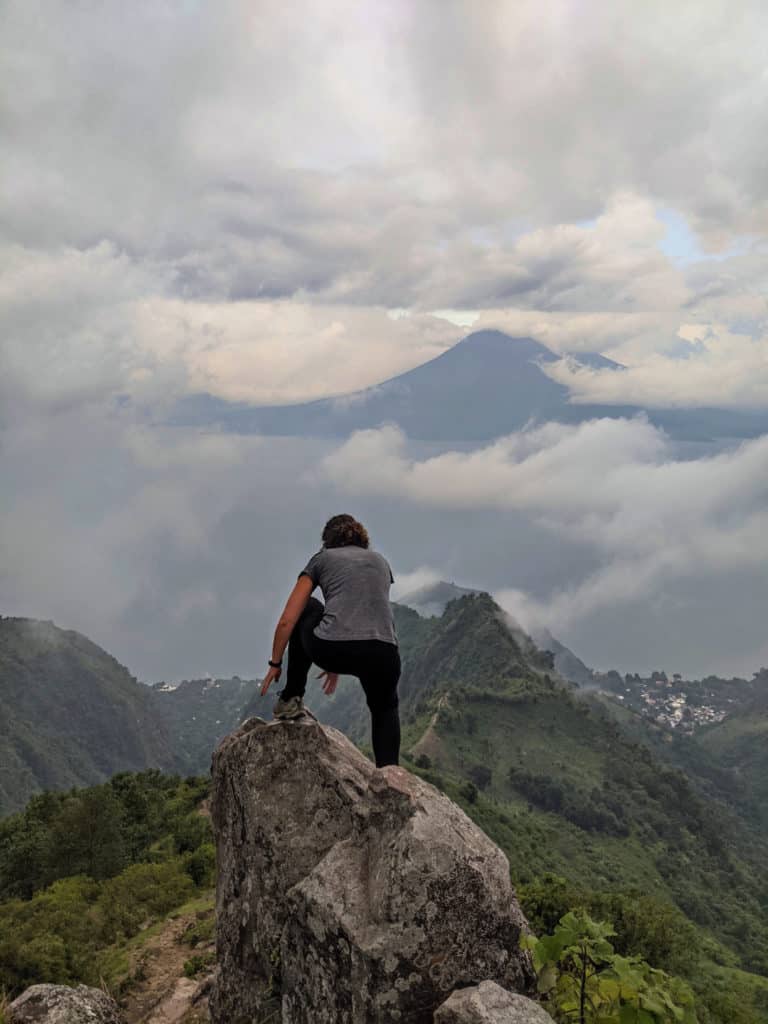 Another challenging hike is to go from Santa Cruz la Laguna all the way up to Mirador Corazón del Cielo. This is an extremely steep climb along narrow rocky trails. It leads up from the Santa Cruz valley passing natural springs and jocote trees to the top of a narrow ridge.
Follow the ridge all the way up to a steep collection of boulders, and you'll have reached one of the most stunning lookouts above the lake. If you keep going, you'll find yourself on the outskirts of San José Chacayá.
Take plenty of water, good shoes, snacks, and hiking poles.
Time: 2.5 hours one way.
Options: If you don't fancy going down again, you can catch a minibus from San José Chacayá to Sololá, then take a bus down to Panajachel. From there, you can get a boat back to Santa Cruz.
Safety: At different points of the trail, the land drops away into sheer ravines, sometimes on one side, sometimes on both. You'll have to tread very carefully. It's in a remote area and few people walk along here. It can be hard to find the trail, especially at the start, where myriad walking paths crisscross each other. I recommend going with a hiking buddy or two and a guide.
How to get there: Follow the directions in reverse in #6 in my things to do in Lake Atitlán post.
7. Walk the paths in Santa Cruz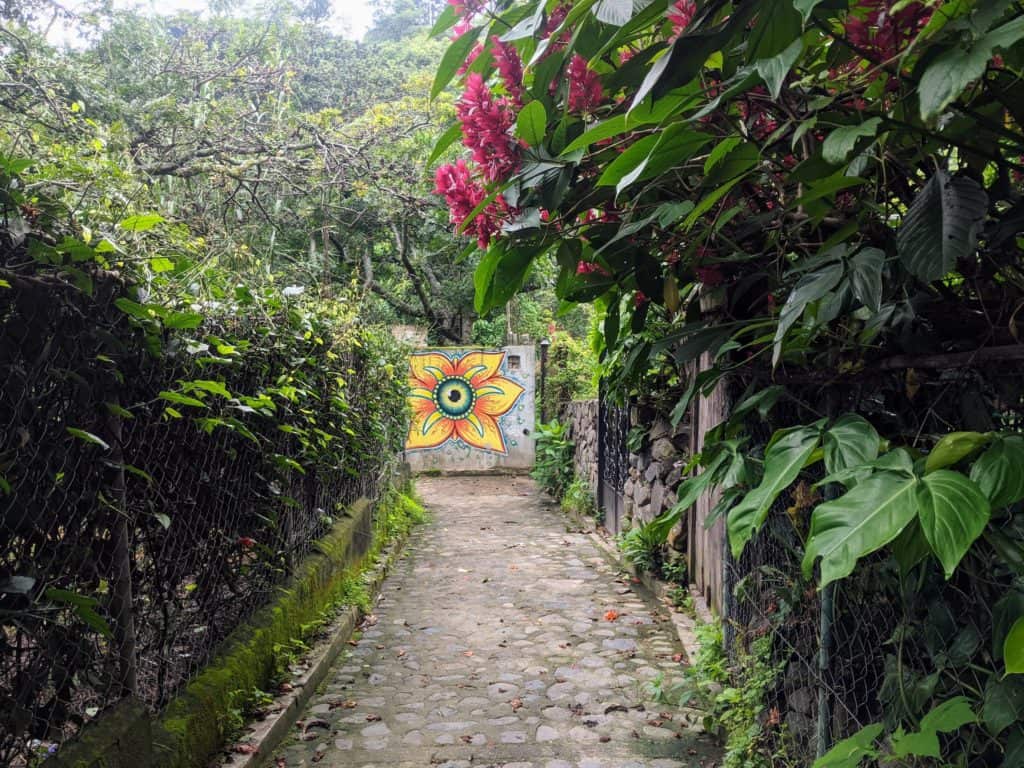 If you enjoy meandering, you'll love walking the myriad of paths in Santa Cruz la Laguna.
Fancy a steep uphill climb through narrow alleyways? Head into town and wander. Enjoy the views, stop in a "tienda" for bananas and tortrix chips, get a little lost, and find your way back to your home base.
Would you prefer lake views? Take the path that runs all along the waterfront, from the Sunset Lodge to the opposite side of the bay. You'll pass lodges, hotels, resorts, chalets, giant trees, fishing piers, and more. It's a gorgeous little walk that is relatively flat.
Enjoy exploring in the woods? Take any of the paths that run away from the lake. They go up and down hills, past hidden hotels, through jungly sections, tiny streams, and beneath the boughs of cypress trees. The paths tend to run either horizontally to the lake, or perpendicular, so it isn't too hard to find your way back to the start point.
Outdoor Adventure Things to Do in Santa Cruz la Laguna
If you love adventurous activities like rock climbing, cliff-jumping, and off-roading adventures, this section is for you. Get your kick of adrenaline in one of the most beautiful places on earth.
8. Rock Climbing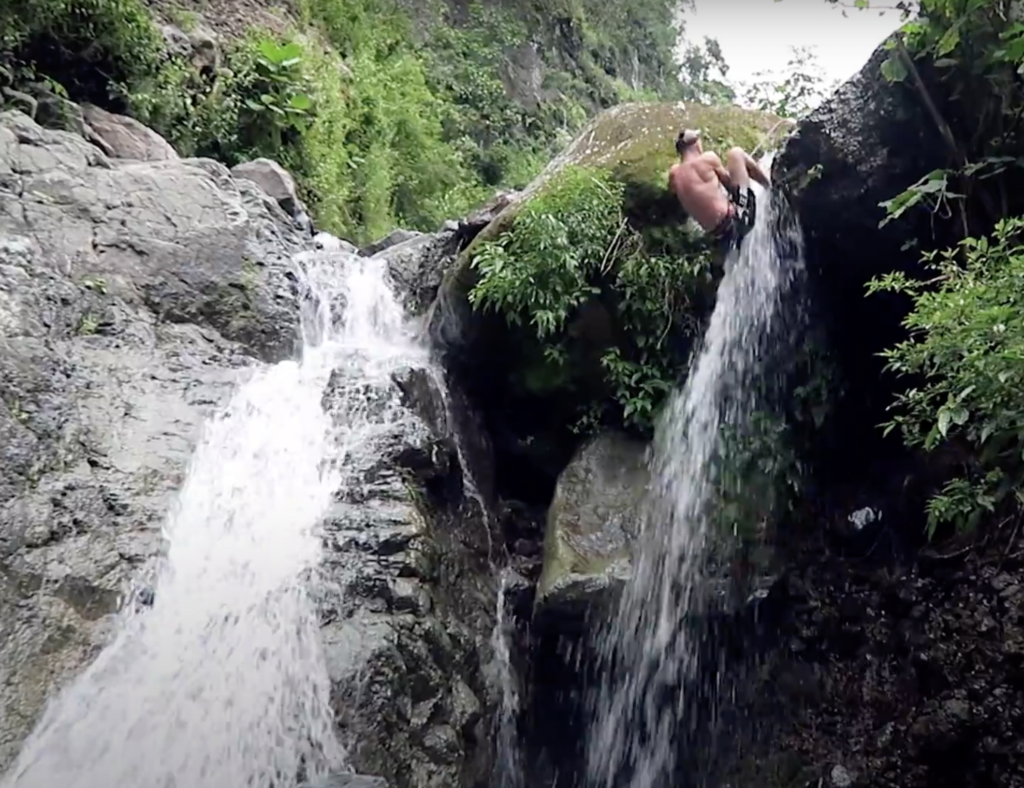 One of the adventurous things you can do in Santa Cruz la Laguna is go rock climbing. Los Elementos Adventure Camp offers a rock climbing tour for those with any range of experience. Beginners will learn basic techniques at the Santa Cruz base camp.
Lake Atitlán is one of the few places in the world where you can climb over the water. If you already have some experience climbing, why not try over-the-water climbing?
Los Elementos offers top-rope climbs and canyon climbs. They combine rock climbing, dirt climbing, and tree climbing to keep things interesting.
Tours generally take three hours. Family pricing is available.
Learn more about Rock Climbing at Los Elementos Adventure Center.
9. Cliff Jumping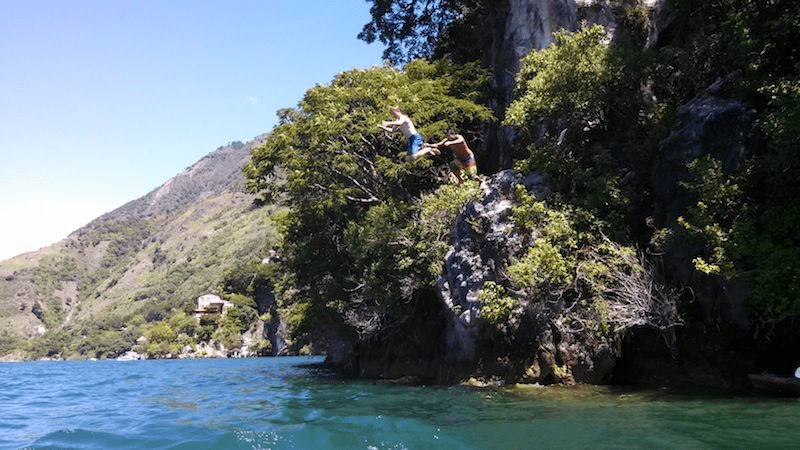 If you want an adrenaline rush, you can also find places to cliff-jump in Santa Cruz la Laguna.
One of the easiest ways to do this is by booking an all-day adventure tour with Los Elementos. The tour includes kayaking, swimming, cliff-jumping, rock climbing, archery, trampoline time, the opportunity to relax in a hammock, and a home-cooked meal by the on-site chef. Woo! Sounds like fun.
If you'd rather do things on your own, rent a kayak and paddle towards Jaibalito. There are a few steep cliffs in the tiny bay by Casa del Mundo where people have cliff-jumped in the past.
I cliff-jumped there once, but my technique was terrible. If you haven't cliff-jumped before, I highly recommend starting small and working your way up. Don't go straight to the 40-foot jump. I landed sideways. It hurt. A lot.
10. Family Fun Day – Archery, Swimming, Kayaking, SUP, Rock Climbing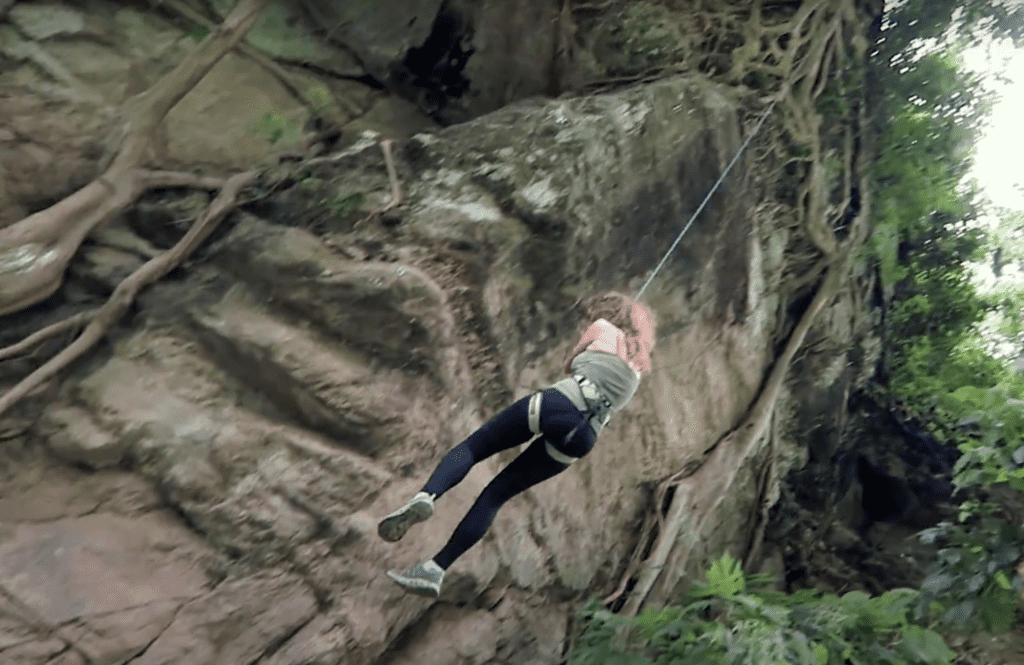 If you're traveling to Santa Cruz with your family, Los Elementos Adventure Center offers family fun day and family adventure tours that include transport from Panajachel. You can cater the activities to your family's interests and preferred activity level.
Start the day on the water with kayaking or stand-up paddle-boarding, swimming, cliff-jumping (if you're brave), and over-the-water rock climbing (if you have some experience). You can also rock climb at base camp, practice archery, jump on a trampoline, and relax in a hammock.
This experience includes lunch prepared by the on-site chef. A great family summer camp experience.
11. Pickup Tour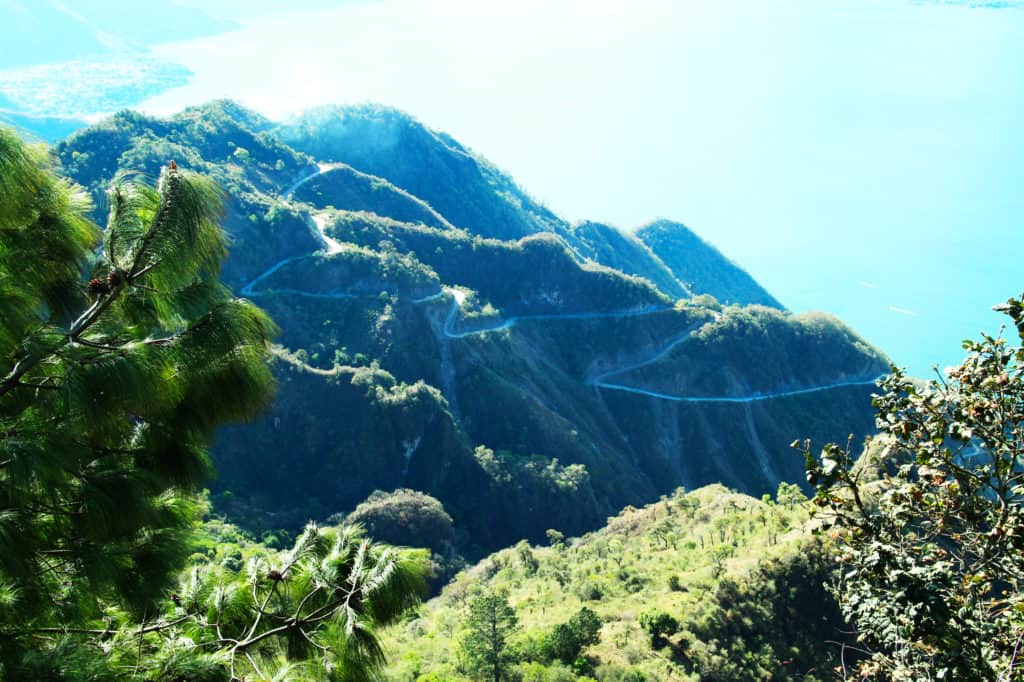 Another adventurous activity you can do in Santa Cruz la Laguna is to take a pickup tour. This tour is run by a community-based tour company called Santa Cruz Jo'.
Local guides lead the tour, so proceeds go directly to the community.
This pickup tour goes up the crazy steep switchbacks between Santa Cruz and Sololá. The views of the lake from here are fantastic.
Use the following contact numbers to book a tour with Santa Cruz Jo':
+502 4248 9427
+502 5953 7377
Note: Jo' is pronounced with an "h" sound and abrupt glottal-stop "oh," and means "come" in Kaqchikel.
Water Sports – Things to Do in Santa Cruz la Laguna
Santa Cruz lies in a beautiful bay, making it a prime place to enjoy any number of water sports. Check out these water activities you can do in Santa Cruz!
12. Scuba Diving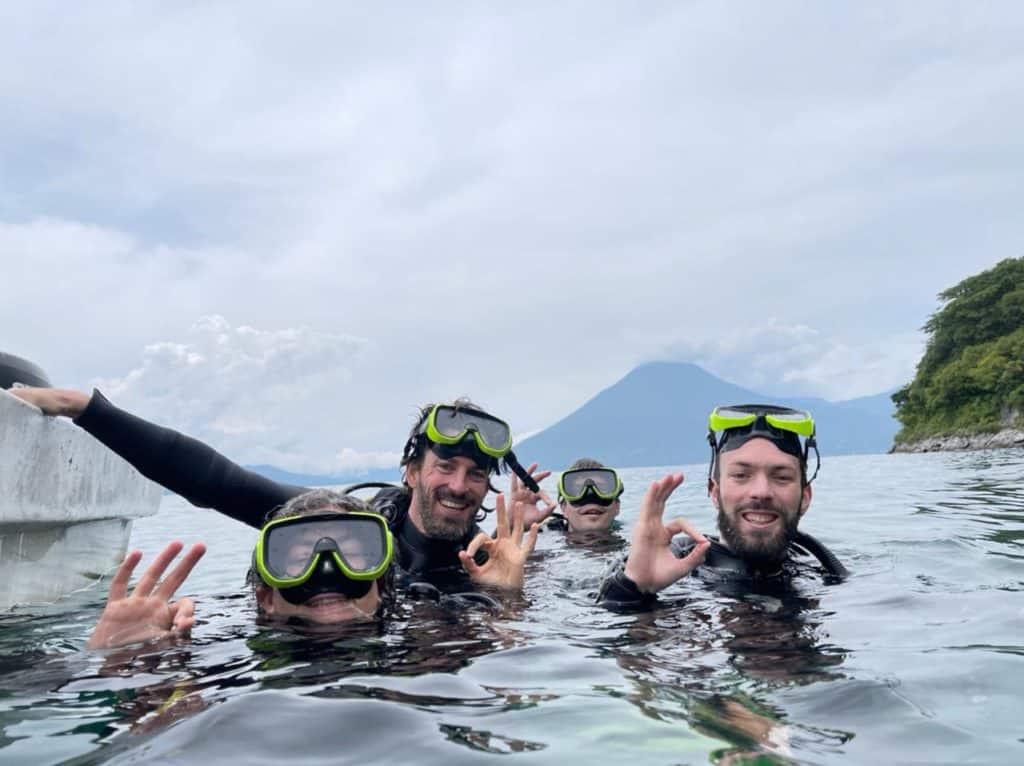 Santa Cruz la Laguna is home to the one and only scuba dive shop on Lake Atitlán. Ati Divers was founded by Deedle Denman, owner of La Iguana Perdida hostel. She and her crew of dive instructors from around the world have been leading tours and dive classes since 1996.
Ati Divers is one of the cheapest places in the world to get PADI certified. So if you're interested in getting or upgrading your scuba certification, this is an awesome place to do it!
If you are already a certified scuba diver, consider going on an Ati Divers Fun Dive. Not only will you be diving at altitude in a fresh-water lake (unusual as it is), you'll get the chance to see unique volcanic scenery, wall dives, chimney swim-throughs, thermal vents, and more.
I am not scuba certified but got to participate in the Ati Divers Discover Scuba diving experience. It was cool to get a taste for what scuba diving is like. The course was informative and our Argentinian instructor Pollo did a great job explaining everything and making sure we all felt comfortable.
As an added plus, you'll get to stay at the Iguana Perdida hostel for free during the course.
13. Kayaking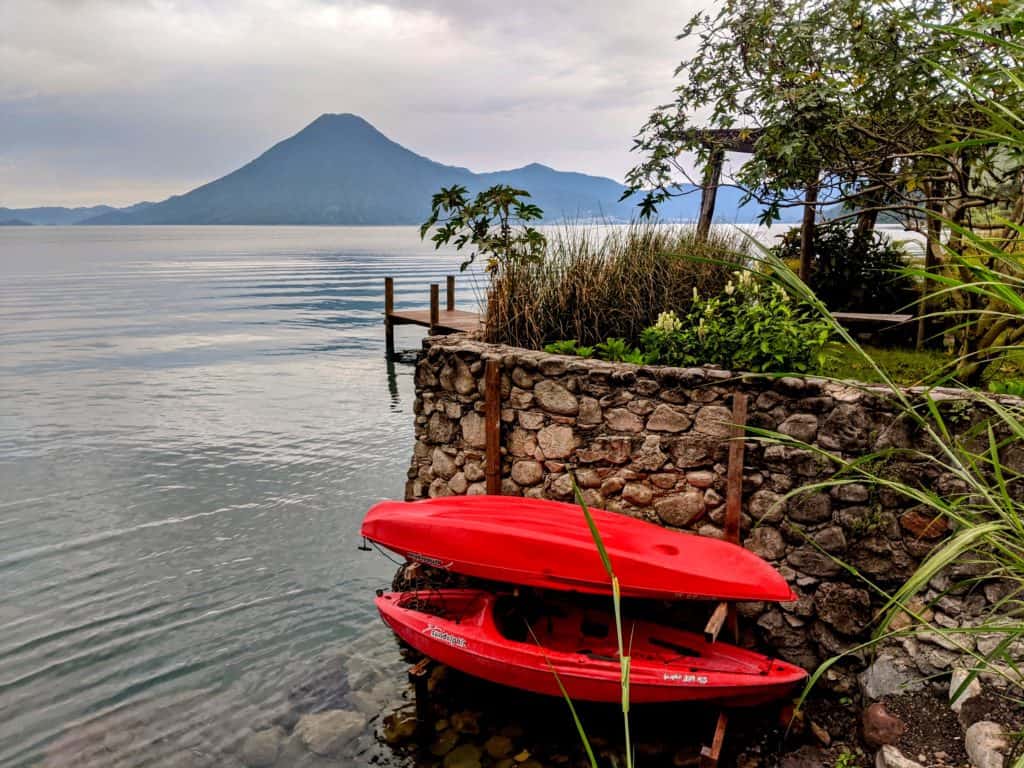 Kayaking is an awesome activity to enjoy in Santa Cruz. Paddle around the bay, explore the cliffs, and check out the slew of resorts and chalets sitting snug among trees, cliffs, and landscaped grounds.
Some hotels in Santa Cruz la Laguna include free access to kayaks. Free Cerveza Hostel and Sunset Lodge are two examples. However, if your hotel doesn't have kayaks, you can rent them from Los Elementos Adventure Center.
To get to Los Elementos, simply take the lakeshore trail all the way to the western side of the bay. Kayak rentals cost approximately $8 an hour.
Looking for something more formal? Consider their kayak & swim tour.
14. Stand Up Paddleboarding in Santa Cruz la Laguna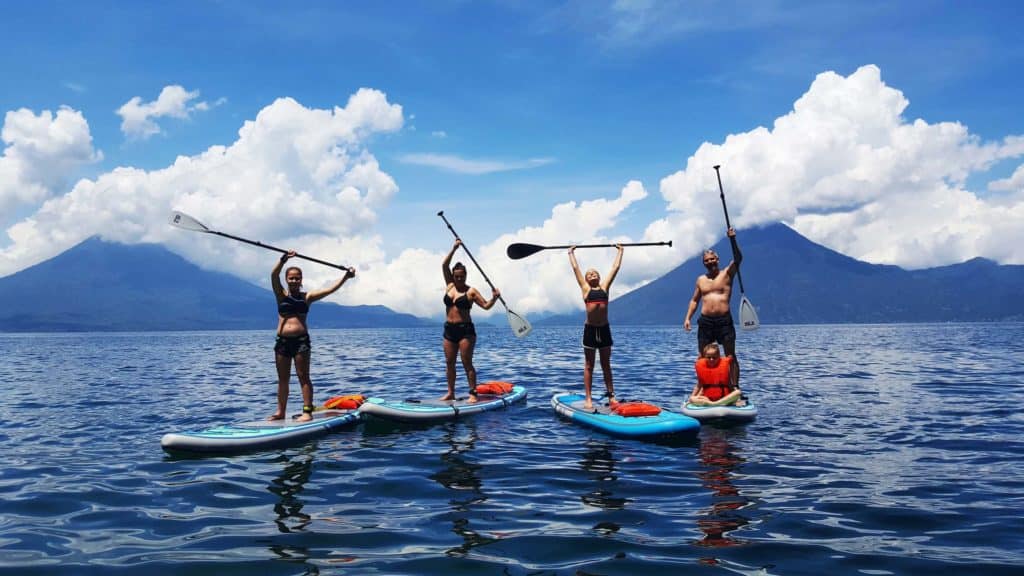 Silky water, mountain cliffs, and striking volcanoes. Nothing beats an early-morning paddle on Lake Atitlán! With its protected bay and unparalleled views, Santa Cruz la Laguna is a fabulous place to practice stand-up paddle boarding.
Check out the highly-rated boutique paddle-boarding tours at SUP Atitlán. These tours are small and catered to each guest. The expert guides make sure you'll have the best possible experience while navigating the changing weather and water conditions on Lake Atitlán.
Although I haven't done this myself yet, I've met Marshall, the owner, and can say with confidence that he's both personable and professional. Customer service is super important to him.
15. Swimming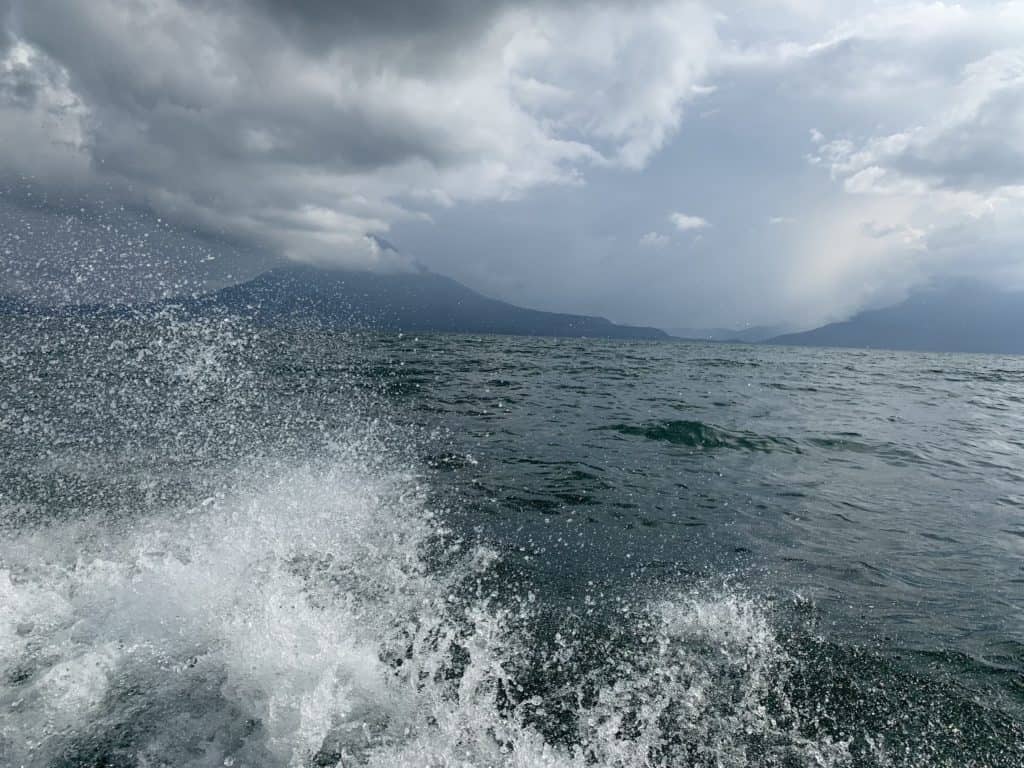 Swimming is also a refreshing thing to do while in Santa Cruz la Laguna. Head left or right away from the main boat launch and walk along the shore until you find a nice spot.
Boats are a hazard, so swim close to shore. If you want to swim further out or across the bay, use an open-water swimmer safety device. Make sure the boat drivers can see you!
Relaxing Things to do in Santa Cruz la Laguna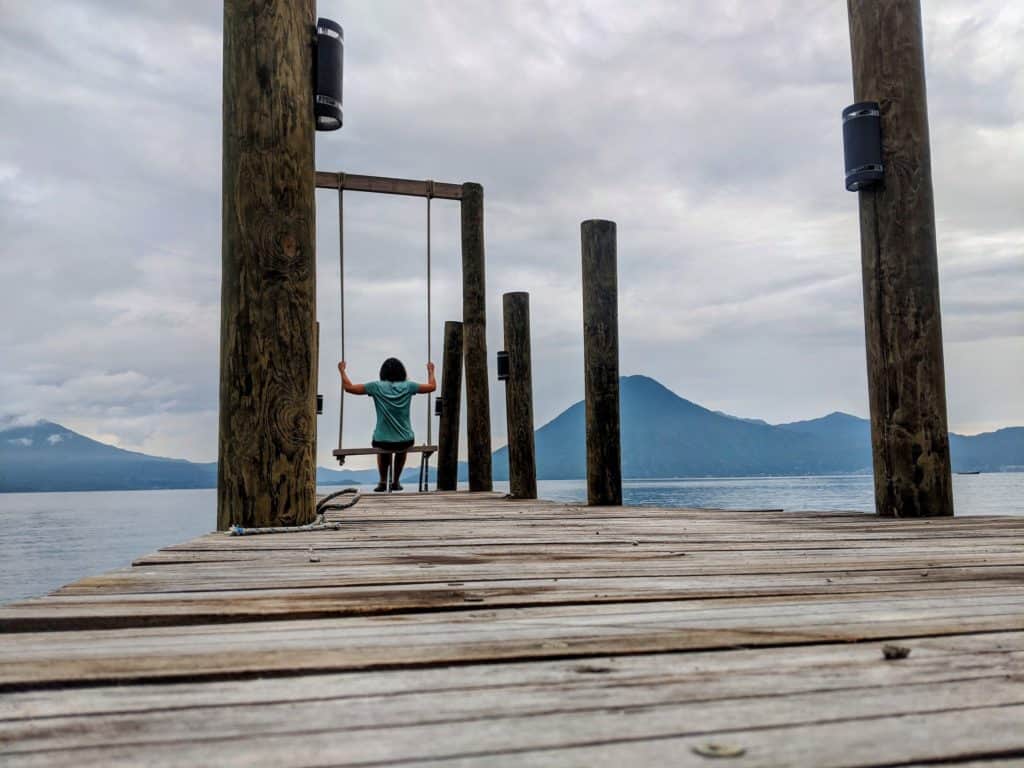 Santa Cruz is a great place to chill, whether that means watching lightning spangle the sky behind the volcanoes, trying out a Mayan sauna, or playing board games.
16. Get a Massage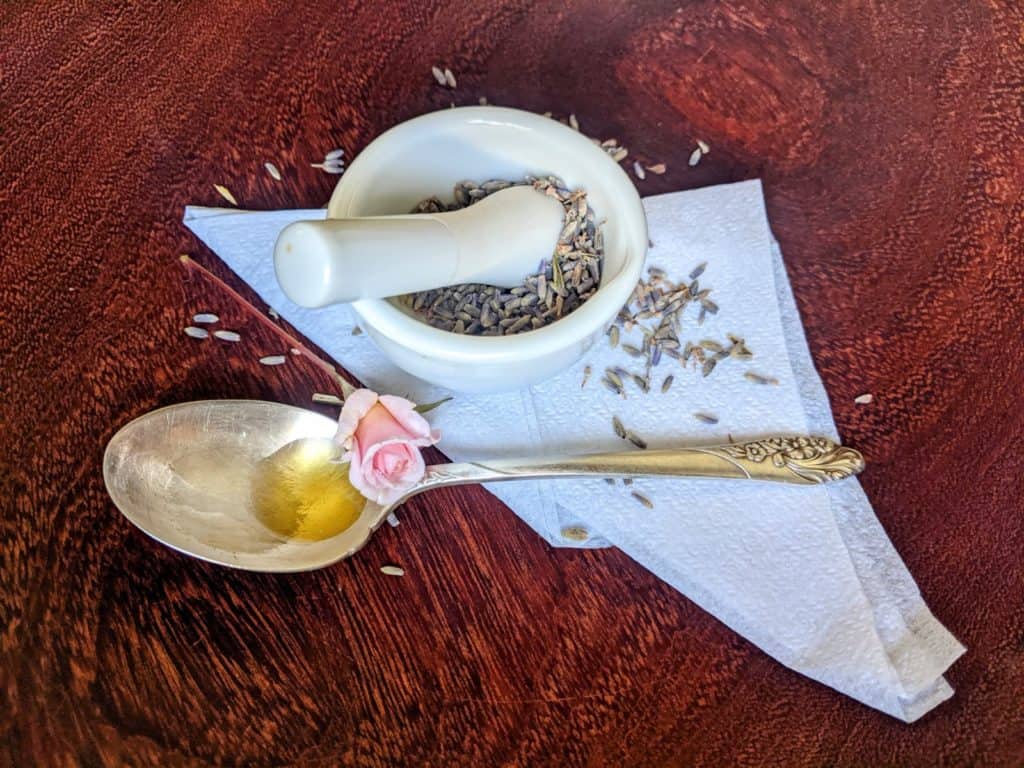 If you'd like to get a massage while you're in Santa Cruz la Laguna, you're in luck! You can get full body, facial, Thai, reiki, Swedish, and integrative massages.
La Iguana Perdida – Ask at the reception desk to book a massage with La Iguana Perdida's massage therapist.
Los Elementos – The massage therapist at Los Elementos Adventure Center has 30 years of experience in different kinds of massage. She'll tailor the experience to your preferences and areas of tension. Reserve your massage at least one day in advance by contacting Los Elementos.
Phone / WhatsApp: +502 5359-8328
E-mail: [email protected]
Villa Sumaya – This spa and wellness center offers a large selection of massages, energy therapies, reflexology, and acupuncture treatments. They also have saunas and hot tubs.
17. Doze in a Hammock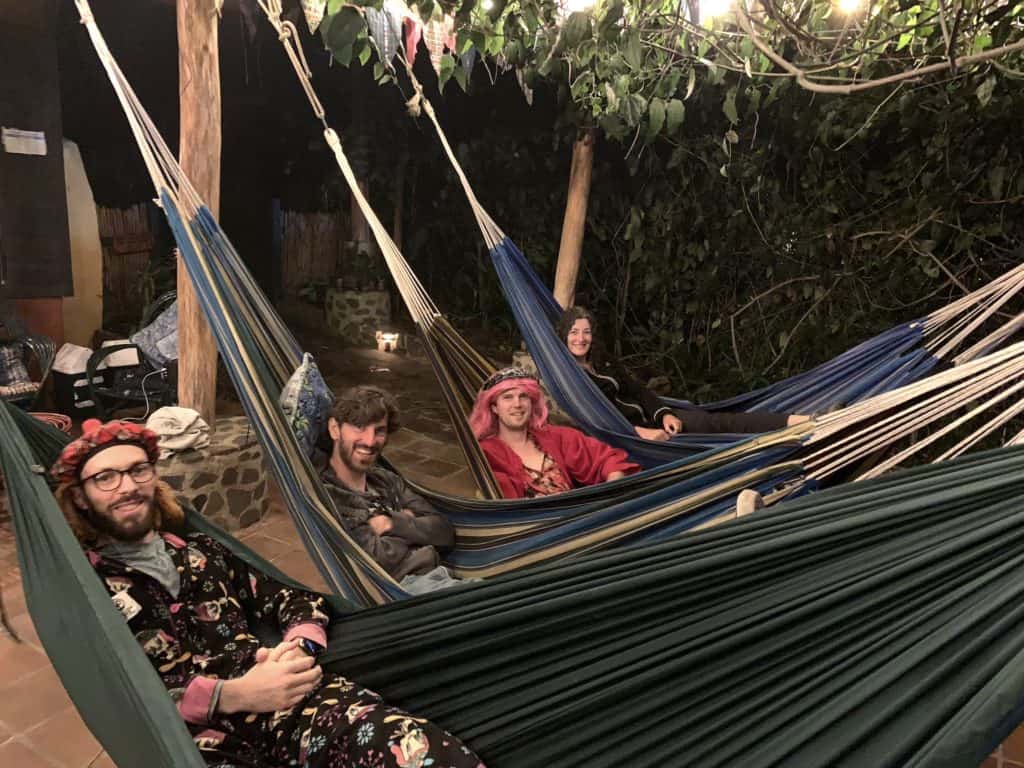 This is the quintessential relaxation activity, isn't it? While I was in Santa Cruz, I enjoyed hanging out in the hammocks at La Iguana Perdida. A delight.
18. Enjoy a Temazcal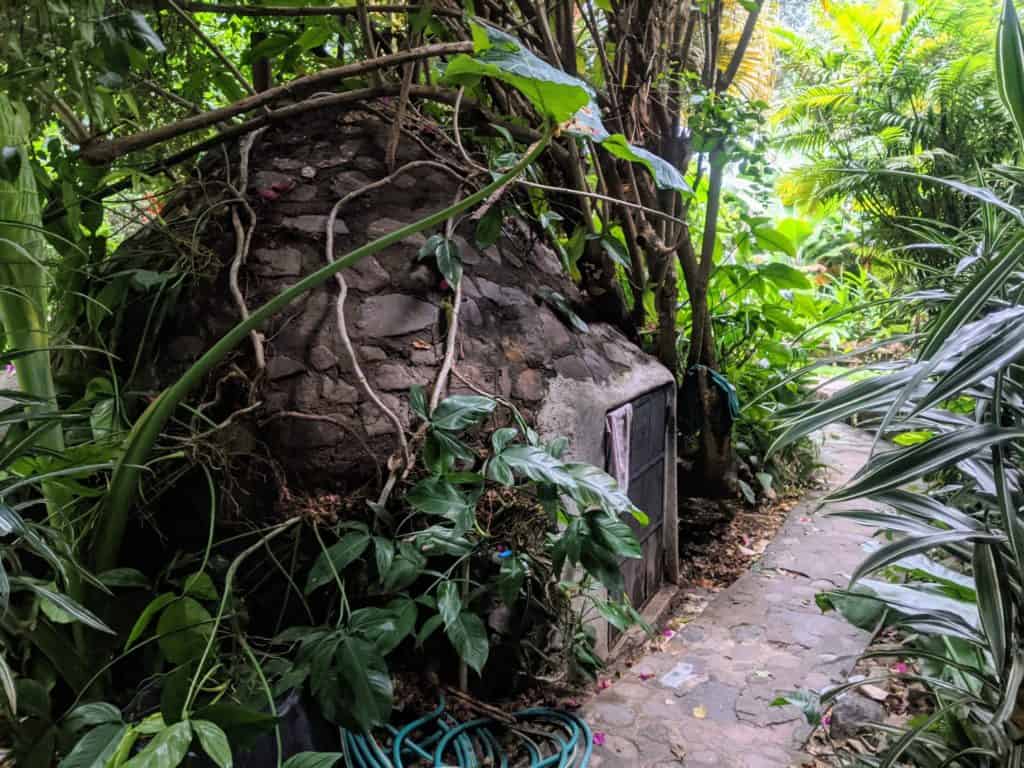 Many of the hotels and hostels in Santa Cruz have a Mayan sauna, or "temazcal" on the grounds.
My friends and I enjoyed using the temazcal at La Iguana Perdida. It took about an hour to heat up using the inset fireplace on the outside. Then we lit candles, crawled inside, and tossed water on the rocks around the chimney to generate steam. This was a great way to unwind after scuba diving!
If your hotel doesn't have a Mayan sauna, you can book a temazcal experience with Santa Cruz Jo'. Visit the home of a local and relax in their home sauna.
Use the following contact numbers to book a temazcal tour with Santa Cruz Jo':
+502 4248 9427
+502 5953 7377
19. Practice Yoga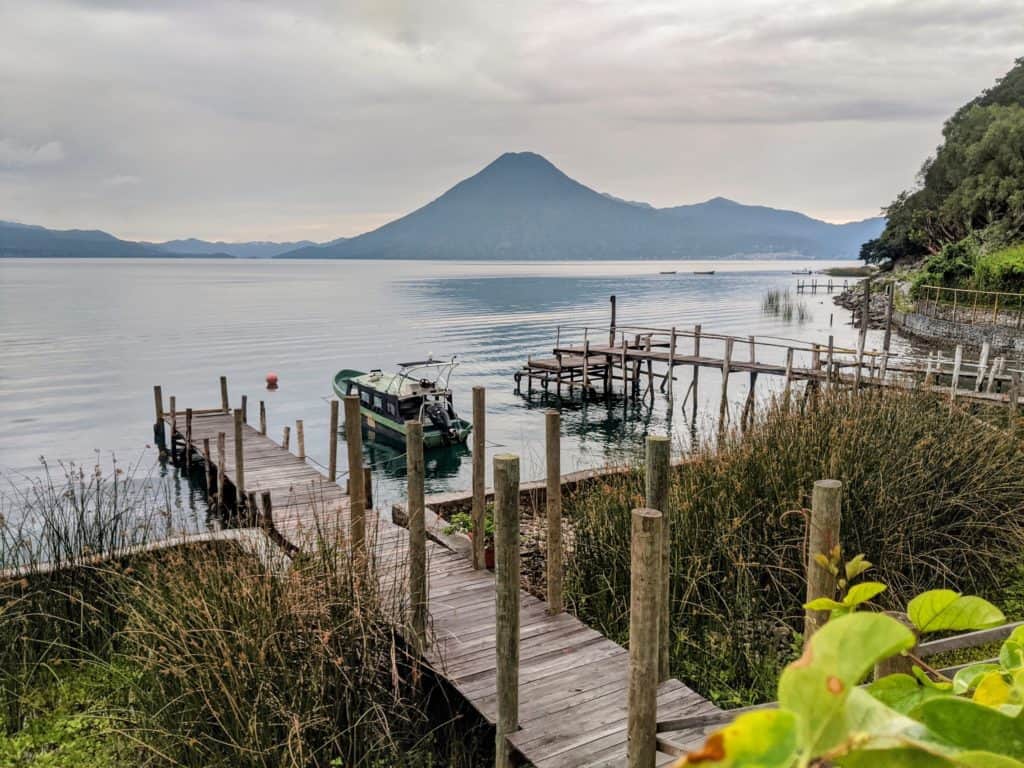 Yoga is another fabulous relaxation activity you can enjoy in Santa Cruz. Join a morning yoga session at Free Cerveza hostel, or roll out a mat of your own. One of the piers along the lakeshore would be an awesome tranquil spot to greet the day with sun salutations.
20. Watch the Sunset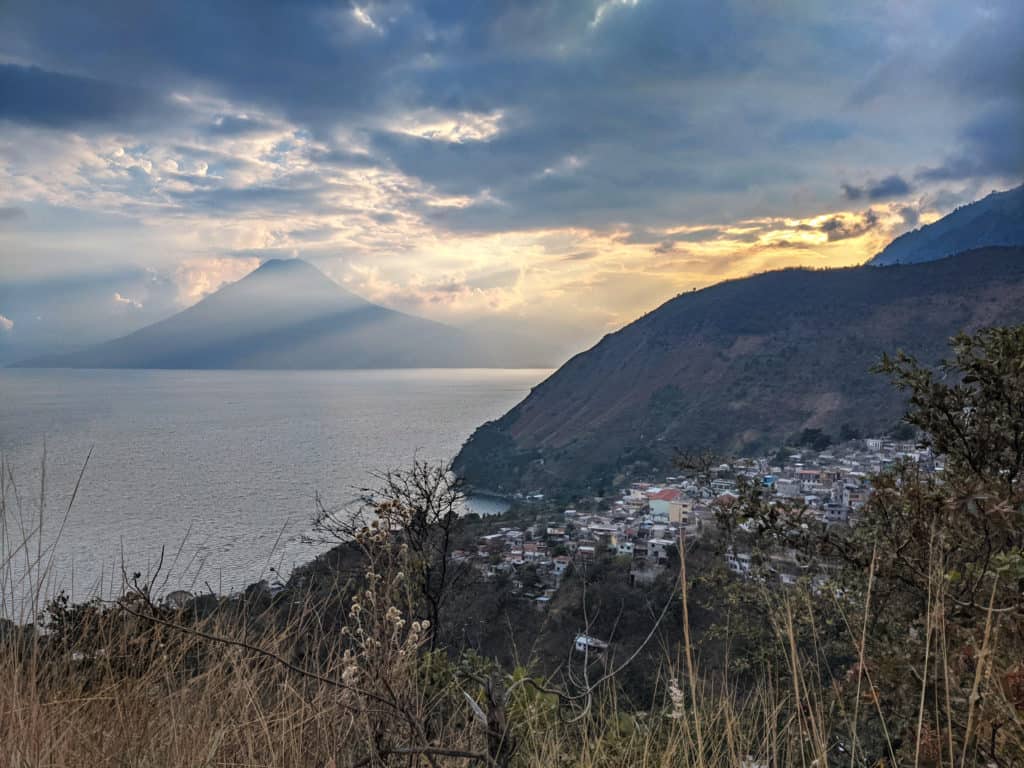 There's something deeply restorative about sitting and watching the sun go down. This was one of my favorite experiences in Santa Cruz la Laguna. My friends and I sat around a table on the patio of La Iguana Perdida, drinking tea. We chatted with another guest about her research into Mayan ruins and watched lightning shimmer through the clouds while the sky grew steadily darker.
21. Play Board Games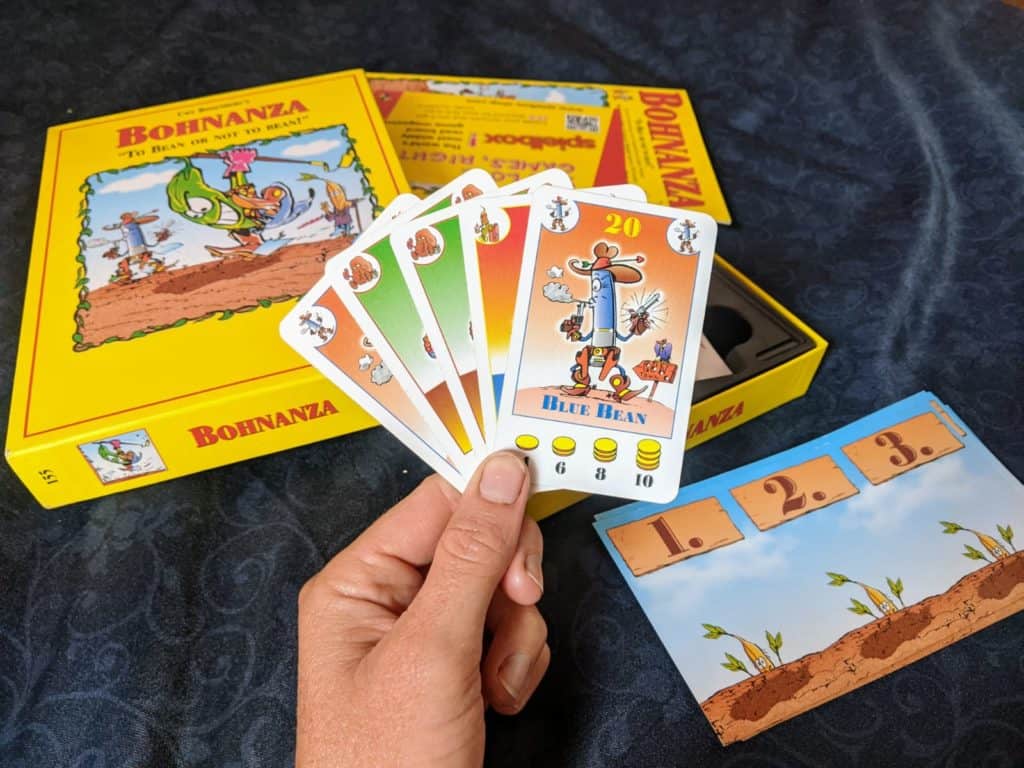 Another fun thing to do while you're enjoying your Lake Atitlán vacation is to play board games. Most hostels have a cabinet of board games, and La Iguana Perdida is no exception.
My friends and I played a game I brought along. Several of the other guests participated in an impromptu chess tournament organized by one of the hostel volunteers.
What a great way to connect with friends and get to know other guests.
22. Go Birdwatching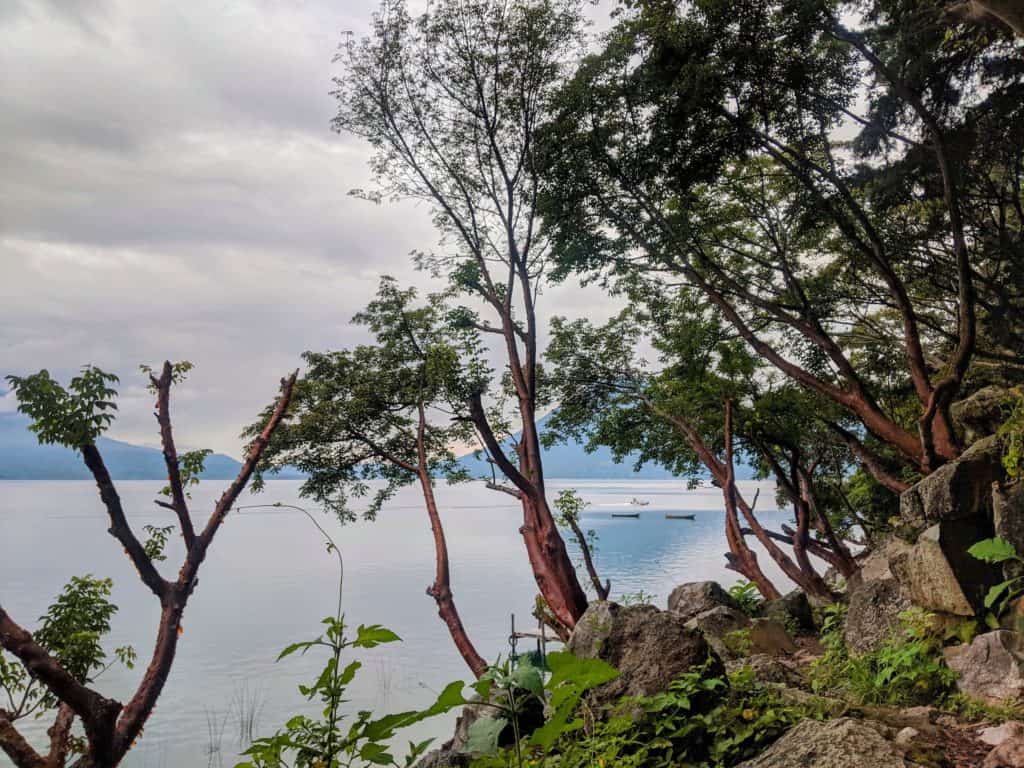 Santa Cruz la Laguna is a great location for birdwatching. Meander trails among the coffee and avocado trees keeping an eye out for azure-crowned hummingbirds, blue and white mockingbirds, blue-throated motmots, Prevost's ground sparrow, and more.
I enjoy birding, though I do it as a casual pastime. In the area around Santa Cruz la Laguna I've seen bronzed cowbirds, clay-colored thrushes, a squirrel cuckoo, and northern rough-wing swallows.
Don your bins and wander the trails yourself, or book a birdwatching tour through Voltan Adventures.
Cultural Things to Do in Santa Cruz la Laguna
Most of Santa Cruz's tourist industry is owned and operated by ex-pats, but community tourism initiatives are now on the rise. This exciting trend means that the community will see a more direct benefit from tourism and that visitors to Santa Cruz can experience life through the eyes of a local.
I am a huge fan of this kind of tourism– tourism where you get a taste of the daily life and culture of the place you're visiting. Tourism that gives ownership and opportunities to the people and helps raise families out of poverty.
Check out these awesome cultural things to do in Santa Cruz la Laguna Guatemala
23. Santa Cruz Community Tour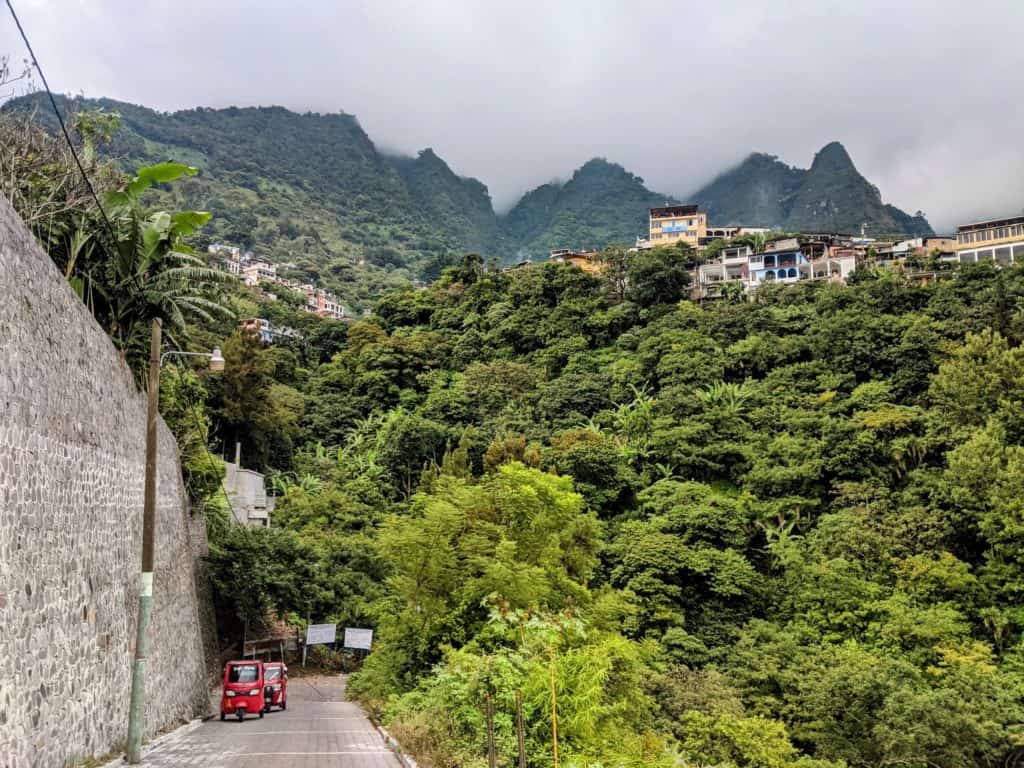 I love learning about the places I visit, meeting locals, and hearing about their lives and projects. One way to do this in Santa Cruz la Laguna is by going on a community tour.
Every Friday at 9:30 am, Claudia Cumes offers a cultural tour of the village. During the tour, you'll try your hand at making tortillas and weaving on a backstrap loom. Next, you'll have lunch at CECAP, the vocational school. Claudia is a local and speaks both English and Spanish.
Cost: approx. Q100
Contact: +502 4794-0816
If you aren't around on a Friday, don't worry, you can might still be able to book a community tour through Los Elementos Adventure Center.
During this tour, you'll learn about the local non-profit organization Amigos de Santa Cruz. You'll interact with students at the vocational school, eat a yummy lunch prepared by some of the students, learn about nutrition and early childhood development projects, and explore the steep narrow alleys of this Mayan village.
24. Spanish Classes
I love chatting with locals everywhere I travel. Whether you are a beginner, intermediate, or advanced Spanish speaker, consider adding more vocabulary and practice to your language toolbox.
Santa Cruz la Laguna Spanish school offers a variety of language learning packages. They also offer home stays, immersion activities, classes at your Airbnb, and more.
25. Shop for Handicrafts
If you enjoy shopping or simply want a few mementos from Santa Cruz, walk up the hill to the handicraft shop in CECAP. This vocational center is run under the auspices of the Amigos de Santa Cruz NGO. Not only will you be getting some awesome handcrafts, but you'll also be contributing to the future well-being of the community.
To get there, walk all the way up the hill from the boat launches. You'll come to a T, with the Catholic church on the left, and the CECAP center down to the right. It is on a corner and has a rooftop café you can enjoy as well.
26. Guatemalan Cooking Class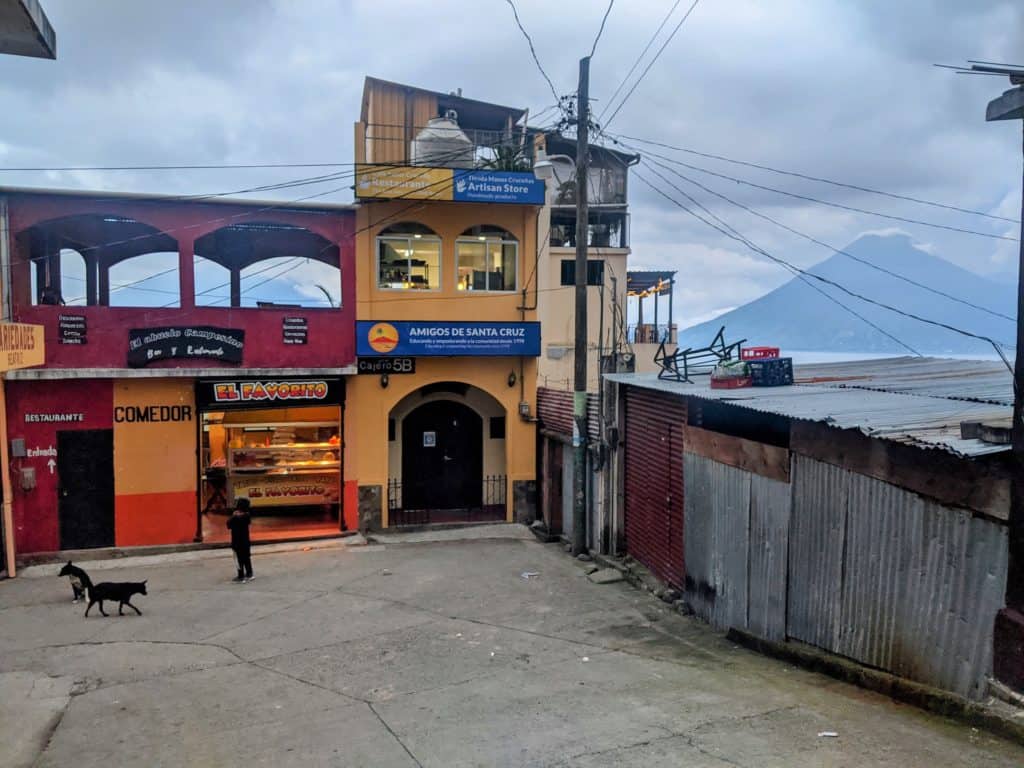 Another excellent cultural thing to do in Santa Cruz la Laguna is to take a cooking class. This class is offered by Claudia Cumes. She is a culinary school graduate, a local, and bilingual. During this 2-3 hours class, you'll learn to make traditional Guatemalan dishes such as tortillas, pepián, tamalitos, and rellenitos.
The tour price includes all of the ingredients, the class, and a 3-course meal at the end (you'll get to eat what you made). Yum!
The meal includes an appetizer, main dish, and dessert.
To book a cooking class, contact Claudia Cumes directly (tel: +502 4794-0816), or book the tour through GetYourGuide.
27. Weaving Class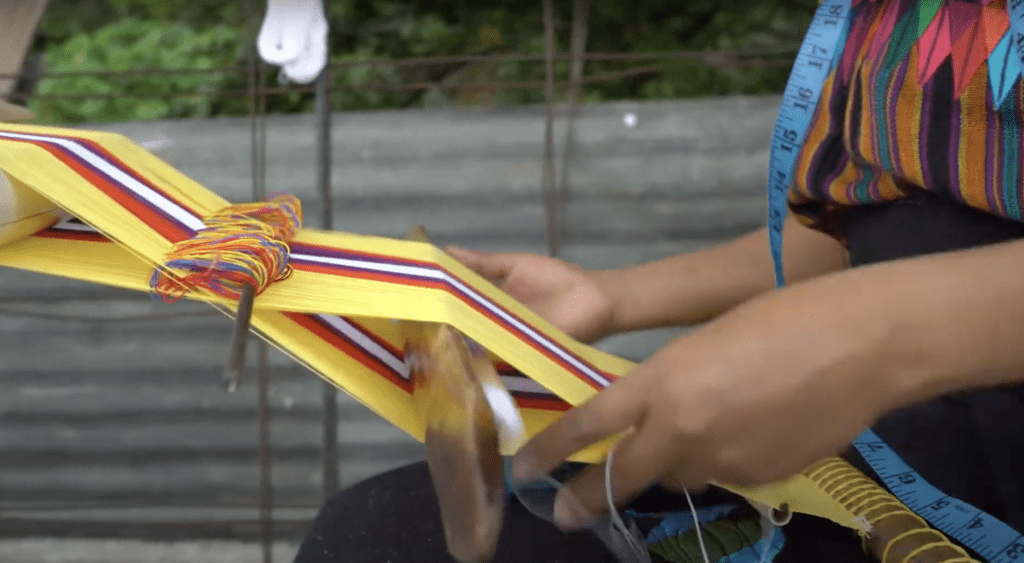 This tour could be the most memorable experience of your time in Guatemala. A local woman will teach you how to weave a scarf on a back-strap loom.
I've never done this, but it sounds like a ton of fun. The guidebook binder at La Iguana Perdida says that everyone raves about this tour for being one of "the most unique and authentic experiences you can have."
This tour is led by Tomasa, a local woman and weaving expert.
Book a tour by calling or emailing:
[email protected]
+502 3728 0944
28. Beading Class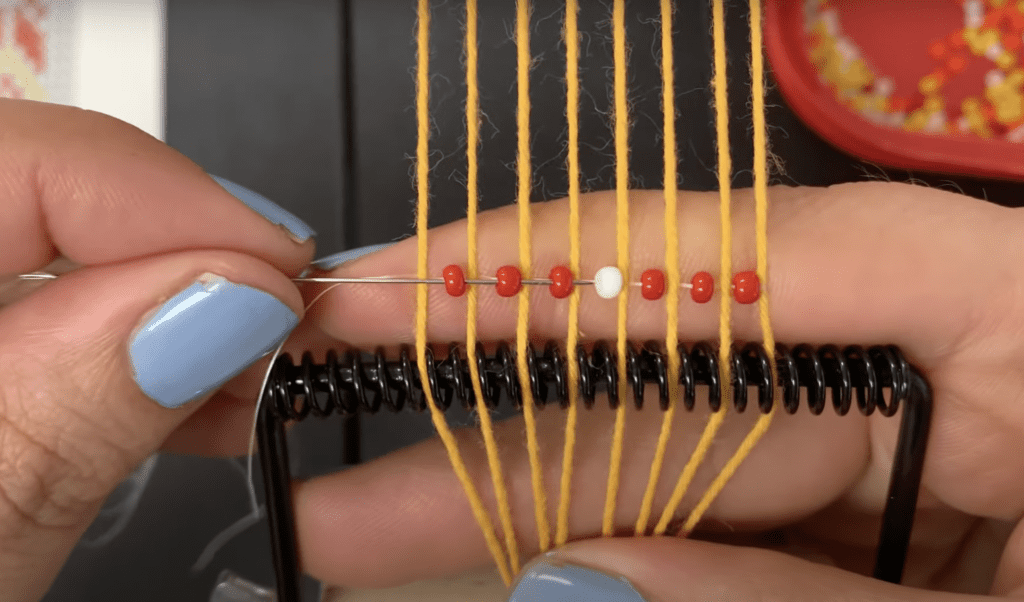 If you've spent any time in Guatemala, you've probably seen the bead bracelets for sale. They are everywhere! Beautiful, unique, and colorful.
I learned how to make them while living with a Kaqchikel family in Sololá. They showed me how to make a simple loom from a piece of board and some nails. We bought thread and "mostacilla", tiny colored beads.
I had a lot of fun making bracelets to give to my family for Christmas. And once you learn, it's easy to replicate at home.
During the Amigos de Santa Cruz beading class, you'll learn how to make your own custom bead bracelet on a bead loom.
Book a tour by calling or emailing:
[email protected]
+502 3728 0944
29. Saturday Farmer's Market
Another neat experience is shopping at the farmer's market. I didn't get to go when I was there (I was scuba diving), but shopping for local fruit and veggies is always a fun experience. Practice your Spanish or Kaqchikel, dust off your bargaining skills, and stock up on yummy produce for the week. (Or try a few unusual tropical fruits).
Ask at your hotel or hostel to find out if there is a farmer's market in the plaza while you're in town.
Fill in the form below to get my bargaining guide!
Fun Things to do in Santa Cruz la Laguna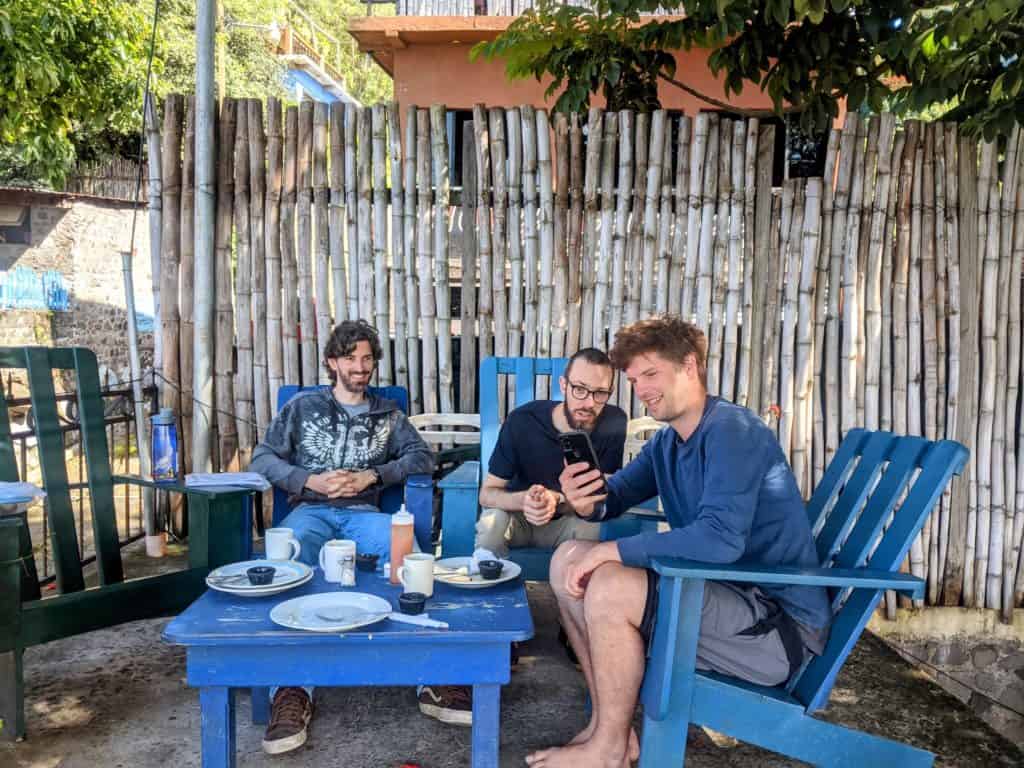 Looking for formal group activities? Check out these fun things to do at the various hostels in Santa Cruz la Laguna (whether or not you're a guest).
30. Monday Night Trivia
Have a brain for facts? Are you an information guru? Then the trivia night at Free Cerveza hostel could be just the thing to do.
Held every Monday at 5 pm.
31. Sunrise Hike (Monday, Wednesday, Friday)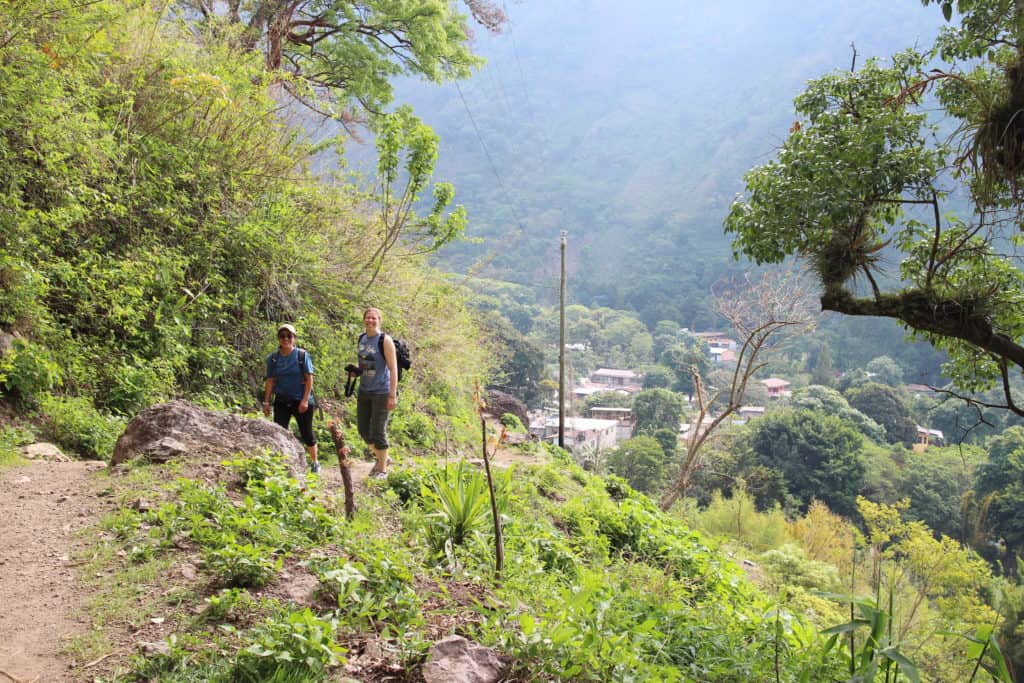 Free Cerveza Hostel also organizes a sunrise hike three days a week. The hike leaves at 5 am Monday, Wednesday, and Friday. It costs Q35 for non-guests.
32. Morning Yoga in Santa Cruz la Laguna (Tuesday, Thursday, Saturday)
Free Cerveza hostel offers morning yoga classes at 8 am three mornings a week.
Check the calendar on their website, drop by to ask one of their volunteers for more details, or send them a message through their Whatsapp number (+502 5811 2001) to see about joining.
33. Wednesday Morning Sunrise SUP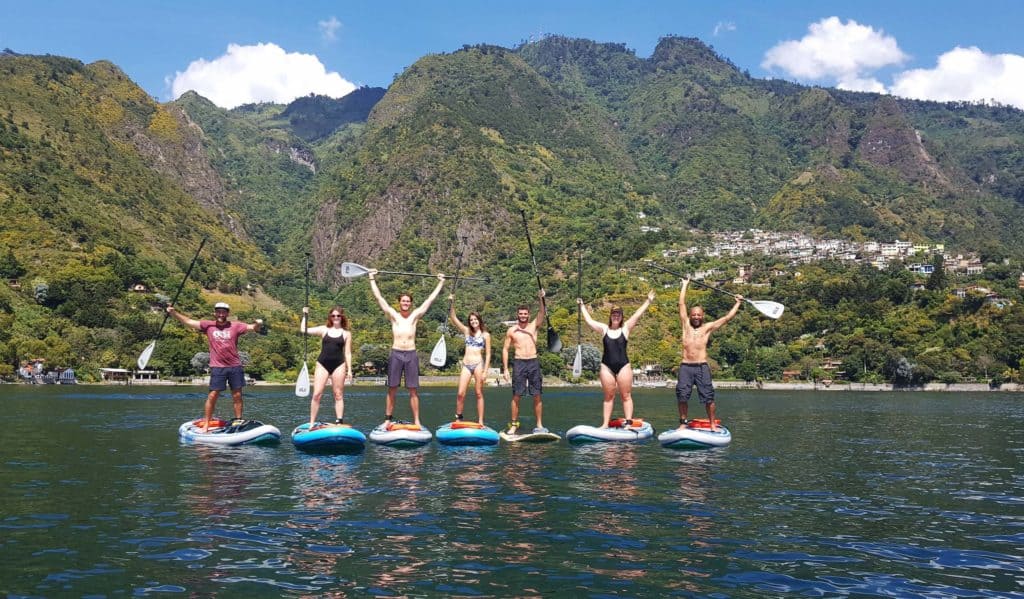 Another fun activity you can do with a group is join the Wednesday morning sunrise SUP session at Free Cerveza Hostel. Be there at 5 am with your swimsuit and water bottle.
If you aren't staying at Free Cerveza, you can still join the sunrise paddle board session for a Q50 fee.
34. Wednesday Night Open Mic
Ready for some singing and laughter? Sign up for the family dinner at La Iguana Perdida by 3 pm, then head over for a delicious supper (held at 7 pm), followed by an open mic night. Share songs, poems, skits, jokes, and more.
Not interested in the meal? You can skip dinner and join the fun as it cranks up around 8 or 9 pm. If you participate in the open mic, you get a free shot of tequila.
35. Friday night Beer Pong in Santa Cruz la Laguna
If you enjoy beer pong, Free Cerveza Hostel is the place to be. Head over on a Friday at 5 pm to participate.
36. Saturday Night BBQ, Dress up & Tequila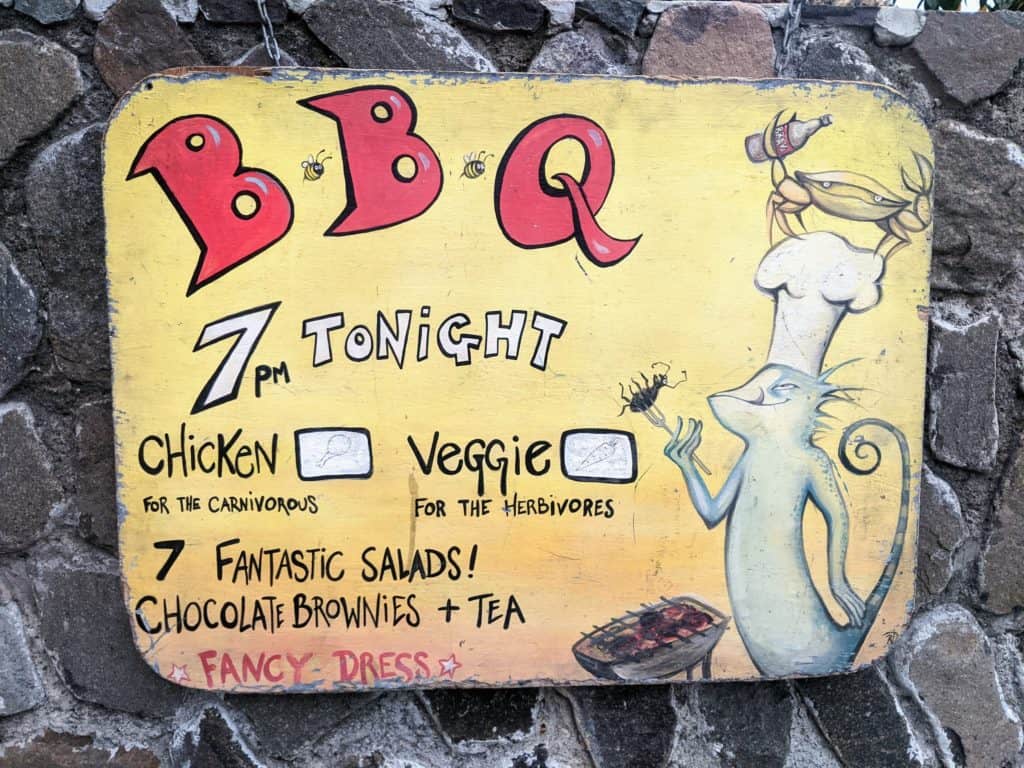 La Iguana Perdida holds a delectable BBQ every Saturday night at 7 pm. Sign up for the dinner by 3 pm that afternoon, but get there early so you can dress up in a ridiculous outfit. Anyone who dresses up gets a free shot of tequila.
I'm not into tequila myself, but the dress up was hilarious and made for a festive atmosphere. (I dressed as "a very cold person" in a giant wool blanket).
Our dive instructor, Pollo, grilled a ton of juicy chicken, and there were a half dozen salads and sides to choose from. The food was lip-smacking good.
37. Sunday Night Bonfire (dry season only)
During the dry season, Free Cerveza hostel has a bonfire on Saturday nights which you can join in on even if you aren't a guest.
Enjoy the crackling flames and the stars over Lake Atitlán.
Where to Volunteer in Santa Cruz la Laguna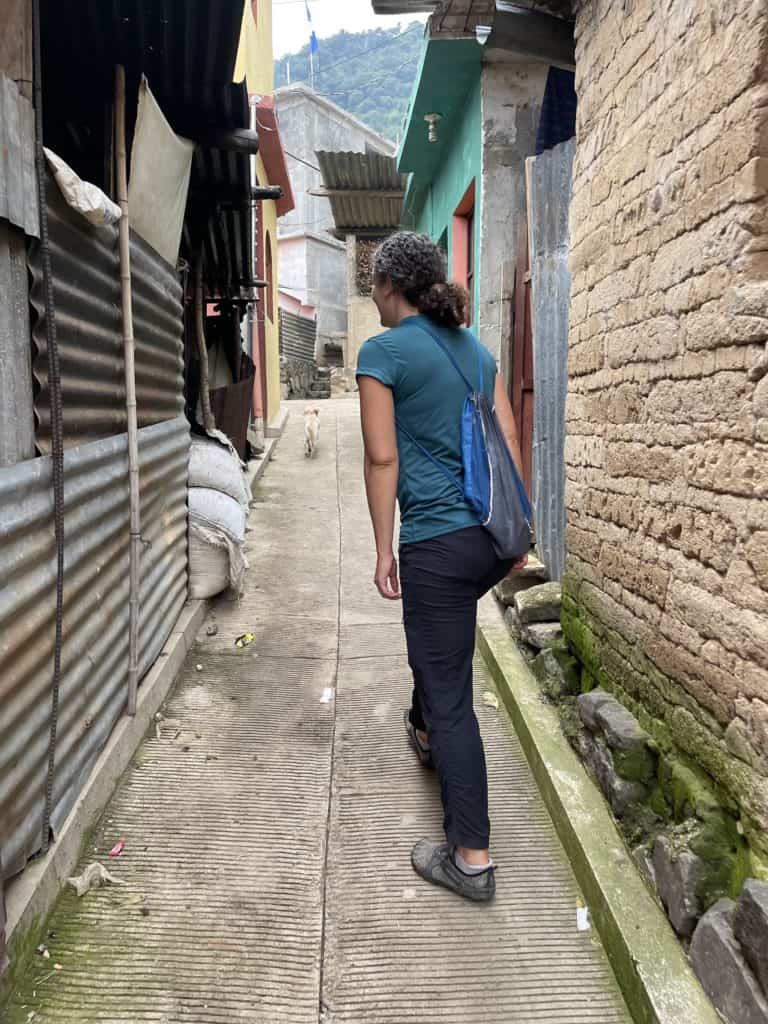 If you'd like to spend more time in Santa Cruz la Laguna Guatemala, volunteering is a great option.
Here are a few different places you can volunteer in Lake Atitlán's "town on the hill."
Amigos de Santa Cruz
Amigos de Santa Cruz is a non-profit organization founded in 1998 and staffed by local leaders.
Amigos is helping empower the people of Santa Cruz through various community-led initiatives, education programs, and vocational programs.
Use your skills, talents, and passion to make the world a better place by volunteering at this wonderful NGO. They accept short-term volunteers (2-4 weeks), and long-term volunteers. Get in touch by emailing them at [email protected].
La Iguana Perdida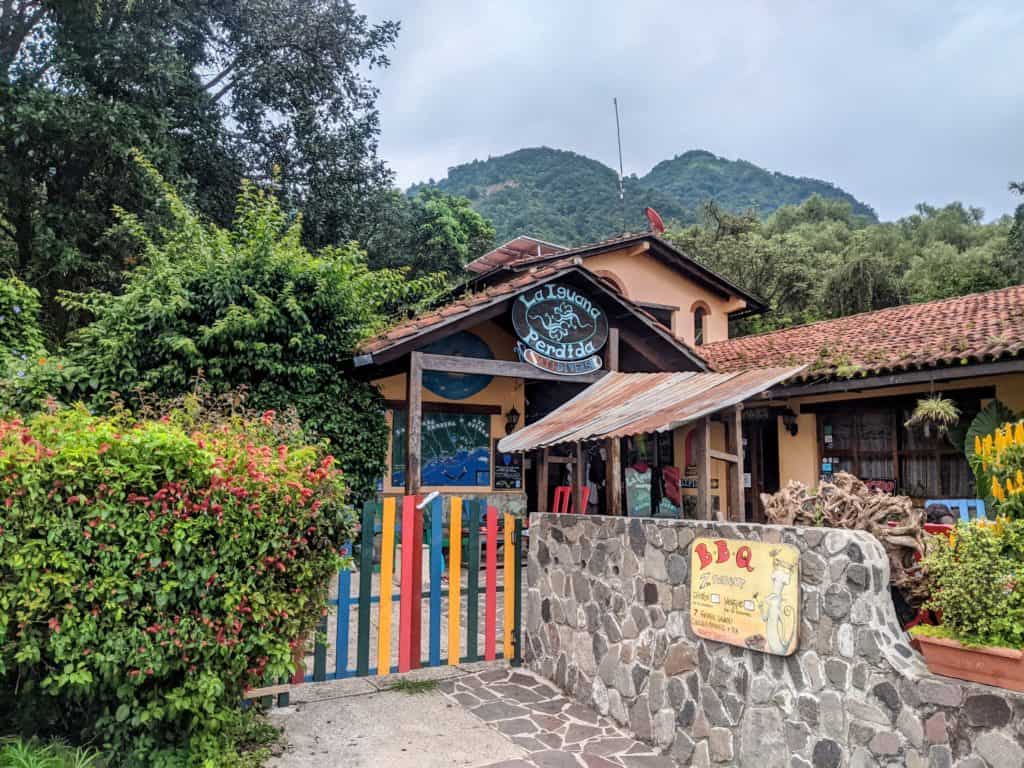 If you'd like to volunteer at a hostel in exchange for room and board, La Iguana Perdida could be a perfect choice. They accept up to eight volunteers at a time for a minimum 6-week minimum stay. Intermediate Spanish and fluent English are prerequisites. Contact them directly through their website.
Free Cerveza
Much like the opportunity at Iguana Perdida, you can also volunteer at Free Cerveza. Each hostel has its own vibe, so dig a little deeper to see where you might be the best fit. Intermediate Spanish and a minimum 4-week commitment is required.
Los Elementos
Los Elementos Adventure Center also accepts workaway volunteers. They are looking for website and computer-related help.
Villa Sumaya
Villa Sumaya, a Santa Cruz la Laguna Wellness Spa & Retreat Center, also accepts volunteers. They are actively seeking a photographer/videographer, acupuncturist/herbalist, and anyone with hospitality and computer skills.
How to get to Santa Cruz la Laguna
Santa Cruz la Laguna is most easily accessed by boat, however, there is an extremely steep dirt road available for the adventurous.
By Boat (Recommended)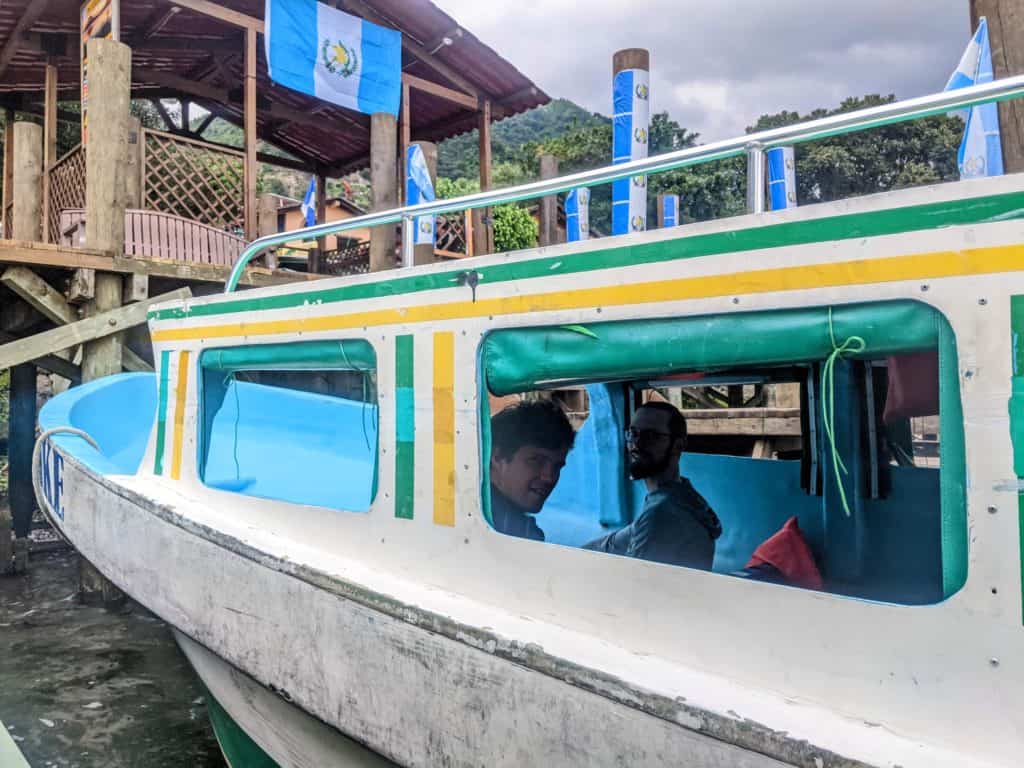 The best and easiest way to get to Santa Cruz la Laguna is by boat. Most visitors take a public "lancha" from the Tzanjuyu docks in Panajachel. This is the method I recommend.
First, take a tourist transfer from Guatemala City to Panajachel or a tourist transfer from Antigua to Panajachel.
In Panajachel, walk down to the Tzanjuyu docks. Tell the boatmen that you are going to Santa Cruz and you want a public boat (lancha publica).
If you're able, haggle for the price before getting on the boat. When my friends and I went, we paid Q15 per person on the way to Santa Cruz and Q20 per person on the way back. Do the best you can, but don't let the price ruin your trip.
The boatmen tried to charge us Q25 per person, but this is the price for going all the way across the lake (Panajachel to San Juan or San Pedro).
Do not pay more than Q25 for the public boat.
By 4×4 Vehicle or Motorcycle (Adrenaline Version)

Another way to get to Santa Cruz is by land. There is a steep twisty road that goes from Sololá down into a deep ravine, up the other side, and almost to San José Chacayá. It doubles back to the right, goes through a community called Las Minas, and turns into a narrow dirt road.
This road is very steep and covered in loose rubble. Steep switchbacks lead down the mountain, with perilous drops on either side.
Great for anyone who loves riding on dirt and mud. Aside from the garbage dump, which is nasty, the views are excellent on the way down the hill.
When to visit Santa Cruz la Laguna Atitlán
Santa Cruz is pretty great all year round. However, if you have some specific activities you want to do, keep the following in mind.
Rainy Season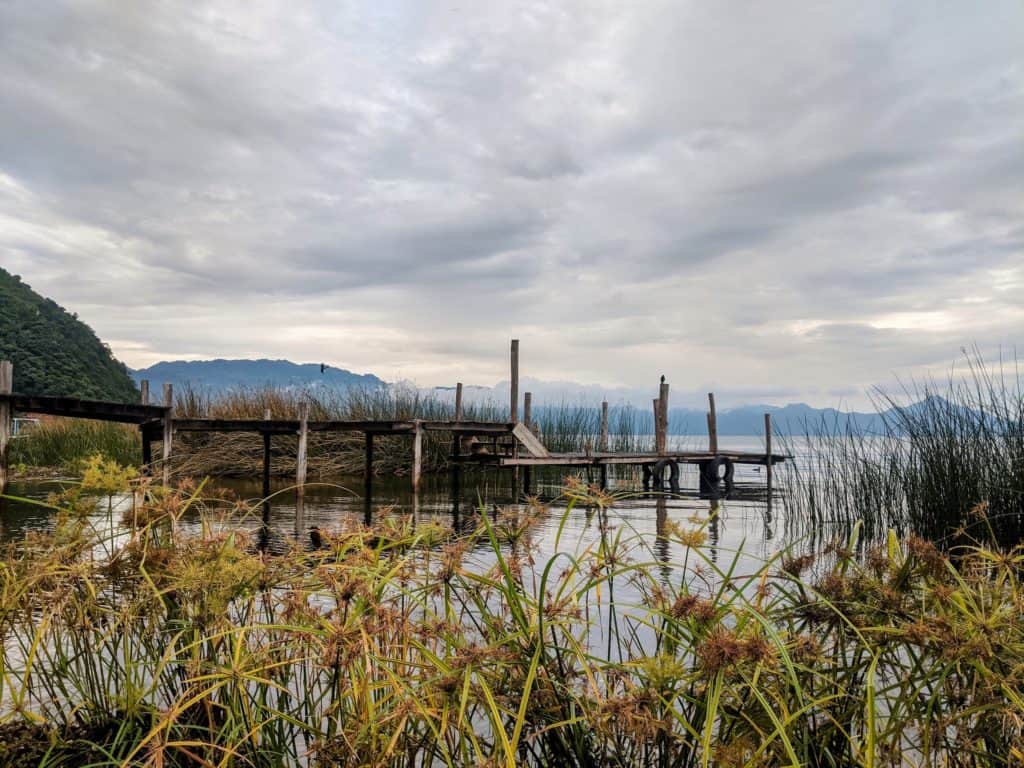 The rainy season is from May to October. If you visit Lake Atitlán during this season, expect daily torrential downpours.
Hiking will be muddy. Leave early in the morning for the highest chance of clear weather and good views.
During this season, visibility for scuba diving will also be reduced. However, the hills will be incredibly lush and green.
Dry Season
Dry season is from November to April.
During this season, visibility for scuba diving should be better (although it is never amazing).
It's a great season for hiking, climbing volcanoes, and enjoying outdoor activities. The lake is still calmest in the morning, as the "xocomil" winds pick up in the afternoon.
Worst & Best Views of Lake Atitlán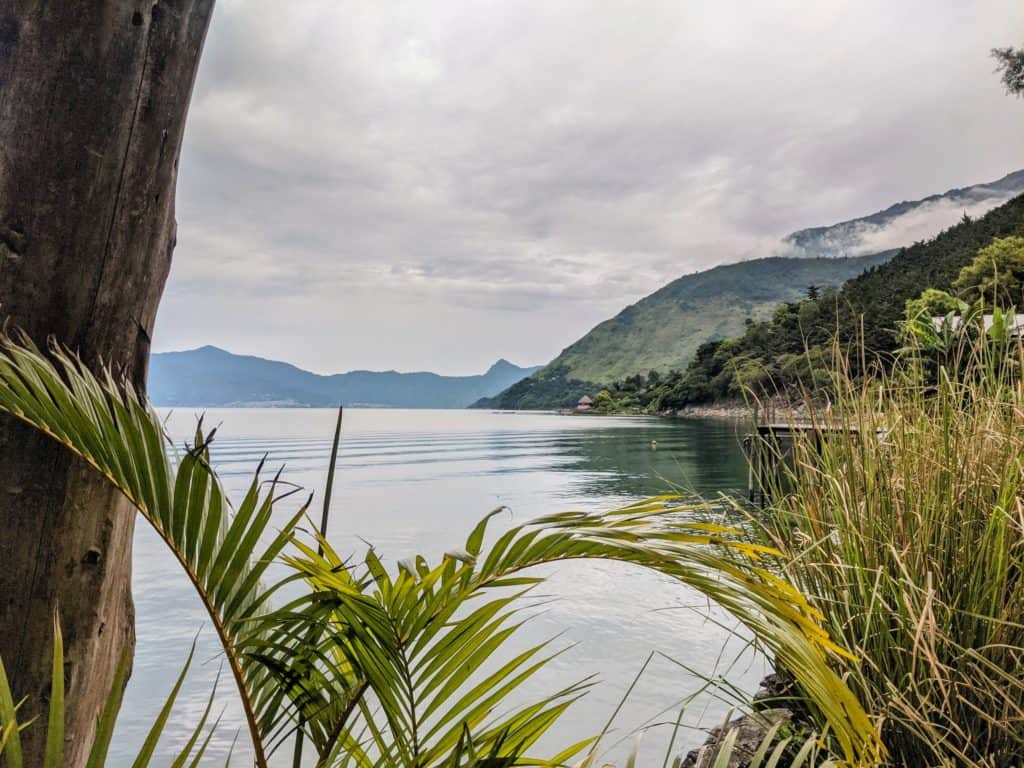 For volcano views, try to avoid March and April. Visibility is often terrible during these months, and you may not be able to see the volcanoes across the lake at all.
November and December are often best for visibility and sunsets. Not only that, the mountains are still lush and green after the rainy season.
Loudest time in Santa Cruz
Locals celebrate their patron saint, Santa Elena de la Cruz, on May 10th every year.
In the weeks leading up to this date, expect firecrackers, "bombas," loud music, and dances. It is an interesting cultural time to visit, but definitely not the most tranquil.
Santa Cruz la Laguna FAQs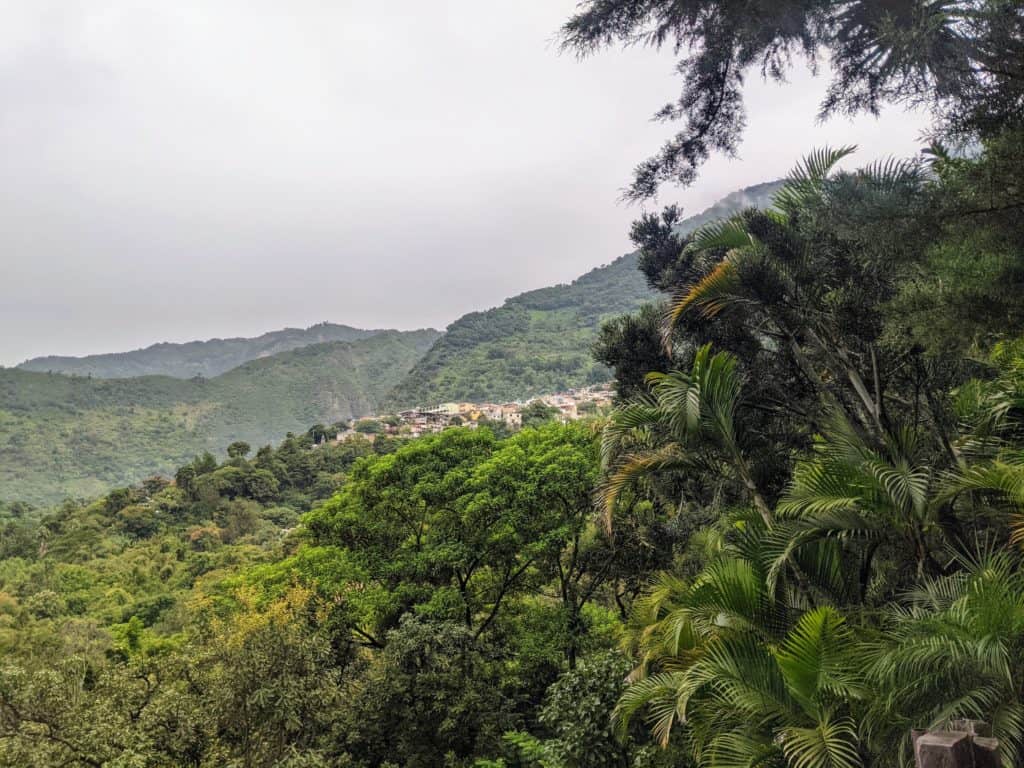 Check out these frequently asked questions about Santa Cruz, from where to get money and groceries, to what to wear in town.
Where to get money in Santa Cruz la Laguna
Although many hotels and tour operators now accept credit cards, you'll still need cash for several things such as boat and tuc tuc fares. You also may end up paying a significant surcharge for using a credit card. For example, if you pay with a credit card at La Iguana Perdida, you'll pay a 4% surcharge.
The easiest way to get cash for your trip is to go to an ATM in Panajachel before you catch the boat to Santa Cruz la Laguna.
Alternatively, you can walk up into the town of Santa Cruz and find the single ATM there. The ATM is in the CECAP education building below the Sabor Cruceño Coffee shop.
You can withdraw up to Q2000 at a time. Expect to pay around Q44 in ATM fees.
Where to buy groceries in Santa Cruz la Laguna?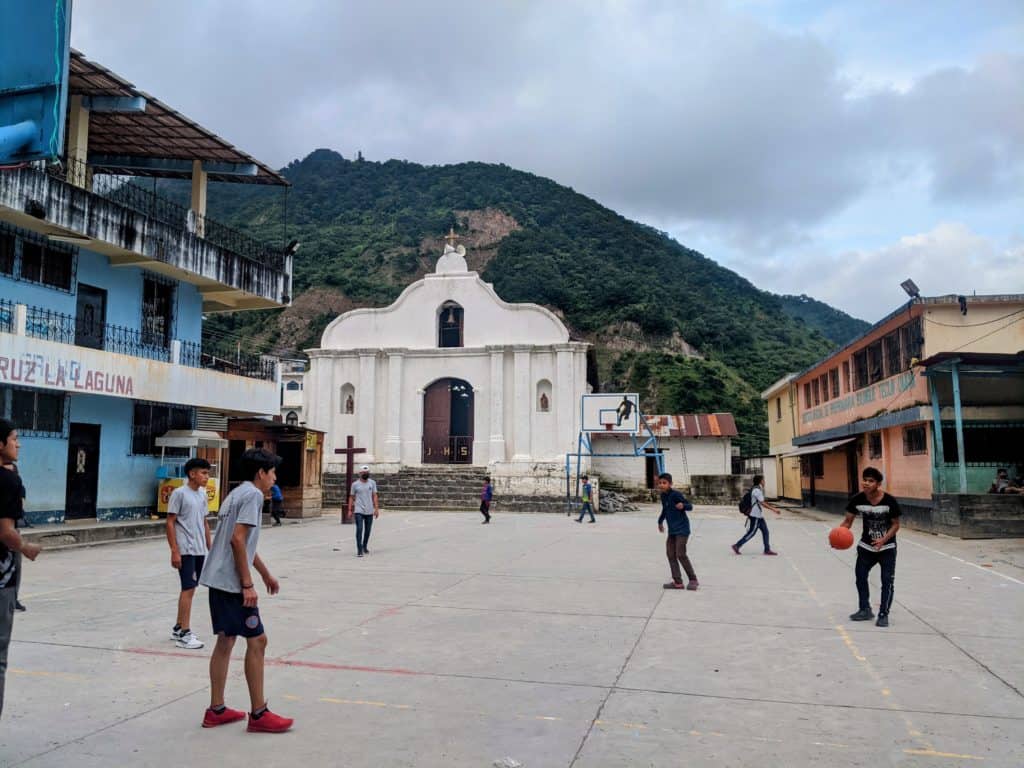 If you are looking for snacks, tortillas, or bananas, the innumerable tiendas, or corner stores, will have what you need. If you're looking for more substantial groceries, ask at your hostel about the Saturday morning farmer's market. You can also take a public boat over the market in Panajachel.
The biggest market day in Panajachel is Sunday, but you can find veggies, meat, and fruit there every day of the week.
How to dress when in town?
If you're heading into the upper village of Santa Cruz, I recommend wearing modest clothing to show respect for the locals.
Most Mayan communities in the highlands are quite conservative. Men wear long trousers, T-shirts, and jackets. Outdoor workers often wear long sleeves and hats to protect themselves from the sun. Women wear a traditional blouse, called a güipil, and a corte, a wrap-around skirt. They keep their shoulders and torsos covered, and their legs covered down to mid-calf.
When I visit a local community, I prefer to wear a short-sleeved shirt and capris. The capris allow for more airflow than pants but still cover my knees.
If you're exercising, it's acceptable to wear long shorts.
Can you work as a digital nomad in Santa Cruz la Laguna?
If you need to work remotely while in Santa Cruz, you should have no trouble finding decent wifi. Most hotels in Santa Cruz la Laguna include internet and list the internet speed they have available.
You can also get a local sim or esim card and set up a local hotspot. This is great as a backup source for internet. It came in handy for me when I was teaching ESL classes and the network dropped.
Is Santa Cruz la Laguna safe?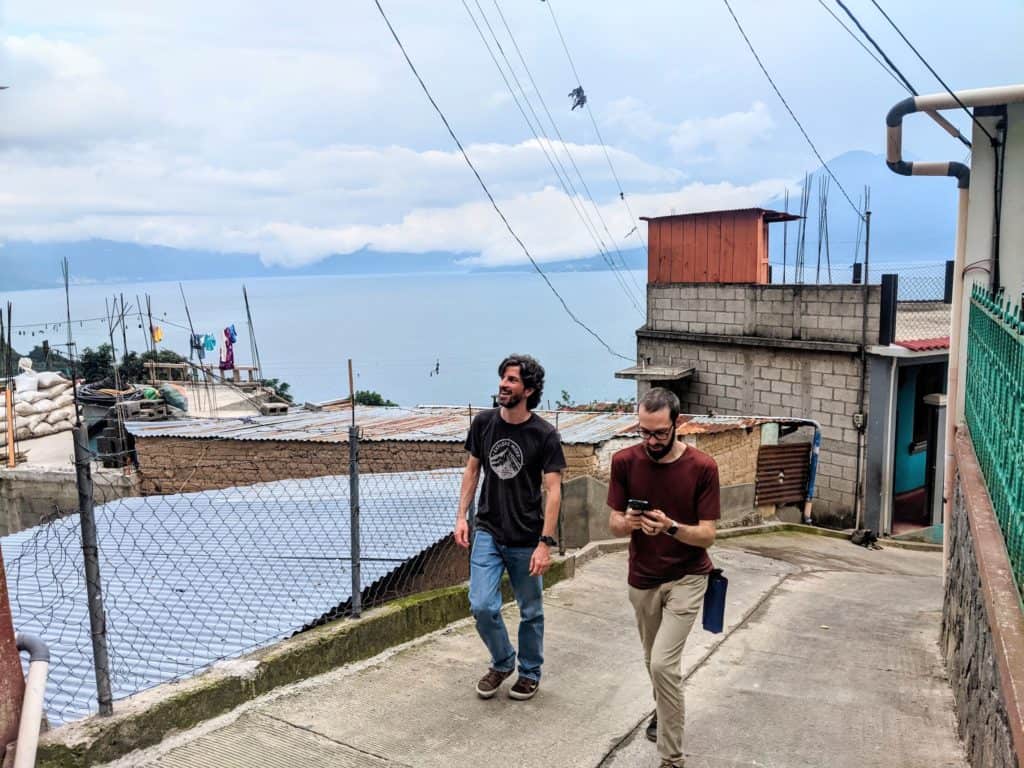 Santa Cruz la Laguna is fairly safe. I felt completely comfortable walking around town, on the paths by the waterfront, and in my hotel. The locals are usually friendly as well. However, it's always good to stay aware and alert. This is especially true when you are hiking.
I recommend hiking in a group, especially if you are walking from Santa Cruz to San Marcos la Laguna. Hiring a local guide is a great idea as well. I've gone twice with José Manuel Cumes, a local guide based out of Panajachel. He's personable and knowledgeable about local flora, fauna, and safety.
If you'd like to hire him, contact him at +502 4627 5285 and tell him I sent you.
Nearby Attractions
Now that you know what things to do in Santa Cruz la Laguna, be sure to check out my upcoming posts on Where to Stay in Santa Cruz and What to Eat in this fabulous Lake Atitlán destination.
For my top-favorite things to do in the area, check out Things to Do in Atitlán and Things to Do in San Juan la Laguna.
Looking for a motorcycle tour around the lake or to Santa Cruz la Laguna? Check out my review of Ride Atitlán motorcycle tours. Want a hike? Climb San Pedro Volcano, the views are AMAZING!
Heading to Antigua? Don't miss these great things to do in Guatemala's premium colonial town.
Make your trip to Guatemala truly awesome by climbing Acatenango Volcano and watching Fuego spew lava into the night. Climbing to the peak is hard work, but man oh man is it worth it.
***GUATEMALA TRAVEL PLANNING GUIDE***

Should I buy Guatemala travel insurance?
YES — Personally, I always travel with travel insurance because it gives me extra peace of mind. SafetyWing is an excellent travel insurance company that's quite affordable. Plus, if you travel longterm, it's a snap to renew on a month to month basis. You can keep renewing for up to a year and still pay the same deductible.

Where's the best place for finding cheap flights to Guatemala?
When I purchase a ticket, I always search several different sites. Kayak and Expedia are great places to start running a search. Spirit is usually the cheapest carrier, but American Airlines and United also sometimes offer excellent deals.

What's the best way to book my Guatemala accommodations?
I recommend booking.com for finding and booking hotels in Guatemala. For vacation rentals, I recommend VRBO.com — it offers beautiful and unique spots to stay.

What's the best way to book Guatemala tours?
Viator is a great tour booking site with several excellent options available in Guatemala's main tourist areas including Tikal, Atitlán, Antigua, and Acatenango. There's a nice range of prices and options available.

Can you drink the water in Guatemala?
No – Don't drink the tap water! Instead, buy purified water from any corner store or grocery store in Guatemala.

Be sure to brush your teeth with that water as well to avoid getting sick. And hydrated, especially when traveling to high elevations.

Do I need a visa for Guatemala?
Probably not — Visitors to Guatemala from "Category A" countries like the United States, Canada, the UK, New Zealand, Australia, and most European countries are automatically given a 90-day tourist visa (in the form of a passport stamp) when entering Guatemala.

This visa is valid for Guatemala, Nicaragua, Honduras, and El Salvador. At the end of 90 days, it can be renewed once at Guatemala's Migración without leaving the country.

After 180 days, you will have to travel outside of Central America before returning. Check to see if you need a visa.

Will my phone work in Guatemala?
It's possible, but check with your provider in advance to see if Guatemala is covered. If not, you can easily pick up a local SIM card.

There are essentially only two carriers in the country: TIGO and CLARO. Both have good coverage.