35 Amazing Things to Do in Lake Atitlán
Lake Atitlán is a gorgeous caldera lake nestled between volcanoes in the department of Sololá, Guatemala. It sits at 5,000 feet above sea level, is ringed by sections of sandy beach, cliffs, and tree-clad slopes, and is warmed by hot springs.
Mayan towns and villages dot the shore, each with its own cultural heritage, typical clothing, and maze of streets to explore.
Ziplines criss-cross steep ravines, exotic birds flit through the forested slopes, boats cut through the water alongside wooden canoes, and the markets overflow with fresh produce, tropical fruit, and steaming baskets of chuchitos–Guatemala's answer to Mexican tamales.
Is Lake Atitlán Worth Visiting?
Aside from being picturesque, there are tons of amazing things to do in Lake Atitlán. It's a must-see for anyone traveling through the Guatemalan highlands.
Lake Atitlán has something for everyone, whether you're looking to immerse yourself in Mayan culture and artistry, savor high-elevation coffee, or strap into a paraglider and leap off of mountains.
Swim in the chill waters of an ancient volcanic crater, disappear into the magical world of a cliffside hotel, or soak in the stunning views from a hammock.
Check out the list below for 35 amazing things to do in Atitlán, ranging from cultural to romantic.
***This page contains affiliate links, so if you book a tour through those links, I'll earn a small commission at no extra cost to you. Learn more in my disclaimer.***
Amazing Nature Things to do in Lake Atitlán, Guatemala
1. Hike Indian Nose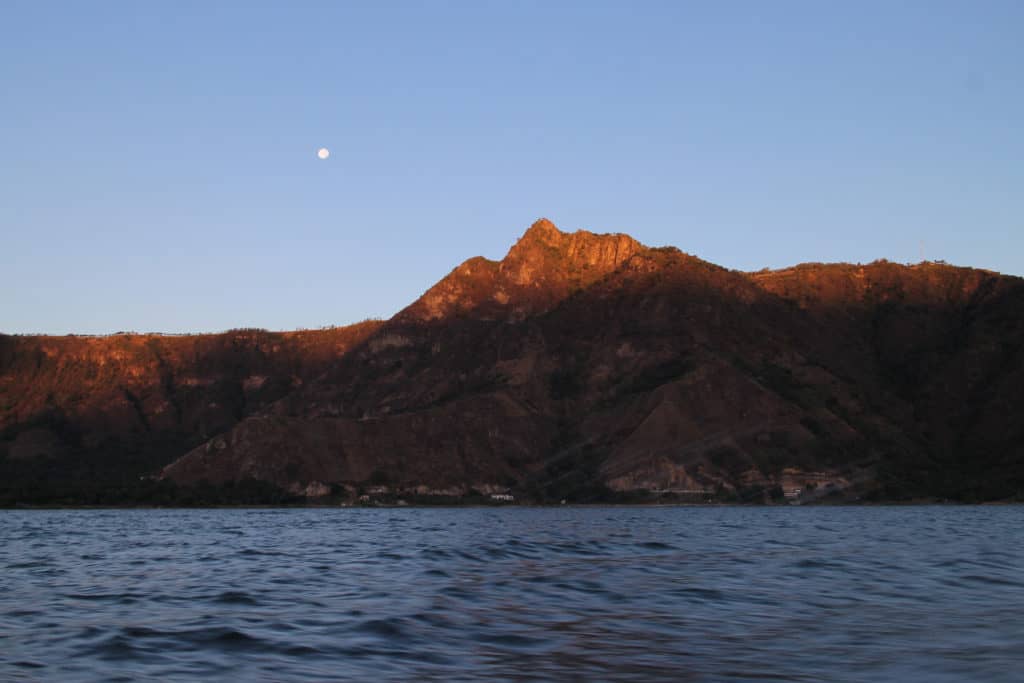 One of the most amazing things to do in Lake Atitlán is to hike to the top of the "Indian nose."
This promontory is located on the western side of the lake and forms part of a ridge known as the "Rostro Maya" or "Mayan face." It offers some of the best views available and makes the hike to get there well worth the effort.
There are two ways to access the highest point on the face, known as the "Naríz del Indio" or "Indian Nose." You can reach it by hiking in from Santa Clara la Laguna, or from San Juan la Laguna.
San Juan to the Rostro Maya
The hike from San Juan is very steep so make sure you take plenty of water with you. I also recommend hiring a local guide so you don't get lost in the coffee fields on the way up.
When I hiked it with a group of my friends and a dog, we accidentally took a detour to "los labios" (the lips) and I had to carry my dog one-handed up and down ladders and along ropes strung above precipitous drops. (And yes, I had a blast doing it! I got my injection of adrenaline for the day.)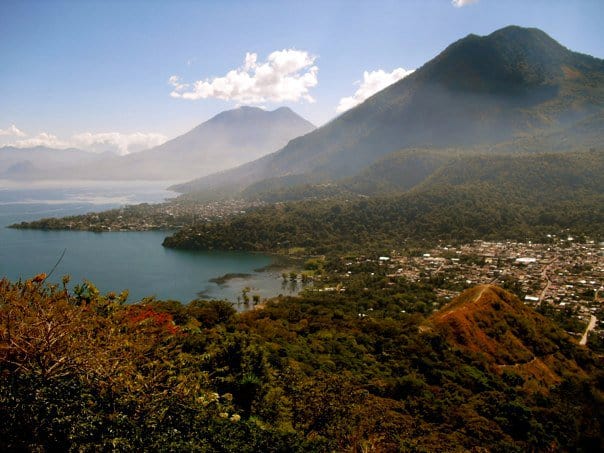 Keep in mind that if you hike from San Juan you'll need to pay a small fee (Q10-15) at the entrance to the Kaqasiiwaan Mirador trailhead.
Make sure you check out the Mirador for views of San Juan La Laguna before continuing up the mountain.
Santa Clara to the Rostro Maya
You will need to pay another fee once you reach the Indian Nose (Q20-35) because it is located on private property. This link gives an overview of the hiking trail from San Juan.
If you want a shorter and easier hike, you can go to the town of Santa Clara via tuc-tuc or microbus. I always recommend hiring a local guide in order to contribute to the local economy, but if you prefer to find your own way, you can follow this trail to the Nariz.
"Indian Nose" is a great destination for day hikers and campers alike.
If camping is your thing, it's definitely worth considering spending the night here. Although it gets windy on the exposed "nose," I've heard that the stars and the sunrise are stunning from its high vantage.
Note: You may need to pay an extra fee to camp.
Cost of trail access from San Juan: Q10-15
Cost of Indian Nose access: Q25-30
2. Go on the Quetzal Birdwatching Tour
Another amazing thing to do in Lake Atitlán is to traipse through the lush forests above Santiago Atitlán in search of Guatemala's elusive but magnificent national bird–the resplendent quetzal (Pharomachrus mocinno).
One of the highlights of my life happened on this tour. I got to watch four quetzal birds flit through the trees with their brilliant green tails snaking behind them, an amazing experience!
This tour is a classic birdwatching adventure led by guides trained by the Audubon Society and certified by Guatemala's National Institue of Tourism.
This tour itself is a combination of hush and excitement. Expect lots of quiet time standing in the woods, taking in the natural sounds, and enjoying glimpses of toucans, tanagers, horned guans, and up to 40 other bird species.
On clear days you'll also be able to see sweeping panoramas of the coastal plains.
While you walk around the reserve, your guide may imitate the quetzal's call to lure it closer and can tell you about the habits of this lovely bird. If you're lucky, you'll get a close-up view of Guatemala's national bird through the guide's massive scope.
Best time of the year to go:
Take the tour anytime from the beginning of February until the end of June for a 95% chance of seeing a quetzal.
Where is it?
This tour is located in the Rey Tepepul Nature reserve 20 minutes drive away from Santiago Atitlán. When you book, you can ask your guide to arrange transportation for you. If you have your own transportation, follow these directions to the parking lot.
The Tour
The tour begins at 6 am and lasts approximately four hours. It includes about 40 minutes of hiking on a nature trail that can be quite narrow and steep at times. Take good shoes, water, and snacks. If you are going in May or June, take a raincoat.
Cost of Tour:
Q525* for two people plus Q200 for each additional person (10 people maximum per tour)
* It is standard practice to pay a deposit in advance
Book the tour with Rolando at Birding Atitlán Expeditions:
[email protected]
+502 5736 4134

3. Hike from Santa Cruz to San Marcos la Laguna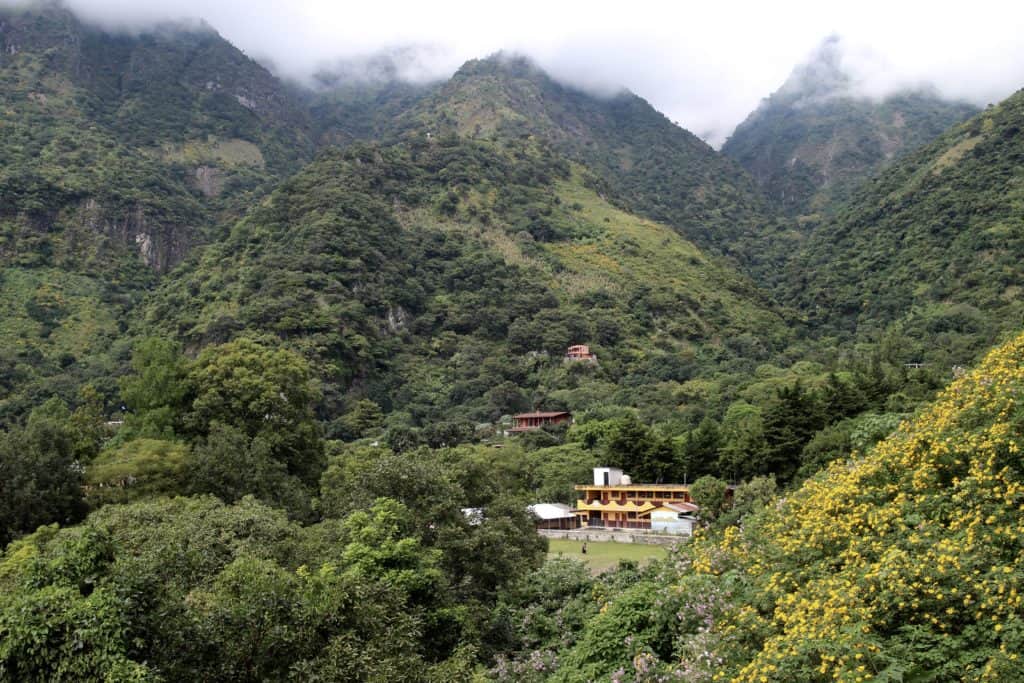 Another great way to enjoy the lake is to hike along the shore between the towns of Santa Cruz la Laguna and San Marcos la Laguna.
This is quite a long hike and is great for those who love distance walks, but you can also choose to do shortened portions of it. It is a great way to be out in nature and see some of Atitlán's lesser-visited towns.
The trail begins in Santa Cruz and meanders up, down, and around mountain ridges as it wends its way through Jaibalito, Tzununa, and then leads into a larger road that continues to San Marcos.
For those wanting an extra-long hike, you can continue along the road to San Pablo, or even San Juan and San Pedro.
Check out the unique views of the lake and the culture of the towns you pass. Stop in restaurants along the way for refreshing smoothies or energy-boosting meals.
Book the tour with a local guide:
José Manuel Cumes
+502 5939 1805
+502 4627 5285
4. Birdwatch at Tarrales Nature Reserve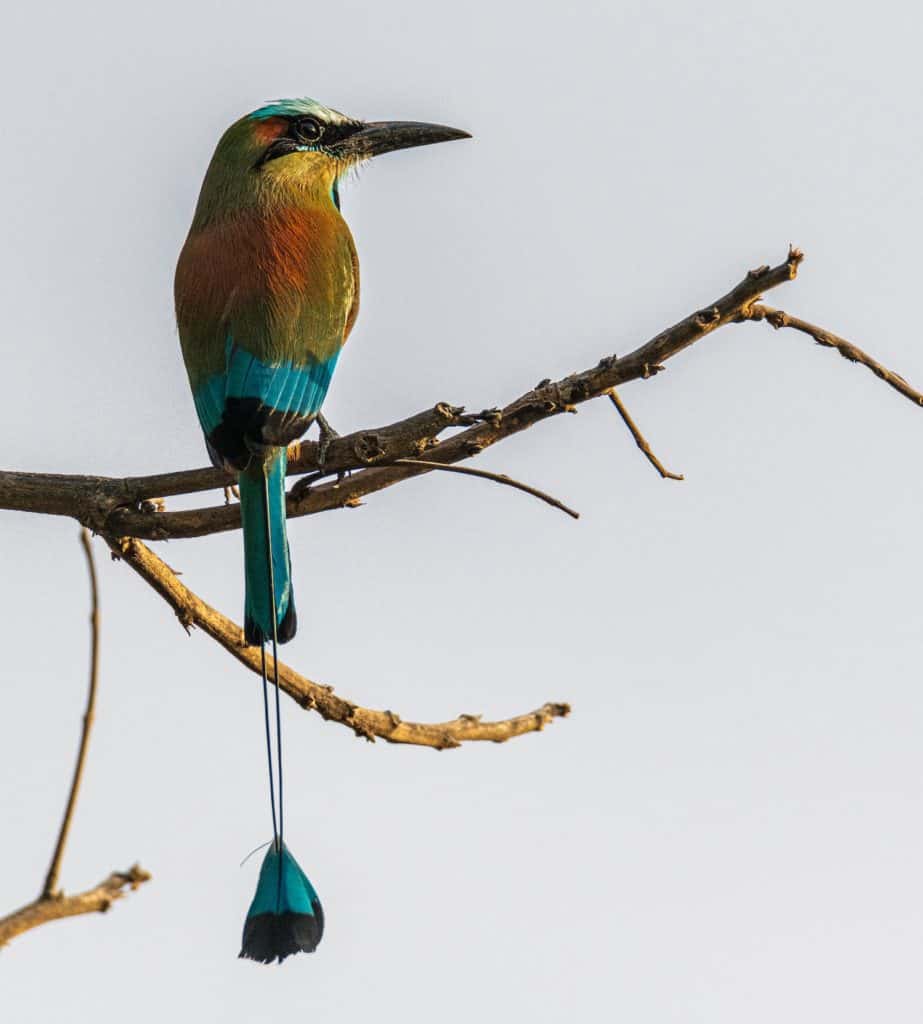 Los Tarrales is another amazing way to explore Lake Atitlán.
This privately-owned Finca offers a range of activities, from hiking to birdwatching to coffee tours of a plantation that dates back to the 1800s.
Boasting some of the best birding guides in the country, birdwatchers can catch glimpses of up to 100 species in a single day. Some species you might see include Motmots, Blue Seedeaters, and Azure-Rumped Tanagers.
Los Tarrales also has a restaurant for your dining pleasure, and comfortable cabins if you'd like to spend a night or a few.
***​Book your visit to Los Tarrales a minimum of 48 hours in advance***
​Costs of Tours at Los Tarrales:
Day pass (12 hours): $15
Half-Day Guided Birding Tour (5 hours): $45
Full-Day Guided Birding Tour (12 hours): $85
Horned Guan Guided Tour (12 hours): $135
Guided Coffee Plantation Tour (2 hours): $25
Guided Nocturnal Tour (2 hours): $25
Waterfall Tour (2 hours): $45
You can also book lodging on their site.
How to get to Los Tarrales:
You can access Los Tarrales via either the coastal (CA2) or Panamerican (CA1) highways. If you're coming from Panajachel, take Ruta Nacional 11. Check out this page for details.
Go to the Los Tarrales website.
5. Mountain bike the Santa Catarina trail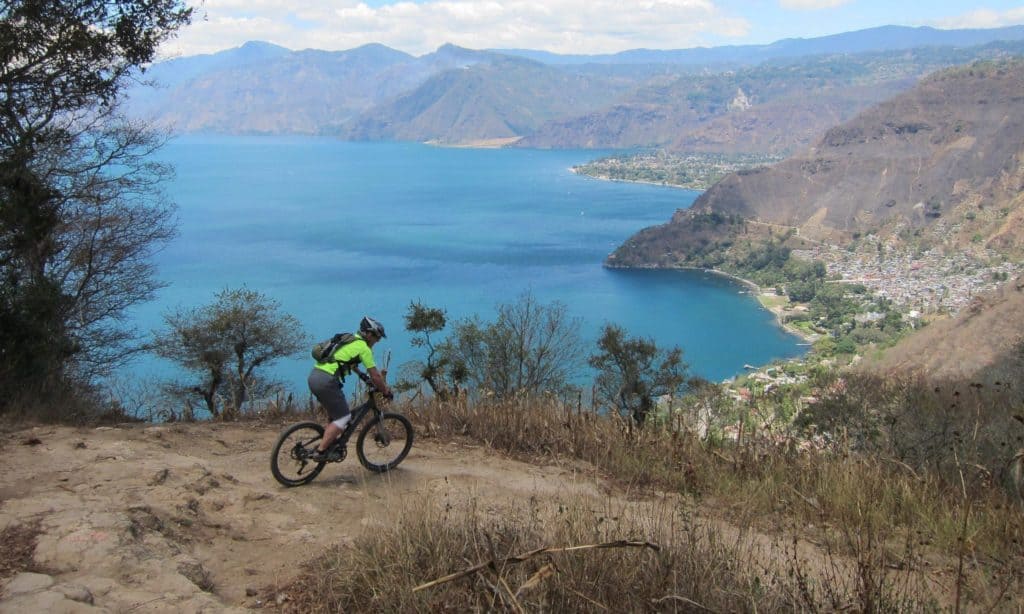 Mountain-biking is another great thing to do in Atitlán thanks to the abundance of trails through the agricultural fields.
These offer stunning views of the lake, varied terrain including technical switchbacks, rocky drops, twisty forest roots, and fast loamy sections.
The Santa Cat trail traverses the side of the mountain. It goes through farmer's fields and forested areas before coming into its iconic curve with a sweeping view of Lake Atitlán.
Most of the upper trail section is easy on hard-packed loamy soil, but the second half has the occasional technical section and tight corner with loose gravel and sand.
The trail ends above Santa Catarina Palopó where it winds through onion fields and then turns to stone steps as you (walk your bike) through the town down to the main road.
How to get to the trailhead:
Hire a pickup to take you to the Mirador Mario Méndez Montenegro. Bike down the road that leads toward the primary school (Escuela Primaria Pacaman).
Continue past the school before taking a left turn onto the trailhead at approximately these coordinates: 14.70671760154226, -91.11609797466753.
Trail Etiquette
Keep in mind that these trails were built by the indigenous people as a way to access their fields. Be respectful, give people and animals the right of way, and make sure you don't damage the trail or crops.
Overview of the trail:
Go with a local guide:
José Manuel Cumes
+502 5939 1805
+502 4627 5285
6. Visit Mirador El Pico del Cielo, San José Chacayá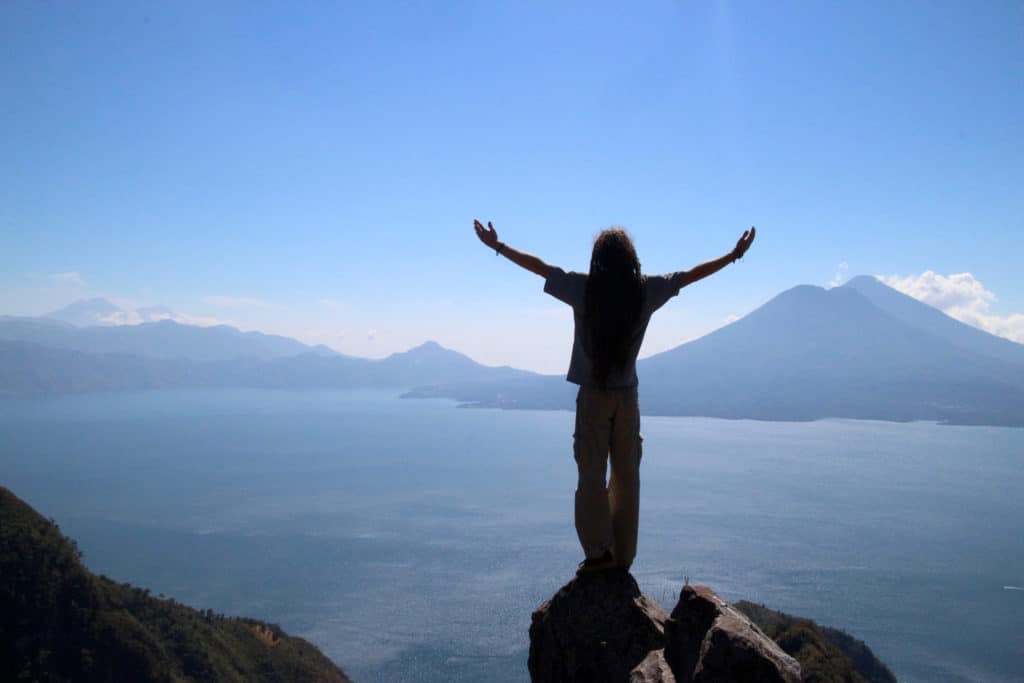 There are several great lookouts where you can enjoy awesome views of Lake Atitlan from a higher vantage point, but Mirador El Pico del Cielo is a personal favorite.
This Mirador is located near the town of San José Chacayá and is at the top of a narrow spine-like ridge that leads all the way down to the lake about a thousand feet below. Santa Cruz la Laguna is on one side of the ridge and Jaibalito on the other.
Go in the early morning for the clearest views, then check out the colonial church and sundial in the town of San José Chacayá afterward.
How to get there
If you're coming from Panajachel, take a chicken bus up the hill to Sololá. Get off in the central park in Sololá, then walk to the corner of 5 Avenida and 9 Calle, where you'll find the microbuses that go to San José Chacayá.
Once in San José Chacayá, you can walk two kilometers to the mirador. (You can also drive most of the way to the Mirador and park at the school in the small community just before the Mirador). See the route on maps.
Once you reach the school, there is a narrow road paved with adoquin (concrete paving stones).
Begin walking down this road, then turn off to the right, following a small dirt path through the cow pasture.
Check out my Strava recording to see the route I took in July 2021 to Mirador El Pico del Cielo. (I included a picture of the place where you turn off the road.)
An additional hiking option:
There is a path from Mirador El Pico del Cielo down towards Santa Cruz. At the base, it joins the trail that leads from Santa Cruz to San Marcos la Laguna.
One idea is to hike from the Mirador to La Casa del Mundo for a delicious breakfast and a swim before catching a boat back to Panajachel (or wherever you're staying).
Go with a local guide:
José Manuel Cumes
+502 5939 1805
+502 4627 5285
7. Hike or Mountain Bike from Godinez to San Antonio Palopó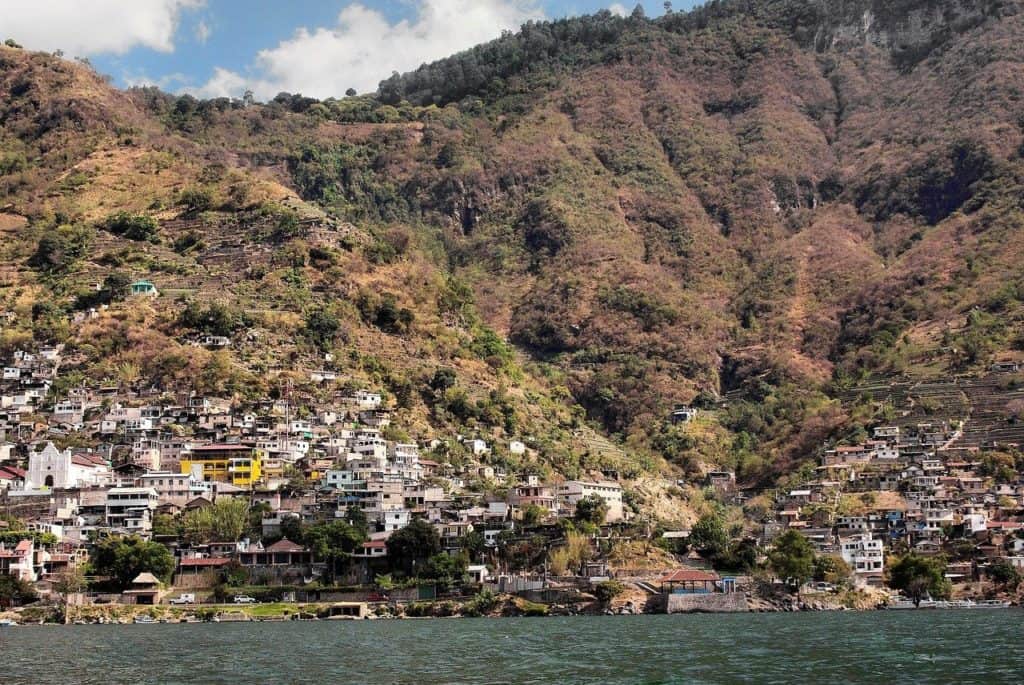 This scenic trail leads from the town of Godinez down to the town of San Antonio Palopo where you can enjoy some cultural activities (if you still have the energy for them after your hike!).
This trail starts out on a paved road that goes through a small hamlet, then turns to dirt and drops through a pine forest before the descent begins in earnest. At one point it seems like you are a thousand feet right over San Antonio.
The trail then changes to a series of rock steps and switchbacks. Lower down the trail winds between terraced onion fields. The views are incredible so be sure to stop and enjoy the intense greens on the mountainside and the variegated blues of the lake and sky.
Some notes for mountain bikers:
Like most trails in Guatemala, these trails are not designed for mountain bikes, so they require greater bike handling skills.
Keep in mind that the rock steps might be a challenge unless you have a good double-suspension bike. Expect a fair amount of foot traffic.
Watch your speed, give people and animals the right of way, and be sure to greet everyone you pass.
How to get to the trail:
From Panajachel, take a bus or microbus to Godinez. (I believe the microbuses to Godinez park on the Callejón María Cruz).
Get off at the gas station when you reach Godinez, then walk down the Ruta Nacional 11. Take the first road that branches off to your right and follow it straight down to the end where it turns into a dirt path.
I've mapped the first portion of the trail for you below:
Go with a local guide:
José Manuel Cumes
+502 5939 1805
+502 4627 5285
Cultural Things to do in Lake Atitlán, Guatemala
Delve into the history of the lake, go behind the scenes and learn about local pottery, textiles, and natural dyes, grind corn on an ancient grinding stone, dance to the music of a Marimba, and indulge your sweet tooth at a town fair.
Lake Atitlán has a ton of cultural activities to offer, here are the cream of the crop.
8. Pottery Tour in San Antonio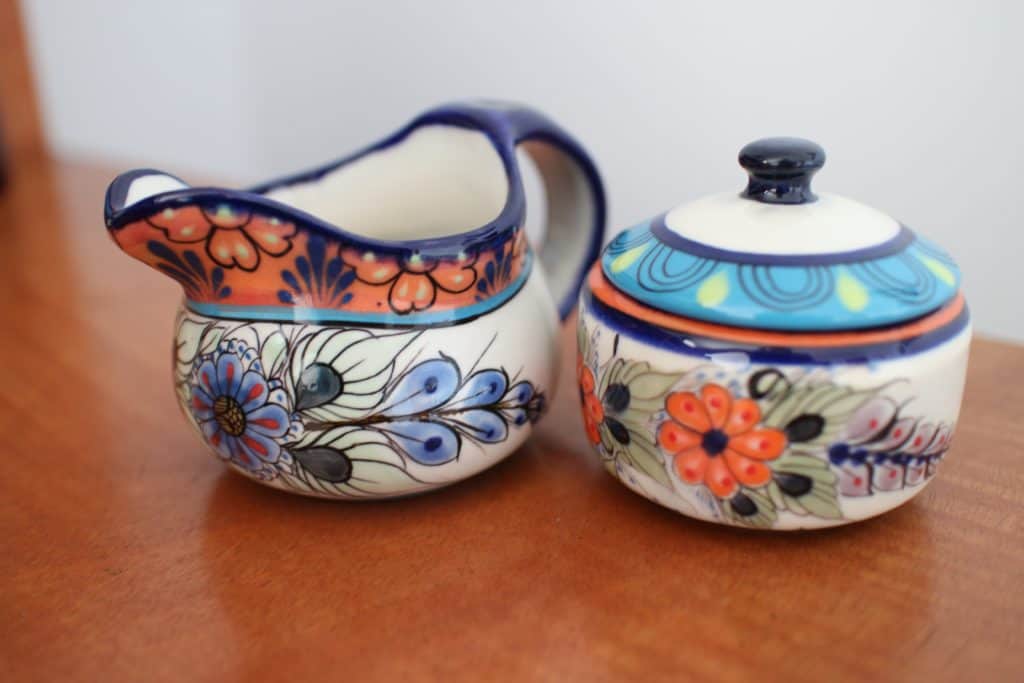 If you're looking for cultural things to do in Lake Atitlán, the town of San Antonio Palopó has several pottery workshops where you can take a tour and see local potters at work, beginning with how they pour the pieces into molds to hand painting and firing each piece.
The tours are in Spanish, but are free and end with an opportunity to buy the pottery directly from the potters. You'll get better rates here than you can find anywhere else.
There are several ceramic workshops in town, including Ceramica Maya, Ceramica Multicolor, and Mayan Ke. (Find them on Google maps or simply ask in town.)
How to get to San Antonio:
If you're going to San Antonio from Panajachel, you can get a taxi, pickup, or tuc-tuc to take you.
Other things to see:
While you're in San Antonio, check out the textile cooperative (see below), head down to the main dock to learn a surprising fact about Antoine de Saint-Exupéry's inspiration for "Le Petit Prince," or walk through terraced onion fields to the Cascadas Palopó.
9. Try on Traje Tipica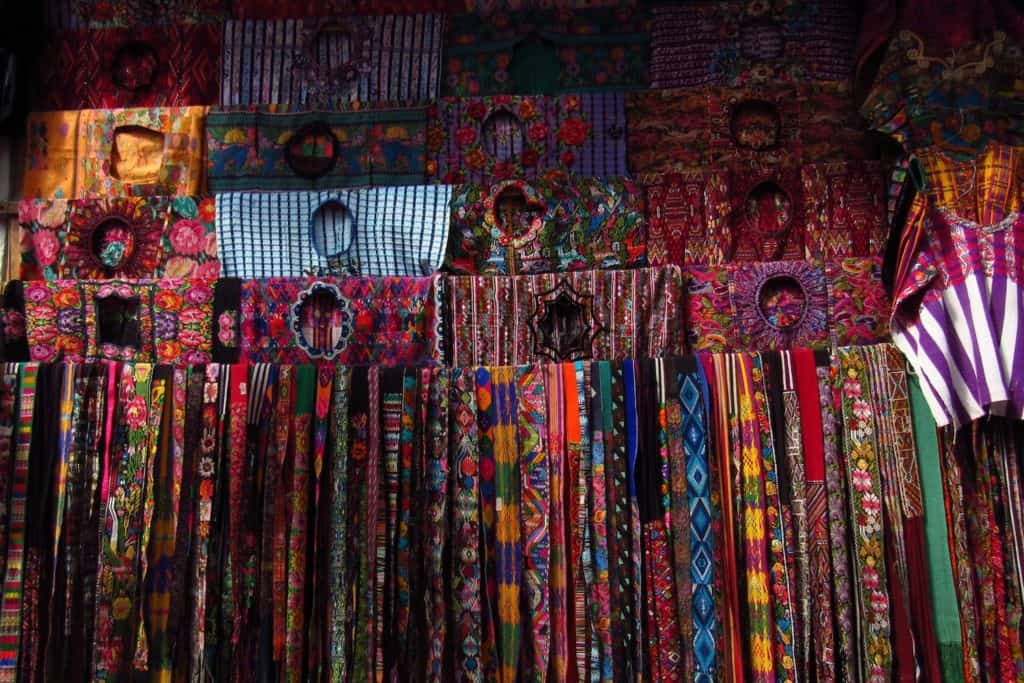 Another interesting cultural thing to do in Lake Atitlán is to try on traditional Mayan clothing. There are at least two places where you can do this.
Try on typical clothing in Santa Catarina Palopó.
You can visit the cultural center in Santa Catarina for a free informational tour (though you can leave a donation if you want to).
During the tour, you'll learn about the history of Mayan typical clothing and how it is woven on a loom. You can try on the "traje" and take pictures, then order a Guatemalan coffee at their café or buy some of the artisanal products for sale.
Try on typical clothing in San Antonio Palopó
Visit the Textile Co-op in San Antonio Palopó to try on their traditional clothing. The women are very friendly and one of them speaks English.
Although you can try on the clothes for free, please consider buying something or leaving a small donation as a thank you.
How to get there:
Take a pickup, taxi, or tuc-tuc from Panajachel to Santa Catarina or to San Antonio
10. Take a Textile Tour in San Juan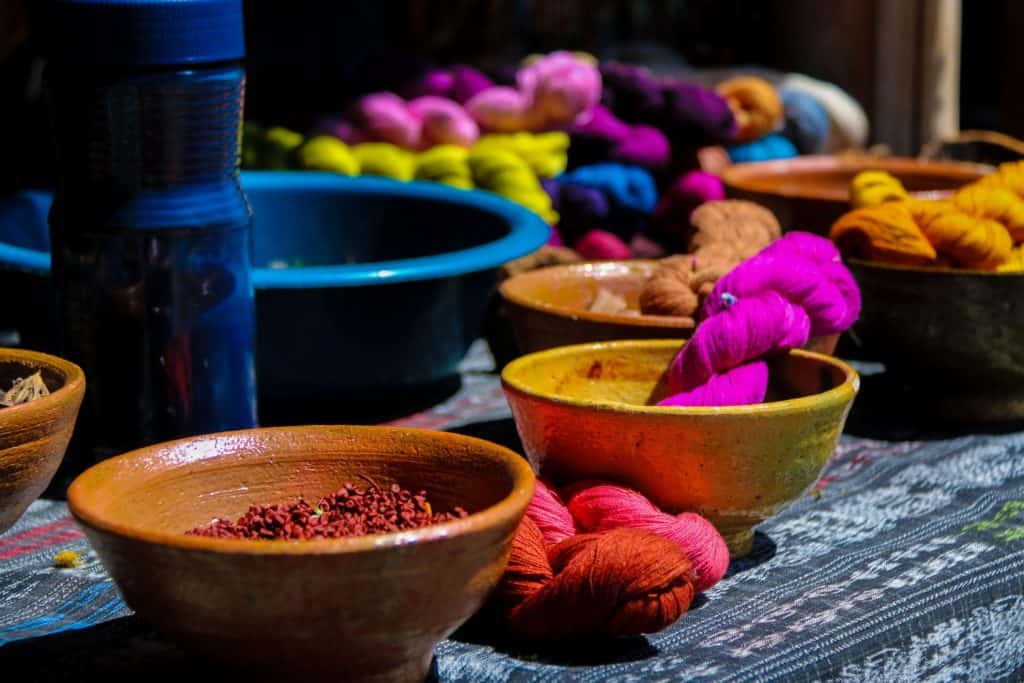 One of my favorite towns around the lake is San Juan la Laguna. It is quiet, clean, and has several free and inexpensive things to do (such as the Mirador Kaqasiiwaan mentioned later).
I highly recommend going on a textile tour! You'll learn about Tz'utujil Mayan textile techniques including how they harvest cotton, make thread, and weave.
My favorite part of the tour was learning about their natural dyeing techniques using plants and natural compounds such as avocado seeds, beets. annatto, and indigo.
Here are a few of the places you can visit in San Juan la Laguna:
Artesania En Tinte Natural Lema (natural dying techniques)
Artesanias de San Juan (textiles made on a foot loom)
Vivero de Plantas Medicianales Q'omaneel (a group of women and educators make healing products with medicinal plants)
Galeria de Arte Costumbrista Xocomeel y Museo a Cielo Abierto (an art gallery).
How to get there:
If you are going to San Juan from Panajachel, take a public boat to San Juan. It will cost Q25 per person (one-way).
Or, if you are in a nearby town such as San Pedro, hop on a tuc-tuc for a quick ride over.
11. Haggle for produce in the market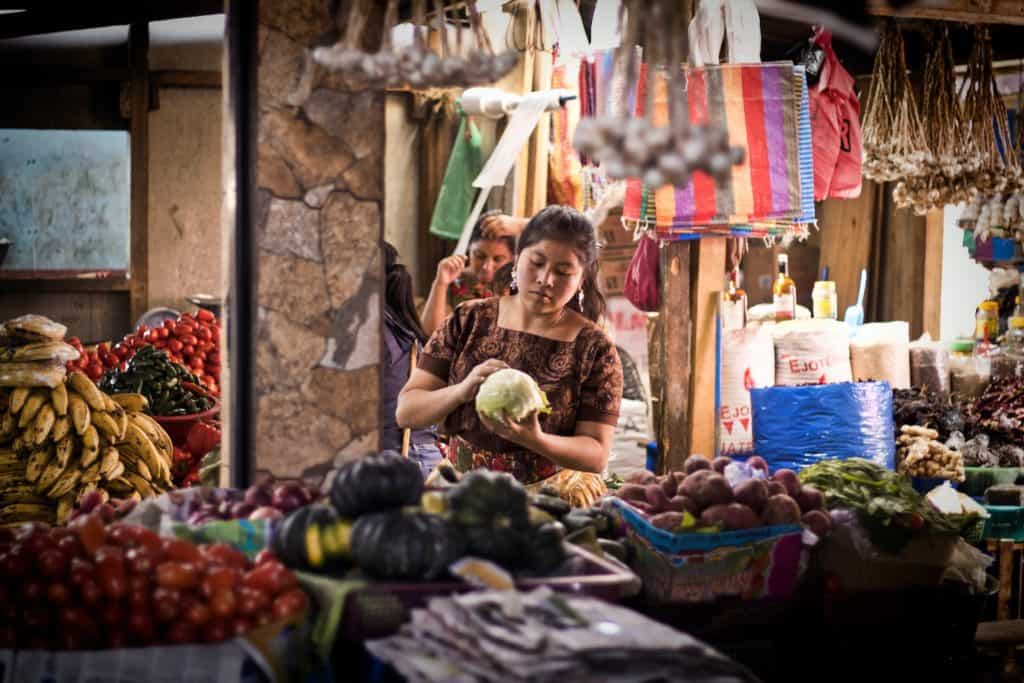 Visit the markets in Sololá or Panajachel for a truly cultural experience and to load up on all of the fruits, veggies, and herbs you could want.
One of my favorite things to do when I'm traveling is to try new and different tropical fruits. If you're cooking your own meals, it's an opportunity to try new flavors.
Most vendors like answering questions about their wares and will offer cooking advice if you ask. I've gotten helpful tips on how to cook everything from pine mushrooms to cow brains.
Many markets also sell some prepared food, so if you're looking for an economical meal or quick snack, this is a great place to go. Haggling is a lot of fun and can give you a chance to try out your Spanish or Kaqchikel.
Sololá Market:
The Sololá market is the largest in the region and has multiple stories. The basement level has fruit, spices, herbs, and maize, the second level has shoes, clothing, electronics, and all of the butcher shops dedicated to pork and off-cuts.
The next level has vegetables and fruit, several small stores, and all of the butcher shops dedicated to chicken and beef.
The top-level has restaurants and typical clothing and textiles. (If you're looking for a place to eat, check out my friend Vilma's restaurant: Samaria 1950.)
The largest market days are Tuesdays, Thursdays, and Fridays.
Panajachel Market:
The Panajachel market has a great selection and may have vegetables such as bok choy that are hard to find elsewhere.
The largest market day is Sunday
12. Shop for Hand-made Arts & Crafts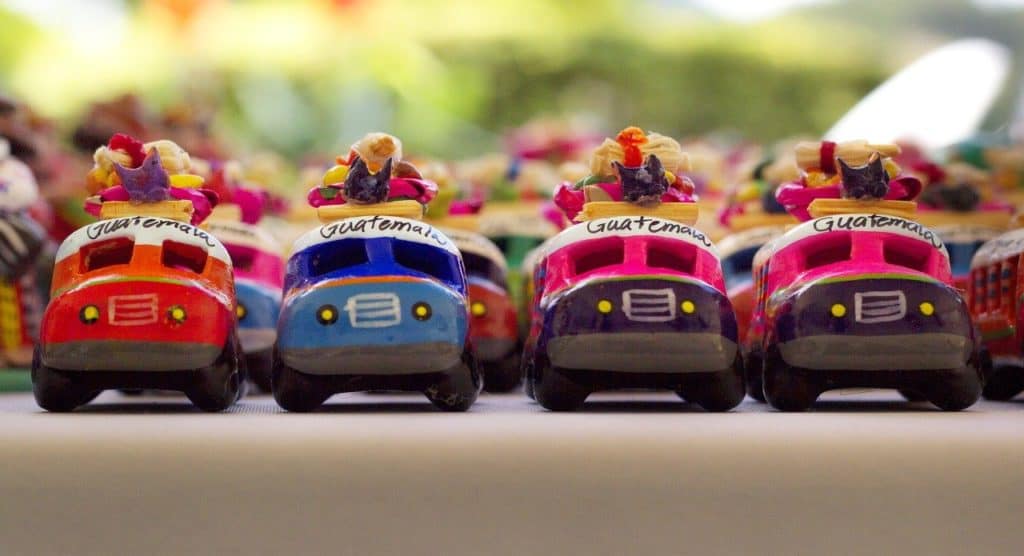 All the towns around the lake offer amazing hand-made products including ceramics, textiles, beadwork, wooden puzzle boxes, paintings, hand-crafted knick-knacks, and shoes, backpacks, purses, and belts made with leather and typical cloth.
Some of the towns are more well known for specific crafts. Calle Santander in Panajachel has a selection of everything from around the lake.
Santiago Atitlán is known for paintings and beautiful woodwork. San Juan la Laguna is known for textiles and paintings. San Antonio Palopó is famous for pottery.
Feel free to haggle so you can get the best prices!
13. Enjoy a Cultural Dinner at José Pinguino's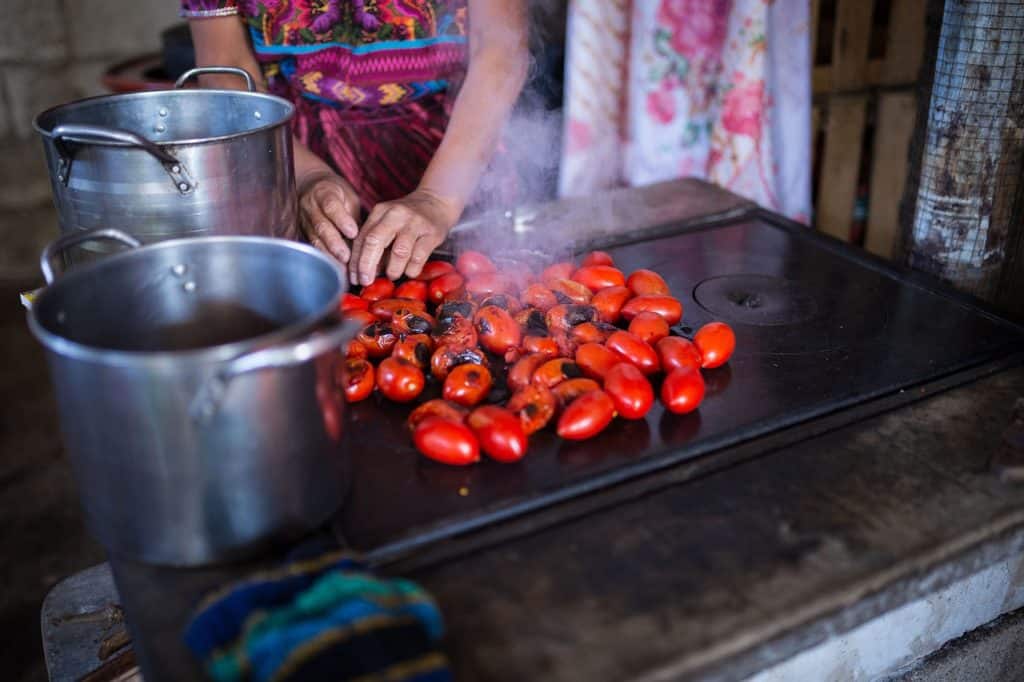 This restaurant on Calle Santander in Panajachel offers a cultural dinner and show that includes live marimba music, a tortilla-making contest (with a prize for the winner), and a fascinating historical and cultural talk.
During the talk, you'll learn about a range of topics including how the marimba is made, the mythology of maize, information on Mayan languages, and facts about traditional clothing.
The owner is a great public speaker and can give the talk in English, Spanish, French, Hebrew, Quiché, Kaqchikel, and Tzutujil. The last time I spoke to him, he said he was now learning German.
Get a group of at least five people together and reserve a night. There is no additional fee for the cultural dinner (you'll order off the menu) however you do need to set it up ahead of time.
The dinner is available at any time in the evening Sunday through Wednesday, and from 4:30 to 6 pm on Thursdays, Fridays, and Saturdays (when the restaurant has cumbia nights).
Contact Information for Miguel Tzul at Restaurante José Pinguinos:
email: [email protected]
telephone: +50241288806
Location: Avenida Santander, Panajachel (On the right side heading towards the lake, just past Pana Rock)
14. Eat tortillas hot off the comal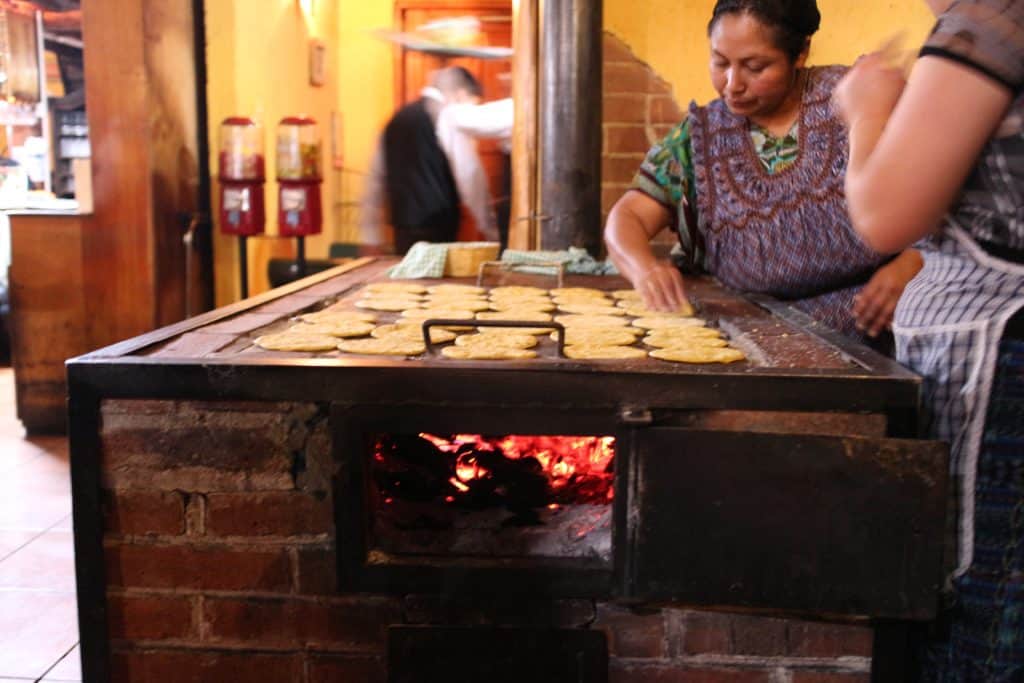 There's nothing better than eating fresh tortillas hot off the griddle, breathing in their steamy goodness, and then chowing down. For indigenous Guatemalans, tortillas are food, everything else is extra.
Tortillas taste fantastic sprinkled with salt, folded around refried black beans, mounded with guacamole, and even spread with America's favorite: peanut butter.
They are also delicious topped with melted farmer cheese (queso fresco), or toasted to crispness and tossed into coffee to add a smoky maize note.
Not all tortillas are created equal. Highland-grown corn is considered superior to its coastal counterpart (know to result in a tougher tortilla).
While white corn tortillas can be quite good, I think the yellow ones are better. Blue corn tortillas are my personal favorite. They are soft, delicious, and turn purple if you squirt them with lime juice.
Cost: Tortillas are sold by the quetzal. Tell them you want Q1 (un quetzal) and you'll get four tortillas.
15. Explore a Town Fair
Although this isn't a year-round activity, going to a town fair in Lake Atitlán can be a lot of fun. Each town has its own patron saint and will celebrate that saint at a specific time of the year with a variety of festive booths, parades, dances, and firecrackers.
If you are in Lake Atitlán when one of the towns is having its "fiesta patronal," be sure to check it out!
Try some traditional sweets (such as canellitas de leche, melcocha, and candied figs). Eat fresh pizza, french fries, and plantain chips. Play Foose ball, Bingo, and arcade games. If you're brave, take a ride on the Ferris wheel.
Town Fair Dates:
January 25th – San Pablo La Laguna
March 19 – San José Chacayá
April 25th – San Marcos La Laguna
May 10th – Santa Cruz la Laguna
June 13th – San Antonio Palopó
June 24th – San Juan La Laguna
June 29th – San Pedro La Laguna
July 25th – Santiago Atitlán
August 12th – Santa Clara La Laguna
August 15th – Sololá
October 4th – Panajachel
October 15th – San Lucas Tolimán
November 13th – San Andrés Semetabaj
November 22th – Santa Catarina Palopó
Source
Amazing Free or Budget Things to do in Lake Atitlán, Guatemala
Fun doesn't have to be expensive! Try these cheap (or free) activities around the lake.
16. Have a beach day at the lake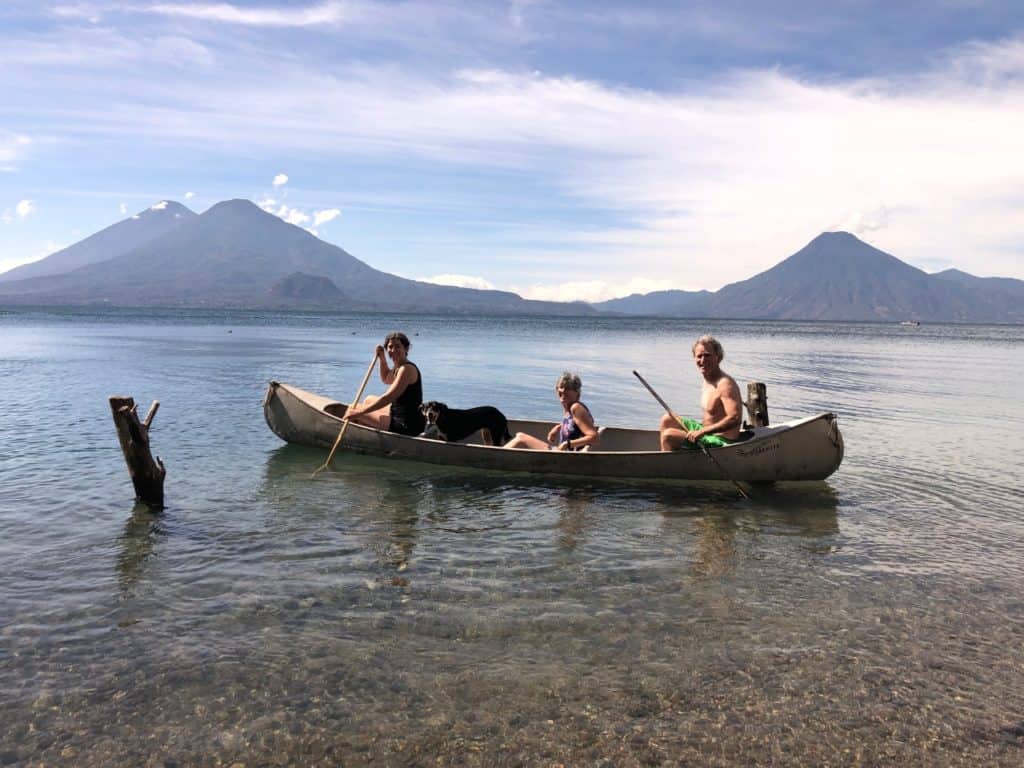 There's no better way to enjoy the lake than simply hanging out on the shore on a clear day and going in for a swim.
This is a great place to cool off, read a book, build sandcastles, have a picnic, hang out with friends, and chat with locals.
Head to the end of Jucanyá for a pretty beach away from the noise and crowds.
17. Bike around town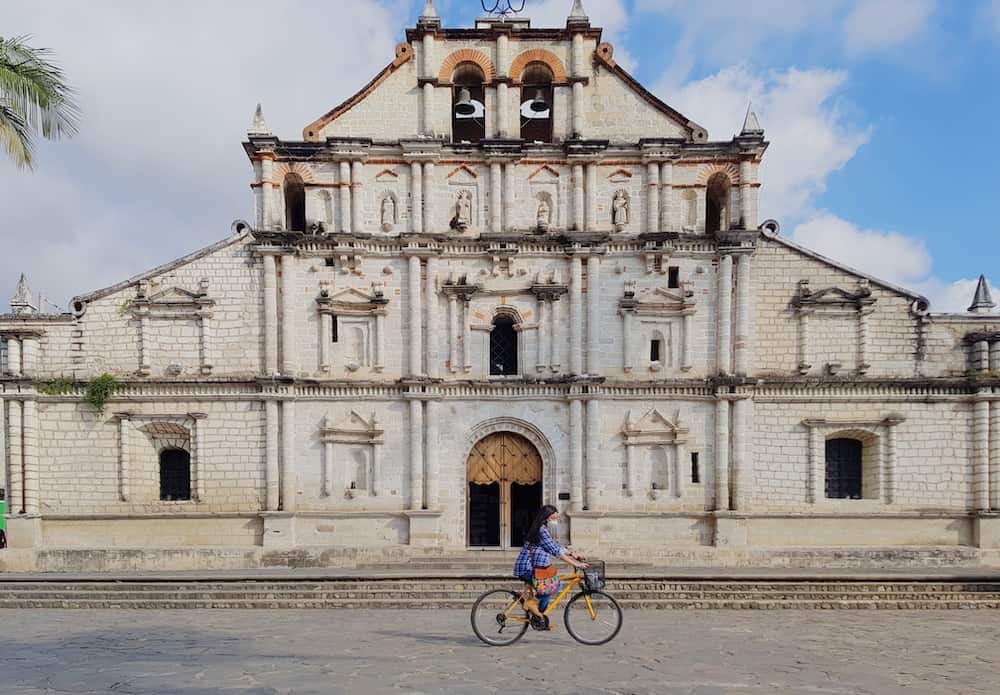 Another great budget thing to do in Lake Atitlán is to wander around the towns by bicycle. It's a fun way to explore, get the wind in your face, and zoom from place to place.
If you're in Panajachel, you can rent bicycles from a few different places, including tour companies such as Atitlán Adventures, and hotels such as Selina Hostel and Hospedaje el Viajero.
Bike along the waterfront at Playa de Jucanya, check out the Catholic church, stop at the Art Gallery on Rancho Grande, and get some gelato at Heladería Dolce Gelato on Calle Santander.
18. Hike to La Piedra del Zope in Pana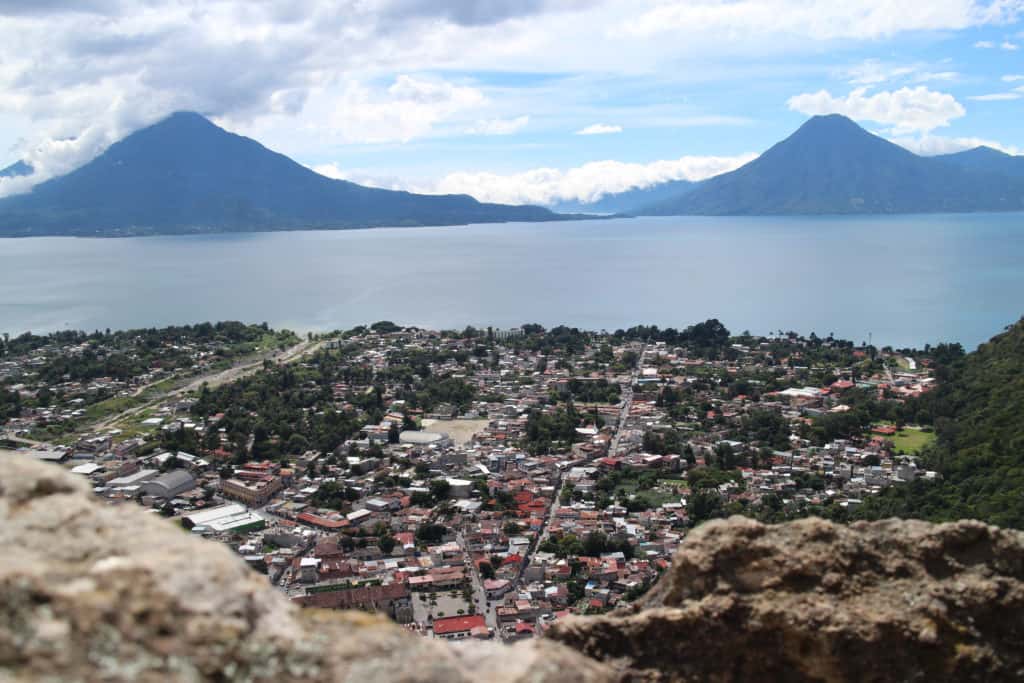 Another great budget thing to do in Panajachel is to hike to the Piedra del Zope. This is a steep hike to a large rock above Panajachel.
The Piedra del Zope offers fantastic views of the valley, the town, and the lake. It gets its name from the black vultures (zopilotes) that frequent the spot.
According to the Panajachel Tourism Office, the Piedra del Zope is 980 feet above the town of Panajachel.
There is usually no charge, however it is located on private property and I've heard that the owners occasionally charge a Q25 entrance fee per person.
Wikiloc has an overview of the hiking trail to the Piedra del Zope.
19. Buy "pan dulce" at a bakery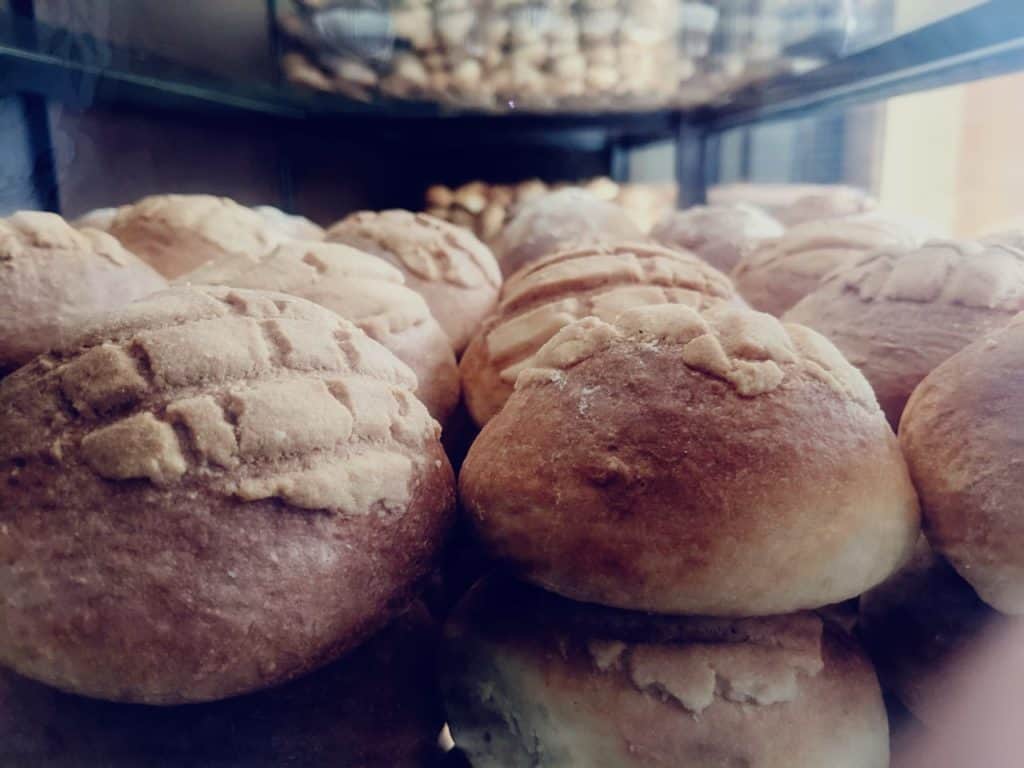 Head to a local bakery for some delicious sweet breads, cookies, or to buy fresh bread for sandwiches.
Sololá has a great bakery called La Superlativa with a vintage café right beside it.
Be sure to try:
shecas (floury outsides and slightly sweet, moist, and chewy insides)
cubiletes (cup-cake-ish with a crunchy sugar topping)
gusanitos (shortbread-like cookies, buttery and delicious)
pirujos (great for sandwiches)
conchas (sweet breads with a cookie-like topping)
20. Kayak along the edge of the lake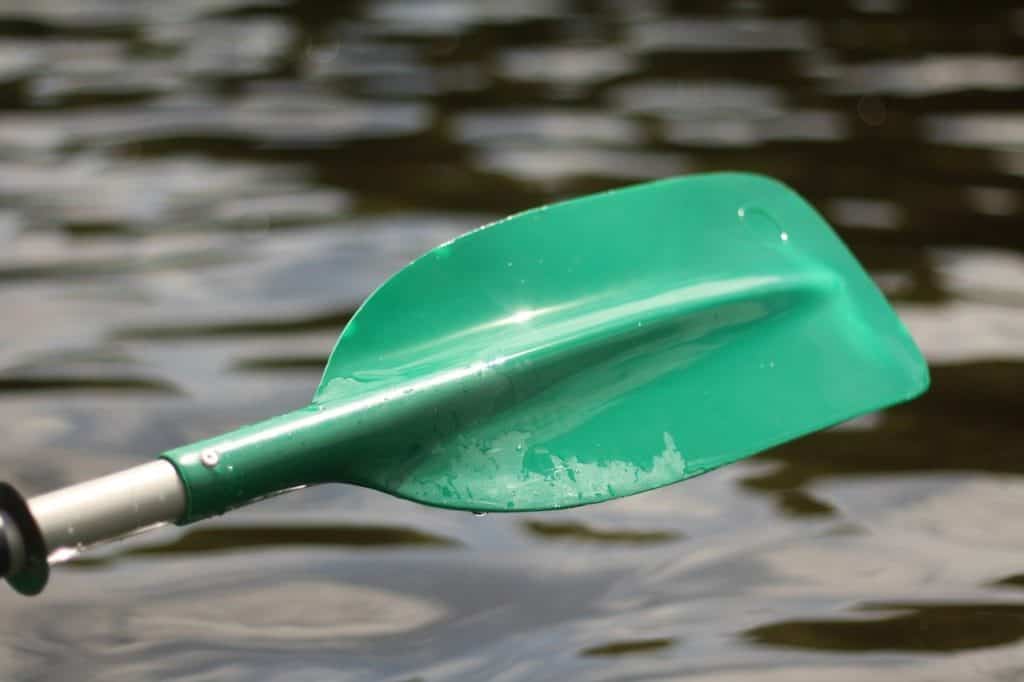 Another great way to enjoy Lake Atitlán is to kayak along the shore. Spend a few hours of relaxing fun out on the water, enjoying views of the volcanoes, towns, reeds, and waterbirds.
Many of the towns and lakeside hotels have kayaks available for rent.
If you are in Panajachel, you can find several kayak rental places along the shore of the public beach between Calle Santander and Rancho Grande (see map below).
If you don't mind paying more for a longer curated adventure, this guide offers kayak tours from Panajachel to Santa Catarina, from Jaibalito to San Marcos, or from San Pedro to Playa Dorada in San Juan.
21. Walk up to the Mirador Kaqasiiwaan in San Juan
Another great budget thing to do in Lake Atitlán is to walk up to the Mirador Kaqasiiwaan in San Juan La Laguna.
The entrance is only Q10 or Q15 and has great views of the town and lake. The steps on the way up are painted with murals and there's even a restaurant part-way up the hill if you want to grab a smoothie and hang out.
The Mirador itself is a lovely wooden structure with more murals and some roofed sections.
Follow the trail marked by the pin on this map to reach the pay station, then continue up to the Mirador.
If you are hiking up the Indian Nose (Rostro Maya), you can stop by this Mirador on your way up. While you're in San Juan, check out the art galleries, or go on some of the free tours, such as the textile and honey tours.
Read my post on 25 magical things to do in San Juan la Laguna.
22. Ride in a tuc tuc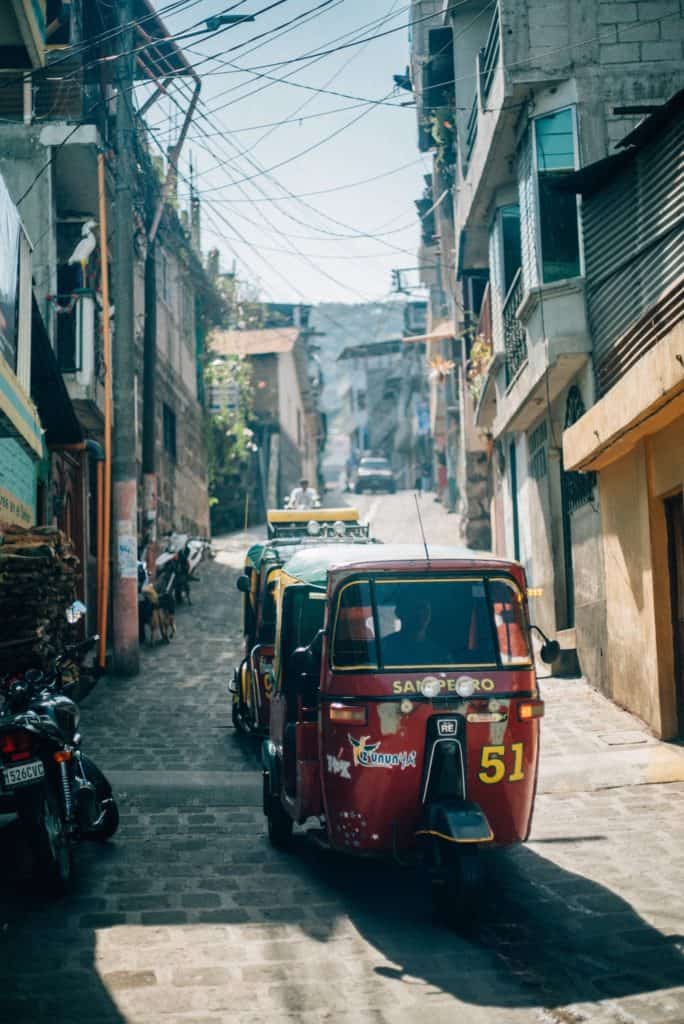 If you've never ridden in a tuc-tuc, it's definitely worth doing at least once. It's also a handy way to get around town, especially if you have a lot to carry.
The price is per person and costs Q5 for standard in-town trips. If you're going further afield it could cost double or triple that.
23. Town-Hop by Boat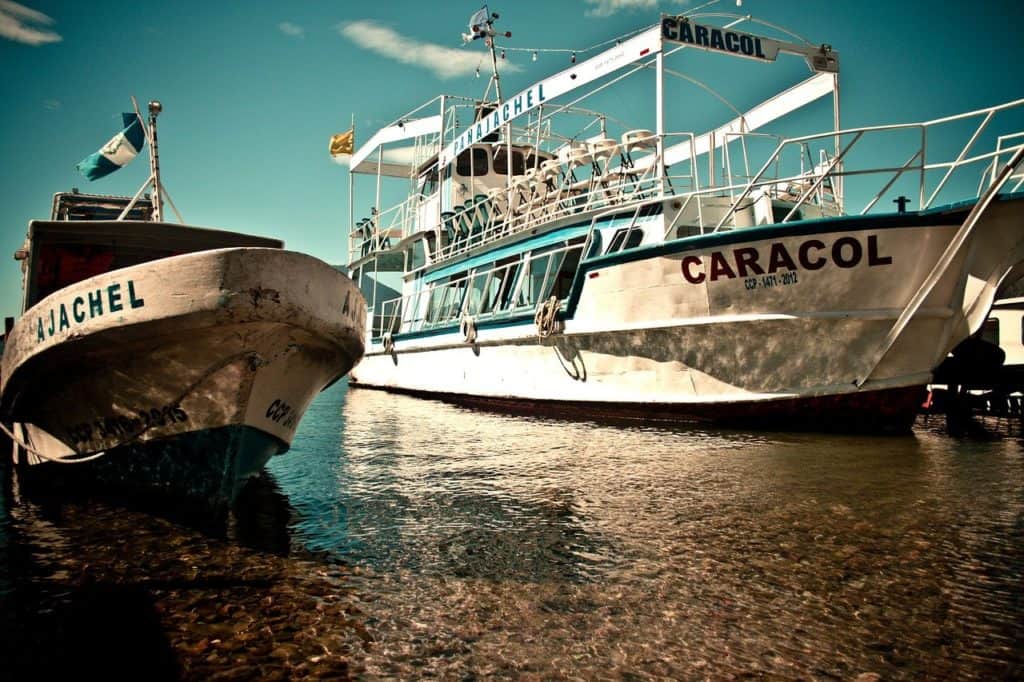 Going across the lake by boat is another fun thing to do in Lake Atitlán. I enjoy the views of the surrounding hills and volcanoes, the bump of the boat going over waves, and the spray shooting up on either side of the boat.
Go in the early morning for the smoothest ride. If you need to take the boat in the afternoon when the lake is choppy, sitting near the back is your best bet.
Alternatively, sit near the front for the fun of being jounced up and down like a rubber ball.
It's a great way to enjoy vistas of the lakes, catch glimpses of the towns as you go by, and visit multiple destinations in a day.
One great destination you could consider is Santa Cruz la Laguna. Check out these spectacular things to do in Santa Cruz la Laguna. Or go all the way and learn where to stay in Santa Cruz la Laguna.
A one-way fare from Panajachel to Santiago or another town on the opposite side of the lake should cost no more than Q25 per person one-way (Locals typically pay Q15).
24. Try local cuisine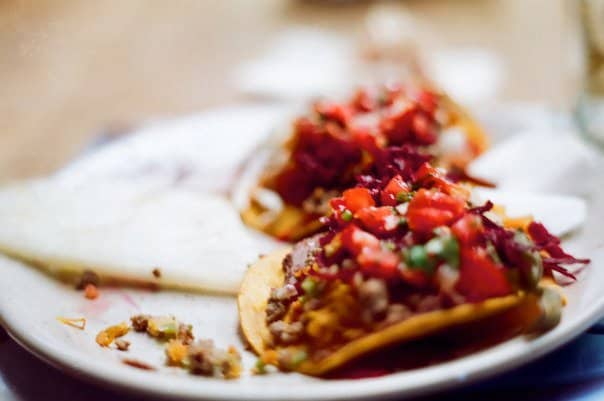 Eating Guatemalan typical food is another great budget thing to do in Lake Atitlán. It shouldn't be hard to find reputable restaurants all around the lake.
Most typical dishes are both economical and delicious. Here is a list of tasty dishes to try.
Breakfast:
Desayuno Chapín (traditional breakfast of refried black beans, fried plantains, tortillas, and eggs cooked to order)
Mosh (sweet milky oatmeal beverage)
Lunches or Dinners:
Tostadas with salpicón (Ground meat seasoned with mint on a crisp tostada)
Caldo (Chicken or beef broth-based soup with large chunks of colorful vegetables)
Pepián (Chicken in a delicious sauce made from roasted tomatoes, peppers, seeds, and spices)
Pulique (Thick, savory stew, usually made with chicken and seasoned with epazote)
Churrasco (Thin grilled steaks served with black beans, grilled green onions, and chirmol – a roasted tomato sauce)
Snacks and Desserts:
Helados (Popsicles made with in-season fruits)
Mango con pepitoría y limón (sliced mango seasoned with lime, salt, chile, and ground pumpkin seeds)
Elote (Roasted maize topped with either lime and salt OR mustard, ketchup, green hot sauce, and mayo – an "elote loco")
Beverages:
Limonada con soda (sparkling lemonade)
Chocolate Caliente (deep-flavored hot chocolate, sweet, slightly gritty – made from whole ground cacao)
Atol de elote (a sweet, thick, and velvety drink made from fresh maize – drunk hot)
Arroz con Leche (rich, creamy, and reminiscent of rice pudding- drunk hot)
Amazing Adventurous Things to do in Lake Atitlán, Guatemala
Want an adventure while you're visiting Lake Atitlán?
Don your hiking shoes, hop on your mountain bike, throw yourself off cliffs, zip-line over ravines, or roar across the landscape on a motorbike. Plenty of adrenaline-packed fun awaits!
25. Paraglide from the mountainside down to Panajachel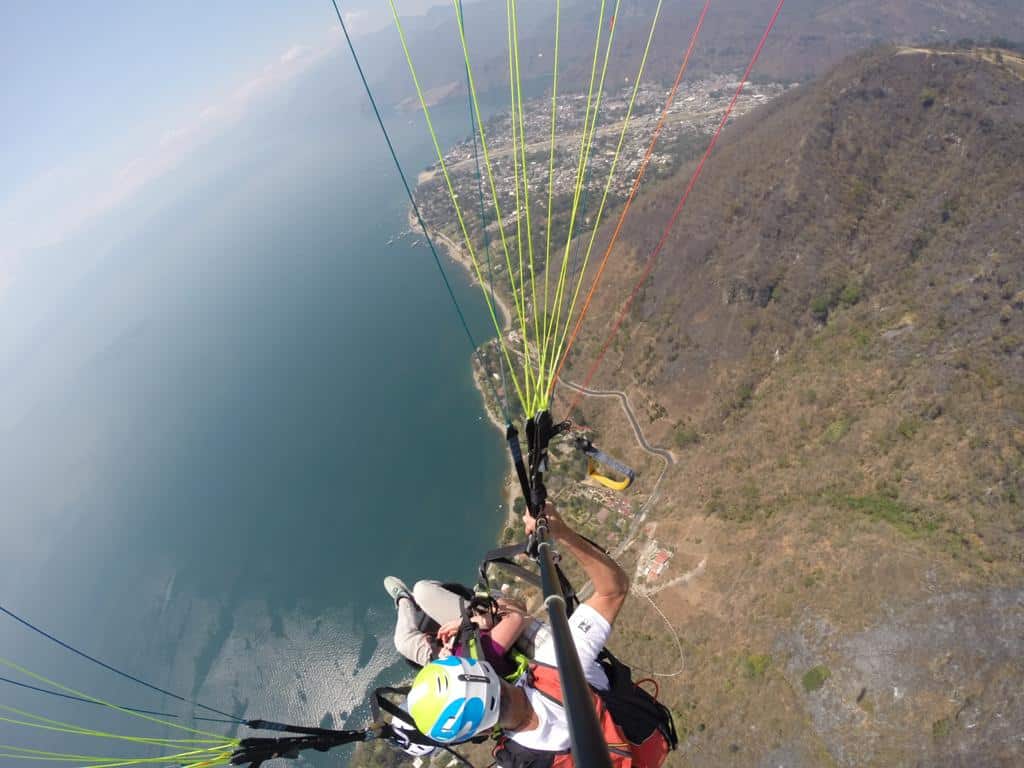 One of the most amazing adventure things to do in Lake Atitlán is to go paragliding over the lake.
You'll be flying high over Atitlán for 20-45 minutes (depending on conditions). You can even take pictures from the heights because your hands will be free.
See what other people have to say about this experience:
"One of the better experiences in my life with some of the coolest and knowledgeable people I have ever met."
Devan D
"The most epic experience- no doubt do this! Recommend 100 percent. Once in a lifetime! The views, the pilots everything was top notch
– E Blechman
Review sources

Cost of the Real World Paragliding Tour in Lake Atitlán:
$80.00 (they sometimes have specials)
26. Zip-line across mountain ravines in Lake Atitlán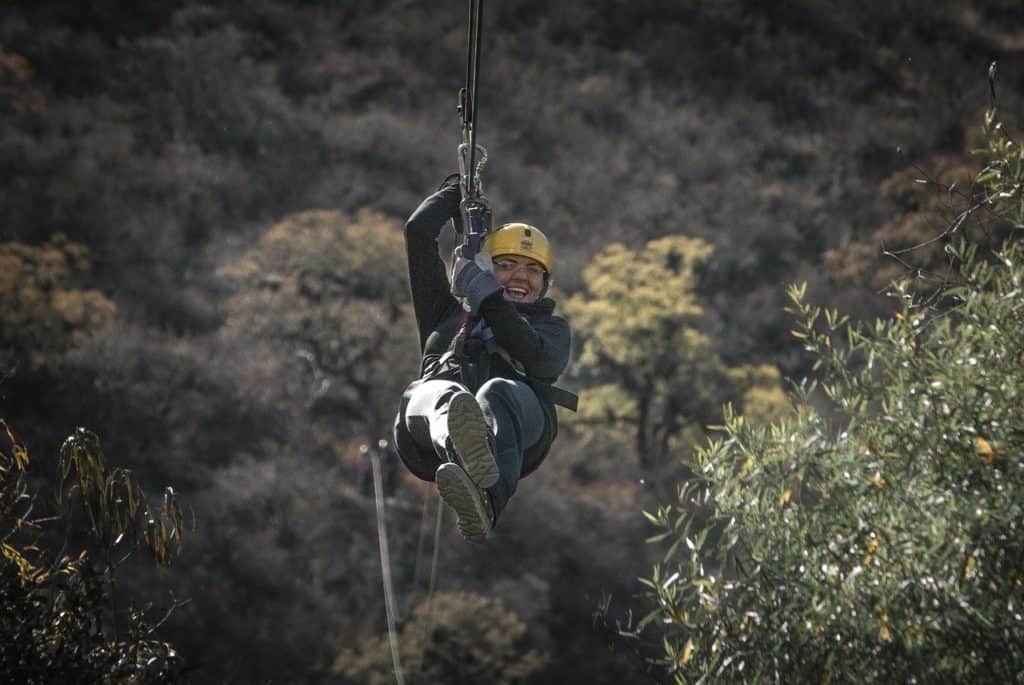 Another adventurous thing to do in Lake Atitlán is to go on a canopy tour. There are several long ziplines over mountain ravines, guaranteed to be a lot of fun. Y
ou can take the canopy tour at the Panajachel Nature Reserve and at Chuiraxamoló Ecological Park on the road to Santa Clara.
Costs of the Canopy Tour at the Panajachel Nature reserve
Q275 per person for 8 different ziplines
Q375 per person for 7 different ziplines (one is 800m long)
Costs of the Canopy Tour at the Parque Ecológico Chuiraxamoló
Q20 per person (includes a 400m long zipline)
*Other activities you can do here include: hiking, rappeling down a tower, camping, and picnics
Another great place to visit in Lake Atitlán is the Cerro Tzankujil Nature Reserve in San Marcos La Laguna. This tranquil spot can be equal parts adventurous and relaxing.
Jump off a 40-foot high wooden platform into the lake, swim in crystal clear water, and visit the Mayan altar on the summit of the hill.
This also qualifies as a budget activity as it only costs Q15 per person!
Hours: 8am-6pm
Price: Q15
28. Ride around Lake Atitlán on a motorcycle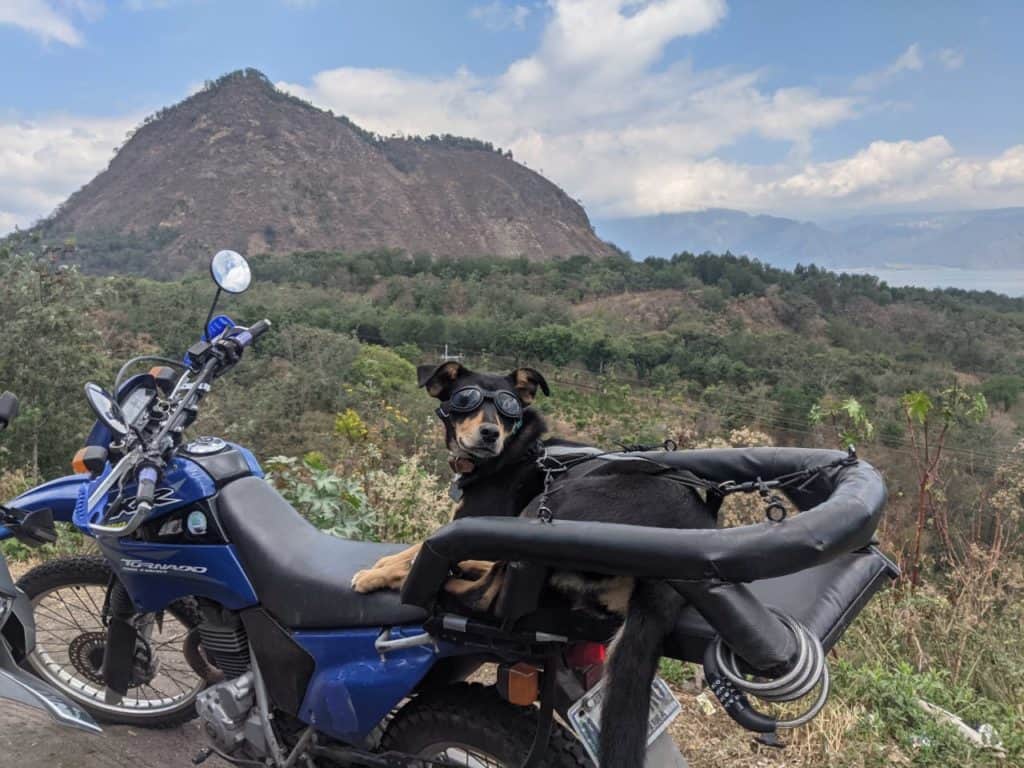 A fun and adventurous way to visit multiple towns around Lake Atitlán is to ride around it by motorcycle, stopping at the overlooks along the way and checking out some of the attractions as you go.
I've now ridden around the lake on 5 different occasions. The scenery is SPECTACULAR. I love seeing the lake from every angle and discovering beautiful views, tranquil bays, and scenic towns around every corner.
Depending on how many stops you make, this trip takes me 7 to 9 hours on average.
On my first time around with a friend, we started in Panajachel, stopped at a viewpoint past Godinez, went for a quick swim at the beach in the town of Cerro de Oro. We also walked up to the Mirador Kaqasiiwaan in San Juan La Laguna before returning to Sololá via San José Chacayá.
This could be a multiple-day adventure if you want to stay in hotels along the way.
I'd been a little leery of recommending this ride to people because the road that goes behind San Pedro Volcano WAS notorious for holdups, but it has now been paved. I rode it myself on June 17, 2023 and it was in beautiful condition. A Transit Policeman confirmed that holdups are no longer a concern.
If you prefer a guided tour, check out Ride Atitlán. I've ridden along on their Avocado Farm Tour, and even worked as a guide/moto instructor for a while.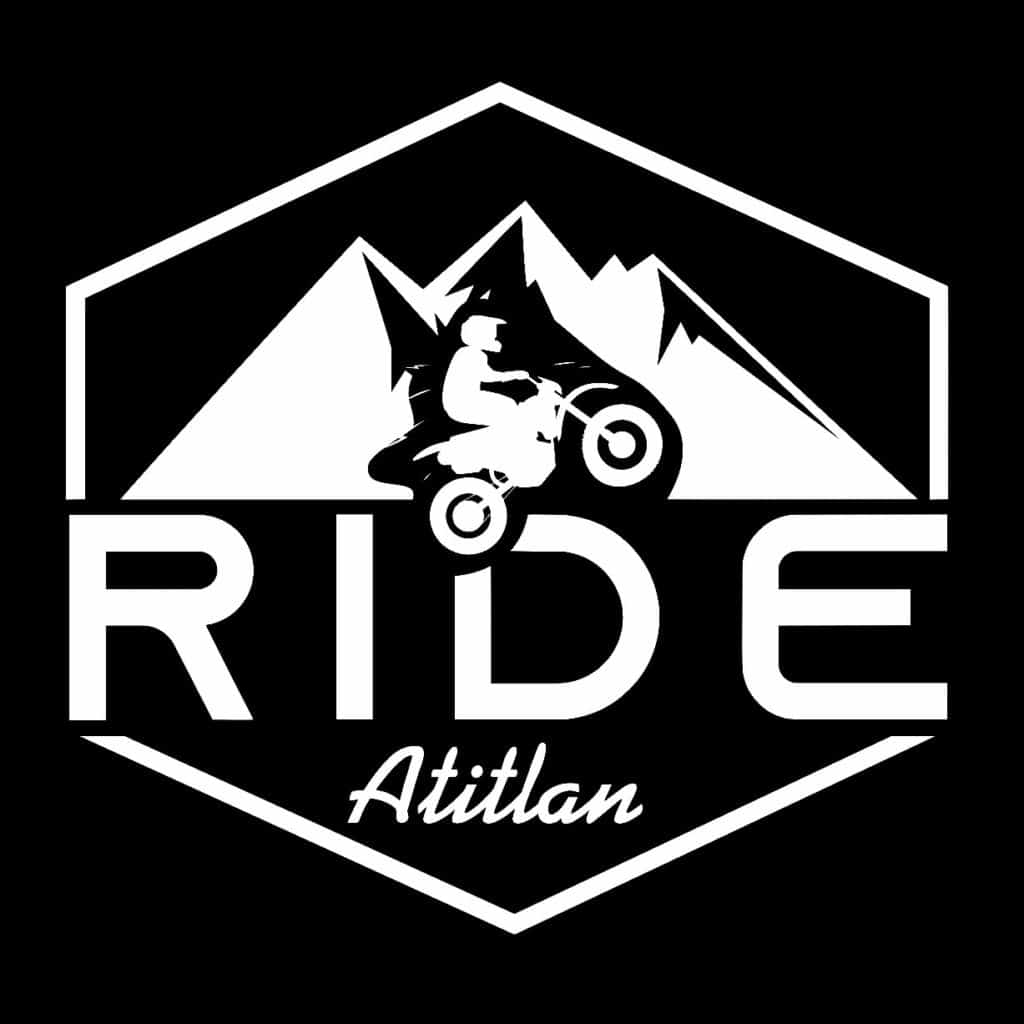 Ride Atitlán offers a variety of cool tours all around Lake Atitlán, including:
Cruise to Santa Cruz
Mirador Loop
Hidden Hotsprings
The Long Way Around (circle the lake)
To Ancient Antigua and Back
Why not book a tour today?
29. Mountain bike down La Culebra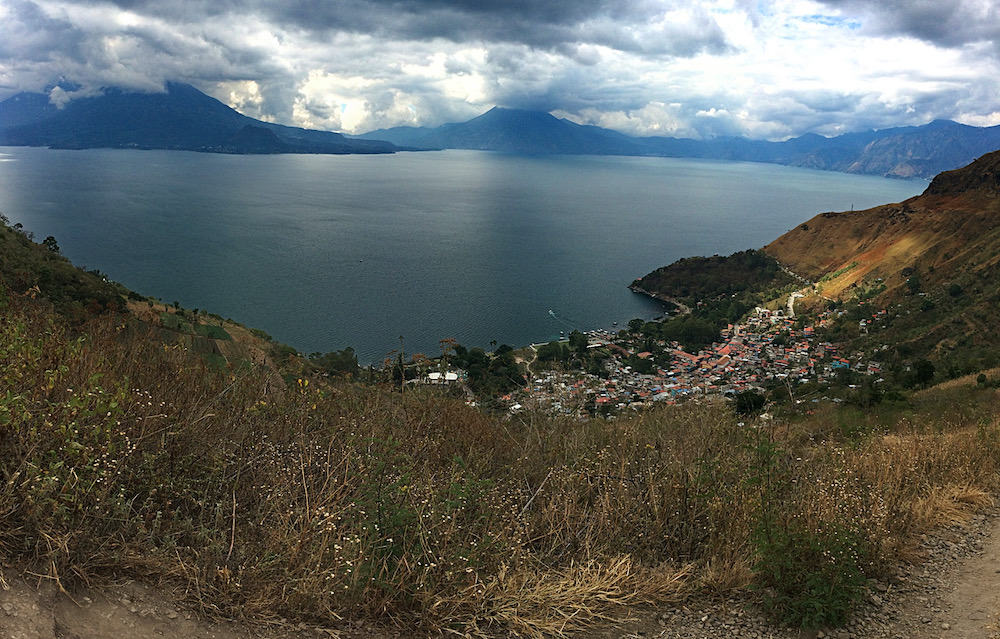 "La Culebra" (The Serpent) is a trail almost every Guatemalan mountain biker has heard of, yet many confuse it with the Santa Catarina trail listed in the nature section above.
Although both trails end right above the town of Santa Catarina Palopó, this technical trail starts closer to San Andres Semetabaj and is shorter and steeper.
The top section is the most technical, as it is very rocky and has multiple switchbacks.
Further down it levels out a bit but is a lot of fun. It feeds into another trail that goes up the mountain and has some foot traffic but is still challenging enough to make for a great time.
Approximate coordinates of trailhead: 14.727423790122618, -91.12502093239114
30. Climb a Volcano in Lake Atitlán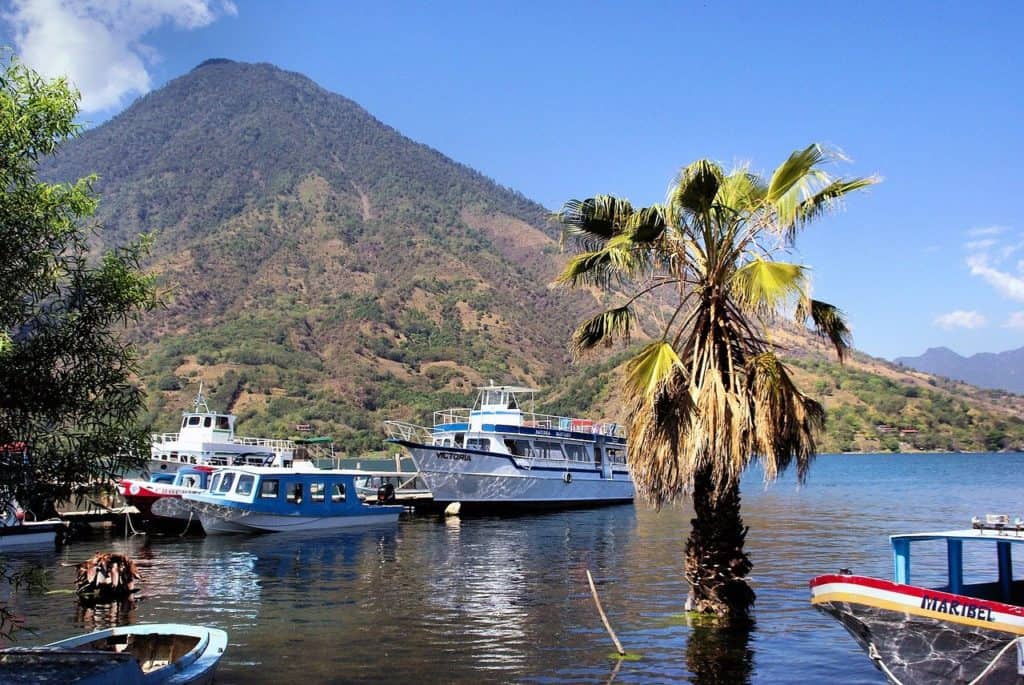 Another great thing to do in Lake Atitlán is to climb San Pedro Volcano! The summit is 9,908 feet above sea level* and if you go on a clear day, you will catch some incredible views of the region.
The hike is steep, so be sure to take lots of water with you. Read all about this hike, what it costs, and the all-important safety tips in my post on the Volcán San Pedro Hike.
There are several volcanoes in Lake Atitlán: San Pedro, Toliman, and Atitlán. Atitlán is considered one of the most challenging volcanoes in the country, while San Pedro is a more accessible volcano because of its lesser height.
Amazing Relaxing/Romantic Things to do in Lake Atitlán, Guatemala
Whether you're looking for a place to relax or want to enjoy special moments of connection with your favorite human, Lake Atitlán offers some amazing ways to do both.
31. Spend the night at La Casa del Mundo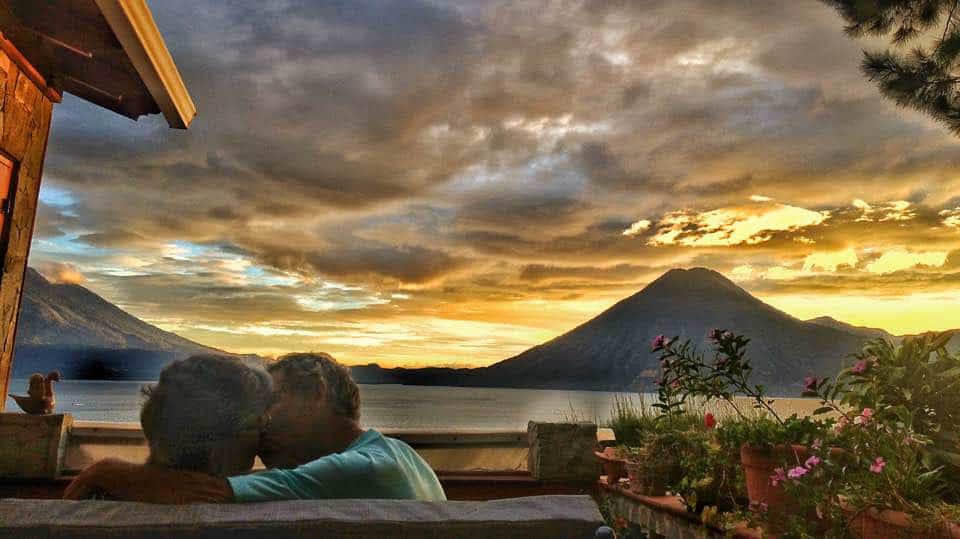 If you're looking for something relaxing and/or romantic to do in Lake Atitlán, spending time at La Casa del Mundo is a great option. This lovely hotel is built into the cliffs near Jaibalito and is only accessible by boat or walking trails.
The restaurant features high-quality food made from fresh ingredients, delicious smoothies and steaming cups of coffee. In the evenings they host family-style dinners for all of their guests.
While at La Casa del Mundo you can traipse up and down hundreds of stairs, take a nap in a hammock, gaze out at the sunset, swim or kayak in the lake, take Spanish classes on-site, and book the hot tub for an extra-special indulgence.
Spend the day, a night, or a week. La Casa del Mundo won't disappoint.
32. Watch the sunset over the lake
Nothing beats watching a gorgeous sunset over the lake. During certain times of the year, you may also be able to see Venus setting behind the volcanoes.
November is considered the best month for sunsets, but sitting at the shore during sun-down is a great thing to do at any time of year.
It can get chilly in the evening, so grab a hot drink in to-go cups and a sweater or a blanket to share, and settle along the waterfront to enjoy nature's evening show.
33. Eat at El Artesano Wine and Cheese
Another amazing romantic thing to do in Lake Atitlán is to eat lunch or dinner at the El Artesano Wine and Cheese.
This top-rated restaurant under Chef Dietrich Gantenbein is located at La Casa Zapote in San Marcos La Laguna. It is especially famed for its cheese and cold-cut boards, its fine wine, and its beautiful garden atmosphere.
Reservations are highly encouraged, but they will accommodate walk-in diners when they can.
The El Artesano Wine & Cheese is open from 12pm to 8pm seven days a week.
Make your reservation: (502) 5340-0501
34. Stay at a Luxury Airbnb along the waterfront (like Casa de Cristal)
There are many amazing Airbnbs all around Lake Atitlán, like La Casa de Cristal listed above.
This gorgeous Airbnb floats among the trees, a vision of wood and glass, offering incredible views of the waterfront. A romantic get-away can't get much better than this!
35. Spend time chilling at local coffee shops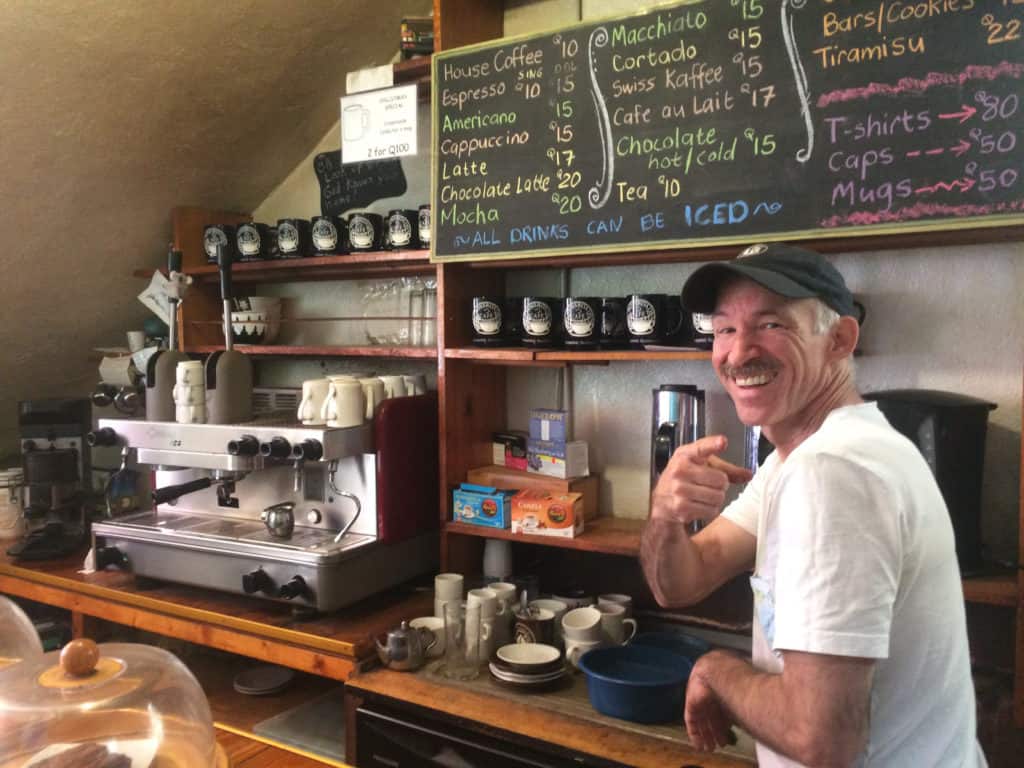 Guatemala produces some of the world's top-quality coffee thanks to its fertile volcanic soil and high altitudes.
Since Guatemala has eight coffee-growing regions, each with its own unique flavor profile, why not try them all to discover your favorite?
One way to delve into the world of Guatemalan coffee is to visit Crossroads Café. This great little shop stocks all local beans that are roasted in-house.
Enjoy the vintage atmosphere, sip your beverage of choice, chat with other patrons, or tuck yourself into a corner with a good book.
You can even take a cupping class with Byron at Crossroads Café. Try a variety of different regional coffees and practice your skills at identifying acidity and flavor notes.
The cupping tour costs $50 for one to two people and $30 per person for three to five people. Booking in advance is appreciated: +502 3122-5373.
Other café's to try in Panajachel include Café Loco on Calle Santander, Restaurante Atitlán on the shore past Rancho Grande (be sure to try their "pay de elote"), or Flor de Café on the grounds of Hotel Jardines del Lago.
While you're at Jardines, snap some photos on the swing over the lake.
Read more about Guatemalan coffee.
How to get to Lake Atitlán
Driving Directions:
From Guatemala city head west on CA-1 Occidente towards Chimaltenango. Before Chimaltenango, turn left onto the Libramiento de Chimaltenango bipass.
Continue through Tecpán towards Los Encuentros. In Los Encuentros, head towards Sololá/Huehuetenango, drive a bit further, then exit to the left heading towards Sololá/Panajachel.
Drive to Sololá and then down to Panajachel.
Shuttles:
You can book a shuttle to Lake Atitlán from the airport, Antigua, El Paredón, and other central hubs. The cost ranges from $12 to $22.
You can book a shuttle through travel agencies, hotels, or online.
Public Transportation: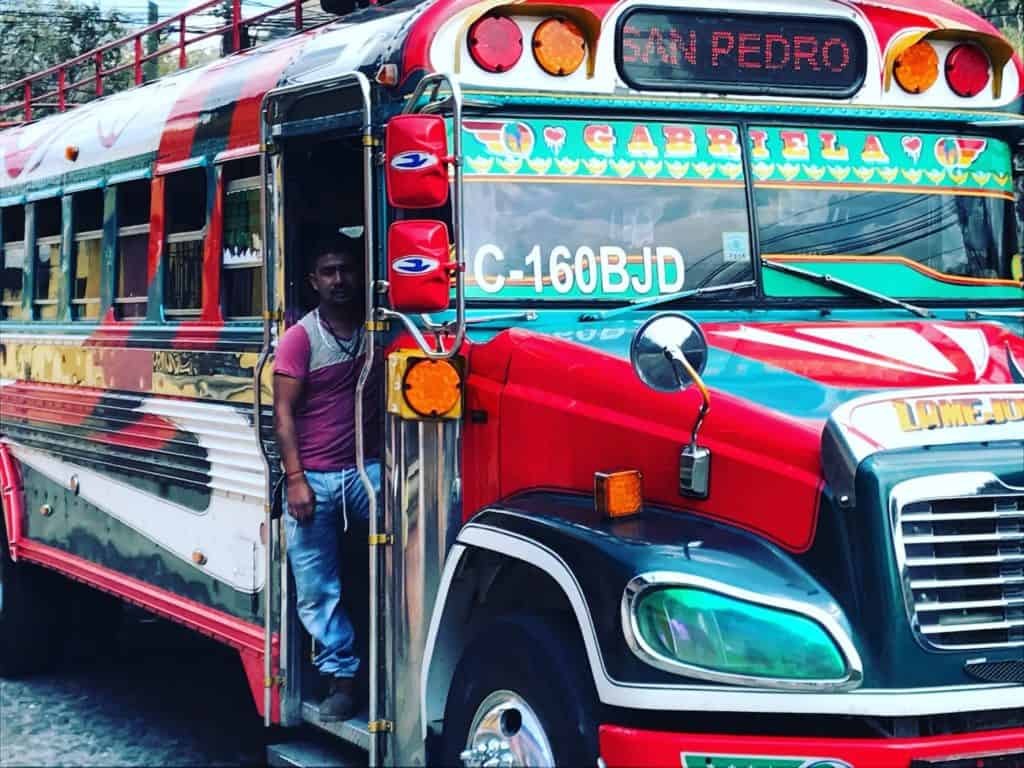 From Guatemala City, you can catch a Rebuli bus direct to Panajachel. This is a well-known line, with buses leaving zone 1 every hour starting early in the morning and going until late afternoon.
Their central office is located at 21 Calle 1-34 zona 1, Guatemala City, but I usually catch them along the route, such as from Centro Comercial Peri Roosevelt, Comercial Alta Vista on CA-1 near Cuidad San Cristobal, or in San Lucas Sacatepequez.
Alternatively, you can take any bus headed to Quiché, Huehuetenango, or San Marcos and get off at Los Encuentros.
From there you can find another bus to Sololá and then to Panajachel. There are also buses that go directly to San Lucas Tolimán and to Santa Clara la Laguna.
How many days to spend at Lake Atitlán
How long you spend at Lake Atitlán really depends on what activities you are interested in and how many towns around the lake you'd like to explore.
Now that you've read the list, you might have a better idea of which towns sound most interesting to you and the different activities you can do in each one.
If you have limited time, maybe only visit Panajachel and one other town around the lake. If you have longer, you could easily spend a week to a month in Lake Atitlán.
Other Frequently Asked Questions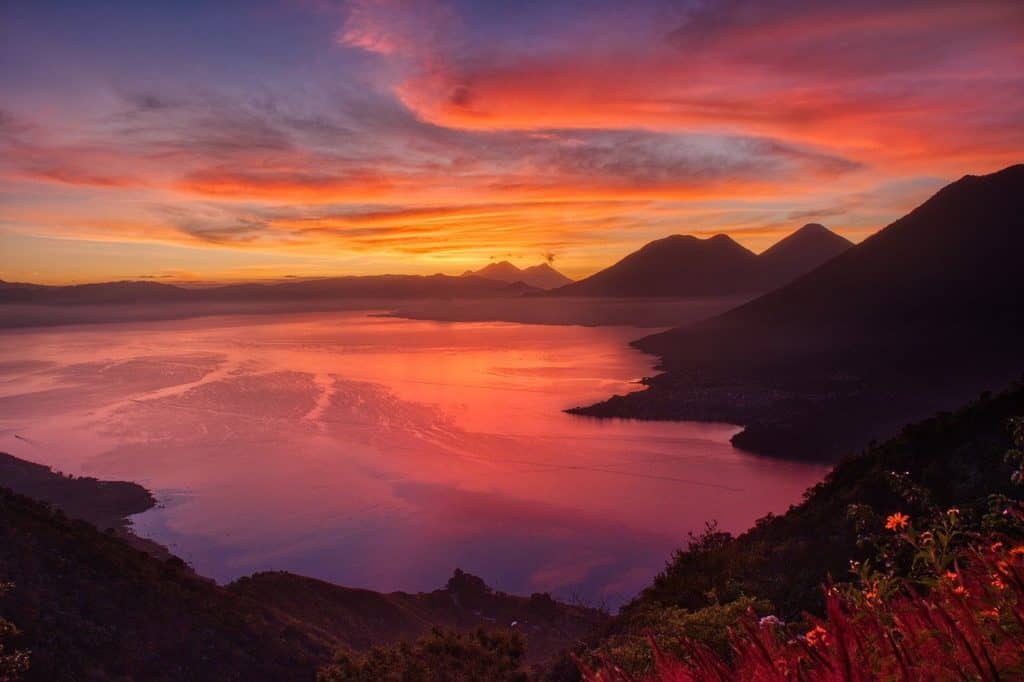 When is the best time to visit Lake Atitlán?
Lake Atitlán is a great destination to visit year-round, though if you have specific activities in mind, you should consider how the weather may affect them.
Can I visit Lake Atitlán during the rainy season?
Yes! You can definitely visit Lake Atitlán during the rainy season (May to October). During this time the mountains and hills around the lake are vibrant green, the waterfalls are full, and the air is clear.
Plus, if you've never experienced a tropical downpour, this could be your big chance. Generally, it will rain every afternoon during the rainy season, so plan your outings accordingly.
What are the best months for sunsets?
November is hands-down the best month for sunsets in Guatemala.
The skies are clear after the months of rains, and the sun puts on showy displays of orange, neon pink, and gold. October and December are also good months for sunsets.
What are the worst months for visibility at Lake Atitlán?
In March and April many farmers and coastal sugar plantations slash and burn their fields to prepare them for planting.
After months without rain, the air is hazy and full of dust. Sometimes there are clear days, but it's possible that you may not get views of the lake during these months.
Is Lake Atitlán safe?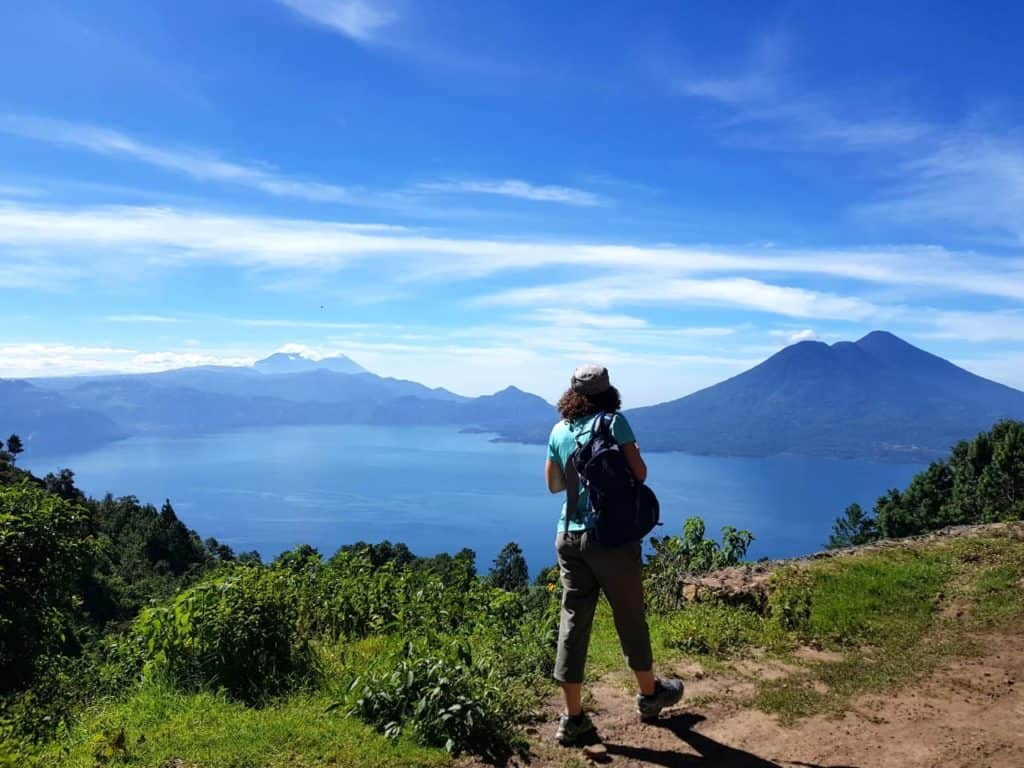 Most areas of Lake Atitlán are very safe, however, if you plan to hike or mountain bike, I recommend hiring a local guide who knows the trails. Plus, it's a great way to benefit the region economically.
Some areas used to be notorious for crime (such as San Pedro Volcano) but are now reasonably safe.
As communities have formalized and charged entrance fees, they've seen how tourism benefits the community and have actively discouraged crime in their regions.
Is Lake Atitlan safe to swim in?
Lake Atitlán is generally very calm and tranquil in the mornings but can get choppy from mid-morning onward as the wind rises.
There is also some cyanobacteria contamination in the lake due to fertilizer run-off from the agricultural fields. During hot weather, it is more likely that there will be cyanobacteria blooms.
Feel free to ask about the conditions at your hotel.
Some beach areas are cleaner than others. In Panajachel, I recommend swimming in Jucanyá.
The towns of Cerro de Oro, San Juan la Laguna, San Marcos la Laguna, and Jaibalito (near La Casa del Mundo) also tend to have cleaner swimming areas.
Where are there ATMs around Atitlán?
Credit cards are becoming more common but there are still many places that only accept cash, such as the market, most street vendors, small restaurants, and municipal tourist destinations.
Some places do accept credit card payments but charge an extra 5% fee. Feel free to ask ahead if there is a "recarga" for using a card.
Thankfully, it shouldn't be too hard to get cash in Lake Atitlán because there are ATMs at most of the large towns.
Check the Atitlán directory for a list of ATMs available around the lake ranging from Panajachel to San Pedro.
Want ways to save money and score great deals? Check out the bargaining guide!
Transportation Costs in Lake Atitlan
Buses & Microbuses:
The cost depends on the length of the route but generally ranges from Q5-15 (For example, going from Sololá to Panajachel costs Q5 per person)
Tuc Tucs:
Q5 for in-town trips
Boats to another town:
Q25 for foreigners from Panajachel to Santiago (one-way)
Lake Atitlán Sample Itinerary:
1st Day – Arrival in Panajachel
Arrive in Panajachel, check in to your hotel, then wander down Santander, stop for a coffee at Crossroads Café, a delicious meal at Guajimbo's, or popsicles at Sombrilandia, then watch the sunset over the lake.j
2nd Day – Outdoor Adventure
Go kayaking on the lake, go for a hike or mountain bike ride into the surrounding hills with a local guide, or do a paragliding tour.
In the afternoon, wander around town. Take a look at the Catholic church, and visit the market to buy some tropical fruit, steaming tortillas.
In the evening take part in the cultural dinner at José Pinguinos
3rd Day – Cultural Tours
Visit the cultural center in Santa Catarina Palopó, then travel on to San Antonio where you can take a ceramic tour.
If you have extra time, hike to the Cascadas Palopó, a lovely waterfall located in the ravine above the town.
The hike there leads through terraced onion fields. Alternatively, do the zip-line tour at the Nature Reserve in Panajachel, followed by a swim in the lake or a quiet afternoon relaxing at your hotel.
4th Day – Casa del Mundo
Take a boat to La Casa del Mundo, enjoy a lake day, swimming, kayaking, and reading in a hammock.
Book their hot tub eight hours in advance. While you wait for the water to heat, enjoy talking with guests during their family dinner, then follow it up with a toasty dip in the hot tub with views of lake and stars.
5th Day – San Juan la Laguna
Take a boat to San Juan La Laguna, go on a textile tour and visit the Mirador. If you're up for it, continue up to the Nariz del Indio.
Enjoy the views, then hike back to San Juan or to Santa Clara (shorter route) and take public transportation from either village over to San Pedro.
Once in San Pedro, enjoy a delicious Israeli meal at one of the restaurants along the lakeshore.
If time allows, visit the cultural center to watch a video about how the lake was formed and the significance of different colors of maize. Spend the night in San Pedro, Santiago, or San Marcos depending on what you choose to do the next day
6th Day – Options
1st Option: Hike San Pedro Volcano
2nd Option: Do the Quetzal Birdwatching Tour in Santiago
3rd Option: Head to San Marcos La Laguna for a day enjoying the lake at the Cerro Tzankujil Nature Reserve (plus or minus a jump off their high platform into the water). Or, if swimming isn't your thing, soak in hippie and new-age vibes by wandering around San Marcos's eclectic collection of shops, restaurants, and retreat centers
The Wrap-Up: Amazing Things to Do in Atitlán
Lake Atitlán has so many amazing things to do, no matter your interests. And the best part? This list barely scratches the surface of everything you could do in the area. It is a great place to visit and one of my most loved locations in the whole wide world.
So what are you waiting for? Book your trip to Lake Atitlán and let the adventure begin!
For other great Lake Atitlán activities, don't miss my posts on the magical town of San Juan la Laguna, spectacular Santa Cruz la Laguna, and fun economical adventures in Santa Clara.
Antigua Guatemala has a ton of things to do, including amazing food tours, Pacaya Volcano tours, and aromatic coffee tours.
Looking for other things to do in Guatemala? Hike Acatenango Volcano for a once-in-a-lifetime experience, or go off the beaten track and head into the wilds of Huehuetenango at the Cenotes de Candelaria or Laguna Brava.
If you plan to visit Izabal, don't miss my posts on Cascadas El Paraíso, El Boquerón, Castillo San Felipe, and Vivero Frutas del Mundo.
***GUATEMALA TRAVEL PLANNING GUIDE***

Should I buy Guatemala travel insurance?
YES — Personally, I always travel with travel insurance because it gives me extra peace of mind. SafetyWing is an excellent travel insurance company that's quite affordable. Plus, if you travel longterm, it's a snap to renew on a month to month basis. You can keep renewing for up to a year and still pay the same deductible.

Where's the best place for finding cheap flights to Guatemala?
When I purchase a ticket, I always search several different sites. Kayak and Expedia are great places to start running a search. Spirit is usually the cheapest carrier, but American Airlines and United also sometimes offer excellent deals.

What's the best way to book my Guatemala accommodations?
I recommend booking.com for finding and booking hotels in Guatemala. For vacation rentals, I recommend VRBO.com — it offers beautiful and unique spots to stay.

What's the best way to book Guatemala tours?
Viator is a great tour booking site with several excellent options available in Guatemala's main tourist areas including Tikal, Atitlán, Antigua, and Acatenango. There's a nice range of prices and options available.

Can you drink the water in Guatemala?
No – Don't drink the tap water! Instead, buy purified water from any corner store or grocery store in Guatemala.

Be sure to brush your teeth with that water as well to avoid getting sick. And hydrated, especially when traveling to high elevations.

Do I need a visa for Guatemala?
Probably not — Visitors to Guatemala from "Category A" countries like the United States, Canada, the UK, New Zealand, Australia, and most European countries are automatically given a 90-day tourist visa (in the form of a passport stamp) when entering Guatemala.

This visa is valid for Guatemala, Nicaragua, Honduras, and El Salvador. At the end of 90 days, it can be renewed once at Guatemala's Migración without leaving the country.

After 180 days, you will have to travel outside of Central America before returning. Check to see if you need a visa.

Will my phone work in Guatemala?
It's possible, but check with your provider in advance to see if Guatemala is covered. If not, you can easily pick up a local SIM card.

There are essentially only two carriers in the country: TIGO and CLARO. Both have good coverage.