Parque Ecológico Chuiraxamolo – Economical Adventures
Nestled into the steep ravines and cliffs of the Lake Atitlán watershed is an awesome eco-park. Get your adrenaline pumping on the highest zipline in Guatemala (and one of the longest), enjoy amazing views of Lake Atitlán, and have a Guatemalan-style grill-out. Parque Ecológico Chuiraxamolo is a fabulous place to spend a day with friends or family. Plus, it's quite economical.
The park was the brainchild of one of the mayors of Santa Clara and has been in operation since 2004. Chuiraxamolo is part of four protected areas in the municipality of Santa Clara and is a community tourism project.
***This page contains affiliate links, so if you book a tour through those links, I'll earn a small commission at no extra cost to you. Learn more in my disclaimer.***
What does "Chuiraxamolo" mean and how do I pronounce it?
Chuiraxamolo is a K'iche' word that can be translated roughly as "place of the green fly".
"Chui" is pronounced "chewy" and means "over" or "above." "Rax" means "green" and is pronounced like "rush" with extra emphasis on the "sh" sound. "Amolo" refers to a "fly" and is pronounced, "ah moh ló."
Things to do at Chuiraxamolo
Parque Ecológico Chuiraxamolo has a variety of nature activities including nature trails, picnic and camping areas, a beautiful restaurant, a store, rooms for events, a rappel tower, and two ziplines.
Highest zipline in Guatemala
The zipline tour is the main attraction. I highly recommend it! The shorter zipline is 492 feet long and the second zipline is 1312 feet long (and 656 feet above the ground). You can choose to cross the second zip line normal or superman style. Either way, be sure to look to the right for amazing views of Lake Atitlán.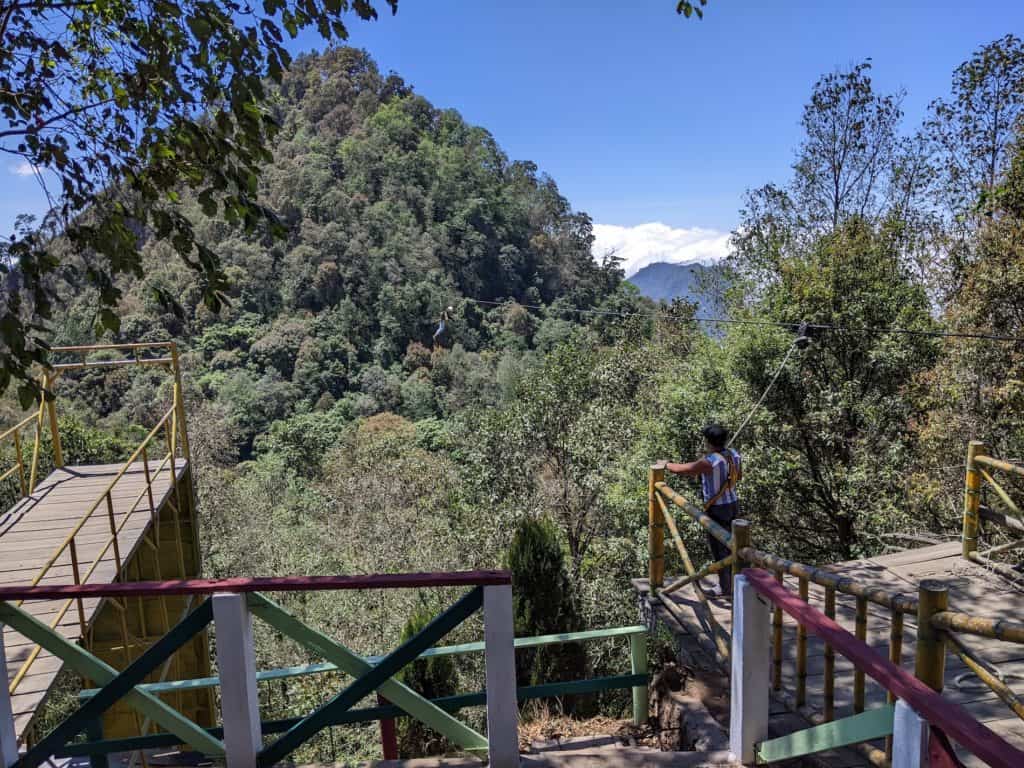 During the zipline tour, you'll get geared up at the offices below the restaurant, then carry your pulley down the interpretive nature trail to the base of the gorge. The guide explains how to cross safely and position your body, head, and hands. You don't have to worry about braking, because one of the guides goes over ahead to brake for you.
Note: You will have to hike up a steep trail to get to the second zipline, so keep that in mind.
Tip for guys: If you decide to cross superman style, adjust your harness ahead of time to avoid discomfort.
Rappel tower at Parque Ecológico Chuiraxamolo
The rappel tower was scary for me because I'd never done rappeling before. I would have liked to try it twice since the first time down was more of a learning run. I recommend putting all of your weight on the rope before leaning out.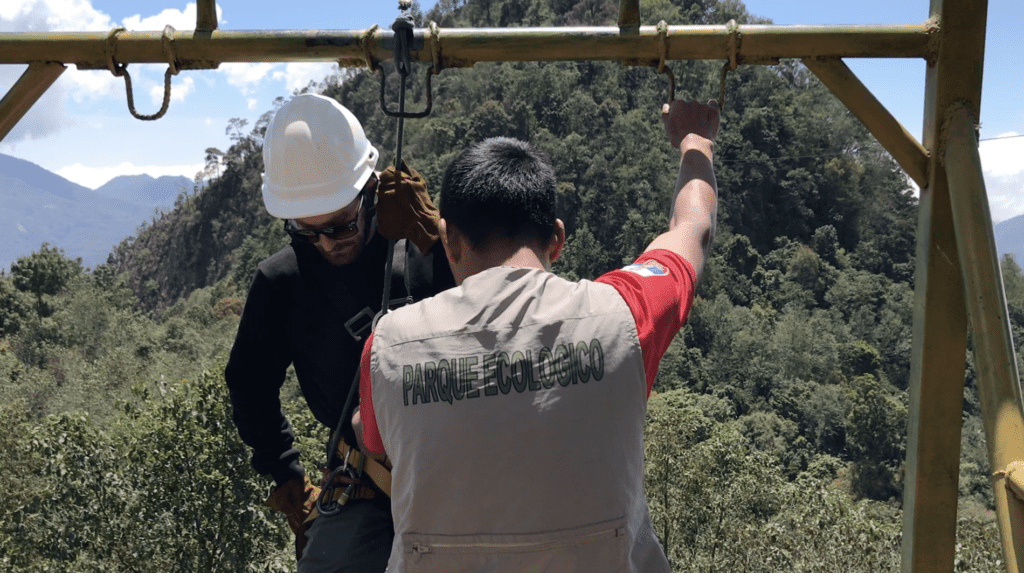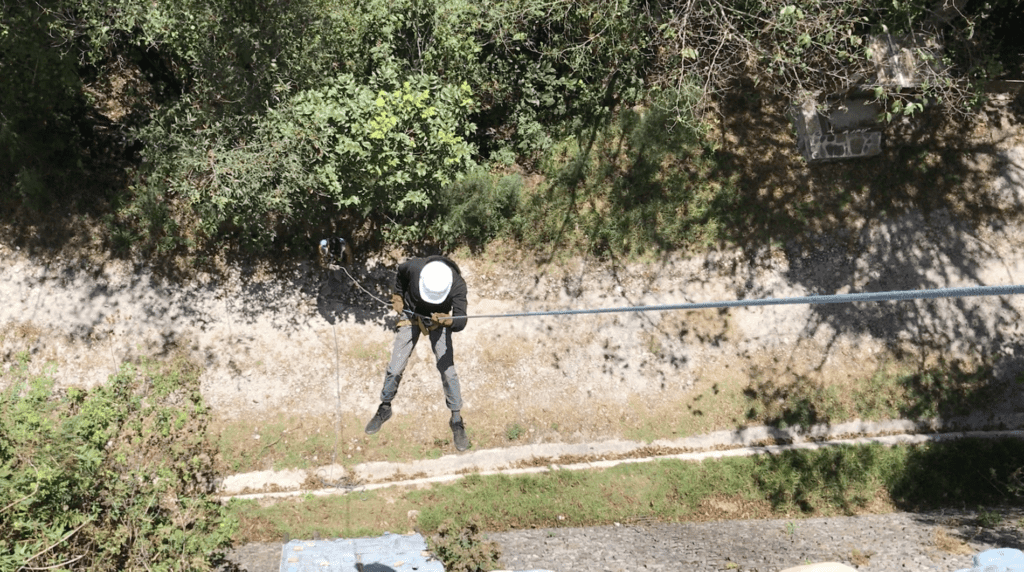 You can also opt to climb up the tower instead of rappeling down it, but according to the guides, it is very challenging and none of them have managed to make it to the top.
Camp with amazing views at Parque Ecológico Chuiraxamolo
Camp in the woods with access to a shelter with picnic tables, bbq areas, a faucet, and latrines. You'll have awesome views of the lake.
Playground and swings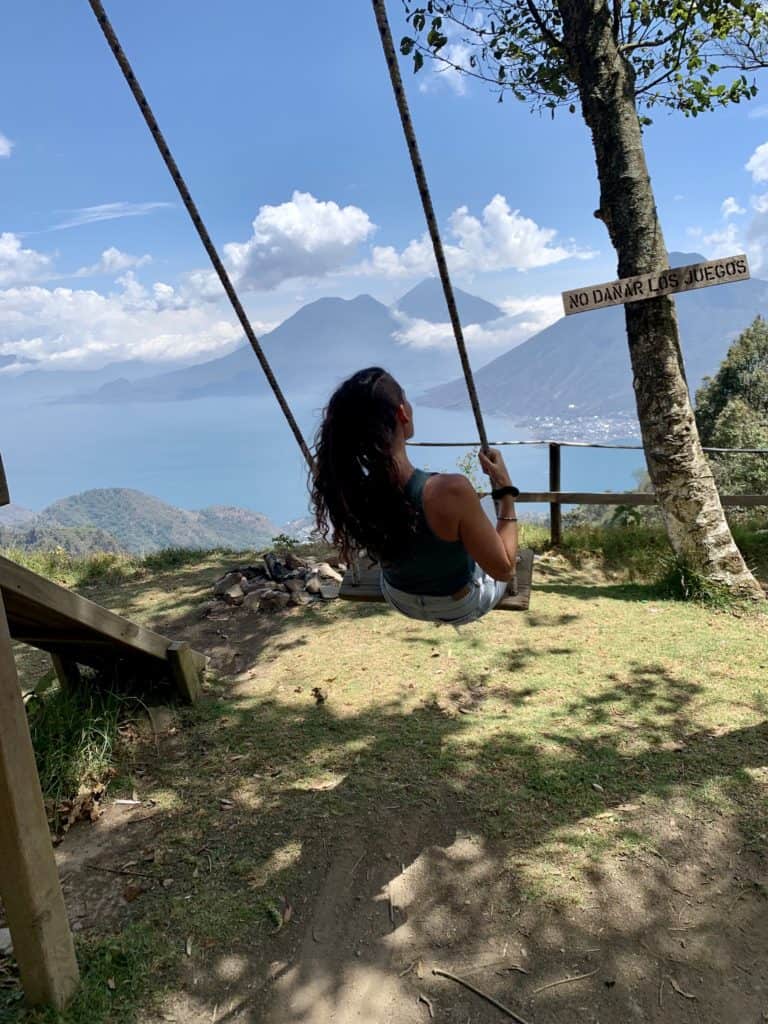 There's a small playground near the picnic area where you can swing on the swings with amazing views of the lake. Children can also climb into the playhouse and go down the slide.
Picnic area for an amazing churrasco lunch
During my family and my visit to the park, we decided to go all out and have a churrasco. We grilled solomito in parsley chimichurri, toasted chunks of boiled yuca, roasted plantains, grilled green onions, and heated up black beans and tortillas. On the side we had guacamole, radish lime salad, and chirmol (roasted tomato salsa). It was fun to cook all together and everything turned out delicious.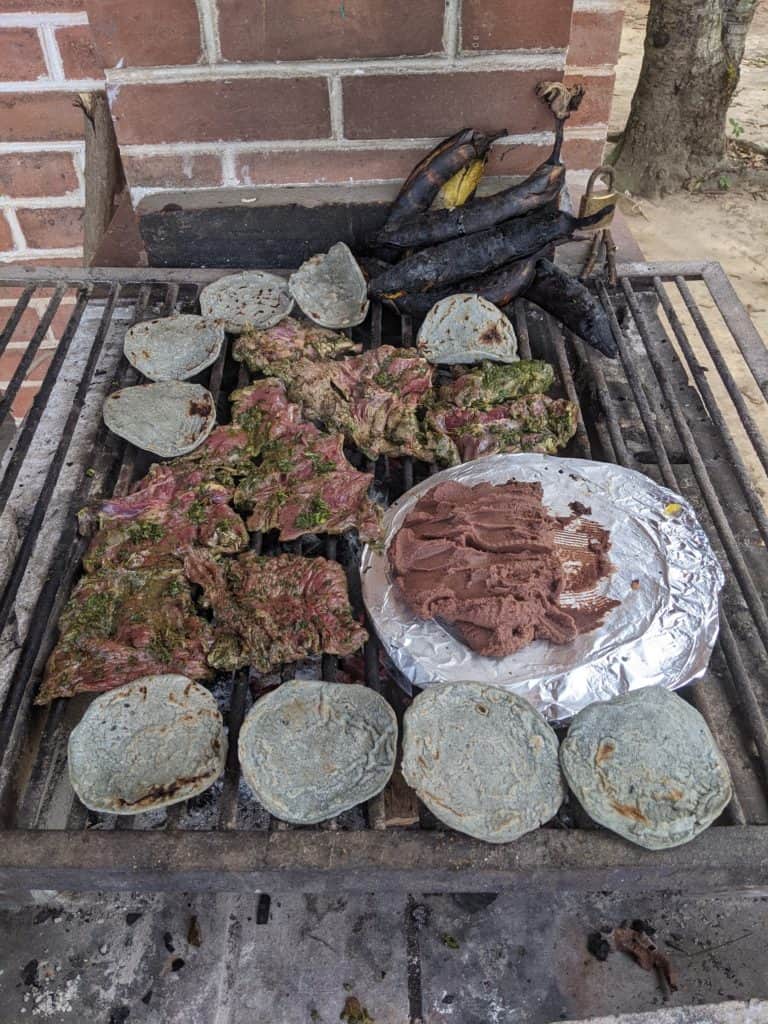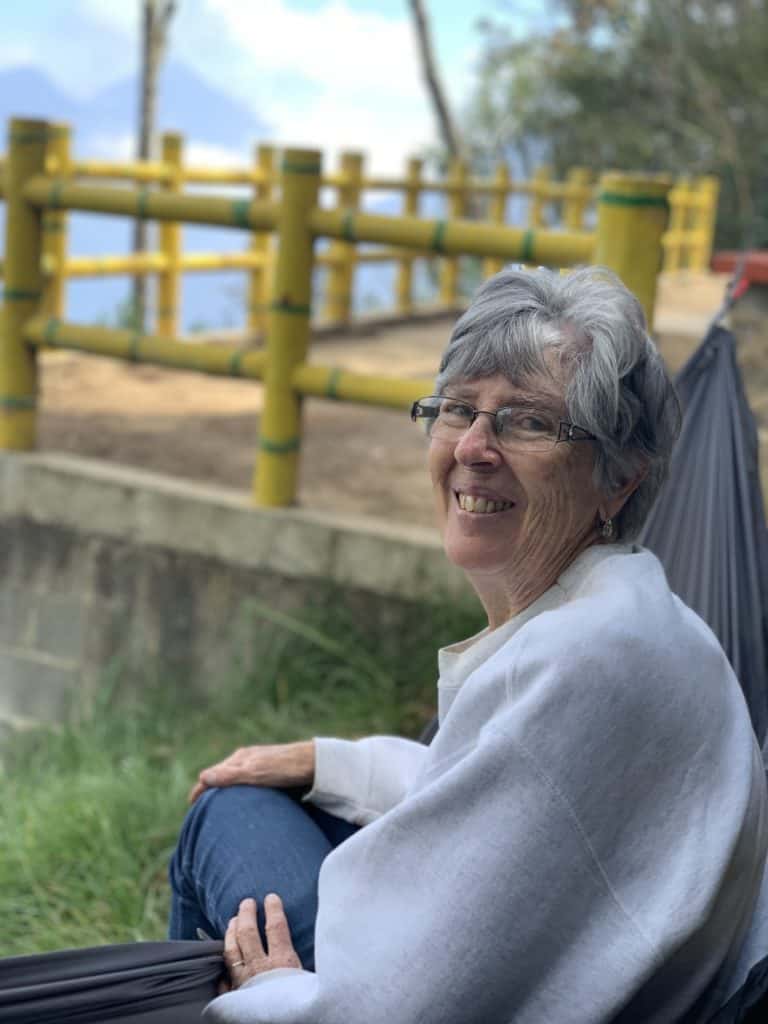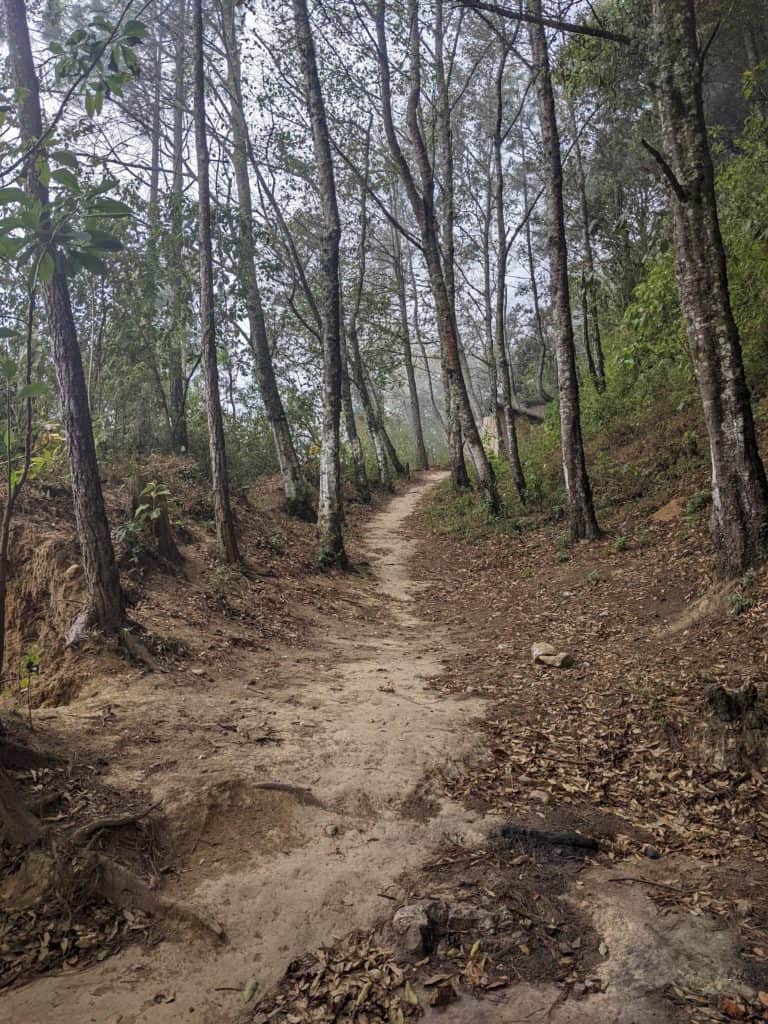 Nature trails that tell a story and a Mayan ceremonial alter
Walk the interpretive nature trail to learn about the K'iche' culture of Santa Clara la Laguna. There's also a Mayan ceremonial altar on site.
Beautiful restaurant at Parque Ecológico Chuiraxamolo
Above the offices, there is a gorgeous restaurant and coffee that serves typical Guatemalan food, Chinese food, and hot beverages. If you'd rather not bother with a picnic, this is a great alternative.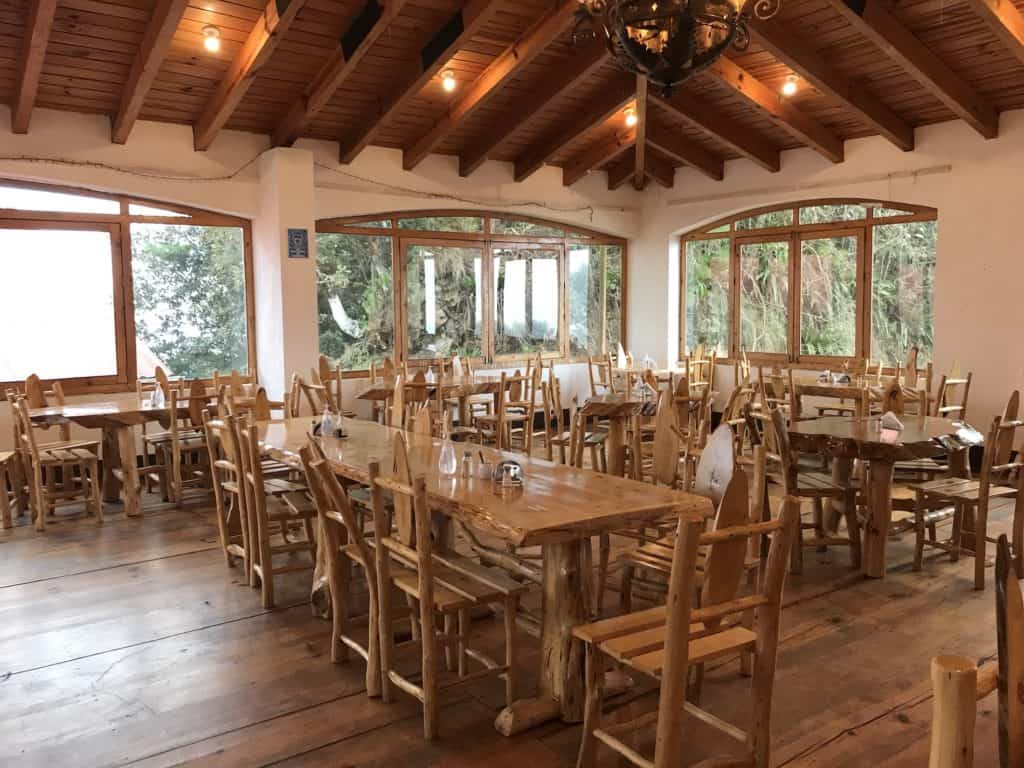 Event Areas
If you are planning a special event, Chuiraxamolo could be a great spot for it. They can host up to 200 people for business meetings, parties, trainings, and cultural events. The event room has a fantastic view of the lake.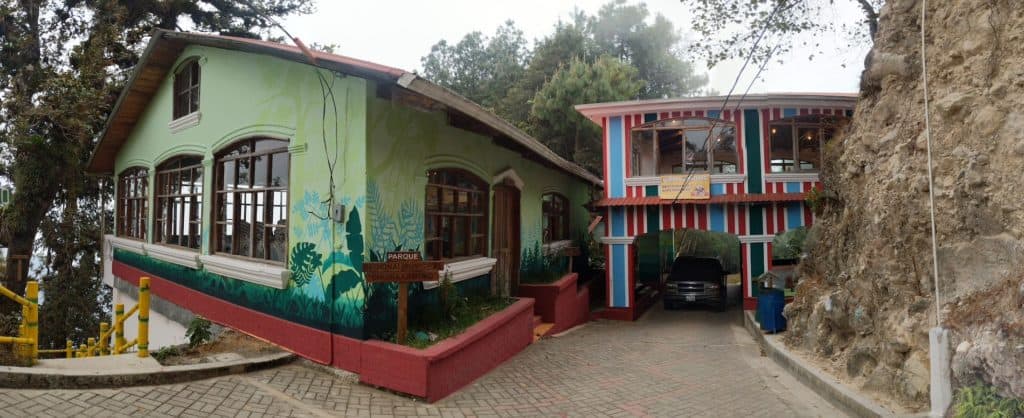 Hours at Parque Ecológico Chuiraxamolo
The park is open Tuesday to Sunday from 8 am to 4 pm.
Costs
You'll notice that the costs at Chuiraxamolo are double for tourists and non-residents. This is a common practice in Guatemala to ensure that locals can still access fun activities they couldn't otherwise afford.
Guatemalans and Residents
Entrance: Q10
Zipline: Q40
Rappel or Climbing Wall: Q20
Camping: Q10
Tourists and Non-Residents
Entrance: Q20
Zipline: Q80
Rappel or Climbing Wall: Q40
Camping: Q20
Discounts are available for groups of ten or more.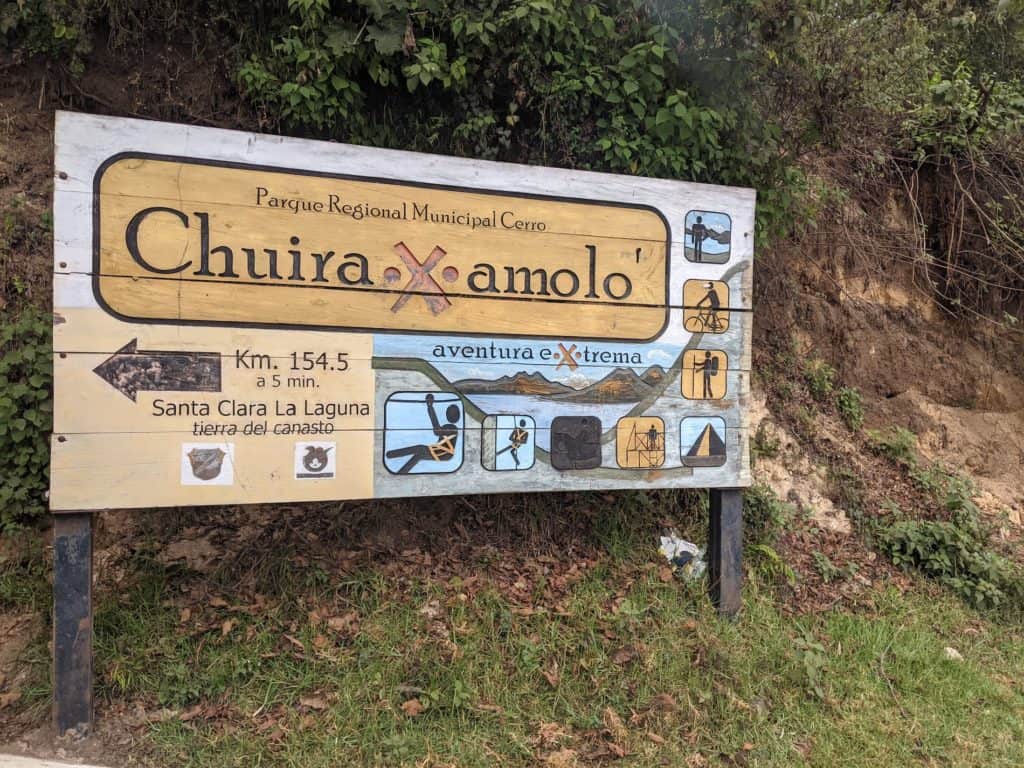 Contact Information
Park Manager: +502 46298039
Reception: +502 57492886
Municipal Office: +502 7927-1860
The number I used: +502 5449-9944
Go to the Chuiraxamolo Website or Facebook Page
How to get to Parque Ecológico Chuiraxamolo
Parque Ecológico Chuiraxamolo is located in the municipality of Santa Clara la Laguna, above Lake Atitlán. If you are in Sololá, it will take about 1 hour to drive to the park. You can either drive towards Quetzaltenango on CA-1 and then turn onto Sol-4 towards Santa Clara, or cut through San José Chacayá and Santa Lucia Utatlán. It will take about an hour in your own vehicle.
If you prefer to go on public transportation, you can find a minibus going to Santa Clara in Sololá. Alternatively, take a tuc tuc or minibus to Santa Clara from San Juan la Laguna, San Pedro la Laguna, or San Pabla la Laguna. Once in Santa Clara, find a minibus heading towards Sololá. Get off at the entrance to Parque Ecológico Chuiraxamolo.
What to take to Parque Ecológico Chuiraxamolo
Good walking/hiking shoes
A sweater (it can get cool since the park is at a higher elevation)
Sunscreen/hat/sunglasses
Water to stay hydrated
Camera
Snacks/Picnic supplies if not eating at the restaurant*
*There is a small store where you can buy drinks and chips
Nearby Attractions
There are hundreds of activities around Lake Atitlán. Why not check out my post of 35 Amazing Things to Do in Atitlán to get started? You can also find out the best activities to do in San Juan la Laguna, spectacular things to do Santa Cruz la Laguna, learn the best places to stay in Santa Cruz la Laguna.
Or maybe you want a completely different sort of adventure? How about a Lake Atitlán motorcycle tour? Or an ascent up San Pedro Volcano?
***GUATEMALA TRAVEL PLANNING GUIDE***

Should I buy Guatemala travel insurance?
YES — Personally, I always travel with travel insurance because it gives me extra peace of mind. SafetyWing is an excellent travel insurance company that's quite affordable. Plus, if you travel longterm, it's a snap to renew on a month to month basis. You can keep renewing for up to a year and still pay the same deductible.

Where's the best place for finding cheap flights to Guatemala?
When I purchase a ticket, I always search several different sites. Kayak and Expedia are great places to start running a search. Spirit is usually the cheapest carrier, but American Airlines and United also sometimes offer excellent deals.

What's the best way to book my Guatemala accommodations?
I recommend booking.com for finding and booking hotels in Guatemala. For vacation rentals, I recommend VRBO.com — it offers beautiful and unique spots to stay.

What's the best way to book Guatemala tours?
Viator is a great tour booking site with several excellent options available in Guatemala's main tourist areas including Tikal, Atitlán, Antigua, and Acatenango. There's a nice range of prices and options available.

Can you drink the water in Guatemala?
No – Don't drink the tap water! Instead, buy purified water from any corner store or grocery store in Guatemala.

Be sure to brush your teeth with that water as well to avoid getting sick. And hydrated, especially when traveling to high elevations.

Do I need a visa for Guatemala?
Probably not — Visitors to Guatemala from "Category A" countries like the United States, Canada, the UK, New Zealand, Australia, and most European countries are automatically given a 90-day tourist visa (in the form of a passport stamp) when entering Guatemala.

This visa is valid for Guatemala, Nicaragua, Honduras, and El Salvador. At the end of 90 days, it can be renewed once at Guatemala's Migración without leaving the country.

After 180 days, you will have to travel outside of Central America before returning. Check to see if you need a visa.

Will my phone work in Guatemala?
It's possible, but check with your provider in advance to see if Guatemala is covered. If not, you can easily pick up a local SIM card.

There are essentially only two carriers in the country: TIGO and CLARO. Both have good coverage.