Ride Atitlán Guatemala Motorcycle Tour

Wind kicked up the dust in front of a shiny aluminum gate in a side street in Panajachel Guatemala. It was a crisp November day, the sky blue to infinity above me, but I had a ball of tension in my gut.
Today I was going on my very first motorcycle tour.
And yup, I was nervous. Nevermind that in my three years of riding I'd survived lane-splitting in Guatemala City traffic, ridden through torrential downpours, freed my bike from deep sand, and forded a river. But there's always a new hurdle to tackle. Today that hurdle would take the form of a 2000-foot ascent from San Antonio Palopó to Agua Escondida on a road known for its soft dust, loose gravel, and hairpin turns.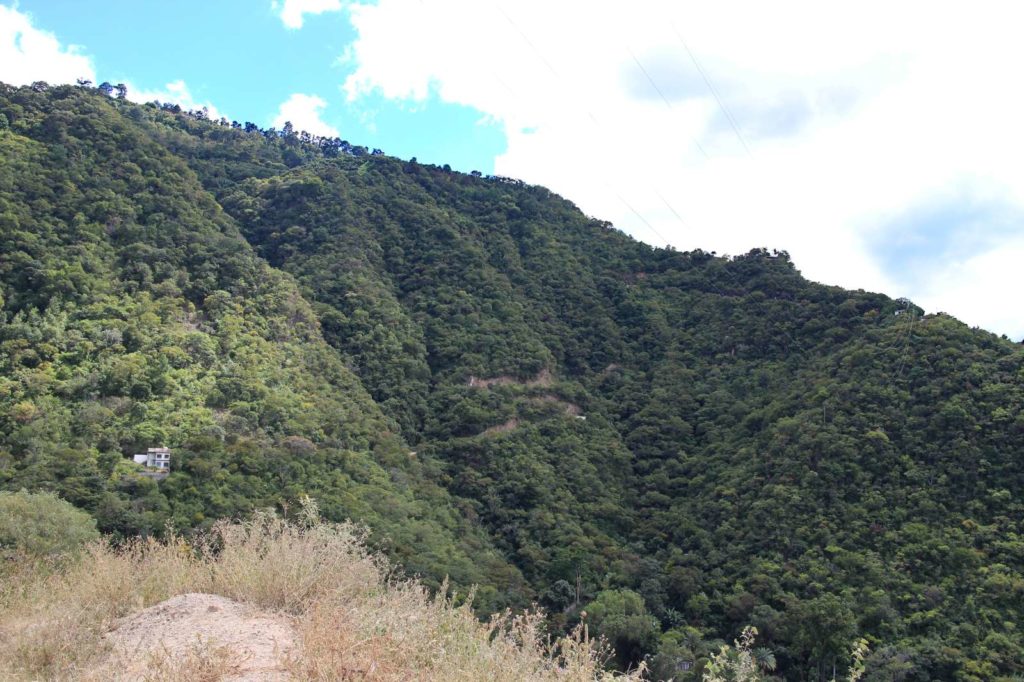 Fortunately, I didn't have much time to dwell on my nerves (or continue muttering to myself about body positioning, momentum, and weighting the footpegs) because the aluminum gate creaked open and a motorcycle roared out.
I hopped off my 250cc Honda Tornado to greet the rider, a curly-haired man with an easy-going smile. This was Lief, owner and operator of Ride Atitlán, a motorcycle tour company based out of Panajachel. We shook hands and Lief waved me inside to begin the day's adventure.
Meeting the Ride Atitlán team
Once I passed inspection by Lief's crew of rescue dogs, I took a seat in a garden dotted with alyssum flowers, cacti, and avocado and guava trees. Natalie and Shane, a couple hailing from California, were already at the table. Natalie was blond, slender, and vivacious while her husband Shane was lanky, with green eyes and a chill vibe. Ian was the next to arrive, wearing a bright orange shirt over tanned arms and a quiet, even-keel demeanor. Last of all came Lief's co-guide, Gabe, a straight shooter and Guatemala native who grew up in New York.
The six of us chatted about our riding experiences, bikes, and backgrounds over a breakfast of omelets, hashbrowns, and orange juice. Lief also gave us an overview of what to expect on the tour, plus some tips on how to tackle dirt roads and steep hills.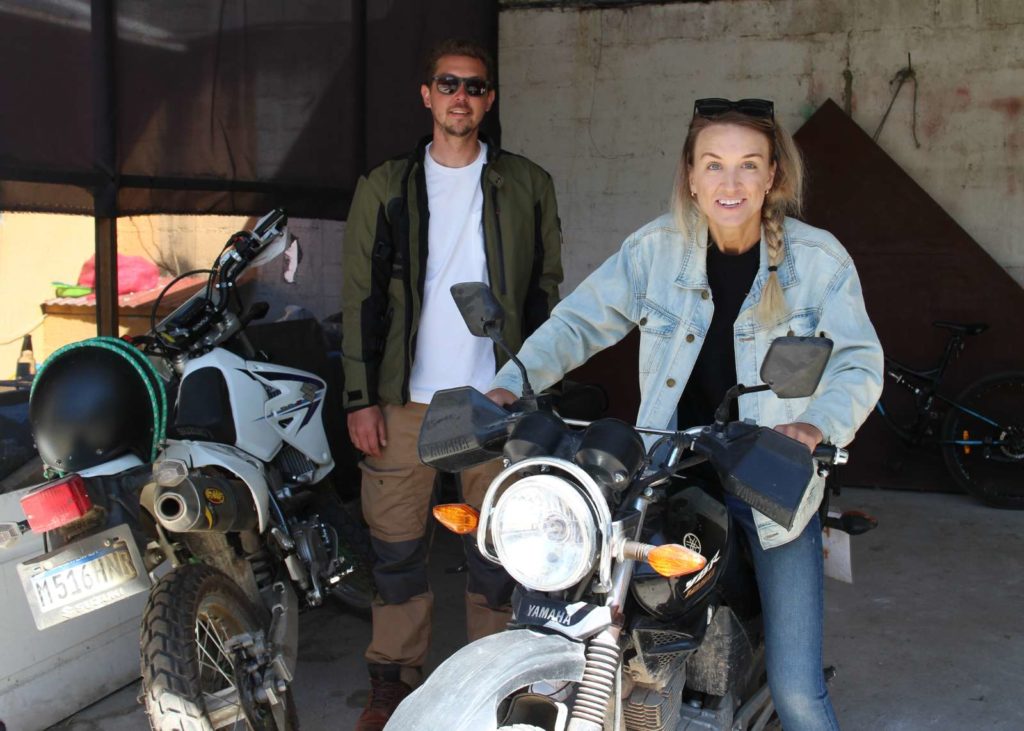 After signing our rental agreements (which included promising not to take more than two extra passengers and a dog on our motorcycles, and to not parasail after riding the motorcycle off a cliff) we geared up. Natalie and Shane found helmets and jackets that mostly fit, then Natalie got a lesson in kickstarting her 125cc rental. To her delight, she managed it with no problem.
Panajachel to the Santa Catarina overlook
We fired up our bikes and were off. Lief led the way down a dirt path and onto one of Panajachel's busy roads. We maneuvered through an onslaught of tuc tucs, motorcyclists, children, and street dogs and then rode up the twisties to the Santa Catarina overlook.
Here we had an amazing view of Lake Atitlán. The day was so clear that volcanoes leaped out at us across the water.

Lief gave us some quick information about the surrounding volcanoes and towns and then we kept going down the steep curves to Santa Catarina Palopó.
Next, we rode over a long stretch of potholes and asphalt towards San Antonio. I kept thinking about the big hill and the dirt road ahead. Keep up your momentum, I reminded myself.
A couple of motorcycle mishaps
But before we made it to San Antonio, Natalie's bike stalled mid-hill. After a quick discussion, she and Gabe swapped bikes, and we were off again.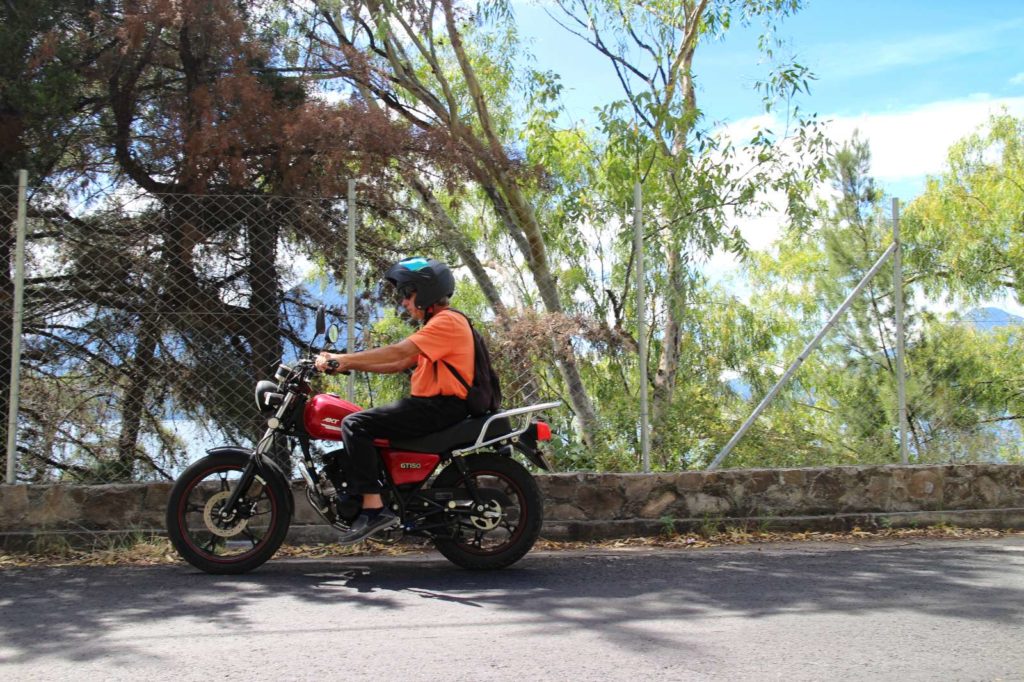 A few minutes later we hit a hardpacked dirt road scored with ruts and buried in several inches of powdery sand. When I looked up, I saw a motorcycle on the ground ahead of me.
"I heard bushes breaking behind me," Shane said. When he looked back, he saw Natalie standing up. She didn't even look shaken, just a bit dusty. "It's the first time I've gone down," she told me. I gave her a high five for paying the gravity tax, while Gabe got the bike back up and took stock of the damages. No good. Lief called his mechanic and a pickup truck.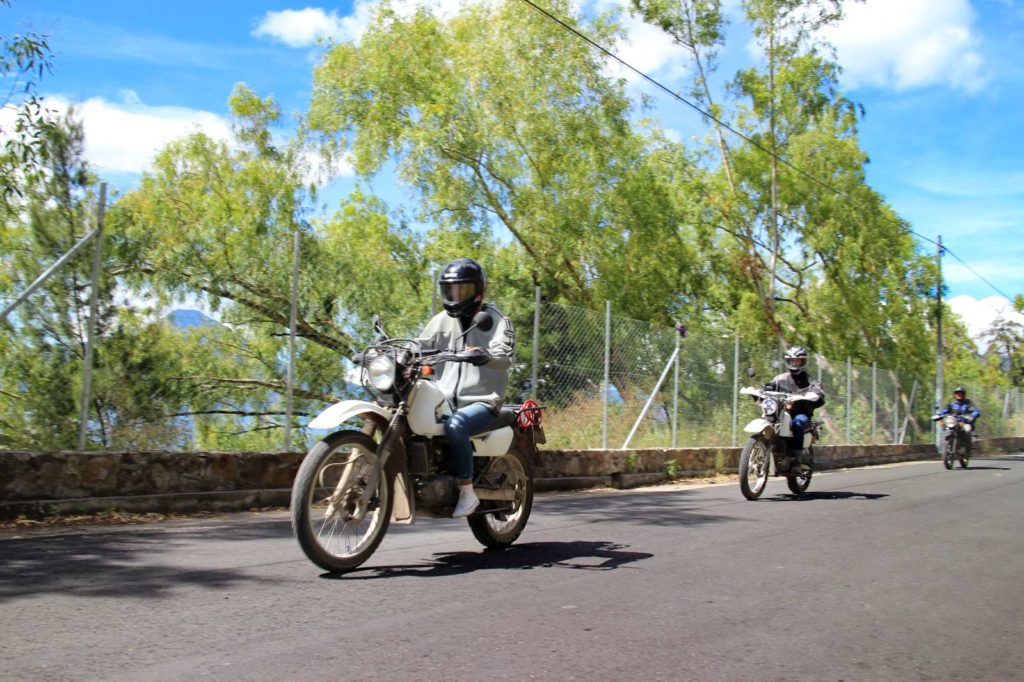 We left Gabe with two of the bikes to wait for the mechanic, while Natalie hopped on the back of Lief's bike, as cheery and unruffled as ever. I took Gabe's position in the rear and on we went.
Riding up the dirt road to Agua Escondida
And then we were there. A twisting climb up the sides of the Lake Atitlán basin, heading towards the ridge, towards the sky. Rocks spit under my tires, dust plumed the air. Shane's motorcycle spewed black smoke. Ian slid out, but got his bike righted and climbing again. Momentum, I told myself. Momentum.
My bike ate up the gravel and swooped through the concreted hairpin turns. I had to tear my eyes away from the view, the lake, the mountains, the ridges, and the greenery. And still, the beige road clawed up and up.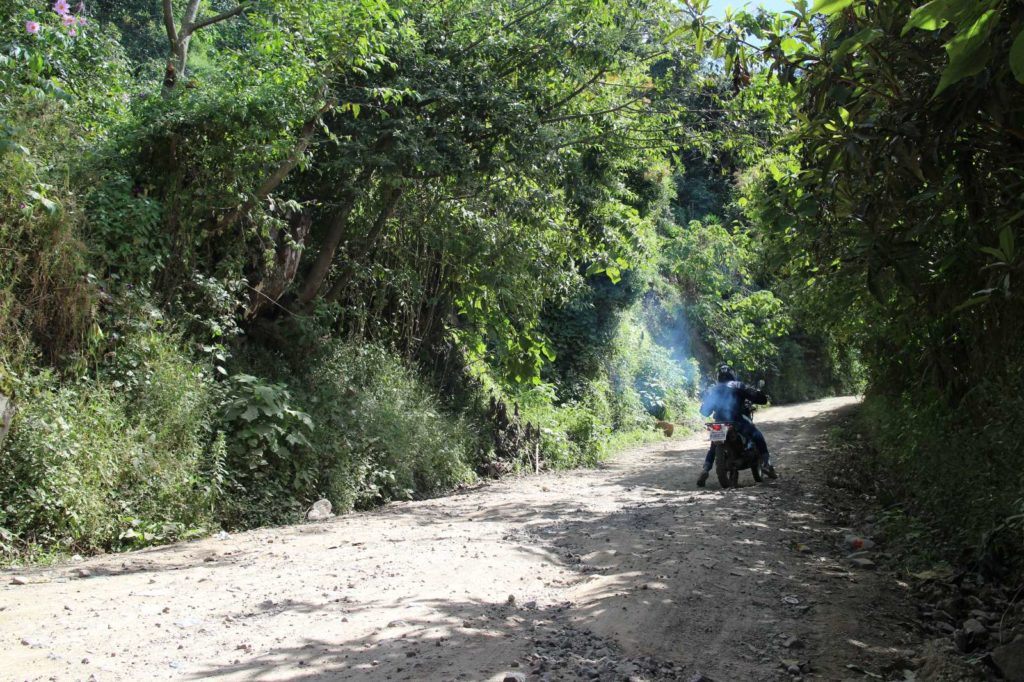 Before I knew it, I'd climbed all the way up. I had tackled the mountain. Lief gave me a fist bump in congratulations.
As we hit asphalt again, I stood up, grinning as the cool breeze rinsed away the clammy sweat. Now it was easy riding on paved roads, evading potholes, lightening the suspension over speed bumps, gliding through corners, with cornfields and the flower-clad hills of the highlands unfurling on either side.
Avocado farm tour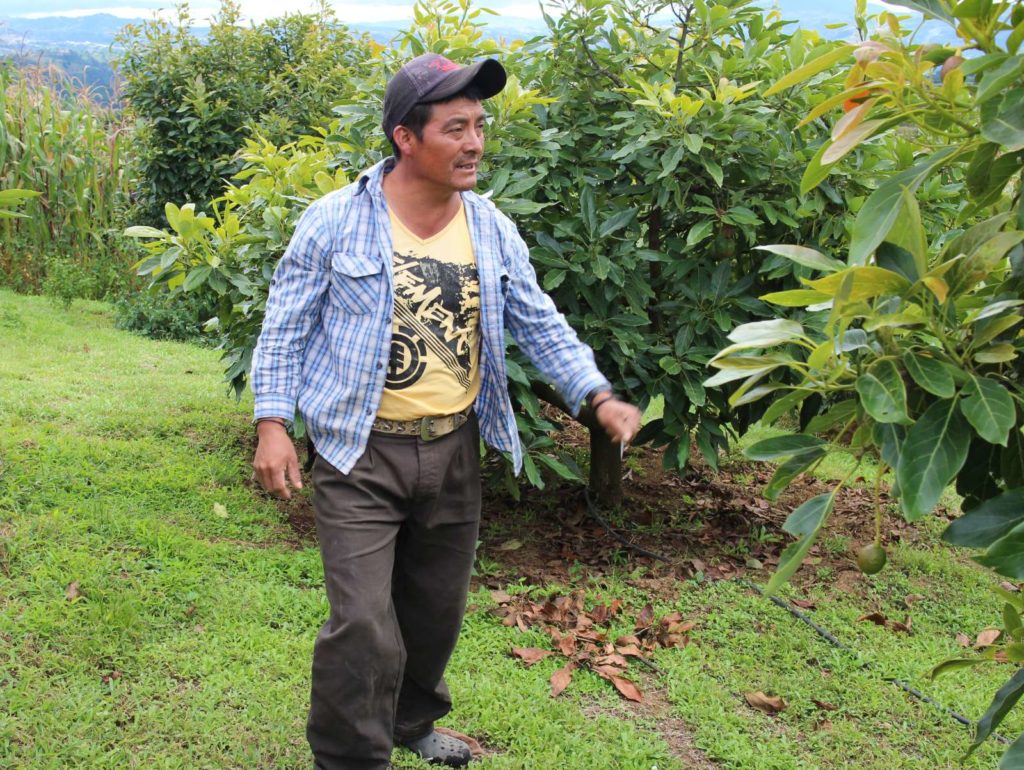 Next up was an informative stop at an avocado farm in the town of Panimatzalam. Mauro, the caretaker, showed us around. He explained a few of the ins and outs of growing avocado trees, including dealing with pests like squirrels and gophers, how and why to prune the trees, and how to recognize mature avocados on the tree.
Afterward, Mauro took us to his family home where we got to try making tortillas and then sat down to a tasty typical lunch featuring some fantastic guacamole.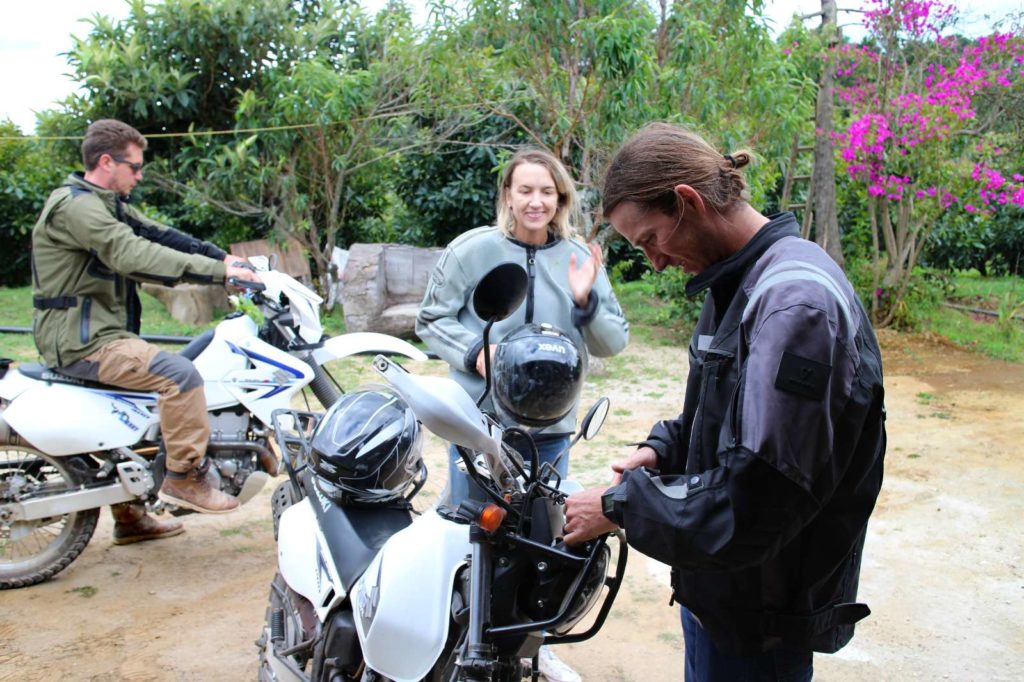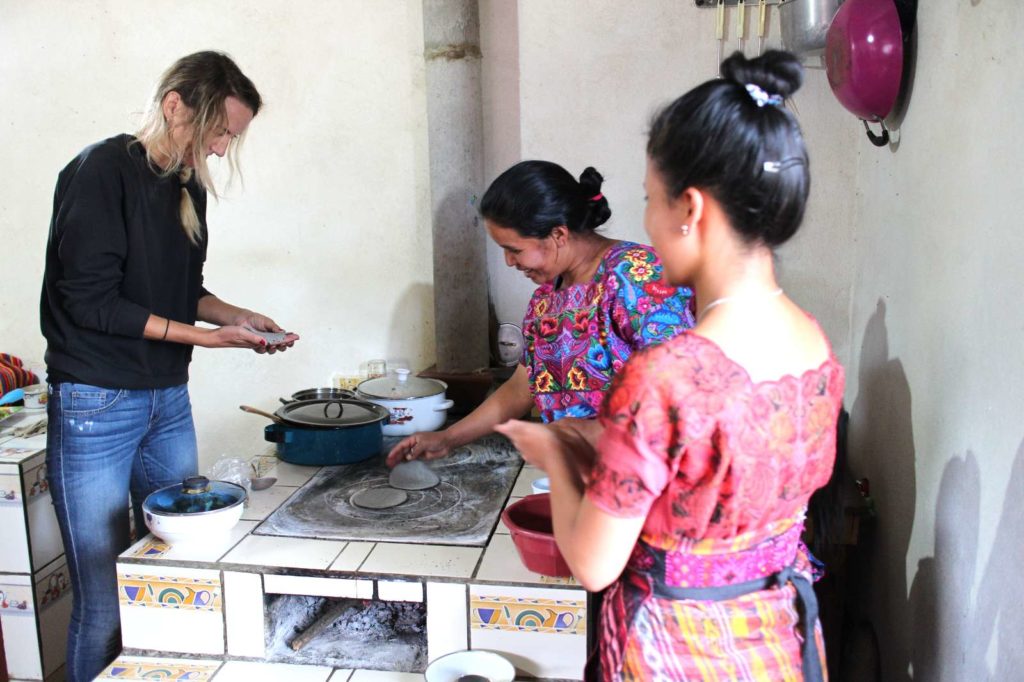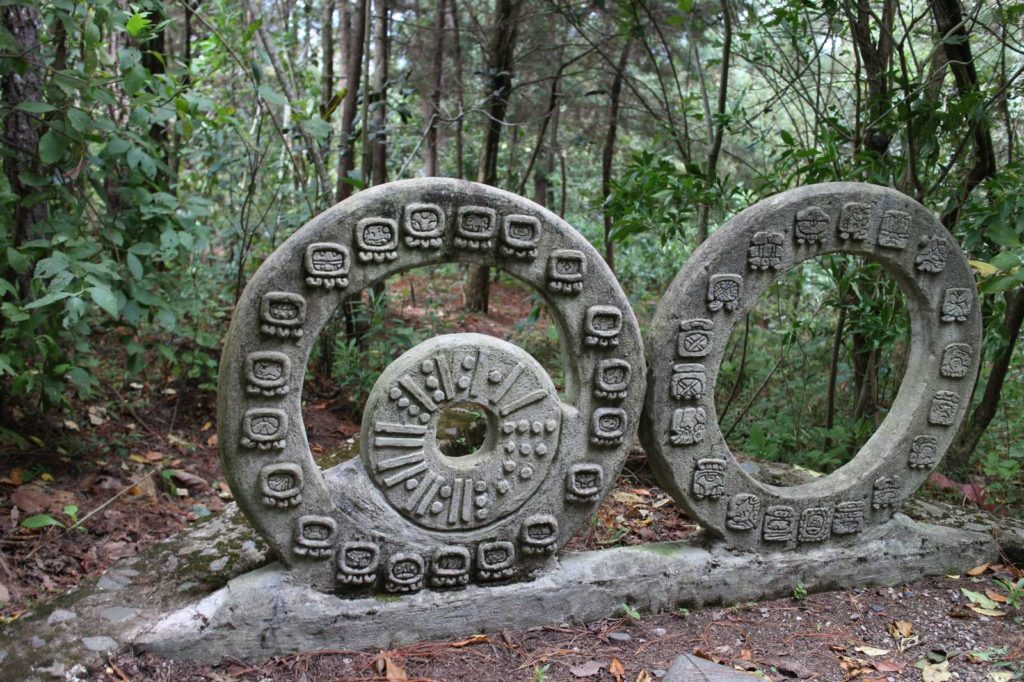 Content from our delicious lunch, we walked down to an overlook, checked out a Mayan ceremonial location in the woods, then zipped down the road to Panajachel.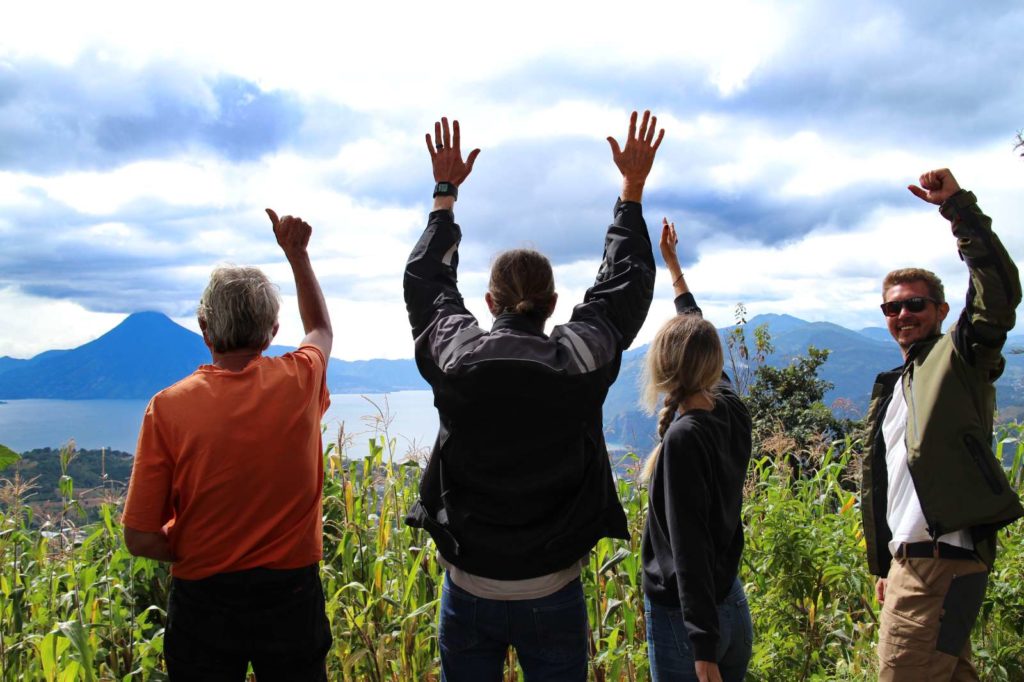 Lief invited us all over to Café Kitsch to finish out the day with drinks and conversation. Ian told us more about his business selling hats in farmer's markets in Ontario. Gabe reappeared, having successfully dropped off both bikes at the mechanic's (after a two-hour wait and some mishaps with an incompetent pickup driver). Natalie and Shane recounted some of their crazy travel stories including how they nearly lost their scooter brakes on the most dangerous road in Bali and how they got trapped for two days in a flooded hotel in Vietnam.
Ride Atitlán Tour – The Wrap up
All in all, it was an awesome day of riding, camaraderie, and challenges overcome. We all came away with stories to tell, a few avocados stowed in our bags, and plenty of dust on our gear to remind us of a great time.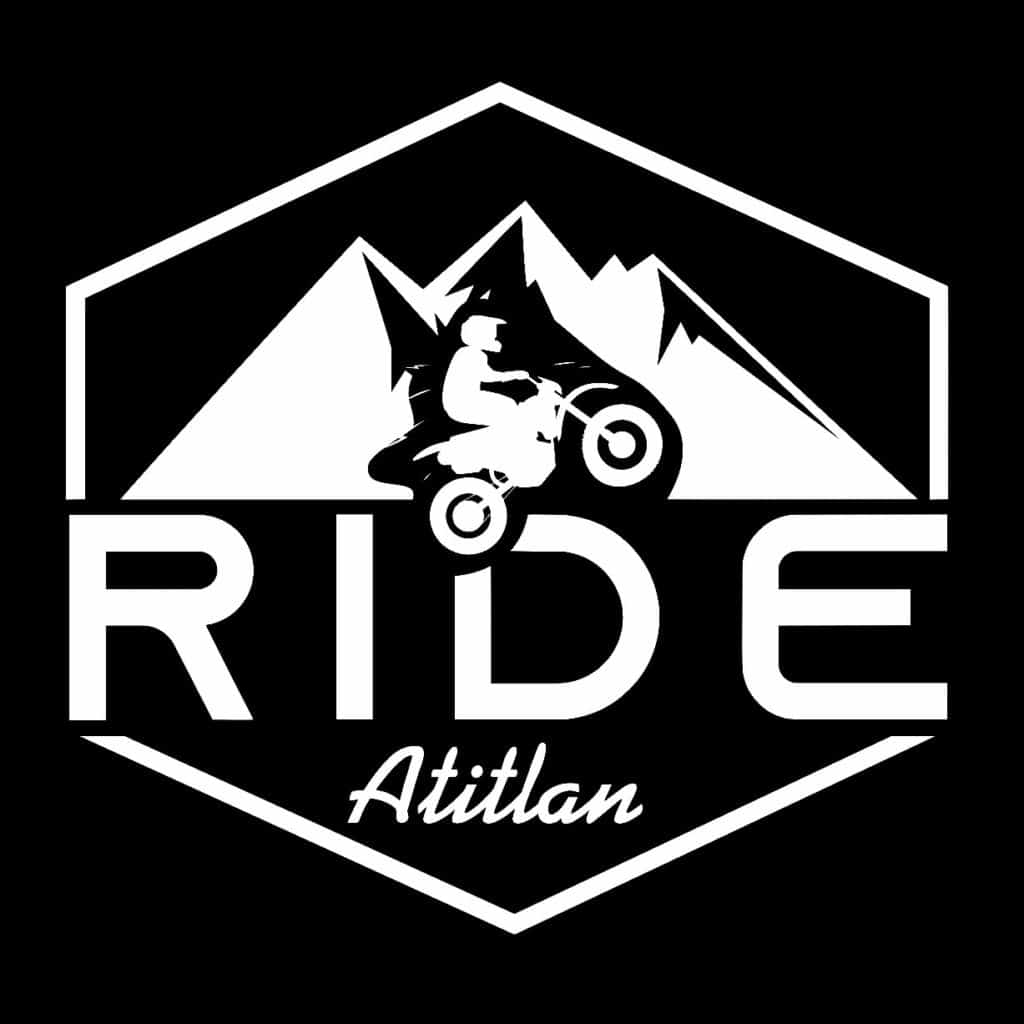 Why not join the fun?

Book your own GUATEMALA MOTORCYCLE ADVENTURE with Ride Atitlán today.


I drove home, tired but content. I'd made it up the mountain, and it wasn't as hard as I thought. In fact, I can't wait to improve my dirt-riding skills so I can power up and down more roads like that. One thing is for sure, nothing beats riding motorcycles around this spectacular lake.
If you're looking for other things to do in the area, don't miss these other great posts:
San Pedro Volcano Hike
25 Magical Things to do in San Juan la Laguna
37 Spectacular Things to do in Santa Cruz la Laguna
Where to Stay in Santa Cruz la Laguna
Parque Ecólogico Chuiraxamoló – Economical Adventures