Guatemalan Coffee: All You Need to Know!
Do you love coffee? Are you visiting Guatemala and want to know about the local coffee scene? If so, this post will tell you everything you need to know about Guatemalan coffee from the perspective of a former barista.
*This post was written by Val McArthur, a special guest writer (and Yvonne's awesome sister).*
I'll talk about why Guatemalan coffee is so good, the flavor profiles of Guatemala's coffee-growing regions (because maybe you want to sample them all), ways to experience coffee in Guatemala, and list the best coffee shops in Guatemala.
Let's start with the most pressing question of all!
Is Guatemalan Coffee good?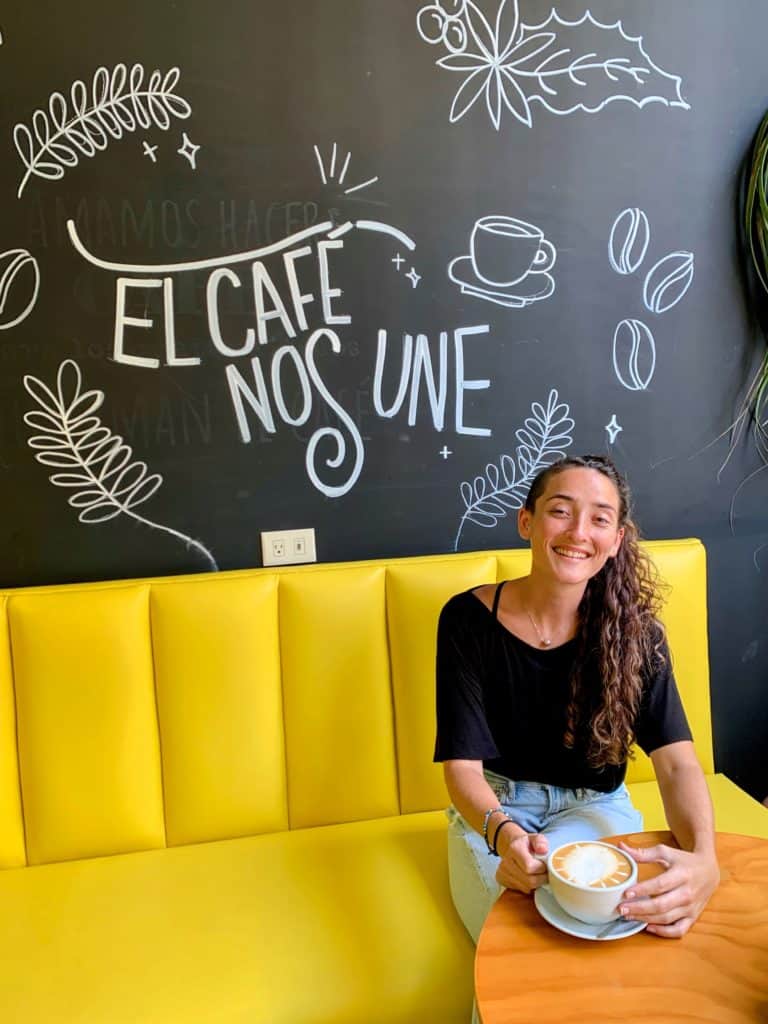 The short answer? Yes!
The long answer is that due to the high elevation, rich volcanic soil, tropical climate, and lengthy rainy season, Guatemala grows high-quality beans.
Families of multiple generations have been involved in the coffee industry in Guatemala, so coffee farms know how to process beans to create the best possible flavor.
Once an export-only item, the coffee scene in Guatemala has now taken off. It's become easier than ever to find third-wave coffee shops with quality baristas.
Why is Guatemalan Coffee so good?
The country primarily grows Arabica beans and has strict coffee grading standards for any exports. If you're not well-versed in coffee terminology, that may not mean much, so let me explain.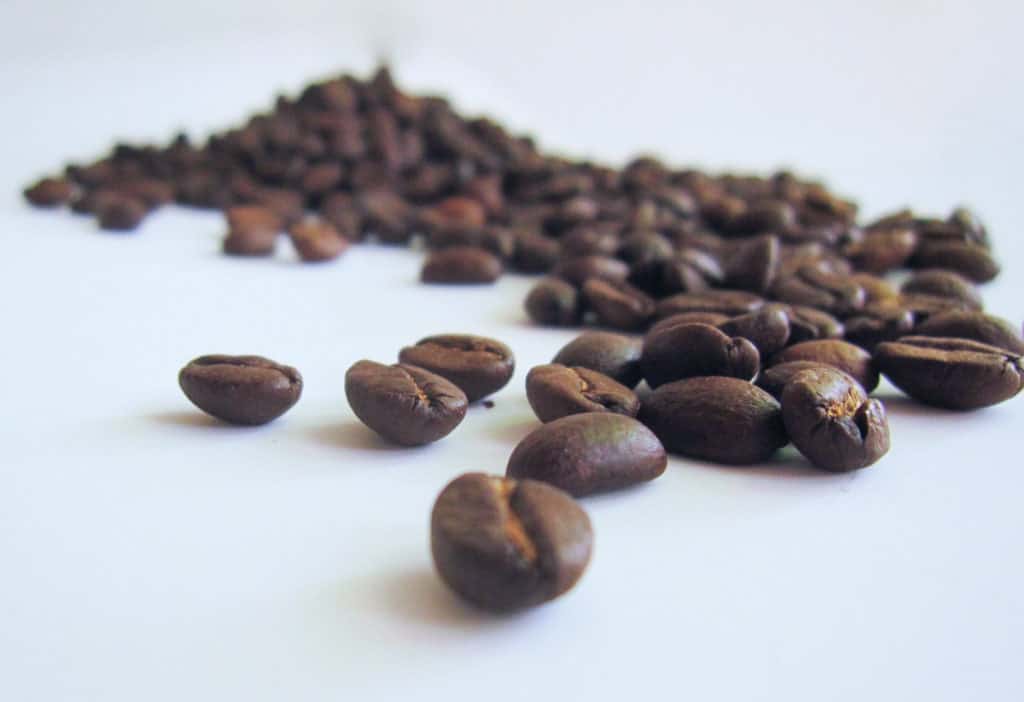 Arabica versus Robusta
There are two main types of coffee plants, arabica, and robusta.
Of the two, robusta is much easier to grow and less susceptible to pests which leads to lower production costs and more yield.
By contrast, arabica requires higher elevations and subtropical climates. It is far more fragile than robusta because it is more susceptible to pests and damage, especially due to cold temperatures or poor handling. This leads to higher costs.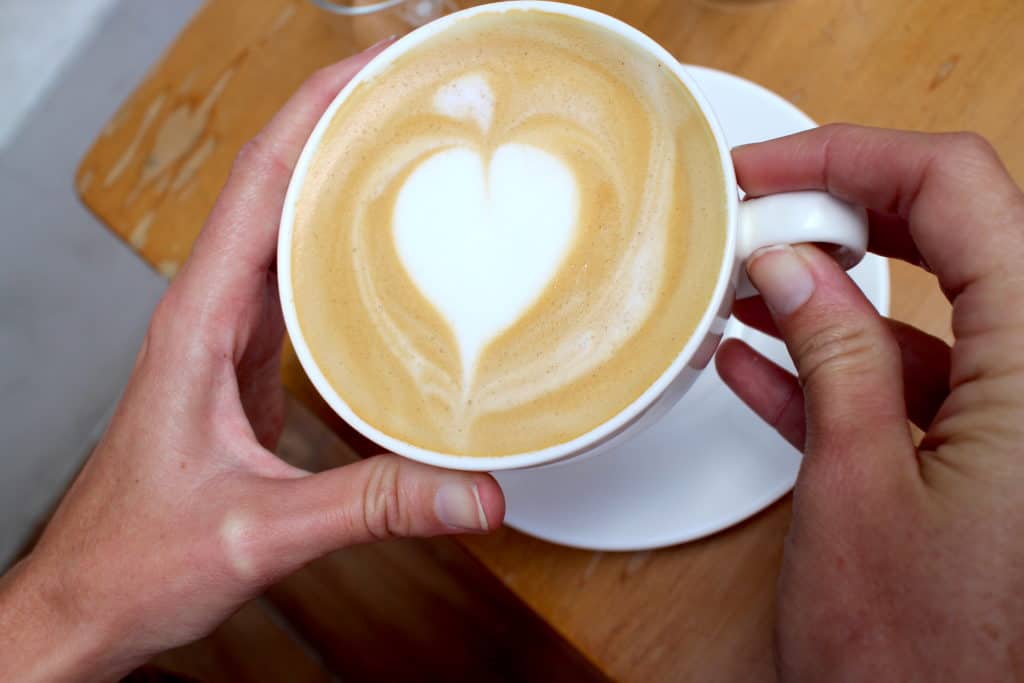 However, the difference in taste is palpable. The higher caffeine count in robusta beans produces a bitter and burnt flavor.
Arabica beans, on the other hand, have more sugar and a higher lipid count which produces a smoother cup.
Guatemalan Coffee Grading Standards
The Associacion Nacional del Cafe (ANACAFE) uses coffee grading systems to ensure that Guatemalan coffee meets high-quality standards.
One of the grading systems simply ranks beans' density and the elevation they were grown at, with the highest rank being "SHB" or Strictly Hard Bean. This information is most important for coffee roasters as it is a factor that plays into the quality of the bean.
Climate, the specific coffee species (referred to as a varietal), soil quality, and other factors also affect the bean.
The second grading system (and more interesting for coffee connoisseurs) ensures that regionally named coffees match normal flavor profiles for the region.
A consumer can confidently expect consistent flavor profiles from regional coffees exported from Guatemala.
What does Guatemalan coffee taste like?
The taste of Guatemalan coffee varies dramatically from region to region. Read on to learn about Guatemala's coffee regions and the taste profile of the coffees from each one.
What are the different Guatemalan coffee regions?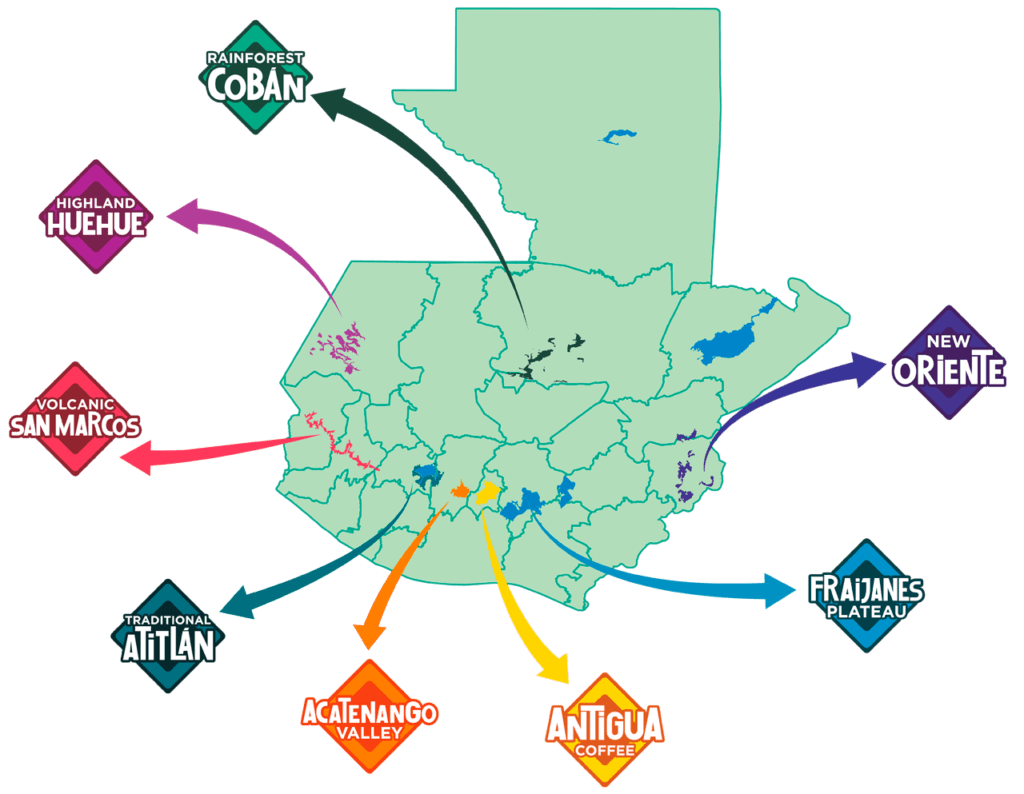 With over 200 microclimates in this small country, the differences in coffee grown from one town to the next can vary dramatically. ANACAFE has defined 8 major coffee-growing regions in the Guatemala.
It's fun to try all the different regions since they can taste so different from each other. My personal favorites are Coban and Traditional Atitlan – I stock up any time I'm visiting! 
Pro Travel Tip: Don't travel without insurance! I recommend SafetyWing Nomad Insurance. It's affordable and super easy to renew if you decide to extend your travels or have flexible plans.
1. Antigua – Guatemalan Coffee Region
Perhaps one of the most well-known regions of Guatemalan coffee, Antigua produces an elegant, sweet, well-balanced cup with a rich aroma.
The delicious flavor of the coffee is thanks to the area's rich volcanic soil, cool nights, and abundant sun.
Volcanic pumice in the soil helps retain moisture, making up for the relatively low rainfall in the area.
The elevation in this region ranges from 5000 – 5600 ft (1,300 to 1,600 meters).
2. Acatenango Valley – Guatemalan Coffee Region
Coffee from Guatemala's Acatenango region has a marked acidity, a balanced body, a fragrant aroma, and a clean lingering finish.
Coffee in this area is grown under shade at elevations as high as 6500 ft (2,000 meters).
Eruptions from the nearby active volcano, Fuego, make the soil rich in minerals. Additionally, oceanic winds and distinct rainy and dry seasons allow the coffee to be sun-dried.
3. Traditional Atitlan – Guatemalan Coffee Region
Coffee from the Atitlán region of Guatemala is described as full-bodied with a bright citrus acidity.
The majority of Atitlan coffee is grown on the slopes of the three volcanoes that surround Lake Atitlan.
Winds that stir up the cold waters of the lake every day (called Xocomil) are an important factor in creating the microclimates these coffee trees grow in.
This coffee is grown at an elevation of 5000 – 5600 ft (1524 – 1700 meters).
4. Fraijanes Plateau – Guatemalan Coffee Region
The Fraijanes Plateau region of Guatemala produces a bright cup of Joe with a defined body. The acidity is evident in the taste.
Defined by high altitudes of 4500 – 6000 ft (1400 to 1800 meters) and one of the most active volcanoes in the country (Pacaya), Fraijanes coffee gets plenty of rain.
Clouds, fog, and morning dew are common but burn off quickly throughout the day enabling sun drying for these beans.
5. Nuevo Oriente – Guatemalan Coffee Region
Coffee from Nuevo Oriente Guatemala is well-balanced and full-bodied with distinct chocolate flavors.
A former volcano range, Nuevo Oriente is rainy and cloudy. Coffee is grown between 4300-5600 feet.
6. Coban Rainforest – Guatemalan Coffee Region
Coffees from Cobán have distinct deep syrupy flavor profiles that are less acidic than those grown in the volcanic regions.
The majority of the coffee cultivated in this region is grown on rolling hills in limestone and clay soils. With cloudy, rainy, and cool temperatures, Coban doesn't have a distinct dry season.
It also has lower elevations of 4300 – 5600 ft (1,300 to 1,500 meters).
7. Huehuetenango Highlands – Guatemalan Coffee Region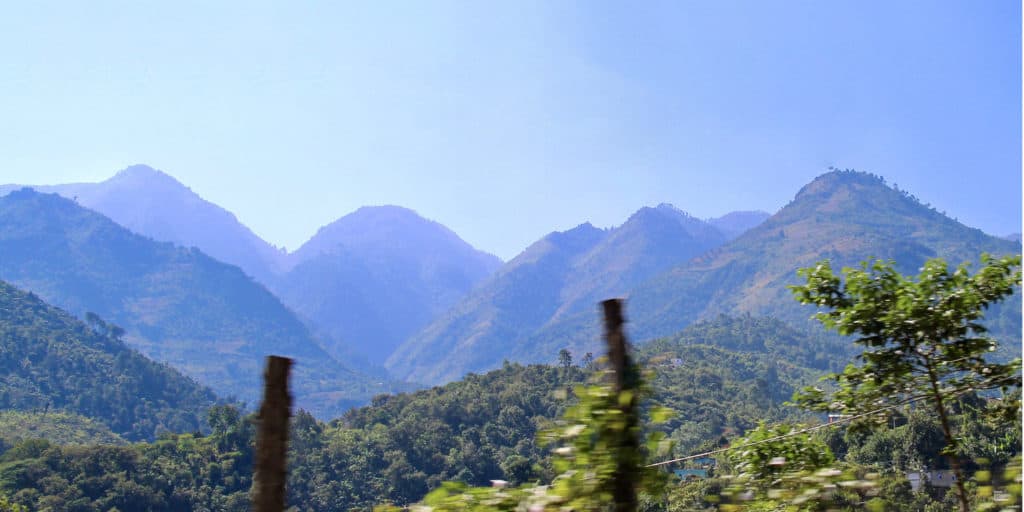 Guatemala's Huehuetenango coffee tends to be more acidic and fruit-forward, with wine notes and a full body.
Huehuetenango is one of three non-volcanic regions in Guatemala and gets hot dry winds from Mexico. These winds protect the area from frost, allowing the coffee to be cultivated as high as 6500 ft (2,000 meters).
8. San Marcos – Guatemalan Coffee Region
San Marcos coffees tend to be floral and delicate with a pronounced acidity.
Both the warmest of the coffee regions and the one with the highest rainfall, coffee grown in San Marcos flowers the earliest.
Coffee beans in this region are not entirely sun-dried but instead are dried naturally and then heated in a Guardiola dryer.
What types of varietals are common for Guatemalan Coffee?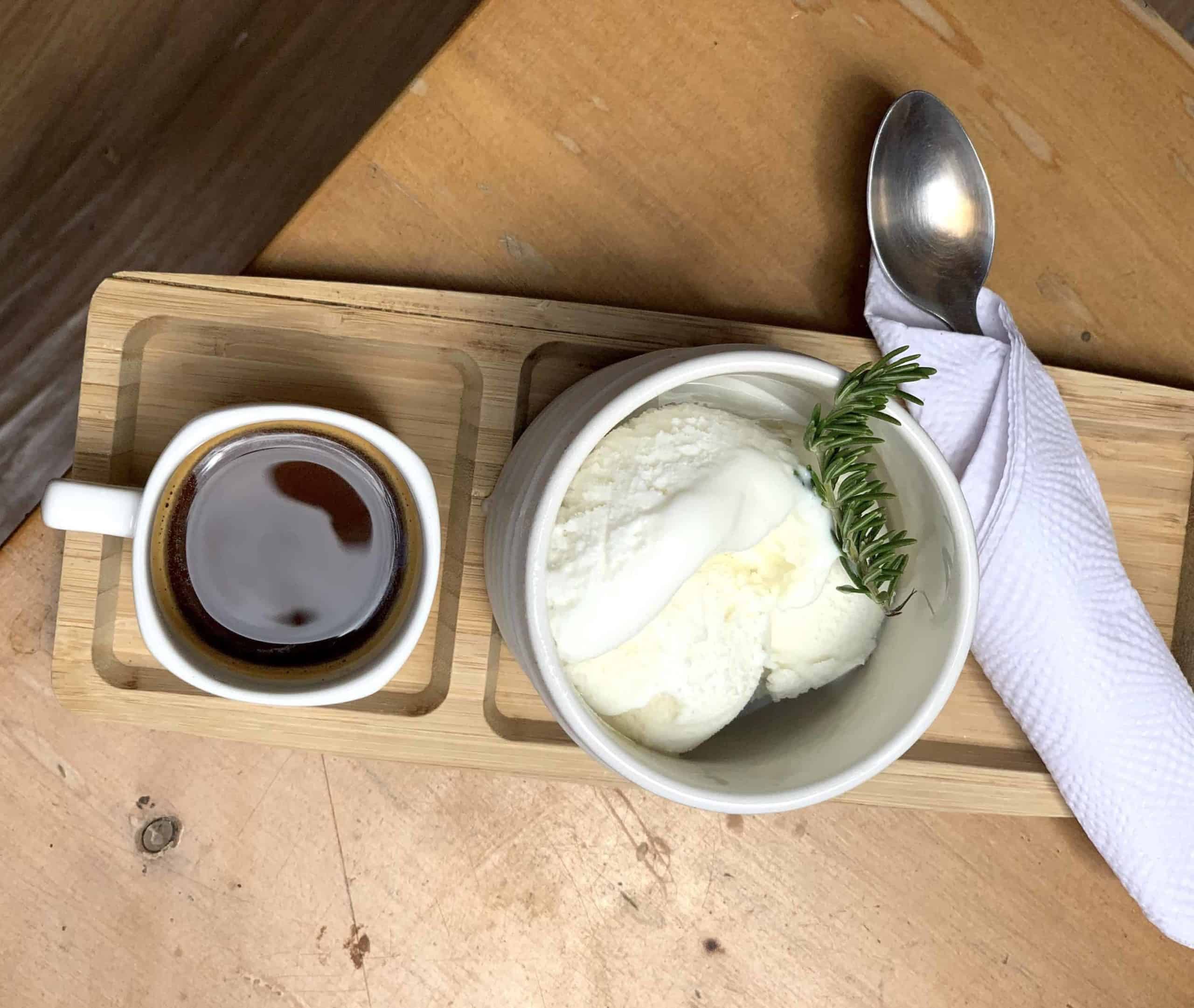 In coffee, the varietal denotes what type of coffee cherry your coffee comes from. Each varietal has different characteristics and affects the flavor profile of the cup.
Some of the more traditional Guatemalan varietals are Bourbon, Catarra, Catuai, and Typica.
More recently the Geisha, Pacamara, and Maracaturra varietals have been introduced.
3 Fabulous Ways to experience coffee in Guatemala
There are many ways to enjoy coffee in Guatemala, whether that means going on a coffee farm tour, signing up for a cupping experience, or enjoying a delicious steamy cappuccino in Guatemala's best coffee shops.
Tip: For a top-notch experience, consider booking one of the 11 best coffee tours in Antigua.
1. Coffee Farm Tours
The process of taking a coffee cherry to a roasted bean ready for brewing into your morning cup of coffee is intricate and has a lot of steps to it. While in Guatemala, it is well worth taking the time to visit one of the many coffee farms and see the process for yourself.
Below are a few places that will allow you to see coffee at all stages of its life-from a young sapling in the plant nursery to a finished drink you can enjoy, with all the different stages in between.
Filadelfia Coffee Tour (Antigua)
Finca Filadelfia is a coffee farm outside of Antigua that has been operating for over 140 years. The farm has 750 acres worth of land, with coffee planted on 250 acres.
Offering a two-hour tour, you're able to see the whole process- from plant to bean, finishing it off with a cup of coffee at the farm's restaurant.
I've personally been on this tour- we got to try the coffee cherry fresh off the plant and drive around in a Unimog, which was a lot of fun.
Tip: Learn more about La Azotea and Finca Filadelfia in this post on the best things to do in Antigua Guatemala.
Finca La Azotea (Antigua)
This farm is 150 years old and offers one hour tours that also explore the way coffee has impacted the culture and the people. A museum on the farm has old machines and tools. It's definitely worth visiting!
Coffee Tour Chicoj (Coban)
This coffee farm, located about 15 minutes outside of Coban, goes through a complete history of coffee's arrival in Guatemala and how the Q'eqchi adopted the production of coffee. Included is a zipline tour above the farm and a man-made laguna.
Sounds like a fun way to explore Guatemala's coffee scene!
Coffee Tour La Voz
If you plan to visit Lake Atitlán, don't miss out on the La Voz coffee tour! This great little tour will take you into the volcanic slopes of Guatemala's Atitlán coffee region, where you'll learn about the growing process.
You'll finish back at the café where you'll learn about processing and drink a cup of their freshly roasted brew.
Learn more in this post about 25 magical things to do in San Juan la Laguna.
2. Visit Local Coffee Shops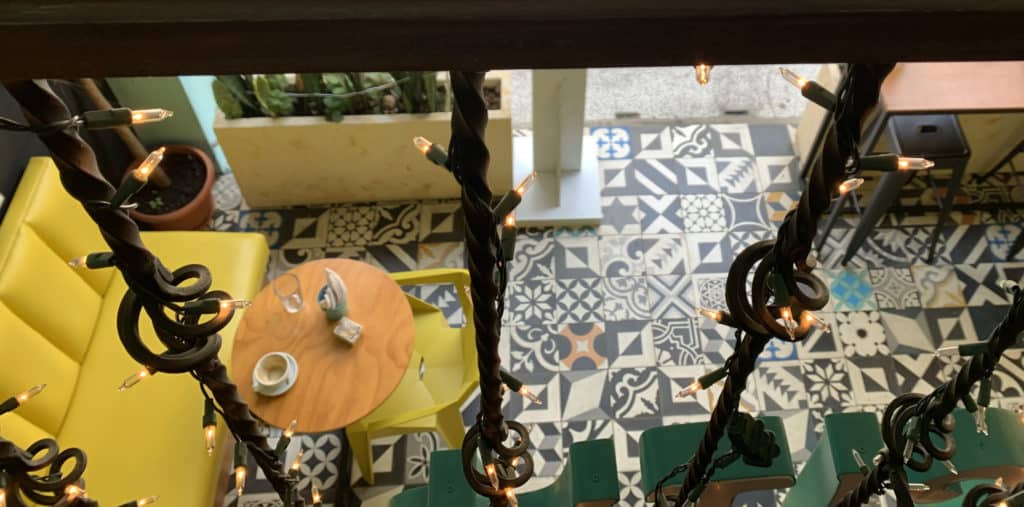 Now that you know more about Guatemalan coffee, it's time to go drink some of this delicious beverage!
Check out these great coffee shops in Antigua, Guatemala City, and Panajachel. Put these on your to-visit list because if you're as much of a coffee fiend as I am, you won't want to miss them.
Best Guatemalan Coffee Shops in Antigua
As befitting the birthplace of the Guatemalan coffee scene, this colonial-style town has tons of wonderful coffee shops. Below are just a few of my favorites, but by no means is this list exhaustive!
Artista De Cafe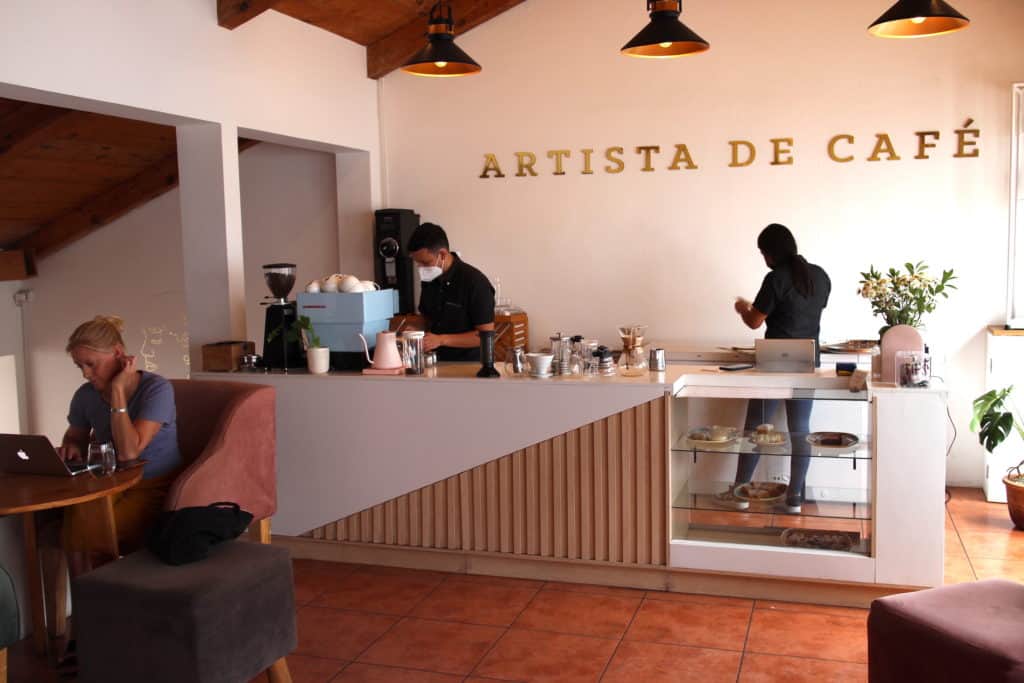 With a minimalist design not seen in most coffee shops in Guatemala, Artista de Cafe has both indoor and outdoor spaces. Walking in off the cobblestone streets feels like entering the modern world.
Featuring single varietal bourbon from Jalapa (that I've added to my list of favorites), Artista de Cafe serves both a delicious cup and a unique atmosphere.
Fernando's Kaffee
Fernando's Kaffee is a pleasant place to take a break from exploring the town of Antigua. Indulge in the "finest legal drugs on Earth" (chocolate and coffee), and cuddle up to the friendly house cat, Misha.
With a desire to "decommodize" coffee, Fernando's seeks to empower local farmers, better the local community, and produce high-quality chocolate and coffee. I would say they've succeeded!
Don't forget to try out some of the free chocolate samples to go with your cappuccino!
The River Coffee House
Seeking to foster community through coffee, The River Coffee House is a mission-minded coffee shop with a bright, friendly atmosphere.
A portion of their resources funds local outreaches that are designed and run by their staff, most of whom are part of a 9-month training program, empowering them to make a difference in Guatemala.
Best Guatemalan Coffee Shops in Guatemala City
These coffee shops located in the bustling capital city are ones I've personally never tried. However, I'm excited to give them a visit on my next trip because they sound fantastic!
Tip: While you're in Guatemala City, check out these amazing things to do in the bustling historic heart of the nation's capital.
Café El Injerto
With a couple of different locations in Guatemala City, Café El Injerto has won the cup of excellence on nine separate occasions.
El Injerto serves single-estate coffee from their coffee farm located in Huehuetenango- also named El Injerto- where they focus on growing the best quality coffee sustainably. This level of specialty is difficult to find and makes the café well worth a visit.
Rojo Cerezo
Well known for its cold brew, Rojo Cerezo (or Red Cherry, like the coffee cherry) rotates its coffee every week, so you can go back again and again and find something new.
Complete with food and pastries, Rojo Cerezo is a popular spot in Guatemala City.
Best Guatemalan Coffee Shops in Panajachel, Lake Atitlán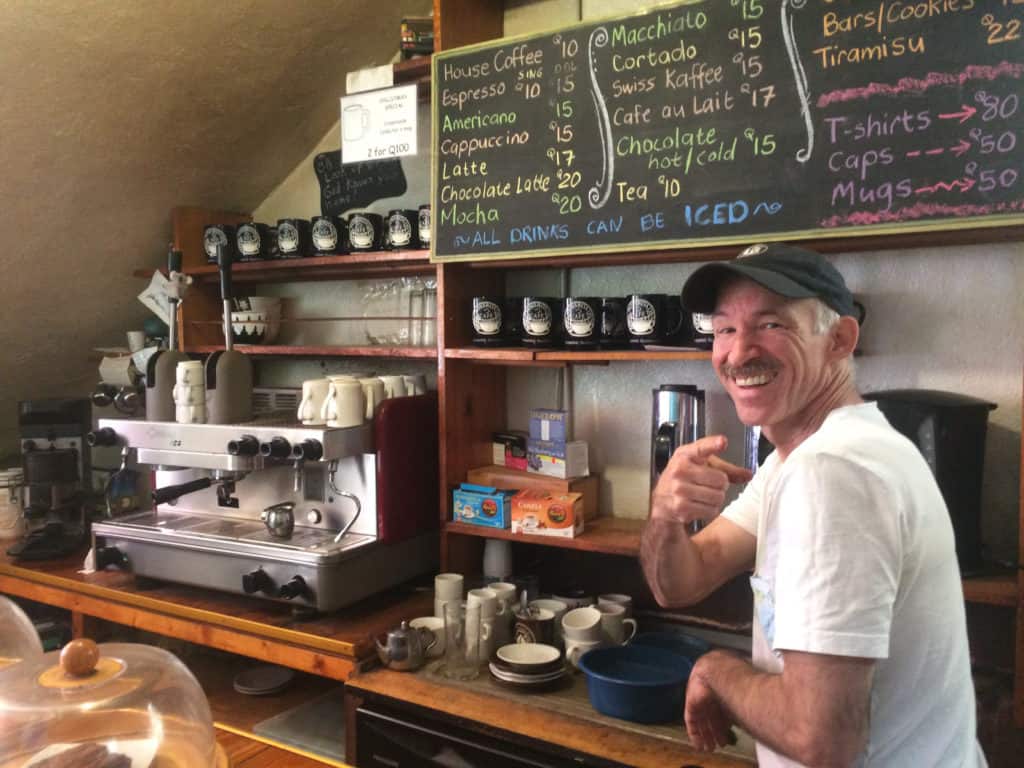 There's much to see and do in Panajachel, from hikes to shops to boat excursions. Whenever I'm in the town I find myself craving a mid-afternoon cappuccino and love sitting down and relaxing for an hour before going back out and adventuring.
Cafe Loco
A Korean coffee shop located on the main street of Santander, Cafe Loco is passionate about coffee. With multiple different brew methods available there's something for every type of coffee lover to enjoy.
Crossroads Cafe
Crossroads Cafe is a locally owned coffee shop that's been a staple in the community since 2000. All the coffee is roasted in-house and sourced from farms all around Lake Atitlan.
With an eclectic but warm atmosphere, Crossroads is a good place to go and take a break from shopping around Santander, and maybe even enjoy a homemade pastry.
Tip: Enjoying Lake Atitlán? Why not visit Santa Cruz la Laguna, just a short boat-ride away from Panajachel.
3. Try out coffee cupping
The third way to enjoy coffee in Guatemala is to take a cupping class. during this experience, you'll learn how to properly taste and identify flavor notes in various Guatemalan coffees.
You can request a coffee cupping experience at Crossroads Café Panajachel.
History of Guatemalan Coffee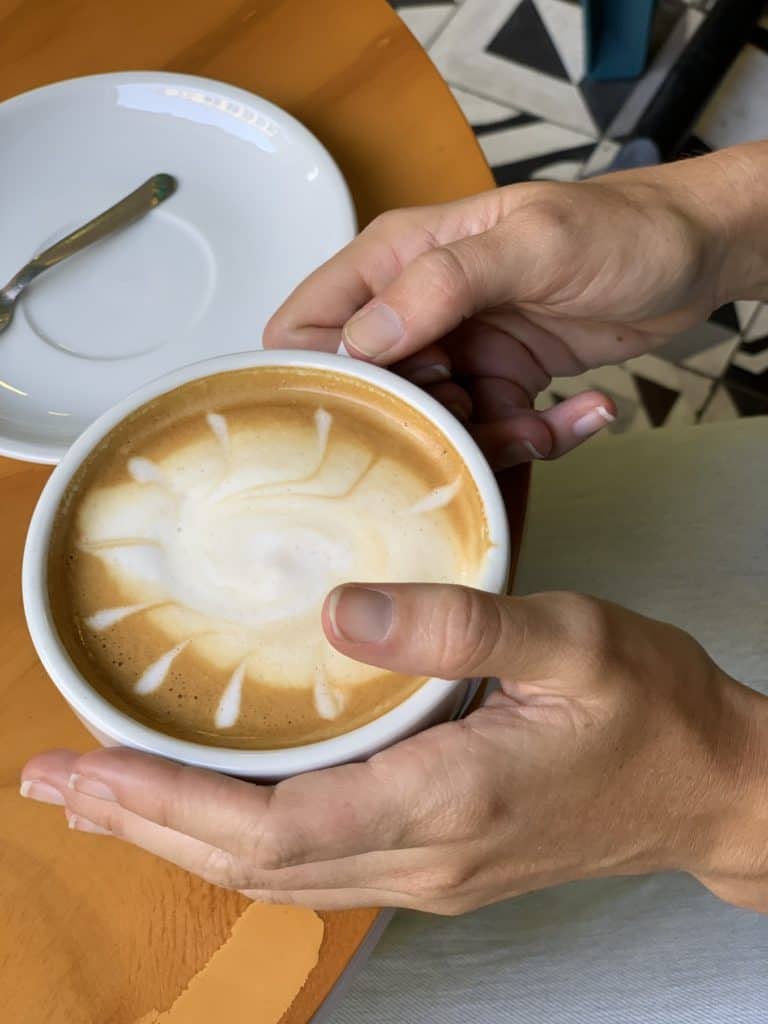 How did such a small country become a top exporter of gourmet coffee in the world?
Thank the Jesuit priests!
Coffee trees were originally brought to Guatemala as ornamental plants for a Jesuit convent in Antigua, possible one named "Compañía de Jesus." (Which you can still visit today!)
Synthetic dyes trigger Guatemalan coffee production
The coffee industry truly began in the 1800s. At that time, Guatemala was a main producer of cochineal and indigo, both of which are used in natural dye production. (Which you can learn about in San Juan la Laguna Guatemala). But with the emergence of synthetic dyes, Guatemala's main exports took a hit.
In response, the Guatemalan government began incentivizing the production of coffee. They offered tax exemptions and monetary prizes for meeting different production quotas.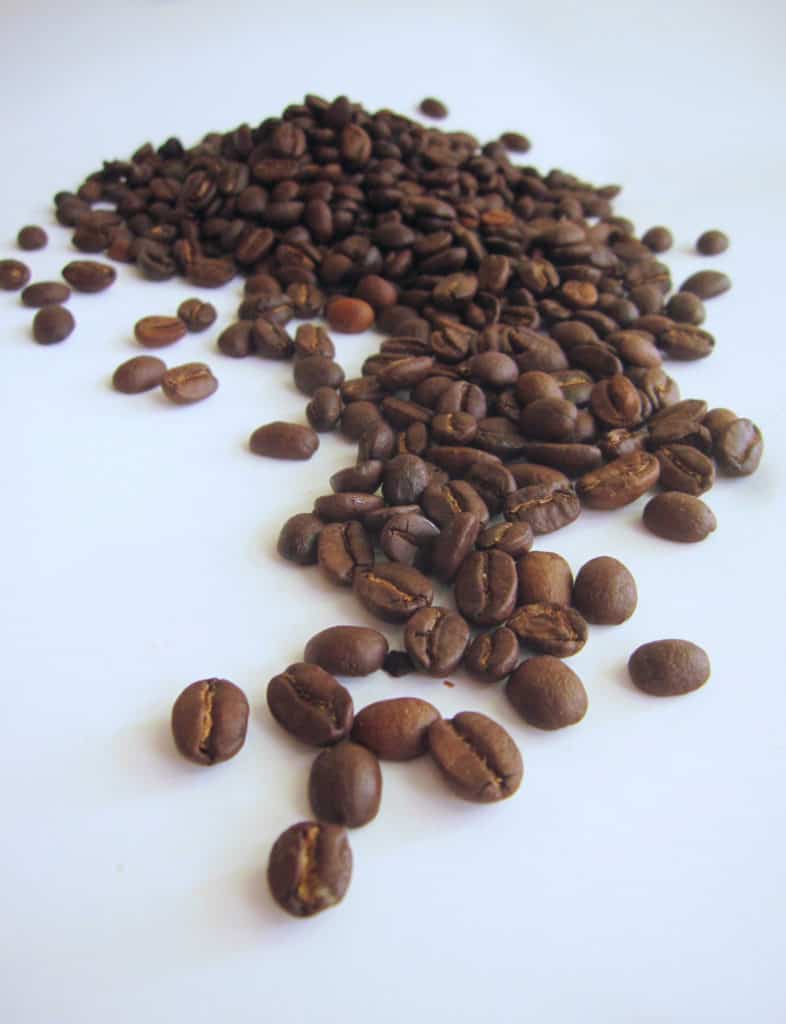 German coffee producers in Guatemala
Initially, coffee plantations were primarily owned by German immigrants, who controlled approximately 60% of the trade.
Some of the original coffee producers remain, such as Dieseldorff Kaffee, founded in 1888.
The coffee trade linked many small isolated communities such as Alta Verapaz. The majority of the labor was done by the indigenous populations, many of whom have passed knowledge down to each new generation.
Guatemala is one of the top ten coffee producers in the world
By the 1880s, coffee was Guatemala's main export and has remained one of the top economic drivers ever since. Guatemala is among the top ten countries producing coffee in the world.
In 2022, Guatemala produced approximately 449,743,000 pounds of coffee beans.
Present day shift to coffee farmer cooperatives
Today, instead of a few large farms owned by a few major producers, thousands of small coffee farms owned by former laborers are becoming commonplace.
Guatemalan Coffee FAQS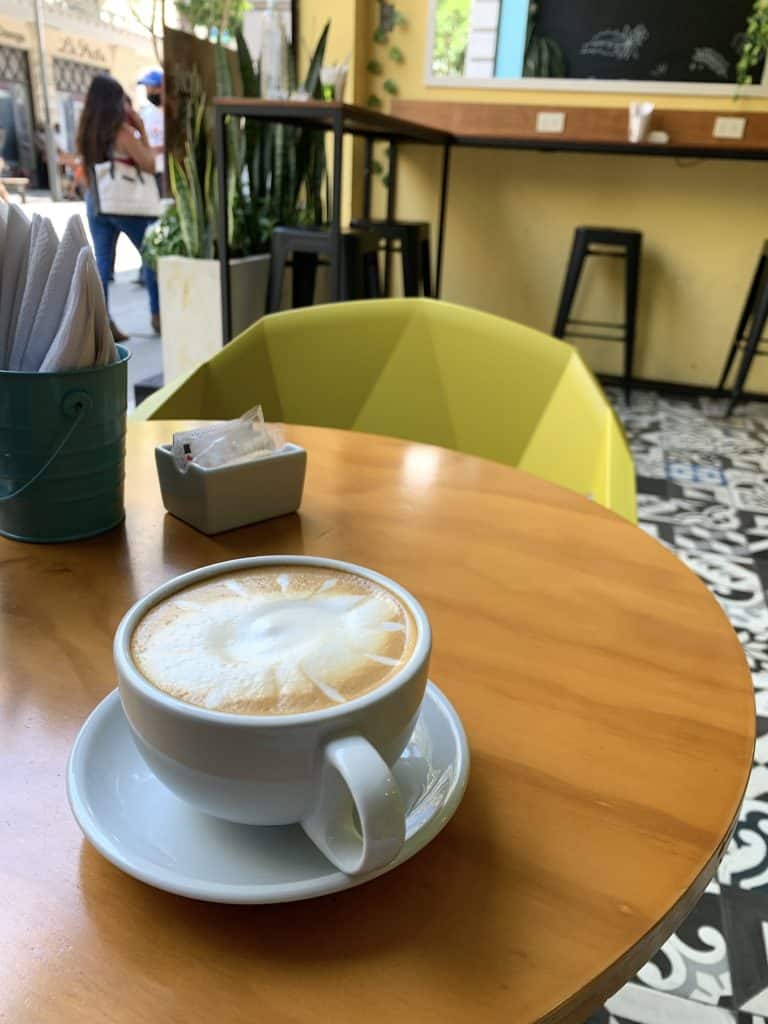 Learn more about Guatemalan coffee with these answers to your frequently asked questions.
What is special about Guatemalan coffee?
With so many microclimates, there's going to be a huge variety in flavor- even from one farm to the next. This means there's always something new to try. Plus, the beans grown are primarily arabica and are sweet, full-bodied and have lots of chocolate notes.
What type of coffee is Guatemalan coffee?
Guatemalan coffee is arabica, and numerous varietals are grown in the country. The most common are Typica, Catuai, Caturra, and Bourbon.
Is Guatemalan coffee high in caffeine?
Because it's arabica, Guatemalan coffee isn't going to have the highest caffeine content. However caffeine content largely depends on your brew method. The longer it takes for a cup of coffee to brew, the more caffeine content will be extracted! (i.e. cold brew has significantly more caffeine than drip coffee, which has more caffeine than espresso).
Is Guatemalan coffee stronger?
It has the potential to be!
"Strength" is a highly objective term in the coffee world and narrows down to brew method and preference.
I've had some deliciously light cups of Guatemalan coffee with floral notes and delicate berry flavors, and I've had some much richer, syrupy cups with bold notes.
Not a big fan of the way your coffee was brewed? Try a different brew method or another coffee shop!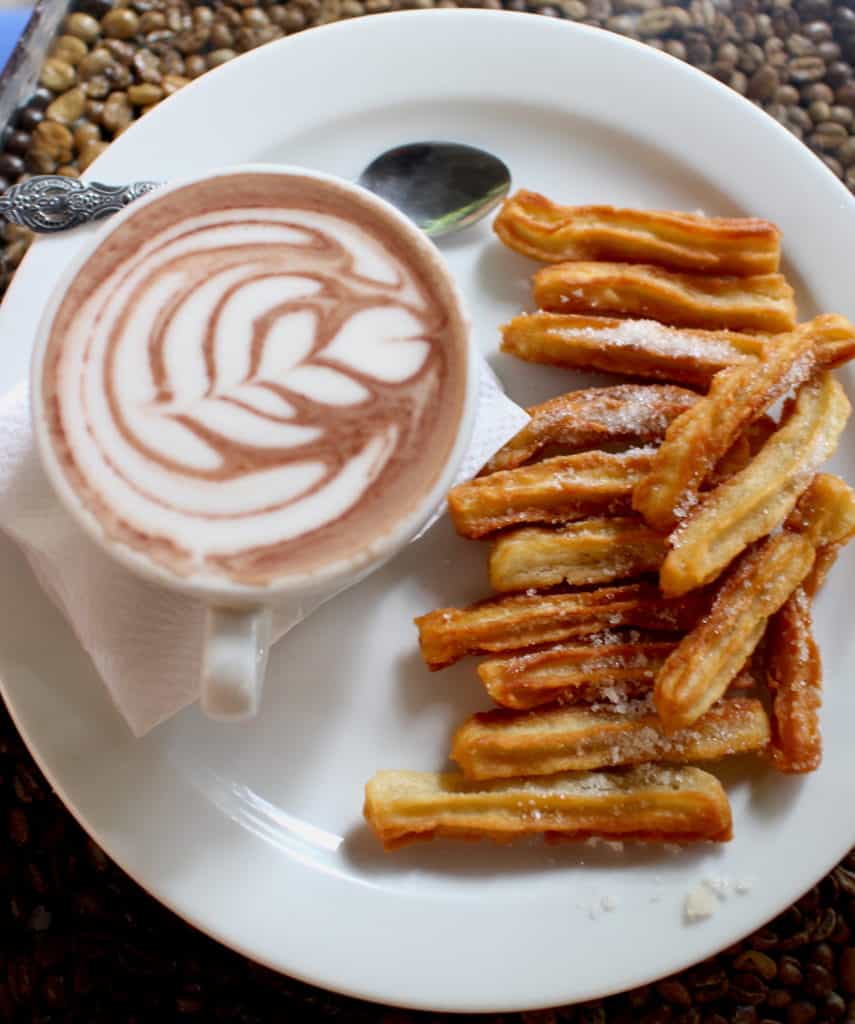 Is Guatemalan coffee bitter?
It shouldn't be! Your cup of Joe should be smooth and slightly sweet. If it's bitter, it was brewed or roasted incorrectly.
How is coffee processed in Guatemala?
Most Guatemalan coffee is washed. The coffee cherries are put into a large milling machine that crushes the cherry, separating the pulp and mucilage from the seeds.
The seeds are then fermented for 24 hours or less, then washed one more time. Finally, they are sun-dried.
Guatemalan Coffee: Final Thoughts
I love Guatemalan coffee, and I'm guessing you will too. It's complex, delicious, and chocolatey! Be sure to make coffee a big part of your trip to this gorgeous Central American Country. With so many quality coffee shops there's something new to try on every visit. If you love coffee, Guatemala is an amazing destination.
Want to learn even more about coffee (and have fun and drink caffeine)? Check out these 12 Best Coffee Tours Antigua Guatemala Has to Offer.
About the Author
Val McArthur is a communications specialist currently living on the island of Maui. She grew up in Guatemala where she developed a taste for high-quality coffee, the outdoors, and multi-cultural experiences.
***GUATEMALA TRAVEL PLANNING GUIDE***

Should I buy Guatemala travel insurance?
YES — Personally, I always travel with travel insurance because it gives me extra peace of mind. SafetyWing is an excellent travel insurance company that's quite affordable. Plus, if you travel longterm, it's a snap to renew on a month to month basis. You can keep renewing for up to a year and still pay the same deductible.

Where's the best place for finding cheap flights to Guatemala?
When I purchase a ticket, I always search several different sites. Kayak and Expedia are great places to start running a search. Spirit is usually the cheapest carrier, but American Airlines and United also sometimes offer excellent deals.

What's the best way to book my Guatemala accommodations?
I recommend booking.com for finding and booking hotels in Guatemala. For vacation rentals, I recommend VRBO.com — it offers beautiful and unique spots to stay.

What's the best way to book Guatemala tours?
Viator is a great tour booking site with several excellent options available in Guatemala's main tourist areas including Tikal, Atitlán, Antigua, and Acatenango. There's a nice range of prices and options available.

Can you drink the water in Guatemala?
No – Don't drink the tap water! Instead, buy purified water from any corner store or grocery store in Guatemala.

Be sure to brush your teeth with that water as well to avoid getting sick. And hydrated, especially when traveling to high elevations.

Do I need a visa for Guatemala?
Probably not — Visitors to Guatemala from "Category A" countries like the United States, Canada, the UK, New Zealand, Australia, and most European countries are automatically given a 90-day tourist visa (in the form of a passport stamp) when entering Guatemala.

This visa is valid for Guatemala, Nicaragua, Honduras, and El Salvador. At the end of 90 days, it can be renewed once at Guatemala's Migración without leaving the country.

After 180 days, you will have to travel outside of Central America before returning. Check to see if you need a visa.

Will my phone work in Guatemala?
It's possible, but check with your provider in advance to see if Guatemala is covered. If not, you can easily pick up a local SIM card.

There are essentially only two carriers in the country: TIGO and CLARO. Both have good coverage.