29 Fantastic Things to do in Antigua Guatemala
Step into ancient ruins, wander cobblestone streets, drink coffee in tranquil courtyards and delight your palate with the scents and flavors of Mesoamerica. Welcome to Antigua Guatemala, the former capital of colonial-era Guatemala.
The city is a mixture of old convents and ruins (battered by earthquakes and centuries), garden cafés, artisan markets, restaurants, hostels, and upscale hotels.
It is touristy, charming, and beautiful. I love revisiting old favorite places as well as discovering new ones to add to my "next time I'm in Antigua" bucket list.
Whether you've never been to this gorgeous colonial town, or are looking for a few new spots to check out, this list should help! Here are 29 fantastic things to do in Antigua Guatemala.
This page contains several affiliate links, so if you make a purchase or book a tour through those links, I'll earn a small commission (at no extra cost to you). Learn more in my disclaimer.
Table of Contents
Cultural Things to Do in Antigua Guatemala
Fun Things to Do in Antigua Guatemala
Tasty Things to Do in Antigua Guatemala
Fascinating Things to Do in Antigua Guatemala
Cheap Things to Do in Antigua Guatemala
Romantic/Relaxing Things to Do in Antigua Guatemala
How to get to Antigua Guatemala
How many days to spend in Antigua
Is Antigua Guatemala safe?
Conclusion
Cultural Things to do in Antigua Guatemala
Antigua Guatemala is bursting at the seams with history, colorful fabrics, traditions, food, music, and legends. Here are my favorite cultural things to do in Antigua Guatemala.
1. Visit La Merced
One of the best cultural things to do in Antigua Guatemala is to visit La Merced church. The ornate baroque facade is one of the city's main points of interest, and the stalls in the adjacent gardens offer all manner of delicious typical food. Go on a Saturday or Sunday for the largest selection and try a variety of snacks and drinks, such as "atol de elote" (a sweet creamy corn drink) or a crunchy "tostada con guacamole." I also love "chiles rellenos" and "chuchitos".
Be sure to check out the bust of Dominican Friar Bartolomé de las Casas a famous social reformer and historian and the first "Protector of the Indians" in Guatemala.
For even more on the history of this church and convent/monastery, go on the guided tour of the ruins of La Merced. While you're there, you can see the largest fountain in Central America.
A few facts about La Merced
La Merced was built around 1541 and was originally nothing more than a straw-roofed temple.
La Merced belonged to a group of Mercedarian Friars (The Order of Mercy). They were the first order to establish a monastery in Guatemala. It was located in the city of Almolonga (Current Cuidad Vieja) but the city and the monastery were destroyed by a landslide. Eventually, they were given a plot of land on the outskirts of the city of Santiago de Caballeros (present-day Antigua) where they built their monastery and church.
In 1561, La Merced was enlarged, and the facade made more ornate, possibly to encourage the parishioners to contribute funds for illumination. (At the time the church and monastery were a remote location).
Source: Guía de Antigua Guatemala, Second Edition, Sociedad de Geografía e Historia De Guatemala
2. Explore the ruins of Convento las Capuchinas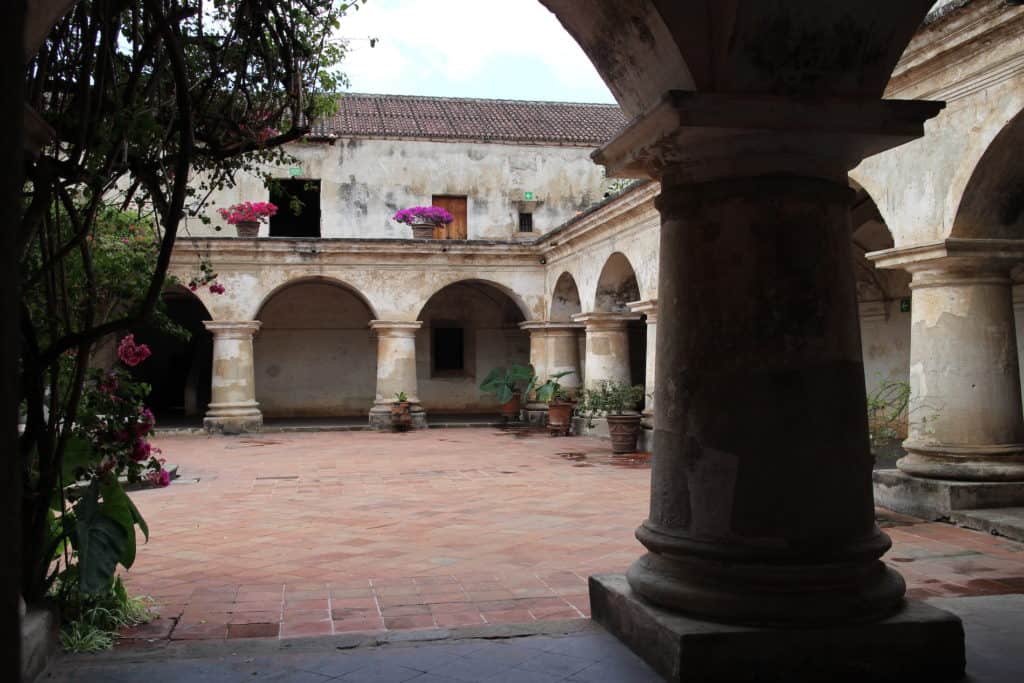 Convento Las Capuchinas is one of the largest and most well-preserved ruins in Antigua Guatemala, and one of the most interesting.
One of its most unusual features, which writers from the historical society call "a rare and daring construction", is the "Tower of Retreat". It rises two stories tall, the thick columns of the ground floor supporting the circular courtyard of the upper story. Eighteen small cells line the outer ring of the tower, each with its own bathroom and small living area with a bed and desk.
Historians claim that this may be the first apartment building on the continent.
There was even running water on the upper story of the convent.
Another interesting feature is a basement room where nuns gathered to sing. Pipes carried their songs throughout the entire convent. That would have been cool to hear!
Convento Capuchinas (whose full name is Church of Our Lady of Zaragosa" was founded by the Capuchin order in 1736, with space for twenty-five nuns. The nuns who founded it were housed in the Convento de Santa Teresa until Las Capuchinas was ready for them. Then, they were transferred there in the middle of the night in order to "not make a fuss."
It's a beautiful place, with its arches, gardens and terraces. I also love singing with friends in the basement "echo chamber".
Source: Guía de Antigua Guatemala, Second Edition, Sociedad de Geografía e Historia De Guatemala
3. Tour and Sample the wares at Chocolate Antigua in San Juan del Obispo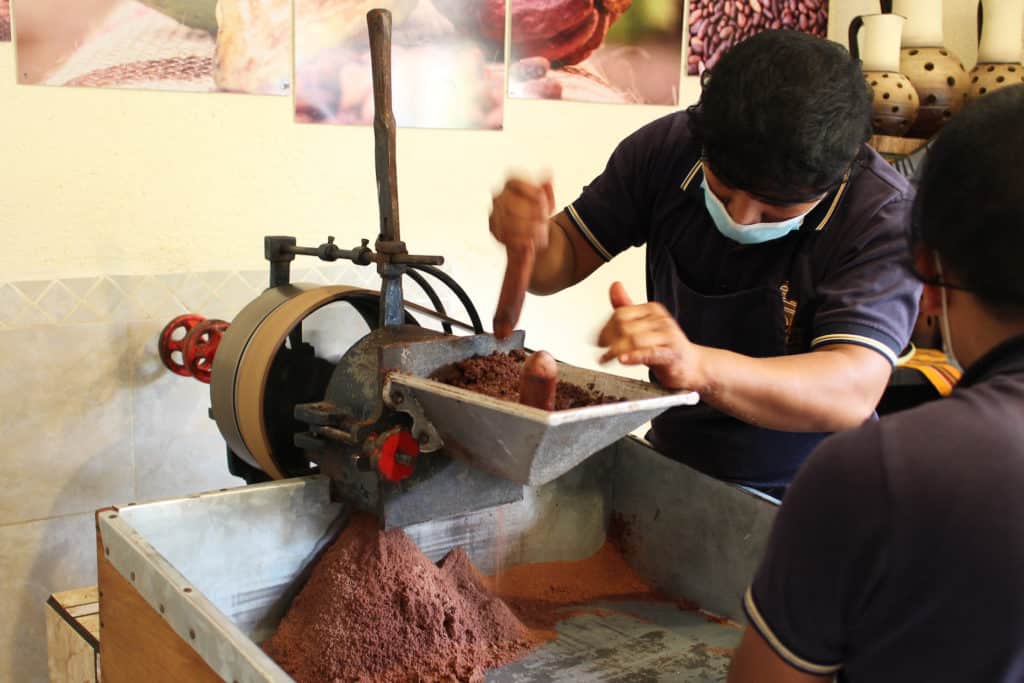 Another great cultural thing to do in Antigua Guatemala is to visit Chocolate Antigua.
This artisan chocolate factory is actually located a short drive from Antigua proper, in San Juan del Obispo. They offer a free tour, showing visitors how they make traditional Guatemalan drinking chocolate.
During the tour, your guide explains how cacao grows, then demonstrates how they roast cacao at Chocolate Antigua, husk it, grind it with sugar and different seasonings, then form it into disks on a "petate" mat made of palm leaves. The end result is fabulous Guatemalan drinking chocolate with a deep rich flavor. It is so much better than Nestle's plain old cocoa powder with sugar and milk. I need to go back soon to stock up!
Hours: Chocolate Antigua is open from 7 am to 5 pm daily.
Telephone: +502 7830-6801
Location: On the left as you drive in to San Juan el Obispo
4. Shop at the Mercado de Artesanías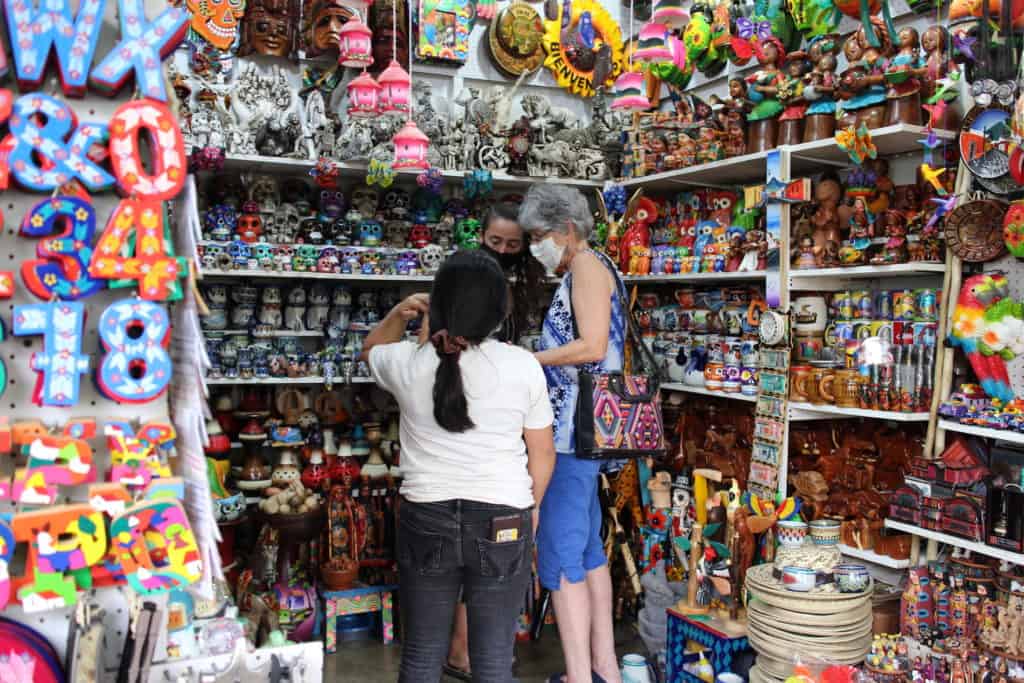 Another great thing to do in Antigua Guatemala is to shop for handicrafts.
Mercado de Artesanías
The largest handicraft market is the Mercado de Artesanía. Vendors bring in wares from all over Guatemala including wooden puzzle boxes from Santiago Atitlán, pottery from San Antonio Palopó, textiles, resin sculptures, table runners, T-shirts, and more.
Hours: The Mercado de Artesanías is open from 9 am to 6 pm daily.
Location: 4a Calle Poniente and Alameda de Santa Lucía, behind Pollo Campero
Nim P'ot
Nim P'ot is a large store located on the Calle del Arco. Its name in Kaqchikel means "Big Güipil." A güipil is the traditional blouse worn by indigenous women.
Nim P'ot has a large selection of handicraft items for sale including blown glass from Zunil, amazing Ixcacao Chocolate bars, and a large selection of traditional clothing. It's worth visiting just to see their display of clothes from different towns in Guatemala.
They also have a corner dedicated to used books, if you want to pick up reading material. You might find me there.
Hours: Nim P'ot is open from 9 am to 9 pm daily.
Location: Partway down the Calle del Arco
Mercado de Artesanías El Carmen
The Mercado de Artesanías El Carmen is much smaller than the main Mercado de Artesanías, but still fun to peruse. They have a large selection of textiles, jade jewelry, and t-shirts.
While you're there, be sure to check out the facade of the adjacent "Church of Our Lady of Carmen." The church dates back to 1638, and like most of the other buildings in Antigua, suffered damage from earthquakes. The beautiful facade with its delicate filigree stucco was finished in 1728.
Hours: This market is open from 9 am to 6:30 pm daily. On weekends, it spills out onto the 3ra Avenida Norte in a colorful sidewalk sale.
Location: Corner of 3ra Avenida Norte and 3a Avenida Oriente
Snag the best deals by downloading my bargaining guide, just fill out the form below and it'll be in your inbox shortly.
Fun things to do in Antigua Guatemala
Antigua isn't all ancient history, it also has a popping nightlife, a variety of classes, and nearby attractions to explore (or eat your way through). Because, let's be honest, eating is pretty darn fun if you ask me.
5. Take a salsa dancing class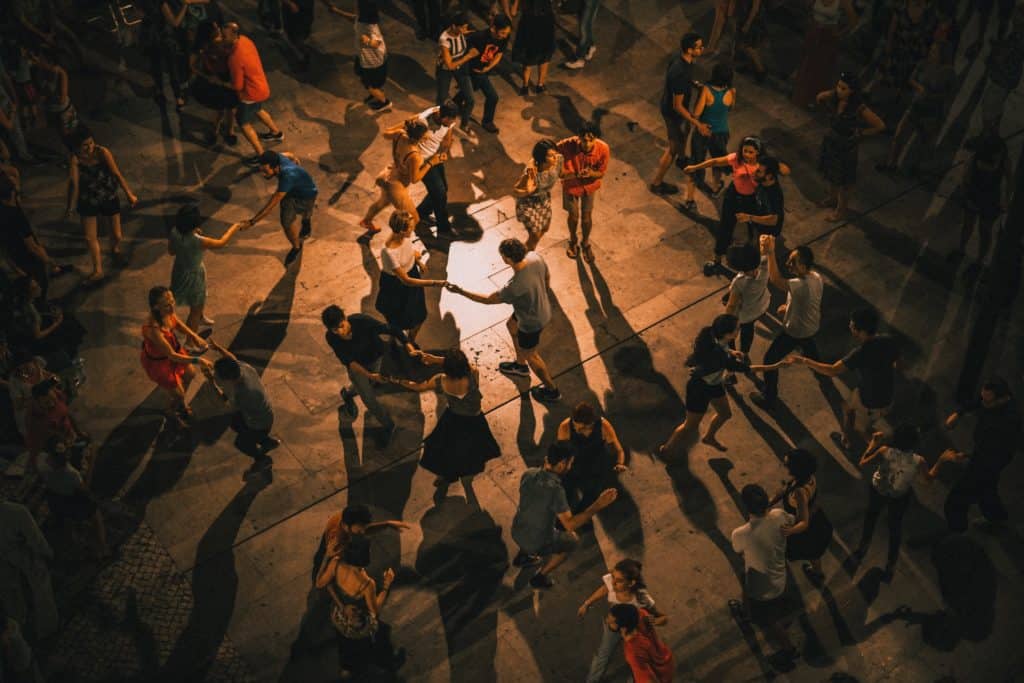 One of the fun things you can do in Antigua Guatemala is take a salsa dancing class. I did this with a friend several years ago. We took an hour of class and did our best to get into a salsa groove. Our instructor was patient, and encouraging, and did a great job explaining things well. Once you feel ready, you can head out on the town and practice at one of salsa nights hosted by a local bar or restaurant.
There are a ton of places to choose from when it comes to taking salsa classes in Antigua. Here are a couple of options to get you started:
New Sensations Dance Studio
One of the most famous places to get a salsa dance class is with Nancy Guidel at New Sensations Studio. She's taught several celebrities how to salsa.
Location: 7a Avenida Sur 12, Antigua
Whatsapp: +502 5667 6144
Salsa con Gloria Dance Academy
Gloria has amazing reviews and is sure to be a great choice for you as well.
Location: 7a Avenida Norte 11A
Whatsapp: +502 4258-9746
6. Antigua Photo Walk Tour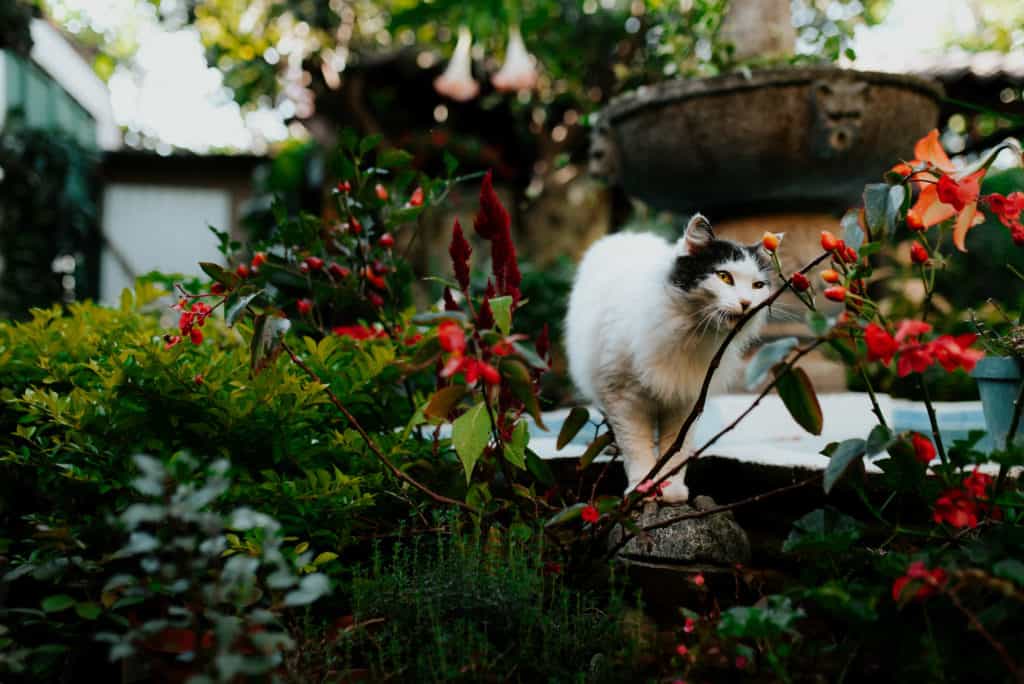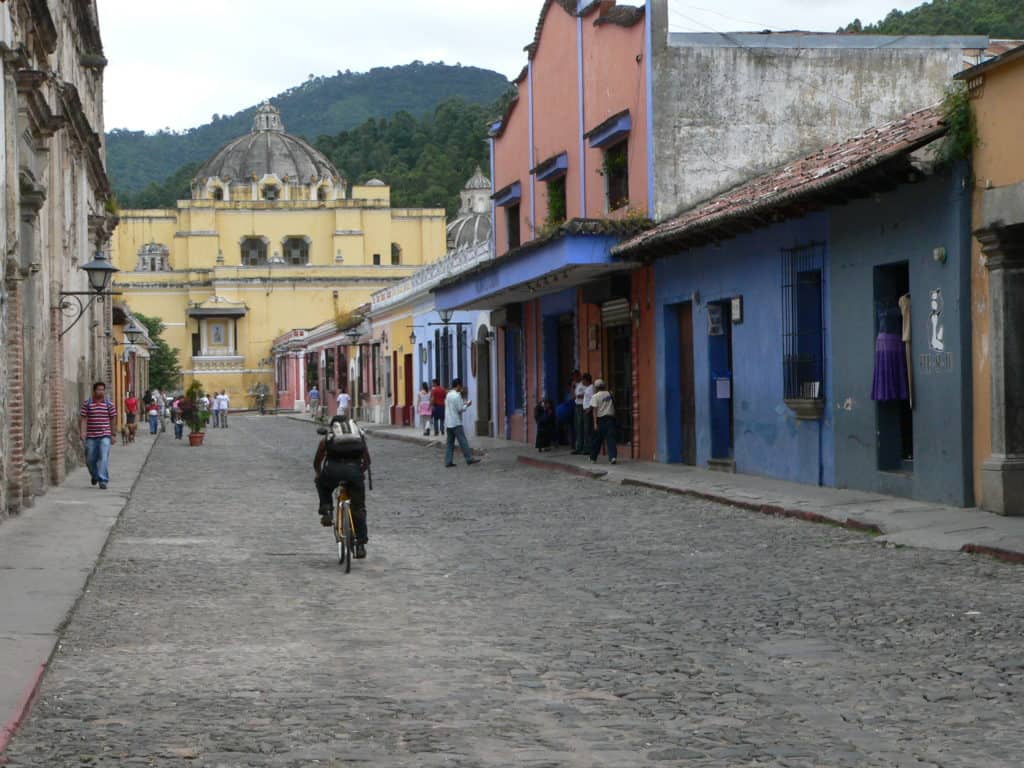 One of the best tours I've taken in Antigua was the Antigua Photo Walk with Rudy Girón. This is a fun walking tour designed to get you out and about in the streets of Antigua capturing great street photography shots. It was especially fun for me to have permission to be a tourist and take pictures all over the city.
Rudy is personable, knowledgeable, and full of great suggestions on photography techniques to try. During the tour, you'll walk around the streets of Antigua taking different pictures of people, buildings, old stone streets, and the colors and textures of life in this Spanish colonial town.
7. Visit Hobbitenango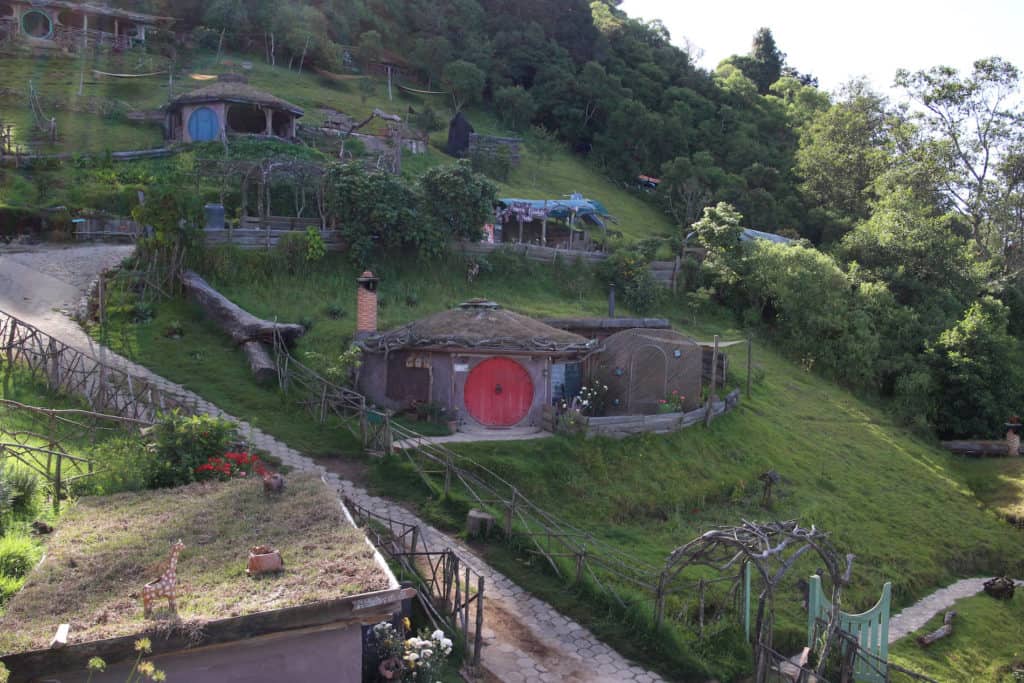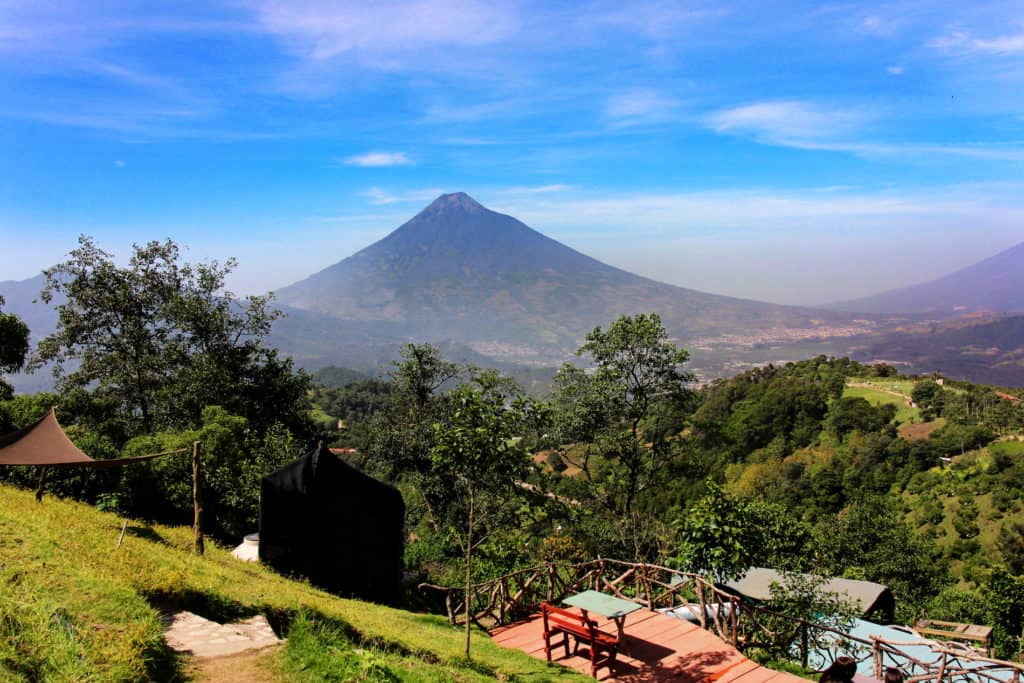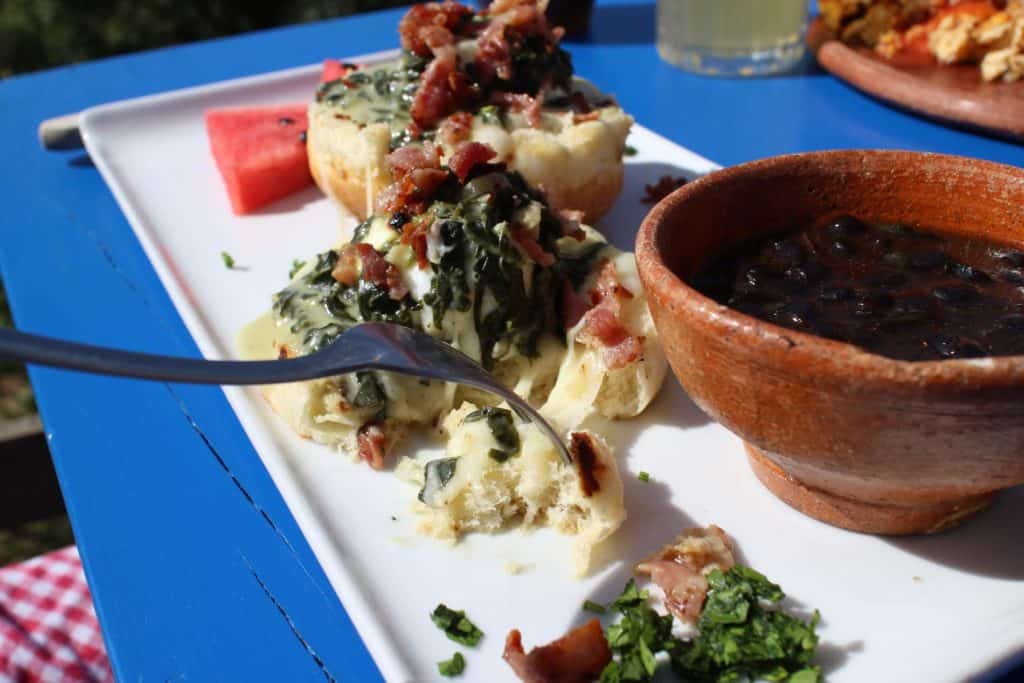 If you'd like to get out of town for a little while and see some of the sweeping panoramas available from the mountains surrounding Antigua, there are quite a few to choose from.
One of the most whimsical spots is Hobbitenango. In Guatemalan nomenclature, "tenango" often means "place of", and Hobbitenenango is all about hobbit holes. This themed property also features amazing views of the volcanoes, plus tasty food.
Hobbitenango is a fun spot to go as a family or with a group of friends. The entrance fee costs Q50 per adult and Q30 per child and includes round-trip transportation from Antigua, archery, ax and machete throwing, fair-style games, mini-golf, access to the nature trails, and as many turns as you want on the giant swing.
On the weekends the restaurant offers an all-you-can-eat buffet.
Hours:
Open Monday through Friday from 8 a.m. to 6 p.m.
Saturday to Sunday from 8 a.m. to 8 p.m.
Hobbitenango has an Antigua shuttle service.
Antigua Office Location: 3a Avenida Norte #20A
Whatsapp for reserving a spot on the shuttle: +502 3090-8812
8. Head to Alta Mira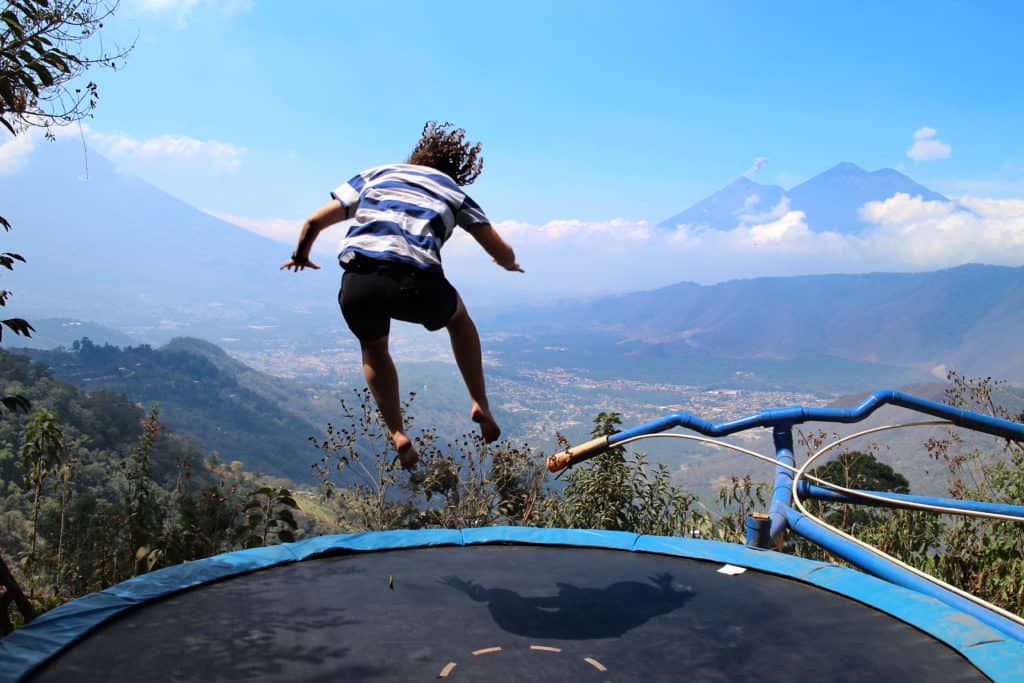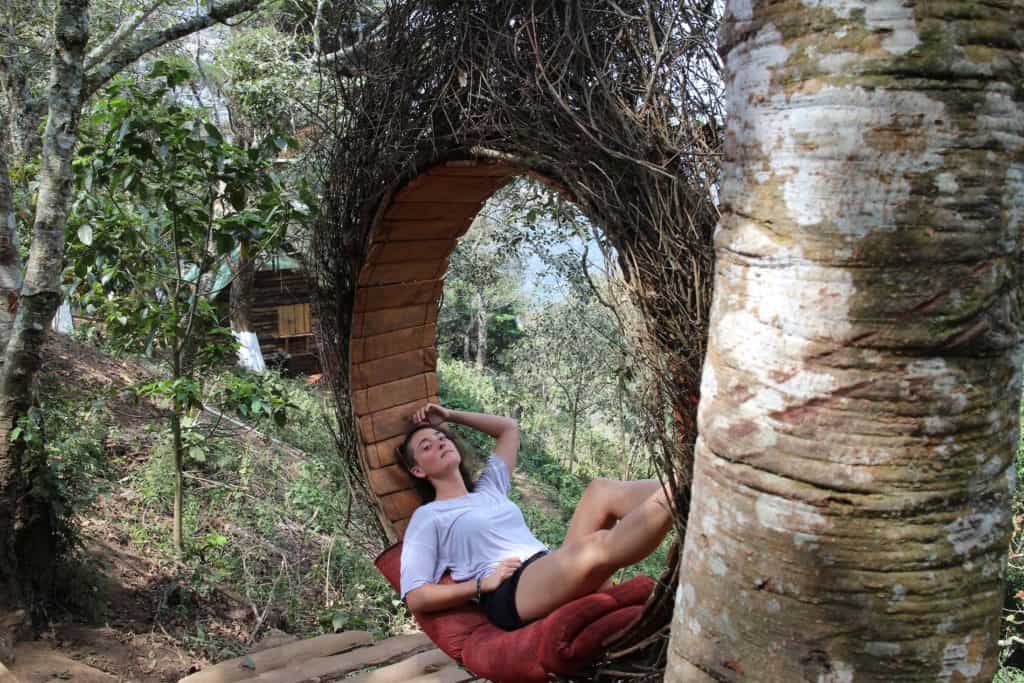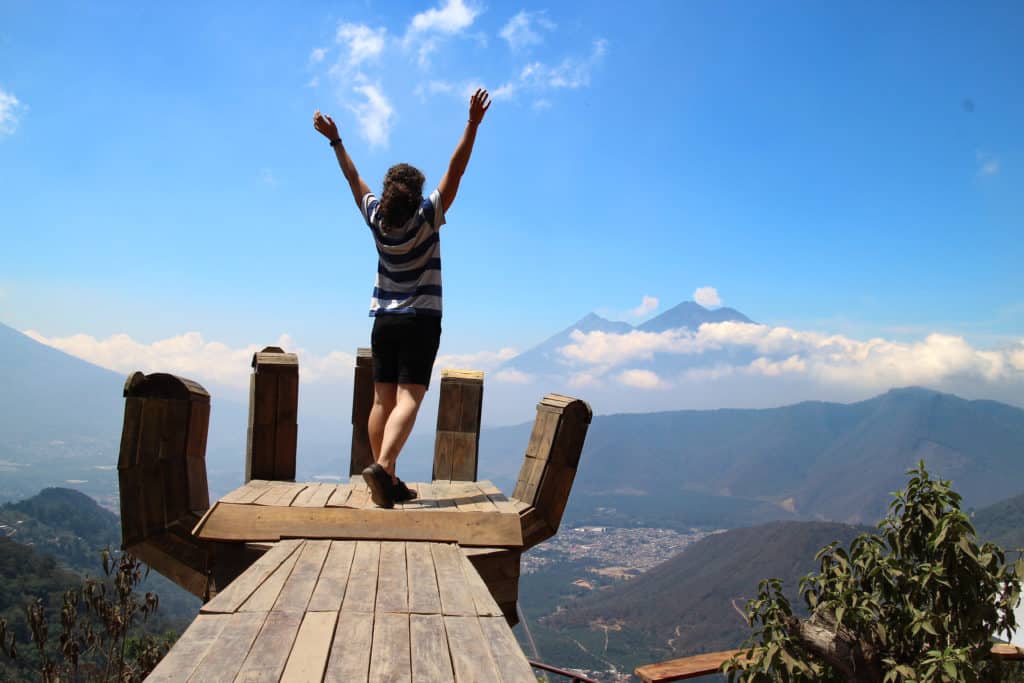 Another place above Antigua that is fun to visit is Alta Mira. My mom, sister, and I had a blast jumping on the trampoline there and taking pictures of ourselves on the giant hand or in the hanging basket. We also attempted to play mini-golf, but the course had too many defects to make playing viable. I also tried out their climbing wall, which I enjoyed.
They also have a restaurant and campground.
Hours: Monday to Sunday from 8:00 a.m. to 5:00 p.m.
Telephone: +502 4785-3937
Prices: Q25 entrance fee per person (may not be up to date)
Location: Aldea el Hato, Vuelta Grande Zona 1, calle al Mirador lote 11-A Antigua Guatemala, Sacatepéquez
9. Antigua Chocolate Tasting & Mountain ATV Tour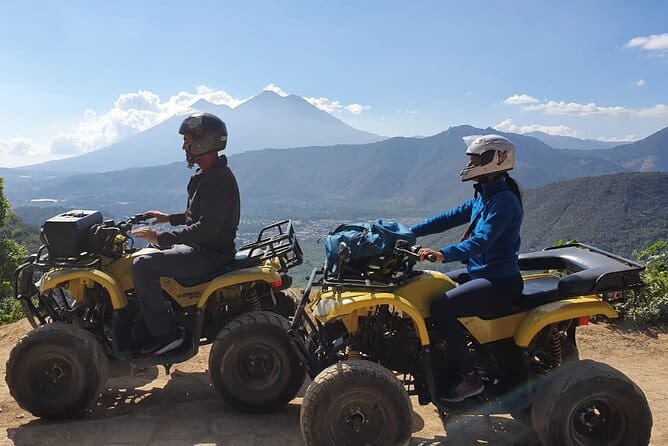 If you want to visit Chocolate Antigua (which seriously, why wouldn't you?) and Hobbitenango and Cerro de la Cruz all in one go, this ATV (or motorcycle) tour looks like a rock-solid way to go about it. Bombing up the mountain on a four wheeler? Heck yes!
The tour finishes off with lunch at Earth Lodge. It's been a long time since I've been there, but I remember really liking their food.
The operator, Simoon Tours, also runs ATV outings in Lake Atitlán. I met one of their guides in Santa Catarina Palopó and he had good things to say about the company. He also spoke excellent English and was friendly and good humored.
To summarize, this tour involves chocolate, ATVS, incredible views, Hobbit holes, and a delicious lunch.
Book the Antigua ATV/Motorcycle Mountain Adventure
Tasty things to do in Antigua Guatemala
Antigua Guatemala is a food-lovers dream. Not only can you visit any number of Guatemalan restaurants for delicious typical food, but you can also delve into the delicacies of farm-to-table restaurants, Criollo chocolate, ethnic cuisine, and macadamia production.
Tip: Check out these top Antigua food tours and cooking classes.
10. Participate in a Chocolate Workshop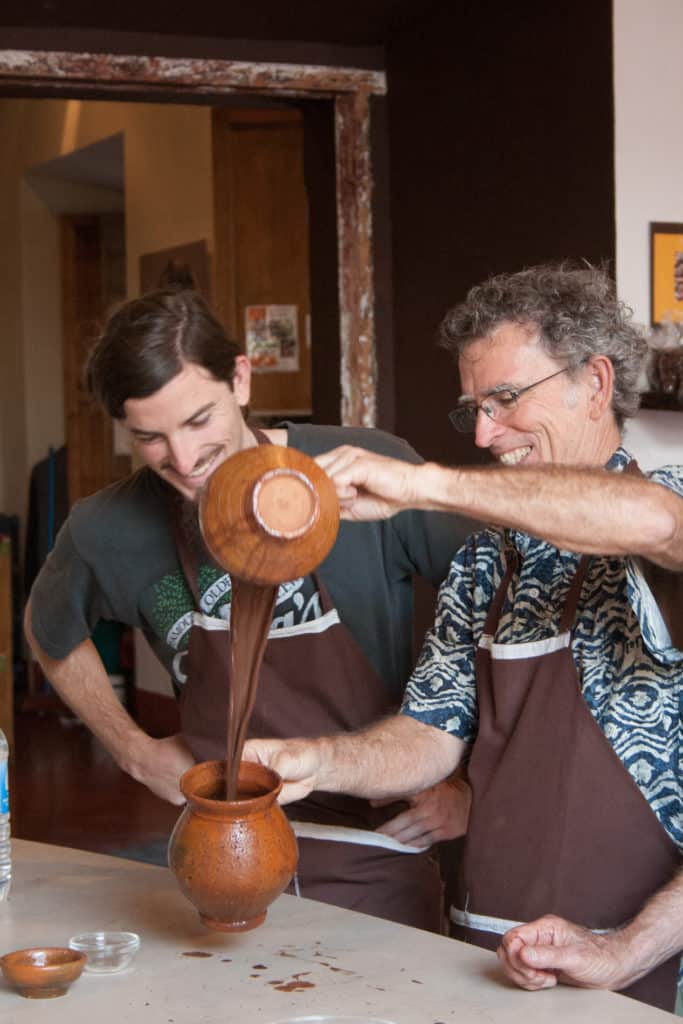 If you're interested in learning more about the origins of cacao, and want to drink and eat a lot of chocolate, this could be the perfect activity for you.
Antigua Guatemala Chocolate Workshops
Choco Museo is a franchise with locations all across Latin America. They were the first to open a chocolate workshop and they do a great job.
Ek Chuah is another similar operation run by Guatemalans. I'm going to call Choco Museo and Ek Chuah "Mayan Origin" Cacao Workshops.
The other workshop I know of is run by Fernando's Kaffee. I just learned about it recently and it looks like a stellar chocolate workshop that goes into how to make high-quality chocolate bars using more modern processes.
Mayan Origin Cacao Workshop
Choco Museo and Ek Chuah offer a tour that focuses heavily on the origins of chocolate, and its use and significance among the Maya.
I took the Choco Museo workshop many years ago with my family and my grandparents. We had a blast! I'm pretty sure it was one of my grandpa's most memorable birthdays (and he's had a lot).
In May 2022, I did the Ek Chuah chocolate workshop with a friend. It was a lot of fun, too, but by that point I knew a whole lot more about chocolate, so it wasn't as novel.
Both workshops are very similar in terms of content and what you get out of the deal. Choco Museo might be slightly better quality, but Ek Chuah is cheaper. Either way, it should be an enjoyable experience.
What you'll learn during the Ek Chuah and Choco Museo workshop
During these "Mayan Origin" chocolate workshops, you'll learn basic information about cacao, how it grows, and how it is fermented and roasted. You'll get to roast a few cacao beans on a clay griddle. You'll learn how to make chocolate tea from the husks, then try grinding the roasted cacao with a mortar and pestle.
You'll then taste two variations of hot chocolate, one made with honey and chili "Mayan-style" and one with milk and vanilla "Spanish style." You'll then get a small pot of pre-prepared chocolate to pour into molds and add any desired ingredients such as sea salt, almonds, craisins, pistachios, and coconut. You'll need to return an hour or two later to pick up your chocolate.
Book the Choco Museo Chocolate Workshop
Important notes about the Ek Chuah and Choco Museo Workshops
These chocolate workshops are designed for people who know little to nothing about chocolate.
They don't go into modern chocolate processes.
The chocolates you get after the tour are not properly tempered, so they don't have the shine and the snap of a quality chocolate bar. However, the chocolate itself has a nice deep flavor thanks to Guatemala's Criollo beans.
Fernando's Kaffee Chocolate Workshop
Fernando's Kaffee Shop is a coffee shop, chocolatery, and restaurant a few blocks from La Merced. I know Fernando, the owner, and love buying his hot chocolate when I'm in Antigua.
Fernando's offers both a basic chocolate workshop and a more advanced workshop (upon request). In the basic workshop, they go into detail on how to roast, refine, temper, and mold chocolate to produce excellent results. There's also plenty of chocolate eating involved. Sign me up!
You'll come away with two chocolate bars, five chocolate-covered cacao beans (best things ever), and five mendiants (chocolate discs dotted with dried fruit and nuts).
11. Enjoy a meal, tour, and farmers market at Caoba Farms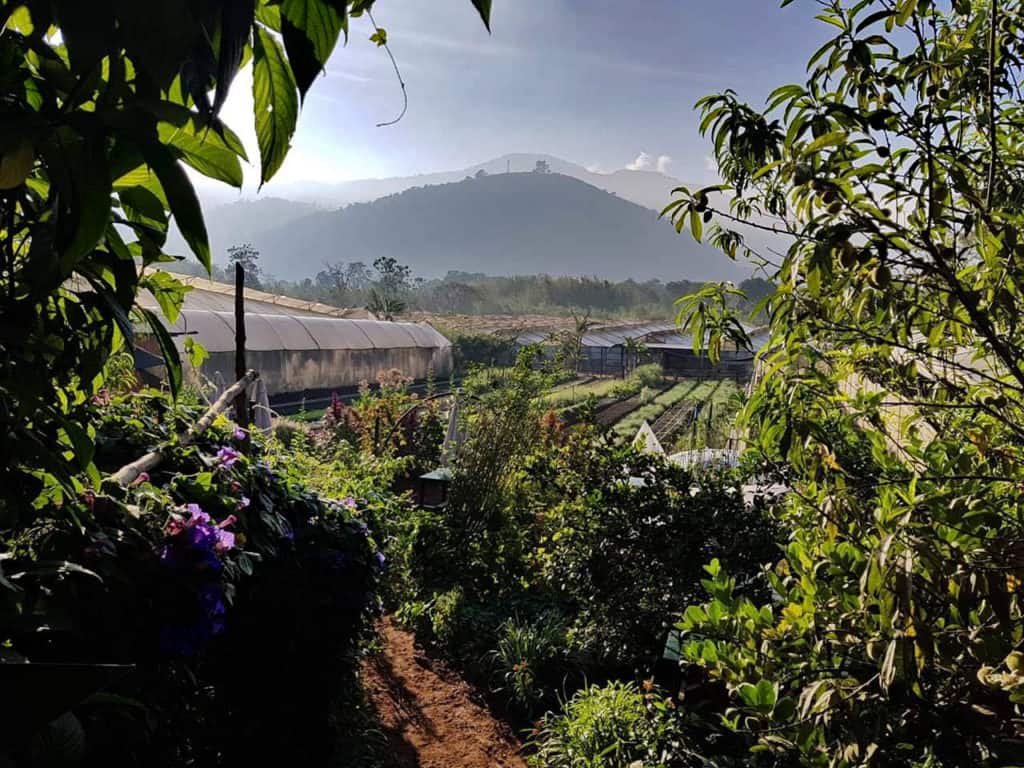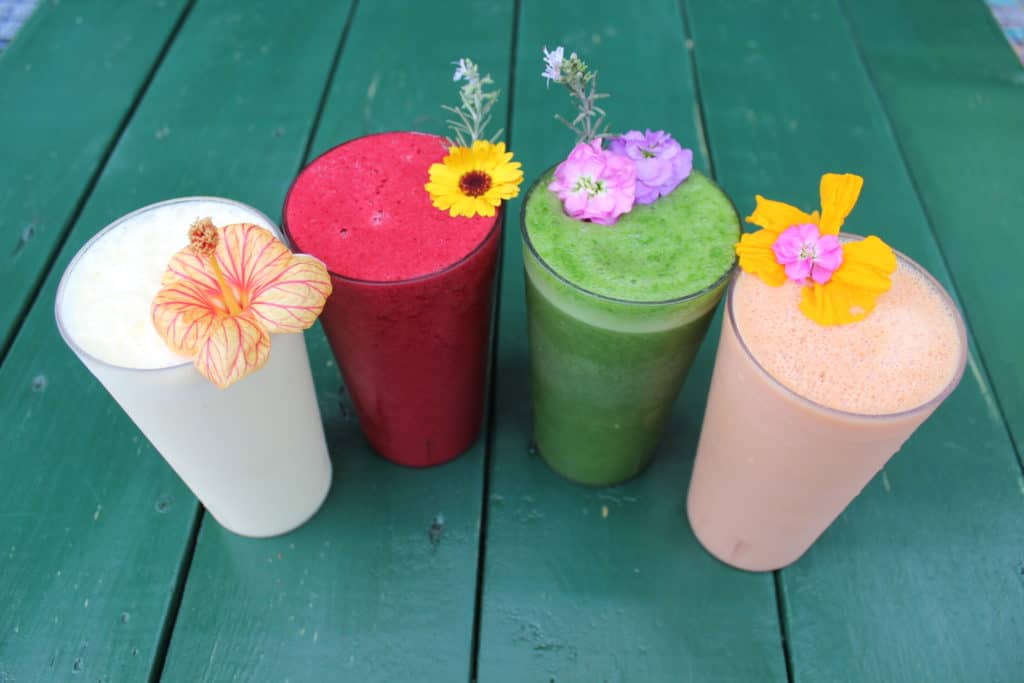 Another yummy thing to do in Antigua Guatemala is to visit Caoba Farms. This organic farm and sustainable agriculture learning center was founded by Alex Kronick in 2004. Tour the farm, volunteer, visit their weekend farmer's market, eat delicious food at the farm-to-table restaurant, or check out some of their special classes (such as acro-dance and aerial yoga, kids activities, breakdancing, etc.).
Caoba Farm Hours:
Restaurant: Wednesday to Sunday 8 am to 5 pm
Store: Tuesday to Sunday 8 am to 6 pm
Butterfly Garden: Tuesday to Sunday 10 am to 4 pm
Farmer's Market: Saturday and Sundays
Location and Contact Info:
Address: 5a. Avenida Sur Final #6, La Antigua Guatemala
Telephone: +502 7832-9201 (8am – 4pm)
Email: [email protected]
12. Have coffee or hot chocolate at Fernando's Kaffee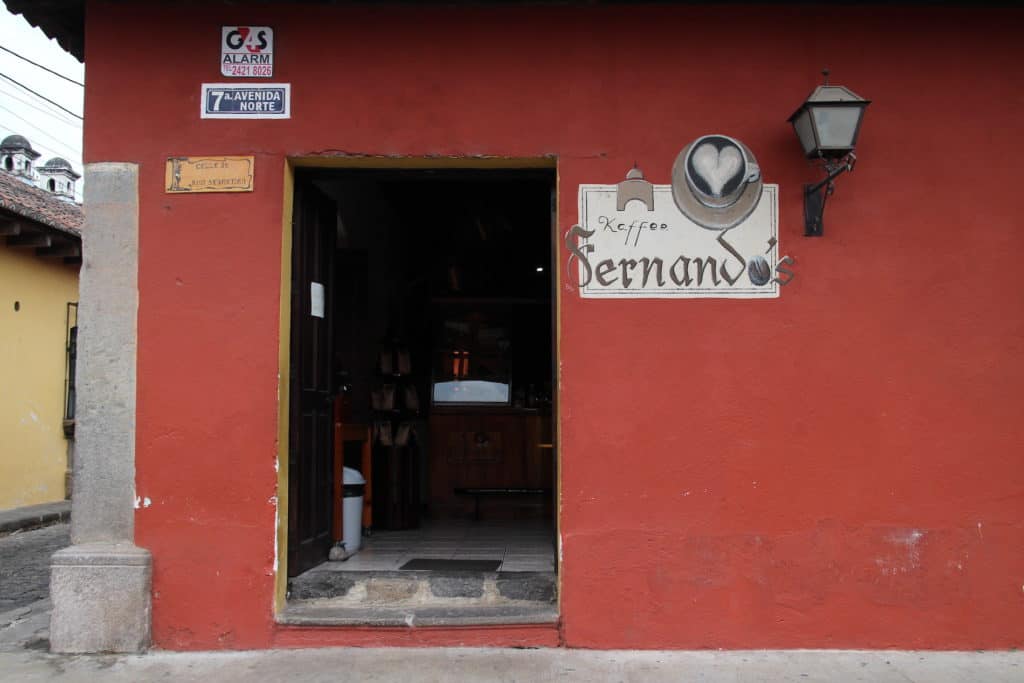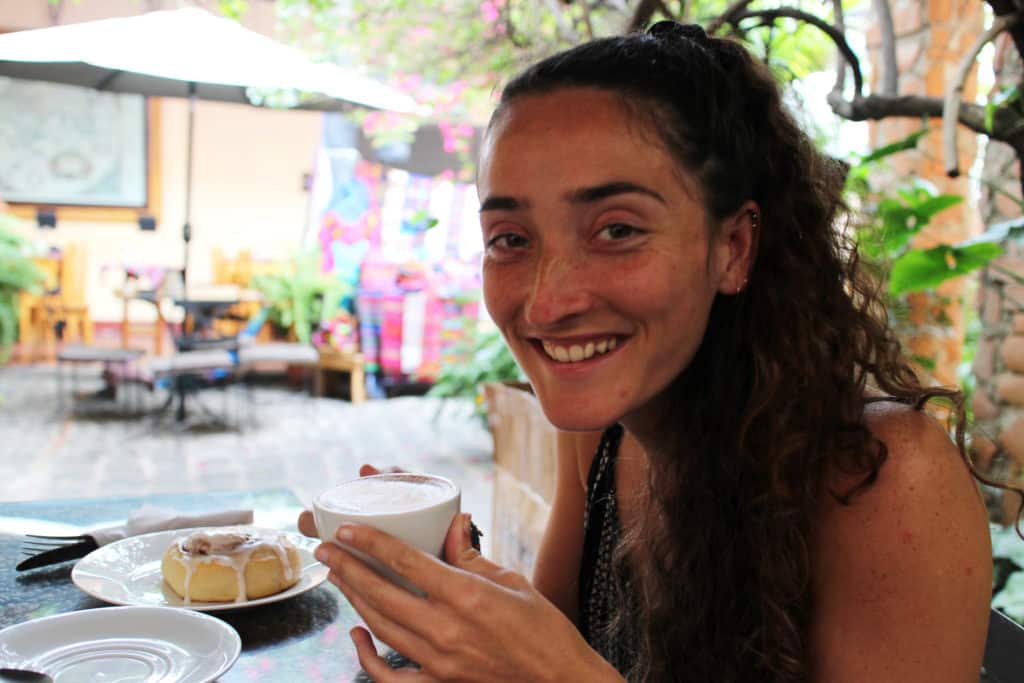 One of my favorite spots to hang out in Antigua is Fernando's Kaffee. I met Fernando many years ago when I had a cacao tea business. He's very friendly and he's got a great location a bit off the beaten path, with a coffee shop, garden restaurant, and room full of yummy chocolates, fresh-roasted coffee, and natural products. Plus, they have a great house cat named Misha.
Fernando's is a nice spot to have a light breakfast or lunch, enjoy a hot chocolate or cappuccino, and enjoy gluten-free crepes and granola.
While you're there, buy a box of Fernando's "Oh My God Kakao!" These chocolate-covered cacao beans are one of the most amazing things I've tasted.
You can also book a special dinner at Fernando's, or participate in their chocolate workshops (which is very high on my list of things I want to do next time I visit Antigua with a friend!)
Hours:
Open Monday through Saturday from 7 a.m. to 7 p.m.
Open Sunday from 7 a.m. to 12 p.m.
Location: 7a Avenida Norte, Antigua Guatemala
Whatsapp: +502 3309-6488
13. Eat "Nachos as Big as Your Head" at MonoLoco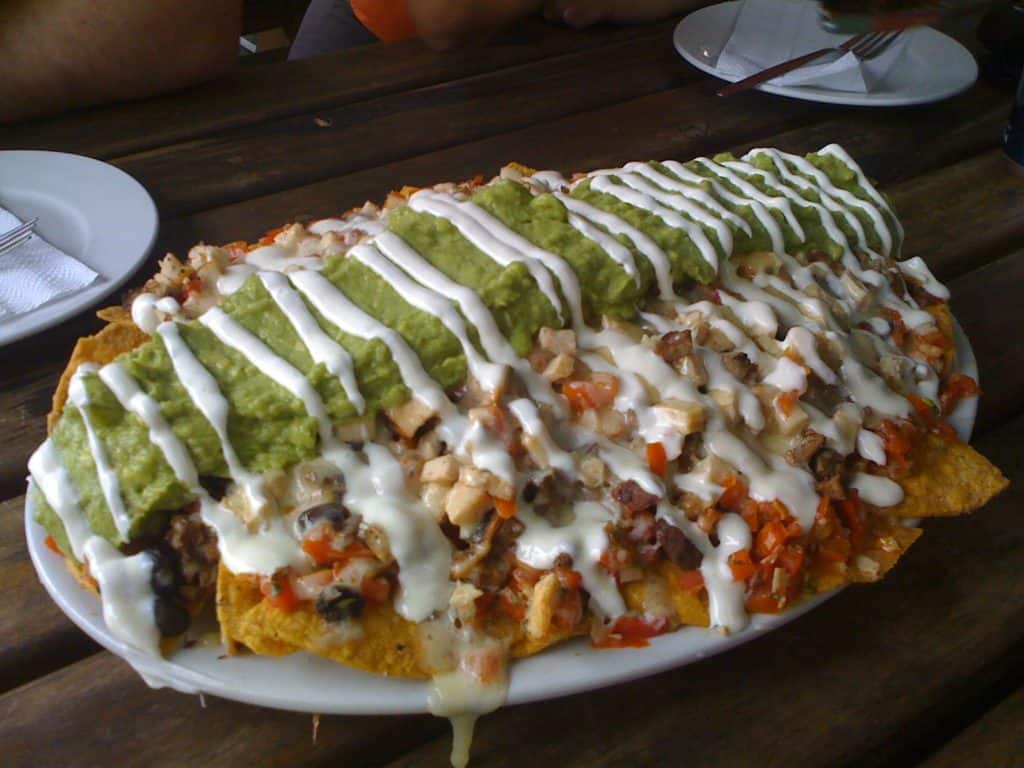 The picture says it all. My mouth is watering just looking at it. Treat yourself to a massively delicious plate of nachos at MonoLoco. This is a sports bar, so it's a good place to hit up if you want to watch your favorite teams duking it out on TV, or if you need a dose of USA vibes.
The nachos are big enough to share between two or three average eaters.
Tip: Pick up a Monoloco coupon before you go.
Hours:
Monday through Thursday – 11 am to 10 pm
Friday to Saturday – 11 am to 1 am
Sunday – 11 am to 11 pm
Location: 5a Av. sur # 6, Antigua 03001, Guatemala
Telephone: +502 7832 4189
Fascinating Things to do in Antigua Guatemala
Antigua Guatemala has many informative tours. I've already mentioned several in other parts of this post, like visiting the historic ruins of Convento Las Capuchinas, or doing a chocolate workshop while learning about cacao among the ancient Maya. But I also love visiting art museums featuring Central American artists or learning about the processes involved in bringing the world a great cup of highland coffee.
14. Learn, eat, and explore during the Macadamia Farm Tour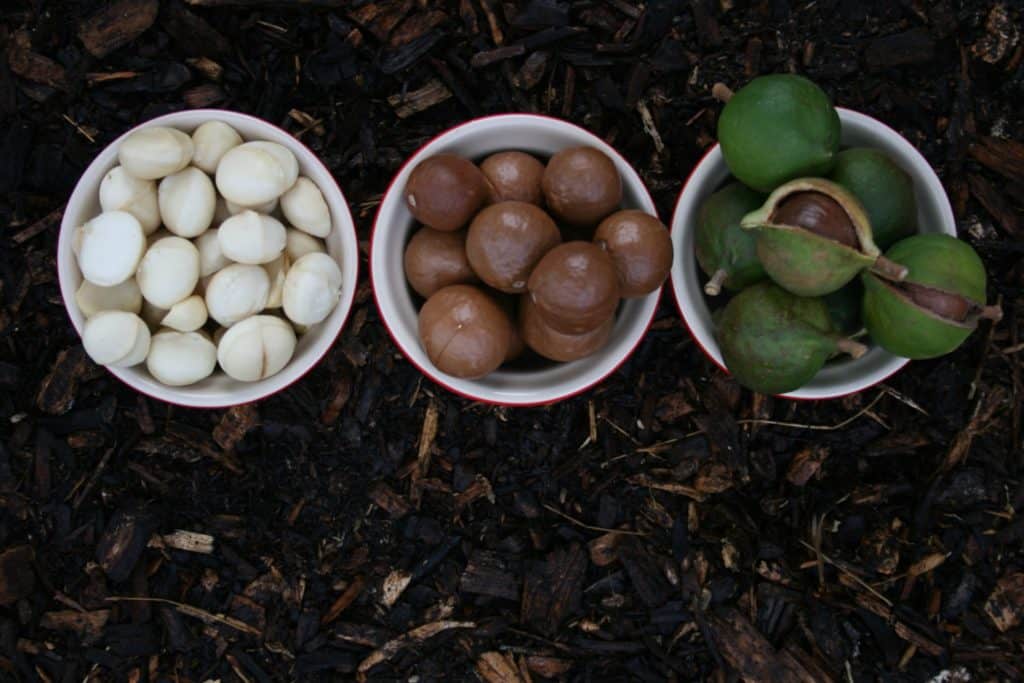 Valhalla Macadamia Farm is a fascinating thing to do in Antigua. They offer an interesting and informative free tour all about macadamias. You'll get to wander around between macadamia trees, check out the processing equipment, and learn about the amazing benefits of macadamia nut oil. The tour even includes a facial massage with age-busting macadamia oil.
Afterward, you can buy some macadamia products or have a meal at the restaurant on Valhalla farms. Macadamia pancakes topped with macadamia butter, or macadamia smoked barbecue, anyone?
Valhalla also has a Spa that offers a variety of massages, manicures, and pedicures featuring their signature macadamia beauty products.
How to get there on public transportation: Catch a chicken bus heading to San Miguel Dueñas from the main bus terminal (leaving about every 30 minutes). Ask the driver to drop you off "en la finca de macadamias." The trip takes about fifteen minutes.
Hours: farm hours 7:30 to 16:30 daily, restaurant hours 7:30 to 15:30 daily
Location: Calle 10-26 16, Antigua 03001, Guatemala
Telephone: +502 5889 4925
Go to the Valhalla website for more information.
15. Finca Filadelfia Coffee Tour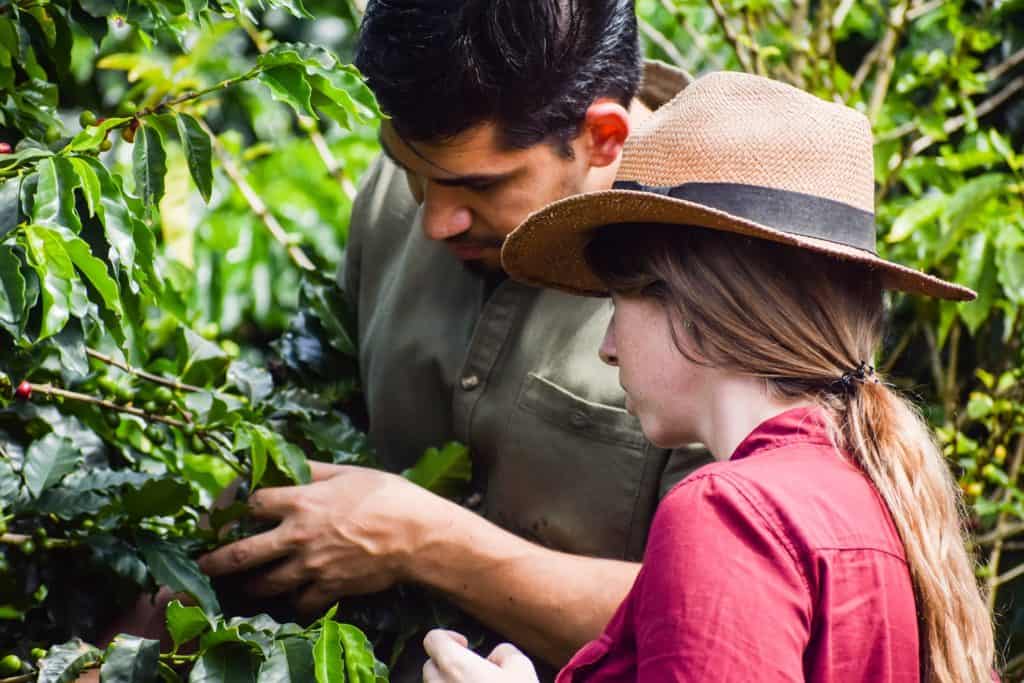 If you love coffee and a bit of adventure, Finca Filadelfia has a fabulous tour for you. Hop into their Unimog (Yup, you had me at "Unimog") and head into the Guatemalan coffee fields.
During this tour, you'll learn about coffee varieties, grafting, picking, fermenting, and drying. Afterward, you'll get to drink a cup of their single-origin estate coffee. Yum.
By the end, you'll have gained a whole new appreciation for your morning cup of joe!
Finca Filadelfia offers a variety of tours including a 30-minute walking tour, a 1-hour walking tour, and a 1-hour Unimog tour. They also have a restaurant.
How to get to Finca Filadelfia
Finca Filadelfia is located about ten minutes outside of Antigua, between San Felipe de Jesús and Jocotenango. Drive there in your own vehicle, or take a tuc-tuc.
Click here for either the WhatThreeWords Location or Google Maps Location
Important Information about the Finca Filadelfia Tour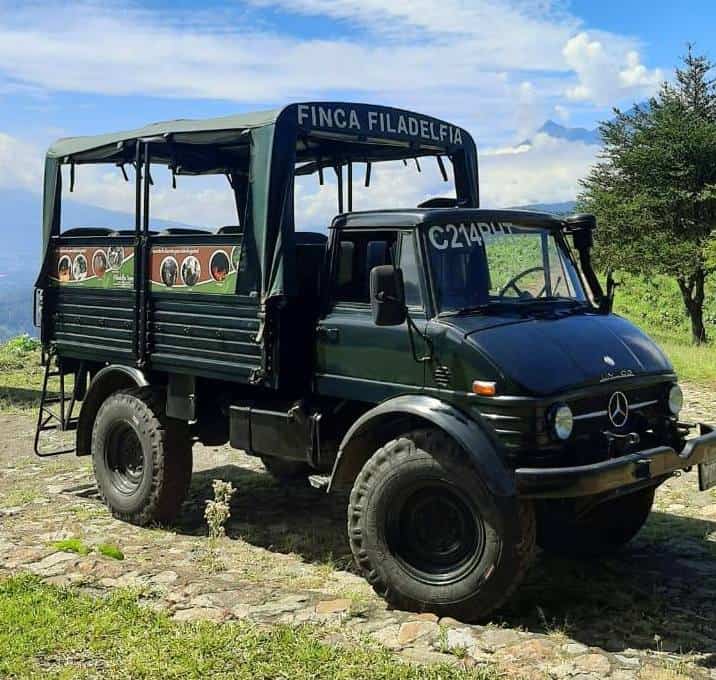 Tours run daily 09:00, 11:00, and 14:00 hours
No advance booking is required
Arrive at Finca Filadelfia 20 minutes before the tour starts
A minimum of four people is required for the Unimog Tours
Costs
80Q – Thiry Minute Walking Tour
156Q – One Hour Walking Tour
195Q – One Hour Unimog Tour
For more information or to book a tour, call +502 7728-0800 or go to Finca Filadelfia's website.
16. La Azotea Tours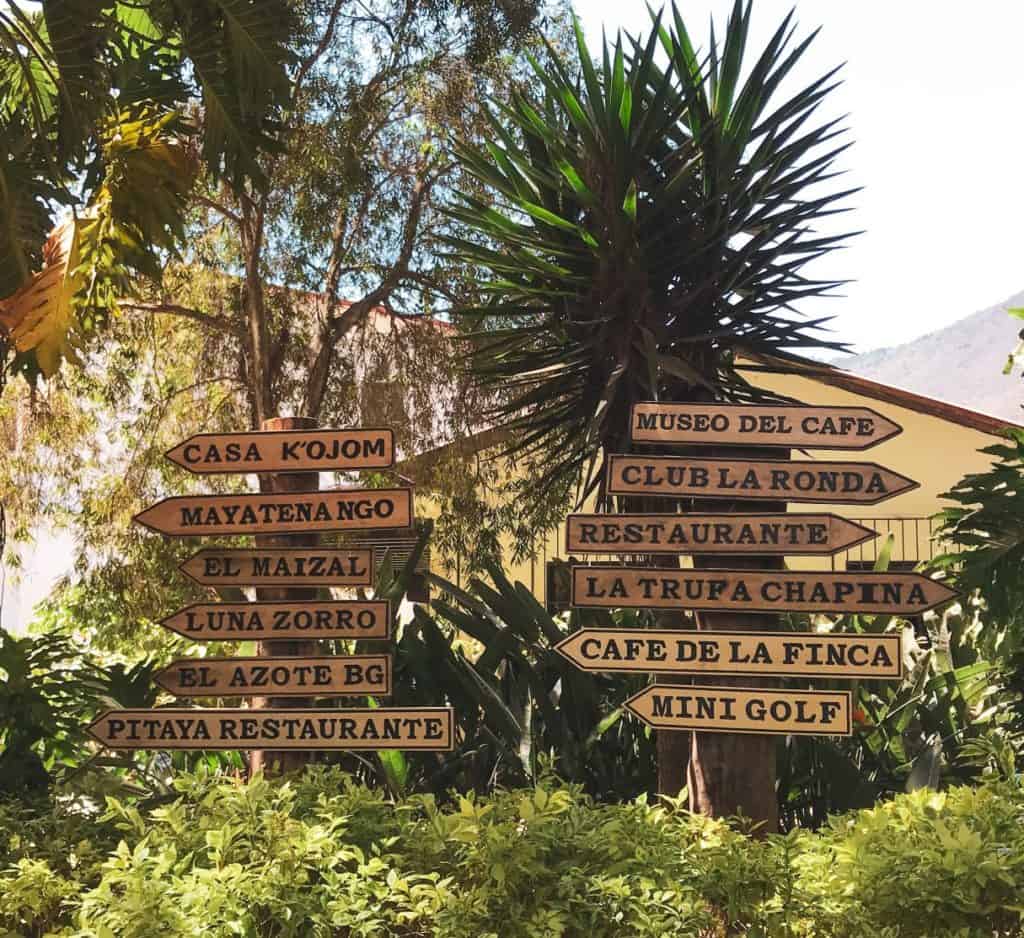 Another great informative thing to do in Antigua is visit La Azotea. One of the main attractions at La Azotea is their coffee tour. Here you'll get three tours for the price of one: a coffee tour (all about the growing and roasting process), a tour about Guatemalan instruments, and a video about traditional Mayan beliefs. At the end of the coffee tour, you'll get a cup of joe to sip and savor.
My parents have done both the Azotea and Philadelphia farm tours and say they are different enough to make it worth doing both. If you're a coffee fanatic, this is a great way to do a deep dive on all things coffee.
La Azotea also offers a bunch of other activities including horse tours, horse classes, bicycle rentals, and mini-golf. In fact, they have five restaurants on the property, two museums, and the option to take a class on everything from chess to natural dying techniques to capoeira. Definitely a cool place.
Hours
Monday to Tuesday: 10 am to 6 pm
Wednesday to Thursday: 8 am to 6 pm
Friday to Saturday: 8 am to 7 pm
Sunday: 8 am to 6pm
Contact info and Location for La Azotea
Location: 1a Calle y 1a Avenida, Jocotenango
Telephone: +502 7831 1120
Email: info.centroazotea at gmail.com
La Azotea Website

Looking for other cool coffee tours (such as an ATV coffee tour to La Azotea)? Check out these 12 Best Coffee Tours Antigua Guatemala Has to Offer.
17. Sip 'n Cycle Coffee & Mountain Bike Tour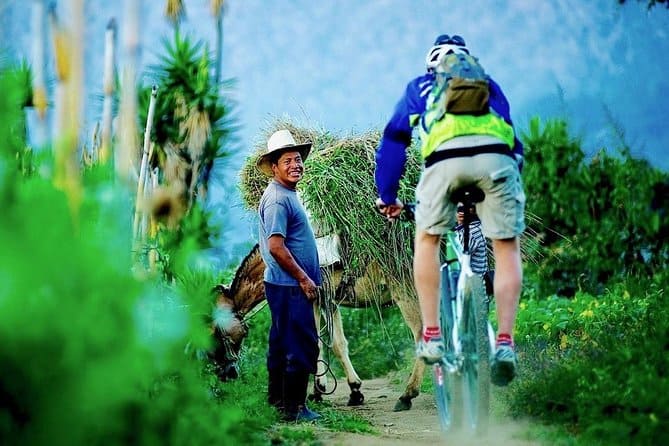 If you'd like to learn about small-scale coffee production, Old Town Outfitters offers a very cool Sip'n Cycle Coffee Tour. Mountain biking in Guatemala is always beautiful, and this tour combines an intermediate mountain bike ride through maize fields and a forested coffee plantation. A cooperative member will lead you on an intimate tour of the coffee farm, then take you home to try your hand preparing coffee the traditional style, roasting it in a "comal" over a wood fire and then grinding it by hand. To top off the tour, you'll eat lunch with the family.
Although I haven't done this particular tour, I have mountain biked around Antigua (and loved it). I have also spent time learning from and eating with local families in other parts of Guatemala (which I also LOVE so much). Meeting people is part of what makes travel amazing, and this sort of intimate setting is a wonderful way to experience aspects of Guatemala that many tourists never see.
Old Town Outfitters is a professional operation and I've only heard good things about them and their tours.
Book the Sip 'n Cycle Coffee and Mountain Bike Tour
18. Visit La Nueva Fabrica
La Nueva Fabrica is a contemporary art space located in the closeby town of Santa Ana. I haven't gotten to visit yet, but it's on my Antigua bucket list. I've heard great things about it, so if you enjoy art, put this on your list! They have permanent installations as well as rotating collections featuring innovative Central American modern art.
Costs of Admission:
Guatemalans and permanent residents: Q10
Foreigner: Q50
Students and Children under 12: Free
Hours:
Wednesday to Sunday 10:00 am to 05:00 pm
Saturdays from 10:00 am to 6:00 pm
Location:
55 Plazuela Central de Santa Ana, Antigua Guatemala. (Go to Google maps)
Contact Info:
Telephone: +502 7882 4612
19. Take a Cooking Class at Cuscun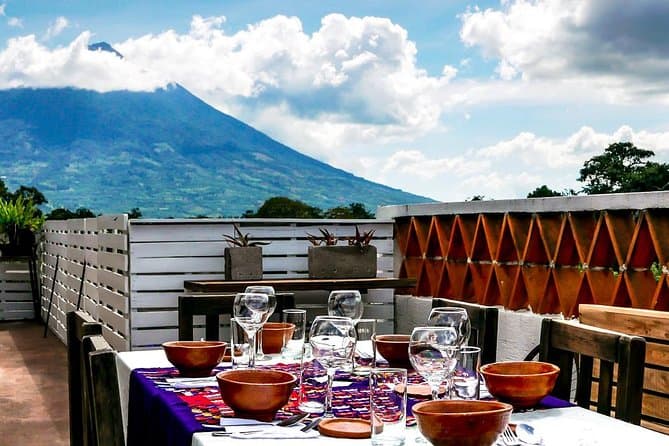 Guatemalan cuisine is really fun to make, especially dishes like pepián, tamales and rellenitos. I love toasting the seeds and dried chiles, grinding them with annatto and roasted tomatoes and blending them into a complex sauce. Salads with lime dressing, creamy guacamole, crunchy tostadas topped with salty crumbles of dried cheese…. mmmm. Everything is fresh and flavorful.
My point? Do yourself a favor and take a Guatemalan cooking class!
This is a great activity to do with a few friends, a group of foodies, or with your family. It's interactive, fun, and delicious to boot. Once you finish cooking you'll eat a feast of your own making on a rooftop terrace with views of Agua Volcano. My mouth is watering just thinking about it.
Book an Authentic Guatemalan Cooking Class
Cheap Things to do in Antigua Guatemala
You don't have to spend lots of money to find fun things to do in Antigua Guatemala. There are plenty of cool things to see for free or on a shoestring budget. Here are a few of my favorites.
20. Walk up to Cerro de la Cruz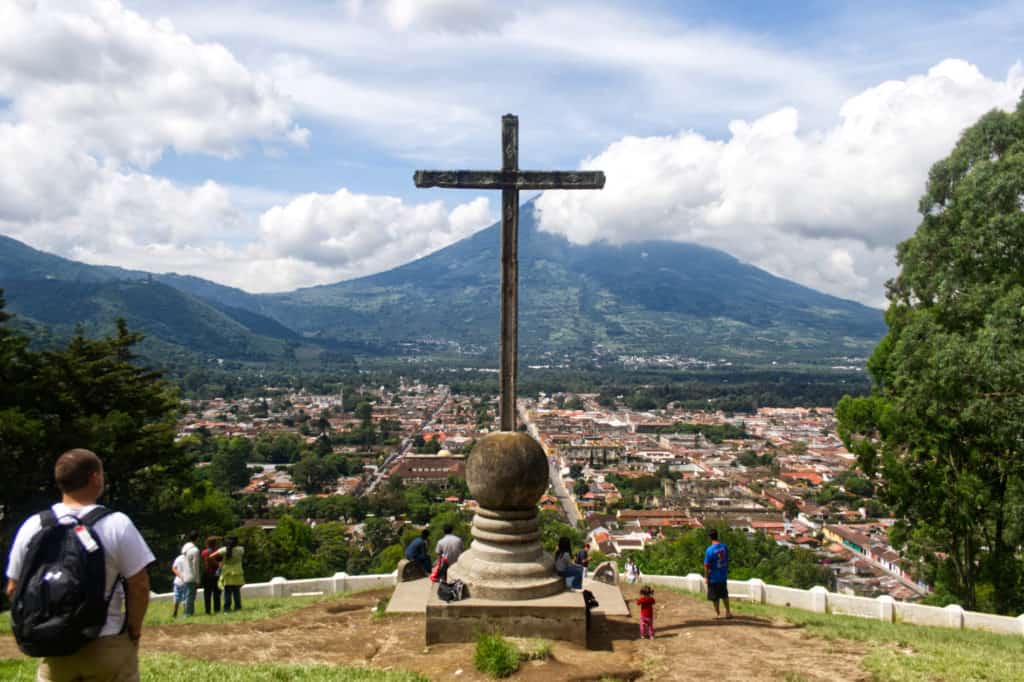 Another great thing to do in Antigua Guatemala is to visit Cerro de la Cruz. The cross is located on a hill above Antigua and provides great views of the city below.
If you're up for walking, I highly recommend taking the walking path. It leads through a forest up to the cross. The trail starts at the base of the road leading towards El Hato. If you're in Antigua for a while and are looking for a nature hike, running spot, or place to exercise pets, this is a great choice.
You can also drive to Cerro de la Cruz, or take a tuc tuc if you have sore feet.
While you're at the cross, you can also head further up the hill to see the statue of Santiago de los Caballeros.
21. Check out the fountain in the Parque Central
Another iconic thing to do in Antigua Guatemala is visit Parque Central and the "Fuente de las Sirenas" — the mermaid fountain. The fountain dates back to 1737 and was designed by the famed architect Diego de Porres.
No one is sure where the inspiration came from for the mermaids. One likely possibility is that Porres took the idea from the Fountain of Neptune in Bologña Italy. The Italian fountain also features lactating mermaids.
Alternatively, legend has it that the Captain General of Guatemala, the Count of la Gomera, had four daughters. When his daughters gave birth, they refused to breastfeed their babies. Furious, the Count had them tied to a tree trunk in the center of a pool of water until they died from hunger and thirst. 1, 2
22. Take Pictures of the Iconic Calle del Arco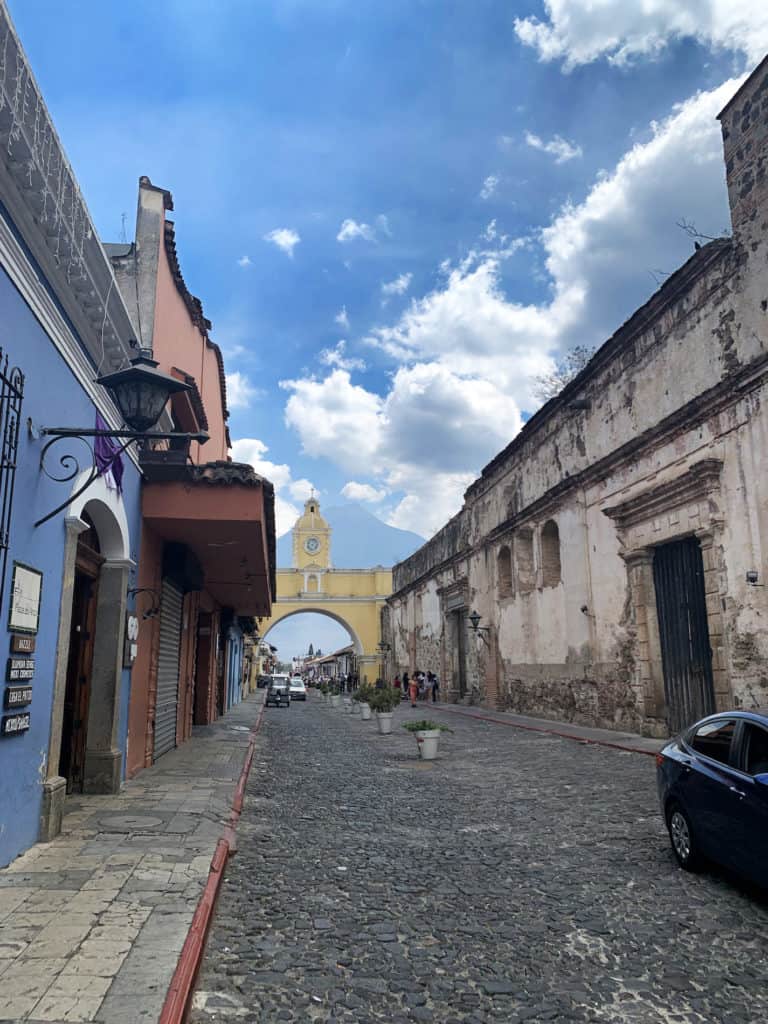 No visit to Antigua would be complete without checking out the iconic arch on the Calle del Arco. This arch, known as el Arco de Santa Catalina has an interesting history.
The story begins in 1609 when four nuns founded the Convent of Saint Catherine the Martyr. They vowed to live in seclusion, but over time more and more nuns joined their order. Soon, they no longer had room for everyone, so they arranged to house some of the nuns across the street. This created a problem, since they weren't allowed to go out and about and be seen by the general population.
The nuns requested permission to close off the street, but their neighbors weren't too keen on the idea and complained. The city council rejected this scheme but okayed the nuns to build a bridge over the street instead.
The arch was completed in 1693 and has a closed corridor inside to keep the nuns' seclusion vows intact.
After being damaged in the earthquake of 1773, the arch was restored and given its iconic turret and inset French clock. It's a favorite spot to welcome-in the new year in Antigua.
The original convent is now a colonial-style hotel. 1
23. Go on a Free Jade Tour
One super interesting thing to do in Antigua Guatemala is to take the free jade tour at the Casa del Jade. You'll learn about Guatemalan jadeite jade, the varieties of colors available, what makes lilac and orange jade unique, and the significance of jade to the ancient Maya.
One of the most fascinating things about this tour is all of the things we don't know about how the ancient Olmec, Maya, and Aztec people made their intricate jade pieces. Modern-day jewelers use diamond drills to cut jade, and there are things that the ancients made that we CAN'T physically make today.
Interested yet? Head to the Casa del Jade and request a tour. It is available in English and Spanish. If you're lucky, Dario Sut will lead your tour, he does an amazing job and is the executive manager of sales.
Hours & Contact Info for the Casa del Jade
Hours: 9:30 am to 6:30 pm daily
Location: 4a Calle Oriente #10, Edificio "El Jaulón", La Antigua Guatemala
Telephone: +502 7932 5701
24. Go on a Guided Historical Walking Tour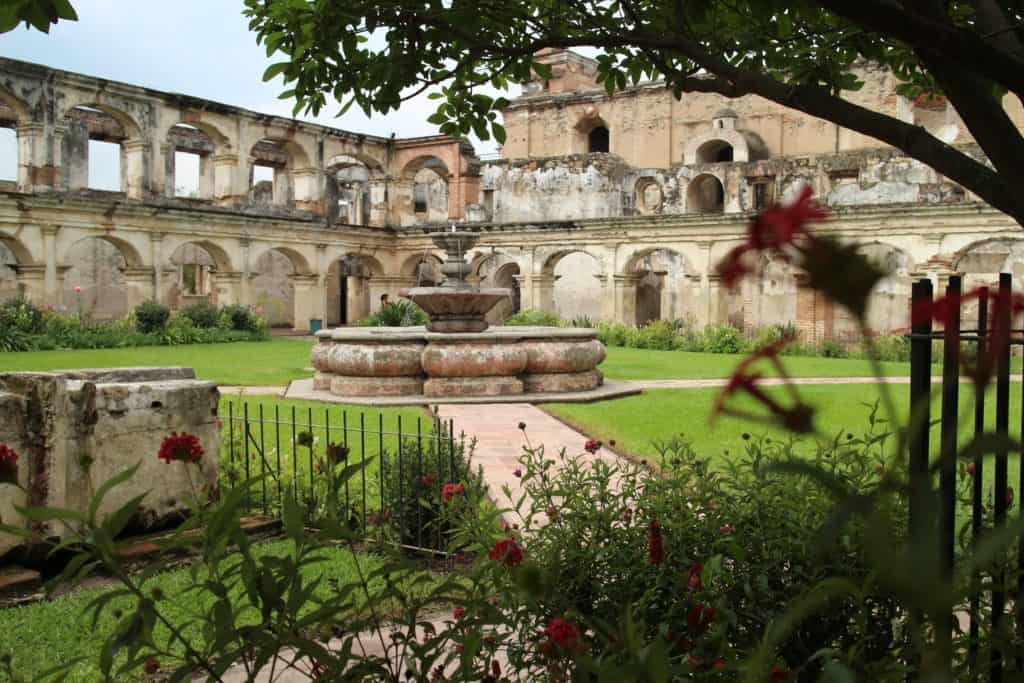 Although I love walking around Antigua and drinking in the sights, it'd be a much richer experience to learn more of the history. Although I haven't gone on a walking tour yet, I'd like to do this next time I have an out-of-country friend visiting. Reading about the ruins in books isn't the same as hearing the stories of a place while you're standing in ancient courtyards with a guide telling stories.
This Viator walking tour has great reviews, and (at the time of writing this) only costs 21 USD.
What a great way to learn more about Antigua. It includes walking (naturally) and visiting the famous Santa Catalina Arch, a lovely convent, the Museo del Libro Antiguo (ancient book museum), the Cathedral of Santiago in the main square, the Casa del Jade, and the Casa Santo Domingo. Sure to be an intriguing and informative tour!
Book the Private Antigua Walking Tour
Romantic/Relaxing Things to do in Antigua Guatemala
Antigua Guatemala is a great place to spend with someone special, or give yourself some much needed TLC, whether that means relaxing in one of the many cafés and gardens, tucking into a dreamy corner of a French crepe restaurant, or enjoying live music at any number of places in Antigua and its surroundings.
25. Enjoy coffee and chill vibes at Artista de Café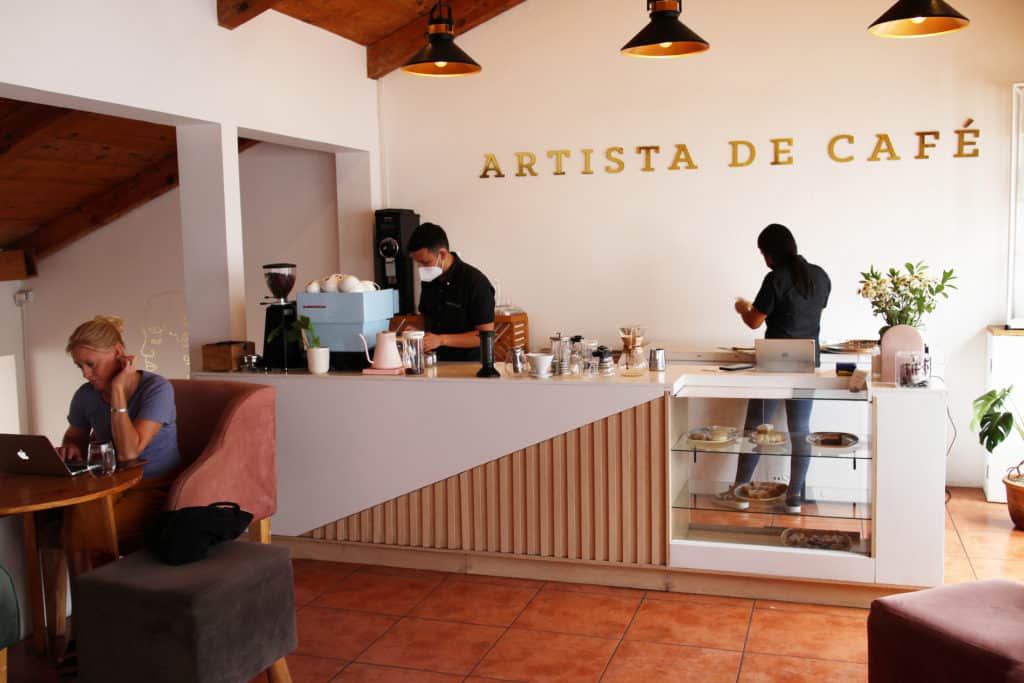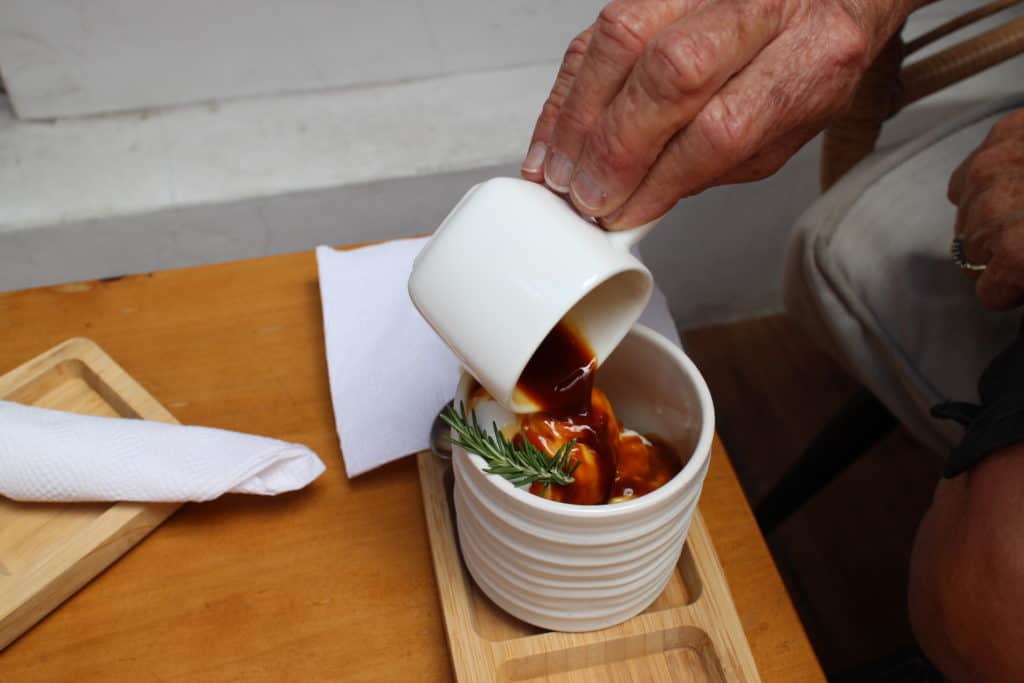 Artista de Café is a great little café a five to ten-minute walk from Parque Central. It has an unassuming exterior, and the inside is minimalist, bright, and airy. It's a favored spot for ex-pats working on their computers (thanks to speedy wifi) and has several small tables both inside and in the outdoor patio. They sell bourbon coffee from Zacapa and a variety of coffee beverages.
I visited with my mom and sister in March 2022 and we enjoyed trying hot chocolate, affogatos, and cappuccinos. My sister worked as a barista for several years and loved the coffee.
Hours and Contact Info for Artista de Café
Hours: 7 am to 6 pm Monday through Friday, 7 am to 7 pm on Saturday and Sunday.
Address: 5a Avenida Sur No.34A, Antigua Guatemala
Telephone: +502 7726-0501
26. Eat delicious crepes at Luna de Miel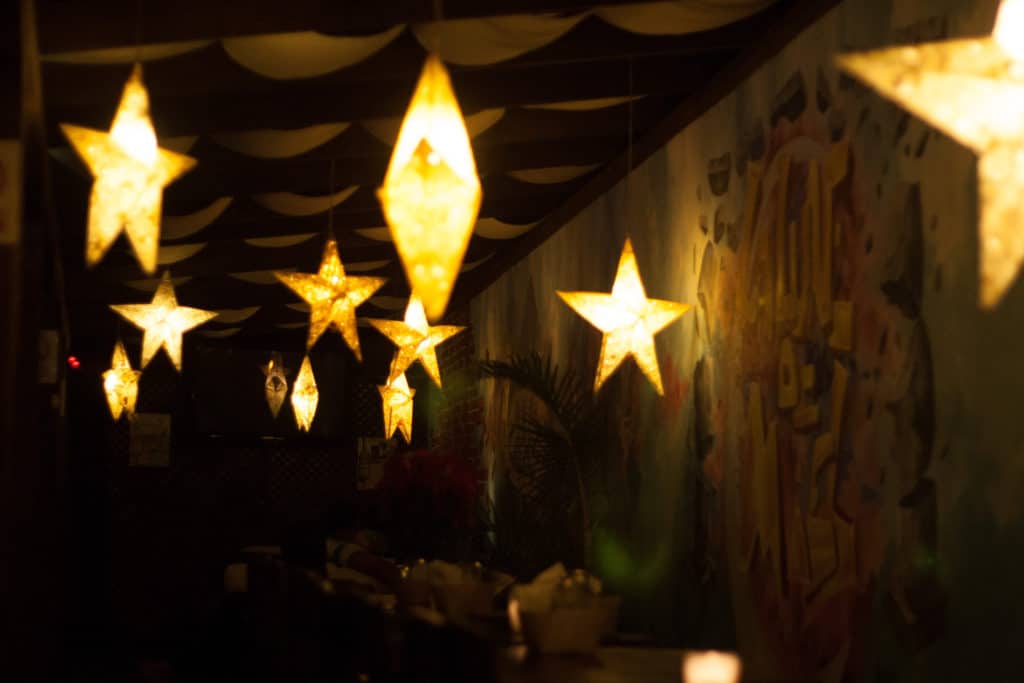 Restaurante Luna de Miel is a French Crepe restaurant in Antigua Guatemala. Not only do they serve delicious crepes (both salty and sweet), but they also have a great ambiance. They offer a variety of seating, from cozy cushions to traditional tables.
Hours and Location Info for Luna de Miel
Hours: 12 pm to 9 pm Monday through Friday, 11 am to 9 pm on Saturday and Sunday
Location: 6 Avenida Norte, N40, Antigua, Guatemala
27. Relax at Vivero la Escalonia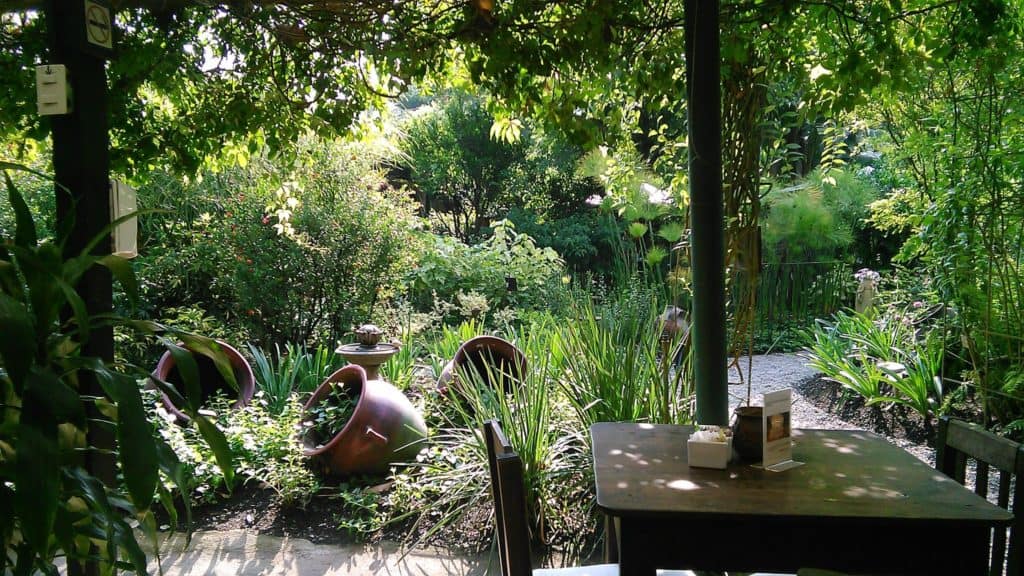 If you're looking for somewhere quiet beneath beautiful trees, Vivero La Escalonia is the place to be. This plant nursery and garden café is a fun place to wander. Check out the variety of plants they have for sale, read on a bench under traveler's palms, or drink a smoothie at the café.
I love nature, and sometimes it's nice to get away from the bustle of central Antigua for a while. Plus, if you're looking for culinary sage or other cooking or medicinal herbs for your garden, this is a likely place to find them. La Esclonia has a large variety of plants and trees you won't find at standard nurseries.
Hours and Contact Info for Vivero La Escalonia
Hours: 8 am to 6 pm daily
Location: 5a Avenida sur Final # 36 C, Antigua
Telephone: +502 7832-7074
28. Go to a Concert or Live Music Event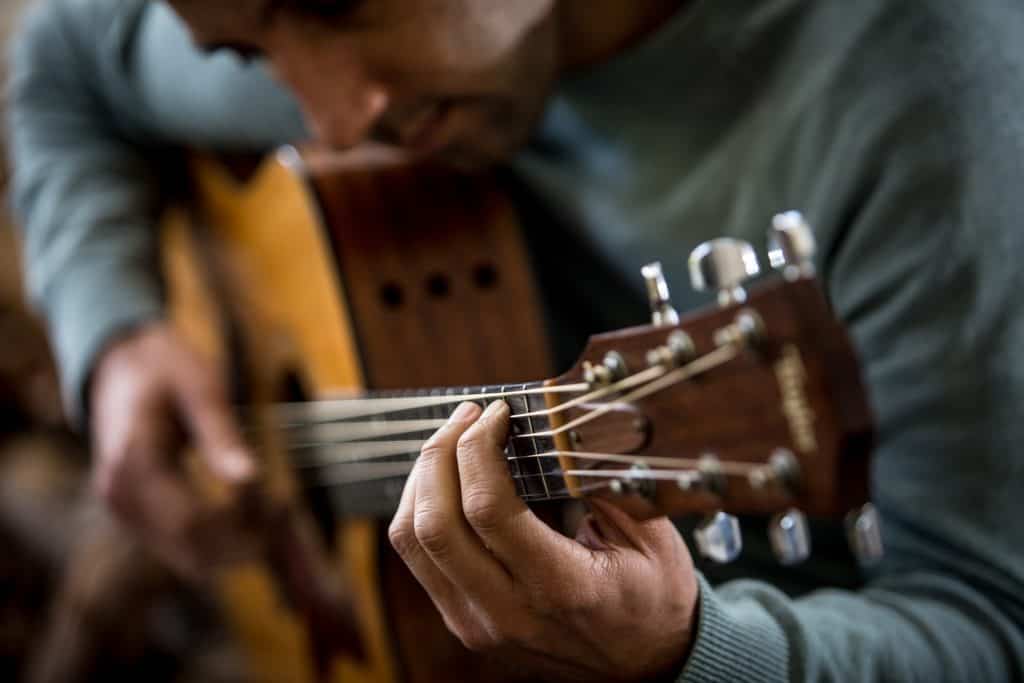 There are many live music nights in Antigua. Pick the vibe you want, and enjoy a night of tasty food and fabulous tunes. Need some ideas of places to check out? Here are a few:
Mesón Panza Verde
If you're looking for a romantic evening, why not head to Mesón Panza Verde? This restaurant is open Thursdays through Saturdays from 7 pm to 9 pm.
Cervezería Catorce
This brewery is located outside of Antigua with great volcano views, live music, and tasty cooking from Restaurant Annie & Felix. Visit their Facebook page for their latest music lineup. If you go on a Saturday or Sunday you might be able to catch their shuttle bus. Check their page for pickup hours and locations.
NiFu NiFa
This highly-rated steakhouse in Antigua offers live music every Saturday and Sunday with an emphasis on tango. Check their Facebook event page for the latest lineup.
Las Palmas
Restaurante Las Palmas has live music at 9 pm most nights. Check their Facebook for details.
Caoba Farms
Caoba Farms has live music on the weekends during their farmer's market. The entrance is free and you're sure to enjoy checking out the food stalls, taking a farm tour, or enjoying some amazing farm-to-table food while you're there.
29. Get quiche & dessert at Café Condesa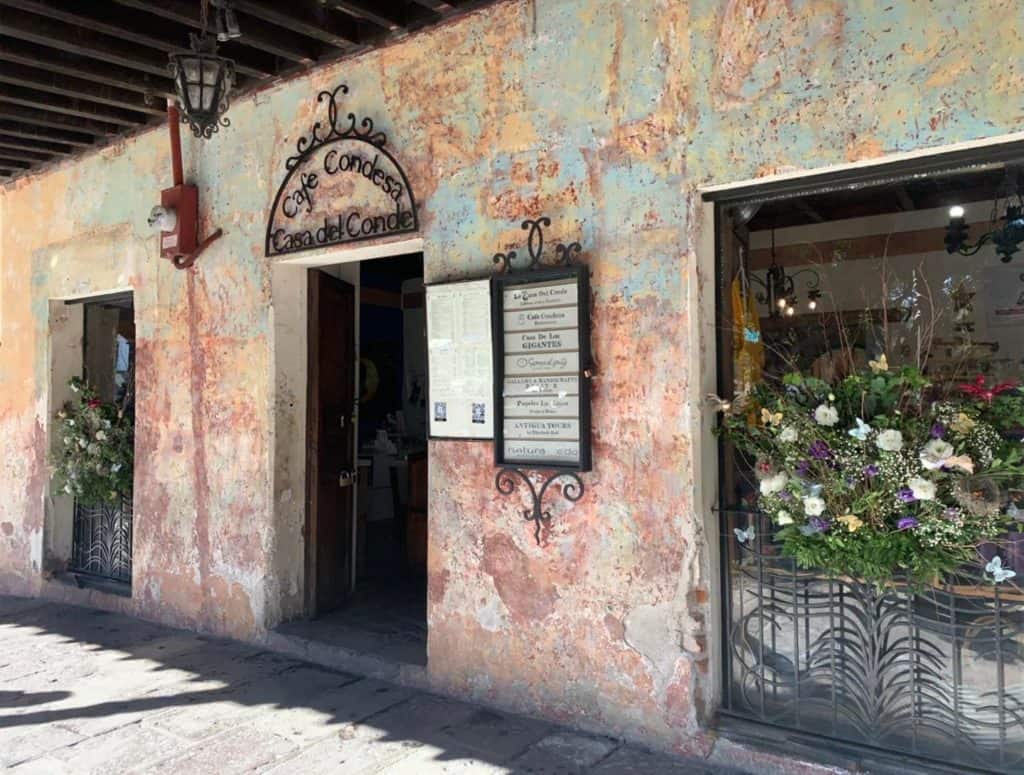 Café Condesa is one of my mom and dad's favorite spots for an afternoon or lunch date in Antigua. It has many cozy rooms, a courtyard, and a delicious breakfast, lunch, and dessert menu. It is located right off of Parque Central in a colonial mansion. There's a bookstore and art gallery in the front, and then the restaurant in the back.
Hours:
Sunday through Thursday – 7 am to 8 pm
Friday and Saturday – 7 am to 9 pm
Location:
La Casa del Conde,
Parque Central
5a Avenida Norte, #4 La Antigua Guatemala
How to get to Antigua Guatemala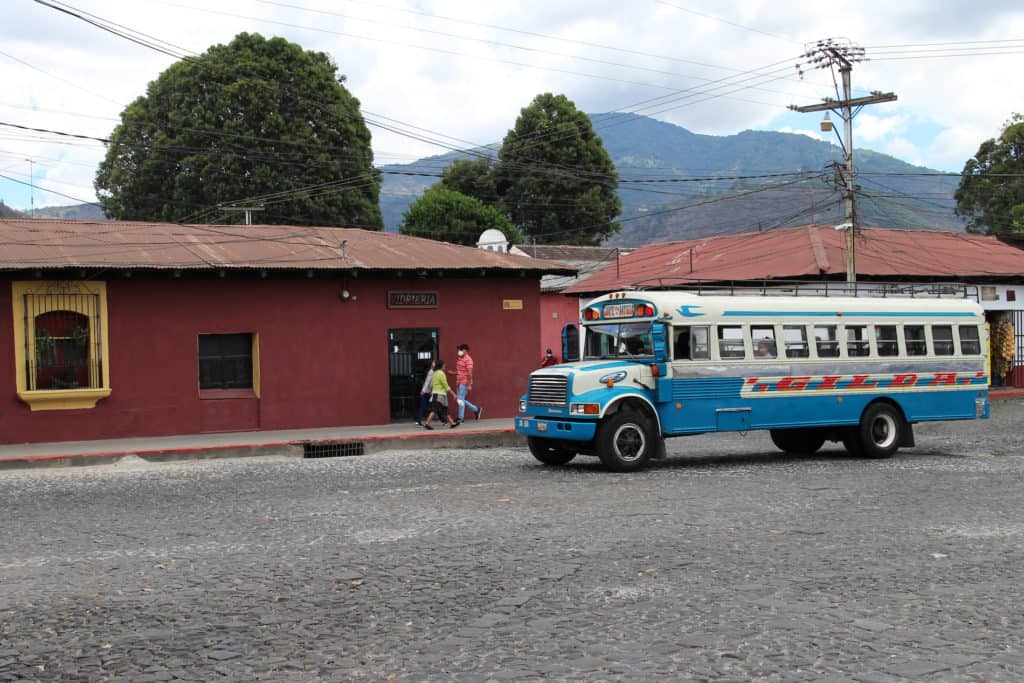 If you are flying into Guatemala, you can get to Antigua via Uber, taxi, private shuttle, or shared shuttle. This website has more information on shuttles and shuttle schedules in Guatemala.
What I recommend:
The easiest, safest, and best method is to book a private ground transfer from the airport to Antigua. At the time I wrote this article, this option cost around 23 USD. That's a steal!
Book a private ground transfer from the airport to Antigua
How many days to spend in Antigua Guatemala
Antigua Guatemala has a ton of things to do. You could easily spend a week (or a few) here, especially if restaurants and cafés are your thing. Thanks to the large number of tour operators in Antigua, it's easy to use this colonial town as a jumping-off point for day trips to places like Acatenango Volcano, Pacaya Volcano, and the beaches of the Pacific. There's a large variety of tours, outings, and shopping available. It all depends on how much time you have, what you want to see, and your traveling style.
Since I live in-country, I like to make day trips to Antigua now and then, visit some of my old favorites, and check out some new things to do.
Is Antigua Guatemala Safe?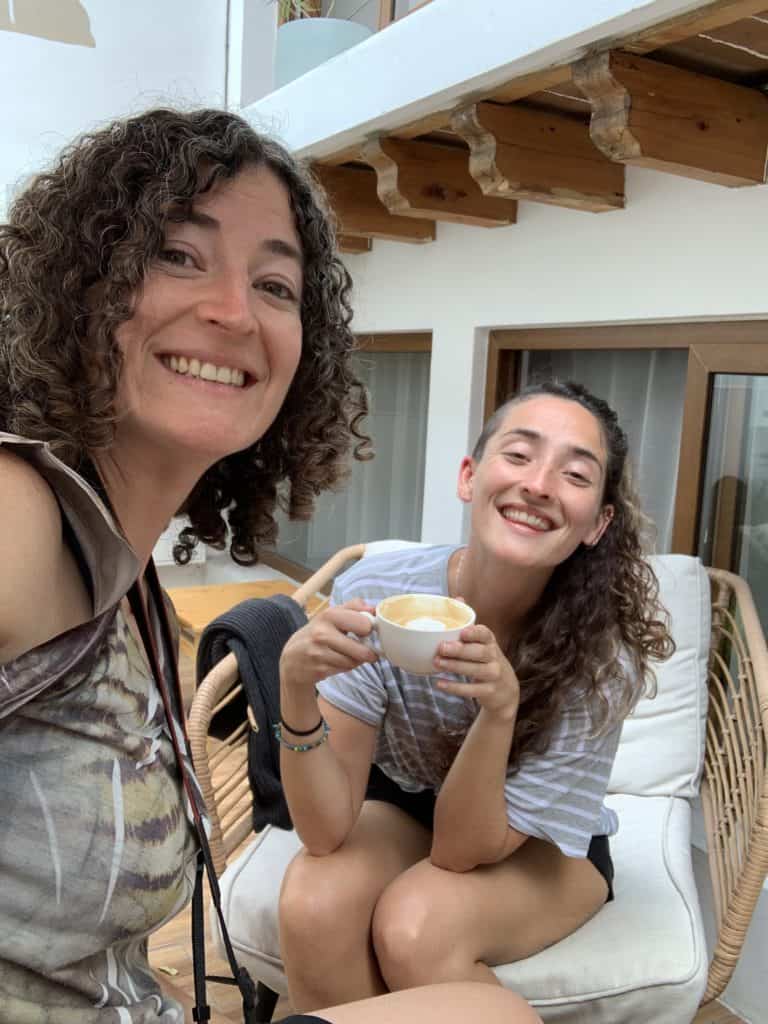 Antigua Guatemala is a safe place to walk around. I've never had any problems there, but I also don't go out late at night, flash money around, etc.
As with any city and/or foreign country, I recommend keeping close track of your belongings, limiting the money in your wallet to just what you need for that day, not leaving backpacks and other things unattended, and staying aware of your surroundings.
If you're out and about at night, try to be back at your hotel or in a safe location by 10 pm. If you can't do that, then call a tuc tuc or a taxi to take you home.
Be smart and you should be okay.
Conclusion Things to do in Antigua Guatemala
There are so many wonderful things to do in Antigua Guatemala, it is definitely worth spending a nice chunk of time checking out the city, hanging out in the park, shopping for mementos, and eating at lots of different cafés and restaurants. If you're on a tight budget, it's fun to explore the streets, snap pictures, and snack on fruit from the market or delicious typical food from La Merced.
Looking for your next Guatemalan destination? Consider heading to Lake Atitlán or the wilds of Huehuetenango.
***GUATEMALA TRAVEL PLANNING GUIDE***

Should I buy Guatemala travel insurance?
YES — Personally, I always travel with travel insurance because it gives me extra peace of mind. SafetyWing is an excellent travel insurance company that's quite affordable. Plus, if you travel longterm, it's a snap to renew on a month to month basis. You can keep renewing for up to a year and still pay the same deductible.

Where's the best place for finding cheap flights to Guatemala?
When I purchase a ticket, I always search several different sites. Kayak and Expedia are great places to start running a search. Spirit is usually the cheapest carrier, but American Airlines and United also sometimes offer excellent deals.

What's the best way to book my Guatemala accommodations?
I recommend booking.com for finding and booking hotels in Guatemala. For vacation rentals, I recommend VRBO.com — it offers beautiful and unique spots to stay.

What's the best way to book Guatemala tours?
Viator is a great tour booking site with several excellent options available in Guatemala's main tourist areas including Tikal, Atitlán, Antigua, and Acatenango. There's a nice range of prices and options available.

Can you drink the water in Guatemala?
No – Don't drink the tap water! Instead, buy purified water from any corner store or grocery store in Guatemala.

Be sure to brush your teeth with that water as well to avoid getting sick. And hydrated, especially when traveling to high elevations.

Do I need a visa for Guatemala?
Probably not — Visitors to Guatemala from "Category A" countries like the United States, Canada, the UK, New Zealand, Australia, and most European countries are automatically given a 90-day tourist visa (in the form of a passport stamp) when entering Guatemala.

This visa is valid for Guatemala, Nicaragua, Honduras, and El Salvador. At the end of 90 days, it can be renewed once at Guatemala's Migración without leaving the country.

After 180 days, you will have to travel outside of Central America before returning. Check to see if you need a visa.

Will my phone work in Guatemala?
It's possible, but check with your provider in advance to see if Guatemala is covered. If not, you can easily pick up a local SIM card.

There are essentially only two carriers in the country: TIGO and CLARO. Both have good coverage.