Acatenango Volcano Hike – An Experience of a Lifetime
There are enough volcanic peaks in Guatemala to keep even the most avid hikers entertained for weeks. But if you're pressed for time or don't know which of the giants to tackle first, Acatenango Volcano should be among your top contenders.
Why hike Acatenango Volcano?
Acatenango is a stratovolcano whose moon-like crater rises to 13,045-feet above sea level, making it the third highest peak in Central America. Getting to the top is a physical and mental challenge worth tackling, especially if you like to push yourself to the limits of endurance, experience nature in its raw glory, and climb higher than the clouds.
I've hiked Acatenango four times and the experience doesn't get old. Each trip has been unique and exhilarating. Nothing compares to seeing billions upon billions of stars from Acatenango's frozen peak or slaloming down ashy grades on my mountain bike or watching the neighboring volcano of Fuego paint the evening sky with molten lava.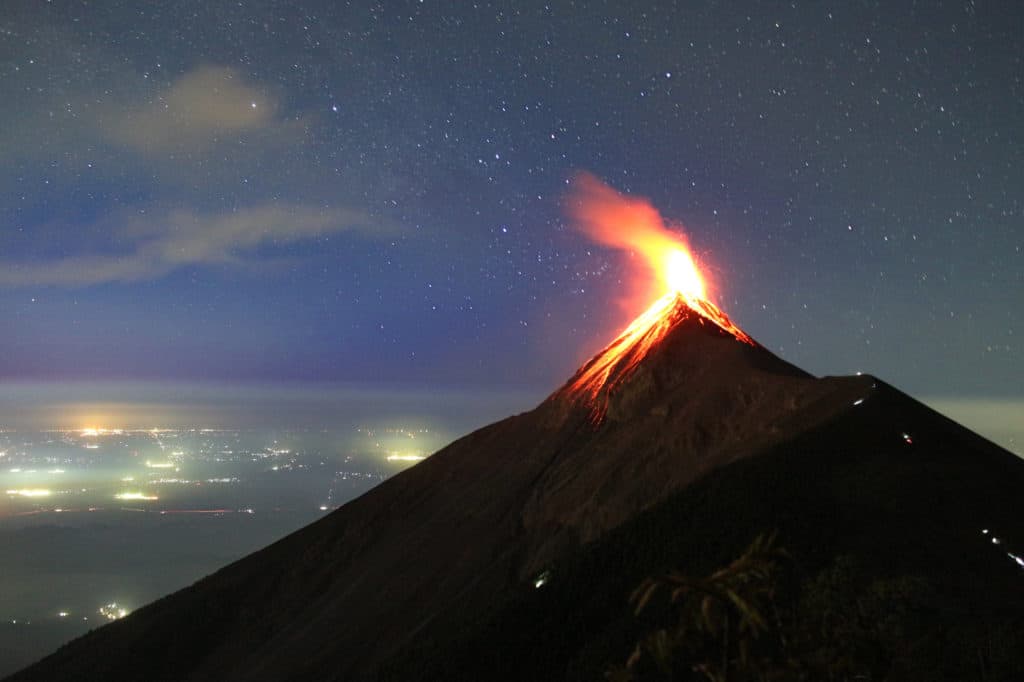 Summiting Acatenango Volcano is a bucket-list-worthy adventure.
As an added plus, since Acatenango is one of Guatemala's top attractions, it is easy to find tours, guides, and transportation options according to your budget and preferences. For this same reason, crime isn't a high concern on Acatenango.
We'll talk more about the environmental risks and how to be prepared later on.
A quick overview of the hike
The trails up Acatenango are steep and slippery at times, but well-maintained and pretty easy to navigate, especially if you have shoes with good traction. You don't have to clamber up ledges or walk for hours on wobbling boulders. It is a long hike (5-9 hours), and the elevation and potential for altitude sickness make it challenging.
Tip: If you're looking for an easier hike, consider going on one of these tours to Pacaya Volcano, or climbing San Pedro Volcano on the shores of Lake Atitlán.
During the hike, you'll traverse a beautiful and varied landscape ranging from humid bamboo thickets to scrubby grasslands to vertical scree-covered slopes.
At the top, the world opens up. Volcanoes stud the horizon, clouds stream below, and the active volcano of Fuego pumps fiery ash into the atmosphere a mere 2 kilometers away.

That's the real highlight.
And if you do a night hike or camp, you can watch Fuego's molten lava spewing into the sky and feel the thunderous booms of its eruptions vibrating in your chest.
Is this hike for me? How hard is it?
The first time I climbed one of Guatemala's big volcanoes, I suffered a LOT. By the time I clawed my way to the top I was nauseous and had a pounding headache from altitude sickness. Worse, I wasn't prepared for the cold, so I shivered, half-frozen, all night long, before hobbling back down the volcano the next day. For a week afterward I was so sore that I could barely lift my feet up a four-inch step (cue lots of good-natured teasing at work).
The moral of the story is this: how much you suffer (or not) depends on what kind of shape you're in and how prepared you are.
That's what I'm here to help you with.
Yes, Acatenango is considered a difficult hike, but with proper training and preparation, it is absolutely doable.
I'm going to cover everything you need to know to prepare physically and mentally, including how to prevent or mitigate elevation sickness, deal with muscle soreness, overcome mental barriers, survive the cold, etc.
If you want to get up that mountain, you can get up that mountain.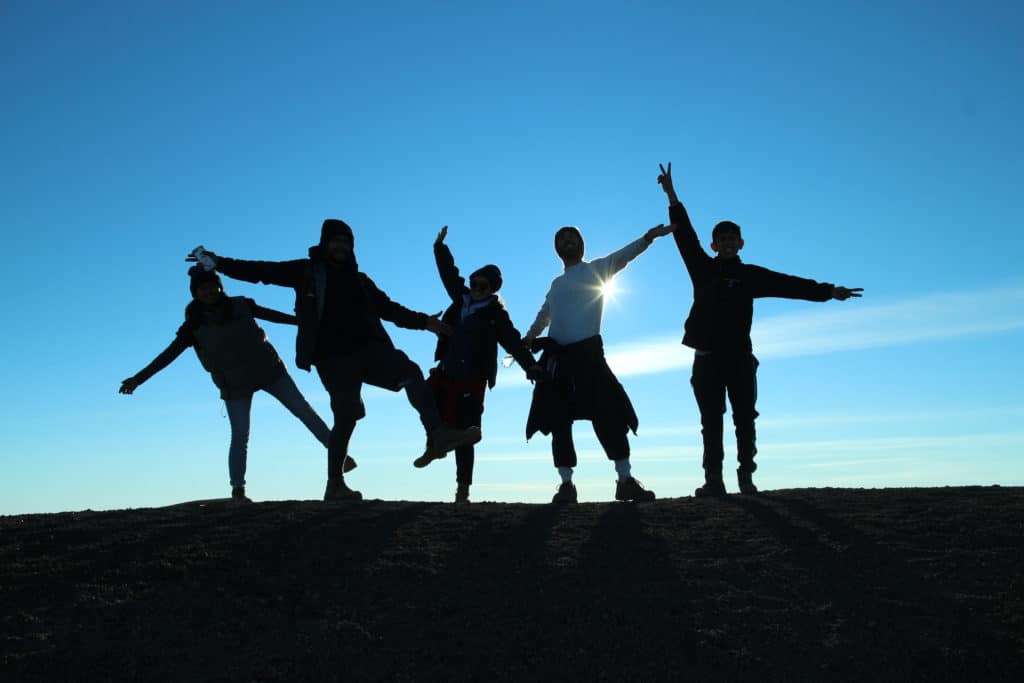 If walking is difficult, you can hire a horse to take you as far as the campsites. A neighboring Finca even has an access road for 4×4 vehicles that will get you within two or three hours of the peak.
Since carrying gear for an overnight adds to the challenge, you can consider hiring a porter or a packhorse to take that weight off your shoulders.
One of my friends suffers from asthma, but she went slowly, resting every couple of steps, and still achieved her goal of getting to the south-facing campsite. She got to watch Fuego erupting all night long and her face still lights up every time she talks about the trip.
How long does it take to hike Acatenango Volcano?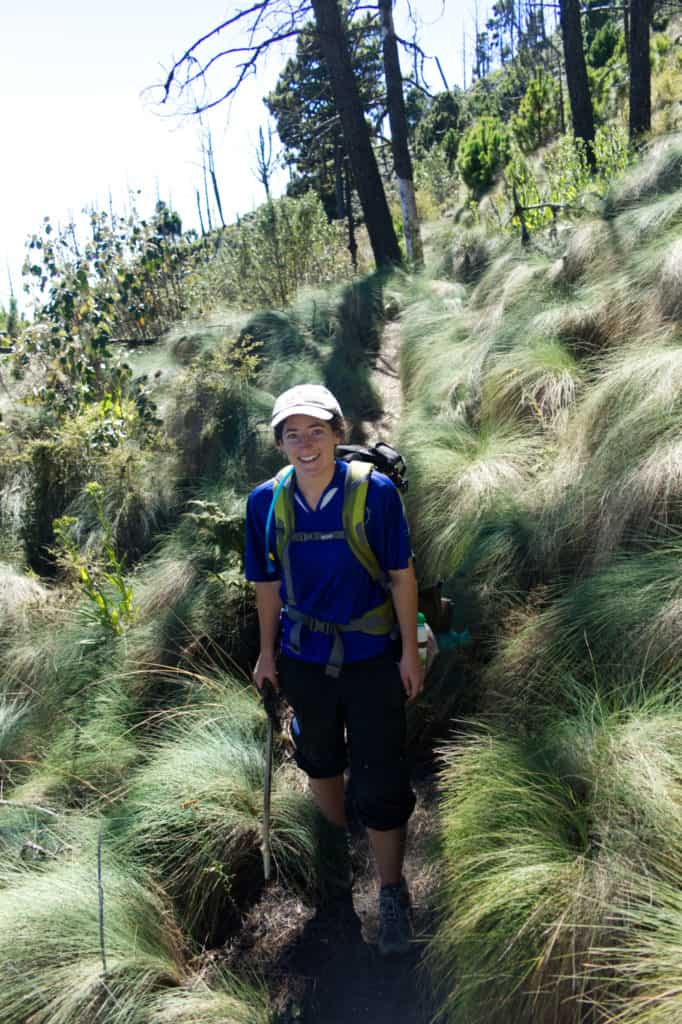 I know of people who have run up Acatenango in 45 minutes, but for most of us non-super-athletes, it will take five to nine hours. Once again, this depends on your physical condition and the condition of the people in your group.
The first time I went on an overnight hike, it took me seven hours to haul my gear to the top. Others in my group took nine hours.
On a subsequent day-hike, it took my group five hours up, going at a leisurely pace. Since a couple of my friends had knee problems, we came down at the same rate (a five-hour descent). Usually, however, the descent is a lot faster, especially since you won't need as many rest stops. Three hours down is a good average.
What route should I take up Acatenango Volcano?
The great thing about Acatenango is that there are multiple trails, each one offering unique vistas. I've taken a different route each of the four times I've gone up Acatenango and enjoyed each of them immensely. If you've gone before, choosing a different trail is a great way to keep the experience and the views fresh.
You can always take one trail up and a different one coming back.
I'll talk about the different trails below so if you have a strong preference you can talk to your guide about it ahead of time.
La Soledad to Fee Station
There are two trail options you can take to start your hike from the town of La Soledad, Chimaltenango.
The first starts directly across from the main parking lot in La Soledad. It begins with a steep ascent on a concrete road and then leads up through maize and vegetable fields on a soft dirt trail. Eventually, it cuts left and levels out.
To reach the other trail, you'll need to take a left from the parking lot and walk up the main road until you see the trailhead on your right. This trail is loose and soft and straight.
Both trails converge at the first waypoint (where there is a restaurant, café, and bathroom-for-rent). This path continues up through more maize and vegetable fields until you reach the cloud forest and the official entrance and fee station. This is where you'll pay and fill out a registration form for CONAP, Guatemala's National Council for Protected Areas. You can also make use of the latrines (for free) or take a rest on the benches.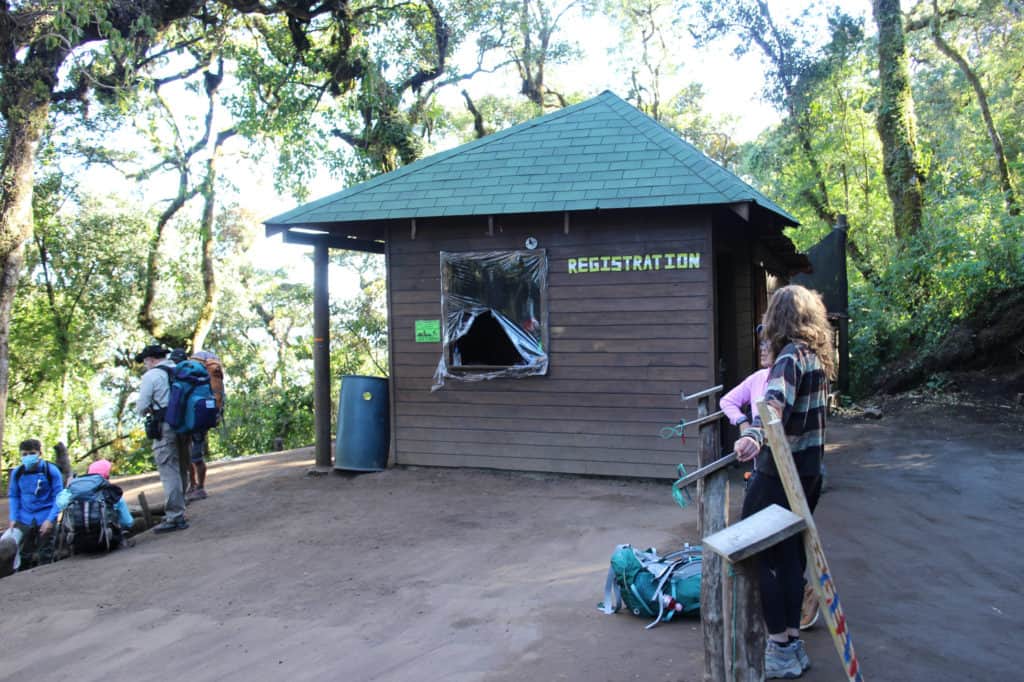 During my last hike up Acatenango, it took my group at least 1 hour to reach the fee station. From the fee station, you have two options: Ruta de Raizales or El Conejo
Ruta de Raizales
This route skirts Acatenango's east and southern flanks. It is considered the easiest and fastest route. It has some steep sections, but the trail is wide and fairly smooth. In fact, on one section, you'll be walking up the 4×4 access road until you reach a trash barrel that serves as a landmark known as El Tonel. (You can also reach El Tonel by heading to El Conejo, see below).
From El Tonel, the trail continues with only a few moderate inclines until you reach the Alotenango camping area. As of February 2021, there's an additional fee for camping in this area because it is controlled by a different municipality (Alotenango instead of Acatenango).
If you are doing an overnight hike with a tour company this is the most common route, and there's a very good reason for that. Not only are you out of the wind and fierce cold on this protected flank of the volcano, but you also have prime views of Fuego Volcano (and its frequent eruptions). There are also great views of the sunrise from the campsites here.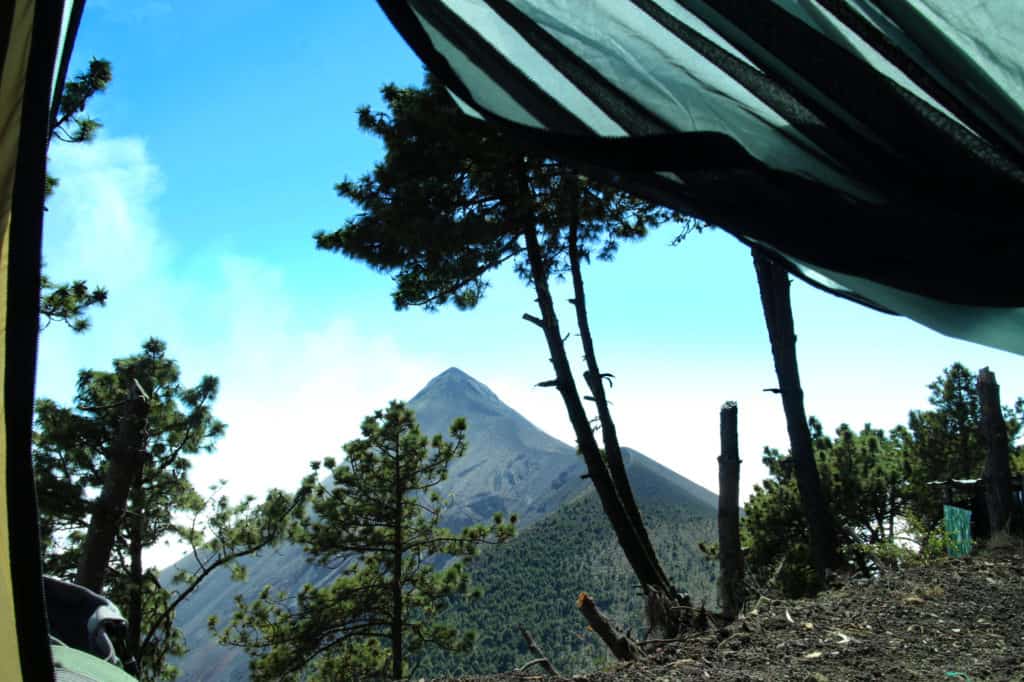 Each tourist agency has a "platform" of cleared and leveled land where they take their tour groups. If you aren't going with a tour group, you may be able to camp on an unoccupied platform.
I enjoyed the views of Agua and Pacaya volcano on this trail. And if you're camping, I highly recommend this site. Watching Fuego erupt from the warmth of a campfire was an incredible experience. The extra fee will be well worth it.
El Conejo
If you choose not to go on the Ruta de Raizales, you will ascend to a small plateau called "El Conejo". There is a small store here where you can stock up on hydrating drinks and buy hot chocolate, coffee, and tortillas with cheese.
El Tonel, Ruta Turística or Las Tres Marías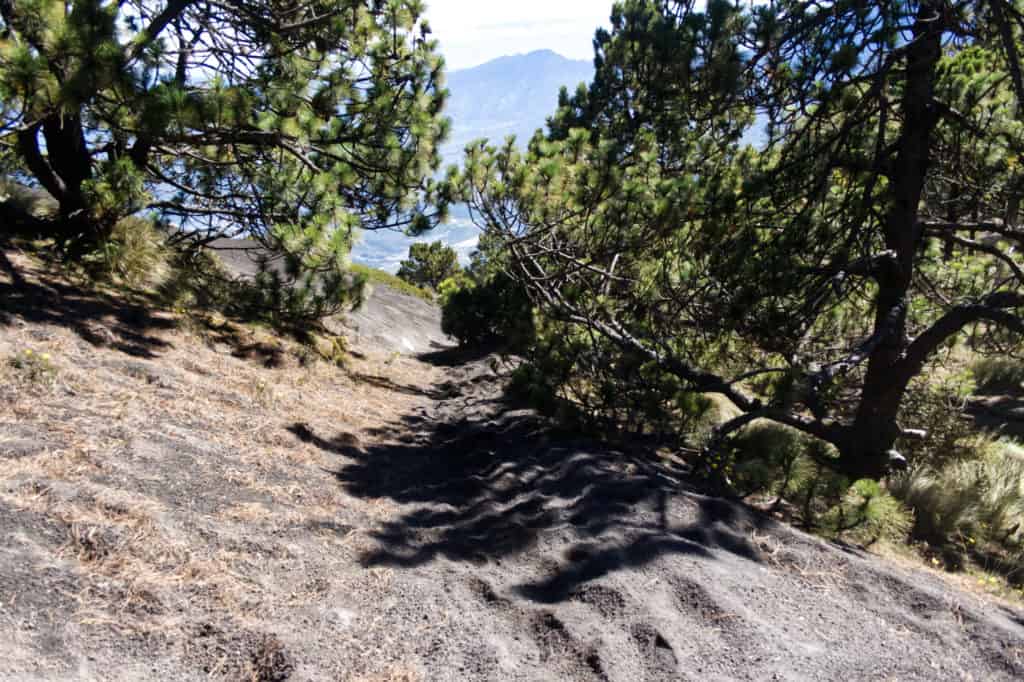 After the plateau at El Conejo, the trail diverges again. You can head towards El Tonel and the Alotenango camping area (a longer and steeper route than Ruta de Raizales). You can also reach the eastern side of the saddle between Acatenango's peaks by taking an alternate trail from El Tonel. I remember this trail as having a long section of volcanic sand where you have to fight for every step. That was hard going while pushing a mountain bike but was lots of fun coming down.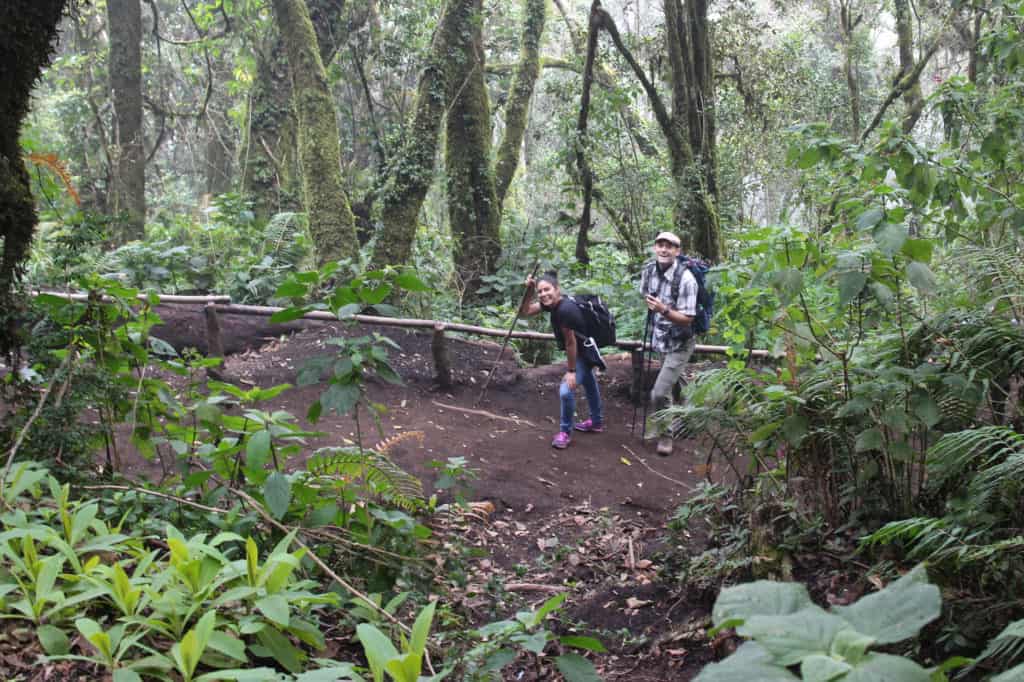 You can also choose to hike along the "Ruta Turística" or "tourist route" on Acatenango's western flank. This trail has twelve massive zigzags and emerges on the western side of the saddle between Acatenango's two peaks. It is wide and has several way stations, latrines, and camping platforms. This is a great route for beginners.

Alternatively, you can take the steeper and more challenging route up to Yepocapa, Acatenango's shorter peak, before descending to the saddle ridge and then climbing up to the summit of Pico Mayor. This route is known as "Las Tres Marías."
La Maldita and La Bendita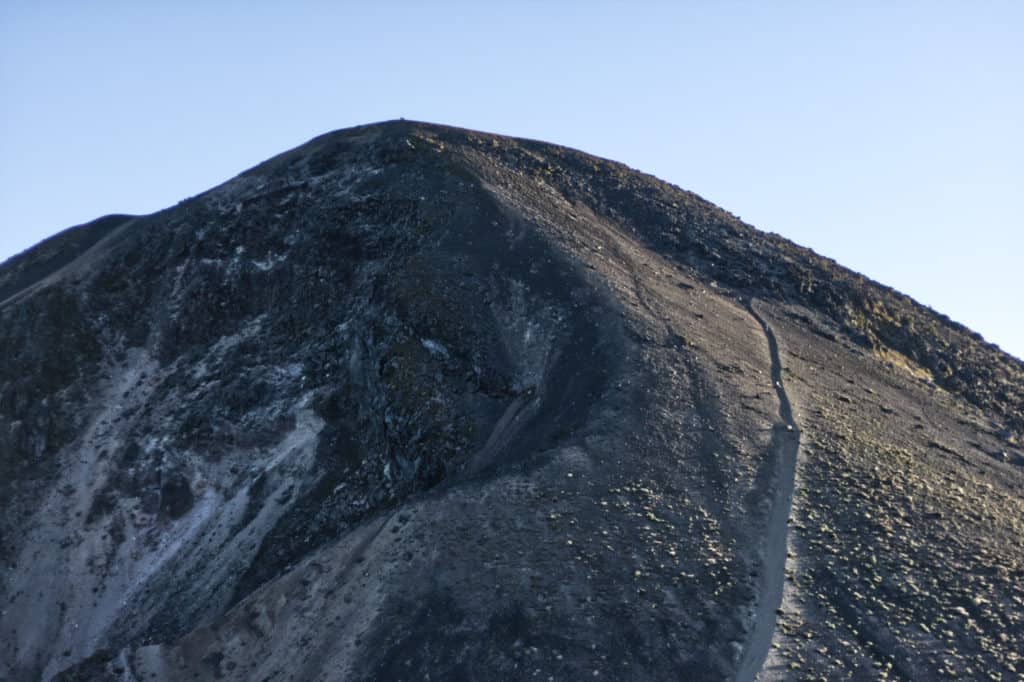 Once you reach the saddle ridge between Acatenango's two peaks, you'll make the final ascent to the Pico Mayor. You can choose to go up the western side (La Maldita – The Damned) or the eastern side (La Bendita – The Blessed).
Since this part of the trail is pure volcanic sand, it is hard going (three steps up, two steps back). Picture hiking up an insanely steep beach and you'll get a good idea of what it's like.
This is one part of the trail where having a walking stick is a HUGE help. I'm not generally a fan of walking sticks, but having one to use as an anchor point kept me from sliding backward and losing ground in all of that loose sand.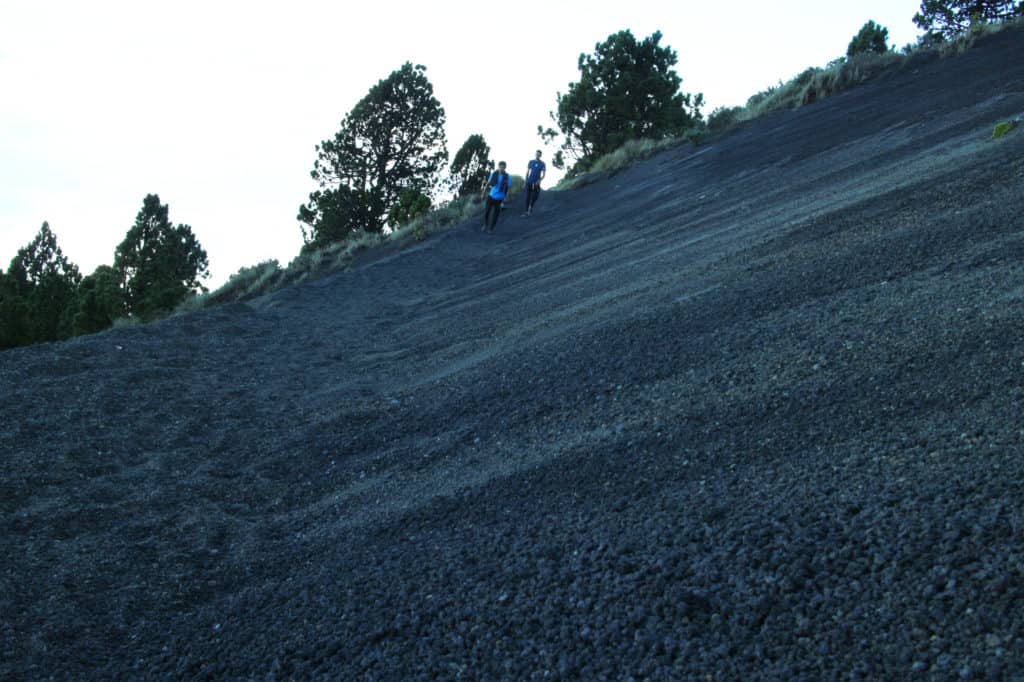 I find it easiest to go up via La Bendita and come back down via La Maldita. I've also found that forcefully burying the toe of my shoe into the sand with each step helps maintain traction.
Even though this section is really hard going up, it's the most fun section coming down. You can surf and slide on the sand with each step and really get some speed going.
When should I hike Acatenango Volcano?
It is best to climb during the dry season, from November through April.
It is also possible to hike during the rainy season, just make sure you're prepared for mud, rain, and fog. If it is very rainy during your trip, you may prefer to do a day or sunrise hike or pick a tour agency that has cabins or impermeable structures to camp in.
The weather can be hazy in March and April, so you may have less visibility.
November is considered the best month for clear skies and incredible sunsets. The weather is cold and clear, and the landscapes are still green from the heavy rains.
Acatenango Day Hike versus Acatenango Overnight
I have loved all of my experiences on Acatenango, which, to date include:
2 overnight trips

one camping on the summit, which I DO NOT recommend
one camping on the southern flank, which was amazing

1 mountain bike day trip
1 hiking day trip
Which to choose really depends on how much time you have, your physical condition, whether or not you like camping, and whether or not this is your one chance to do it.
Climbing Acatenango Volcano is a great experience no matter what, but if you're having trouble deciding between a day (or night) hike or an overnight camping hike, keep the following things in mind.
Day/Night Hike to Acatenango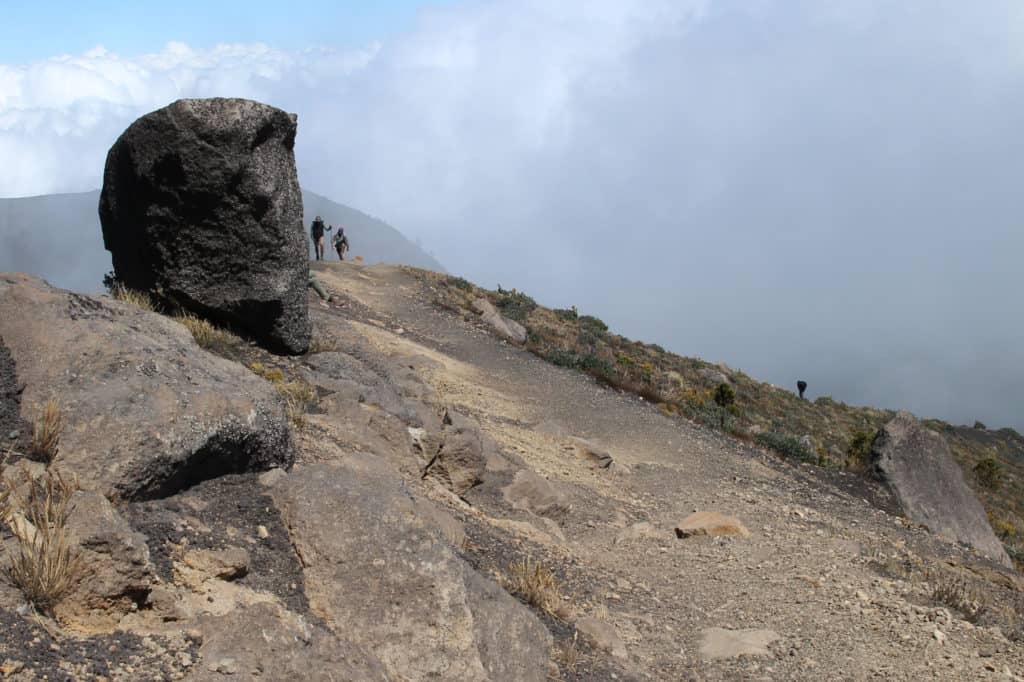 Pros
You don't have to carry nearly as much gear, so the hike is a LOT easier
Faster ascent & descent
Faster recovery time (less gear = not so sore)
It requires less preparation
You don't have to camp (which could mean a sleepless and miserable night)
The peak is much much warmer during daylight hours
Altitude sickness may not affect you as much because you'll be following the maxim "climb high, sleep low"
Cons
You won't get to see the sunrise and/or the sunset (if either)
If you go on a day hike, you won't get to see Fuego's impressive night eruptions
You'll miss the experience of camping (which could be fun)
Unless you go on a night hike, you won't see the stars, which are amazing!
If visibility at the summit is poor, there's less chance it'll clear up while you're there
You'll have to hike up and down in one day, which may not matter because it isn't as strenuous with a day pack, but might mean you have to ascend or descend in the dark, especially if it takes longer than you expect (hiking in the dark is more challenging and means you don't get to see as much scenery)
Overnight Hike to Acatenango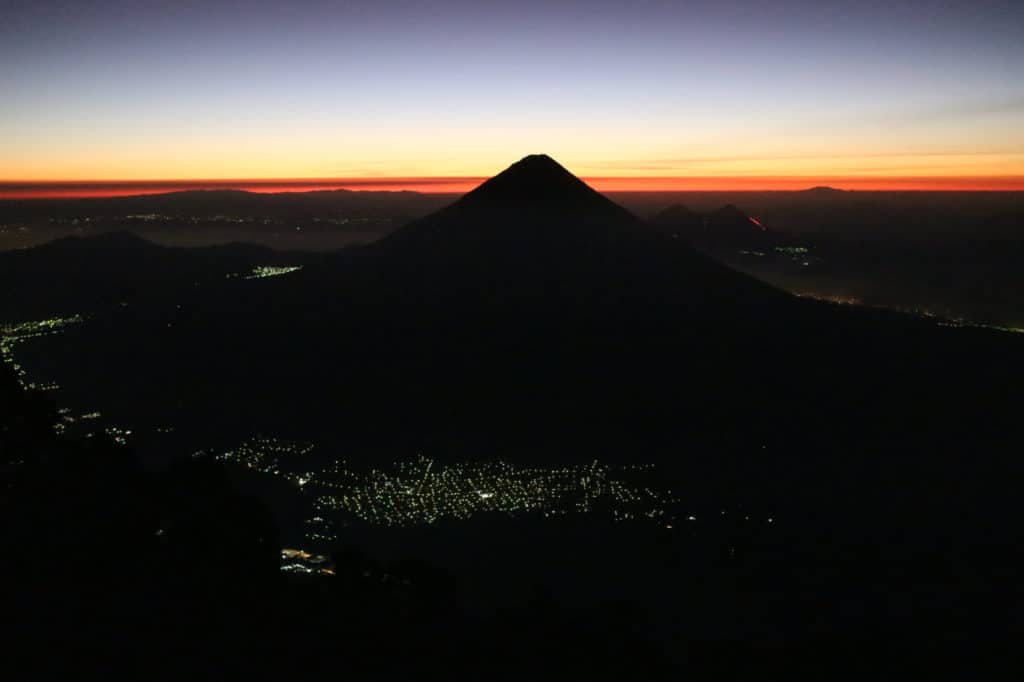 Pros
You'll experience the whole enchilada:

sunset
sunrise
stars
Fuego's eruptions
campfire
sleeping on a volcano

You'll have more time to rest
You'll have more time to watch Fuego erupting and soak in the views
You don't have to hike up and down in one day, which will give your muscles a break
Cons
If you choose to watch the sunrise from the summit, you'll have to get up very early
It requires more training and more preparation
You'll have to carry a lot of gear. Even if you hire a porter, a two-day supply of water is pretty heavy
Slower ascent and descent
Slower recovery time, probably (more gear = more sore)
Since our breathing slows during sleep, symptoms of altitude sickness can get worse during rest. You may experience sleep apnea (pauses in breathing that wake you up regularly).
How to prepare for the Acatenango Volcano hike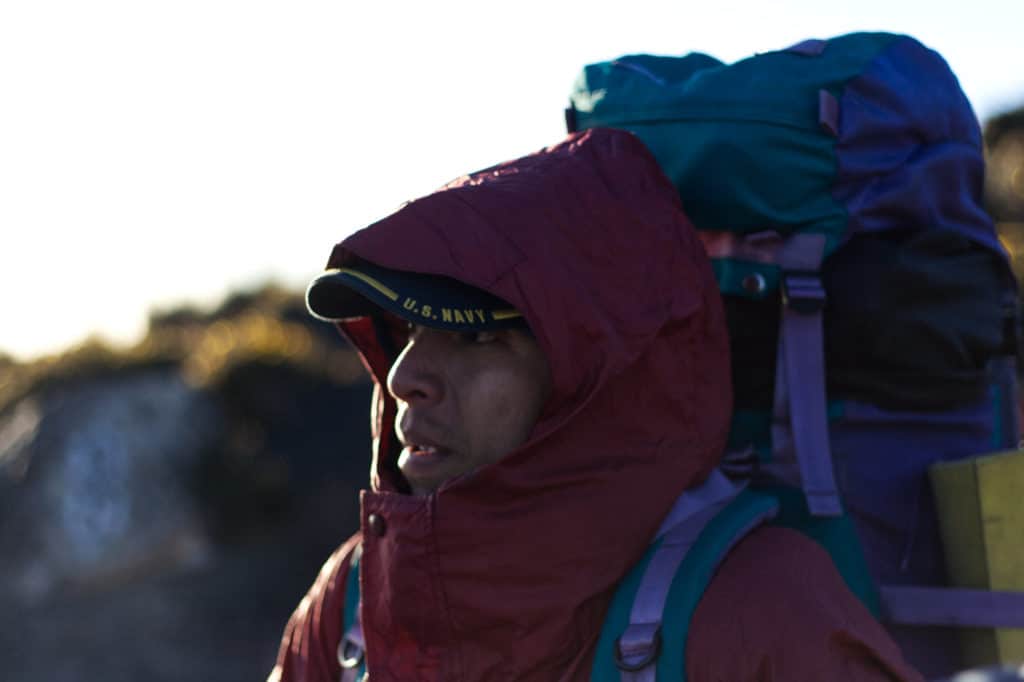 I know people who decided to climb Acatenango on a whim, went to the market to buy a watermelon, grabbed a tarp from their garage, and headed to the mountain. They got caught out after dark in the rain and had to huddle under the tarp (which turned out to be way smaller than they thought it was) until daylight. Fortunately, except for a miserable night, nothing worse happened to them.
Although it may seem more fun and freeing to just "wing it", people have died on Acatenango, so you should take it seriously. Sure, it takes more work to train and pack against eventualities, but these steps will keep you safe on the trail and make the experience more fun.
Physical Training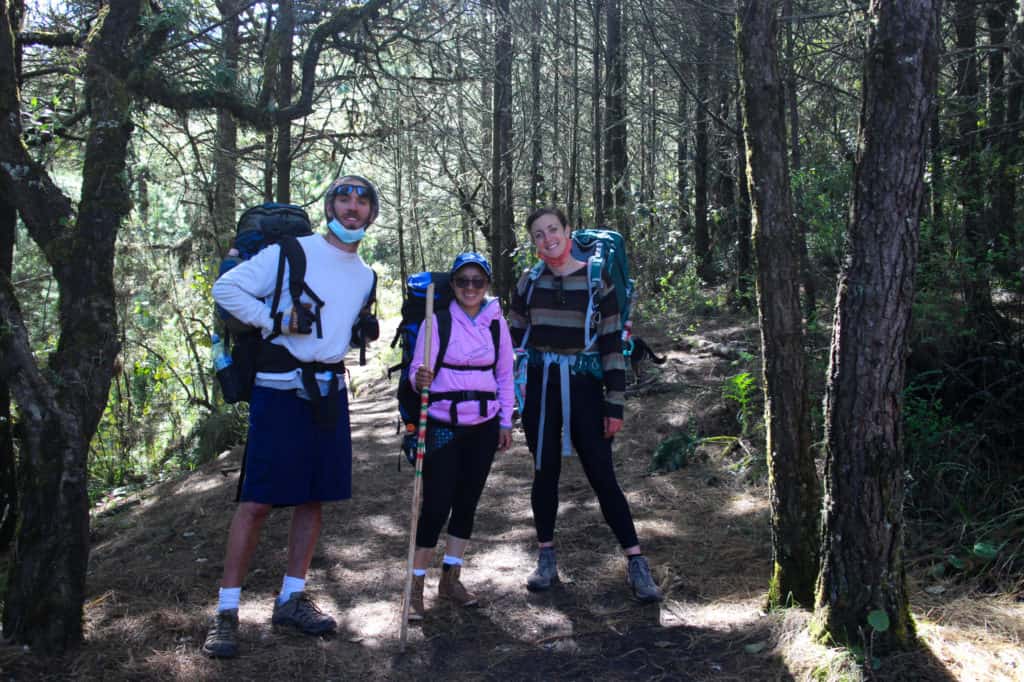 There are lots of things you can do to improve your physical condition in preparation for hiking Acatenango. I am not a personal trainer or fitness expert, just a bit of a research nerd and optimizer. All I can tell you is what I've done and what has worked for me.
Take what is helpful and doable for you, and leave what isn't.
1. Check your body alignment while walking
I use to experience excruciating hip pain on one side of my body after long hikes, then I read Katy Bowman's book "Move Your DNA" and learned how crucial it is to make sure your body is in alignment. I realized that when I walked, I was stepping inward with my left leg. When I corrected this problem, the pain gradually went away.
2. Improve your walking efficiency
Another thing I learned from Katy Bowman's book is that most of us don't walk, we fall. Instead of balancing on one foot, stepping forward, and then balancing on the opposite foot and stepping forward, most of us fall forward, catch ourselves with our lead foot, and fall again. This puts a lot of stress on the knees. If you have knee problems, try to eliminate or reduce this "falling phase." Here's a podcast transcript where Katy talks about this (see section 1).
Now when I walk, I focus on standing tall and centered, keeping my weight on my back foot, and stepping rather than falling forward with my lead foot. I also focus on using my leg, hip, and butt muscles to propel myself forward. The difference is amazing.
Mark Verstegen, author of "Core Performance Endurance" writes, "By maximizing the efficiency in and around the hip cuff through improved mobility, stability, and strength, you will discover the engine that will propel every stride and stroke of your endurance endeavors."
3. Breathe through your nose throughout your day & while exercising and sleeping
4. Do squats every day
Squats are a fantastic exercise, especially if you mix up what kind of squat you are doing. I do 110 squats every day of the year.
As Katy Bowman puts it: Squats require "the full mobility of a lot of different parts, right? It's your ankle joint, the mobility of your foot muscles and your calves and your hamstrings and your quads and your hip flexors, all of those have to change shape when you come down into a squat." That changing shape is a good thing! It means your body is strong and agile.
5. Walk 20 miles a week (or more), mixing up the distances and terrain
This is a fun way to approach walking because you can walk 1 mile one day, 5 the next, then 15. You can fit the walks in according to your schedule. Walking varied amounts is better because it means you can go for long distances.
You use different muscles depending on whether you're going up or downhill or crossing rugged terrain, so this another great way to prepare for hiking.
6. Walk or hike up and down hills with a heavy backpack (I filled an old one with bricks)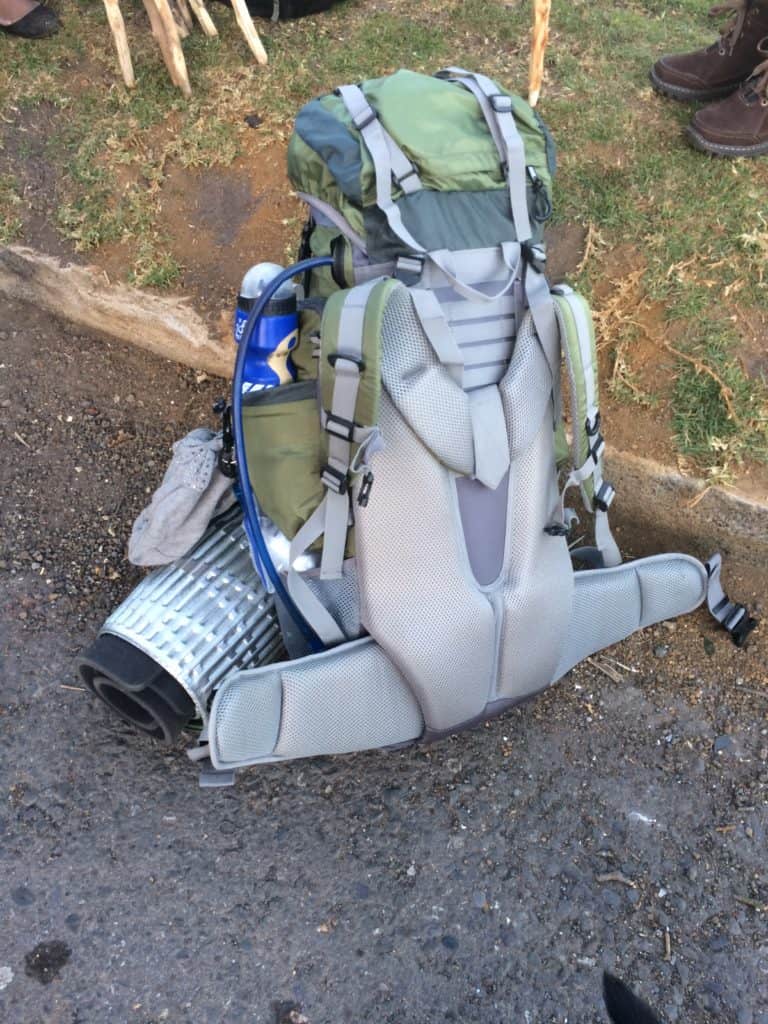 Carrying extra weight (especially that of an overnight pack) adds a ton more work to the hike, so if you can add weights to your walks, your body will thank you!
7. Do a few long hikes
Improve your endurance by going on a few long hikes of 10-20 miles.
8. Mimick high altitude training through breath-holding techniques
Check out Patrick McKeown's breathing exercises that mimic high-altitude training.
9. Do Movement Prep Before the Hike
Rather than doing static stretches before the hike, I do what Mark Verstegen calls "movement prep" in his book "Core Performance Endurance." They are a series of dynamic movements that warm up the body and get it ready to rock and roll.
This YouTube video shows some examples of movement prep exercises.
Mental Toughness Tips to Summit a Volcano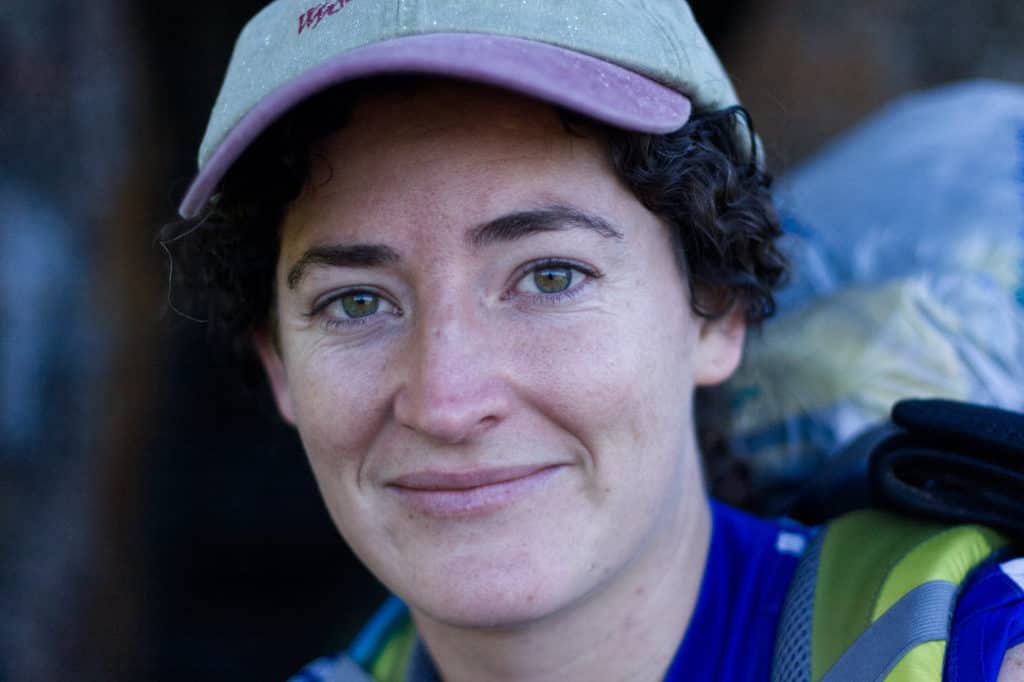 Climbing Acatenango is as much a mental game as a physical challenge. The first time I saw Acatenango looming into the sky, I wondered what in the world I'd been thinking. There was no way I could get up that volcano. I would die. Fortunately, my pride and determination kicked in by the time we got to the parking lot.
The great thing is, you don't have to climb the volcano all at once, just step by step.
I focus on my posture, on planting my feet, I admire the views, I breathe into the pain in my muscles. If it gets really tough, I count my steps by threes. One, two, three, one two three. One. Two. Three. All I have to do is take three steps, then three more, then three more. I can feel myself making progress. I make it into a rhythm game, fast or slow or staggered.
Don't tell yourself you can't do it. Tell yourself you can. You will. You are. You are capable of more than you know. Celebrate at the summit.
Dealing with Muscle Soreness
I toss a tennis ball into my pack and use it to massage my muscles at the campsite and to release muscular trigger points.
Getting Elevation Ready
At 13,045-feet at the summit, Acatenango Volcano falls into the "very high" elevation scale. This means altitude sickness is a real possibility and you should be as prepared as possible to mitigate its effects and deal with it if it comes, regardless of your age, sex, or physical condition.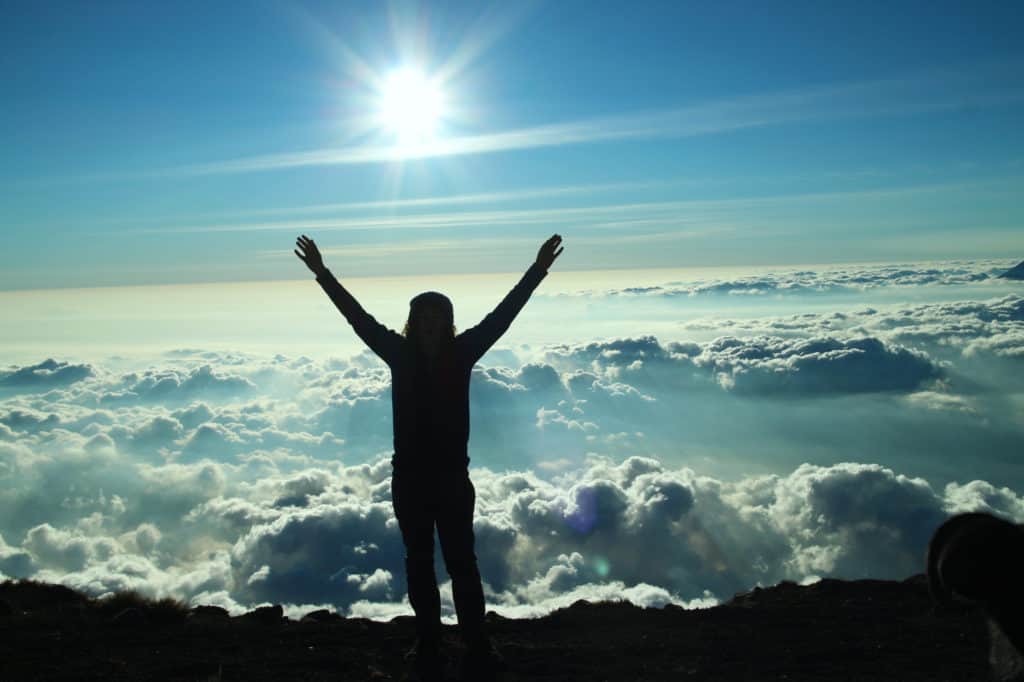 What is altitude sickness and what are the symptoms?
Since there are lower concentrations of oxygen at higher altitudes, our bodies have to work harder to oxygenate our blood. We breathe harder and faster, our pulmonary arteries force blood into portions of our lungs we don't use at sea level, our capillaries leak fluid, and our red blood cell production increases.
The symptoms of altitude sickness can include headaches, nausea, and weakness.
High altitude can also affect your sleep. Most people experience sleep apnea at high altitudes, so if you sleep poorly on the volcano, it might have more to do with the elevation than the quality of your sleeping bag and mat.
How do I prevent altitude sickness?
Rick Curtis of Princeton University recommends the following:
Spend 1-3 days at a high elevation in order to give your body time to acclimatize. Before hiking Acatenango, spend 48-72 hours in Guatemala City, Antigua, or any location where the elevation is 5,000 feet above sea level or higher. If you've been at an elevation similar to Antigua's for several weeks, do some hikes!

Hydrate, hydrate, hydrate! Your body loses fluids as it acclimatizes so drinking a lot of water or rehydration solution is crucial. One way to tell if you're drinking enough is by the amount and color of your urine. It should be plentiful and clear.

Don't drink alcohol or smoke tobacco and avoid depressants like sleeping pills, they tell your body to slow down your breathing rate, especially while sleeping, which is the opposite of what you need at high elevations.

Don't over-exert yourself (I know, you're climbing a volcano. Just take it slow!)

If you experience symptoms, rest until they decrease. If your symptoms get worse, head for lower elevations. The lower you go, the better you'll feel.

Eat carbs. Yes. Yum.
Thorin Klosowski of LifeHacker also compiled some helpful tips including:
Wear lotion (and take chapstick) because your skin will dry out at high elevations

Lather up with sunscreen. The sun can be 50% more intense at high altitudes than at sea level

Try sleeping on your side
My tips for dealing with symptoms of altitude sickness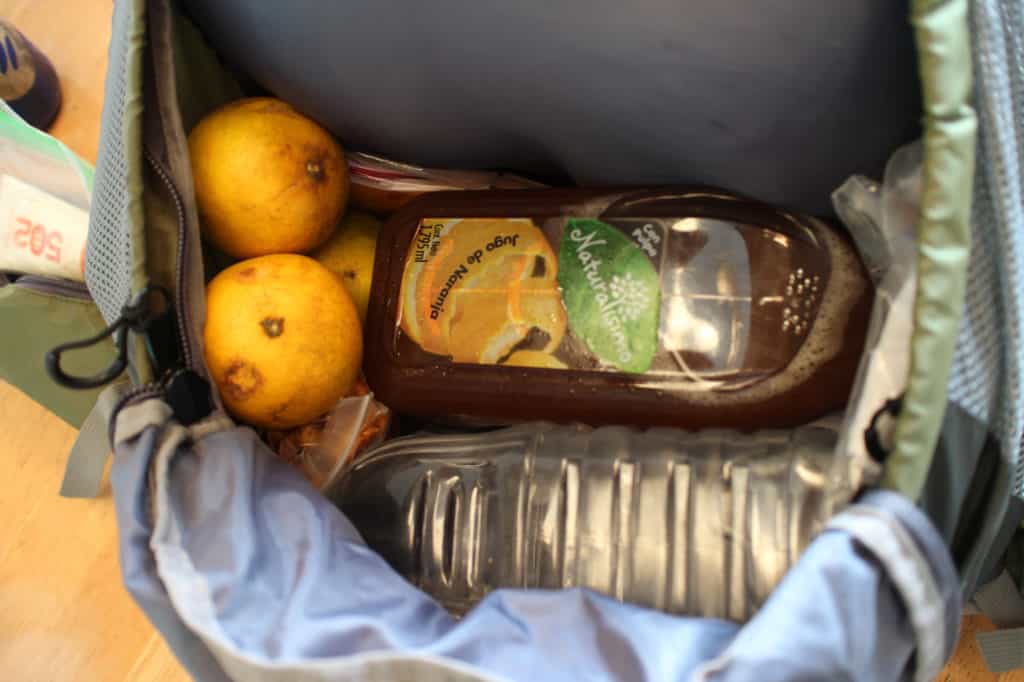 For me, altitude sickness usually starts with feeling a bit "off". I get light-headed or headachey and tired.
The first time I climbed a big volcano, I had no idea what was going on. My light-headedness developed into a full-blown headache, then nausea. It was horrible.
Don't make my mistakes! Pay attention and treat your symptoms as early as possible, no matter how slight they seem.
This is what I do when I experience altitude sickness symptoms:
The moment I start feeling light-headed, I take action by resting and drinking plenty of water.
I sip altitude tea at regular intervals.
If a headache develops, I immediately take a pain killer and continue to take it regularly for the rest of the hike
Eating can help too. My go-tos are roasted sweet potatoes and plantain chips. Other people love chocolate, oranges, and trail mix.
Altitude Tea Recipe a.k.a. Numb Tongue
Ingredients
1 handful of Cloves – Cloves help with oxygen uptake

2-4 oz Cinnamon – Adds sweetness and combats nausea

1 large bunch of Mint – improves circulation

3-4 small bundles of Thyme – increases blood circulation and oxygenation
Put these ingredients in a large pot and add 3 quarts of water. Boil until dark. Strain, pour into bottles and chill in the refrigerator. I don't sweeten mine, but feel free to add sugar or honey to taste!
What to Pack for a Day Hike to Acatenango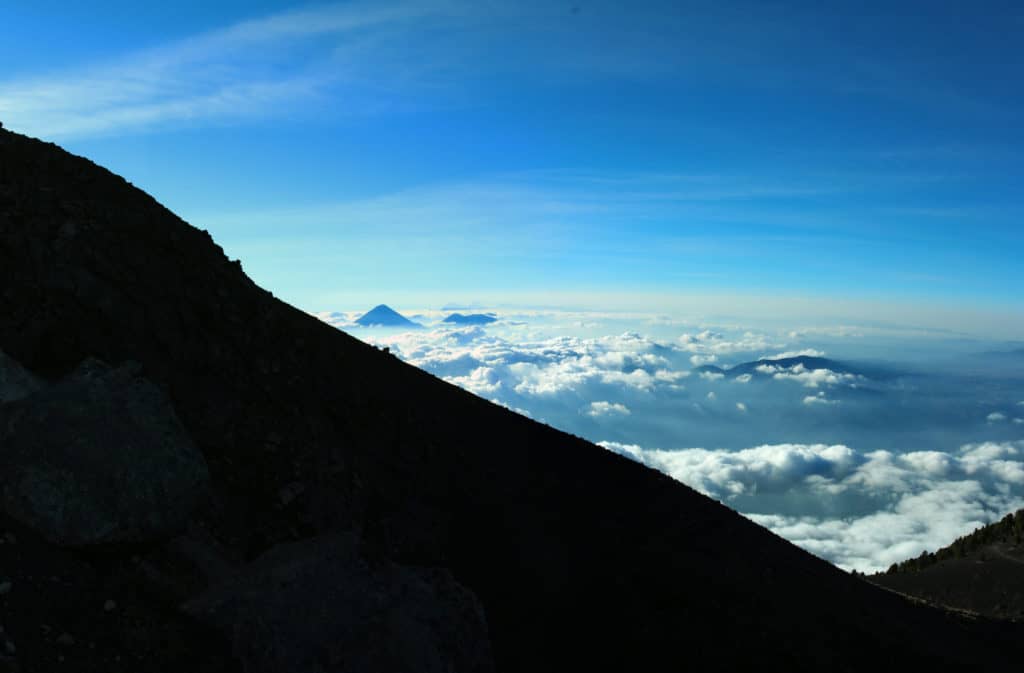 What I wear:
A wicking T-shirt, hiking pants, wicking socks, trail-running/hiking shoes
This is what I take on a day hike:
3 liters or more of hydrating fluids such as water, rehydration drinks, and altitude tea
Nutritious food and snacks, a generous amount for one day
1-2 warm layers (To my base layer I add a wicking long-sleeve shirt and fleece, followed by my rain jacket)
Tuc/Beanie, gloves
Rain Jacket/Windbreaker
Extra pair of socks
Camera and extra batteries
Sunglasses, hat, and sunscreen
Small first aid kit (pain killers, basic wound care, duct tape for blisters)
Chapstick
Money, ID, phone
Headlight/Flashlight (yes, even if you aren't planning to be out after dark!)
Toilet paper and hand gel
Matches, knife
A plastic bag to carry out my trash
What to Pack for an Overnight Camping Hike to Acatenango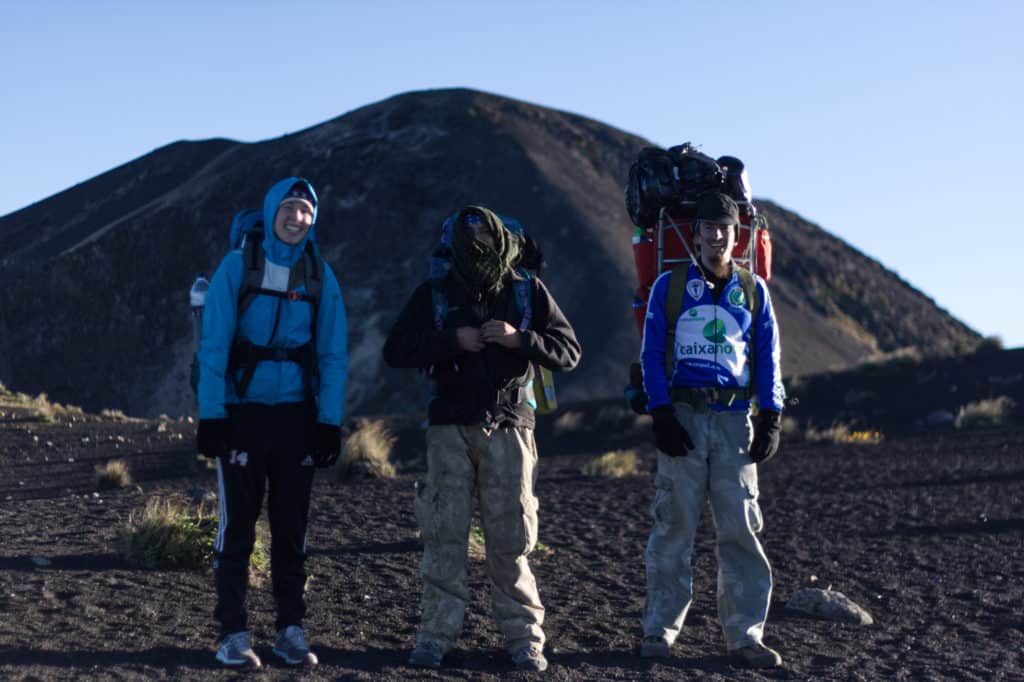 If you go with a tour agency, many of the following items may be included or you may opt to rent some camping equipment, which means you won't have to carry it up the volcano. This list assumes you aren't renting anything. Thanks to the time I spent living in B.C. Canada, I'm conditioned to expect rain, so I pack everything into plastic bags and zip-locks just in case.
What I wear:
A wicking T-shirt, hiking pants, wicking socks, trail-running/hiking shoes, handkerchief
This is what I take in my pack for an overnight to Acatenango Volcano: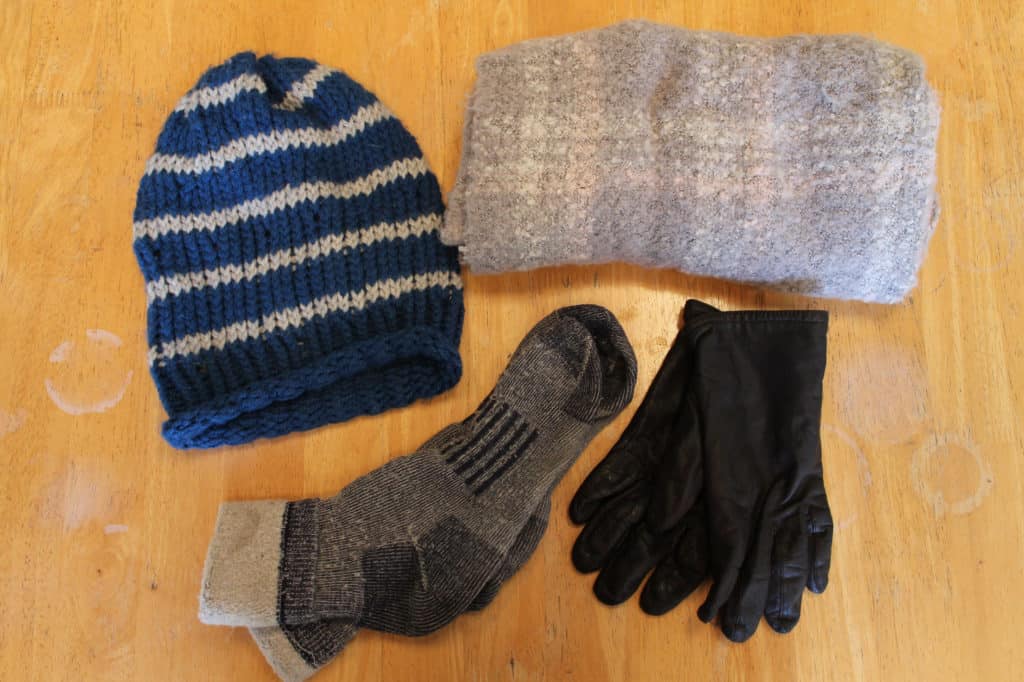 7 liters or more of hydrating fluids such as water, rehydration drinks, and altitude tea
Nutritious food and snacks, a generous amount for two days
2-3 warm wicking layers (To my base layer I add a wicking long-sleeve shirt and fleece, followed by my rain jacket)
sweat pants/yoga pants and a warm shirt for resting and sleeping in
Tuc/Beanie, gloves, and a scarf
Rain Jacket/Windbreaker
2 extra pairs of socks and underwear (I like to take 1 pair of warm wool socks)
Camera and extra batteries
Sunglasses, hat, sunscreen
Small first aid kit (pain killers, basic wound care supplies, duct tape for blisters)
Chapstick, toothbrush, toothpaste, wet-wipes (a great way to feel clean-ish for sleeping!)
Money, ID, phone, cell phone power bank if you have one
Headlight/Flashlight
1 extra pair of shoes/flip flops for wearing around the campsite
earplugs and sleeping mask
Tent with a ground tarp, rainfly, taut lines
Sleeping Bag
Sleeping Mat
HotHands Body Warmers (great if you can get them, 1 of these helped keep me warm all night long)
Toilet paper and hand gel
Matches, small tactical knife
A plastic bag to carry out my trash
Tennis ball for massaging muscles and releasing trigger points
What food should I take on the Acatenango Volcano hike?
In general, you should take food that you enjoy and is nutritious and filling. Here are some ideas if you need them:
Breakfast Ideas
Granola
Fruit (such as apples, oranges, bananas)
Breakfast sandwich or wrap (eggs, bacon, spinach, cheese)
Granola Bars
Roasted root veggies
Oatmeal
Lunch Ideas
Sandwiches
Wraps
Canned Tuna on romaine lettuce
Black beans on flour tortillas
Chicken and veggie bowl
Fried chicken in a bun
Supper Ideas
Soup (Ramen cups or canned soup)
Pasta with tomato sauce
Tortillas with melted cheese
Hot dogs or sausages
Snack Ideas
Nuts
Dried fruit
Fresh fruit
Chocolate
Chips (potato, corn, plantain)
Roasted sweet potatoes
Cooked spinach or swiss chard
Carrot sticks or other veggies
What does it cost to go on the Acatenango Volcano hike?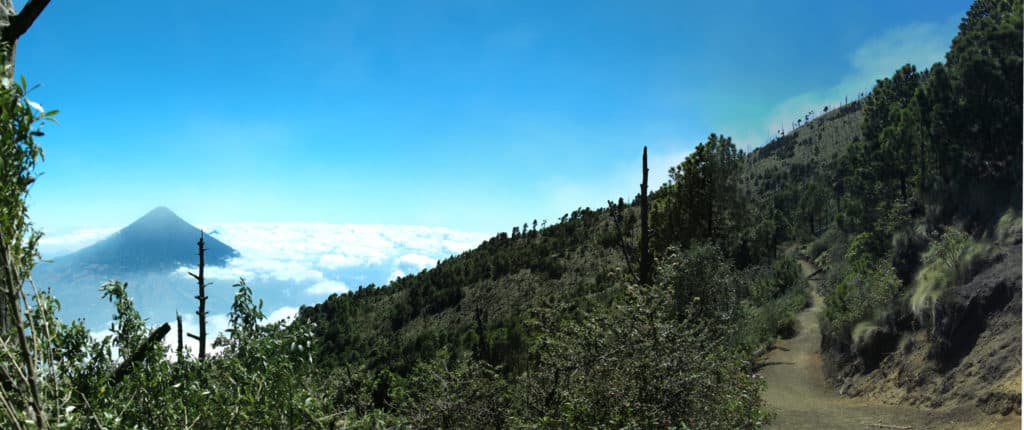 Entrance fee:
Q50 for Foreigners
Q25 for Guatemalans and permanent residents
Q10 for Guatemalan Students
Guide
Q200-350 for a day trip
Q400-450 for an overnight camping trip
Optional: a tip for your guide
Alotenango Campground
Horse Rental
Q200-250 per person
Q200 per backpack
Porter
Q150-200 per backpack (depending on the weight of the pack)
Walking Stick
Guided Tour with a Tour Company
Prices range from $40 to $229 depending on the tour company and what is included.
Choosing a Tour Company for the Acatenango Volcano Hike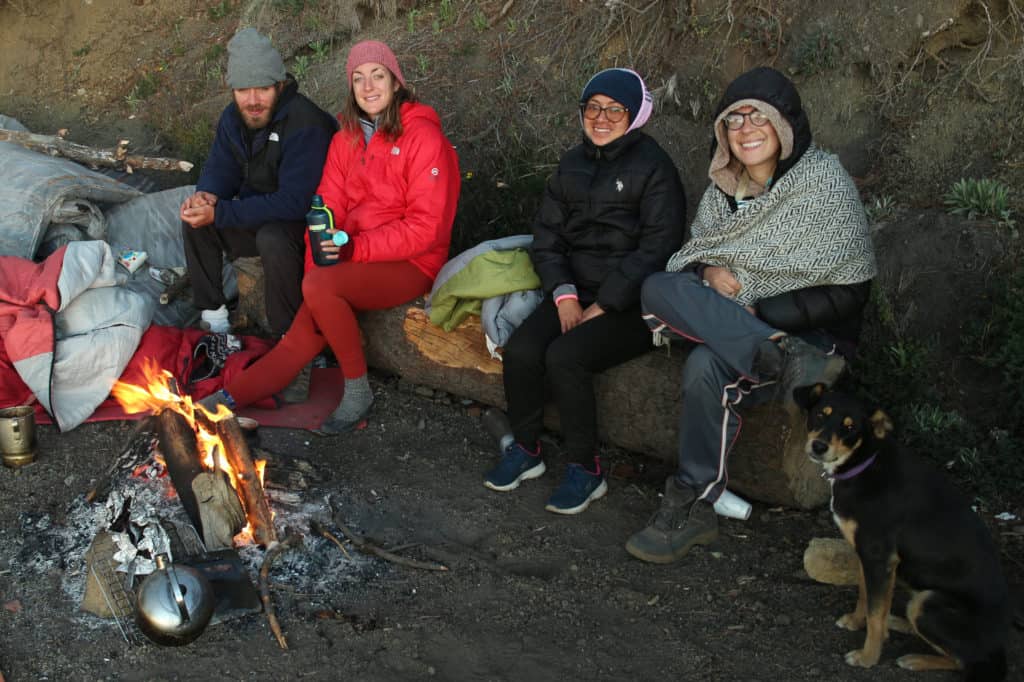 You don't have to go with a tour company in order to hike Acatenango. If you'd rather go on your own, see the section below. However, going with a tour company does have advantages, especially if they include transportation, camping gear, guides, and meals.
I have only gone with a tour company once, but I enjoyed having a guide whom I could pepper with questions. Our guide also found firewood for us and made us a campfire in the evening and in the morning.
Depending on your budget, needs, and expectations, you can find a cheap tour that includes the bare minimum like I did (guide, campsite, campfire), or one that includes everything from camping gear and steak dinners to multi-lingual guides who know lots of information about the region.
Know what is important to you so you can find the right tour company.
If having a clean and quality sleeping bag is important to you, make sure you ask about that ahead of time. Do you need a guide who speaks your language, or is a Spanish-only guide fine? Do you want your meals provided? Are you okay with simple food or do you want something fancy? What kind of hike do you want? A night and sunrise hike? A day hike? A sunset and night hike? An overnight camping hike? Do you want to watch the sunrise or the sunset from the summit? Where would you like to camp?
I've written an entire post comparing six different Acatengango Tour Companies that leave from Antigua Guatemala, so be sure to check it out! Here are the names of some lesser-known operators:
Gilmar Soy
Guate Valley
Copal Turism and Culture
Guate Expeditions
Chuchito Tours
How to get to Acatenango Volcano on your own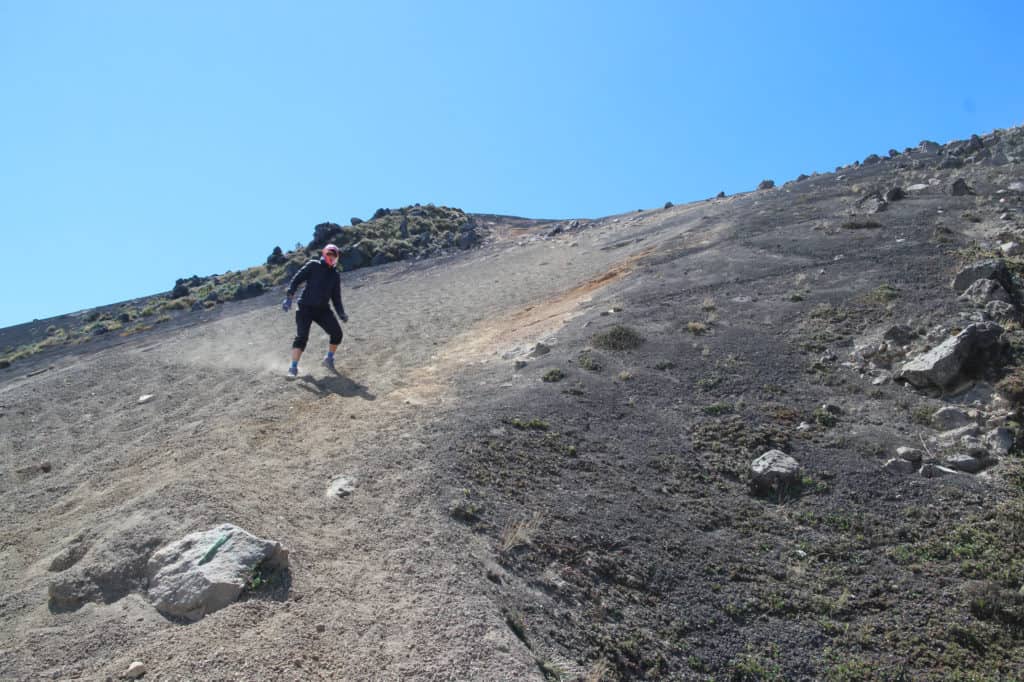 If you have all the gear you need, your own transportation, or would rather not go with a tour company, that is completely doable. You can still opt to hire a guide once you reach the town of La Soledad. Feel free to haggle to try and get the best price. Some tourists have even asked around until they found a local guide, camped beside the guide's house, and then left for the hike the next morning.
If you are a foreign tourist, are traveling alone, have no mountaineering or volcano experience, and are planning an overnight camping trip, I highly recommend spending the money on a guide.
Paying for a guide is also a great way to support the local community and discourage crime. It is possible to get lost on the volcano, suffer from altitude sickness, and get hypothermia. Take precautions, be as prepared as possible, pack adequate food, water, flashlights, survival gear, and warm clothing. Don't panic and stay with your group.
Driving Directions to Acatenango Volcano
From Guatemala city, head west on CA-1 Occidente towards Chimaltenango. In El Tejar, turn left onto CA-1 Occidente-Libramiento de Chimaltenango. After 5.3 kilometers, take the off-ramp, then take a sharp right on Carretera a Parramos. Drive straight through Parramos, then turn right at the T on Ruta a Yepocapa.
Continue for 17.8 kilometers to Aldea La Soledad. Partway through town, you'll see another road branching to the right. Take a hard right into the parking lot.
Public Transportation from Antigua to Acatenango Volcano
Go to the bus terminal (located near the Antigua market) or to the crossroads at Acatenango and find a bus going to Parramos. In Parramos, ask around for a bus or microbus heading to Yepocapa. Get off at La Soledad. Note: In January 2020, this trip would have cost between Q10 and Q13, but prices went up in mid-2020, and most public transportation costs twice as much as they did before, if not more.
Public Transportation from Guatemala City or the Western Highlands
If you are heading from the city, take any bus going to Chimaltenango, Panajachel, Huehuetenango, or Quiché.
If you are heading into the city from Xela, Panajachel, Sololá, Huehuetenango, or Quiché take any bus going to Guatemala City or Antigua. Get off the bus in Chimaltenango.
Ask around until you find a bus or microbus going to Parramos. In Parramos, ask around for a bus or microbus heading to Yepocapa. Get off at La Soledad.
Can I take my dog on the Acatenango Volcano hike?
Yes! Dogs are allowed on Acatenango Volcano.
This was great news for me because I love taking my dog, Lily, on my adventures. We'd been on many hikes together, both long-distance and steep, so I knew she could handle it physically. I also researched how much water she would need per ounce of body weight, read up on some basic dog first aid, and thought through what she would need in order to feel comfortable sleeping with me in the tent.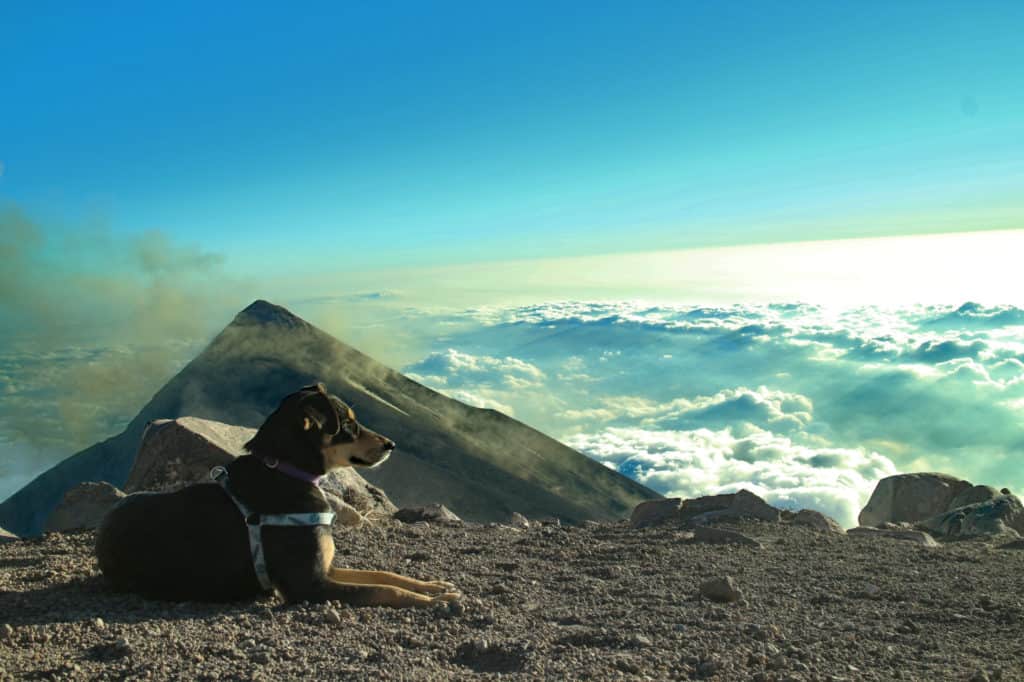 Before you take your dog with you to Acatenango, consider the following important points:
Physical Condition
Some dogs are built for running and trails and love it, others prefer to lounge at home or can't handle short walks. Be realistic about what your dog is capable of and what your dog will enjoy. Ask yourself if your dog can handle hiking for five to nine hours.
Make sure your dog is ready by training for the hike together. Go on long walks, hike up and down hills, go on trails with varied terrain.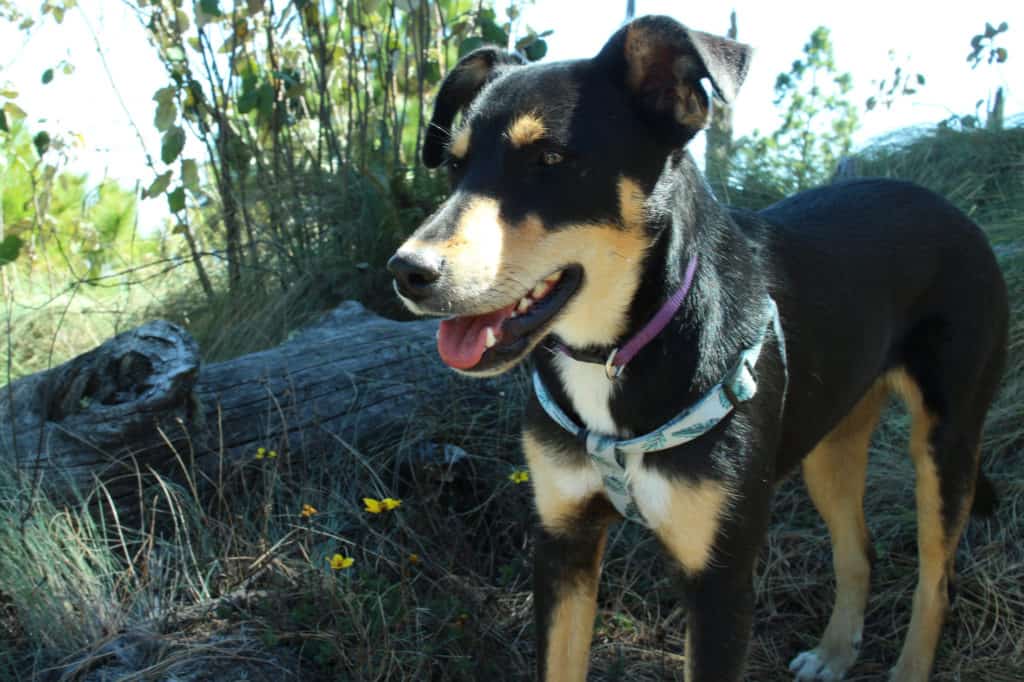 Tough Paws
Make sure to toughen up your dog's paws before the hike by taking them on regular and long-distance hikes.
Tent Ready
If you're doing an overnight and your dog hasn't slept in a tent before, it's important to make this fun and familiar beforehand. I set up my tent in my backyard and tried coaxing my dog inside with treats. I had to carry her in the first time, and we sat inside and I fed her treats and praised her. Feel free to do this over a period of time. I also left the tent set up for a while and left her food bowl inside.
Lily had been camping before, but not in the tent I was using for the volcano hike. I knew she would be okay sleeping inside once she got used to it. But if your dog has never slept in a tent before, you might want to spend a night or two sleeping in your tent ahead of time, even if it's in your house.
Water & Food Needs
Make sure you have enough water for your dog. You can calculate how much you'll need based on your dog's weight. For food, keep track of how much you feed your dog in a day and then take some extra because they'll be working extra hard
Behavior
Brush up on training and etiquette before your trip. I kept Lily off the leash for most of the hike. She's pretty good about coming when I call or returning to check up on me when she runs ahead. She is extremely friendly, so I had to call her a few times to keep her from heading off with other groups.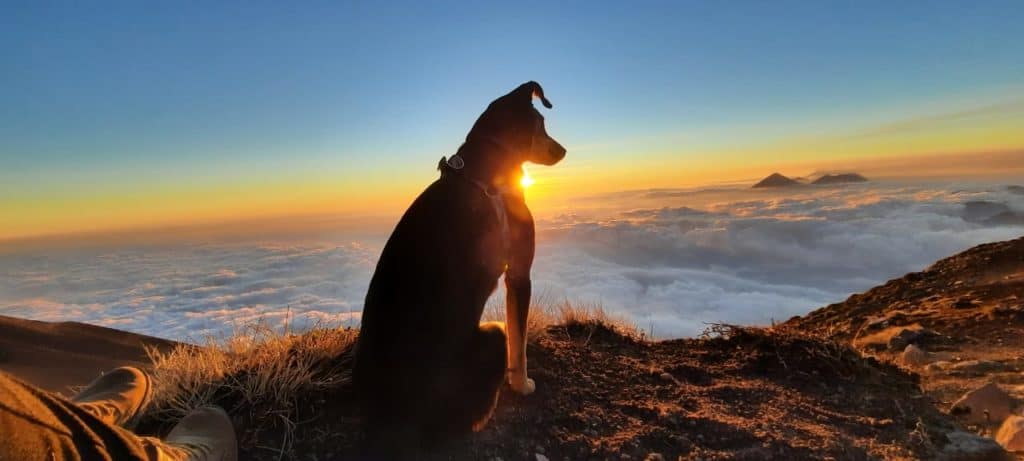 I actually lost Lily on the way down the volcano. We stopped for a couple of seconds at a restaurant, and then kept going. There were a hundred people going up and down the trail by then, and Lily must have run off to greet a stranger. I didn't notice until 10-minutes later and had to back-track to find her. Fortunately, she was still at the restaurant, tail-wagging her way from patron to patron.
What to Pack for Your Dog for the Acatenango Volcano Hike
My dog weighs about 35 pounds, so I took 70 fluid ounces for her for our two-day hike. I took five cups of concentrate, a bag of treats, two pieces of light foam for her to sleep on, tweezers in case she got a splinter in her paw, the lid of a large coconut oil container to put water and food in, and a towel in case she got wet. I also bought 3 pairs of baby socks to serve as booties in case we encountered frost or her paws got tender. (I didn't end up using them, but I like having them as a fallback.)
Do Your Research
This article was a great resource for me in preparing to take my dog to Acatenango Volcano.
Can I mountain bike on Acatenango Volcano?
Yes! It's a long slog to hike yourself and your bike up to the saddle ridge where the descent begins, but it's worth it.
The best part is mountain-bike-surfing down crazy steep grades on a wave of volcanic sand.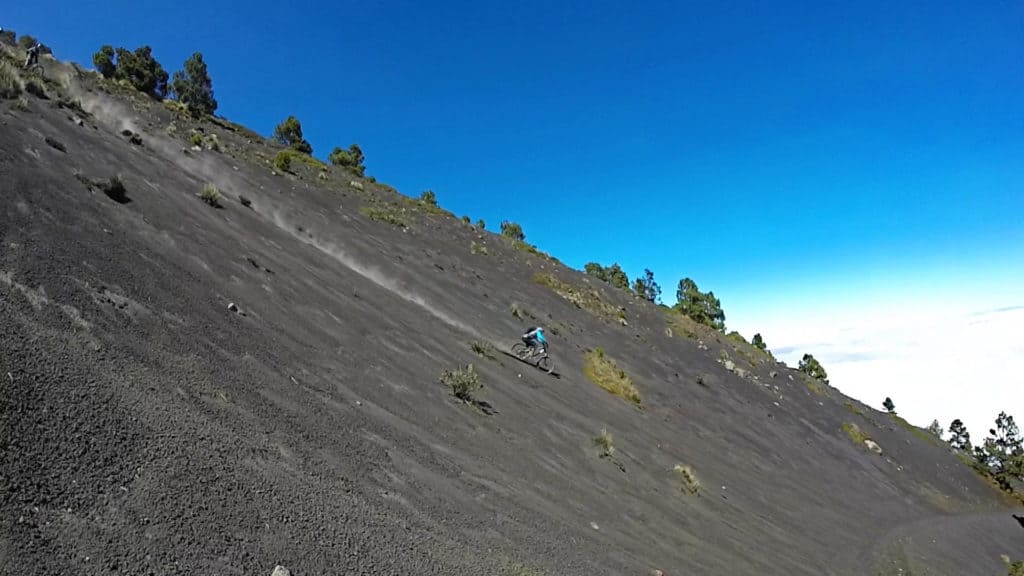 When I mountain biked Acatenango Volcano it took me six hours to push my bike to the top of the saddle ridge between Acatenango's two peaks: Pico Mayor and Yepocapa. Keep in mind, I wasn't in very good shape at the time. It was the first bike trip I'd been on in over a year thanks to carpal tunnel and muscle spasms in my neck. The bikers featured in the video below made it up in five hours.
There are newer and smoother trails now, so you may be able to do a lot more riding on the way up than I did. Or you can hire a porter to push your bike for you (or possibly a horse to carry it). Another possibility is to pay the large fee at the Finca and get a driver to ferry you to the parking lot near the top. If you arrange it ahead of time, they may allow you to make several trips up and down, which would maximize the fun by a lot.
My dad, initially disparaging of the one person in our group who hired a porter for his bike, was kicking himself later. Personally, I'm glad I pushed my bike up. It made the ride down that much sweeter.
The trail was a lot of fun, with loose volcanic sand on the first section, followed by smooth single track through the alpine forest. From there the trail turned into rocky switch-backs before diving through the cloud forest over roots and through curves. My dad got going so fast on this section that he lost control and sideswiped a tree. (Don't worry, he was fine.)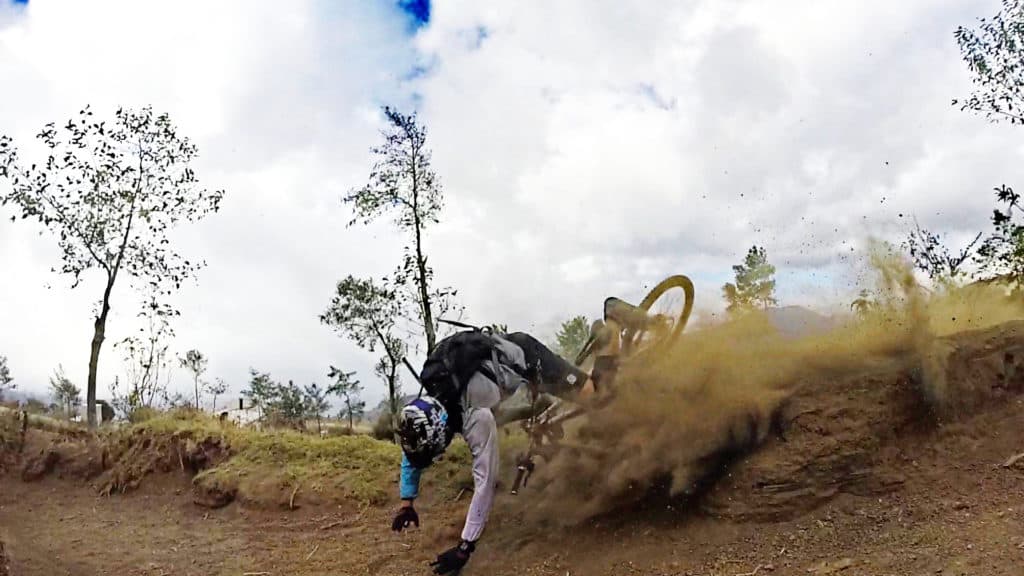 Biking down took me two hours, but other more competent riders did it in 30 minutes.
Since there are lots of hikers on the trail during the weekends, I recommend mountain-biking Acatenango during the week so you'll encounter less foot traffic. Remember to slow down or move aside for farmers, hikers, and horses.
My experiences climbing Acatenango Volcano
November 2012 Overnight
This was a fun trip because my friend, William, was extremely enthusiastic and infected all of us with his excitement. We went with an entire school bus full of people and only one guide (who stayed in the absolute rear). Fortunately, William knew the way, and he guided us to El Conejo and then up Las Tres Marías. It was hard going but gorgeous. We started the ascent at 11 am and made it to the summit just after sunset (around 6 pm).

During this trip, we pitched our tents in El Plato, the crater on Pico Mayor. This was not a good idea. I do NOT recommend camping at the summit. It's like sleeping on the moon, with plummeting temperatures and insane winds. It took four of us 30 minutes to get our tent set up because it was blowing horizontal in the wind.
If you don't have a tent with lots of guy loops and taut lines, your tent may collapse and your tent poles may break. We were so cold that we barely slept, and my brother was so miserable that he didn't even get up for the sunrise, which is kinda the whole point of camping. When I went out to pee, my butt froze (I will admit, though, that the stars were the best I've ever seen.)
February 2015 Mountain Bike Trip
I spent 6 hours hiking my bike up to the saddle between Yepocapa and Pico Mayor and then two hours zooming down, my fingers cramped from braking. If you have bad knees, this is one way to save them from hours of agony on the descent!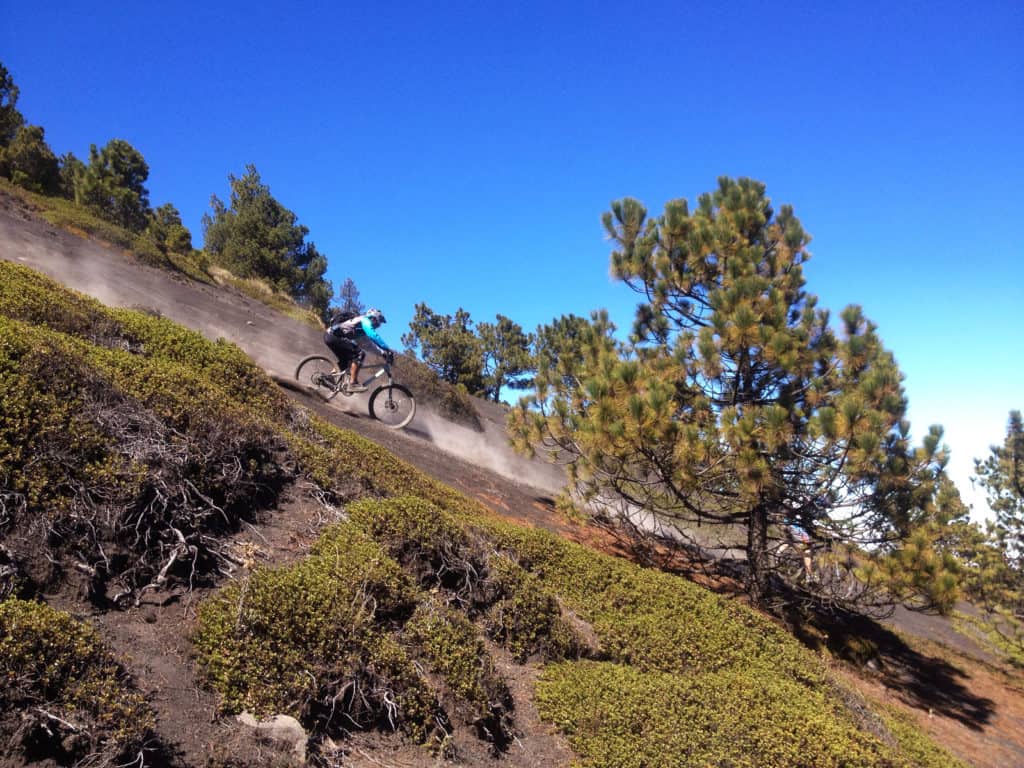 We went up to El Conejo, then took the trail to the east side of the Acatenango's saddle ridge. If I were to do it again, I'd recommend going up the Ruta Turística on Acatenango's western flank because it is wide and smooth and you may be able to ride most of it. I'd still recommend coming down the eastern side, as we did, because you'll have lots of volcanic scree to slalom through, followed by some beautiful single-track.
February 2020 Day Hike
This trip to Acatenango Volcano was super fun. A group of five of us went up and came down in one day. We took the Ruta Turística and went at a leisurely pace going and coming (5 hours up and 5 hours back). Between the pace and being in decent shape, it didn't feel like a very challenging hike, although the last vertical section up to the Pico Mayor is always a grind.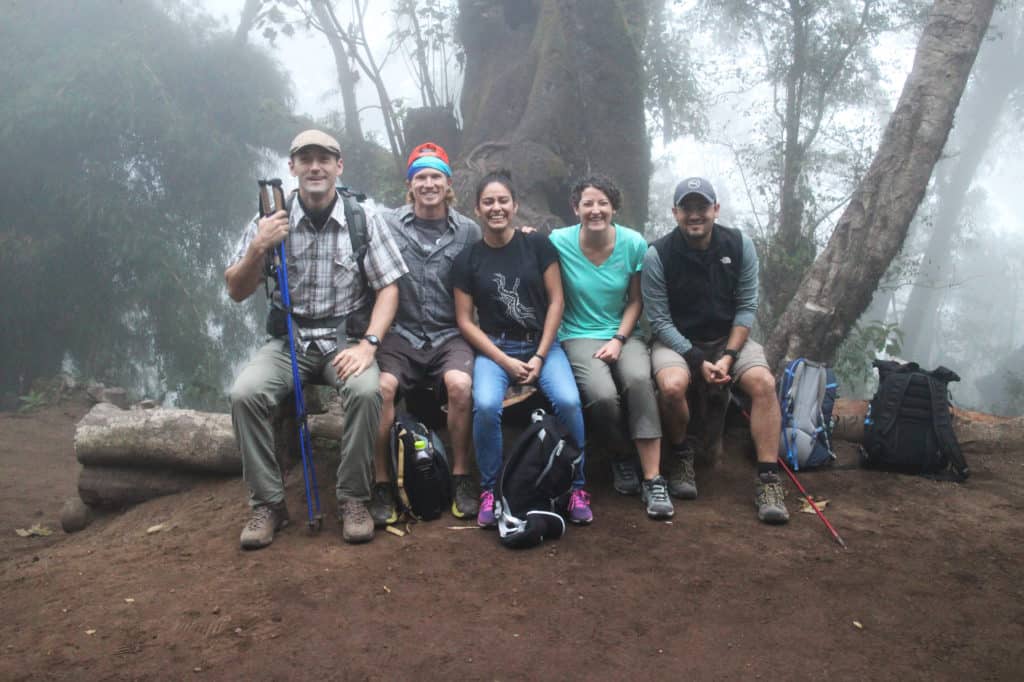 At the top, we found a couple of enormous boulders on the southern slope to protect us from the worst of the wind. Then we spent a couple of hours eating lunch, napping, and enjoying the views at the top.
We were in the parking lot at La Soledad for the sunrise at 6 am and then again for the sunset at 6 pm.
February 2021 Overnight with a Dog
I was extremely nervous before this hike. For one thing, it'd been a long time since I'd camped on Acatenango. I remembered the vicious cold and how much it sucked carrying a massive backpack up a volcano. For another, I was still recovering from a parasitic infection that threw my gut into a tailspin for the last eight months of 2020.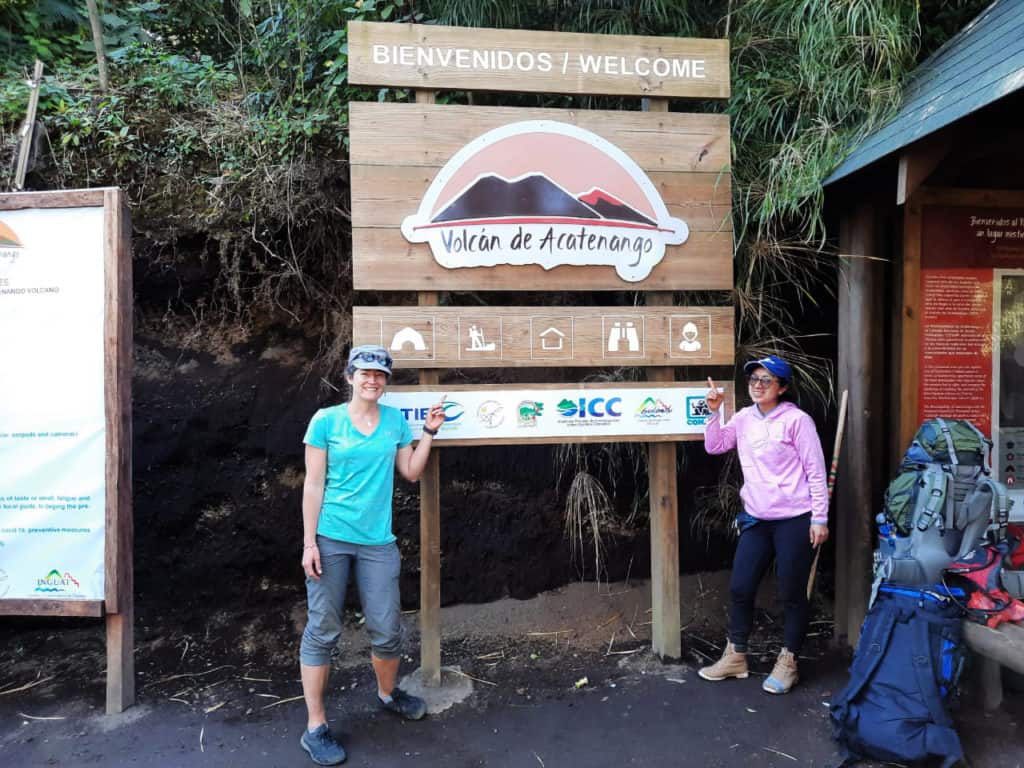 Hauling 50 pounds of gear up a 13,045-foot volcano is no joke. Fortunately, I have a good backpack. Carrying all that weight on my hips rather than my shoulders made all the difference in the world. We took plenty of breaks, I drank water and my special altitude tea (see the preparation section for the recipe) and had an awesome time.
Nothing can compare to watching the sun dive into a sea of clouds, star-gazing from the warmth of a crackling campfire, or watching Pacaya Volcano glow red in the distance and Fuego sending up sparkling gouts of molten lava.
This is an experience you don't want to miss!
Our group opted to climb the "section from hell" that same evening so we could watch the sunset from the heights of Pico Mayor. It was awesome!
By the time we got back to our campsite for the night, none of us felt like getting up at 4 am to haul ourselves back up the gravelly slopes for the sunrise. We were too tired, and it is bitter cold on the peak. Besides, our guide told us that the sunrise was great from our campsite. He was right.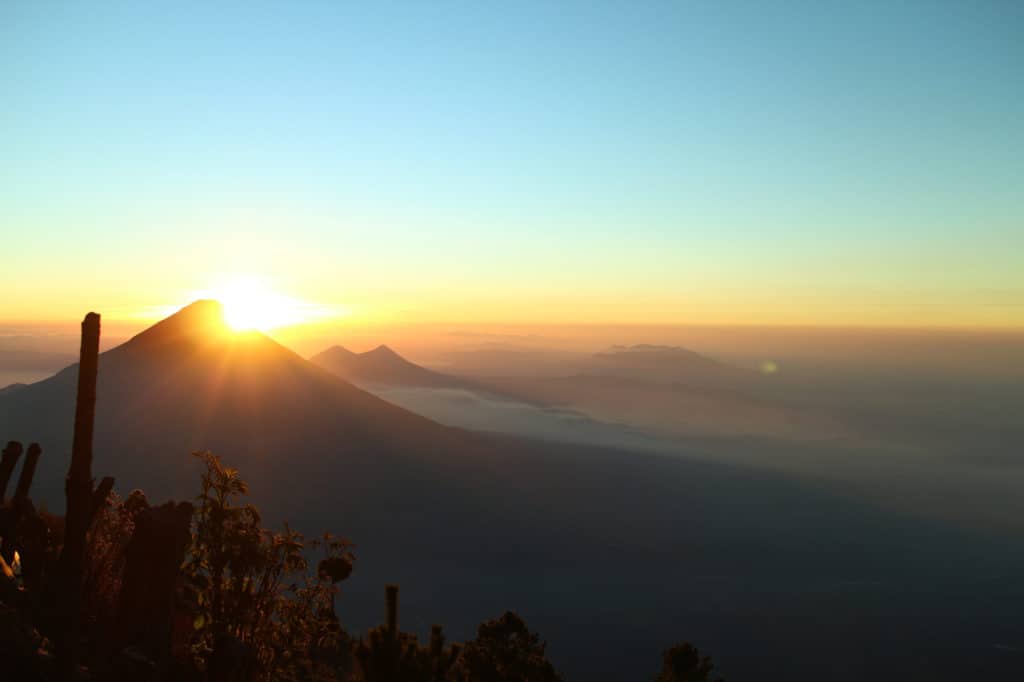 I loved being able to sleep until 5:30 and then get up and take long exposures of the stars, Fuego erupting, and watch the sunrise from the relative warmth of the campfire.
Climate and Geography on Acatenango Volcano
If you want a better idea what the hike is like and what kind of terrain you'll be traversing, this section will give you an overview of the four microclimates on Acatenango.
Stage 1 – Farmland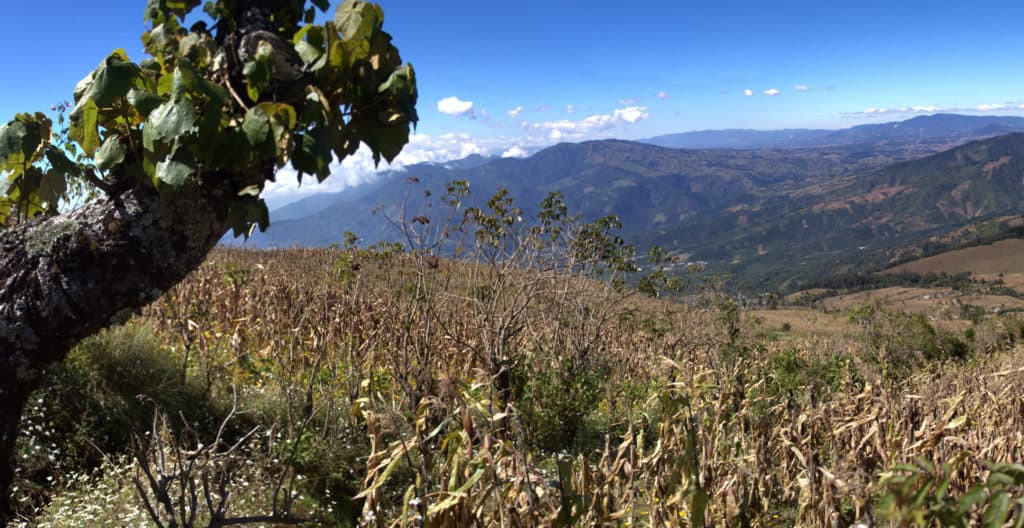 During the first part of the hike you'll be walking on trails between agricultural fields. Keep an eye out for blue ground doves (Claravis pretiosa) pecking around in the maize fields and flashing their sky-colored wings. You'll be able to see the towns of La Soledad and Acatenango, as well as distant ridges and the terraced fields on the slopes and hills in between.
Stage 2 – Cloud Forest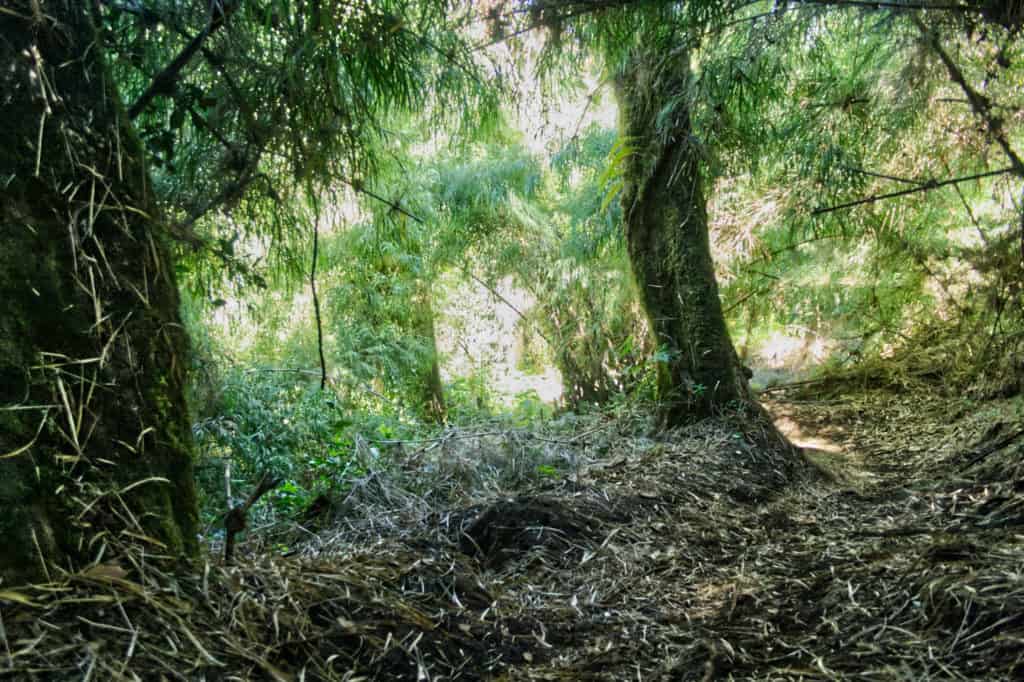 This section of the trail is fairly steep and slippery thanks to a coating of dust over hard-packed earth. In the rainy season, this part of the trail will be slick with mud. Make sure you have shoes with good traction. I didn't, so I had to work hard to keep from falling on both the way up and the way down.
During this section, you'll see clumps of bamboo, vine-covered trees, and lots of insects and flowers. The weather is quite humid.
Stage 3 – High Alpine Forest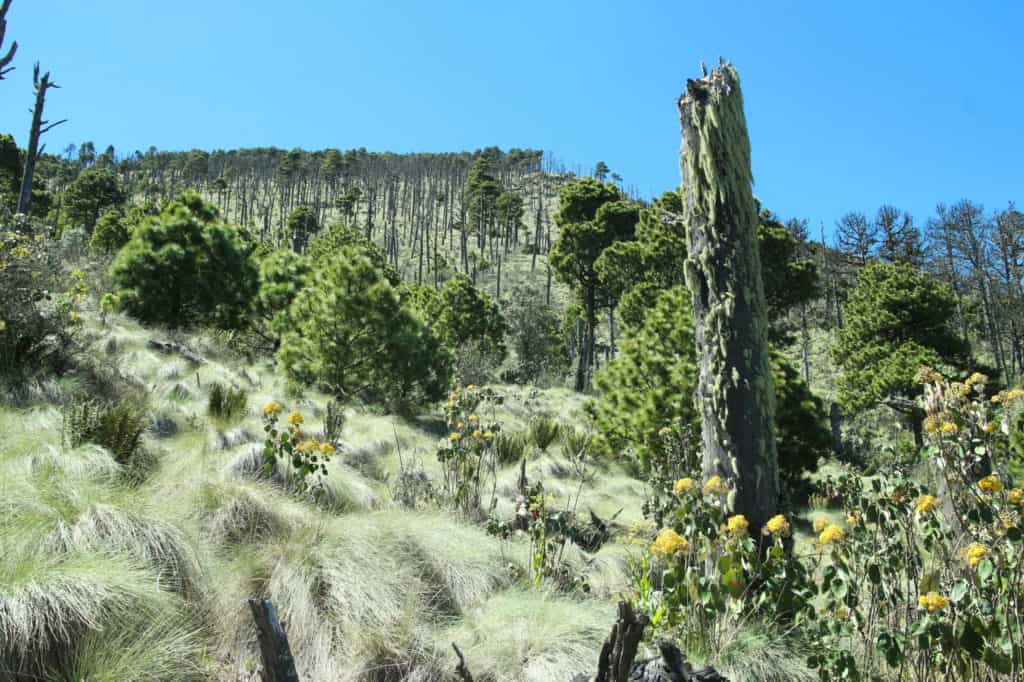 This section is one of my favorites. I love the tufty green-gold grass blowing in the wind, the pine trees draped in lichen, and the breathtaking panoramas of surrounding volcanoes.
Depending on your route, you'll have views of Agua, Pacaya, and Fuego to the southeast, or San Pedro, Atitlán, Tolimán, and Santa María to the west. If you're lucky, you may even see Tajumulco on the horizon. It is the tallest volcano in Central America.
Stage 4 – Volcanic Zone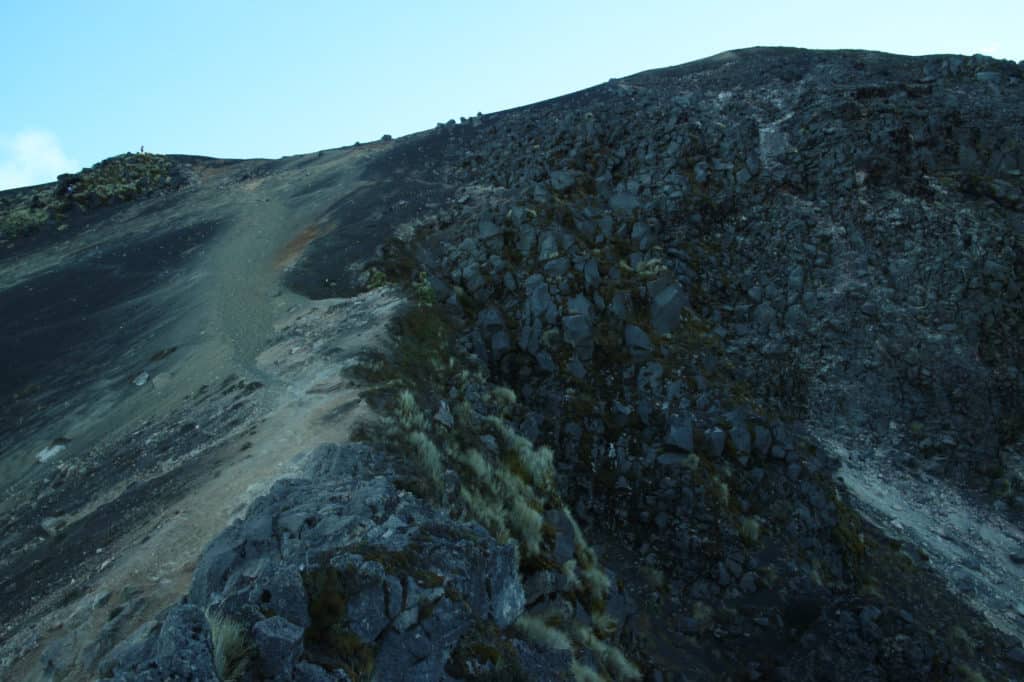 The final section before the summit is the most difficult because it is an extremely steep grade that consists of pure volcanic sand.
Expect high winds and severe cold, especially after dark. Temperatures drop below freezing (-5ºC or 23ºF) on Acatenango's exposed peaks, so make sure you take warm clothes and a rain jacket.
When did Acatenango Volcano last erupt?
Acatenango is a dormant volcano, although you can find some heat vents near the summit. Its last eruption occurred in December 1972 when it spewed volcanic bombs (lava that cools mid-air and falls like mini-asteroids) into the air. This eruption covered 25 kilometers of the surrounding region with ash.
Be sure to read my post on the Six Best Acatenango Hike Tour Companies!
Looking for more volcanoes to climb? Learn about hiking San Pedro Volcano, or nab a great tour to Pacaya, one of the most active volcanoes in Guatemala.
See What Else Guatemala Has to Offer including Laguna Brava and the Cenotes de Candelaria.
***GUATEMALA TRAVEL PLANNING GUIDE***

Should I buy Guatemala travel insurance?
YES — Personally, I always travel with travel insurance because it gives me extra peace of mind. SafetyWing is an excellent travel insurance company that's quite affordable. Plus, if you travel longterm, it's a snap to renew on a month to month basis. You can keep renewing for up to a year and still pay the same deductible.

Where's the best place for finding cheap flights to Guatemala?
When I purchase a ticket, I always search several different sites. Kayak and Expedia are great places to start running a search. Spirit is usually the cheapest carrier, but American Airlines and United also sometimes offer excellent deals.

What's the best way to book my Guatemala accommodations?
I recommend booking.com for finding and booking hotels in Guatemala. For vacation rentals, I recommend VRBO.com — it offers beautiful and unique spots to stay.

What's the best way to book Guatemala tours?
Viator is a great tour booking site with several excellent options available in Guatemala's main tourist areas including Tikal, Atitlán, Antigua, and Acatenango. There's a nice range of prices and options available.

Can you drink the water in Guatemala?
No – Don't drink the tap water! Instead, buy purified water from any corner store or grocery store in Guatemala.

Be sure to brush your teeth with that water as well to avoid getting sick. And hydrated, especially when traveling to high elevations.

Do I need a visa for Guatemala?
Probably not — Visitors to Guatemala from "Category A" countries like the United States, Canada, the UK, New Zealand, Australia, and most European countries are automatically given a 90-day tourist visa (in the form of a passport stamp) when entering Guatemala.

This visa is valid for Guatemala, Nicaragua, Honduras, and El Salvador. At the end of 90 days, it can be renewed once at Guatemala's Migración without leaving the country.

After 180 days, you will have to travel outside of Central America before returning. Check to see if you need a visa.

Will my phone work in Guatemala?
It's possible, but check with your provider in advance to see if Guatemala is covered. If not, you can easily pick up a local SIM card.

There are essentially only two carriers in the country: TIGO and CLARO. Both have good coverage.