7 Best Acatenango Hike Tour Companies 2023
Ready for the challenge and exhilaration of hiking Acatenango Volcano? All you have to do now is choose which Acatenango hike tour company to book. There are a lot of them, so I've tried to simplify the process for you by putting together a list of the top-rated companies offering Acatenango hike tours.
Have a look below for some quick information on what each tour company includes, their price tags, and a handful of reviews for each one so you can make the most informed choice.
Table of Contents:

V-Hiking Tours – $65
Wicho & Charlie's – $65
OX Expeditions – $89
Old Town Outfitters – $125
Trek Guatemala – $149
Tropicana Tours – $67
Balam Tours – $61.50
Acatenango Hike Tour with V-Hiking Tours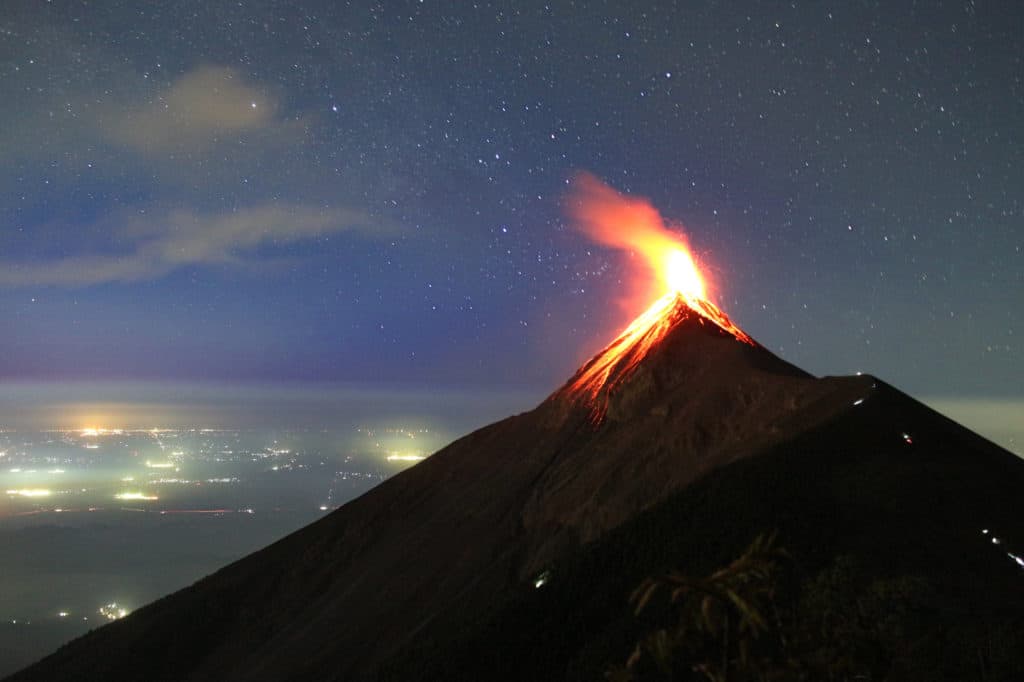 V-Hiking Tours is one of the best Acatenango Hike Tour Companies available. The company was founded by owner-operator Elvin Soy, an Inguat-certified guide. Elvin grew up in the town of San José Calderas, just two miles from the Acatenango Volcano trailhead. He started climbing when he was six years old, so he has a lifetime of experience on the mountain.
Elvin founded this company to provide work opportunities for people in his community. This way, they won't have to emigrate to the U.S. and can provide for their families.
Book with this tour company for an awesome trekking experience. Not only that, you'll get a cultural experience as well—eating a typical Guatemalan breakfast prepared in the home of your guide.
Still not sure? V-Hiking has 57 Trip Advisor reviews. One is "Very Good" the other 56 are "Excellent."
Cost of the Acatenango Hike Tour with V-Hiking
Q500 per person for tourists
Q400 per person for Guatemalans
Includes:
Private Round-trip transportation from your hotel in Antigua to the volcano
Professional Inguat-licensed guides
Entrance into the park
Food:
2 Breakfasts (one will be a typical breakfast prepared by the mother of the guide)
2 Lunches
1 Dinner
Snacks
Camping Equipment: Tents, comfortable mattresses, clean sleeping bags
Does Not Include:
Guide gratuity
Additional backpacking/Hiking Supplies
What to pack and bring yourself
Comfortable (non-cotton) or quick-drying pants and shirts
Shoes or boots with thick soles and good traction
Two pairs of socks (to change into in the evening)
Sunglasses if the weather is sunny
Warm sweater (fleece) for the evening.
Two layers of clothing to keep warm: (thermal shirt and long sleeve shirt.)
Waterproof jacket or windbreaker
Tuc or beanie cap
Warm gloves
Flashlight (headlamp with sufficient charge, or extra batteries)
Bandana
Personal medications if you have medications prescribed by your physician
Personal hygiene kit (toilet paper roll, disinfectant gel etc.)
At least 3 liters of water
Backpack that fits all the equipment on this list (35-45 liters)
Important Information about the Acatenango Hike Tour with V-Hiking Tours
Pickup at your hotel in Antigua is at 7 a.m.
Book through the V-Trekking Website
There is one guide for every 7 trekkers
Their private camp has great views of Fuego erupting
All the meals will be freshly prepared and hot
Sunrise from the summit
What they say about themselves:
Elvin, the founder of V-Trekking "began offering tours to Acatenango to provide employment for his family and the people of his community so that they would not have to migrate to the United States like many others. And also to show tourists the warmth and hospitality that Guatemala has to offer."
Go to V-Hiking Tours Site
Acatenango Hike Tour with Wicho & Charlie's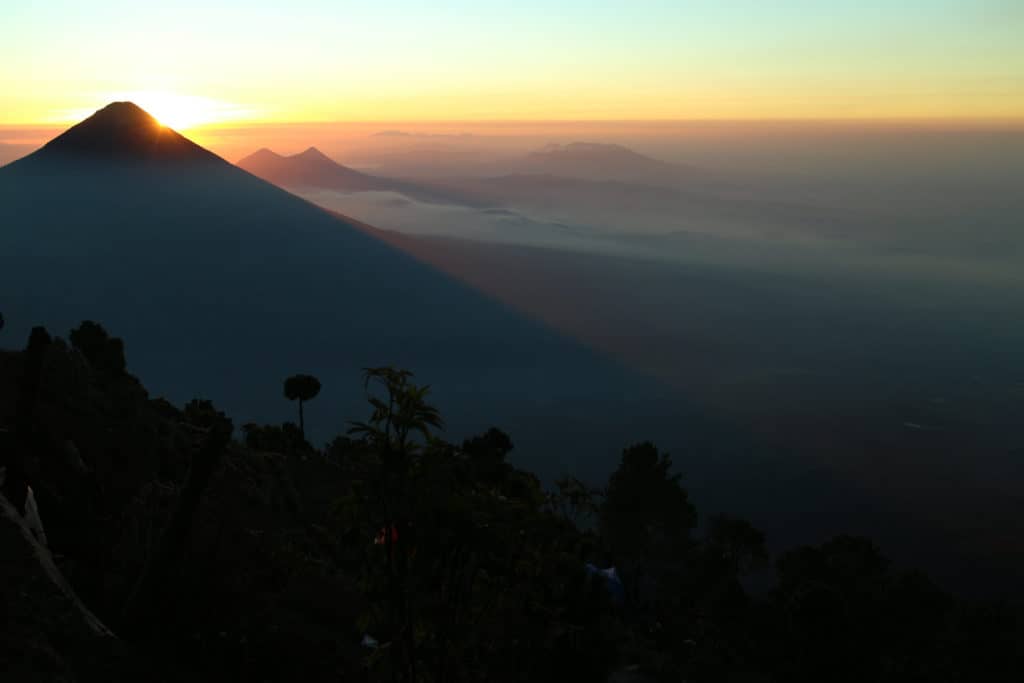 Wicho & Charlie's is a hostel located in Antigua Guatemala. In 2017 they branched out and started offering overnight Acatenango hike tours. They provide plant-based food, high-quality guides, and high-quality gear. Proceeds from the hike help feed 600 dogs and 200 cats at animal sanctuaries and also helps plant 500 trees every year.
What really sets Wicho & Charlie's apart is that instead of offering tents, they have A-frame cabins at base camp, that will keep you out of the wind and cold, and safe from eruptions. They also summit Acatenango at sunset (usually), which I personally loved when I did my hike up the volcano. Once hikers reach base camp, they have the option to tack on the Fuego Volcano tour for an additional fee (paid upon return).
Cost:
All Included Acatenango Hike Tour Package:
*Includes: 3 meals, snacks, guide, cabin with camping gear, essential gear, and transportation
$65 per person (staying in a shared cabin)
$79.5 per person (staying in a private two-person cabin – total comes to $159)
Economy Acatenango Hike Tour Package
*Includes: guide, cabin with camping gear, and transportation
$45 per person (staying in a shared cabin)
$57.50 per person (staying in a private two-person cabin – total comes to $115)
Gear Rentals
$1.5 each for hat, scarf, buff, winter gloves, multi-layer jacket (included in the All Included Package)
$7 for a 40-liter backpack
$3 for a trekking pole
$2.5 for thermal base layers
$2 for merino wool socks
$1 for a 250-lumen headlamp
$1.5 for three AAA batteries (for headlamp)
$5 for boots (check availability)
Porter Services on Acatenango Hike
*Paid to porter in cash. USD amounts below are estimates.
$20 (Q 150) for 22 pounds
$26 (Q200) for 23-33 pounds
$32 (Q250) for 34-44 pounds
Other Optional Add-ons:
$8 for a 1 liter box of wine
All Included Acatenango Hike Tour Package Includes:
Bilingual community guide trained in first aid, mountain rescue and evac (1 guide for every 6 hikers)
A-frame cabins at base camp, either shared (8 people) or private (2 people) with -10º sleeping bags, two ponchos, 6-inch foam mattress, and pillow
Kitchen at base camp with gas-stove and basic eating and cooking gear (minimal wood use and no single use plastics to protect the environment)
Beach chairs at base camp
Roundtrip transportation to trail-head in a certified and insured tourism bus
Three Meals plus Snacks

Lunch: Adobo soy protein, rice & beans with cilantro sauce
Dinner: Lentil curry with rice and bread
Breakfast: Instant Oats & PBJ sandwich
Snacks: apple, banana, 2 granola bars, peanuts

Gear

Beanie hat
Scarf
Buff
Quality winter gloves
Jacket, wind-breaker, middle layer
Water bottle
Does not include:
Entrance Fee and Hiking Permit (approximately $15)
Extra snacks
Clothing
Backpack
Sunscreen
Toilet Paper
Camera
Guide gratuity
Important Info about the Acatenango hike tour:
Arrive at the agency at 8 am
Storage area available
9 am departure from Antigua
Once hikers reach base camp, they can choose to proceed to Fuego Volcano for an additional fee (paid upon return). This hike includes a safety helmet and masks against volcanic fumes.
Sunset at the summit (unless weather makes this impossible, in which case it is swapped to a sunrise hike)
Showers available at the agency for a $1-2 donation
Be aware of their refund and cancelation policy:

You must cancel 18 or more hours in advance of the hike if you want a refund.
If Wicho & Charlie's cancels the hike due to weather, natural disasters, or the pandemic, you will receive an 80-100% refund.
There are no refunds or discounts for the Fuego hike if you participate, regardless of views or weather
What they say about themselves:
"The story of Wicho & Charlie started early in the '90s with our two dads raising us with an entrepreneurial spirit. The attitude to do things right and that there's no higher purpose than to be of service to others."
"We don't use tents. We believe in safety. Our cabins are a safe shelter ready to withstand eruptions like the one in 2018 and also protect you against the possible harsh weather in Acatenango. We care about you, your experience, and your safety without compromising quality.
"We have the only cabins on the volcano with good quality gear that is already waiting for you at camp"
Review Roundup for the Acatenango hike tour with Wicho & Charlie's
Go to Wicho & Charlie's Site
OX Expeditions was founded "by mountaineers for mountaineers." This company is known for quality gear, quality food, and professional guides certified in wilderness safety. On their Acatenango hike tour, they focus on client safety and comfort. They are also an eco-friendly company that supports Guatemalan kids by teaching them English, stewardship of the environment, and guide skills.
OX Expeditions targets adventure-seekers. They offer a range of action-packed tours such as mountain biking, kayaking, zip-lining, surfing, and of course, trekking volcanoes!
Cost of the Acatenango hike tour:
$89
Includes:
Roundtrip transportation from Antigua
Camping gear
Warm clothes at no extra cost
Breakfast before the tour, plus lunch, dinner, and breakfast on the tour, fresh coffee
Bi-lingual professional guide
Pre-trip meeting the day prior
Free locker storage for luggage
Does not include:
Entrance fee
Snacks
Guide gratuity
Important Info about the Acatenango hike tour:
Book one week in advance
Leaves Antigua at 7 AM
Includes a crater run challenge where you have the chance to win a t-shirt
Sunrise at the peak
What OX Expeditions say about themselves:
"We climb this volcano more than all our competition combined, rain or shine. Our professional guide team and organized procedures work hard to manage the unpredictable chaos of mother nature to provide a high-quality experience. It's all about the details. We want each and every client to have an enjoyable time no matter where the adventure takes us. Another thing that sets us apart is we really care about the environment. Call us traditional but we pride ourselves on leaving no trace; we take all our gear up and bring everything back down. Hiking this way we protect the fragile volcanic ecosystem that we love so much."
Review Roundup for the OX Expeditions Acatenango hike tour
Check Rates and Book the OX Expedition Acatenango Hike Tour
Acatenango Hike Tour with Old Town Outfitters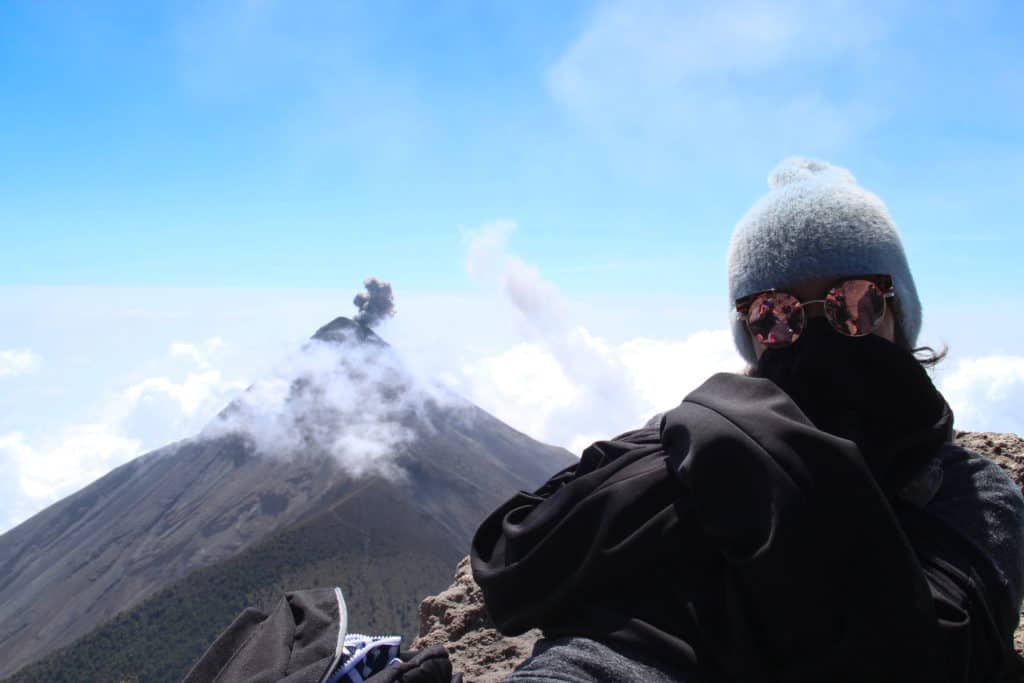 Another great Acatenango hike tour company to consider is Old Town Outfitters. They have been in business for twenty years and has high reviews across the board. They are focused on offering unique experiences, including custom-tailored tours. They are known for high-quality guides and high-quality gear.
Old Town Outfitters also leads mountain bike tours across Guatemala and may be able to organize a custom Acatenango Mountain Bike trip. Just head to their website, get in touch through the contact form, and let them know what you're looking for.
Cost of the Acatenango Hike Tour with Old Town Outfitters:
$125-170 (dependent on number of people)
Includes:
Roundtrip Transportation (from Antigua)
Local guide
Local bilingual guide with first aid training
Entrance fees
Lunch on the trail, dinner, breakfast, snacks, juice, coffee, tea
Tents, sleeping bags and mats.
Available for free upon request: backpacks, trekking poles, jackets
Orientation video and pdfs
Does not include:
Backpack
Additonal snacks
Water
Clothing
Hiking boots
Flashlight/headlight
Porter
Important Info:
The hike leaves at 7:45 and returns around noon the next day.
Sunrise at the peak
You can also opt to tack on their "Mountain to Sea" Tour, which will take you directly from the volcano to El Paredón Surf House, where you can relax on the beach and take a surfing lesson.
What they say about themselves:
"Go with the most-trusted operator, we have 20+ years of operating on Acatenango volcano and with our guides you will be in the best hands."
"Every Old Town Outfitters' product is committed to honoring our sustainable tourism philosophy:
Work to support the local communities in all of the areas we visit
Respect the cultures, beliefs and traditions in all of the areas we visit
Respect the environment, work to utilize resources sustainably, and minimize our impact"
Review Roundup for Acatenango hike tour with Old Town Outfitters
Go to Old Town Outfitters Site
Acatenango Hike Tour with Trek Guatemala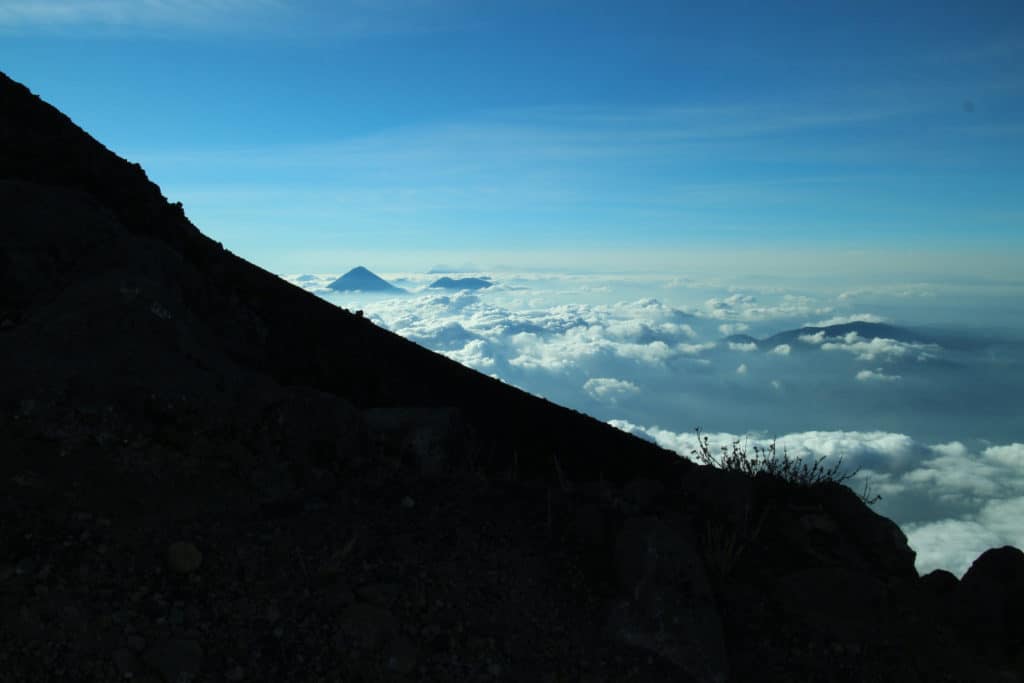 One reason to choose Trek Guatemala to lead your Acatenango hike tour is because this company leads trekking expeditions all over Guatemala. They focus on culture, service, and sustainability. One of their selling points is that a place is all about the people. They want their clients to experience Guatemalan culture by meeting local people.
Based on reviews of other walking/hiking tours organized by Trek Guatemala, they can accommodate special diets and allergies.
Cost of Acatenango hike tour with Trek Guatemala:
2 guests: $229 per guest
3 guests: $189 per guest
4-5 guests: $169 per guest
6+ guests: $149 per guest
Includes:
Pre-departure packing list and trip briefing
Multi-lingual trekking guide with certified first-aid training
Roundtrip transportation from Antigua to Acatenango trailhead
Park entrance fees
Day 1 meals: lunch, dinner + snacks
Day 2 meals: breakfast + snacks
High-quality tents, sleeping bags, sleeping pads, and trekking poles
Does not include:
Large capacity backpack (50L) +/ – available for rental at additional cost
Flashlight/headlamp – available for rental at additional cost
Cold-weather clothing – available for rental at additional cost
Hiking boots/shoes
Raincoat (May through October)
4-6L of water
Guide gratuity
Important Info:
Leaves Antigua at 8 AM
Morning at the peak after an early breakfast
What they say about themselves:
"The summit of Acatenango is an extreme environment where things can, and have, gone wrong for hikers who are ill-prepared for the conditions. Tales of fly-by-night operators with leaky tents and unwashed sleeping bags leaving slower hikers behind are common from visitors deceived by their lower prices."
"With nearly 20 years managing adventure travel in Guatemala, you can trust our team to keep you safe, satisfied and smiling."
Review Roundup of Acatenango hike tour with Trek Guatemala
Go to Trek Guatemala Site
Acatenango Hike Tour with Tropicana Tours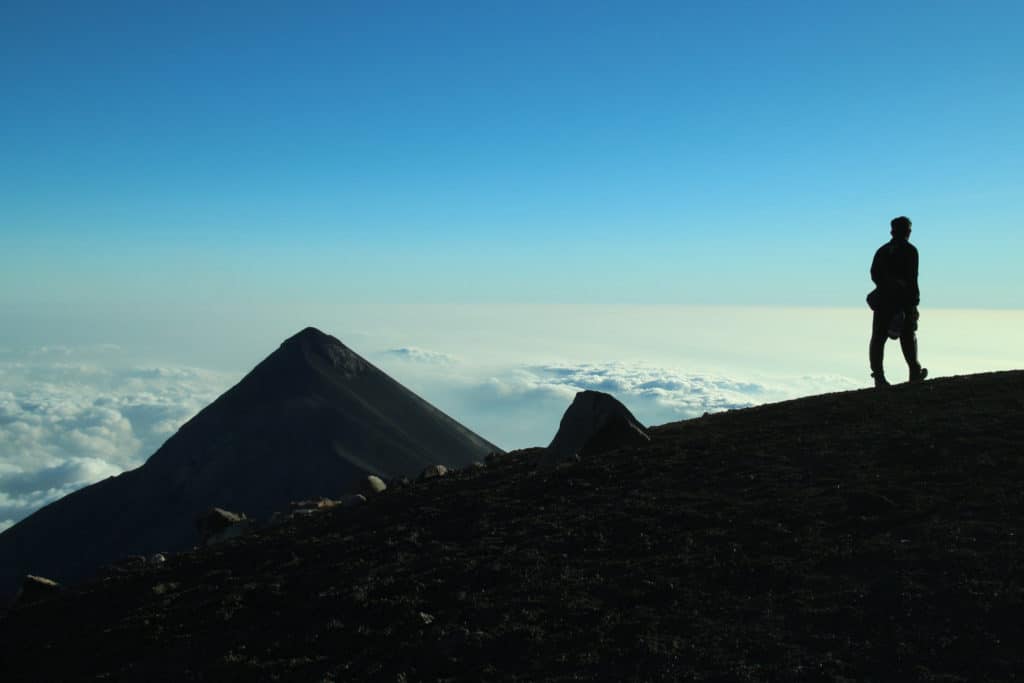 If you want to hike Acatenango with a company that has lots of experience, Tropicana Hostel may be the choice for you. They have led over 10,000 tours up Acatenango volcano. They offer hikes every Saturday, throw in a free breakfast, and offer vegan, gluten-free, and lactose-intolerant options for their meals. All meals are vegetarian/plant-based.
Tropicana helps support the local community in La Soledad by hiring local guides, enabling them to stay in their communities instead of traveling to the city for work. They pay they above average and also equip them with good boots and cold-weather gear.
Another bonus with Tropicana is that they now have wooden cabins which will keep you out of the wind and cold.
Their guides are not bilingual, however. If that is important to you, you may wish to choose a different company.
Cost:
$67 per person to join the Saturday group hike
Gear Rentals for the Acatenango hike with Tropicana
Choose any 3 items for 3 USD ($3 deposit)
Jacket
Sweater
Scarf
Gloves
Hat
Pants
Any 1 item for $7 ($15 deposit)
Running Shoes
Hiking boots
Backpack
1 item for $3 ($5 deposit)
Tropicana Acatengango hike Includes:
Sleeping bag, mat, and wooden cabins with views of Fuego
Local Community Guide
Meals:

Breakfast before the hike
3 vegetarian meals (vegan, gluten-free, lactose intolerant options available upon request)
Snacks
Coffee, tea, and hot chocolate.
One glass of wine
Marshmallows to roast at the campfire.

Roundtrip Transportation to and from the trailhead
Free storage at the hostel
Free shower and towel at the hostel after the trek, at no extra cost.
Does not include:
Guide gratuity
Backpack/Cold-weather Gear/Walking sticks
Water
Headlamps
Important Info:
Non-English-speaking Guides
Tropicana leads hikes every Saturday, but may have hikes on other days (inquire)
Sunrise at the peak
Arrive at the hostel at 8am for the free breakfast
Shuttle departs at 9am
Campfire and marshmallow roast included
Pet friendly
Family friendly
What they say about themselves:
"To make your excursion unforgettable, we will send you a packing list, conduct a pre-trip in-person briefing, serve you delicious meals, and make sure you are safe and satisfied."
Review Roundup for Acatenango hike with Tropicana Tours
Go to Tropicana Tours Site
Acatenango Hike Tour with Balam Tours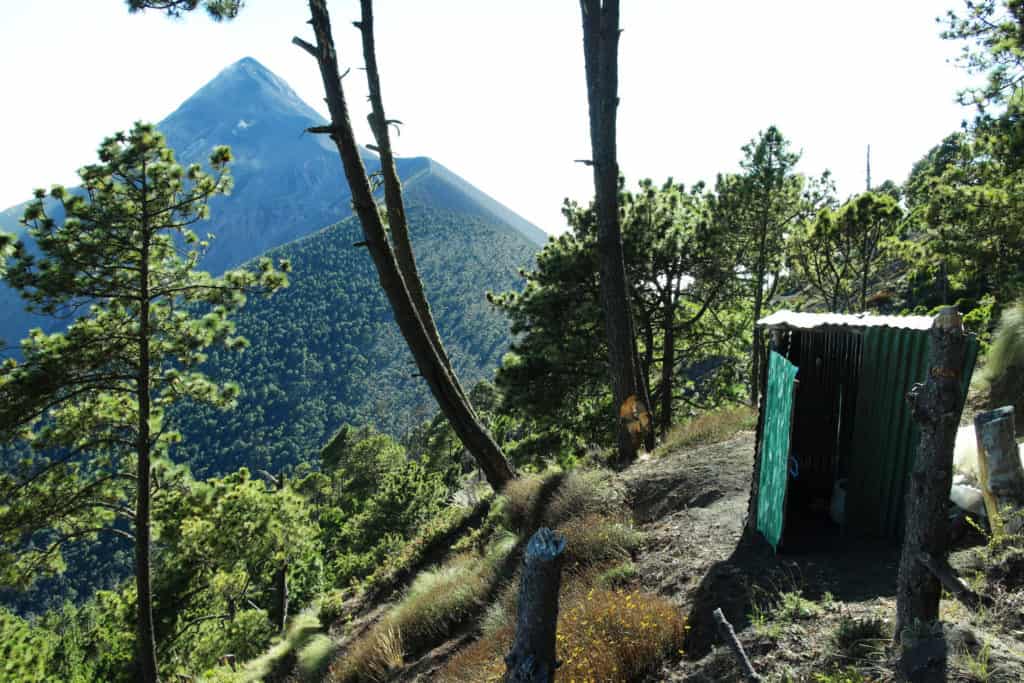 Balam Tours is another great Acatenango hike tour company. They have high ratings for their hand-picked, safety-conscious guides, quality gear, and good food. They offer vegetarian and vegan menu options and include extra bonuses like wine, hot chocolate, and a campfire. Unlike other tours, they offer to pick you up right from your hostel (as long as it's in central Antigua).
They are currently offering private tours (2 person minimum).
Cost of hiking Acatenango with Balam Tours:
$55 plus Q50 ($6.50 approximately) for entrance to the park.
Includes:
Roundtrip transportation from central Antigua to the Trailhead
Gear:

Jacket
Gloves
Hat
Walking stick
Flashlight
Boots (limited sizes, check with them beforehand)
Backpacks (limited quantity available)

Lunch, Dinner, Breakfast, and a bonus evening snack at the campfire, plus wine and hot chocolate
Stay in a four-season camping dome with a cot, sleeping bag, pillow, and extra blanket
Private toilet (clean, secluded, and with a view)
Does not include:
Water
Guide Gratuity
Snacks during the hike
Important Info about Balaam Acatenango hike:
8:30-9am Shuttle Pickup at hostels in central Antigua
Sunrise at the Peak
What they say about themselves:
It's time to remember what it's like to feel alive. Experience nature displaying its true beauty with the tour of a lifetime.
Review Roundup for the Acatenango hike tour with Balaam
Go to Balam Tours Site
And there you have it!

This isn't a complete list, but it covers the best-known Acatengango hike tour operators out of Antigua. Other companies in Xela and Panajachel also offer excursions to Acatenango, so there are plenty of options if you want a tour based out of another location. If there's enough interest, I may expand this list to include more tour companies, including more budget options such as Guate Valley.
If you haven't already done so, learn everything you need to know about hiking Acatenango Volcano!
Looking for more volcanoes to climb? Check out my post on climbing San Pedro Volcano in Lake Atitlán, or choose one of these awesome Pacaya Volcano tours from Antigua.
***GUATEMALA TRAVEL PLANNING GUIDE***

Should I buy Guatemala travel insurance?
YES — Personally, I always travel with travel insurance because it gives me extra peace of mind. SafetyWing is an excellent travel insurance company that's quite affordable. Plus, if you travel longterm, it's a snap to renew on a month to month basis. You can keep renewing for up to a year and still pay the same deductible.

Where's the best place for finding cheap flights to Guatemala?
When I purchase a ticket, I always search several different sites. Kayak and Expedia are great places to start running a search. Spirit is usually the cheapest carrier, but American Airlines and United also sometimes offer excellent deals.

What's the best way to book my Guatemala accommodations?
I recommend booking.com for finding and booking hotels in Guatemala. For vacation rentals, I recommend VRBO.com — it offers beautiful and unique spots to stay.

What's the best way to book Guatemala tours?
Viator is a great tour booking site with several excellent options available in Guatemala's main tourist areas including Tikal, Atitlán, Antigua, and Acatenango. There's a nice range of prices and options available.

Can you drink the water in Guatemala?
No – Don't drink the tap water! Instead, buy purified water from any corner store or grocery store in Guatemala.

Be sure to brush your teeth with that water as well to avoid getting sick. And hydrated, especially when traveling to high elevations.

Do I need a visa for Guatemala?
Probably not — Visitors to Guatemala from "Category A" countries like the United States, Canada, the UK, New Zealand, Australia, and most European countries are automatically given a 90-day tourist visa (in the form of a passport stamp) when entering Guatemala.

This visa is valid for Guatemala, Nicaragua, Honduras, and El Salvador. At the end of 90 days, it can be renewed once at Guatemala's Migración without leaving the country.

After 180 days, you will have to travel outside of Central America before returning. Check to see if you need a visa.

Will my phone work in Guatemala?
It's possible, but check with your provider in advance to see if Guatemala is covered. If not, you can easily pick up a local SIM card.

There are essentially only two carriers in the country: TIGO and CLARO. Both have good coverage.