Best of Escuintla Guatemala's Black Sand Beaches
Some of my all-time favorite memories take place on Escuintla Guatemala's black sand beaches.There's so much to love about the experience with its mix of tranquility and wildness, its dark sands, huge skies, and powerful ocean.
I love watching pelicans skim over the waves, smelling the salt on the breeze, and playing in the waves until my whole body feels like jello, eating a whole fried fish doused in lime and salt, and then finishing off the day with a cold coconut.
***This page contains affiliate links, so if you book through those links, I'll earn a small commission at no extra cost to you. Learn more in my disclaimer.***
Why Visit Guatemala's Black Sand Beaches
Guatemala's black sand beaches can be places of deep chill, with hammocks and books and icy beverages, or they can be a plunging-into-waves, the power of the ocean roaring over your body, skin and hair and heart tingling with adrenaline.
They can be laughter and games of tag and catching crabs, or sunset walks through salty foam.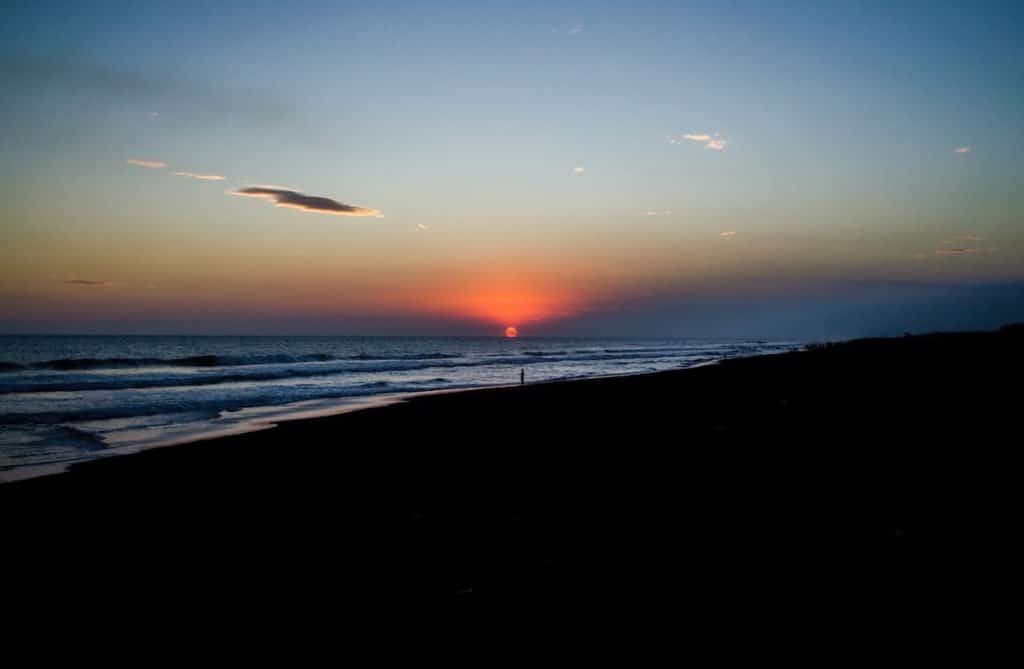 Perhaps, as I have, you'll discover a place of beauty and paradox here at the edge of land and sea, a place of vastness and isolation, of fun tinged with danger.
So, without further ado, here are three of Guatemala's black sand beaches you'll love.
Things to do at Guatemala's Black Sand Beaches
Before we get into the specific places you can visit, let's first talk about what you can do at Guatemala's black sand beaches.
Surf * Boogie Board *Swim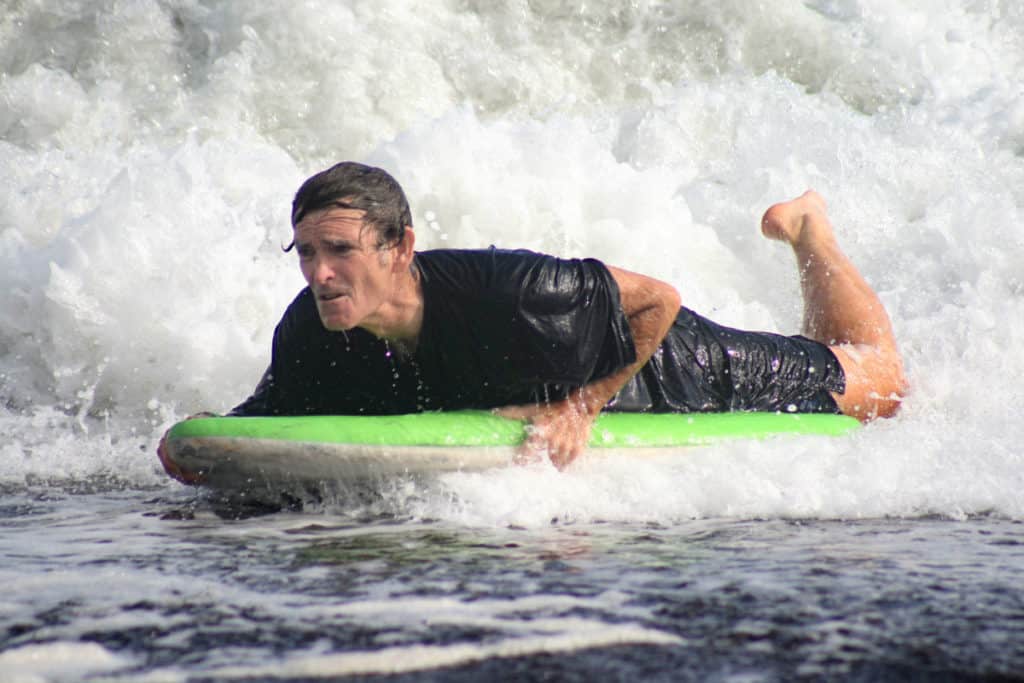 The ocean here is strong and the height and punch of the waves can make these great places to surf, swim, boogie board, and body surf (depending on the tides and the season).
Some hotels and hostels offer surfboard and boogie board rentals, as well as surfing classes with local pros.
Go on an ATV Tour
During my stint at El Paredón as a volunteer, a couple friends drove out in a little Samurai Jeep. They took me out on the sand, and man! What a rush! We zoomed over the black sand, hooting and hollering, the wind ripping through my curls. I loved it!
Okay, so you can't go out in a Samurai, but the next best thing is an ATV. Accelerate and give yourself an adrenaline rush on this El Paredón ATV Sunset Tour.
On the tour, you get to vroom over the sand, then drive through mangroves, and refresh with a delicious coconut. Life is good!
Eat Seafood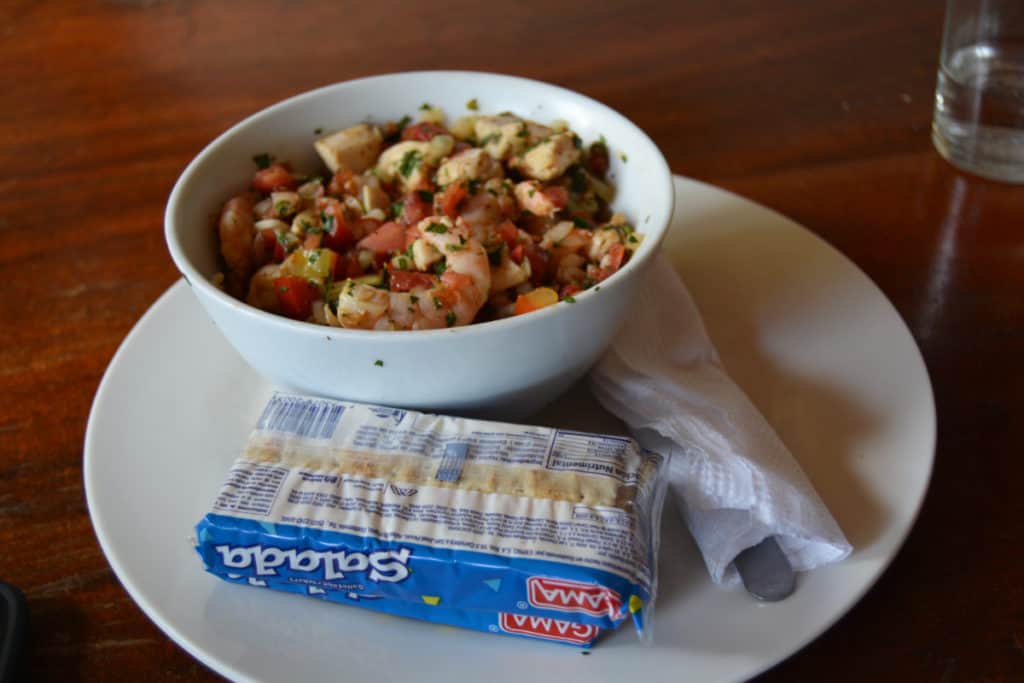 Seafood is a big draw for visitors as well, with most restaurants offering a variety of fried fish, shrimp, Caldo de Mariscos (seafood soup), and ceviche.
Walk in the surf * Have a bonfire * Watch the Sunset * Relax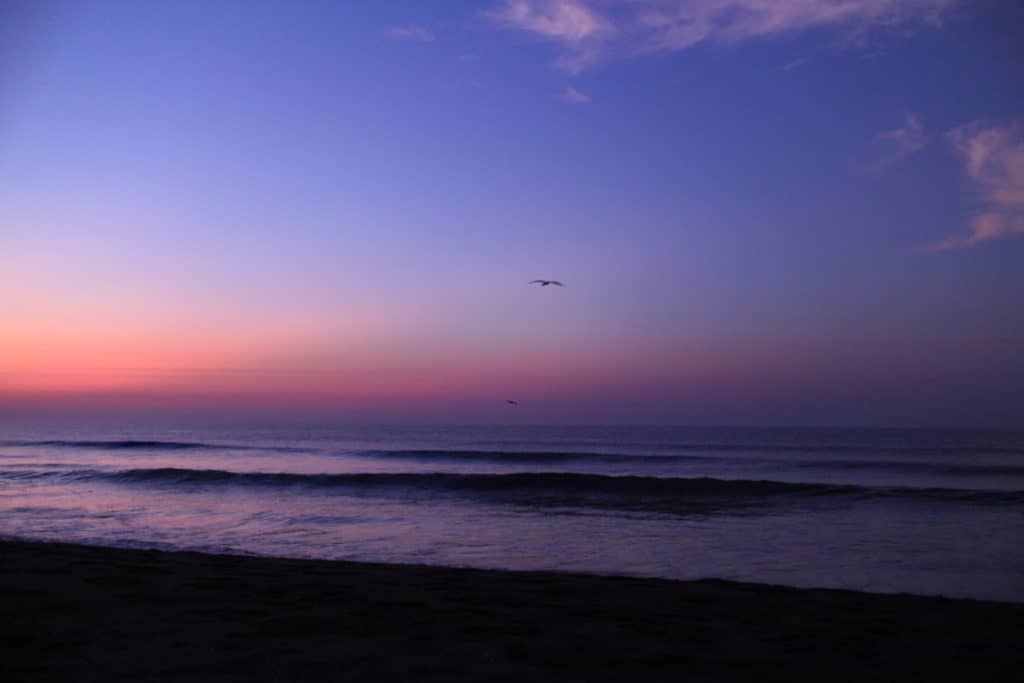 Walks along the shore are another great activity, especially in the morning and evening when the weather isn't too hot.
You can also watch the sunrise or sunset, stargaze, have a bonfire (your hotel or hostel can help with this), or hang out in a hammock.
Paddleboard * Explore the mangroves * Birdwatch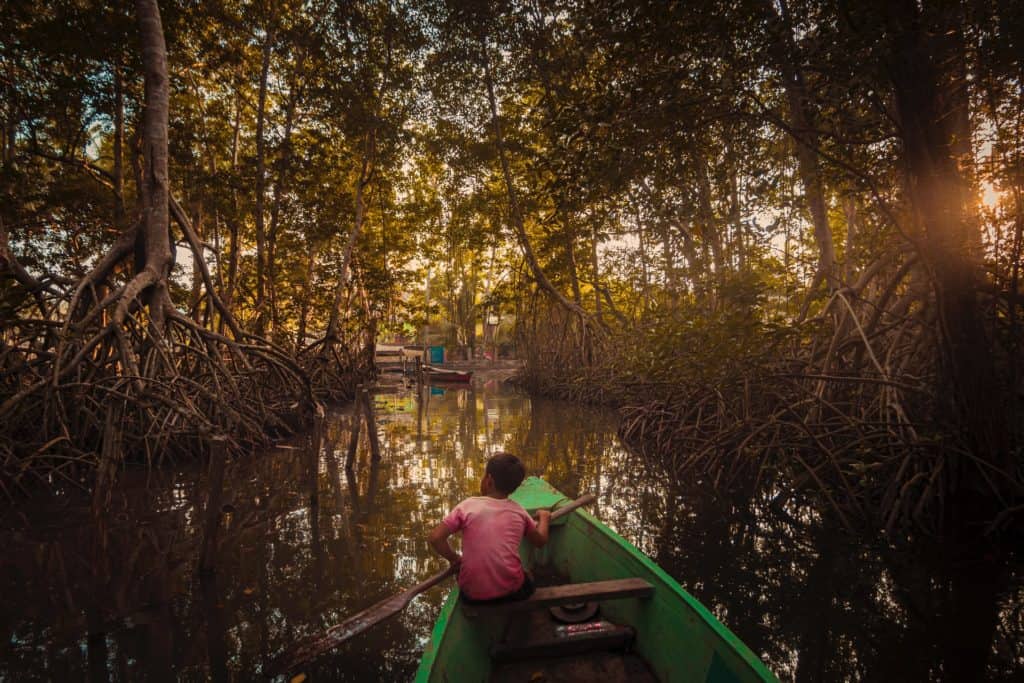 At some beaches with close access to the Canal de Chiquimulía, visitors can also go paddle-boarding, clamber around in the mangroves, catch crabs, and watch birds.
Are you on a cruise and have a port day in Puerto Quetzal? Why not add some birds to your life list while you explore the mangroves on this private El Paredón birdwatching tour?
Release Baby Sea Turtles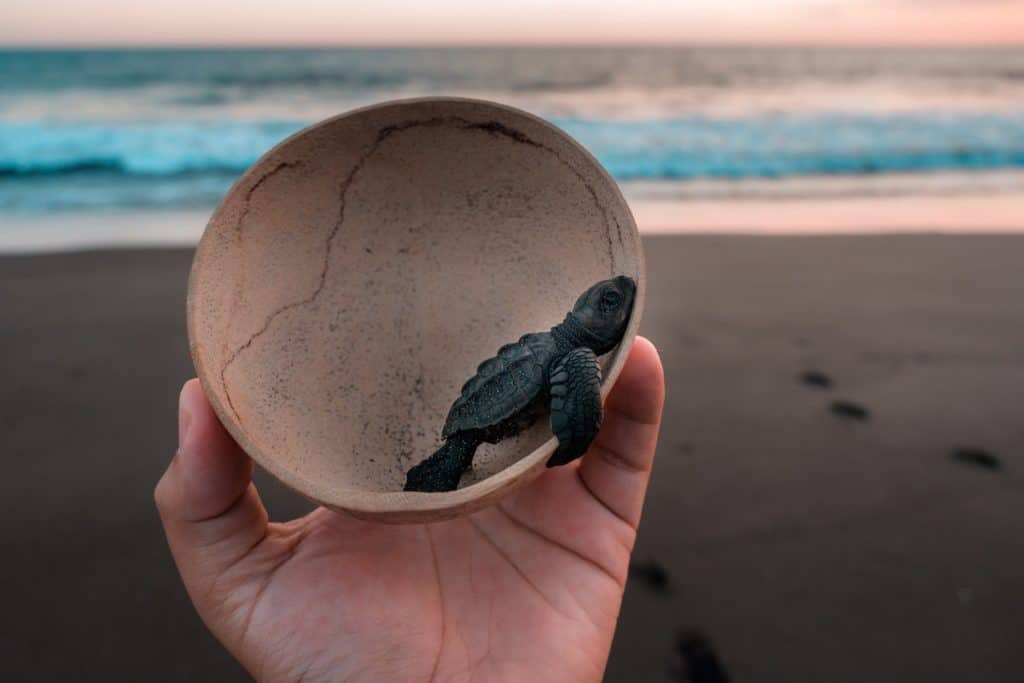 If you visit between August and February, you can sponsor and free a baby sea turtle!
I enjoyed watching the baby olive ridley sea turtles heading into the surf at El Paredón.
Ride horses * Go Deep-Sea Fishing
Some locations also offer sea turtle tours, mangrove tours, horse-riding tours along the beach, deep-sea fishing, and tours of the ocean by boat.
My Favorite Black Sand Beaches to Visit in Guatemala
I hope to add to this list over time, but for now, here are my favorite places to visit on Guatemala's Pacific coast.
El Paredón
El Paredón is a tiny fishing village that first gained fame among surfers. It is close to the Sipacate-Naranjo National Park where students from the San Carlos University of Guatemala have studied sea turtles.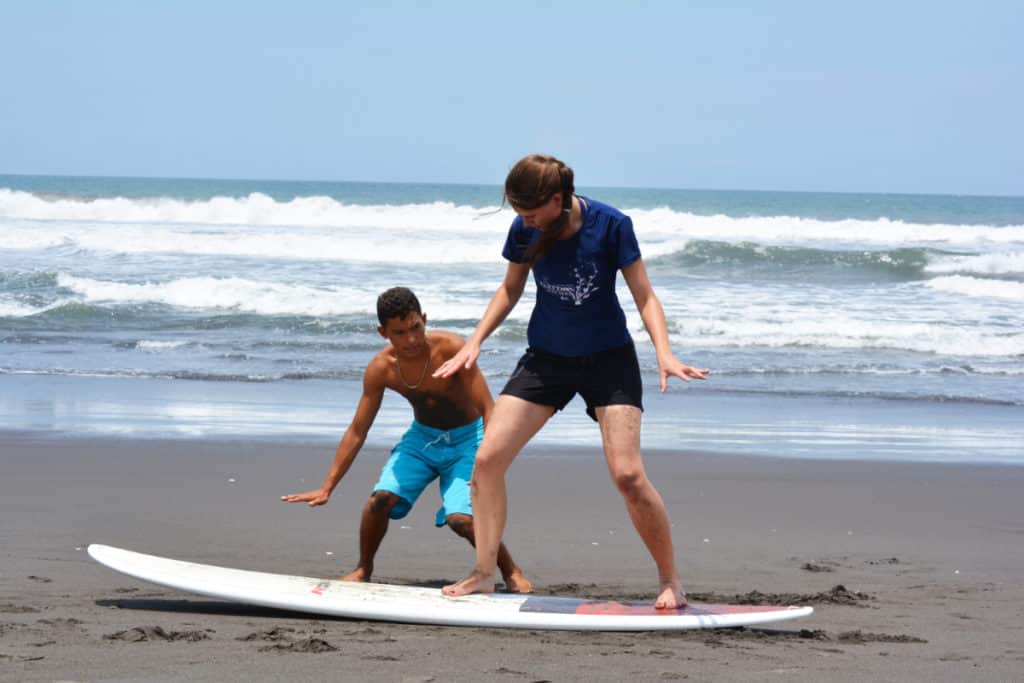 One of the perks of going to the black sand beach at El Paredón is that there are several places that offer surf and boogie board rentals, as well as surf classes, mangrove tours, turtle tours to the Poza de Nancy, and the chance to sponsor and release baby turtles.
Check out La Choza Chula, a non-profit in El Paredón that offers a variety of tours with locals.
There are plenty of hotel and hostel options atEl Paredón, as well as a handful of Airbnbs. There is also an Israeli pizza place that I remember being quite tasty from my pre-celiac days.
What I love about El Paredón
El Paredón has a special place in my heart because I spent two months volunteering at a surf hotel there.
Although storms made the waves unruly when I first arrived, I eventually got to have my first surfing lesson and spent the next five weeks swimming out in the rip-tides, paddling my arms for all I was worth, and getting dropped, tumbled, and rolled while I fought my way up the learning curve. It was awesome!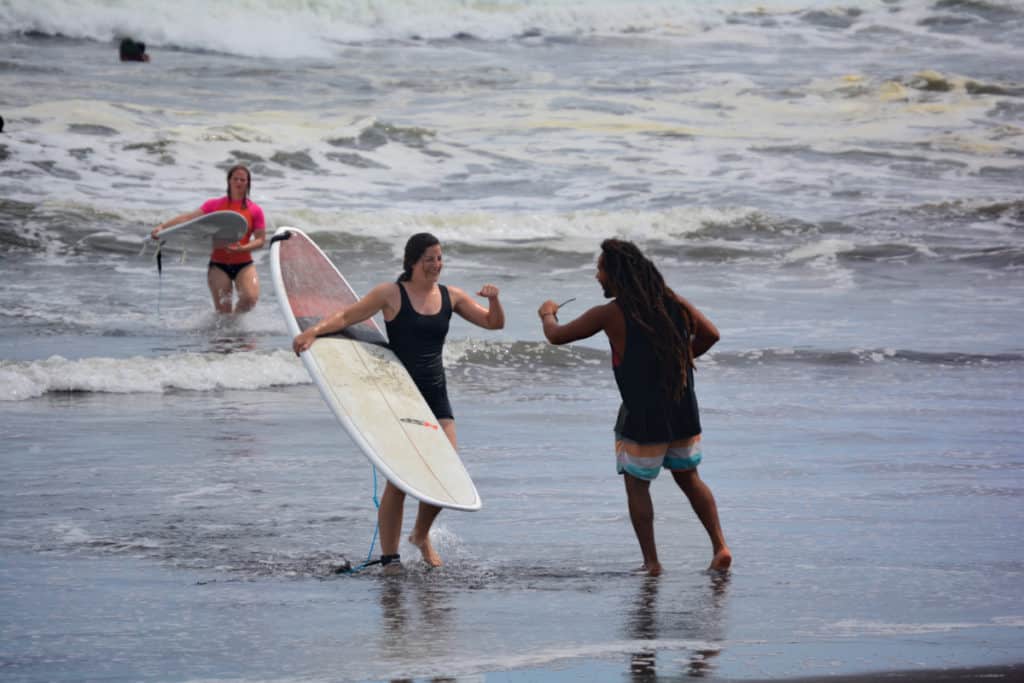 One of the things I appreciated most about learning to surf at Paredón was the attitude of the local guys.
They were all fantastic surfers, but they didn't complain about me attempting to drop in on a wave, and when I managed to stay on my feet for a few seconds they clapped and cheered for me.
How to get to Guatemala's black sand beach at El Paredón
You can get to El Paredón in your own car, in a tourist shuttle, or by bus.
Getting to El Paredón by tourist shuttle
Tourist shuttles run daily to El Paredón from Antigua and Lake Atitlán. You can book this shared shuttle from Antigua for only $18.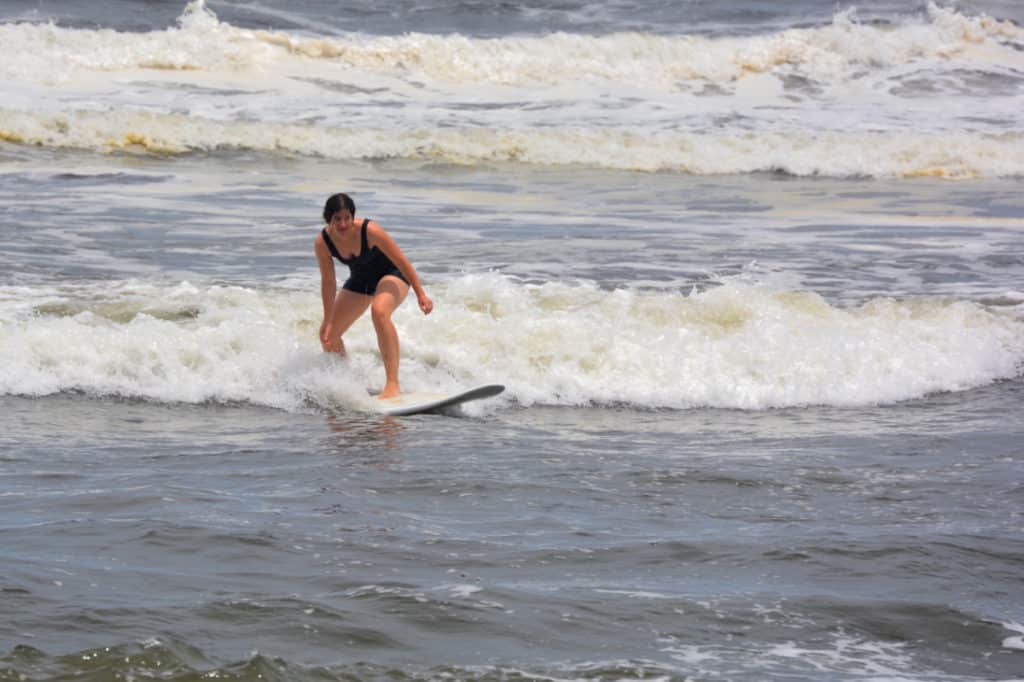 Getting to El Paredón by car
If you're getting to Paredón on your own, you can choose between two different routes. The first is by land and involves driving towards Puerto San José, then turning west towards Linda Mar/Juan Gaviota and continuing on the fabulous paved road to El Paredón proper.
Tip: If you're coming from Antigua or Guatemala City, or anywhere east of them, I'd recommend this route!
The second route involves driving to El Escondite, the marine base in Sipacate, and then catching a boat to take you down the Canal de Chiquimulía to El Paredón.
Although cars can go this route (by driving onto a wooden ferry), you should consider whether the cost is worth it. Locals tell me that a roundtrip ferry ride for you car costs Q150.
I went to El Paredón in November 2021 via Cocoles and Escuintla and then returned via Sipacate. I drove down to the embarcadero in El Paredón, stressed that I wanted the public boat (much much cheaper).
Three guys lifted my motorcycle (dog on board and all) into the boat and then I enjoyed a chill ride through the mangroves to Sipacate. I paid Q20 for the crossing, but a local told me it is typically Q10 for motorcycles and Q5 per person.
Getting to El Paredón on Public Transportation
If you want to go to Paredón by bus from Antigua or Guatemala City, first find a bus that is going to Escuintla. In Escuintla get a bus to Sipacate (preferred) or to La Gomera.
Now, if your bus is only going as far as La Gomera, you'll need to find another bus to Sipacate once you get there.
In Sipacate, get a tuk-tuk to El Escondite (where the Marine base is), then catch a boat to El Paredón. The boat ride takes about fifteen minutes and costs Q5 per person.
The trip to El Paredón takes two and a quarter to two and a half hours from Antigua by car or shuttle. It can take up to six hours by bus.
Places to stay at the black sand beach at El Paredón
Although these are far from the only places to stay in El Paredón, here are some options to get you started!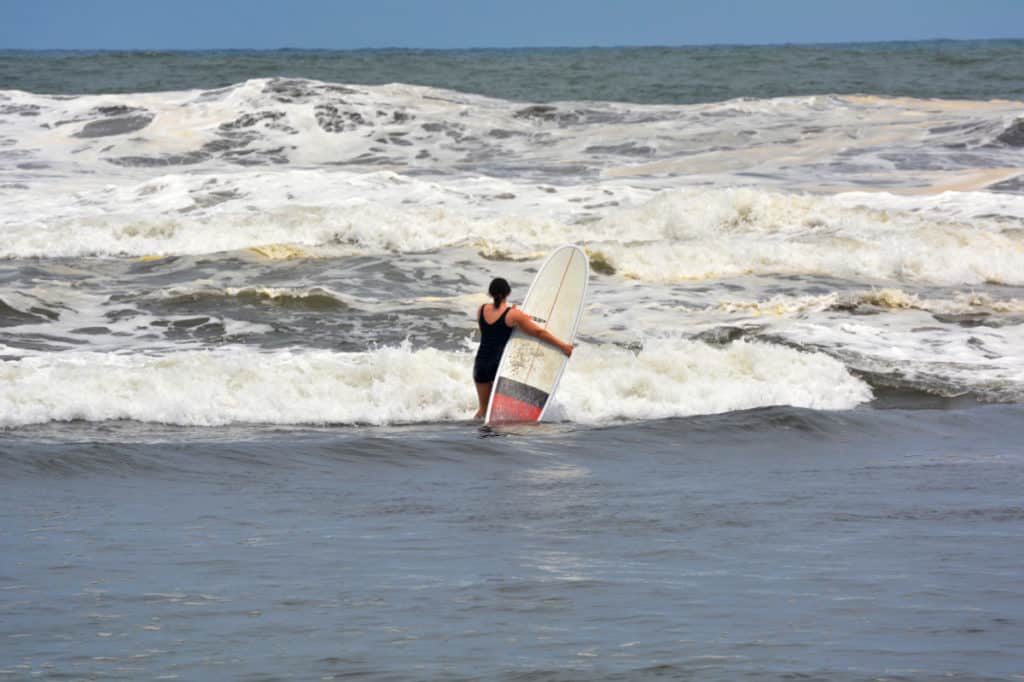 I worked as a volunteer at the Surf House in 2015, and it's beautiful, rustic, and fun.
This surf house has a variety of bungalows, a swimming pool, and a good restaurant. They also offer a great variety of board rentals and tours.
The evening family-style dinners are also a lot of fun.
There's no AC, but the pool and ocean are perfect for cooling off during the day. Take a cold shower at night, turn on the fan, and you'll sleep like a log with the wash of the surf lulling you to sleep.
Check rates and book Paredón Surf House
This was the first hostel in El Paredón. It's a great place for people who like to relax and chill.
I stayed in the dormitory here in November 2021 and really enjoyed the atmosphere, the greenery, and chats with the owner, Rafa.
The Surf Camp is dog friendly, and Lily had an awesome time racing around the beach with her canine friends.
*She came home covered in fleas, though, so next time I'll make sure her flea pills are up-to-date and maybe throw in a flea spray for good measure.
This is known as the party hostel and has A/C in all the rooms, a swimming pool, restaurant, and two fully stocked bars.
Although I haven't stayed there myself, I've been inside and hung out with some of the volunteers. If parties are your vibe, it could be perfect.
Check rates and book Driftwood Surfer.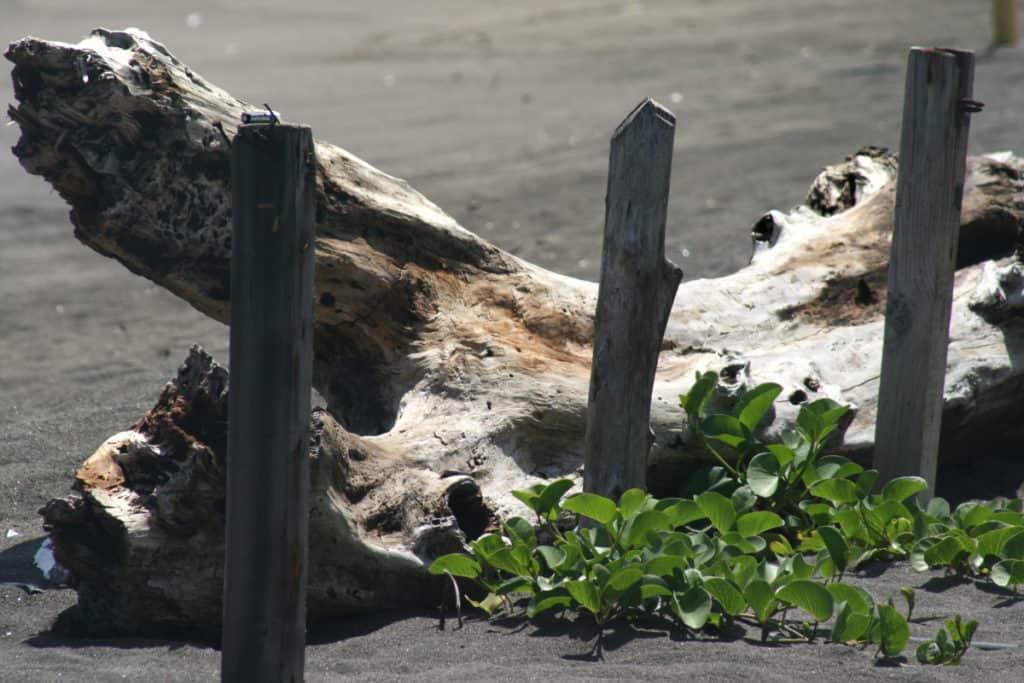 Casa Zala is a higher-end hotel with a gorgeous swimming pool, warm tropical accents, and an intimate welcoming vibe.
Check rates and book Casa Zala
Swell calls itself an "elegant and cozy" surf and lifestyle hostel. They have a swimming pool and hammock areas.
Check rates and book Swell Guatemala
Spend the night with locals in town through an area non-profit. It includes breakfast.
Sipacate
The black sand beach at Sipacate is another good choice either for day trips or overnights. This has been my family's go-to beach for many many years. We almost always go to Mar Maya Rancho Carrillo at Playa el Chilpetito.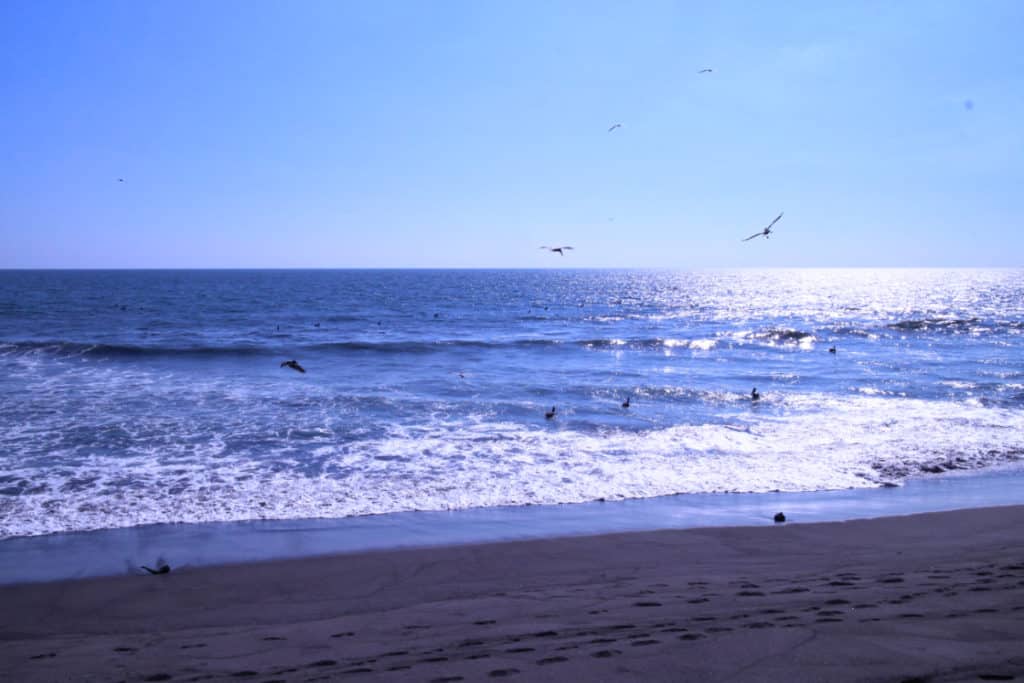 There is good boogie boarding here in November, December, and January. Take your own boards if you are going to Mar Maya.
What I love about the black sand beach at Sipacate
I love boogie boarding at Sipacate. I also enjoy hanging out at Mar Maya.
It isn't fancy (at all), but their restaurant is a thatched-roof palapa built on stilts right beside the ocean. It's perfect for catching the sea breeze and taking a break from the waves and sand.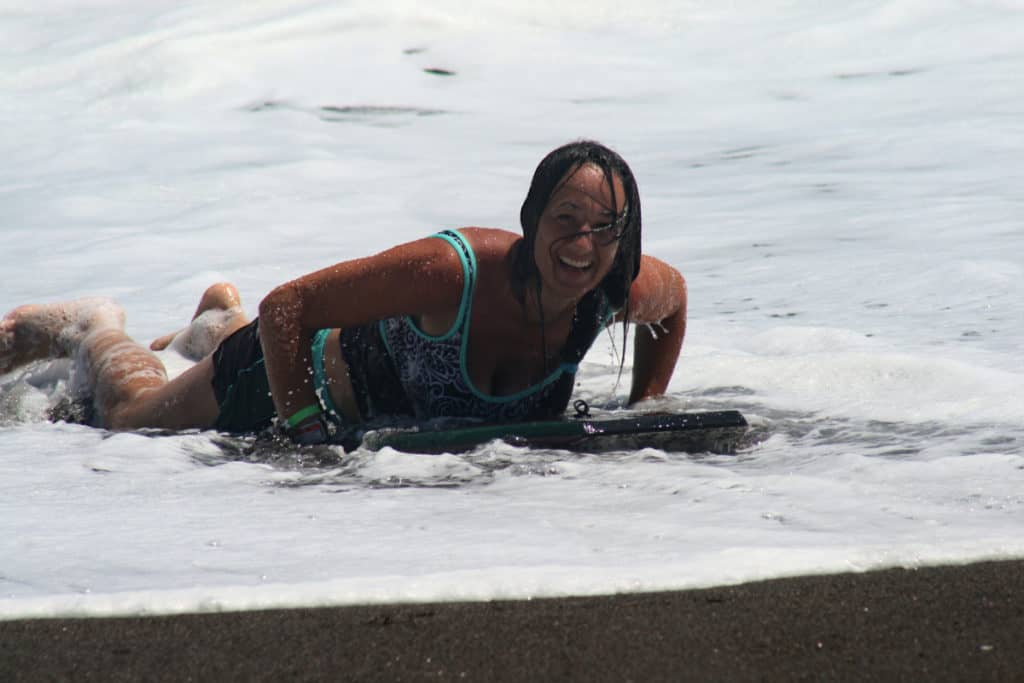 Since playing in the ocean is the main reason we go to Sipacate, we don't care if the amenities are rustic and run-down. In fact, one of the first times we stayed at Mar Maya their bungalows were nothing more than wooden shacks covered in salt spray.
There was a short in the wiring somewhere in the building, and we'd get an electric shock every time we opened the door… at least until we got smart and stood on plastic chairs before turning the doorknob. (The facilities have come a long way since then!)
As a kid, I had a lot of fun climbing on the skinny branches of the mangrove trees around the hotel.
How to get to Sipacate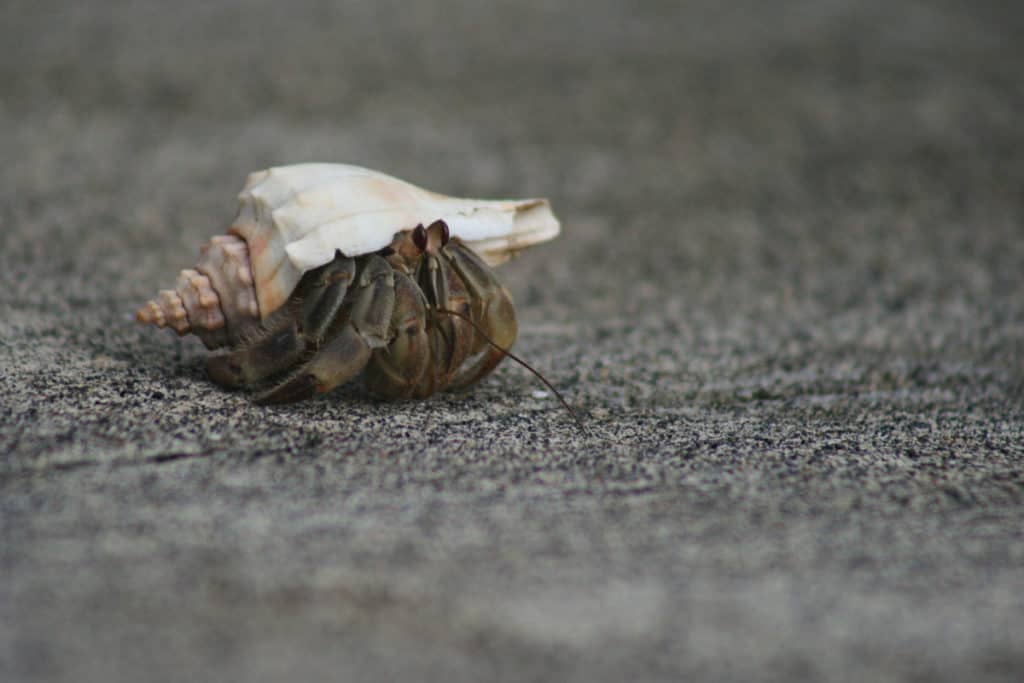 You can get to Sipacate by car or public transportation. It takes two hours from Antigua
Directions for getting to Sipacate in your own vehicle
To get to Sipacate by car from Antigua or Guatemala City, take highway CA-9 towards Escuintla, then head west on CA-2 towards Siquinalá.
Take the left-hand fork before Siquinalá, then the second U-turn, followed by an immediate right-hand turn on RD-2 towards La Democracia/Sipacate.
Continue on this road until you reach Sipacate. Use a navigation app to reach the boat launch (embarcadero).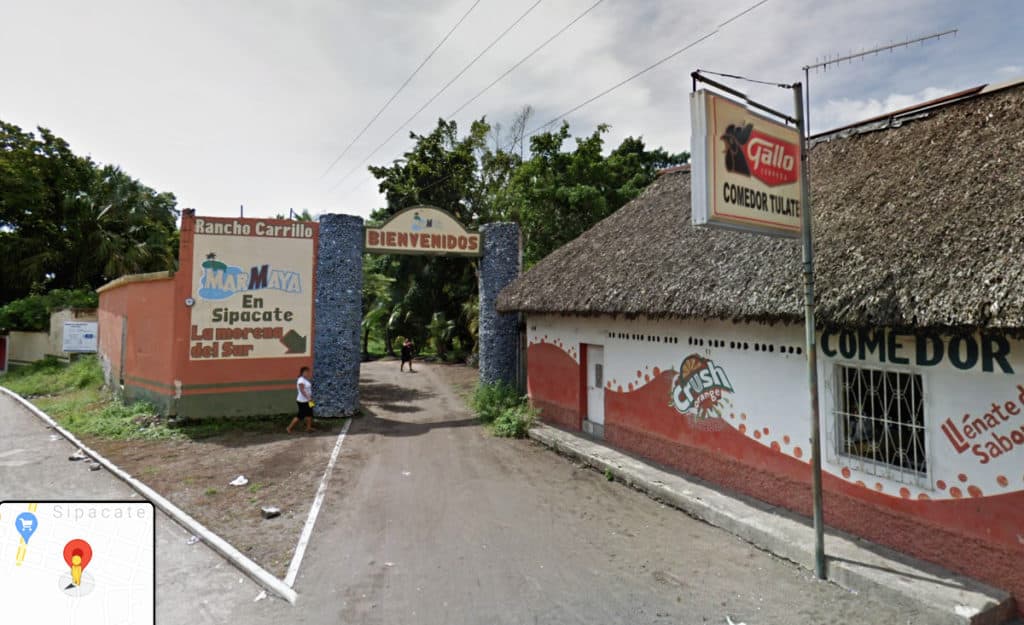 Park in a parking lot at the Embarcadero (we always use one with a Mar Maya sign on it), then pay the boat to take you across the channel.
Directions for getting to Sipacate on public transportation
If you want to go to Sipacate by bus from Antigua or Guatemala City, first find a bus that is going to Escuintla. In Escuintla get a bus to Sipacate.
In Sipacate, get a tuk-tuk to El Embarcadero. Once there, you can hire a boat to take you across the channel.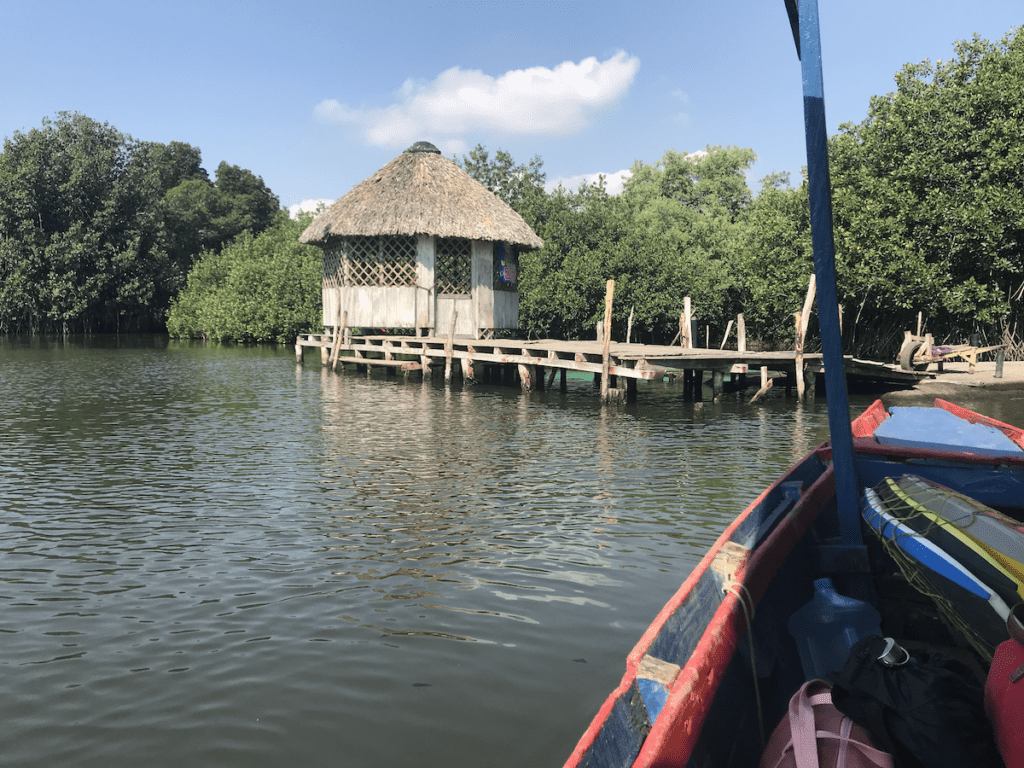 Places to stay at Sipacate
There are several hotels in the town of Sipacate, but I always prefer to stay right on the ocean if I can.
That way you can jump in the water any time you want, plus the sea breeze cools things down a lot.
Mar Maya
MarMaya Rancho Carrillo – is a Guatemalan-run hotel. Most of their units have A/C, and their bungalows have kitchens, which is great if you are going as a family and want to save on food costs.
There are several salt-water swimming pools and a restaurant. (The service is slow, so it is best to order ahead and tell them what time you'll want lunch).
They don't have any board rentals (bring your own boards!)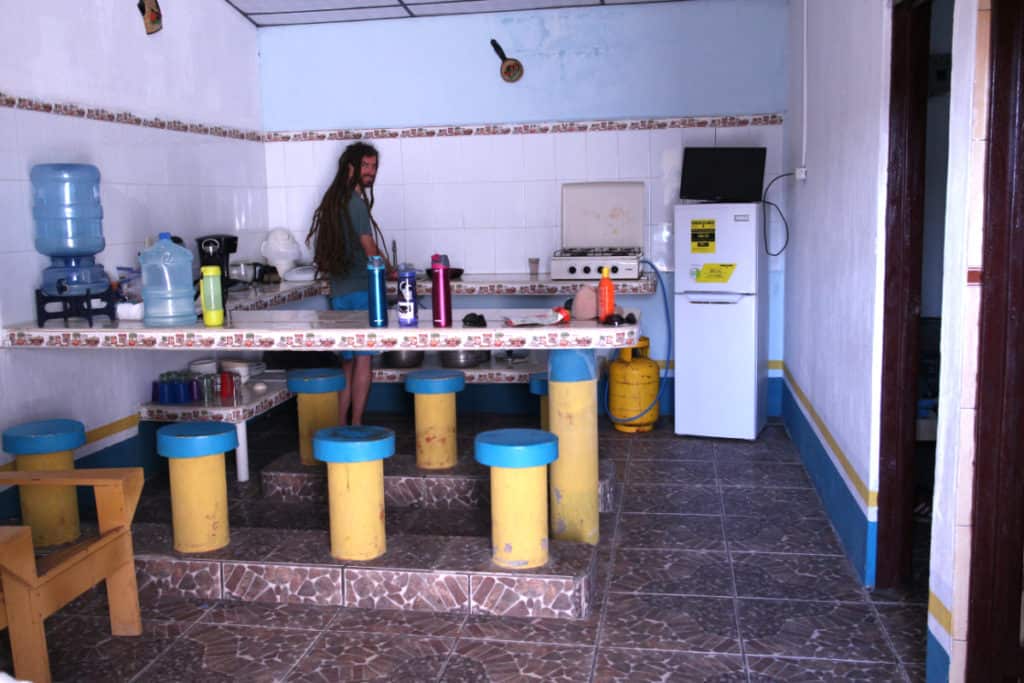 You can arrange tours to the Poza de Nancy to see sea turtles, as well as to the Turtle Sanctuary to release baby sea turtles with the Mar Maya boatman.
The restaurant offers seafood dishes (try their catch-of-day!), as well as more standard fare (like noodles in canned spaghetti sauce, and hamburgers).
For the price of lunch, you get access to their bathrooms and showers. If you want to use their swimming pools there is a per person fee (Q30 per person if you are eating lunch there and Q50 per person if you bring your own food).
Pacific Pearls Lodge
Pacific Pearls Lodge – If you're looking for something upscale and eco-friendly, check out this off-the-grid hotel.
I haven't been there, but based on the pictures it looks beautiful. They have an infinity pool and offer surfing classes.
Pacific Pearls Lodge also has areas for beach volleyball, beach soccer, badminton, paddle tennis, and fishing. They offer a turtle sanctuary tour and a deep-sea fishing tour (with the option of a luxury yacht)
Tecojate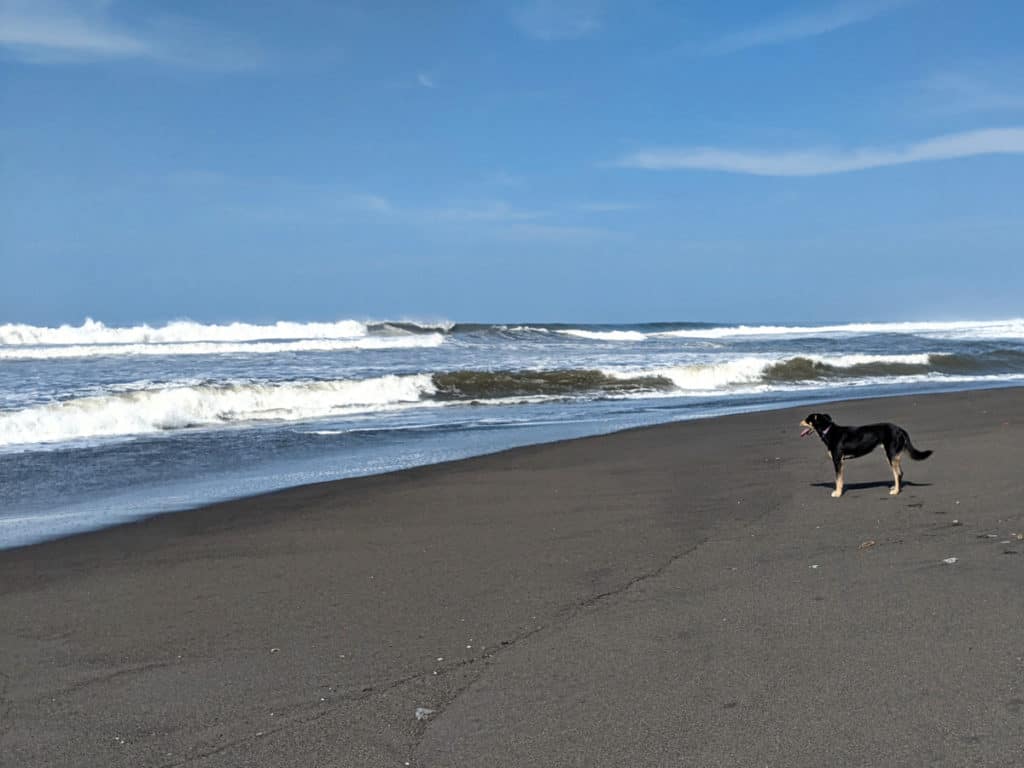 If you're interested in making a day trip to the beach and are up for doing things local-style, Tecojate is another Guatemalan black sand beach to love.
The beach isn't too steep, there are lifeguards there on the weekends, and the town itself struck me as friendly, clean, and casual.
It could also be a fantastic spot to load up on fresh fish before the drive home, so take a cooler bag if that interests you!
What I love about the black sand beach at Tecojate
Tecojate is the closest beach to Lake Atitlán and it made for an awesome motorcycle day trip.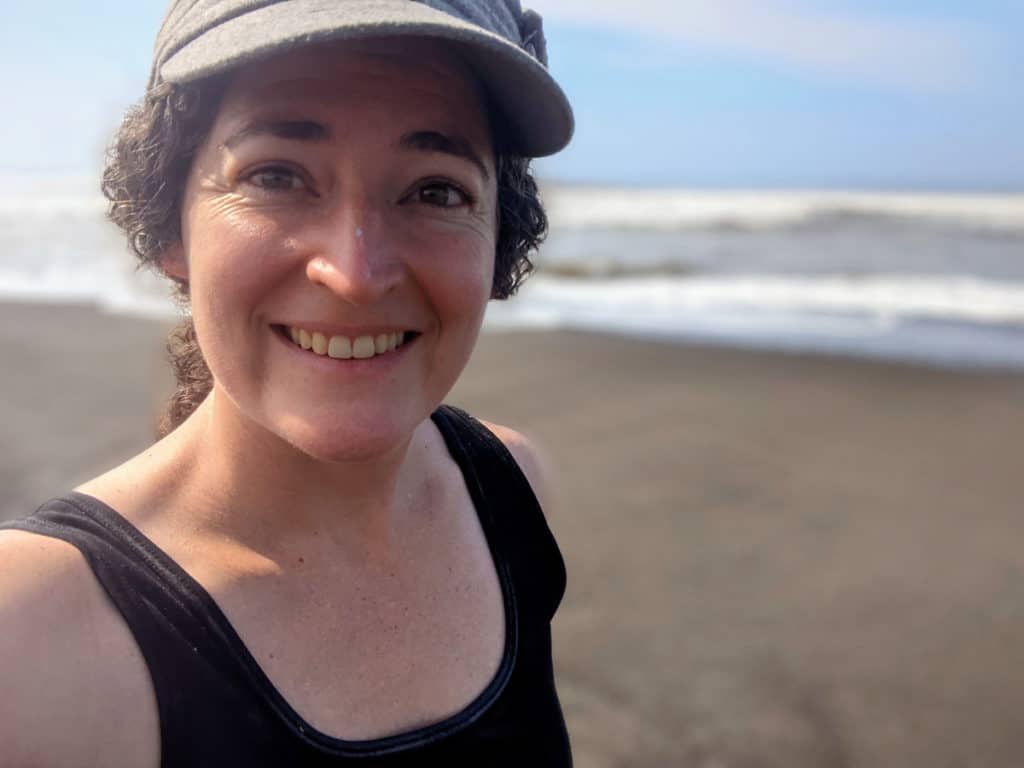 I made the trip to Tecojate by motorcycle from Sololá, Sololá, and spent a total of six hours driving, and six at the beach.
It was a very full day and I was definitely ready to hit the sack by the time I got home, but it was totally worth it.
The scenery, especially on the south side of Lake Atitlán was fantastic. My favorite part was driving through areas I hadn't been through before. I even spotted a couple of white-throated magpie jays along the highway, with their flashy blue wings.
I enjoyed swimming, walking down to the bocabarra (where the canal and the ocean meet), playing with my dog, relaxing in a hammock, and eating a fantastic lunch of fried Pacific sierra(a subspecies of Spanish Mackerel).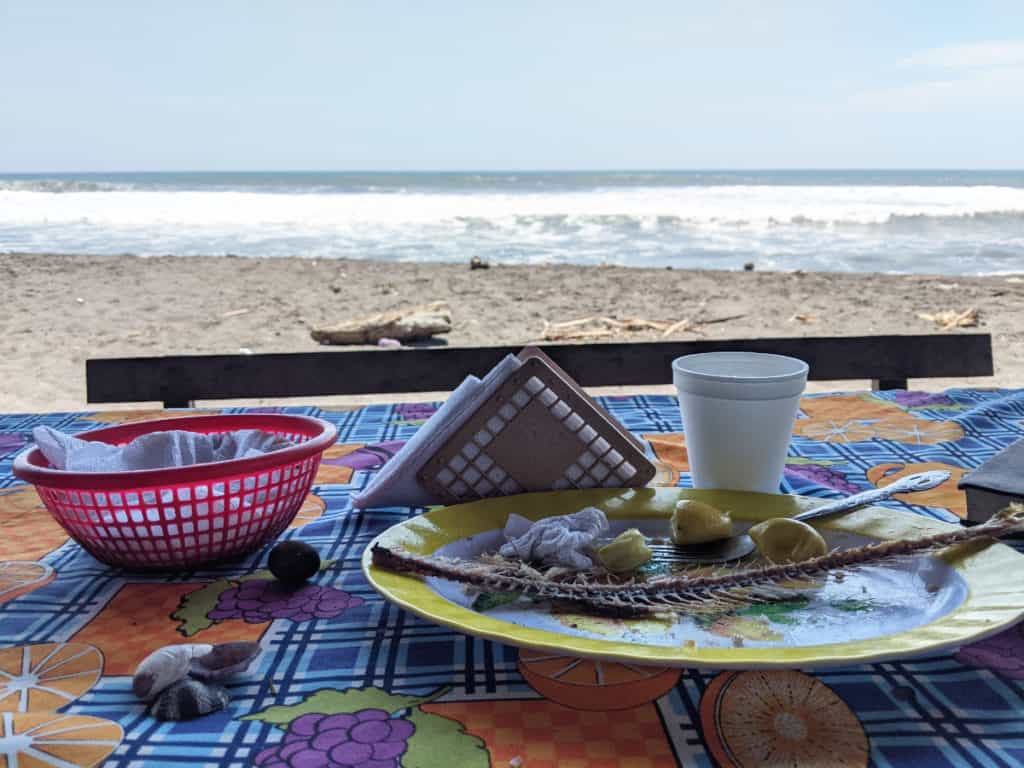 How to get to Tecojate
To get to Tecojate from Lake Atitlán first drive to Godinez, then continue circling the lake towards Agua Escondida and San Lucas Tolimán.
Shortly before San Lucas Tolimán, the road forks. Take the left hand exit towards Cocales. Continue straight through Patulul and Cocales.
The road will naturally bend west. At the Texaco (they had the cheapest gas at the time of my trip). Take the left hand turn and head directly south towards Tecojate.
It's a straight shot to the boat launch, where you'll find plenty of parking lots to choose from.
Places to stay at Tecojate
I haven't personally spent the night at Tecojate, but from my research it looks like there are only a couple of options.
Hostel Playa Parlama
Hostel Playa Parlama gives you the chance to stay at the ocean-side bungalow owned by some self-titled "long-haired hippie freaks in glasses."
Based on their website, they have a great sense of humor. It looks like a great place to enjoy the beach, eat delicious local food and enjoy the wildlife (iguanas, dolphins, whales, and trespassing pigs).
Casa Contenta
This is a chalet which you can rent. According to one review, there is often no water there. I wasn't able to get through to the listed number, but you may have better luck. +502 3400-1898
Costs of a motorcycle day trip to Guatemala's black sand beach at Tecojate
I drove from Sololá to Tecojate and back in one day, and spent the following:
Gas: Q90 (I still had half a tank once I got home)
Parking: Q10 for the day
Boat across the channel: Q5 (one way. On the way back the guy didn't charge me)
Bags of water: 50 centavos each (I bought Q10 worth for me and my dog)
Mineral Water: Q5
Lunch: Q50 (includes a drink)
Motorcycle Day Trip to the Beach – Tips and Tricks
My trip to Tecojate was the first time I'd done a motorcycle day trip to Guatemala's black sand beaches. It was hard to know what to take and what I'd need.
Now that I've done it once, I have a much better idea what to pack and how to handle the logistics of traveling light. Here are my take-away tips and tricks!
What I wore for the ride: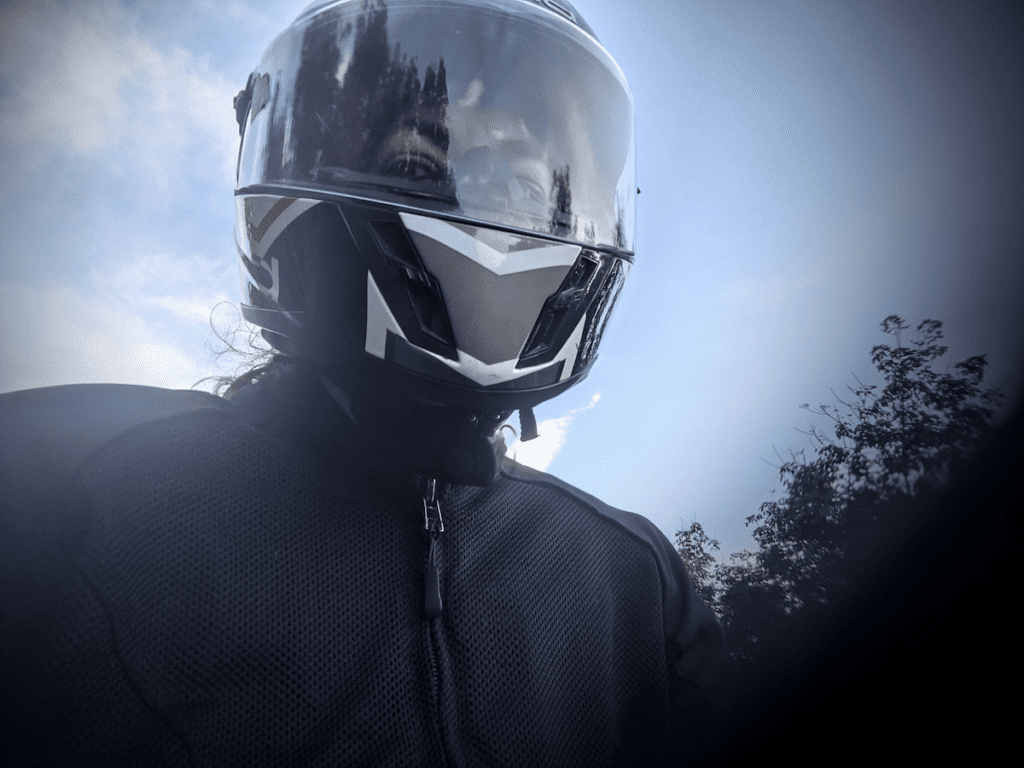 I wore my two-piece swimsuit, plus a T-shirt my armored motorcycle leggings, armored motorcycle jacket, socks, and boots. In my pockets I carried my wallet, phone, toilet paper, hand-gel, and house keys.
What to pack in your saddlebags: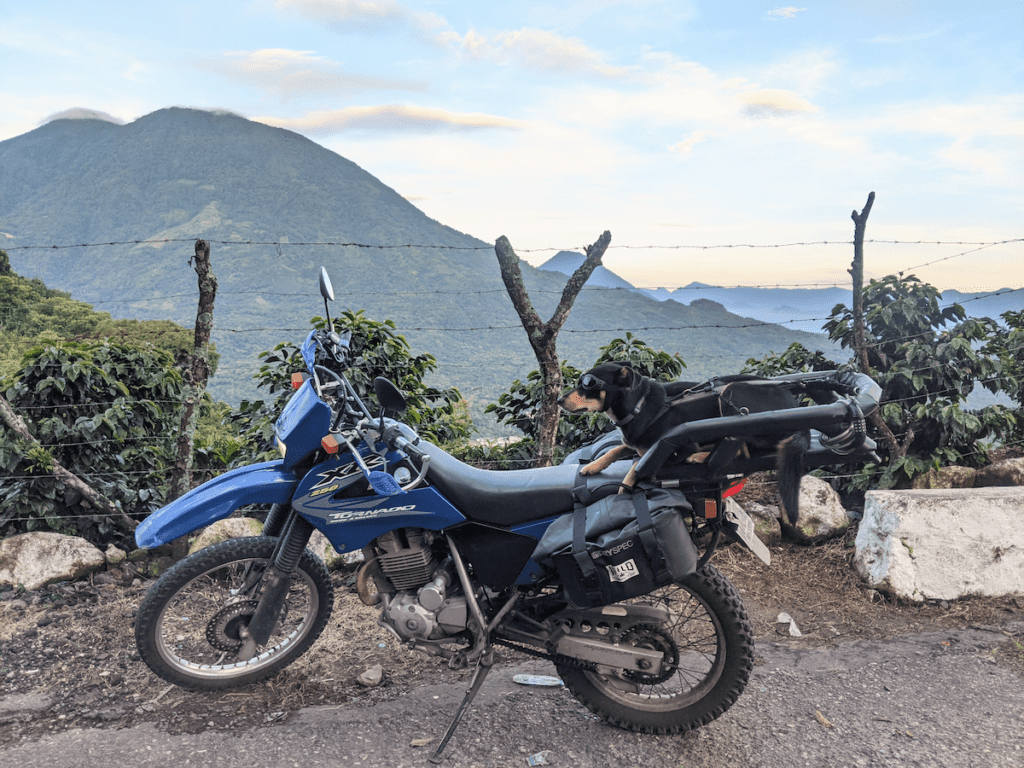 raingear (if it's the rainy season)
Pack the following into a day bag (or take a day bag separately):
sunscreen
washcloth
underwear
journal, pencil, book
snack
water bottle (I opted to buy bags of water at the beach, but it was hard to stay hydrated)
talcum powder
Pack the following to change into once you're in the parking lot:
wrap-around skirt (or shorts)
flip-flops
hat
What to pack for your dog on a day trip to the beach:
leash
water dish
treats/food
plastic bag
Arrival Procedure:
When I arrived at Tecojate, I parked at a parking lot and changed out of my motorcycle gear. I took off my jacket, leggings, socks, and boots and put on the wrap-around skirt, flip-flops, and hat.
I left my helmet locked to my motorcycle and gave my boots, raingear, and other motorcycle gear (packed into my saddlebags) into the care of the owner of the parking lot.
The rest of the stuff I put into a day bag to carry with me.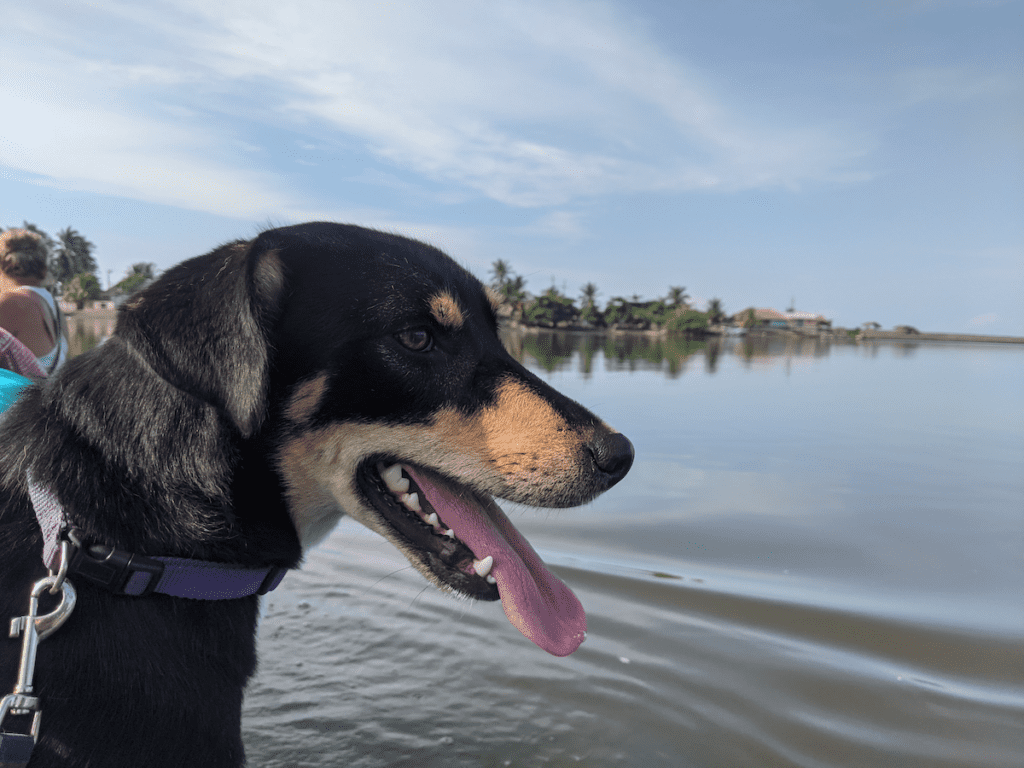 Once I crossed the channel by boat, I wound my way through a collection of restaurants to the shore. I chose one of the restaurants built right on the sand there and used it as my home base throughout the day.
I would alternate between playing with my dog (fetch with driftwood and coconut shells), swimming, and relaxing. When I was swimming, I kept my dog tied to one of the restaurant benches with a leash. I didn't want her wandering off, or chasing chickens.
Departure Procedure:
a.k.a. how to put on motorcycle leggings when extremely hot and sweaty
When I was ready to leave the beach, I used the restaurant bathroom to change out of my swimsuit. If you brought talcum powder (I didn't know this trick at the time), rub it over yourself to take off the salt, sand, and sweat and make the ride home more comfortable.
Back at the parking lot, I put my motorcycle leggings on under my wrap-around skirt. This was REALLY hard to do because I was sweaty and sticky.
I put on quite a show for the parking lot owner, I'm sure. Next time, I'm going to take talcum powder with me (see above), to facilitate the process!
I put on the rest of my motorcycle gear, packed my day-bag stuff back inside my saddlebags, and I was ready to rock and roll.
Best time to Visit Guatemala's Black Sand Beaches
Personally, I think it is fun to go to the beach at any time of year, but if you have some specific activities you'd like to do, keep the following in mind.
Best time of year for surfing at Guatemala's black sand beaches
For the best surfing, boogie boarding, and body-boarding, I highly recommend heading to Guatemala's Pacific coast in November, December and January.
During these months, the swells are smaller but more perfect, making for optimal wave-riding conditions.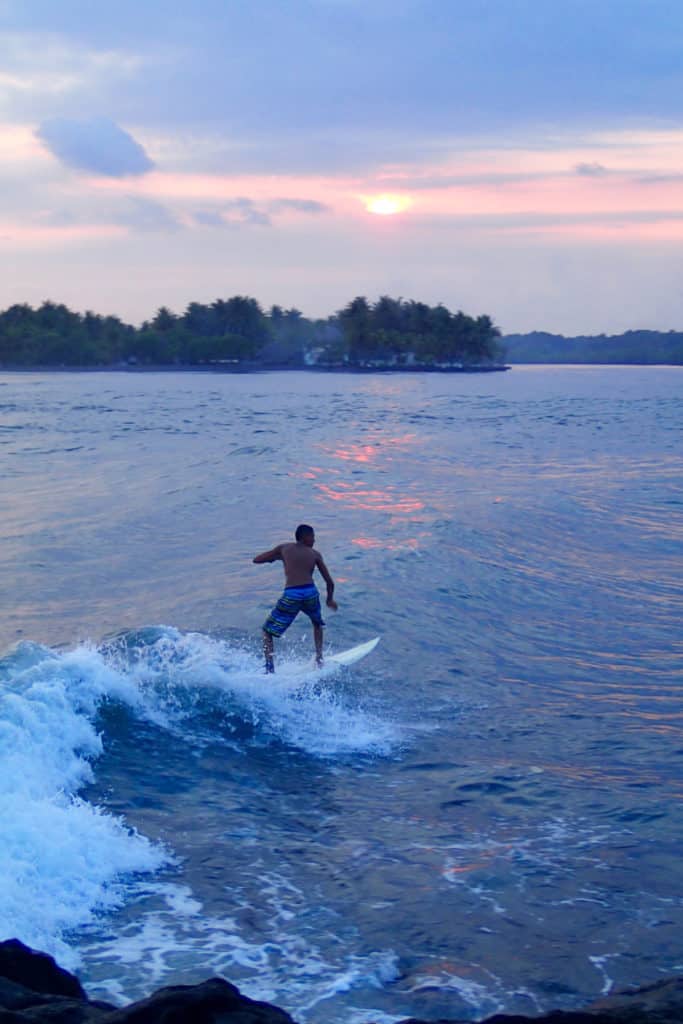 However, if you are in Guatemala during a different time of year, that's okay, you may still get some great swells! For example, I spent the months of May and June at El Paredón and I still got to surf almost every day.
As the Paredón Surf House puts it: "with a ton of exposure we pick up just about every swell that rolls along the Pacific and over to Guatemala.
Typical wave heights are chest-to-head-high from November to April, and head-high plus from May to October. The break works on anything from a knee-high to double-overhead swell, and there is rarely a day without something to surf."
To check out the tide and current surfing conditions on multiple Guatemala black sand beaches, head over to Magic Seaweed.
Best time of year to release baby sea turtles
Although some sea turtles lay eggs year-round, your best bet for releasing these cute reptiles at Guatemala's black sand beaches is probably June through February.
For more information on sea turtles, check out the section later in this post.
Best time of year for sport fishing in Guatemala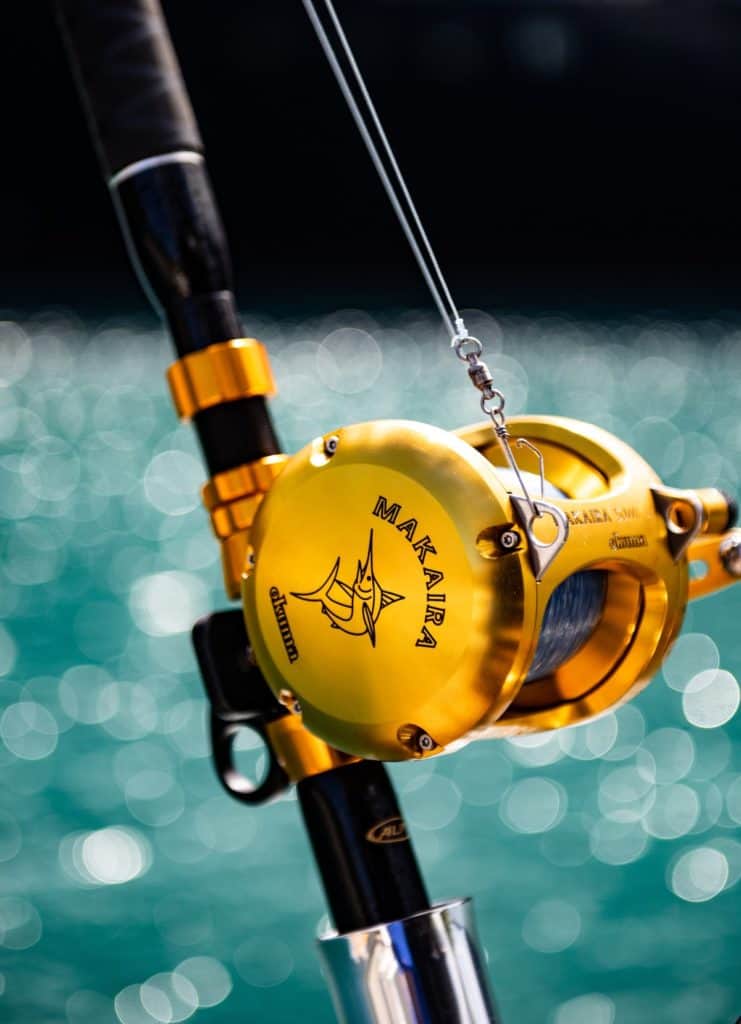 According to Big Buoy Fishing, all of these fish can be caught year-round, but are seen in the largest quantities during specific seasons.
Sailfish and Pacific Sailfish: November to May
Dorado, Mahi-Mahi, Dolphin, Roosterfish: May to December
Marlin and Yellowfin Tuna: year-round
If you're looking for information on sports-fishing tours, check out the tours section later in this post.
Things to Know about Guatemala's Black Sand Beaches
Here are a few things that are helpful to know about Guatemala's black sand beaches.
The sand gets really hot!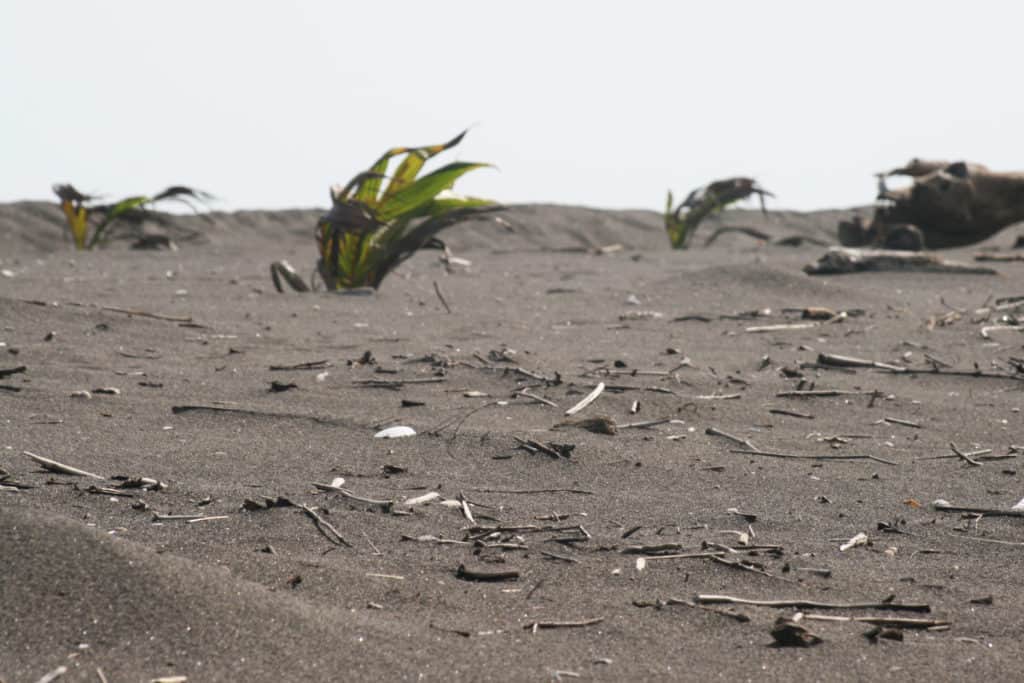 While this might go without saying (the sand IS black, after all), I've heard of a man who got third-degree burns on the bottom of his feet at a beach near Puerto San José.
That's a pretty extreme case, but definitely take some precautions.
Wear water shoes or flip-flops if you need to walk for a while on the hot sand. Otherwise, be prepared to sprint. Worst case scenario, if the sand is too hot and it's burning you, quickly dig down to uncover a cooler layer of sand.
The sand is also much much coarser than places like Hawaii, so if you're playing beach volleyball, you might want to keep your dives to a minimum.
The sun is intense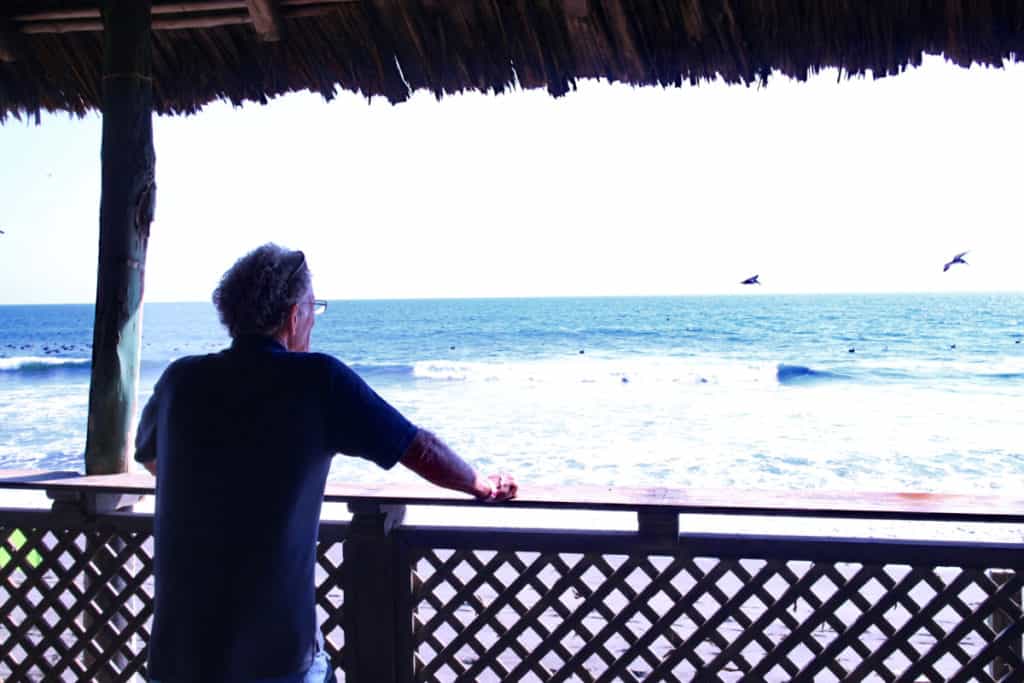 If you're coming from areas further from the equator, you might be used to lying out in the sun for hours to get a suntan. Please, please, please don't do that here. Trust me on this. The UV index in Guatemala is generally in the extreme range (11 to 14). The day I wrote this, it was 12.
Wear a broadspectrum water-resistant sunscreen of 30 or higher (I usually use 85). Re-apply it at least every two hours.
If you can, avoid being out in the sun from noon until 3 pm when the sun is strongest.
If you're fair-skinned and/or prone to sunburns, then wear a rash-guard, even a long-sleeve rash guard!
Take shelter under umbrellas or thatch roofed palapas on the beach.
Guatemala's Black Sand Beaches are on the Pacific
Guatemala sits between the Atlantic and Pacific Oceans and has great beaches on both coasts. However, there are no black sand beaches on the Atlantic side, only the Pacific.
How far is Guatemala City to the beach?
Depending on what beach you go to, it could take anywhere from two hours to four or five.
How to stay safe on Guatemala's black sand Beaches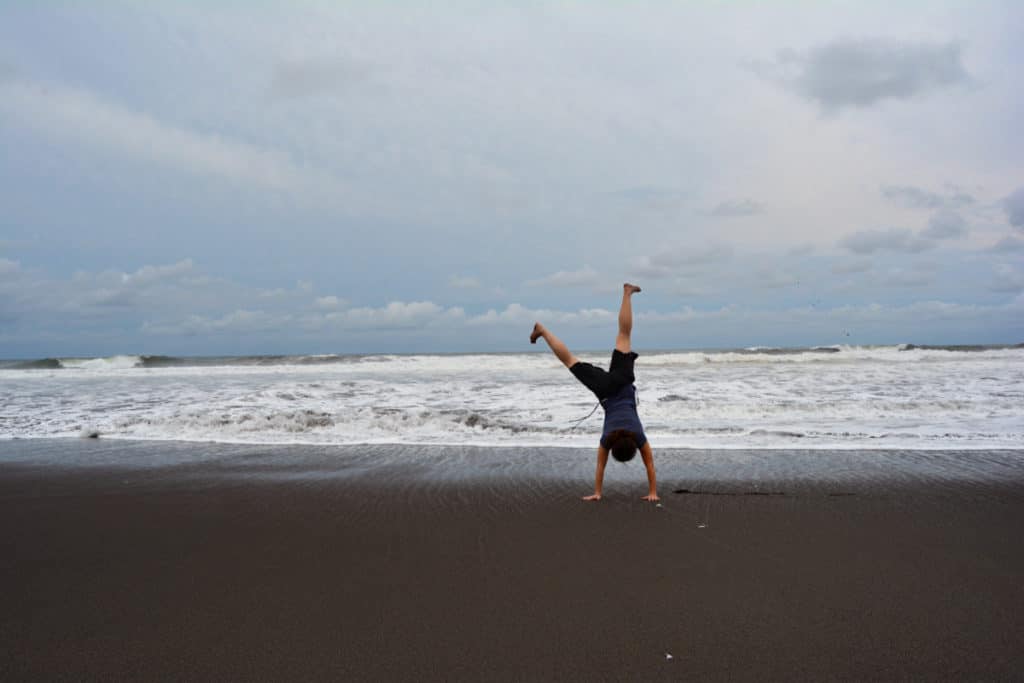 Below I provide some general safety tips as well as some guidelines for staying safe in Guatemala's Pacific Ocean.
General Safety Tips
Choose a decent hotel with good reviews
Arrive in the daytime, if possible
Choose a buddy to accompany you on walks after dark, and/or ask hotel staff about safety in their area
Ocean Safety Tips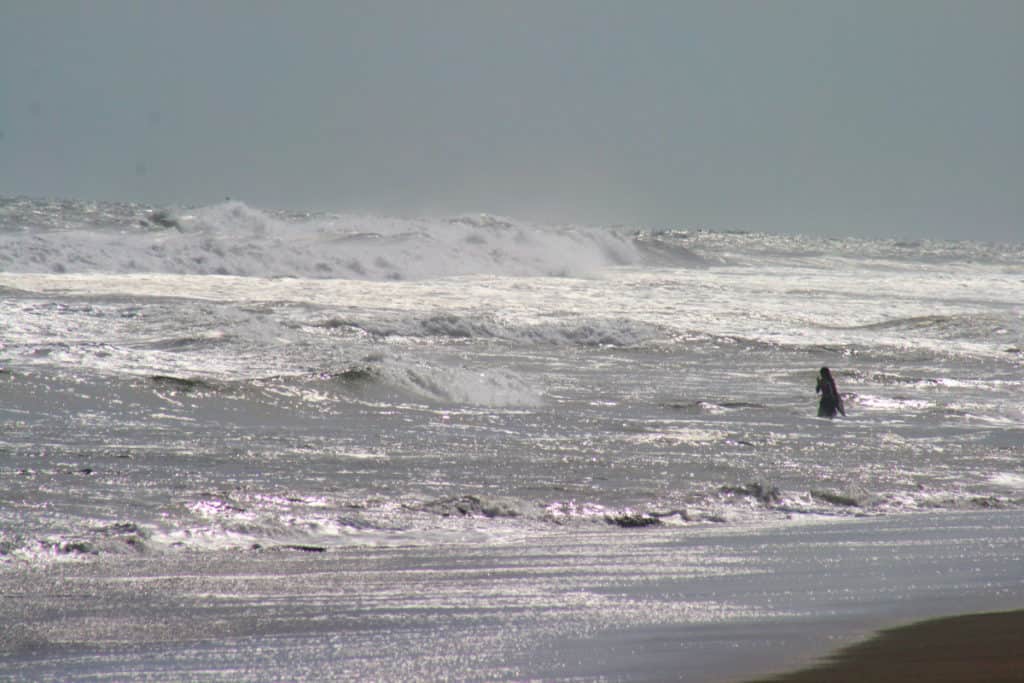 Observe the Ocean before getting in!
The tide matters. High tide can be pretty rough, whereas low-tide is generally tranquil and can be great for kids. I like to boogie board most when low tide is rising to high tide.
If possible, choose a swim buddy or few
Take note of the height of the waves and where they are breaking, and notice the location of rip tides. Usually riptides are sections without waves and with yellow foam.
Try to choose a section of ocean where the waves are breaking at a decent distance from the beach. If there are a lot of rip tides, choose a section between them.
When you get into the ocean, notice which direction the current is pulling. Pick two landmarks on the beach and use them as points of reference. Try to stay between them!
If you get dragged too far one direction, simply get out and walk back up the beach before getting in again.
If you're having trouble swimming back to shore, wait for a wave, swim with it, then wait for the next one. Repeat.
Still not able to get out? Try swimming diagonally with the waves.
Don't go farther out than you feel comfortable.
Try to pay attention to the conditions and notice when they change. If the waves start coming at your from multiple directions and are rough and strong, take a break!
If the waves are too big for you, swim under them (this can be a lot of fun!)
Releasing Baby Sea Turtles in Guatemala
Six different species of sea turtles visit Guatemala's coast to lay eggs including Leatherback (Baule), Hawksbill (Carey), Olive Ridley (Parlama), and Pacific Green(Verde) sea turtles. Each one has a different nesting season.
Olive Ridley sea turtles nest throughout the year while Pacific Green turtles mostly lay eggs between June and November.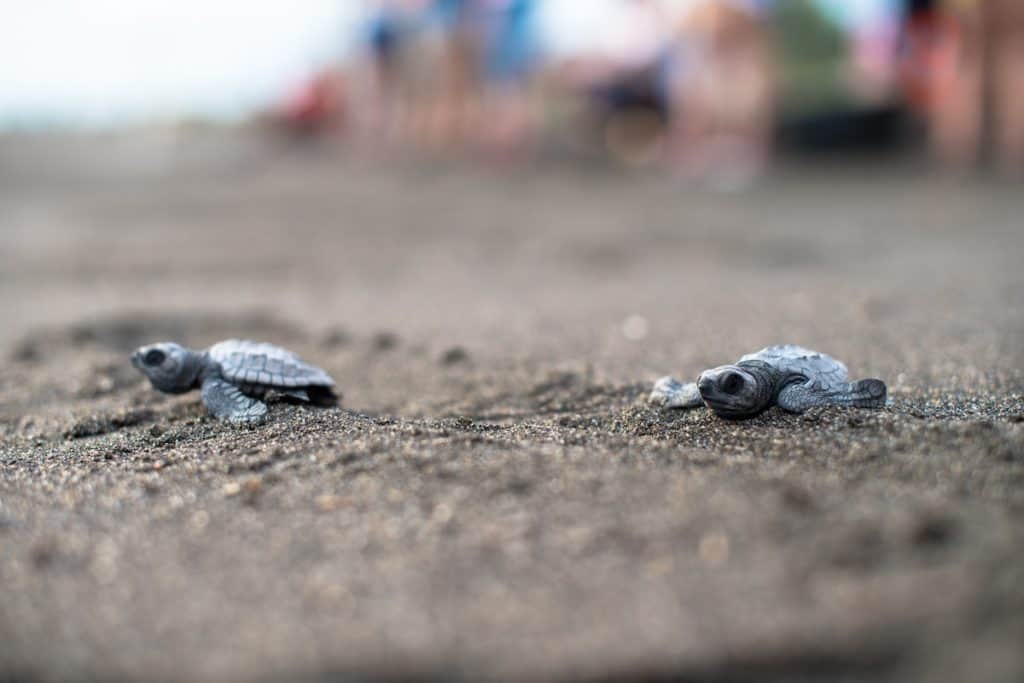 According to Guatemala's National Council for Protected Areas (CONAP), there are up to 30 turtle sanctuaries in Guatemala.
Although they don't all operate to the same degree, their mission is to collect and protect sea turtle eggs as well as work in education and the protection of nesting sites.
Places where you can release sea turtle babies in Guatemala
According to the Paredón Surf House, August and September are the busiest months for watching turtles lay their eggs on the beach, but the season runs from June to November.
El Paredón Baby Turtle Release
Driftwood Surfer hostel sponsors the turtle sanctuary in El Paredón. They give an informative talk and then release the hatchlings at 6 am daily during turtle season.
Estación Bioloógico El Banco
Estación Biológico El Banco is a community-run conservation station dedicated to protecting sea turtle nesting sites.
They are especially focused on protecting leatherback, green, and olive ridley sea turtles and offer baby sea turtle releases daily throughout the year.
According to their website, it is best to join the community for a turtle release around 5 pm on Friday and Saturday evenings. El Banco is located at Km 143 Carretera a Monterrico El Banco, Taxisco, Santa Rosa, Guatemala.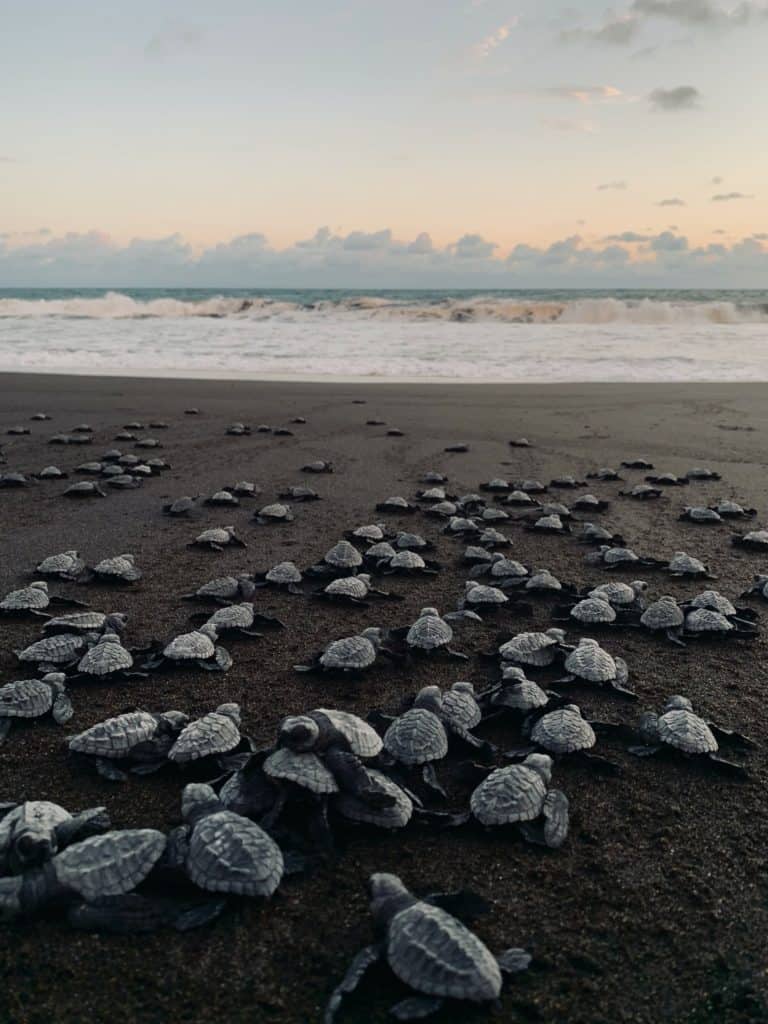 Tortugario Monterrico CECON
Tortugario Monterrico CECON – This turtle sanctuary in Monterrico is run by the Universidad San Carlos of Guatemala.
According to a review left by a local guide, you can release baby sea turtles at this location from September to January. Head over before 5:30 pm and make a small donation in order to participate.
Tortugario El Garitón
Tortugario El Garitón – This turtle sanctuary is located in El Garitón, Santa Rosa and is run by the Universidad Austriaco.
You can call ahead to see what day a nest is likely to hatch and arrange your trip so you are there by 5 pm.
My contact at El Garitón said that the season is from October through December and that they mostly work with Pacific black turtles.
Contact: Orlando Martínez (+502) 3211-7538
Marine Conservation Center in Santa Rosa
El Centro de Conservación Marina AGHN is a marine conservation center run by La Aurora Zoo. It is located in the town of Madre Vieja in Taxisco, Santa Rosa.
According to one visitor, the entrance fee is Q10 per person and includes a tour (where you can see alligators and garpikes-a kind of fish that is a living fossil). You can also sponsor a sea turtle nest, and release olive ridley sea turtles.
Tours that go to Guatemala's Black Sand Beaches
Whether you're looking for an all-included beach day trip, or want something unique to do while you're there, or just want to get there in a unique way (by mountain bike, for example), this list is for you!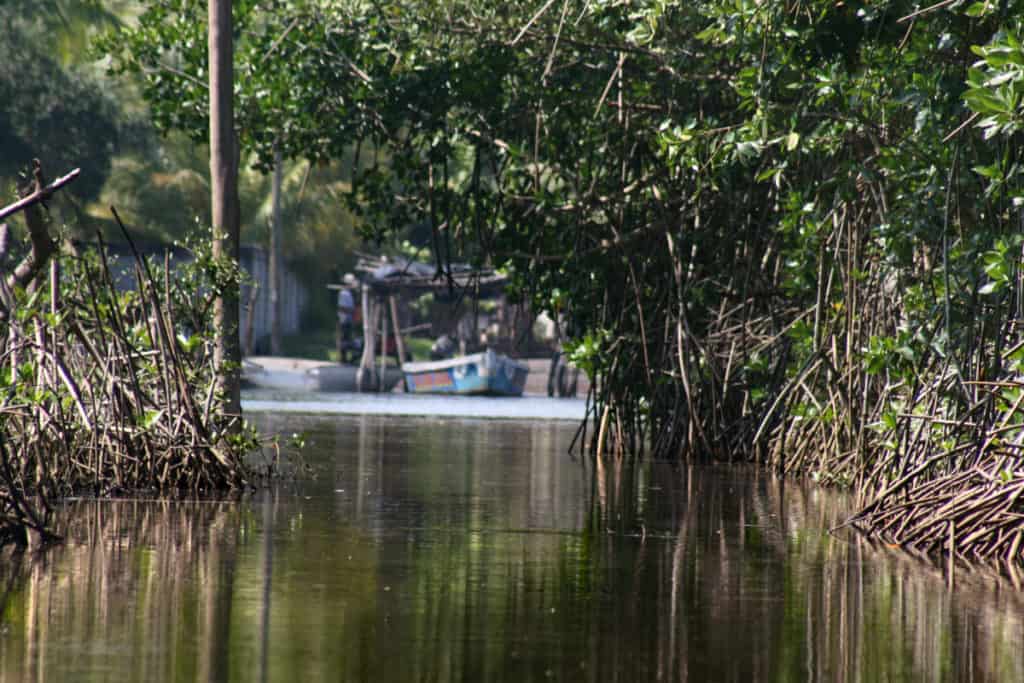 Please note: This is far from an exhaustive list, and I haven't personally gone on any of these tours, so I can't vouch for them.
However, they'll give you some ideas to get you started! Various tour agencies also offer custom tours, so that's an alternative for you if you don't get jazzed up by any of the options below.
Guatemala's Black Sand Beach Tours
Enjoy a fun day trip from Antigua to El Paredón with breakfast, a swimming pool, and included surfing lessons. You won't have to worry about logistics, just enjoy sun, sand, and the thrill of surfing.
Check rates and book the Surfing Day Trip to El Paredón
Roar across the black sand, explore the mangroves of Sipacate Naranjo National Park, and check out one of Guatemala's massive ceiba trees (the national tree). Sip a coconut to hydrate.
Check rates and book the ATV Sunset Tour
Visit Pacaya volcano on your first day, then head to El Paredón for beautiful beach time.
Learn how to surf, boat through the mangroves, and learn about sea turtles. Finish off your second night with a bonfire.
On your third day, you'll get an all-inclusive day pass to a beach-side resort in Itzapa. Oo lala!
Check rates and book 3-day Private Circuit of Adventure, Surf and Relax at the Pacific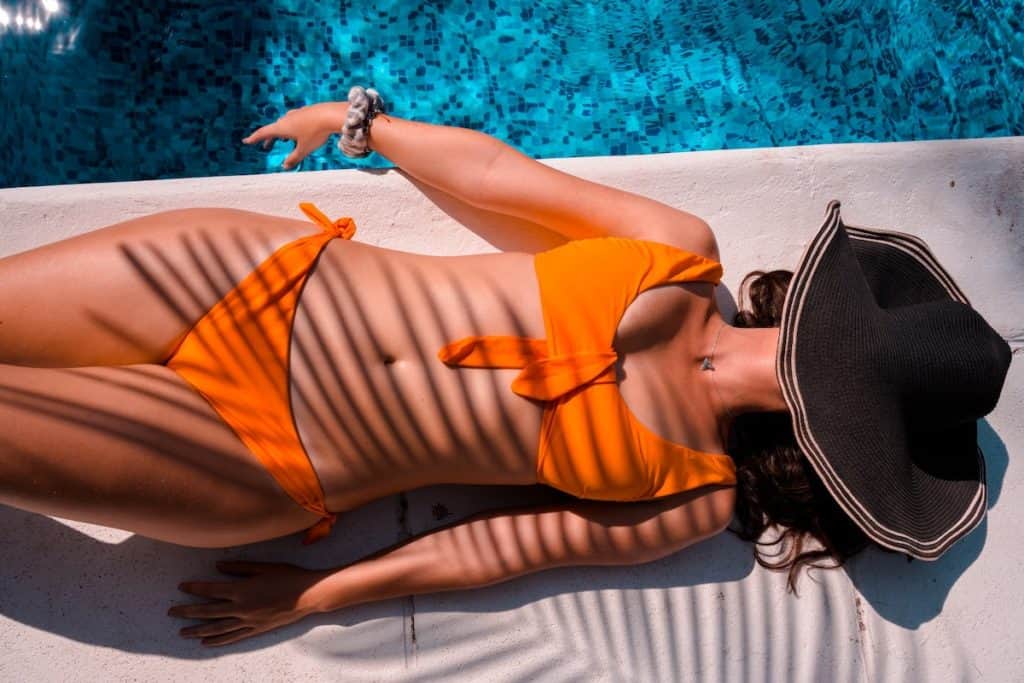 Summit to Surf Tour
OX Expeditions Summit to Surf: Climb a 13,000 foot volcano (read more about hiking Acatenango here), camp under the stars with a high possibility of exploding lava shows, then go all the way to sea level for some hammock relaxation and surfing at the Pacific. Cost per person: $129 (2-day tour)
Mountain Bike from Tecpán to El Paredón
MTB Guatemala mountain bike from Tecpan to El Paredón: Okay, this looks like fun, it's a mountain biking trip that goes from the highlands of chilly Tecpan all the way down to El Paredón… a surefire way to see Guatemala's changing climates and scenery.
Kayak Through the Mangroves
Kayak Tour of Naranjo-Sipacate National Park: This tour doesn't include transportation to and from the beach. You'll need to get there on your own. Instead, it offers an alternative eco-friendly way to explore the mangroves and the Poza de Nancy (a feeding area for sea turtles).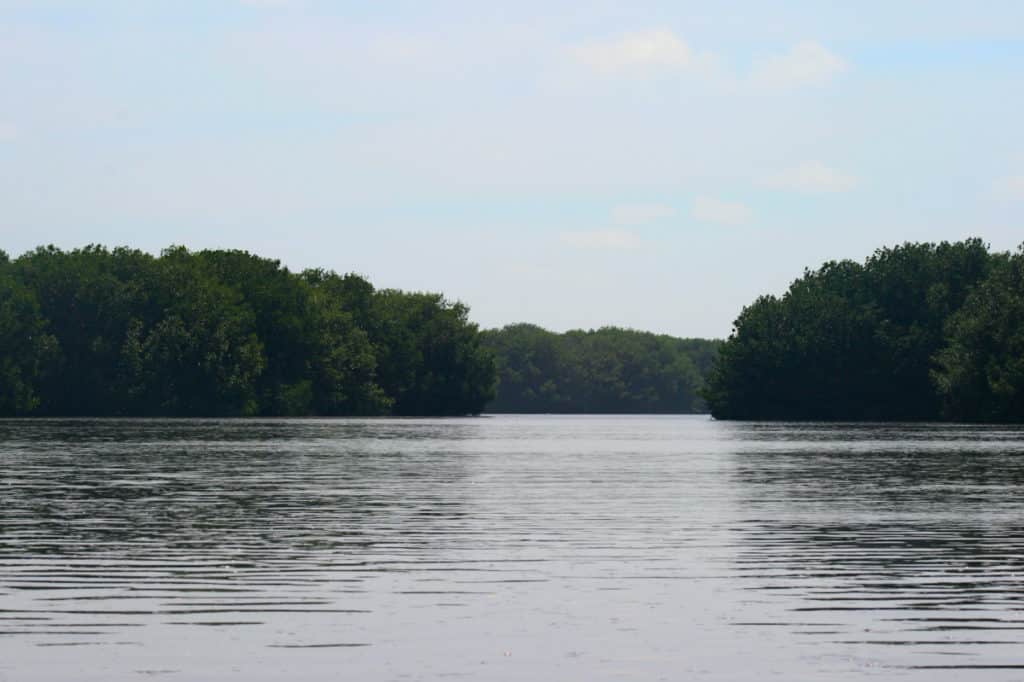 Monterrico Mangrove Tour
Anywhere Guatemala Monterrico Tour: Visit the mangroves and a turtle sanctuary before heading to the black sand beach for some R&R during this one-day beach trip. Minimum size of tour: 4 adults. Price: not listed
Tailor-Made Tour
Sumak Travel Tailor-made Tour to El Paredón: Make this tour what you want it to be with an eco-friendly local-supporting travel company.
Deep Sea Fishing Tours
Is fishing your thing? Guatemala is known as one of the best sail fishing locations in the world.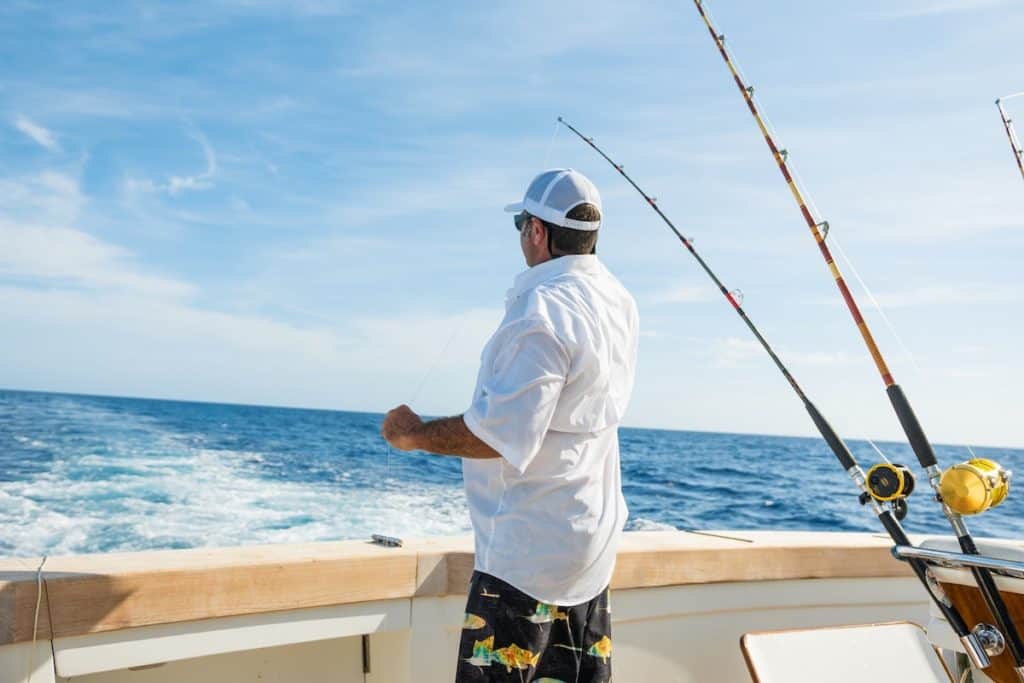 Deep Sea Fishing on a Shoestring
Want the thrill of charging at the waves in a local fishing boat for as little as $100? Wander the beach and boat launches and find a local willing to take you fishing the next morning. Read how these two travelers went fishing Guatemala-style.
Big Buoy Fishing
Big Buoy Fishing: Say they offer rates 50% less than their competitors for the same value. They offer 2-day, 3-day, and 4-day all-included packages.
Mad Marlin Sport Fishing
Mad Marlin Sport Fishing: This company has a 4-person minimum occupancy and boasts lower rates than their competitors. They have multiple packages, including airport pickup and from two to seven day tours.
Blue Bayou Sport Fishing
Blue Bayou Sport Fishing Lodge: This sport fishing lodge offers all-inclusive packages and everything from pool-side finger food and beer during the shuttle ride, to the main attraction–all-day sport fishing.
Sailfish Oasis
Sailfish Oasis: Boasts great boats and staff that have been with them for a decade or more. They offer packages of two and three days, plus rates for extra days.
Casa Vieja Sport Fishing
Casa Vieja Lodge: Has a fleet of nine boats and packages for one to five people, luxury accommodations, and a fleet that raises 12-15 sailfish per day.
Great Sail fishing Company
Great Sailfishing Company: Have been operating since 2002 and have great equipment and crew. Includes staying at a luxury lodge.
Pacific Fins Sport fishing
Pacific Fins: Another well-known sport fishing company offering fast boats, luxury accommodations, and airport pickup.
Buena Vista Sport fishing
Buena Vista Sportfishing Resort: This company has been in operation for many years and has its own private dock, plus a resort with two swimming pools and volcano views.
The Wrap-Up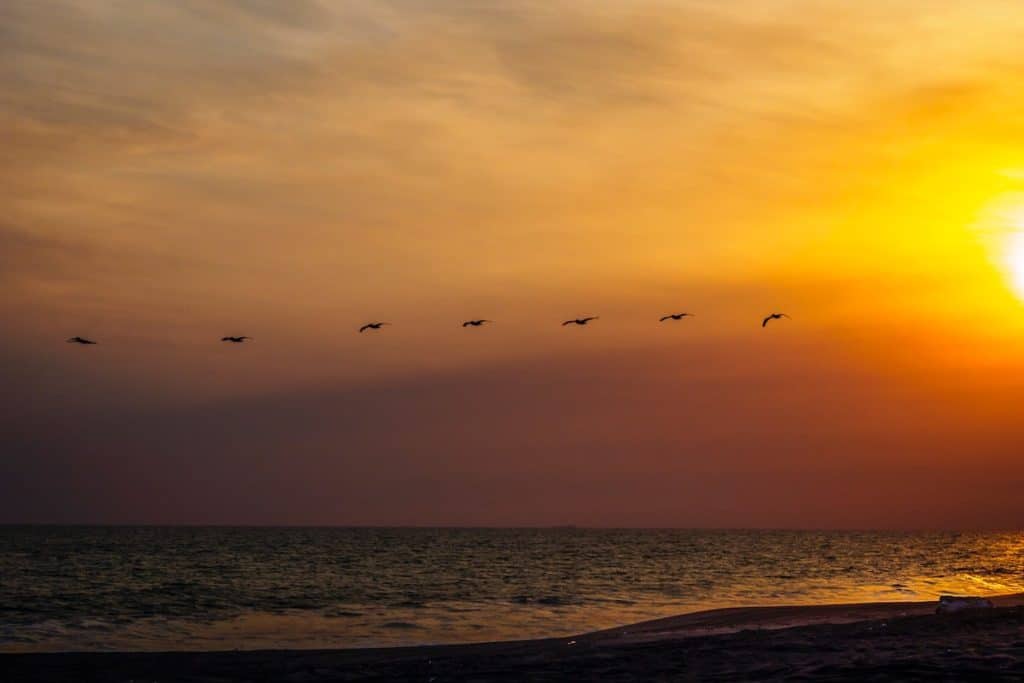 As you can see, there are a ton of things to enjoy at Guatemala's black sand beaches, whether you're looking for a curated experience at a luxury sport fishing lodge, a homestay with locals in El Paredón, or a rocking place to boogie board.
Here, at the Pacific, Guatemala's volcano-studded highlands give way to sweeping stretches of volcanic black sand, radiating with intense heat and intense opportunities for fun.
Grab your sunscreen and head to the sand and surf!
Looking for other places to visit in Guatemala? Be sure to check out Lake Atitlán and Acatenango Volcano!
***GUATEMALA TRAVEL PLANNING GUIDE***

Should I buy Guatemala travel insurance?
YES — Personally, I always travel with travel insurance because it gives me extra peace of mind. SafetyWing is an excellent travel insurance company that's quite affordable. Plus, if you travel longterm, it's a snap to renew on a month to month basis. You can keep renewing for up to a year and still pay the same deductible.

Where's the best place for finding cheap flights to Guatemala?
When I purchase a ticket, I always search several different sites. Kayak and Expedia are great places to start running a search. Spirit is usually the cheapest carrier, but American Airlines and United also sometimes offer excellent deals.

What's the best way to book my Guatemala accommodations?
I recommend booking.com for finding and booking hotels in Guatemala. For vacation rentals, I recommend VRBO.com — it offers beautiful and unique spots to stay.

What's the best way to book Guatemala tours?
Viator is a great tour booking site with several excellent options available in Guatemala's main tourist areas including Tikal, Atitlán, Antigua, and Acatenango. There's a nice range of prices and options available.

Can you drink the water in Guatemala?
No – Don't drink the tap water! Instead, buy purified water from any corner store or grocery store in Guatemala.

Be sure to brush your teeth with that water as well to avoid getting sick. And hydrated, especially when traveling to high elevations.

Do I need a visa for Guatemala?
Probably not — Visitors to Guatemala from "Category A" countries like the United States, Canada, the UK, New Zealand, Australia, and most European countries are automatically given a 90-day tourist visa (in the form of a passport stamp) when entering Guatemala.

This visa is valid for Guatemala, Nicaragua, Honduras, and El Salvador. At the end of 90 days, it can be renewed once at Guatemala's Migración without leaving the country.

After 180 days, you will have to travel outside of Central America before returning. Check to see if you need a visa.

Will my phone work in Guatemala?
It's possible, but check with your provider in advance to see if Guatemala is covered. If not, you can easily pick up a local SIM card.

There are essentially only two carriers in the country: TIGO and CLARO. Both have good coverage.